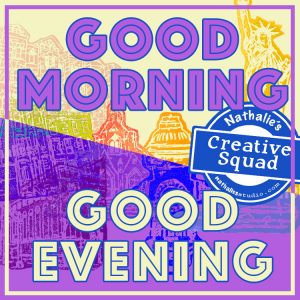 Hello from my Creative Squad! Today we have a post from Judi Kauffman that made me smile and chuckle using my Lady Liberty and Hydrant foam stamps and our theme: Good Morning Good Evening – Are you a Morning Person or a Night Owl? Or maybe neither? Create a project inspired by your preferred time of day – when you are in good spirits, doing what you love, and enjoying life.
---
Stamping, Day & Night!
Imagine my delight when Nathalie's ArtFoamies arrived for this month's project – Lady Liberty and Hydrant! Both spoke to this city girl's heart. The theme fit both stamps very well, I thought. And they're big enough to fill a card front with little else.
Day person, night person? I am a bit of both. My best energy is in the morning but sometimes my best ideas take shape at night How about you?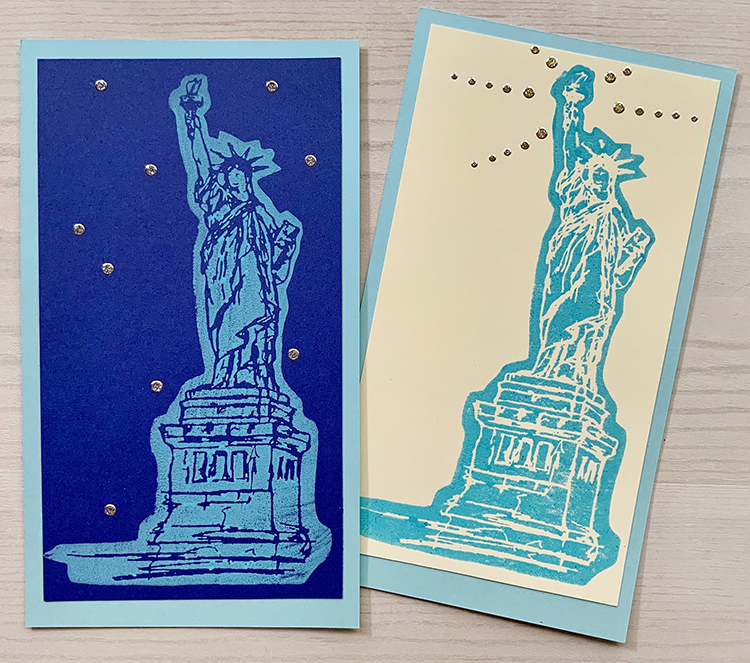 Project 1 – Statue of Liberty cards:
Our godson and his family live in an apartment in Brooklyn that looks out at Lady Liberty so I get to say good morning and good night to her when I visit. Each time I see the statue I thank this country for welcoming my grandparents to this country of immigrants.
I made a pair of very simple cards that allow the beautiful image to take a starring role. Tiny glitter dot stickers create the stars in a night sky and the rays of a noonday sun.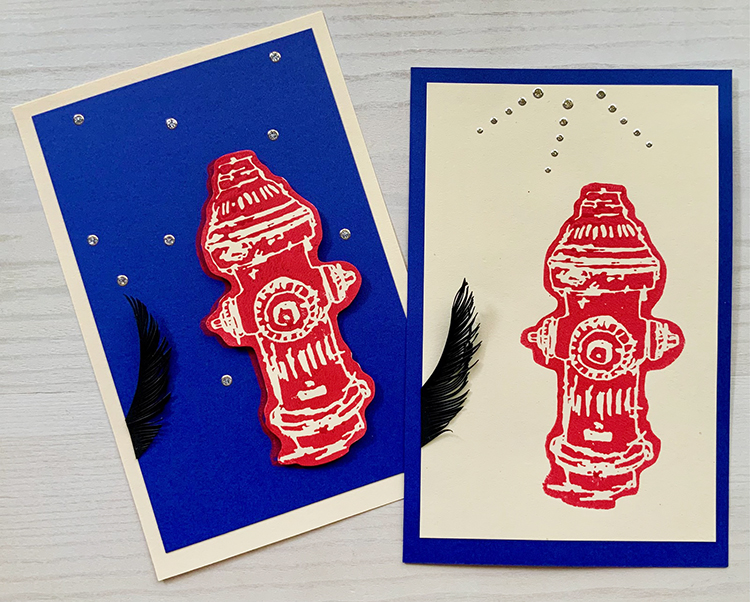 Project 2 – The Hydrant:
Every day and each night (and many times in between…) dogs out on walks with their owners get to check their email by sniffing the fire hydrant across the street from my house. I hand-cut a wagging tail for each card. The tail becomes shorthand for a dog, just enough to create the scene! The night version of the card has a fussy-cut hydrant, offset on foam squares so the one stamped on the background stays visible and becomes a shadow.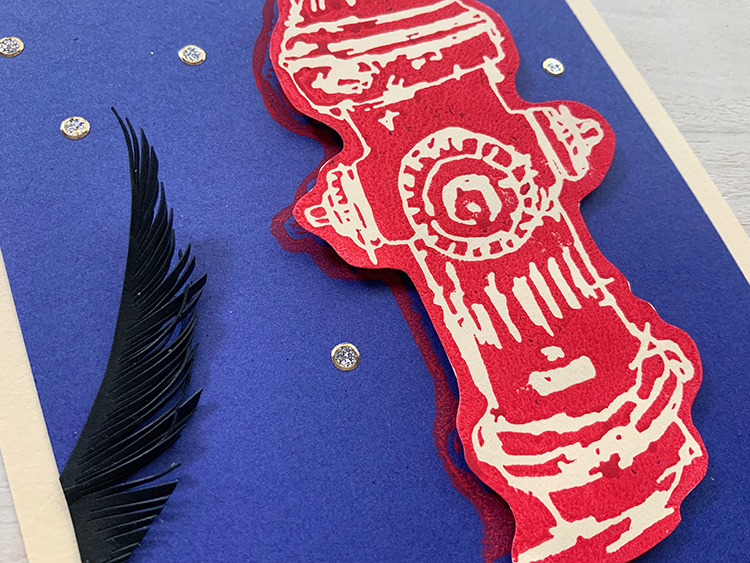 Bonus – Other takes on a fire hydrant:
While I was at it, I stamped extra fire hydrants to fussy-cut for more cards. Some of the extras were quite pale because I was using up paint before cleaning the stamp to put away. One thing led to another and some of those extras got turned into a bird, a vase filled with flowers, and a strange big-eyed creature wearing a knit hat.
Have fun turning fire hydrants into something else! And be sure to share what you come up with…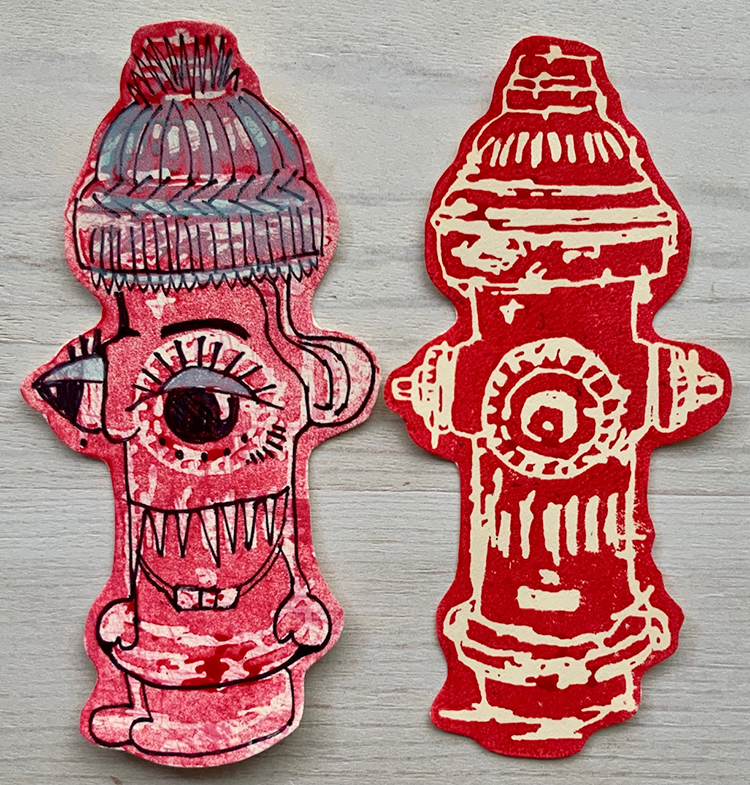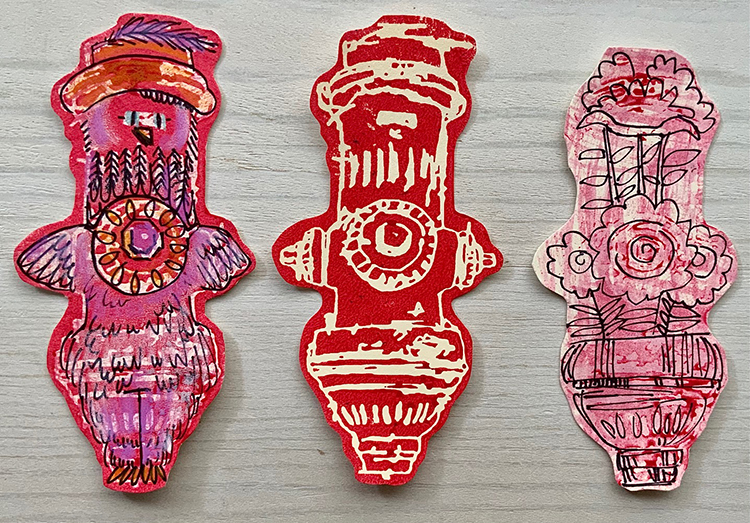 ---
Thank you Judi for this creative group of projects and unique ways to look at the stamps!
Give it a try: you can find all my Foam Stamps in my Online Shop and here are some of the supplies Judi used: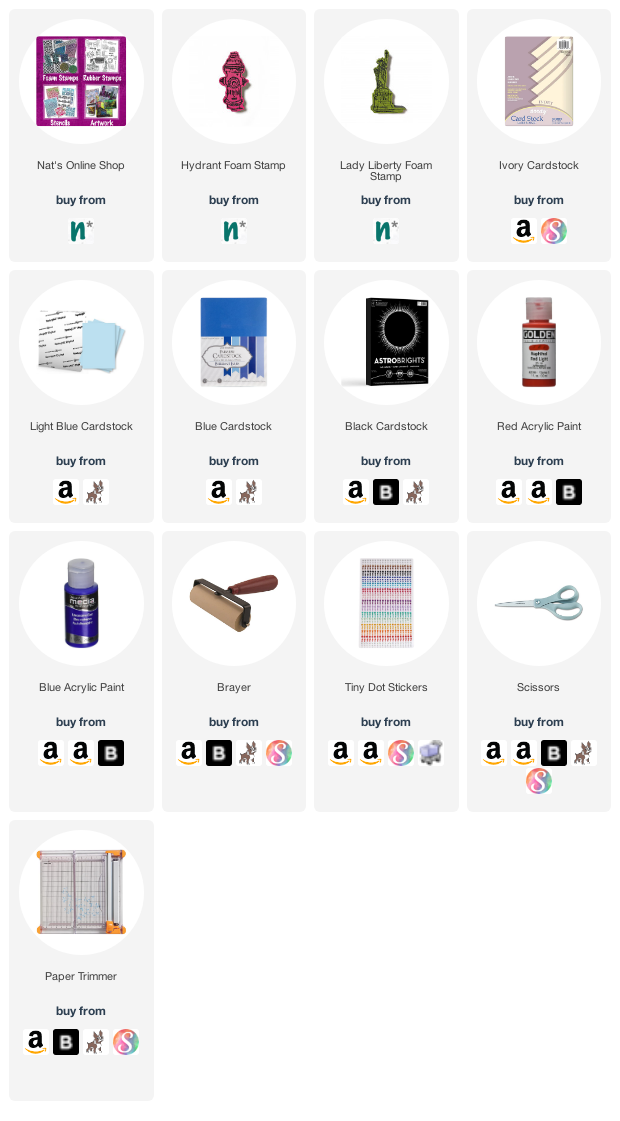 Like what you see? Follow the Creative Squad on Instagram for weekly posts, artwork, and inspiration.