Beyond the Paper – Online Workshop
Join Nat Kalbach, Birgit Koopsen, and Marsha Valk for an online art journaling workshop that goes Beyond the Paper! We will be exploring exciting and original substrates to create on, that will invigorate your idea of art journaling, mixed media, and artist books. Cardboard, Dura-Lar, Fabric, and more will be the foundation of our creations and we will discuss how to make the most out of these unique surfaces. Each teacher will present a variety of paper alternatives and techniques that work beautifully with them, including foam stamping, printmaking, collage, stitching, and image transfers to name a few. A special Triple Play foam stamp set designed by Nat, Birgit, and Marsha will be used in the lessons and will be available for students to purchase.
To wrap things up, each teacher will bring some pages to completion and then show you a binding technique for pulling it all together. The goal of Beyond the Paper is to inspire interesting, new ways to think about art journaling and to learn from the perspective and artistry of three different teachers.
This workshop includes 21 downloadable video lessons: 7 lessons by each of our teachers. Students have access to a virtual classroom where they can comment on the lessons, ask questions, and share examples of their own work. A LIVE Webinar with the teachers took place at the end of the workshop and students were encouraged to attend to learn more about the teachers, ask questions, and participate in a Creative Play activity together. A recording of this event is available in the classroom.
Join us! It's time to go Beyond the Paper!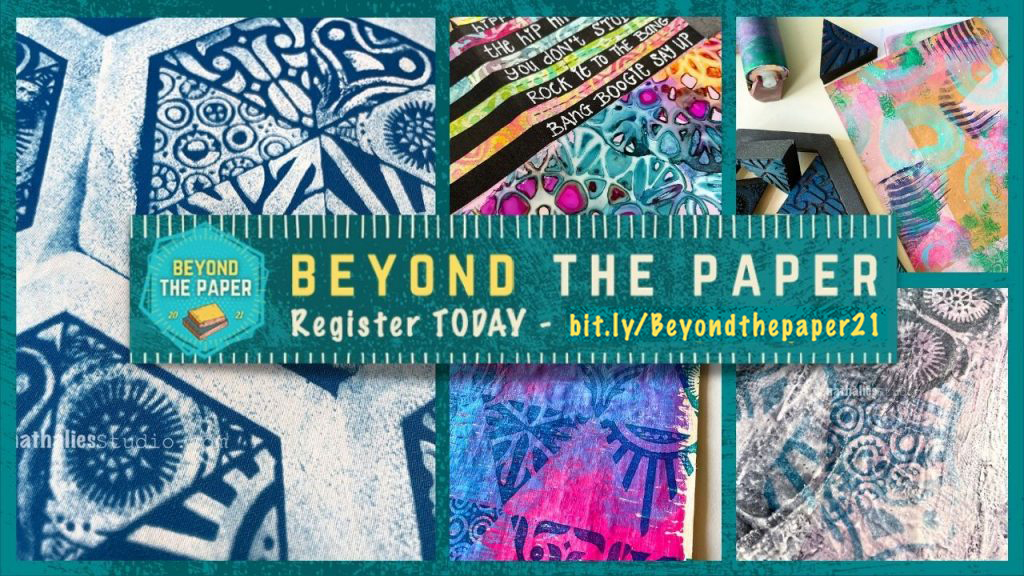 What this Workshop Covers:
Mixed Media techniques, art journaling techniques, printmaking techniques, book making techniques
Easy to follow video instruction covering the techniques and an insight into our thinking process while creating
Lifetime access to video lessons on this website
Downloadable video lessons to add to your library *Please read download info below*
Classroom environment where you can share your work
LIVE Webinar at the end of the workshop with your teachers
Giveaways from our workshop sponsor Grafix
This class includes 21 videos, 7 videos by each of the teachers. All lessons are now published and available for viewing.
You may sign up at any time, work at your own pace, and have unlimited access to all the lessons. All lessons are downloadable.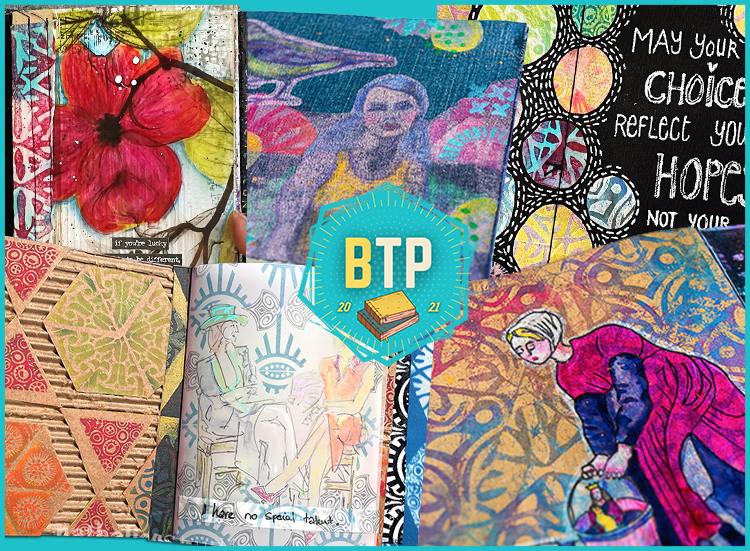 Learn More: We held a Beyond the Paper Live webinar on Thursday, April 1 and invited you to come and ask us questions – check out the recording here where we talk a bit more about the thought behind the workshop, the supplies and how best to approach the workshop and all the questions you asked us!
Share Your Creation – Please use the hashtag #beyondthepaper on social media to share the projects you create. We would love to see what you make!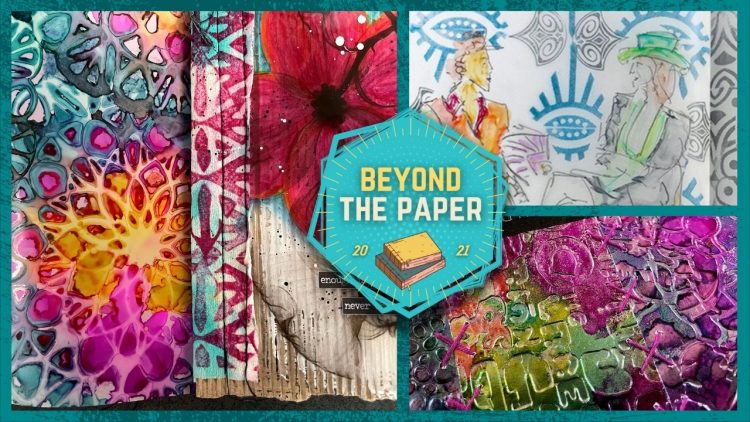 Basic Supplies
A supply list is provided by each artist in the lessons page for their videos. Since there is a variety of supplies used – some repeating often from lesson to lesson, others used only once or twice – it is difficult to provide a thorough and exact supply list.
Rather than buying all supplies, gather some of the basics from the supply list below and then with each new lesson think in terms of making substitutions, using what you already have on hand, and then shopping little by little as you decide what to add.
Basic Supplies – This list includes a variety of tools and supplies that are used often during this workshop. The brands you choose are up to you. Each artist has their own preferences, but you can achieve the same or similar results with different paints, markers, mediums, tools, and such.
Triple Play foam stamp set (all three of us use it- but you can also use a different foam stamp if you want)
Grafix Matte Dura-Lar Film
Grafix Wet Media Dura-Lar Film
Thin Cardboard, Corrugated Cardboard (reuse shipping boxes)
90lb Cardstock
End paper / Tissue Paper (use what you have)
Aluminum Foil
Plaster Wrap (used for one lesson – if you want to see the lesson before you purchase the plaster wrap you can still work through the other lessons and buy this later)
Fabric – best is muslin or cotton, linen, old cotton sheets, t-shirts or painter's canvas
Denim or Canvas Fabric
Faux Leather / Kraft Tex / Heavyweight Kraft Paper
Papyrus or Tyvek / Textured Cardstock
Matte Medium
Acrylic Paint
Cyanotype Kit (it is used for one lesson- if you want to see it before you purchase the cyantype kit- you still get enough out of the class with the other supplies)
StazOn Black Ink
Pencil
Brushes – variety of shapes and sizes
Scissors
Craft knife
Cutting mat
Paper Piercer
Bookbinding needle
Latex / Vinyl gloves
Triple Play Foam Stamp Set
Get the official foam stamp set for the Beyond the Paper online workshop: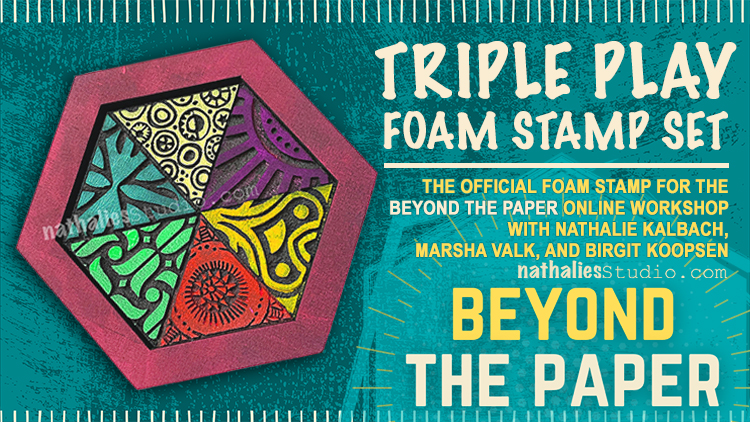 TERMS AND CONDITIONS
By signing up for this workshop, you agree not to give your private log-in and any password information to anyone else. The enrollment fee is for one person only. After the payment confirmation is sent to you, cancellation is no longer possible. Tuition is not refundable.
All videos are under the copyright of the artists and are for private use only and cannot be shared. You may not teach/re-teach the information in the videos or use it for any online or print publications.
Streaming: If you plan on using Streaming only, please sign up only if you are able to watch vimeo hosted videos. All videos are posted in this format. See vimeo.com to test your computer. Some older computers and software may have problems playing the videos. We are not responsible for troubleshooting playback difficulties of the videos. Note that this workshop is not optimized for viewing on mobile devices. Some devices may not be able to play videos or display all content. We recommend joining from a laptop or desktop computer. Please ensure your computer or device is compatible BEFORE joining.
Downloads: You will be able to download the videos so that you can watch them offline and keep them forever. Download terms and conditions will be posted when you download the first video and in order to do so, you will have to agree to those terms and conditions.
*Please read the following information regarding downloads: You can download our vimeo videos any time to a desktop computer or laptop. Downloading to certain mobile devices including Apple devices can be problematic in some cases depending on the age and model of the device (an unfortunate limitation to these devices). Please verify the capabilities of your device before purchasing this workshop/workshop collection. Unfortunately we cannot provide technical support for all the different models of devices out there. We recommend researching various support pages to learn about your device and its capabilities, for example the Apple Support page here https://support.apple.com/en-us/HT201302. For additional information about downloads, visit my Help page here.