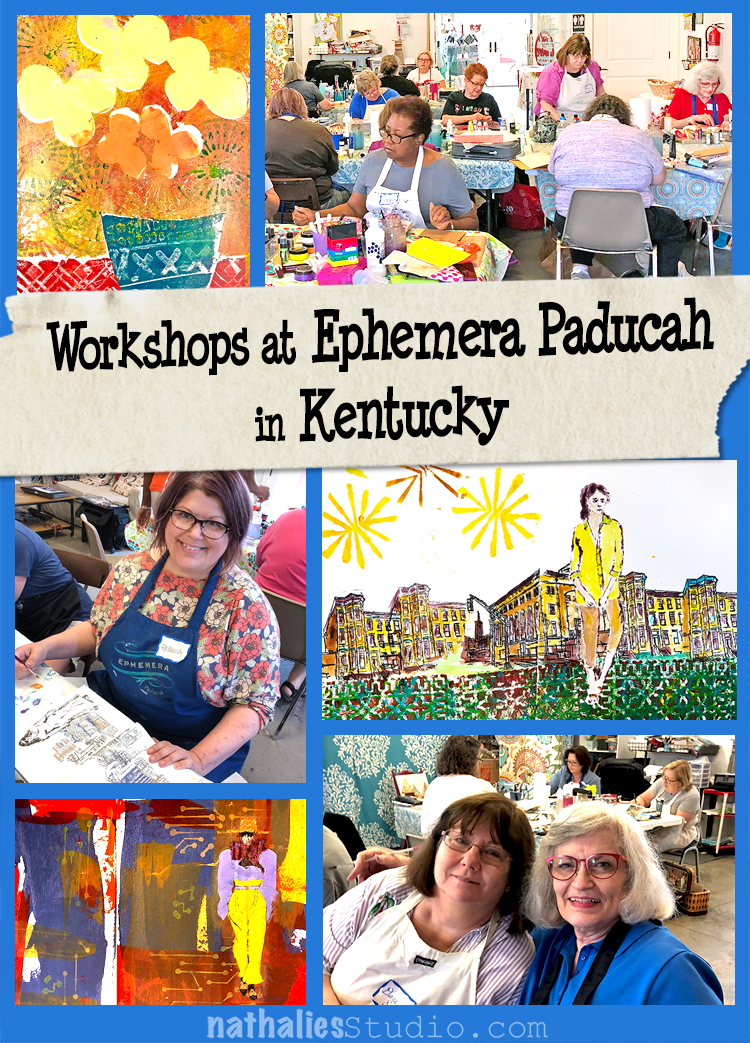 Last weekend I taught three days at Ephemera Paducah in Kentucky. It was so much fun!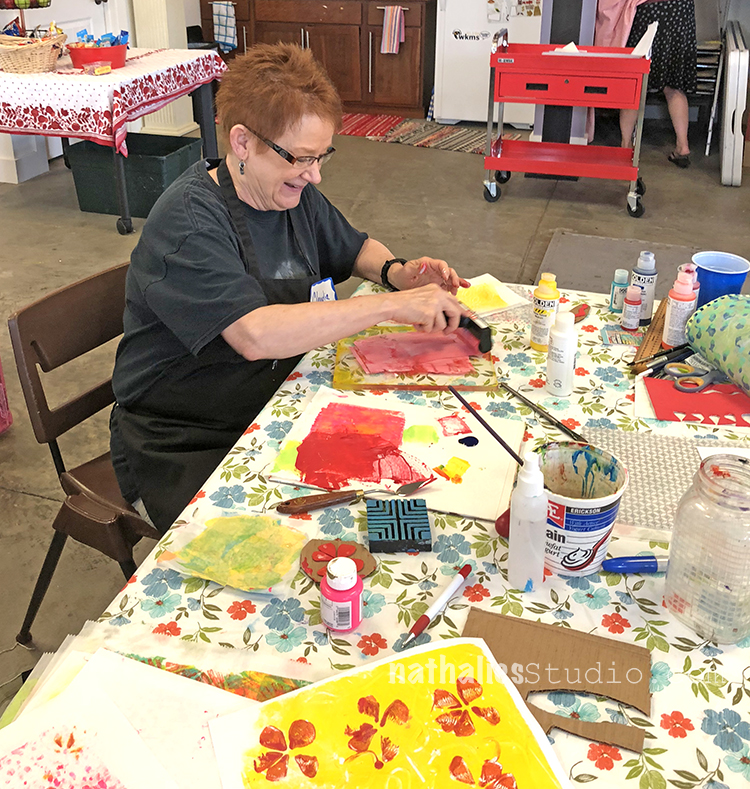 We started off with my Mono Print Painting Workshop and worked our way up with some basics. Kathy and Valerie did approve – no, really :)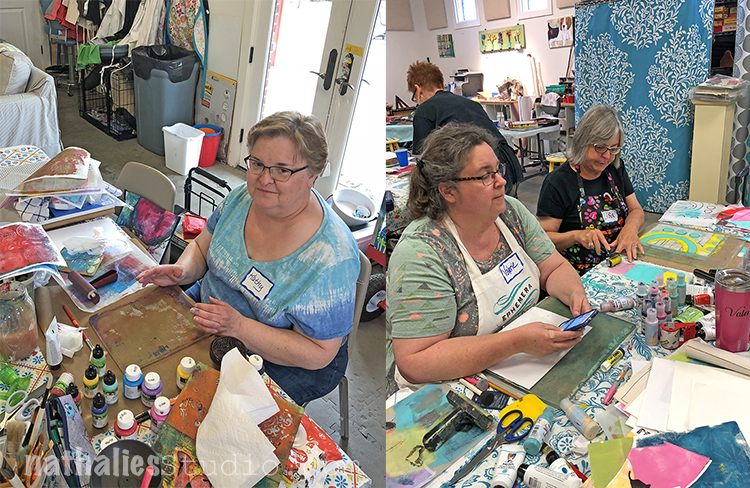 After some basics we were ready for some fun and more and more elaborate prints.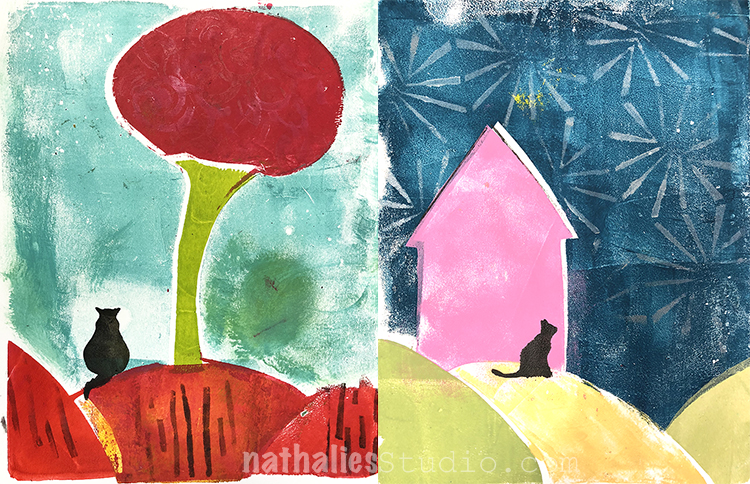 Lot's of cats :)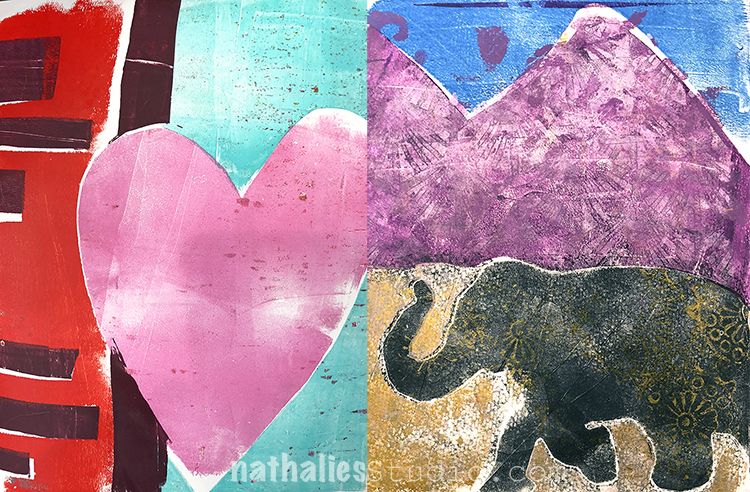 and beautiful happy colors.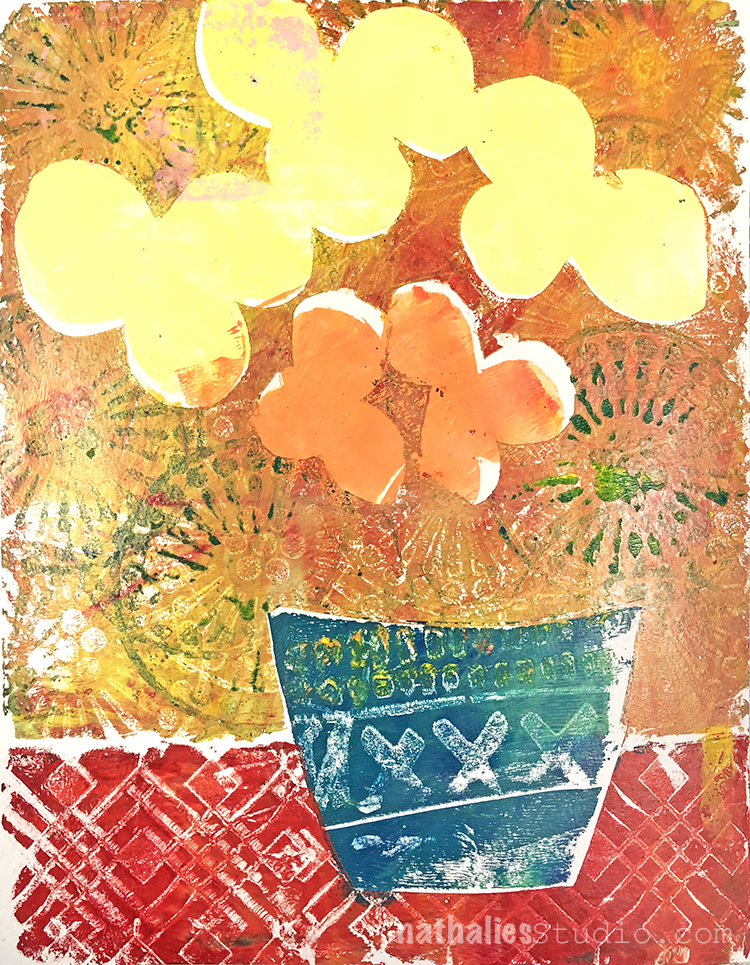 And of course Elephants :)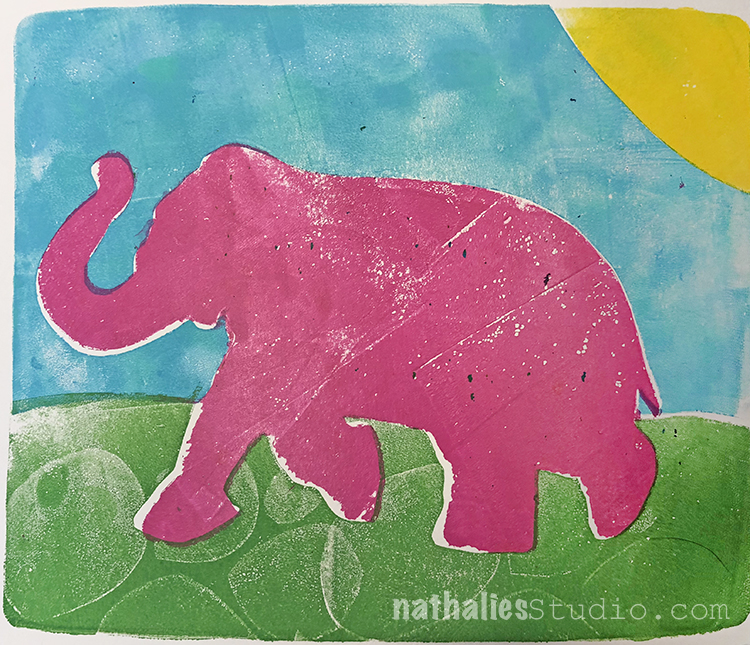 It was easy to be inspired in this wonderful classroom! Rebecca and Gwen are totally in the zone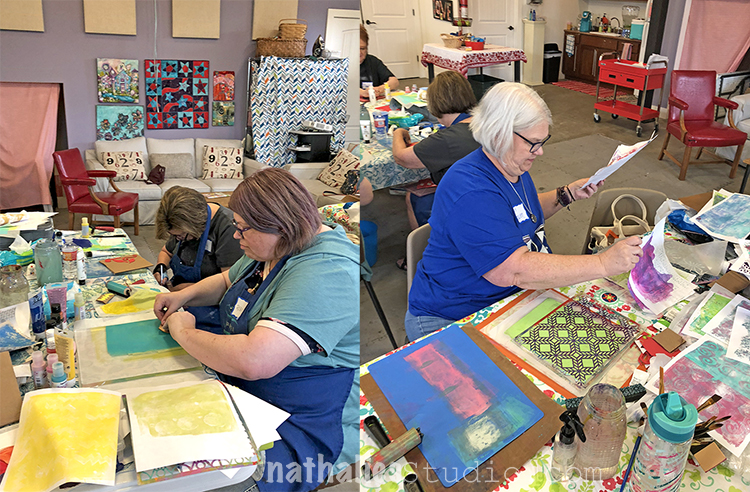 Such a cool space!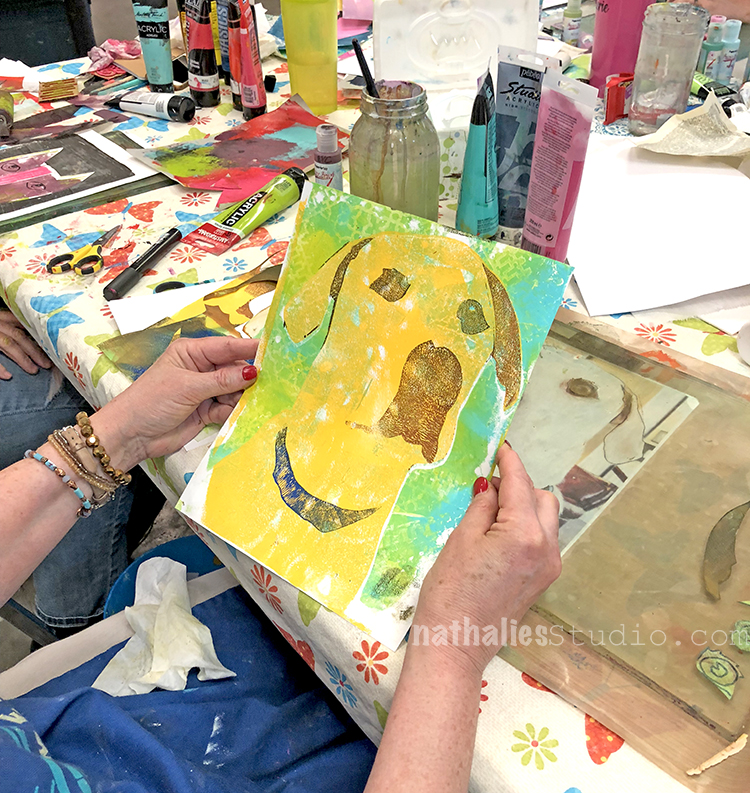 Cats and Dogs- fun!!! Allison did the one on the left and Kristen was like- hey – I am a dog person ….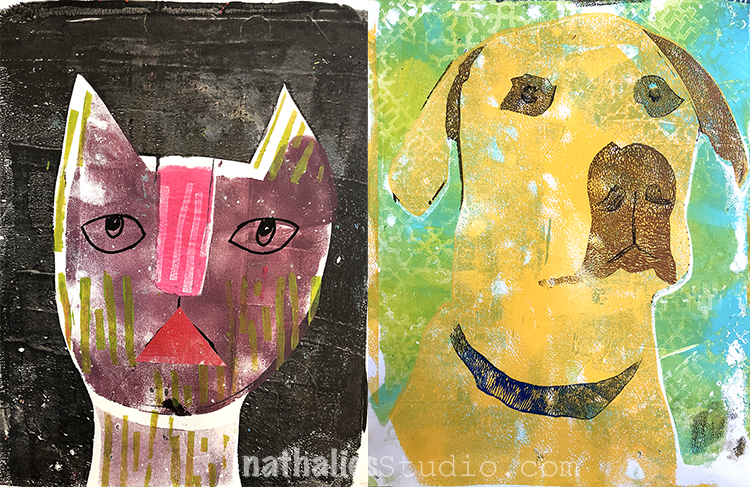 and Lisa thought, cats, dogs, I do abstract ! All at one table- cool, right?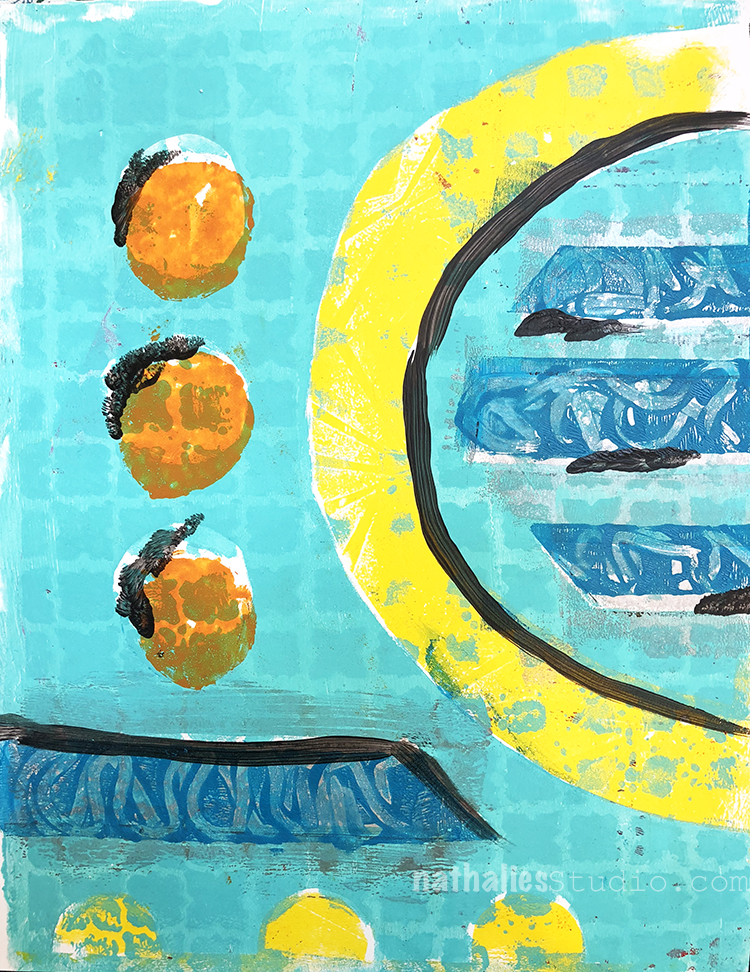 Saturday and Sunday I taught a two day Artful Adventures in Art Journaling class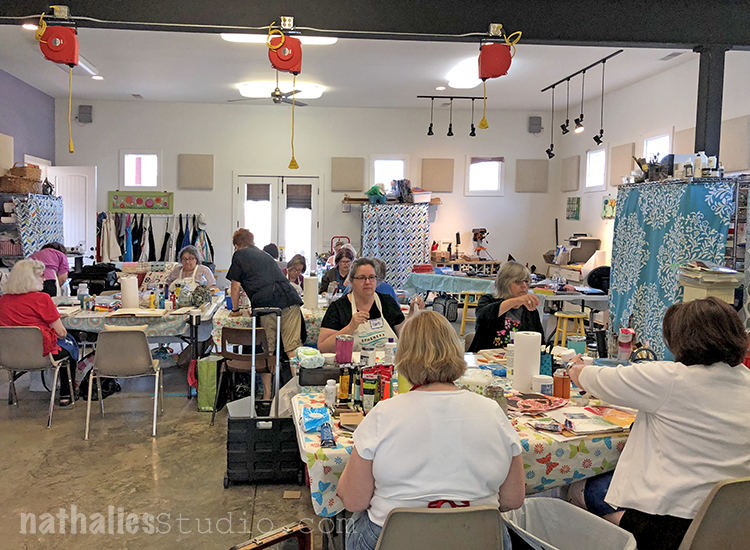 I loved meeting all those wonderful students from 11 different States ..yes 11- isn't that amazing!
It is my favorite thing of a class – getting to know the students and spending some extended time with them.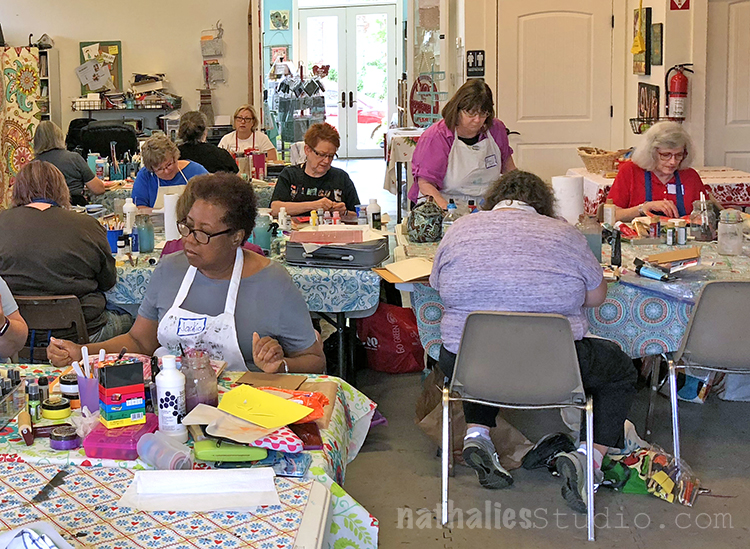 Look at all the yummie pattern – Art Foamies were used left and right :)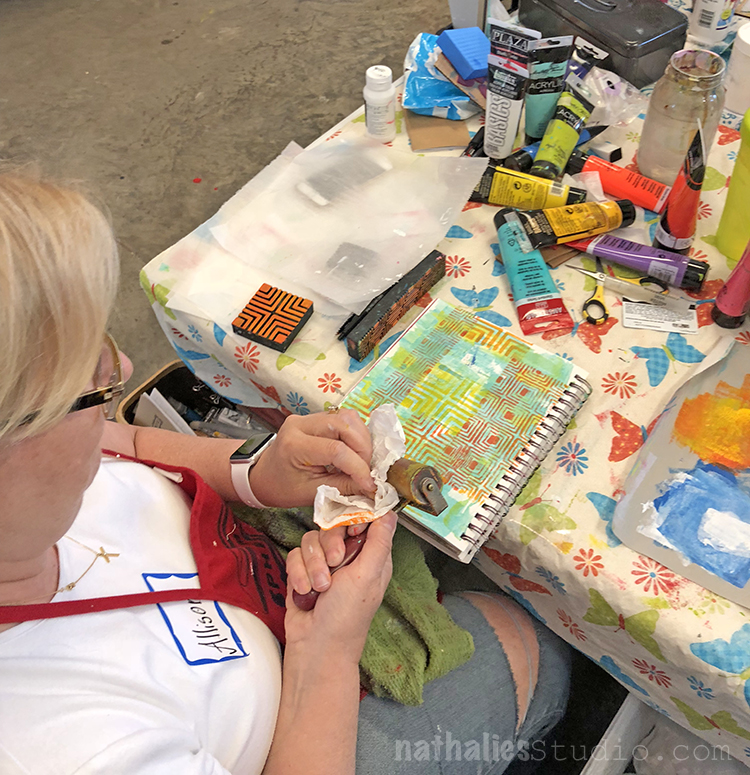 Those patterns and colors- yummie!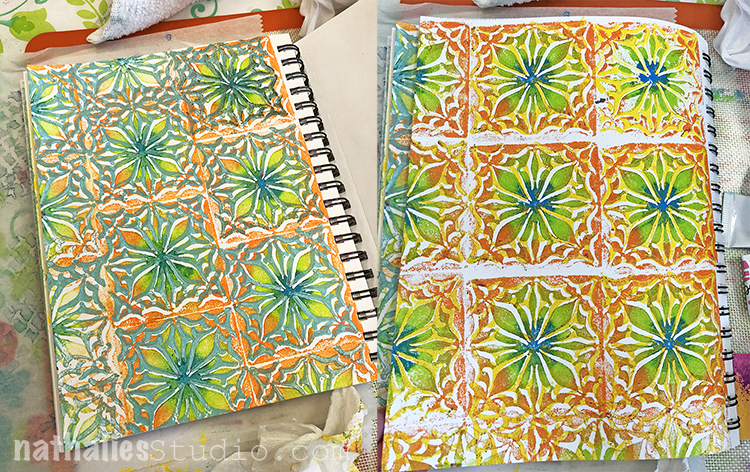 How can you not get in a good mood seeing this.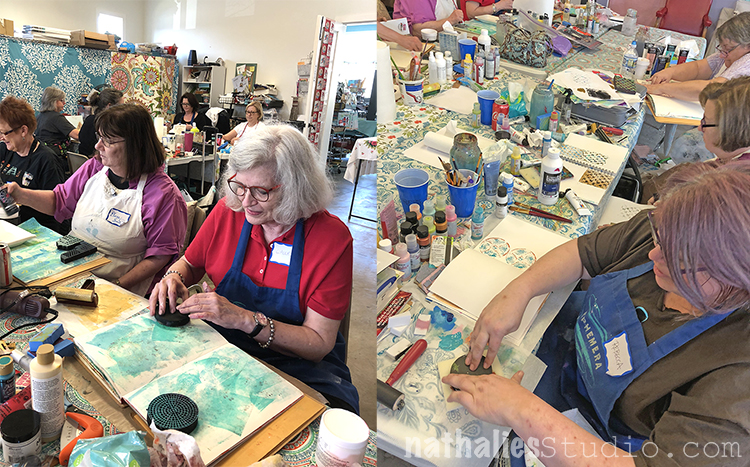 Here are some different pages – can you see the Elephant Stencil was quite the star LOL.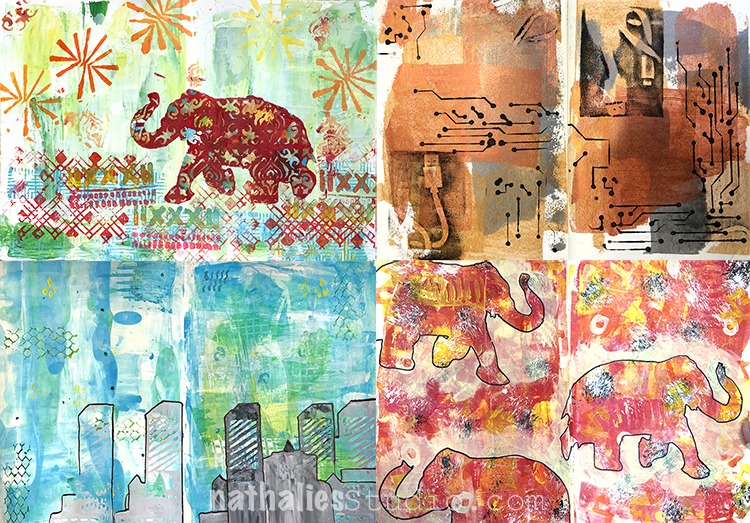 Lots of mark making and color play and layering.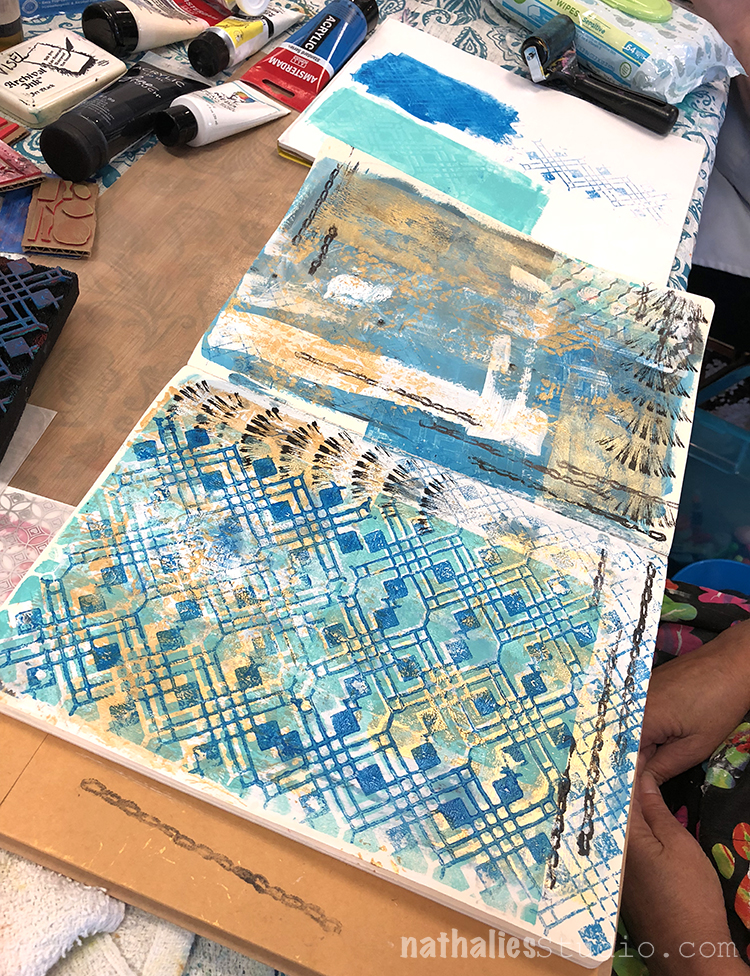 And here is Jackie – she drove 11 hours – WAHHHH -thank you so much for coming from so far !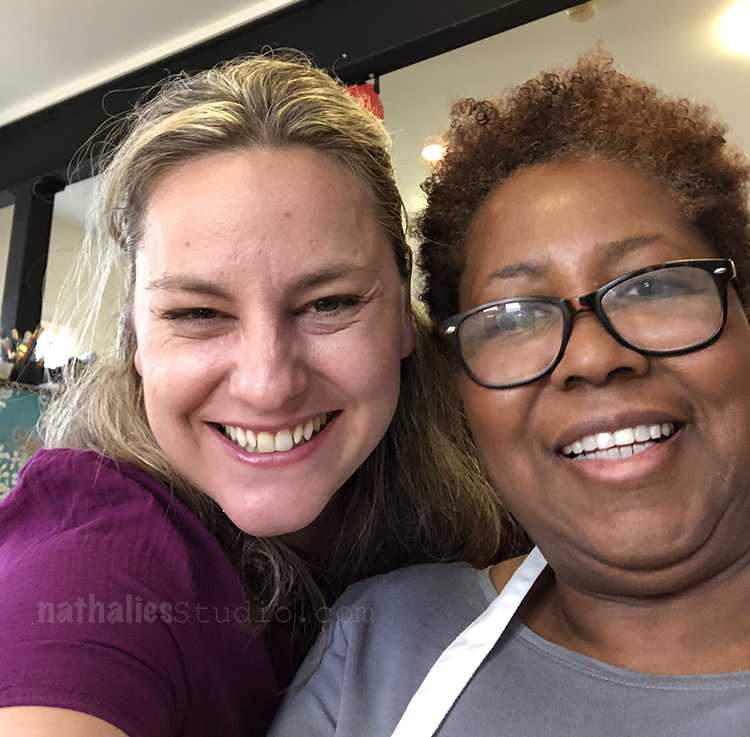 Mhhh that bird better watches out! ;)
City scapes – here with one of the Midtown Stamps.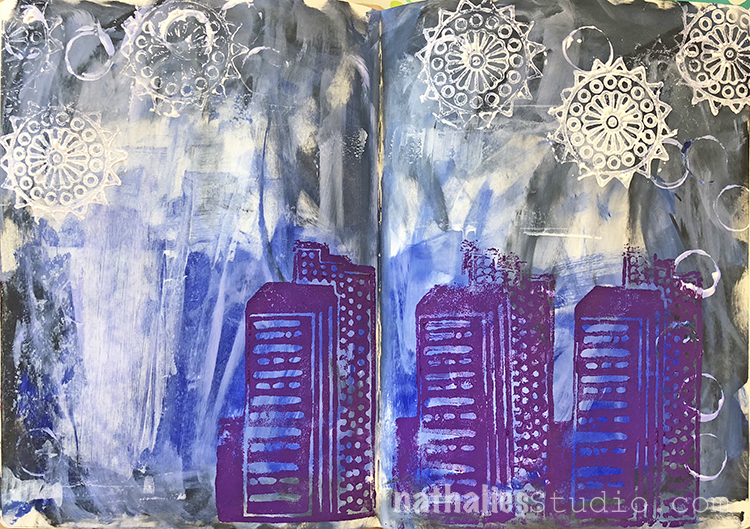 and some Chicago love and Batik love as well :)
Some serious easy peasy sketching :)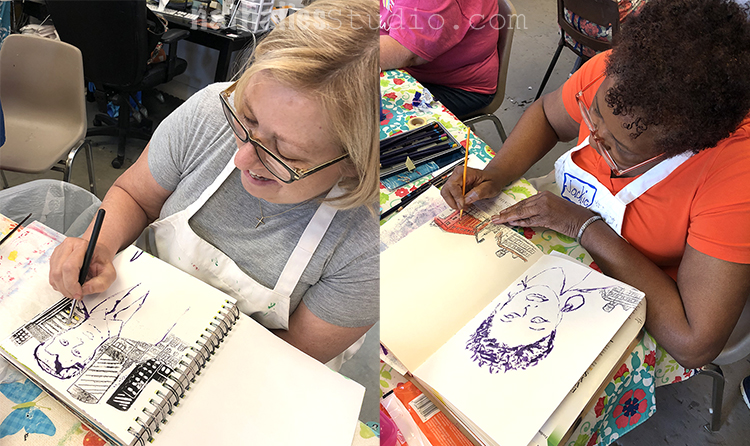 And hey lots of smiling faces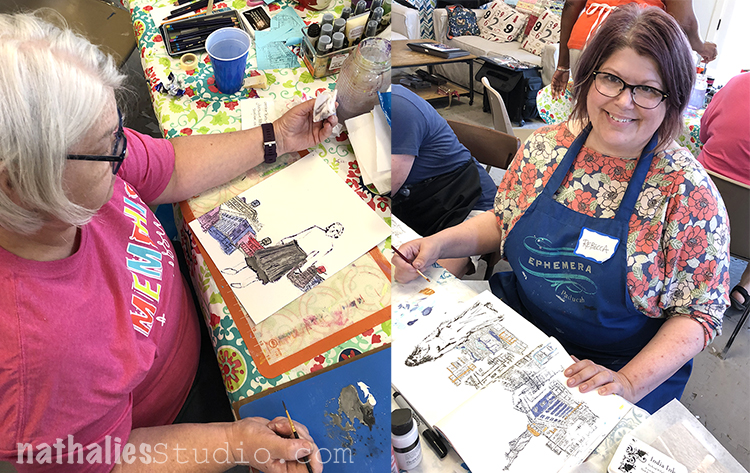 in those gorgeous city scapes created with the help of my RubberMoon Stamps.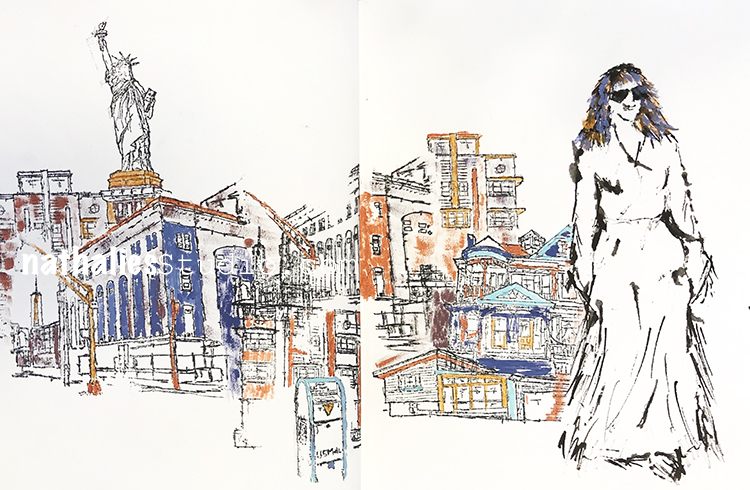 Just looking at those pages makes me all smile – I hope my students had as much fun as I had.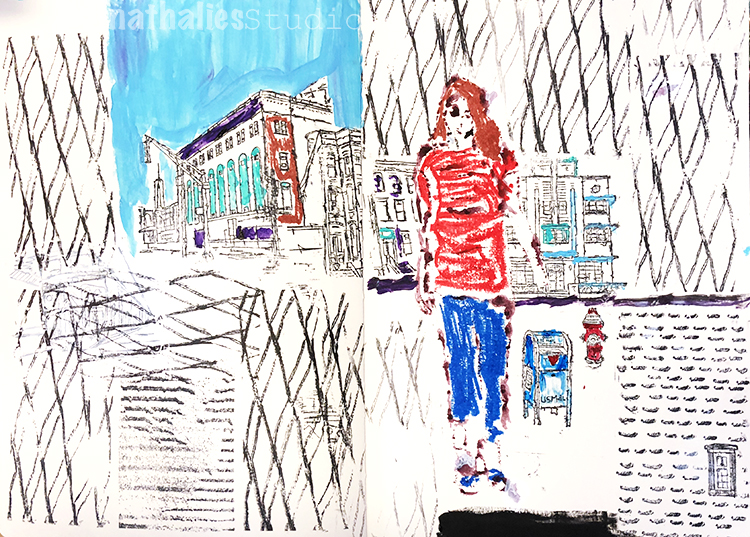 I really love Karen's grid ! And do you see John Travolta below …well I did and I showed my Travolta imitation …you have to take a class if you wanna see it- LOL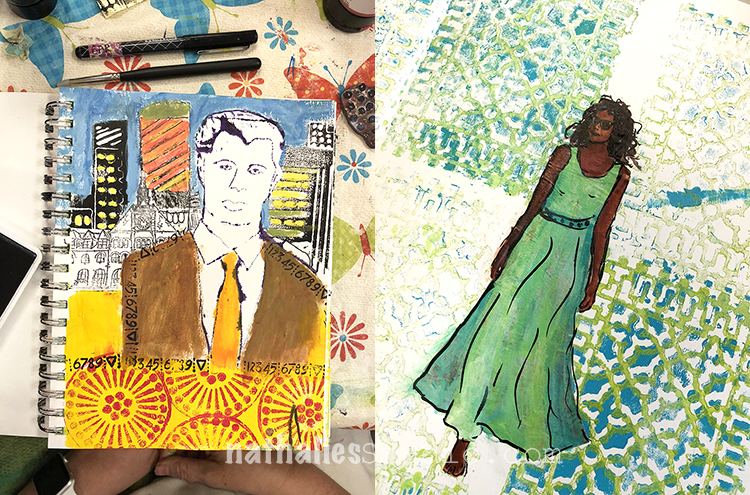 Claudia smiling at us  and Kristen, the owner and wonderful host of Ephemera , checking what shenanigans I am up to now-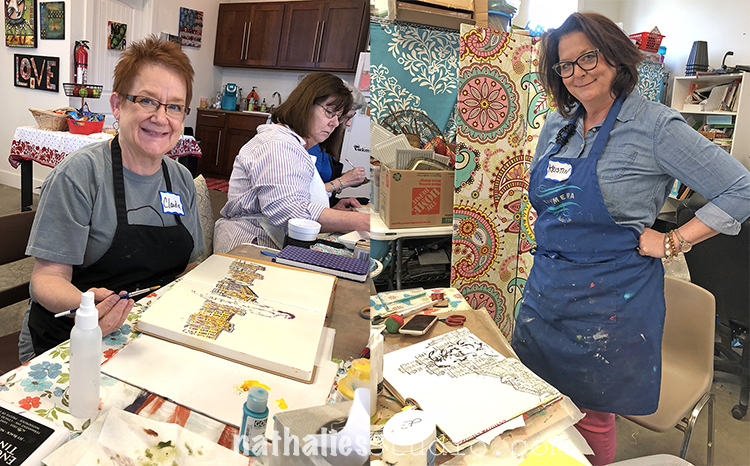 Tana and Dana smiling beautifully and no …I did not rhyme their names during class- this is a coincidence here !
Oh looksie !!!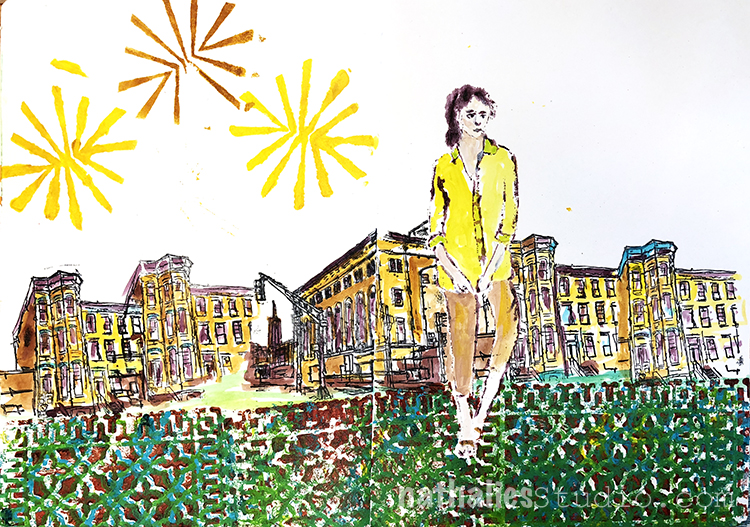 It was just so so cool how all those pages came together and incorporated techniques and materials we used throughout the workshop.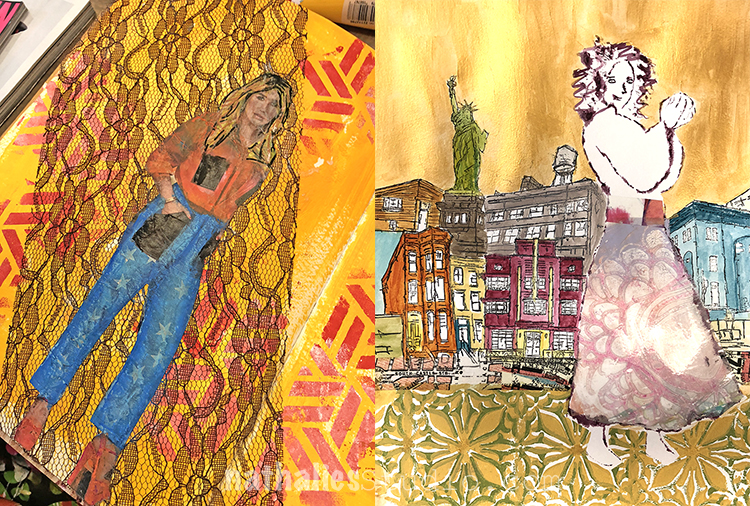 I want the the funky pants on the top left , the skirt on the top right and the dress on the bottom- woot woot.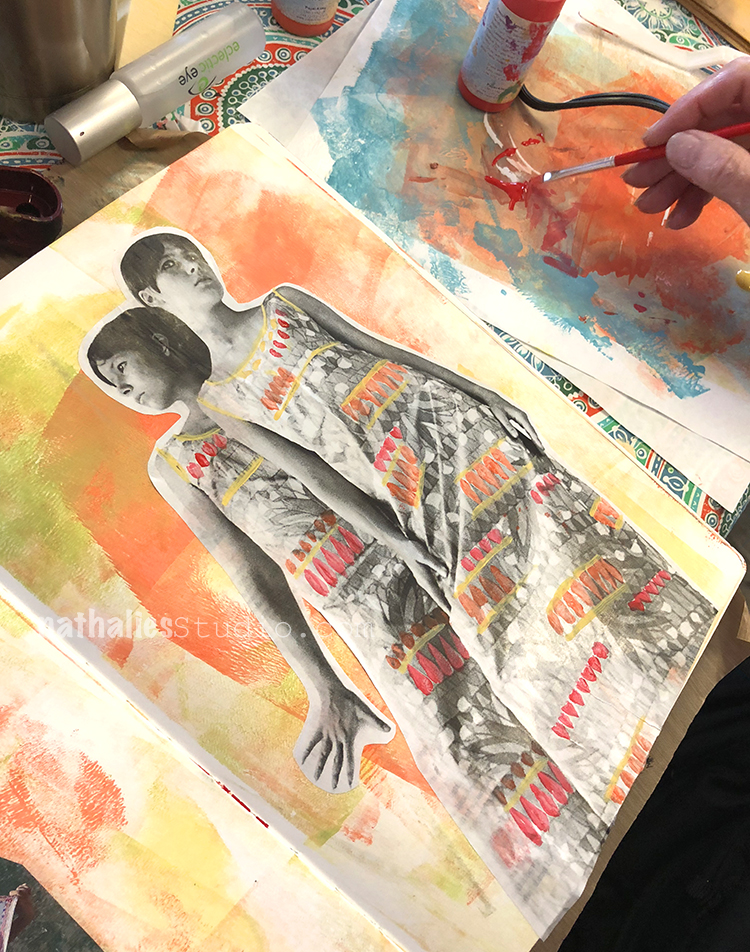 Dana and Laura from Memphis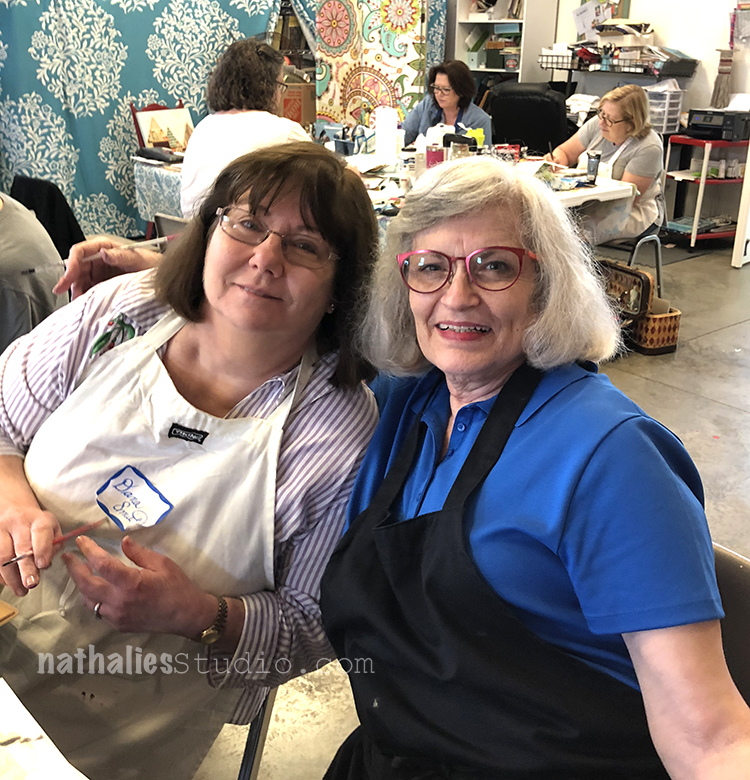 and here are cool collage of some more pages.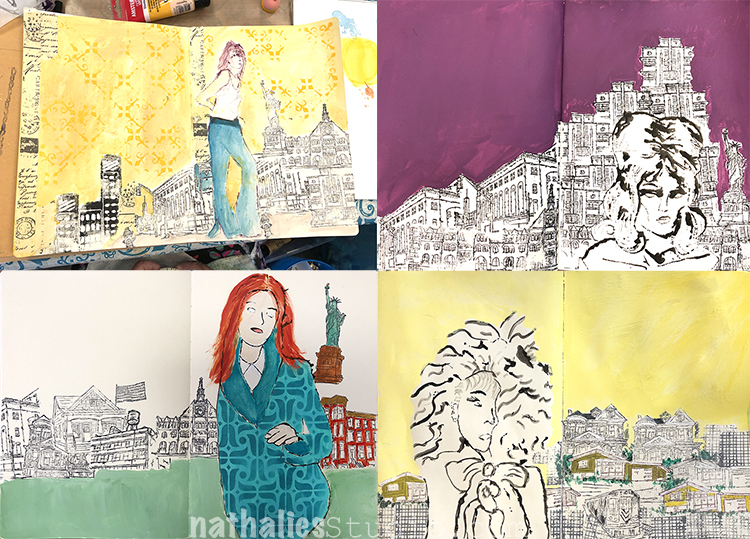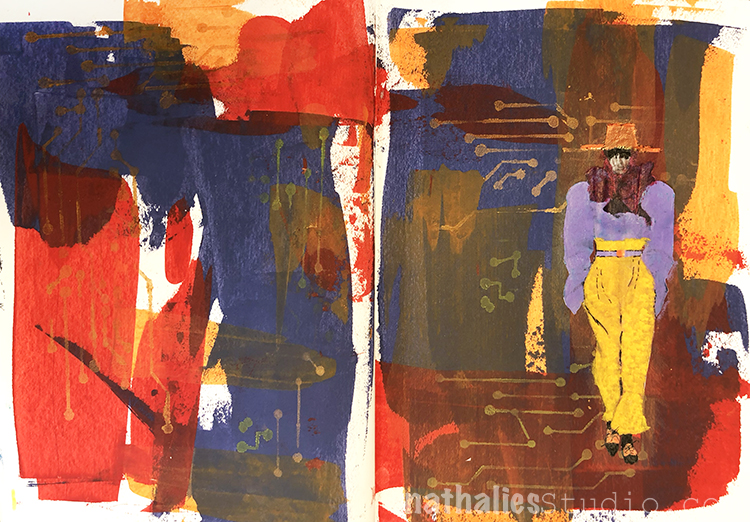 Thank you so much Kristen for having me – I truly enjoyed my time in Paducah! And thank you to all some of you traveling so much -and for your super sweet help!!! You were awesome and I hope I will see you some time again!
You missed this class? I am teaching a couple more classes this year which you can check on my In-Person Class here- but the next one is in San Jose at A Work of Heart. I will be teaching my Mono Print Painting Class there on July 29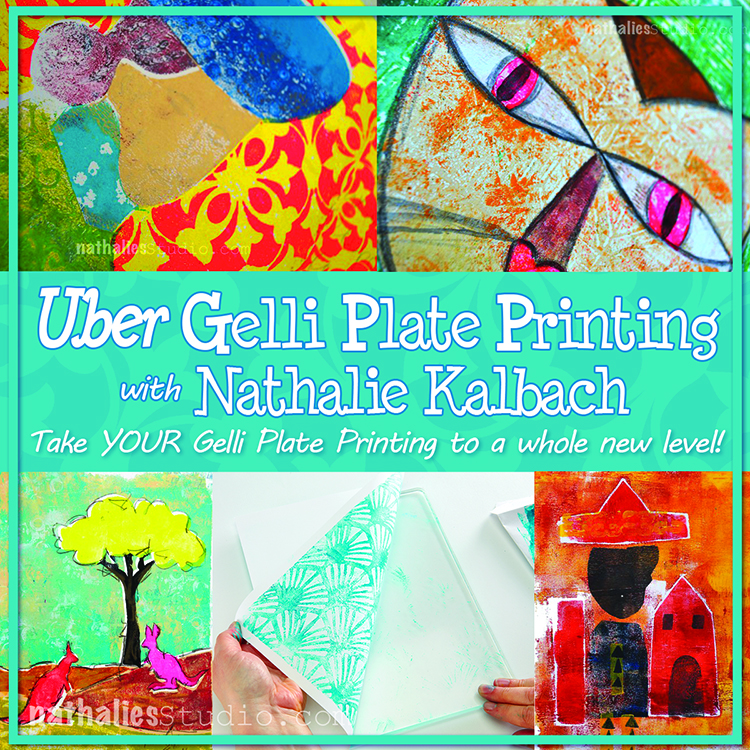 and an Art Journaling Class on July 30th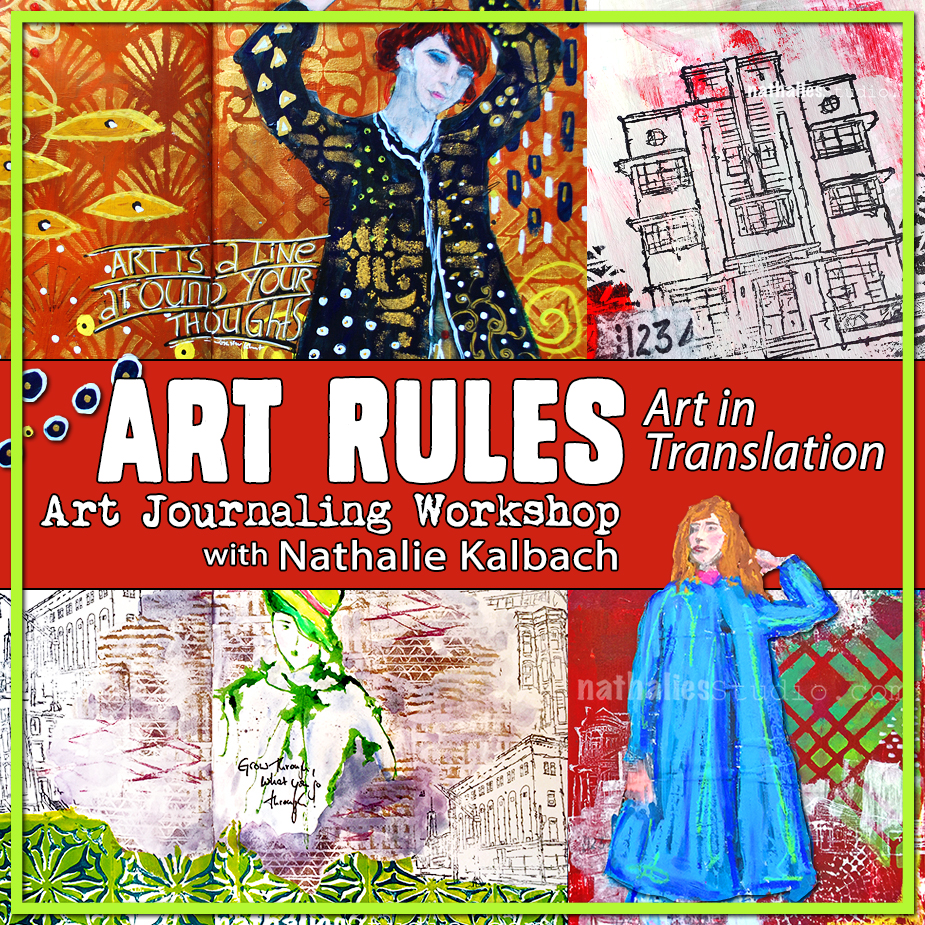 there are still spots available and I would love to see you there. Let me know if you go !!!
Have a wonderful day!