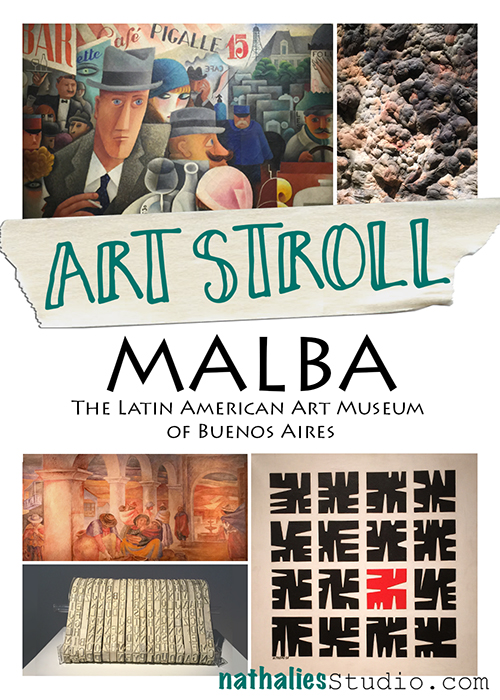 It's been a couple months after coming back from Buenos Aires, but I still would love to show you one the highlights of my trip, which was my Art Stroll through Malba the Latin American Art Museum of Buenos Aires.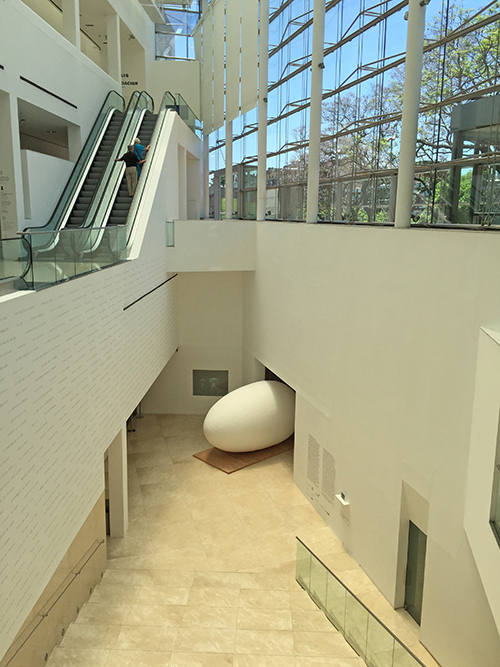 The Malba is actually a really funky building…and someone laid an egg in the basement too ;) It is a beautiful museum – the permanent collection is small but wonderful – the running exhibitions were amazing, but are not part of this post. Let's stroll through the permanent collection: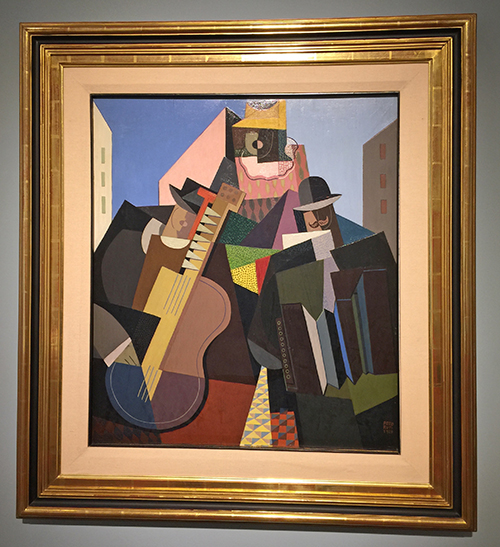 Emilio Pettoruti, La cancion del Pueblo (The Song of the People), 1927 – Oil on wood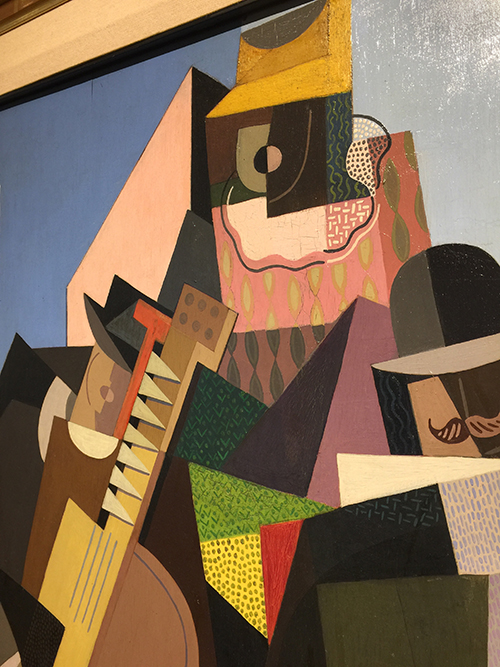 I love this one – it reminds me a lot of Picasso's Three Musicians which is from 1921- and I wonder if he saw Picasso's painting while he was in Europe. I love the patterns and the colors -it makes me want to create my own version :)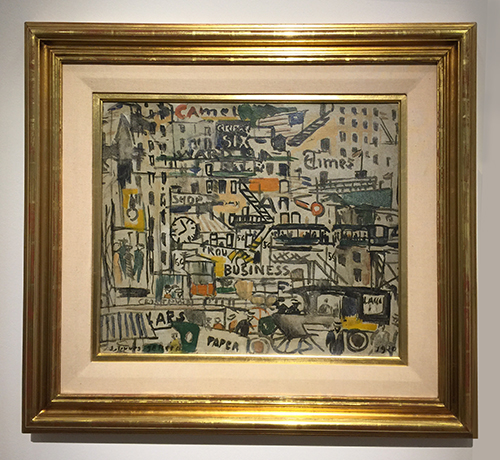 Joaquin Torres-Garcia, Calle de Nueva York (Street of New York) , 1920
MoMA has an exhibition with Torres-Garcia right now- which I will post about later – but I was happy to see more of his work after seeing these pieces in Buenos Aires.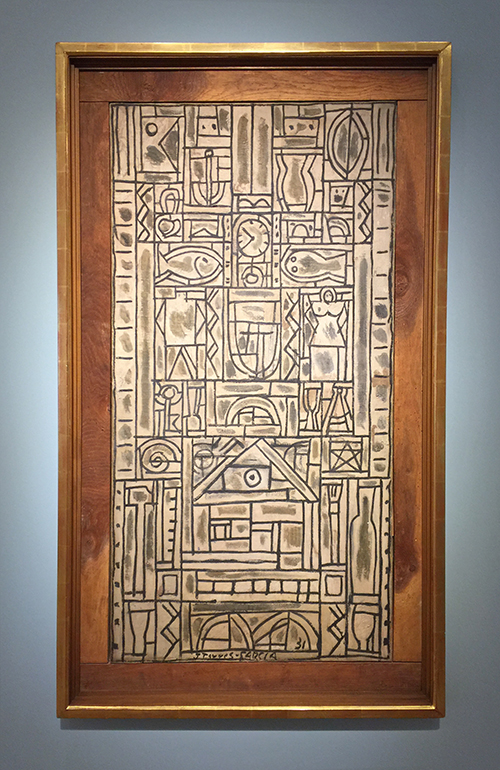 Joaquin Torres-Garcia, Compositon symetrique universelle en blanc et noir (Universal Symmetric Composition in Black and White), 1931
Isn't this gorgeous? I love it – and it would be so much fun to do an art journal page in this style.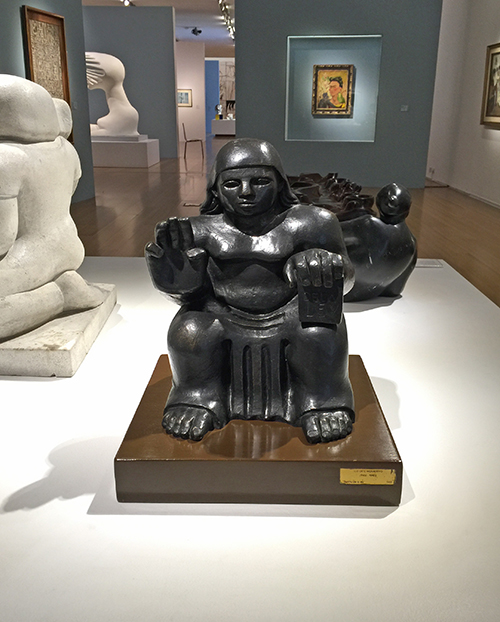 Luis Ortiz Monasterio, El espiritu de la rey, 1933 – this bronze sculpture reminds me a bit of Fernand Leger's Paintings –  I love it!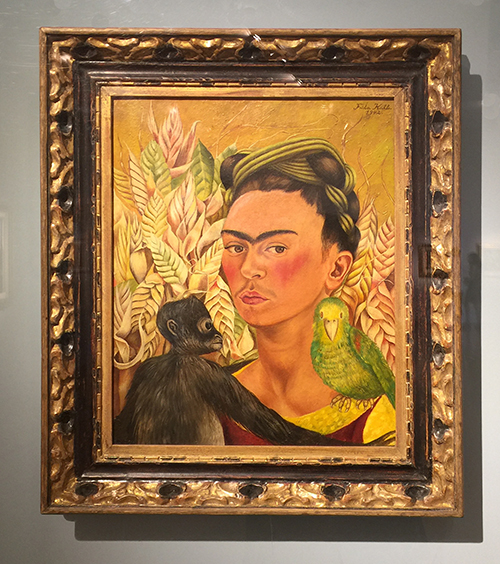 Frida Kahlo, Self Portrait with Monkey and Parrot, 1942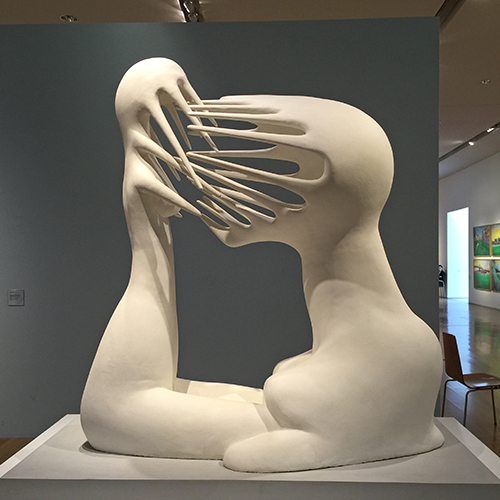 Maria Martins, O Impossivel (The Impossible9, 1945 "It is nearly impossible to make people understand each other,"
I found this one a bit disturbing and yes aggressive but also faszinating and for some reason it made me think of Magritte's "The Lovers" – just evoking different feelings.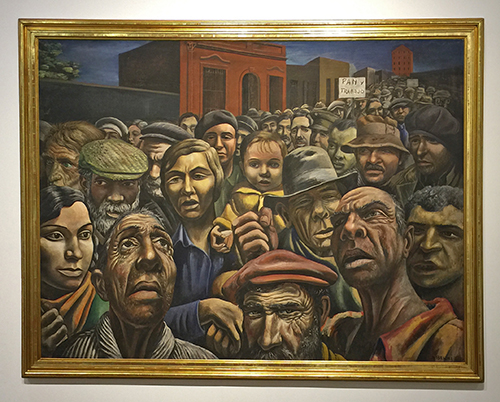 Antonio Berni, Manifestacion (Public Demonstration), 1934 – Egg Tempera on Burlap
In the thirties art and politics were often a topic by artists. Artists engaged in collective work, political activism and debates. Images of rural and urban workers, as well as figures protesting or engaged in traditional celebrations, began to appear in often monumental pictorial works. The artwork made use of materials that gave artistic expression a social  dimension. Burlap from a potato sack or tempera paint of the sort used murals were often chosen by politicized artist.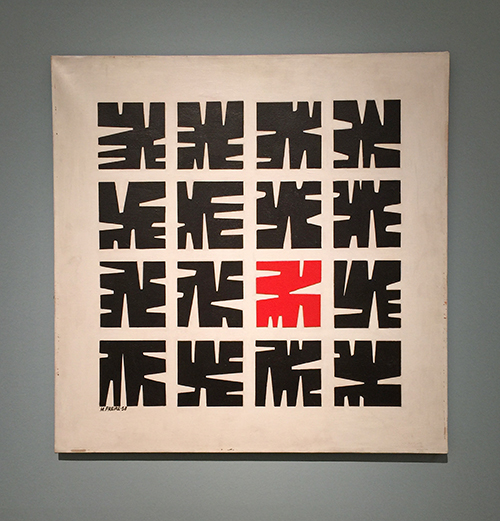 Maria Freire, Sudamerica N10, 1958
I love those polygonal forms – pretty amazing pattern.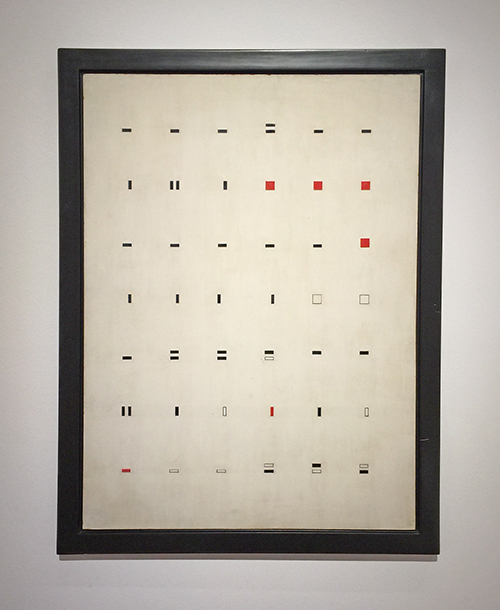 Lidy Prati, Serial Composition, 1948 (1946)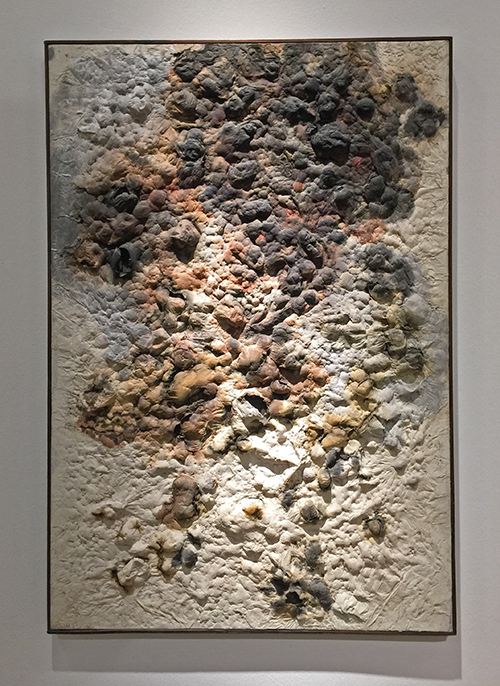 Franz Krajcberg, Sin Titulo (Untitled), 1961 – burnt colored paper pulp on canvas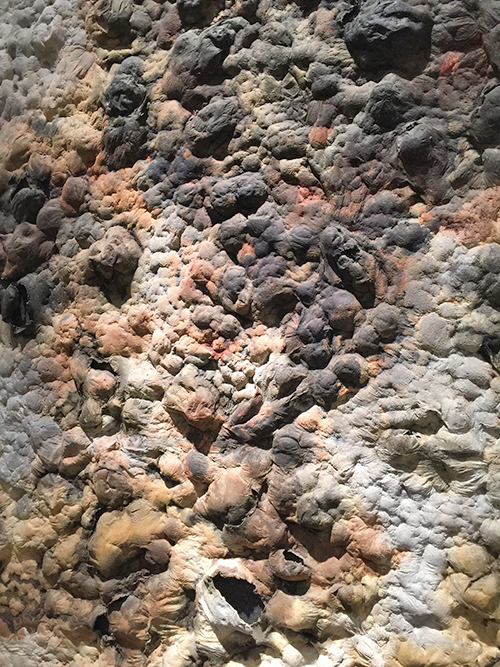 I could not stop looking at this- I wanted to touch it..but I didn't ;) – the texture – swoon!!!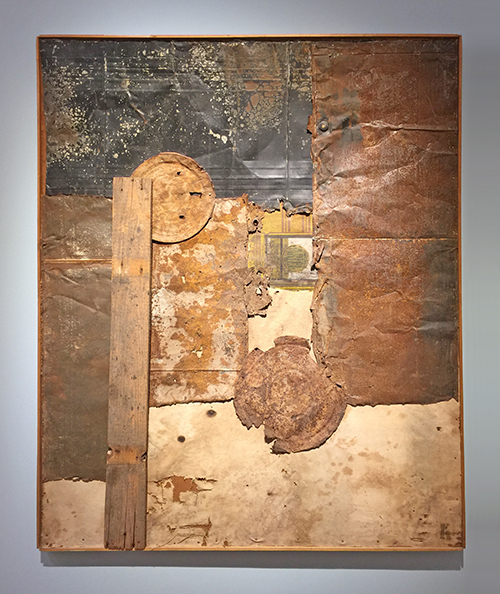 Kenneth Kemble, Suburban Landscape in Memoriam B.N., 1958  – Rusty metal sheet, oil and misc. on hardboard.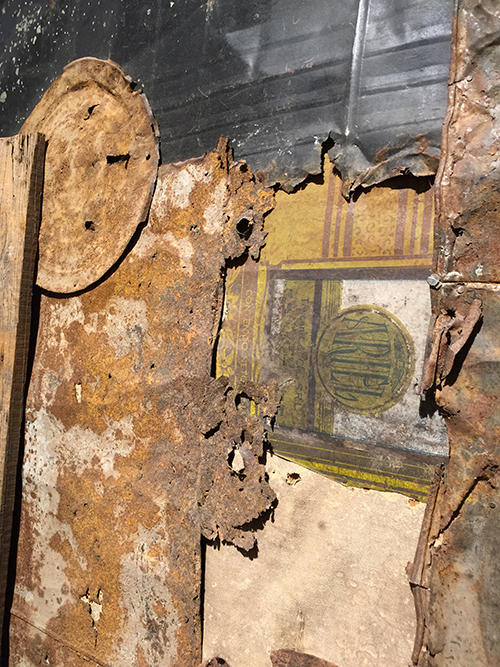 I loved seeing all the artwork with supplies that were around and on hand.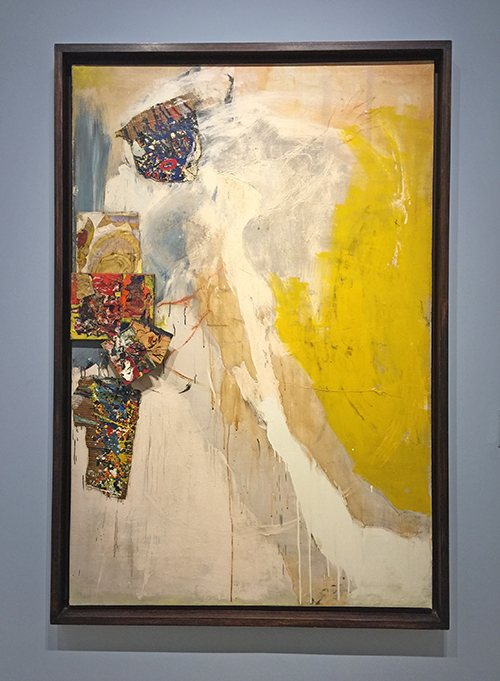 Luis Felipe Noe, Dos mujeres (Two Women) 1963 – Oil and Collage on Canvas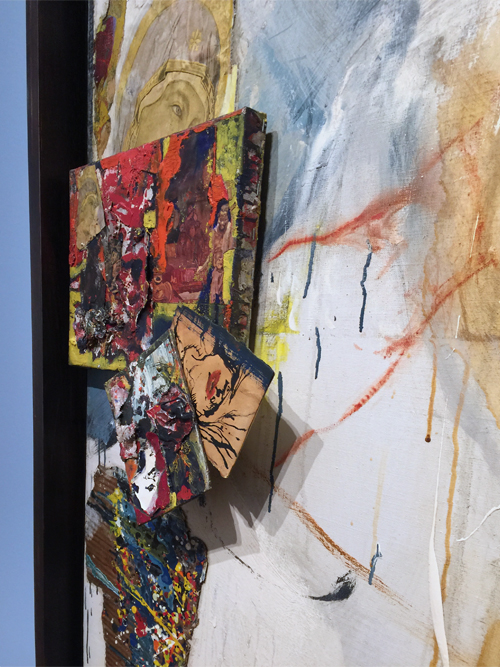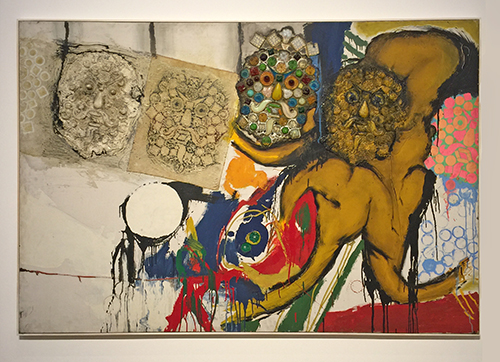 Jorge De La Vega, Pruebe de nuevo (Try Again), 1963 – Oil, paper, glued fabric, and glass on canvas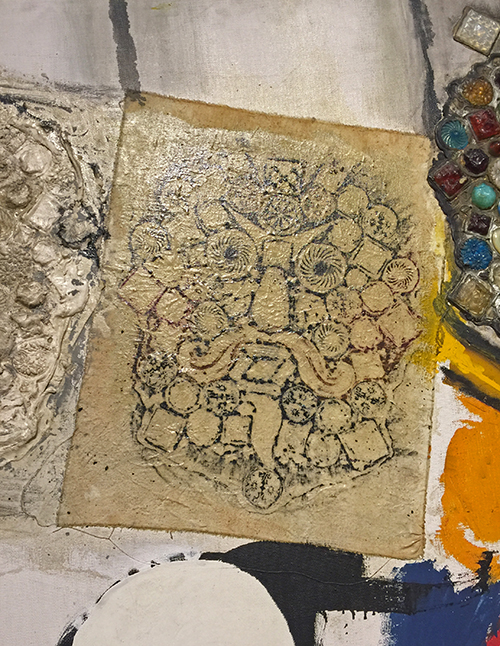 this is a rub off from the face on the right – so fascinating.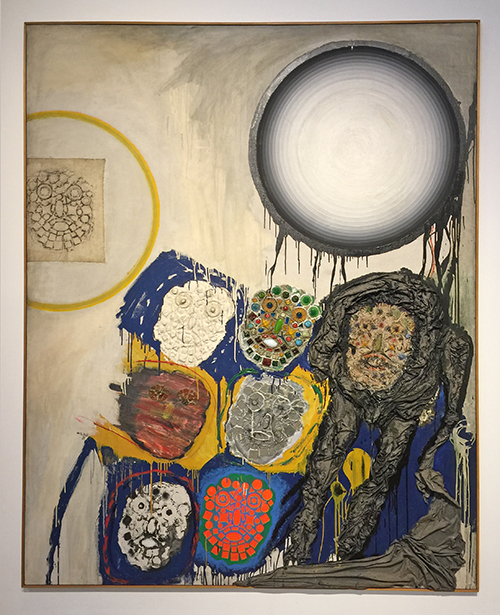 Jorge De La Vega, El dia ilustrisimo (The Illustrious Day), 1965 – Oil, glued canvases, frottage with charcoal on cut-out canvas, synthetic plaster, jewelry, mirrors, glass and plastic on canvas.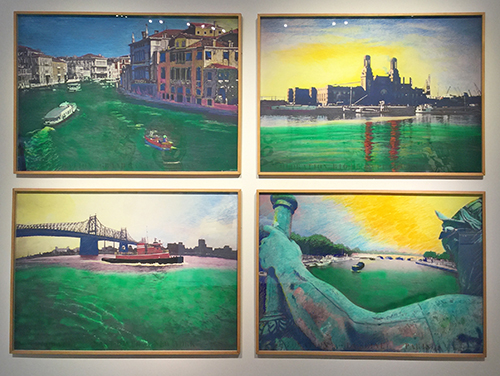 Nicolas Garcia Uriburu, Pastel on 4 Photographs, 1970
Beautiful Photo Alteration – I love to alter photos and of course the urban theme is dear to my heart.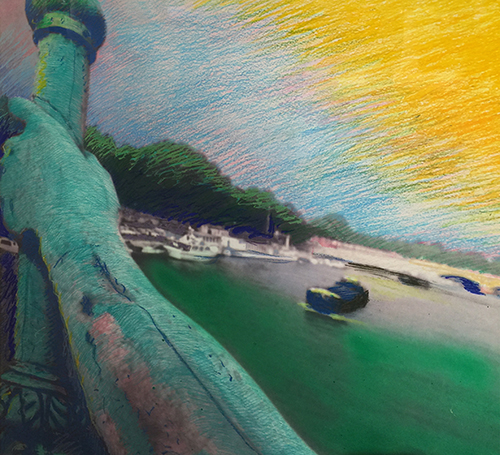 And now- I had to include this although it wasn't in the permanent collection. Hello giant rubber stamp!!!!!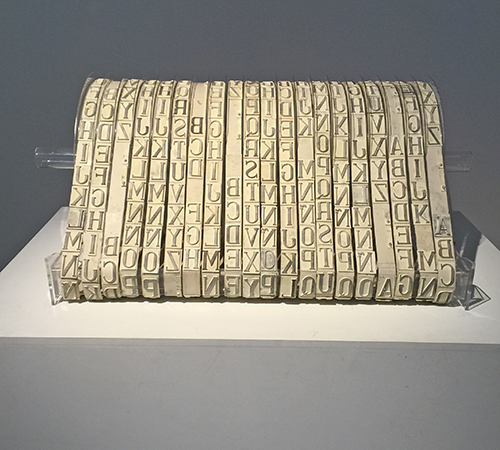 Eduardo Navarro, The Mechanics of  the Alphabet, 2015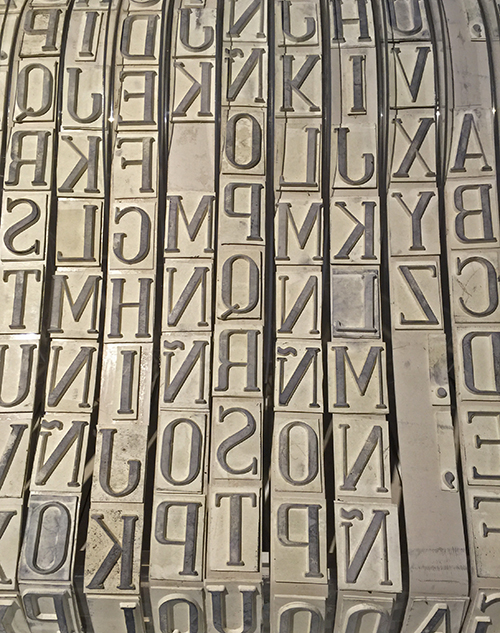 It was a great museums visit- and if you ever go to Buenos Aires, definitely put Malba on your list.
What caught my attention was that there was actually quite some artwork by women- making it yet the more prominent how very few women are present in a lot of Museums throughout the world- naming MoMA for example – and it is not as if women in the 20s, 30s, 40s or 50s of the last century didn't do wonderful and unique artwork.
The other fact that caught my eye was the variety of supplies that were used – my Mixed Media heart was beating a couple beats faster …in a happy way.
I hope you enjoyed this little art stroll! Which of the pieces I showed did you find most inspiring?