Creative Squad
Welcome to the Creative Squad!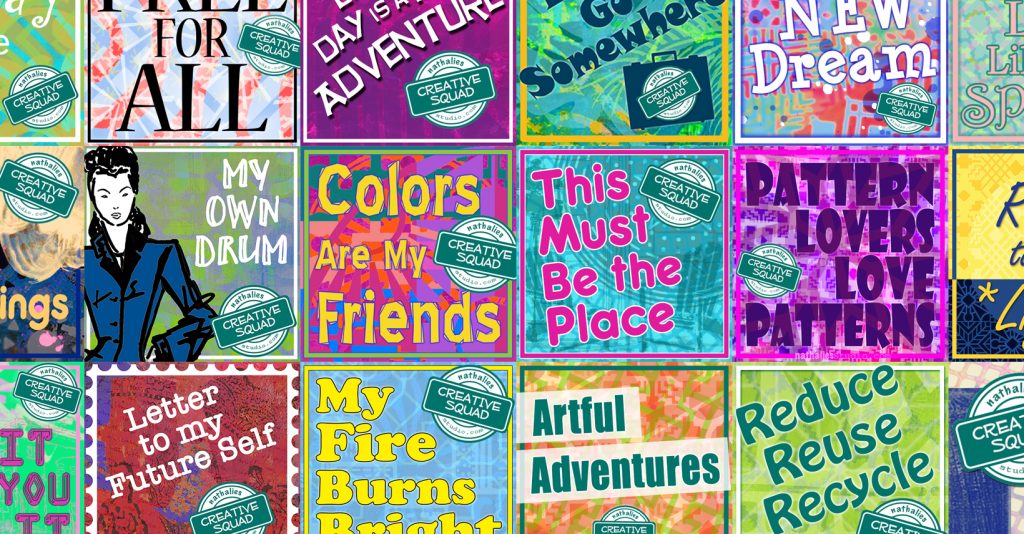 The n*Studio Creative Squad brings you fresh, inspiring content every Tuesday on the blog.
Follow the Creative Squad feed on Instagram HERE for posts throughout the week, sharing project and technique ideas to inspire your mixed media art!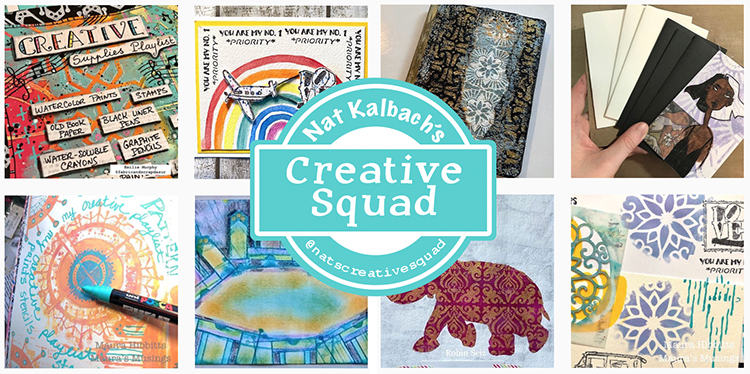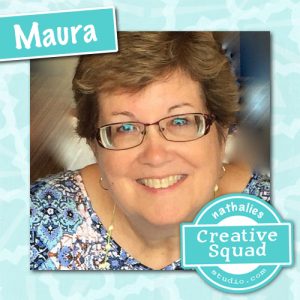 Maura Hibbitts – "I've joyously jumped to the right side of my brain to play with color and work in mixed media, sometimes with a steampunk twist, since retiring from teaching science. I'm back to being that kid that sat under the backyard tree and drew for hours. I enjoy life with my family in the Adirondack region of New York, love to travel, read, garden and still find myself fascinated by clouds and rocks from my years of teaching earth science."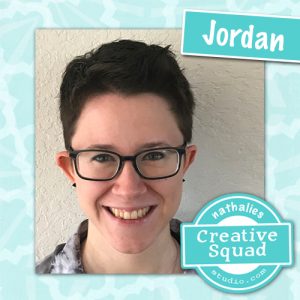 Jordan Hill – "I am a Florida based mixed media artist and illustrator who specializes in art journaling. My draw to all things creative started when I was three or four, sitting in my grandmother's lap and watching her crochet. Though my specialty is art journaling, I'm not a fan of limiting myself to any one medium or craft and I have been known to dabble in fiber arts, bookbinding, digital illustration, or whatever else appeals to me on any given day. Art journaling specifically became a part of my life in 2009, when I discovered it as an offshoot of scrapbooking. I am so honored to be a part of this Creative Squad!"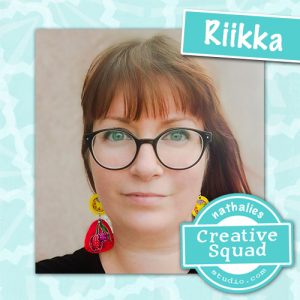 Riikka Kovasin – Heippa! My name is Riikka Kovasin and I am a mixed media crafter from Finland. I live in Helsinki with my darling husband and our two sweet daughters. Creating is my passion and a way of self-care. Besides family and crafts, my weeks are filled with a full-time job.
I have been doing all sorts of crafts my whole life. I really got into papercrafts after I found scrapbooking when my older daughter was about 6 months old – that's over 10 years ago. Since then my style has evolved to more and more mixed media direction and nowadays, I tend to go dimensional and do more altered and mixed media pieces than regular layouts.
I absolutely adore getting my hands into paints and mediums! To me the process of creating is equally important than the finished project.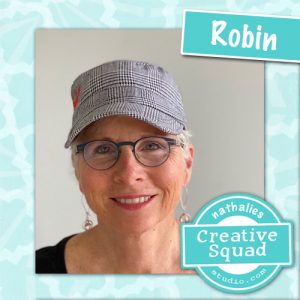 Robin Seiz – "I am a self-taught Mixed Media Artist living in the wonderful little artist community of New Hope, Pennsylvania located on the Delaware River. I love the process of creating almost as much as the end result. It's fun to work on a variety of substrates, use so many tools like gelli plates, stamps, stencils, foamies — you name it. And then to add color in endless mediums makes my heart sing. I gain lots of inspiration from nature; I'm often seen with my camera in a meadow or in my garden. I enjoy supporting other artists through social media, buying their art, taking their classes, or supporting them through Patreon — in short, I think community is important to help us all grow."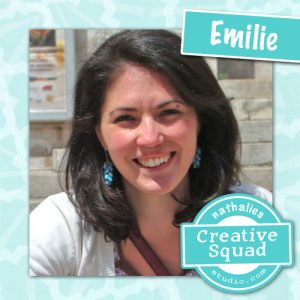 Emilie Murphy is a French scientist living in Maryland. She has always been passionate about making all kinds of different things since her childhood. Ten years ago she started on a scrapbooking journey and since 2016, this has also evolved into card making and mixed media. She loves anything handmade, which seems to always spark her curiosity and enthusiasm to experiment with new techniques. Her favorite things to make are art books/journals; where she can play with stamps, stencils, inks, paints, mix papers, and fabrics. Making artistic kinds of things became vital for her well-being and provides an escape from her daily life routine. She can't thank Nathalie enough for giving her the opportunity to be a part of her Creative Squad!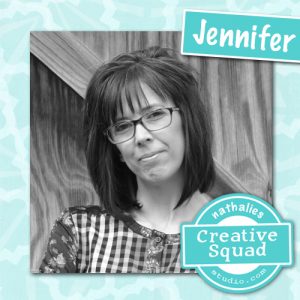 Jennifer Gallagher is an artist and art instructor currently living in West Virginia with her husband and two sons. She has been involved in the arts her entire life in one way or another. After studying fashion in college, Jennifer found herself drawn to new art forms and techniques. She now enjoys painting, collage, art journaling, and mixed media. Geometric shapes and patterns are her greatest source of inspiration and joy.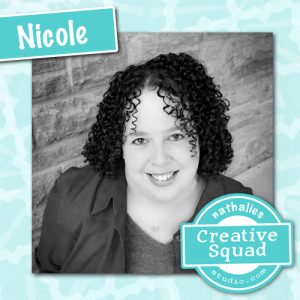 Hi! I'm Nicole Watson, a Midwest girl who married a Southern boy now living in Austin, Texas. Art has always been part of me … from collecting random bits of paper at a young age, to selling my first painting in high school, then discovering mixed media while studying art and design in college. Other stops along my art journey include scrapbooking, card making, freelance photography, and layout/graphic design. Creating in my studio and sharing my work with others gives me life, purpose, and is healing to my soul.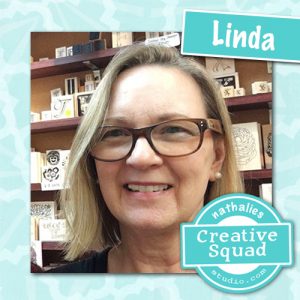 Linda Edkins Wyatt has been drawing, painting, sewing, and crafting as long as she can remember. She has spent most of her career in commercial design areas: first working as a textile print stylist in the fashion industry, and later, as a magazine and newspaper layout designer. Over the years, she explored painting, weaving, pottery, sculpture and other art forms and finally, in 2006, discovered mixed media and knew she had found her niche. Linda, who teaches monthly classes at The Ink Pad NYC, never tires of experimenting with new materials and techniques, and loves to incorporate vintage and recycled materials into her artwork.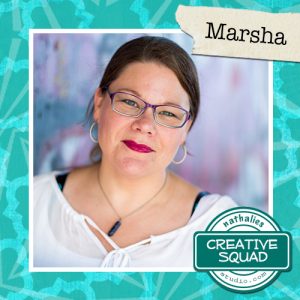 Marsha Valk is a craft professional from the Netherlands whose creative soul and love of art history lead her to scrapbooking and eventually mixed media and art journaling.  She loves to repurpose and recycle painted and inked scraps that she finds around her studio.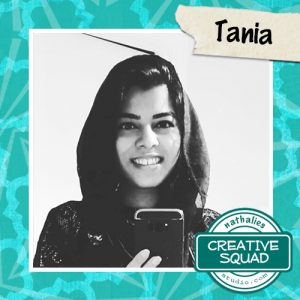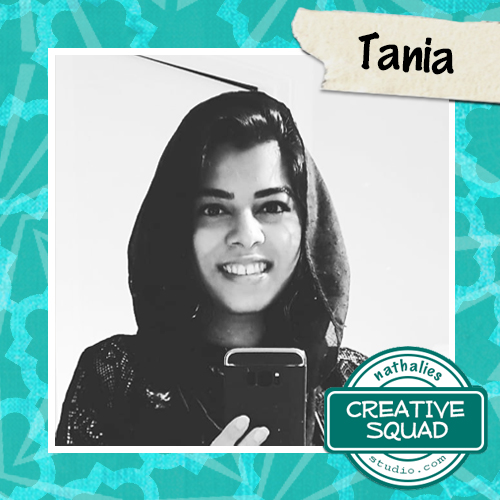 Tania Ahmed: "I am a UK-based craft content creator and tutor. My style is eclectic and I am known to make anything from mixed media projects to clean and simple cards should the mood strike me! ;) I love bright colours, technique based projects and I am honoured to be on Nathalie's Creative Team <3"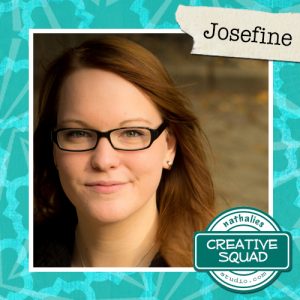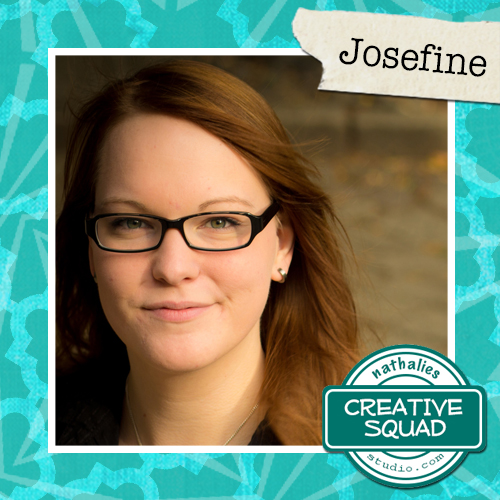 Josefine Fouarge discovered her creative side in 2014 when she moved from Germany to the US to be with her very supportive husband and their Rat Terrier "Freedom". It started with simple layouts and handmade greeting cards and evolved into art journaling and mixed media over time. Today she loves to experiment with different mediums and techniques (her favorite types of projects are messy and/or snarky) and inspires others by sharing her enthusiasm online and as a teacher in her local craft store Scrapbooking Forever & Crafts.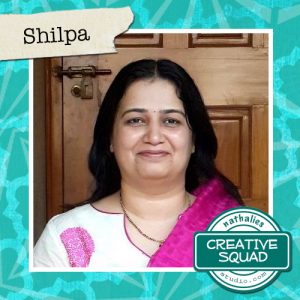 Shilpa Nagaonkar is a Mixed Media Artist from India. She has been painting ever since she can remember. Colors bring her pleasure, from bright to light! She loves making stuff with stamps, stencils, papers, paints and inks; and more importantly, sharing this all with others. Her particular passion is experimenting with texture, colors, and new techniques in her art journals, on canvas, and in altered art pieces. Life and nature are her main inspirations. With her art she tries to bring more love into the world, truly believing that art heals…. Apart from this, she is also a voracious reader, culinarian and movie buff!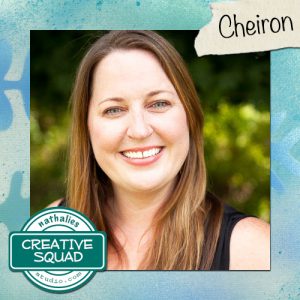 Cheiron Brandon works in the financial district by day and loves to create with paper and paint at night. She teaches monthly card making and mixed media classes at The Ink Pad in NYC and lives in New Jersey with her husband Paul and their two adorable rescue pups, Big Boy and Oreo.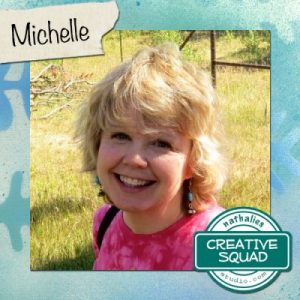 Michelle Rydell is a mixed media artist, who lives in Minnesota, USA with her husband and two cats. Her current passion is art journaling. Michelle believes that creativity is an evolution, and that the best art comes from experimenting and remembering to play! Michelle is inspired by bright colors, music, animals and the groovy vibe of the 1970's.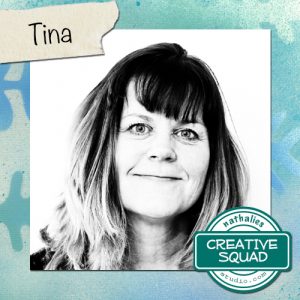 Tina Walker is a lover of all things creative. By day, she directs the International Trade Department for a major footwear retailer and creates in her spare time. Art is an outlet that allows Tina to keep her sanity and is a retreat from her daily career responsibilities. Her latest creative passion is all things Mixed Media, including Art Journaling, Assemblage, and Fabric Art. Tina believes in the manta, 'Embrace Imperfection'. Imperfection is perfection for the artist.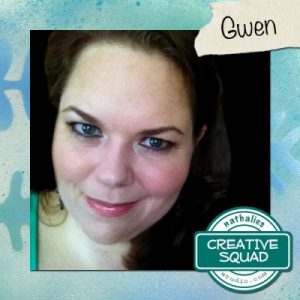 Gwen Lafleur is a mixed media artist currently living in South Jordan, Utah. She has been involved in arts and crafts her entire life, trying anything from drawing lessons to paper crafts, and finally finding her true home in mixed media. Whenever she gets a break from her full-time job in the eCommerce industry, Gwen can most often be found playing in her studio and working as a stencil artist for StencilGirl Products.
SaveSave
SaveSave
SaveSave
SaveSave
SaveSave
SaveSave
SaveSave
SaveSave
SaveSave
SaveSave
SaveSave
SaveSave
SaveSave