ArtCollab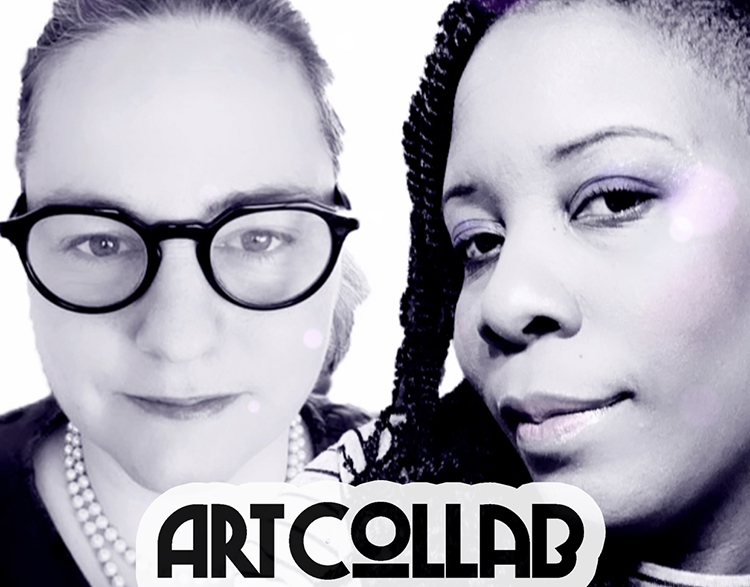 Zoomcast Series
ArtCollab is a monthly zoomcast with artists Sarah Matthews and Nathalie Kalbach (and occasionally other special guests too).
Each episode Sarah and Nat get together, collaborate on all sorts of unique artsy projects, share their process and offer updates and sneak peeks along the way, and of course they chat about all stuff art-related and topics that go way beyond that too.
ArtCollab is a real life look into the process of creating, collaborating, and the ins and outs of living an artistic life that is touched by others.
Join in for an entertaining and inspiring interlude into the world of two artists who are working together in conversation and practice.
New zoomcasts will be live and happen every first Tuesday of the month.
Sign up for my newsletter HERE so you do not miss the next episode!

Next Episode:
Stay tuned! ArtCollab will return in February 2022 with a NEW episode!!!
---
Watch Previous Episodes:
Episode 9: Showing Gratitude –
In this episode of ArtCollab Sarah and Nat talk about some of the people who have helped them become who they are today and most importantly they take the time to share their gratitude for these amazing people. Many along the way have been pivotal sources of inspiration, encouragement, advice, opportunity, and friendship, and all have played a big part in both Nat and Sarah's artistic (and life) journeys. Educators, artists, spouses, advocates, and personal friends are all called out in this episode and stories are shared to describe the positive impact that others can often have when it comes to shaping a life. In addition to the people, this discussion also touches upon technology as a lifeline for connections when physical interactions aren't possible, and the resurgence of the hand written note during recent times. In the end, Sarah and Nat show some artwork inspired by Showing Gratitude and they ask the audience for input on future ArtCollab topics.
Episode 8: Get Your Ink On –
In this episode of ArtCollab Sarah and Nat get their ink on! It is Inktober after all so they shared some of their favorite basic printmaking techniques. Sarah showed how she uses Stampbuddies to create gradient prints, and how she loves to partially print over older prints to create a layered abstract look. Nat showed how to use ArtFoamies with a Gelli Plate and how to reverse images and mix colors while printing. They answered audience questions about foam stamps and Stampbuddies and talked about how to make your own foam stamps. They also announced their next topic and asked the audience for feedback regarding future topic ideas as ArtCollab will be taking a break after the November episode to come back in February.
Episode 7: Back to School –
In this episode of ArtCollab Sarah and Nat go Back to School! They discuss how as teachers, it is just as important to take classes too. There are many benefits to stepping into the shoes of a student including inspiration, self care, feeding your curiosity, playing with new materials, opening your eyes to different techniques, and applying new ideas to your work beyond the classroom. The experience can make you a better teacher in the end by allowing you to feel the perspective of a student and the challenge of learning something new.
In addition to recent classes they have taken and other learning opportunities they have embarked upon, Sarah and Nat also each share a mini lesson in this episode. Sarah presents her techniques for hand carving letters from start to finish and Nat shares an exercise focusing on color theory to demonstrate how colors are relative. Lastly they talk about other artists and makers, some working in wildly different fields and media, who have proved to be excellent sources for learning and inspiration.
Episode 6: Pass the Brush –
In this episode Sarah and Nat are joined by special guest Rachel Juanita Bellamy! Rachel is the organizer behind 2020's Pass the Brush event as well as a talented artist and online educator and in this webinar she shares her background, current projects, and the story behind Pass the Brush.
Rachel talks about her time in the US military and her ongoing passion for service. She describes her beginnings as an artist and how it has balanced her interests and skills since childhood. She shares how she shifted her focus to mixed media in response to personal trauma and the desire to create more freely, and how that has evolved into a love for the process of creating, working on multiple pieces at one time, painting on a larger scale, and realizing the dream of creating online classes.
Rachel explains the Pass the Brush event and its origins in Black Lives Matter, George Floyd's murder, and her own Unmuted program on social media. Unmuted created some of the connections within the mixed media community which helped Pass the Brush – the artist version of "pass the mic" – become a reality.
Rachel talks about her strategy for the event and what some of her goals were. She describes the well-planned preparations leading up to it and those angels behind the scenes who helped make it happen. Finally she talks about the benefits and the steps forward in the industry since Pass the Brush, but stresses the need for a continuing push.
There is another Pass the Brush event planned, so stay tuned!
Episode 5: The Art of Self Care – In this episode, Sarah and Nat talk about the importance of Self Care and they offer their tips on how to rest and reset so that we can be our best selves. The past year has left many of us feeling overwhelmed, and now with everything opening back up we are again feeling the pressure to do it all. Even if you love your job, are busy pursuing your dreams, or are balancing a very full plate, making time for yourself is crucial to your health, your ability to care for others, and your ability to make art.
How you make time for yourself and what you do to relax is a personal thing and may take some time to figure out. Living in the moment, reclaiming your vacation time, making art just for yourself, trying new hobbies and types of art, chatting with friends in person, reconnecting with loved ones, and maybe just enjoying the silence are all things to try. The important thing is that you make the time – schedule it and don't give it up. Self Care is not selfish.
Episode 4: Art is Serious, Craft is Fun – In this episode Sarah and I talk about that classic creative debate Art vs Craft and how it affects and influences how we work and what we make. Sarah shares her frustrations with having to make the distinction between art and craft in her own work. Nat feels that art and craft work together in what she is doing and explains, "There is no art without craft." We talk about craft and craftsmanship as a set of skills, learned from another artist/culture/source and when we make it our own we feel we are creating art, and that sometimes comes with our desire to honor the source of inspiration.
We look at artwork that has touched us and made us aware of new stories and perspectives and then we also share some of our own artwork that has made people react and feel (both positively and negatively). We discuss how art can be a mirror of our experiences, an expression of ideas and emotions, a way to facilitate thought and discourse, and fuel for curiosity. Our conversation gets intense as we share our desire and conviction to use art as a platform and tool for facilitating the discussion of important and sometimes difficult topics.
Episode 3: "I can't do it." – In this third episode of ArtCollab we kick things off by sharing some of the April ArtFoamies Challenge posts from Instagram. Then we jump right into our topic for the day and talk about how our own similar life experiences have helped us move past the negative mindset of "I can't do it."
We offer additional suggestions on how to get beyond that mindset such as just jumping in, starting small, and using accountability with a partner or friend who you share your goals with. We discuss how the TV show The Great Pottery Throwdown actually has some really useful lessons in it with regards to this topic, and we talk about the benefits of taking classes in a new discipline and how you can always get something out of the experience. Finally, we both agree that as soon as someone says, "You can't do that", that is the ultimate motivation.
To close, we share what we made with the items from the boxes we exchanged in episode 2 and we introduce the topic for Episode 4.
Episode 2: Challenge Accepted – We are artists Nathalie Kalbach and Sarah Matthews and in this second ArtCollab ZoomCast episode we focus our conversation on the topic of challenges.
In this live zoomcast we discuss why we do challenges, how to have fun with them (and not stress), and all the benefits we get out of them as artists. We share our latest collaboration – the April ArtFoamies Challenge (as we are both ArtFoamies stamp designers) that we put together for the month of April. We show you our artwork so far, explain some of our creative choices and the other challenges we encountered along the way, we talk about why we wanted to collaborate on a challenge in the first place, and why you don't need a reason to create.
We also chat about thrifting, our love for vintage items, the enjoyment we get out of our artistic journey, and at the end we surprise each other with boxes we sent each other for the next ArtCollab ZoomCast.
Follow the April ArtFoamies Challenge at https://www.instagram.com/natkalbach/ and https://www.instagram.com/iamsarahmatthews/
Episode 1: The Beginning – Get to know us! We are artists Nathalie Kalbach and Sarah Matthews. In this first episode of our new ArtCollab zoomcast we begin with a little bit about ourselves and how we came to work together.
Then we dive right in to what ArtCollab is all about – 2 artists, collaborating on any number of artsy projects, insight into how that works, how we work, and a look at what magic comes out of it all.
In this episode we share a book exchange project that we created and explain how along with our artistic marks, trust, respect, and friendship also played a major role. We reveal to each other the finished books for the first time. The emotional reveal highlights all the best aspects of any artistic collaboration: enrichment, inspiration, excitement, and the motivation to do it again!