Help
LOG IN
You will need your username or email address and your password to log into your account, purchase products and/or access online workshops.
If you forgot your password, you can retrieve it by clicking on Lost Password/Username. (Note that if you do not get the notification of the password, the password email is probably either in spam or you misspelled your email address when you signed up. That means you won't get any emails from me because they are all heading to the wrong address. Please contact me in this case so I can change your email address manually.)
ONLINE WORKSHOP ACCESS
I purchased a workshop but cannot access the workshops. When I click on the workshop I get redirected to the store!
That's simple: you need to be logged in. If you see an "Add To Cart" button in the purchased workshops in the Online Workshops and if at the top of the page it reads "Login," you are probably not logged in. Log in and go back to the Online Workshops and you will see the Purchase Date under each Workshop you bought. Scroll down to the bottom and expand the Lesson List and enter the classroom by clicking on the first or any of the lessons you want to start with.
---
How do I log in?
Easy: just click on the "log in" link in the top right or the login icon on the left side. Enter your username and password. If you lost the password, you can ask to have it resent to the email address you entered when you registered.
When you are already logged in, the login link changes to "Account." Access your account to change settings or to log out.
---
I did not receive an order confirmation for my workshop order.
Please check your spam folder – it might have landed there. Even if you do not find it, you can log in and see your order history. Just click "Orders" from your account page. The workshop you signed up for should be listed there. If you in general seem to not receive emails from my side, make sure to check your email address and that it is properly spelled in your account information.
Note:If you opted out of receiving emails from me or unsubscribed, you will no longer receive important notifications from me regarding workshops you purchase, workshop instructions, and video download deadlines for workshops like Creative JumpStart.
CREATIVE JUMPSTART (CJS)
I signed up for CJS 2021, logged in and am in the classroom, but I cannot see any content other than the welcome page.
If you signed up for Creative JumpStart 2021, please note that the workshop starts on January 1, 2021. New content goes up daily in January 2021, so be sure to check back regularly.
---
I have purchased a previous CJS workshop (2012-2020) but I cannot find it anymore?
Access to CJS is limited to mid November of the year it was published. That means CJS for the years 2012-2020 are no longer available. CJS 2021 is available to access until November 15, 2021.
---
I have purchased several workshops (other than Creative Jumpstart) and I am logged in, but I cannot access all of them.
Please contact me with your information and the names of the workshops you purchased. I will check to see what the issue is, so that you may access your classes.
---
I have purchased Creative Jumpstart but did not receive email confirmation of my purchase or email information on how to access the workshop.
If you opted out of receiving emails from me or unsubscribed, you will no longer receive important email notifications from me regarding Creative JumpStart, including workshop instructions and video download deadlines.
TROUBLESHOOTING VIDEOS
Please note: All the video downloads are working. They have been checked on different browsers and computers. Unfortunately, we cannot troubleshoot video downloading or streaming problems beyond providing some basic tips here.
---
1.Streaming Videos
Difficulty Viewing Videos
All the videos are working. They have been checked on different browsers and computers.
Make sure your device can play vimeo videos. Some devices can't. If problems occur from tablets or phones, watch from your laptop or desktop computer.
Some browsers may not play vimeo videos. Check your browser settings, or try a different browser.
Optimizing Video Playback
Make sure the video buffers. To do this, press play and then immediately pause the video. A grey bar indicates buffering. If playing the video catches up to the buffering, the video may stop.
We recommend external computer speakers or headphones. Some internal speakers may not be loud enough.
Adjust the sound for each video. Videos may have been recorded at different volume levels. You may have to turn up the volume for one video and turn it down for the next.
Watching Videos from Mobile Devices
Some devices may not be able to play videos or display all content. We recommend joining workshops from a laptop or desktop computer if you can't view videos from your mobile device. Please ensure your computer or device is compatible before joining.
---
2. Downloading Videos
Some workshop videos are downloadable. Here are some general remarks and tips for downloading:
iOS Instructions (iPhones and iPads):
Please keep in mind that you cannot download videos directly to iOS (Apple) devices, including iPhones and iPads. This is a known Apple device restriction. You can only download the videos directly to your computer and then proceed as below:
Download the video to your computer (Mac or Windows).
Open iTunes (ensure you have the latest version: iTunes > Check for updates …)
Import video into iTunes:

either… a) drag and drop the file into the iTunes window
or… b) menu bar: File > Add to Library …

Sync iTunes with iOS device:

either… a) sync: go to device, choose Settings > Movies, confirm the video is checked.  Then click the Sync button at lower right.
or… b) manually manage: drag and drop video from Movies > Home Movies onto device in Devices list

Go to Videos app on device, choose Home Videos icon and select downloaded video to start playback
Android instructions:
Click download button
Accept the terms to start download
Click on downloaded file to launch native video player
Desktop instructions:
Download the video to your computer
Double-click the video to launch your default video player app.
Click the play button to start playback if necessary.
PURCHASING WORKSHOPS & PRODUCTS
How can I pay for workshops and products?
You can pay with your credit card or a Paypal account. Here is how it works:
Go to the workshop/item you want to purchase.
Put it in your cart, go through checkout, and click the "Proceed to checkout" button to make the payment. This should take you to the Billing Details page. At the bottom you will see an option to click Paypal or credit card. Make your selection and to proceed.
Follow the steps on the screen to complete your transaction.
We do not accept checks or money orders for payments.
NOTE: At this time we cannot ship products to the UK but UK residents may still purchase online workshops.
---
I have a coupon code. How do I use it?
After adding the workshop to your cart add the coupon code in the field "apply coupon."  The discount will be visible after you applied the coupon, and you can proceed to checkout. Multiple discounts cannot be combined!
NOTE:  Codes must be redeemed before their expiration date and cannot be applied to previous purchases. Other exclusions may apply. 
---
Can I purchase and register for workshops for someone else?
No. To participate, each student needs permission to access workshops with their own user name and login. This permission is granted during checkout when the individual student purchases a workshop. You will not be able to transfer access to workshops from your account to someone else's.
If you want to give a workshop as a present, try the gift certificate in the online shop at n*Studio.
SHIPPING
How much does shipping cost?
If you live in the United States, you can order directly from this site. The shipping rate is based on your shopping cart total.
If you require international shipping, your shipping is calculated by weight and destination. Oversized items such as artwork may require special shipping. At this time we cannot ship physical products to Australia, New Zealand, or the UK but these customers may still sign up for workshops. If you have questions, please email me at orders@nathaliesstudio to discuss shipping options.
Here are some actual shipping prices for the U.S. as of October 2021:
$1.00 – $20.00 order: $6.50 shipping
$20.01 – $32.00 order: $9.50 shipping
$32.01 – $41.00 order: $10.50 shipping
Orders over $200 ship FREE within the US
---
How long does shipping take?
I ship weekly. Normal shipping time is 2-3 weeks domestically**.
I will email you when your order has shipped. A 6.625% sales tax will be added to orders in New Jersey.
**Please note that the USPS has announced longer shipping times and implemented postage price increases as they modernize their systems and update their fleet beginning in October 2021. The USPS is also experiencing significant delays due to COVID19 and new restrictions and regulations to insure the safety of their employees. Please be patient and expect delays.
---
What if a product is damaged during shipping?
If your item arrives damaged, please contact me and we will make an arrangement that suits both of us. Please note that I am not responsible for lost or stolen shipments.
---
Is my shipping information kept confidential?
Yes. Your contact and shipping information will always be kept private and not shared with anybody
CREATING AN ACCOUNT ON A MOBILE DEVICE
You will automatically create an account on nathaliesstudio.com when you purchase a product or workshop.
When you add a workshop or product to the shopping cart and are ready to check out, click on the shopping cart icon. This will take you to your Cart.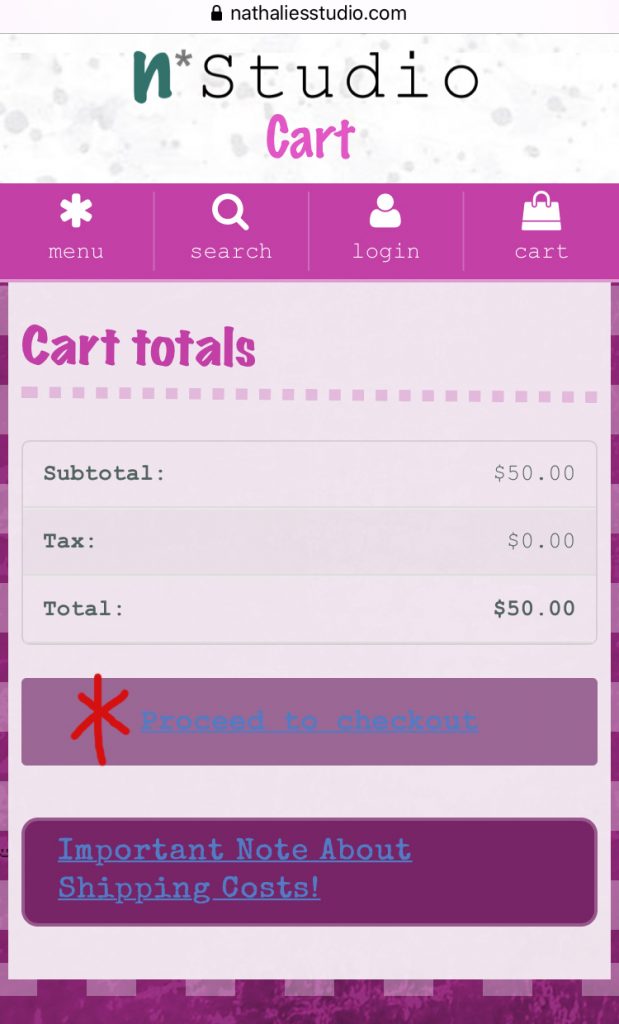 Click on Proceed to checkout and you will begin the process.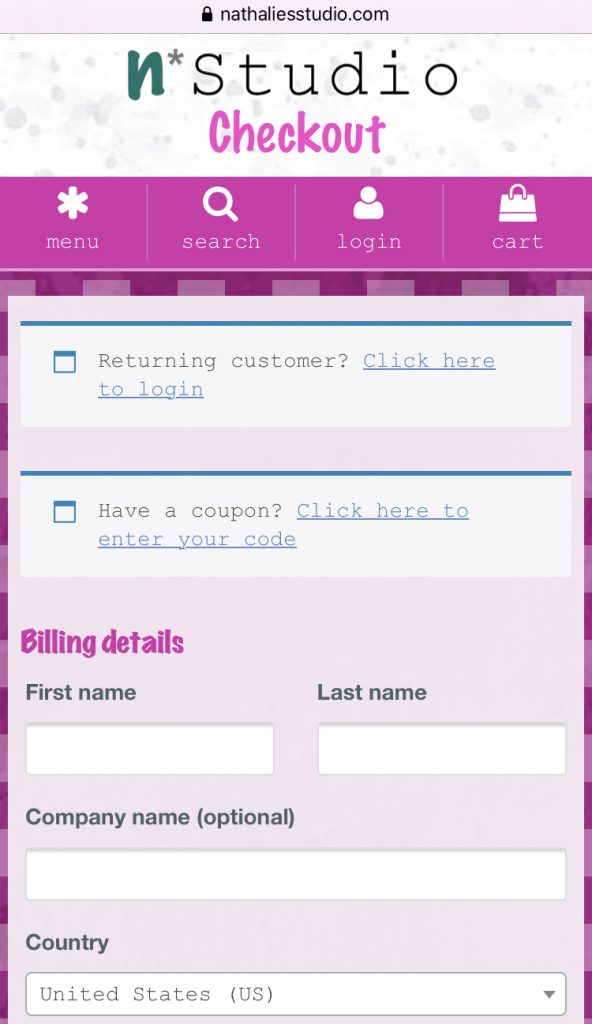 Next you will fill in your Billing details…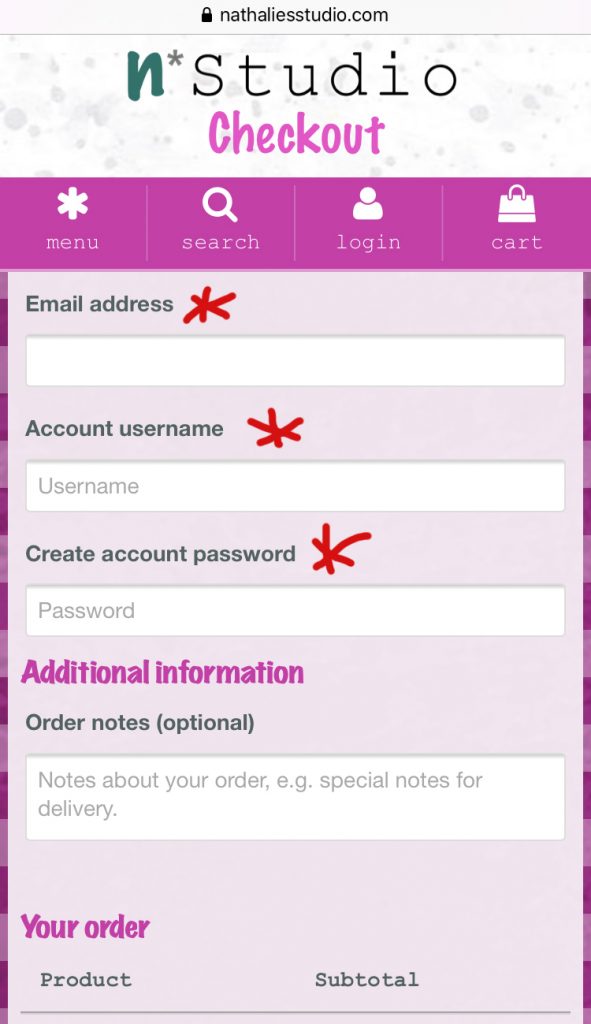 Included in the billing details is a place for your Email address, an Account username, and an account password. This will be your account on nathaliesstudio.com and you will need this info to Log In to access any online workshops you have registered for.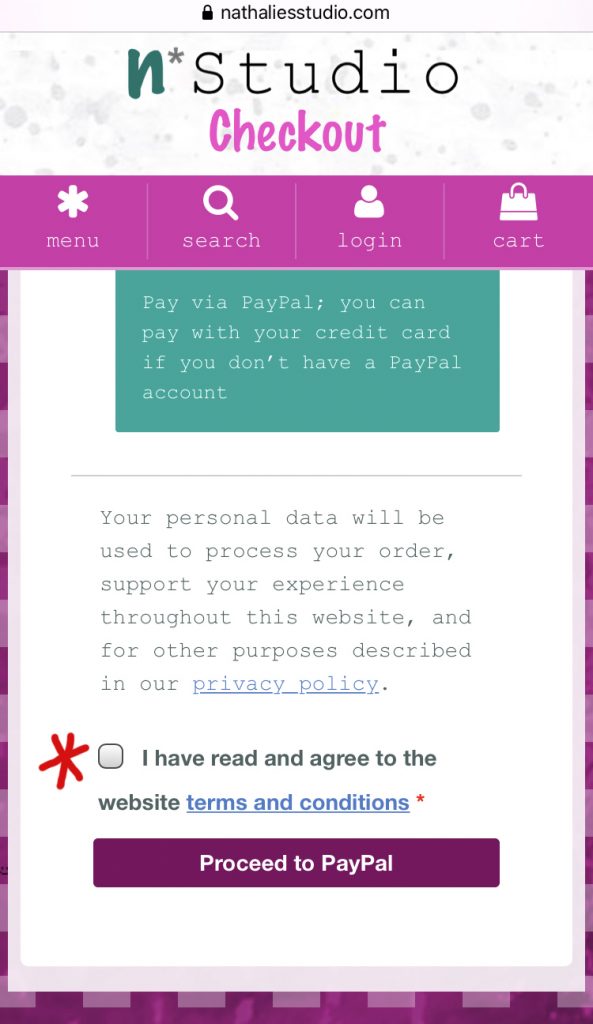 At the end of the billing details you will read and check the terms and conditions box and then click Proceed to PayPal where you will complete your transaction with a PayPal account or a credit card.
At this time you will have created an account with nathaliesstudio.com. The email address / username and password you used in the billing details is the same email address / username and password you will use to log in to the website to access your online workshops.
If you purchased an online workshop, you will be emailed workshop instructions 2 hours after purchase. These will include info on accessing and using the workshop.