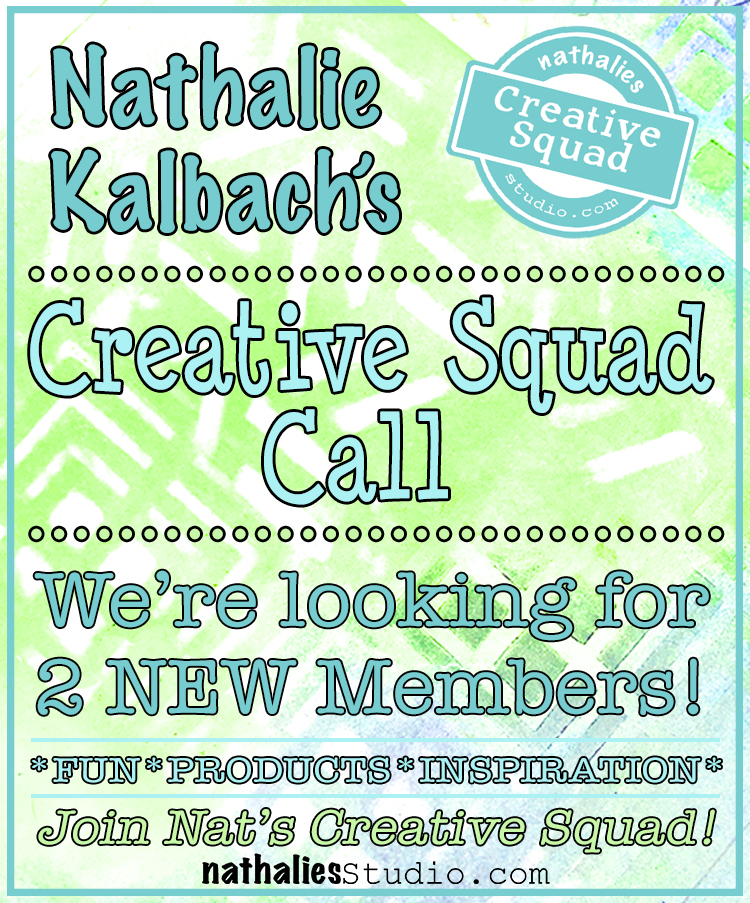 Creative Squad Call!
Our current Creative Squad is in search of 2 new members. Read on and let us know if we should be looking at YOU. International applications are welcome so come one, come all!
Do YOU fit the bill???
+ Are you a Mixed Media Artist, Art Journal Maven or Card Maker Extraordinaire with a unique style and a passion for creativity?
+ Do you love to use stamps and stencils in your work and love to try new techniques and media?
+ Do you love to share your projects on social media and engage with other artists?
If the answer is yes, yes, yes, we are looking to fill some spots on our n*Studio Creative Squad and would love to hear from you! 
How to Apply:
Email nat(at)nathaliesstudio.com with "Creative Squad Submission" as the subject. Please include:
1. Full name, email address, links to social media sites/blog/website where we can see your work
2. A couple sentence bio or description of your work
3. 4-5 low res images of your work that best represent your style
Enter by August 10, 2019  :)
What exactly does a Creative Squad member do?
As a Creative Squad member for Nathalie's Studio you will serve a 6-month term beginning 10/1/2019. As part of the Creative Squad, you will receive a variety of Nathalie's Studio products. You will create one project per month, using specified products or groups of products and inspired by a monthly theme. You will be featured once a month on the nStudio blog, Facebook page, and Nat's Creative Squad Instagram page, and you will be part of an amazing team of artists with a legacy of awesomeness!
Don't be shy, apply today – we would love to see how you are rocking your creativity!