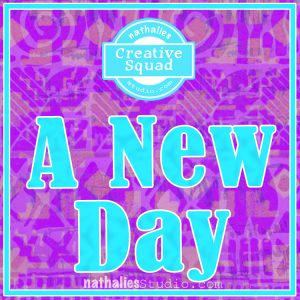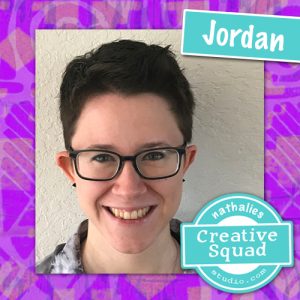 Hello from my Creative Squad! Today we have an art journal spread from our new member Jordan Hill. Jordan is creating collage papers with my Mini Santa Fe and Mini Hex Set foam stamps, and pulling elements together in her art journal page inspired by this month's theme: A New Day – Let's try something new today :) Although these are tumultuous times and we never know what each new day will bring, it also seems like the perfect time to throw caution to the wind and just jump into something new with both feet. Try a new material or technique or approach. Why not? Today is a new day… and tomorrow is too!
---
I am so incredibly happy to be here as one of the newest Creative Squad members; I hope I am able to inspire you in the time I spend here!
When I was first presented with the theme for this month, "A New Day", the first thing that came to mind was the concept of creating a variety of new collage materials to use in my work. I really enjoy the process of painting my own papers, since I feel it adds an element of originality to my art journals that I might not get from store bought patterned papers.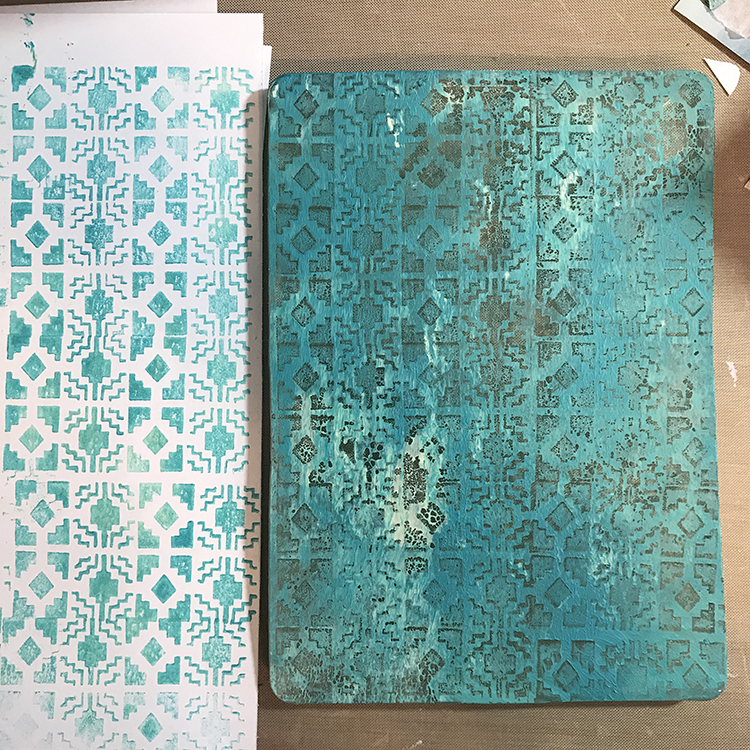 The first step in this project was to pull out my gelli plate to use in combination with Nathalie's Mini Santa Fe Foam Stamp as well as the Mini Hex Foam Stamp Set. Though I can see potentially infinite uses for these foam stamps, using them to actually remove paint from my gelli plate was the method I decided to use here.
In order to achieve this result, I simply added some Blick Studio Acrylic in Bright Aqua Green and CraftSmart Ivory paint to my plate, then used the foam stamps to stamp into the wet paint. I then used the paint on the stamp to create an entirely new design by stamping onto a blank sheet of paper (shown in the photo above).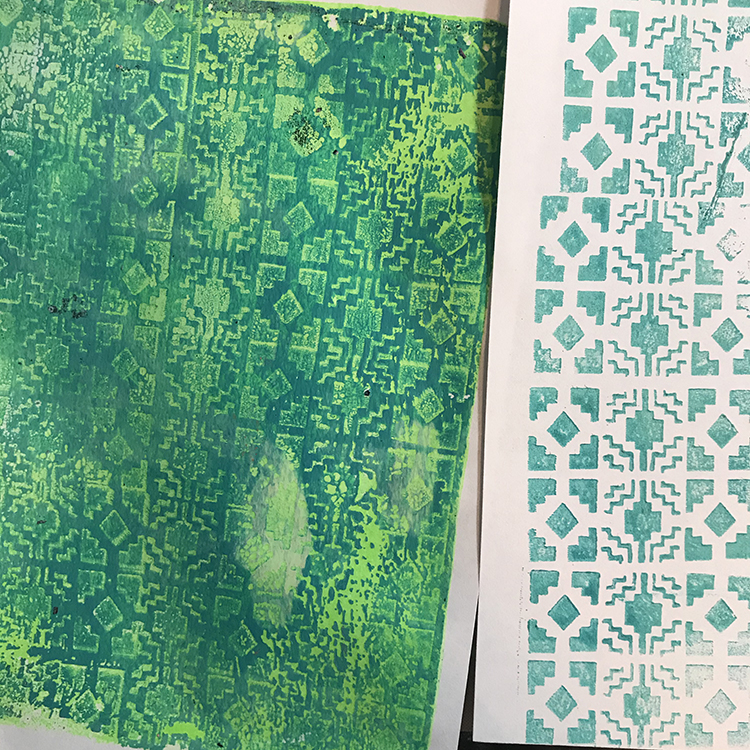 Once the paint has dried on the plate, you can then add another color (in this case I used Fluorescent Green) to pull another print! This gives you multiple different designs from the same stamp, and is a lot of fun to play around with.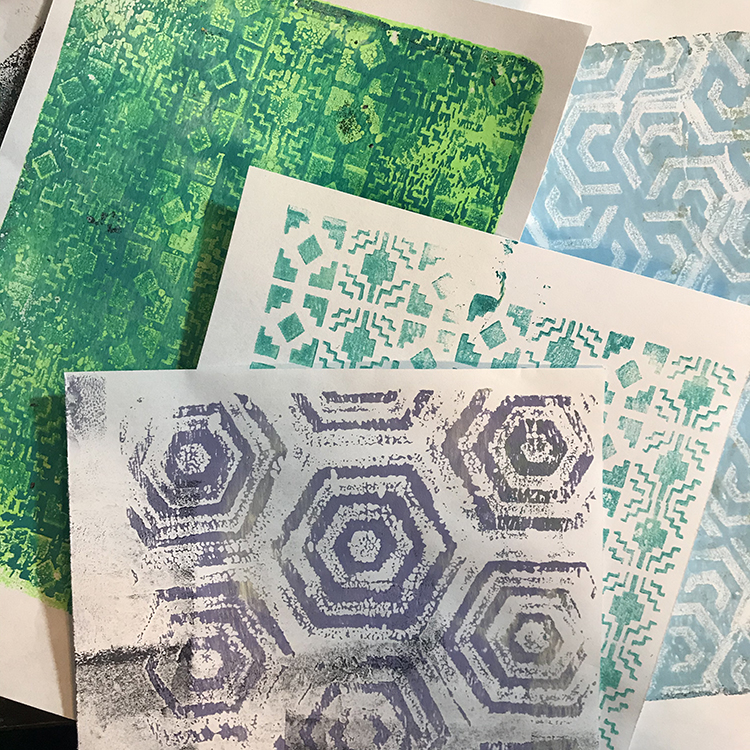 I spent a while working with my foam stamps and my gelli plate to create a good assortment of papers I would be able to use in the future. Above you can see a few pieces from the final selection I had to choose from! As you can see, you can get quite a variety from just a few stamps and a couple different colors of paint.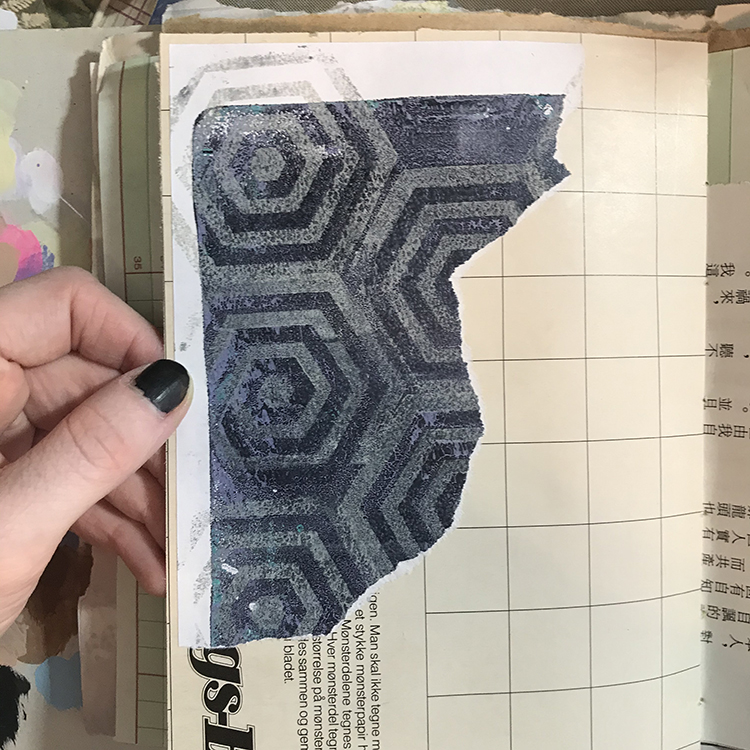 Once I had a handful of painted papers, it was time to actually incorporate them into an art journal spread! The first step in doing this was to select a page in my journal, then tear chunks from the painted papers. I did this randomly, without thinking much about what the torn pieces looked like. Then I glued a couple of these randomly torn bits onto my page with an Uhu glue stick.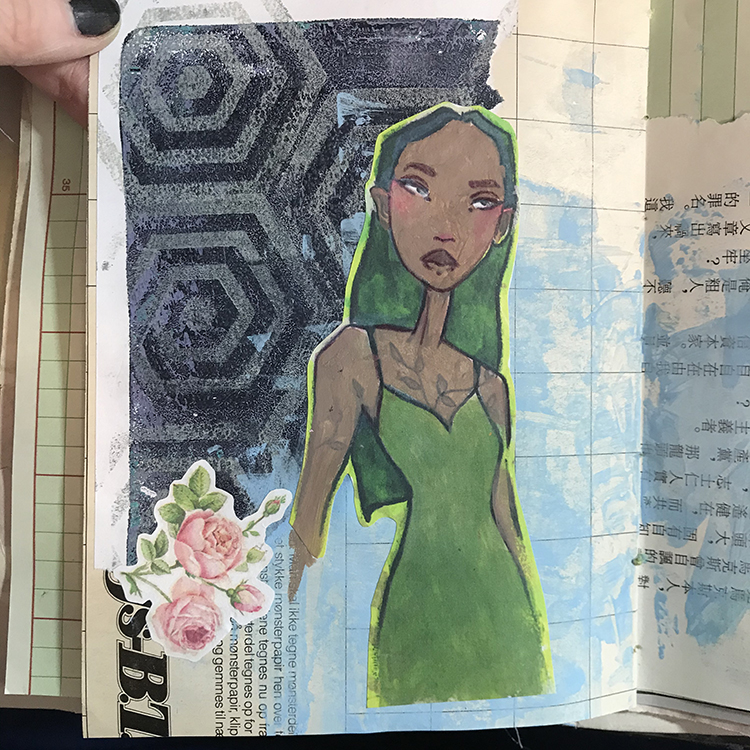 Next up, I added a couple of different collage elements and some Pale Blue CraftSmart acrylic paint to the background, just to give myself a base to work off of. After the background color was down, I began the process of adding a figure to add to this spread. Personally, I love adding faces and figures to my art journal spreads, and they tend to make their way into most of the things I create.
In the photo above you can see that I added quite a few more layers to this girl's face. I did this with a combination of Natural Beige and Espresso CraftSmart acrylic paints. Natural Beige is quite a light color and Espresso is quite a dark one, so combining them in different ways gave me a good variety of colors to use as shadows and highlights.
This was also where I started to use some ink to define the details of the face. I used the Zebra Fude Sign Brush Pen in Extra Fine to add these details, which is my favorite pen to use in my art journals as of late.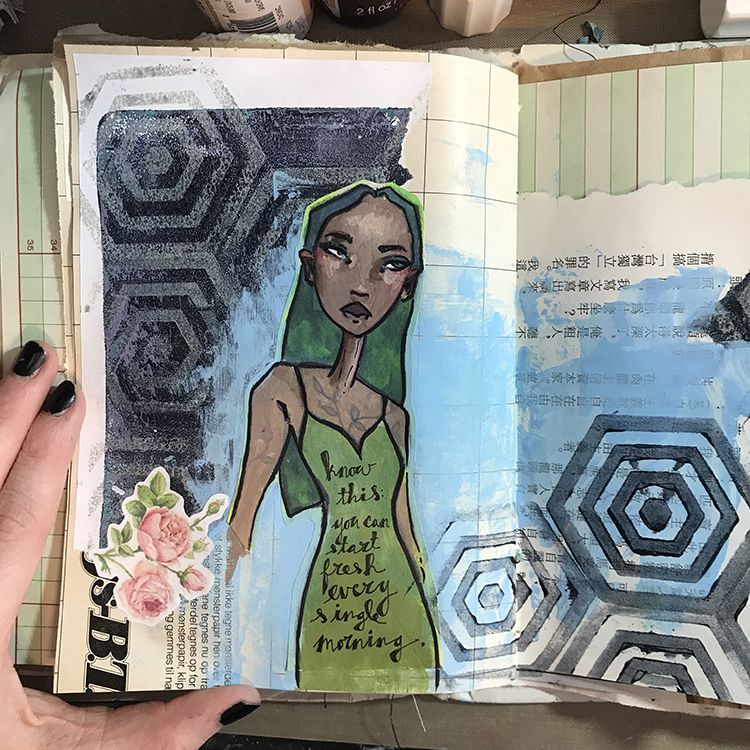 To finish off this art journal spread, I added a quote to fit with this month's theme inside of the figure's dress and accented the right hand page with some more stamping with the Mini Hex Foam Stamp Set. This tied everything together nicely and gave both pages a more cohesive feel.
After adding a few finishing touches to the face using a handful of Prismacolor Premiere colored pencils (Aquamarine, Henna, Black Cherry and Nectar), I was ready to call the spread done!
I hope you enjoyed this little look into my process and use some of the ideas I discussed here to create some projects of your own!
---
Thank you Jordan for sharing with us your process! Love your unique style with creating figures.
Here are some of the supplies that Jordan used: