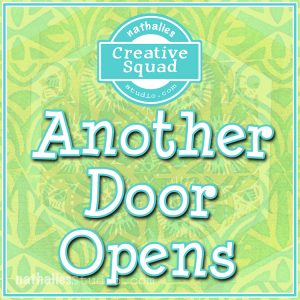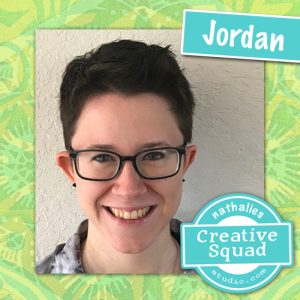 Hello from my Creative Squad! Today we have an art journal page with a bonus mini page from Jordan Hill. She is using my Triple Play stamps and our theme: Another Door Opens – There is this saying, "when one door closes, another door opens" that basically is an optimistic way of looking at change in your life. Create an art journal page with this in mind, however you'd like to express it, however the idea inspires you to create!
---
Hello everyone! I'm super excited to be back with my project for April 2021; I had a lot of fun with this month's products and theme, so I hope you all enjoy following the process as much as I enjoyed creating this page!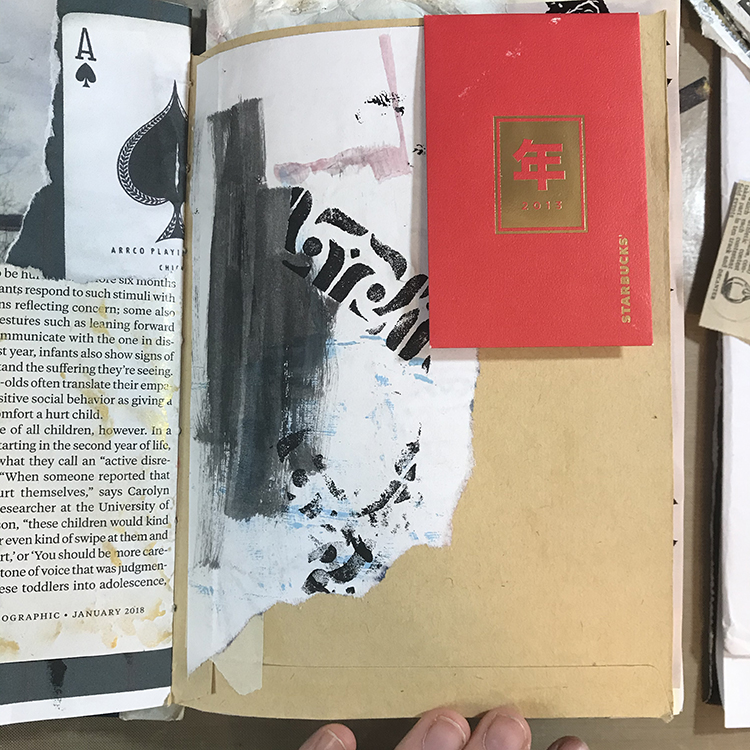 I decided to begin this month's page with a piece of collage. When I create journal pages, I tend to end up with a lot of excess paint, either on my palette or my paintbrushes. In order to make sure none of this excess paint goes to waste, I use scraps of paper to clean it up.
In addition, I had been playing around with one of the stamps from the Triple Play Foam Stamp Set on another page in my journal. The excess from that page had ended up on this scrap of paper, so it seemed like the perfect start point! I tore off a chunk and glued it down. I also glued a coin envelope to the upper right hand corner of the page, as I felt that the idea of a pocket was in line with this month's theme of "Another Door Opens".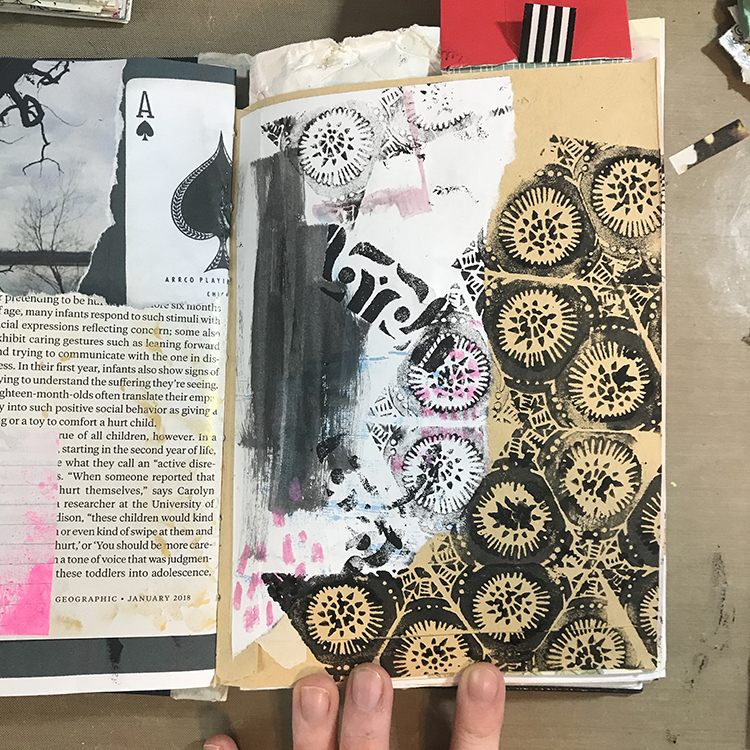 Next up, I used a second stamp from the Triple Play Foam Stamp Set along with some slightly watered down black acrylic paint to almost completely cover the lower right hand corner of my page. I made sure to overlap my background stamping with the collage piece in order to incorporate it into the page. I also used this same stamp in the upper left corner.
Since there was already some pink on my collage piece, I decided to push that a bit further and used a pink oil pastel to do a bit of mark-making in a few different places on my page.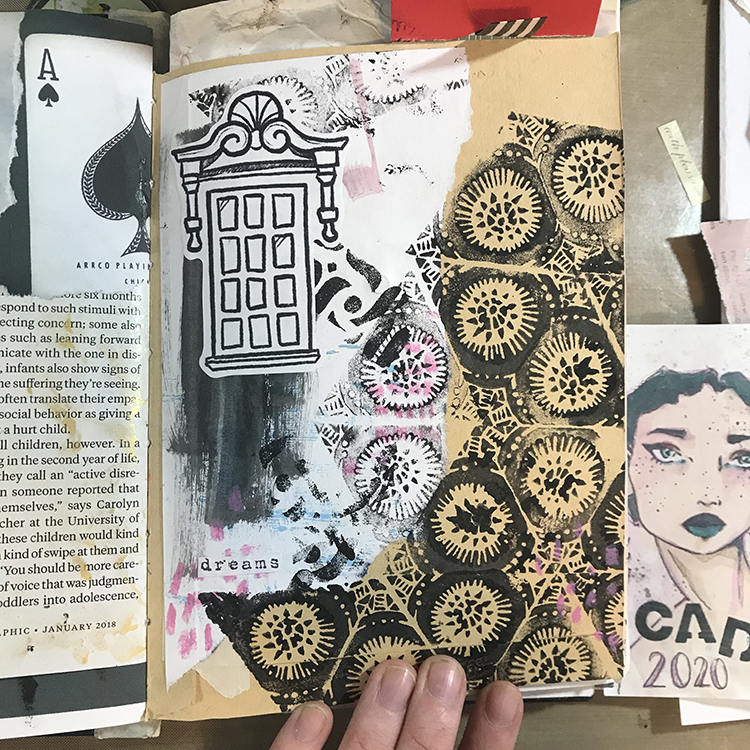 I then incorporated a few more pieces of collage. A while back, I drew a bunch of windows with the intention of using them as collage material for my journals. I felt as though this tied into the April theme, so I glued one in. I also glued down a tiny found word clipping in the lower left hand corner of the page.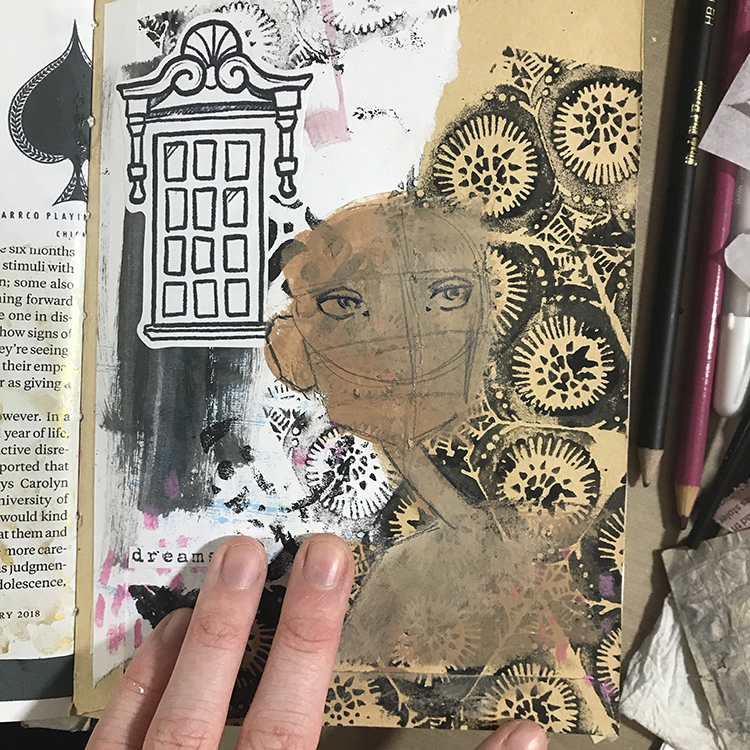 It was then time to start working on the focal point! As usual, I knew I wanted to incorporate a face, so I started things out by using some acrylic paint to block in the basic shapes. Then, using an indigo colored pencil, I started to sketch in the facial features.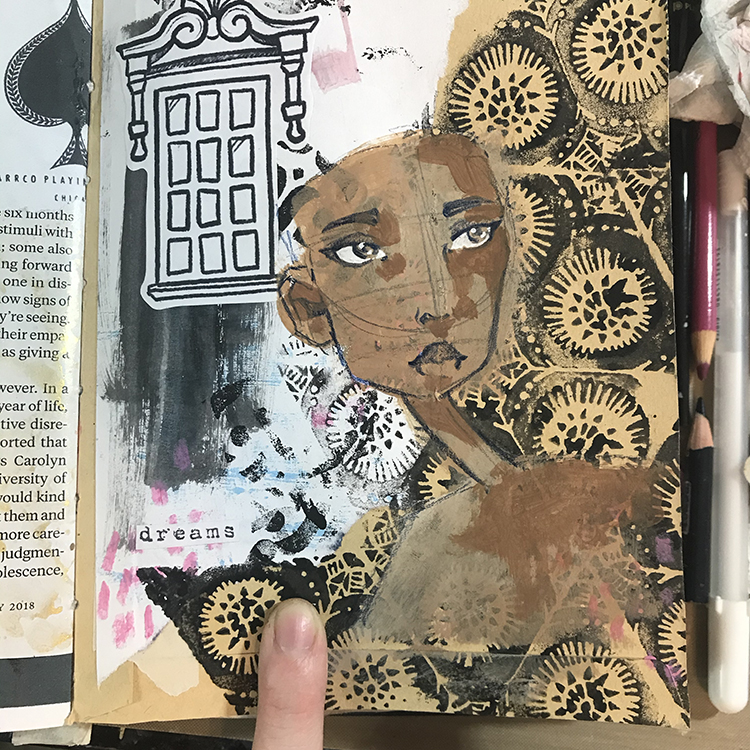 When it comes to shading faces in my journals, I don't always add shadows. Often it depends on the size of the face that I'm drawing. Because this particular face was on the larger side (and seemed a bit flat), I decided I did want to add shadows. I used a slightly darker color of paint than the base skin tone and started blocking in my shadows.
I don't usually overthink it when it comes to adding shadows to my faces, but a good tip for knowing where to put them is to have an imaginary light source. For this particular face, my 'light source' was in the upper left, so I added shading to the right side of the face.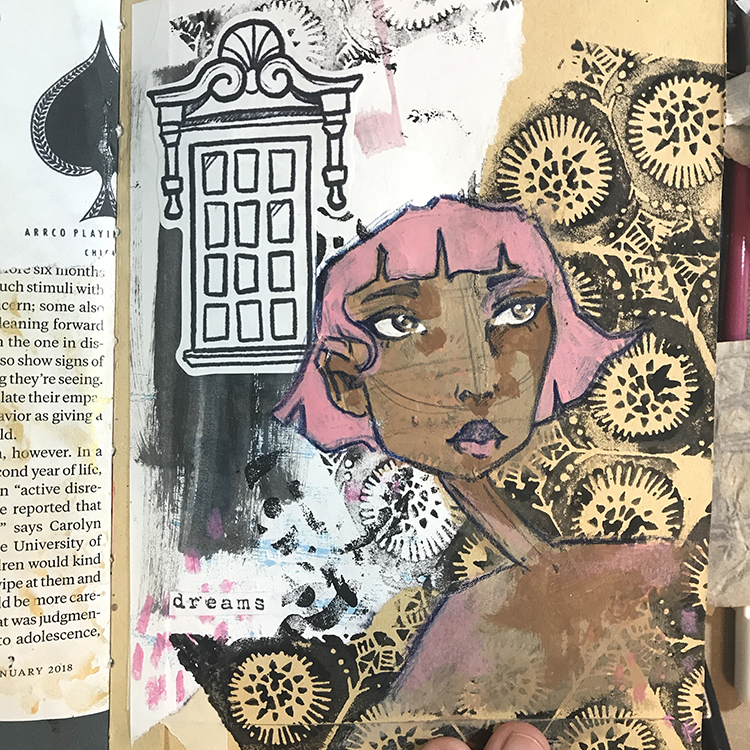 Next it was time to add the hair. Since the majority of the color that already existed in this page was pink, I decided to go with that as the hair color! I sketched out the basic shape of the hair with my colored pencil, before using acrylic paint to add the color.
I also used this same pink in the lips, cheeks and shoulders to warm up the skin tone and tie the face together with the hair.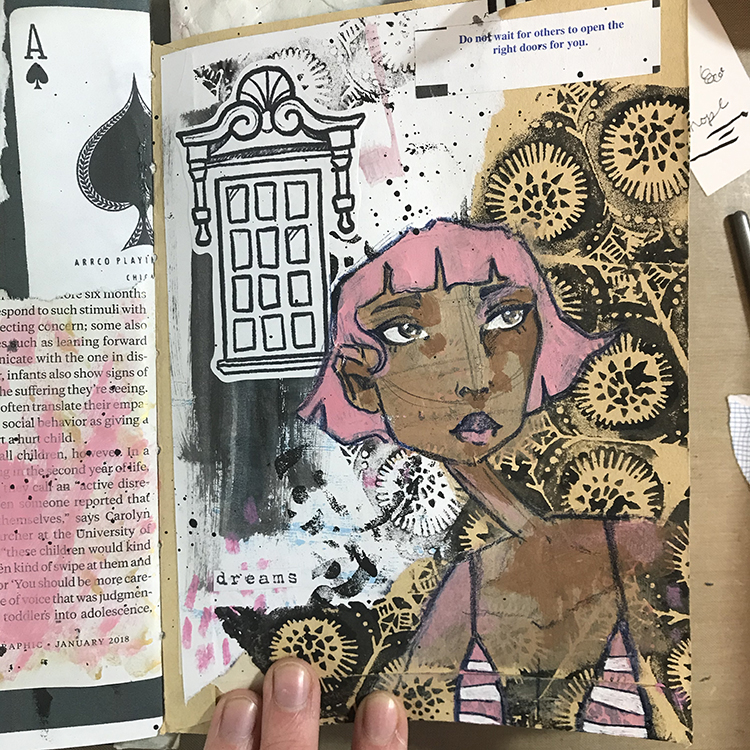 It was then time for the finishing touches! I added a shirt, used some watered down black acrylic paint to flick some splatters across the page, and found a fortune from a fortune cookie laying on my desk that was perfectly in line with the theme!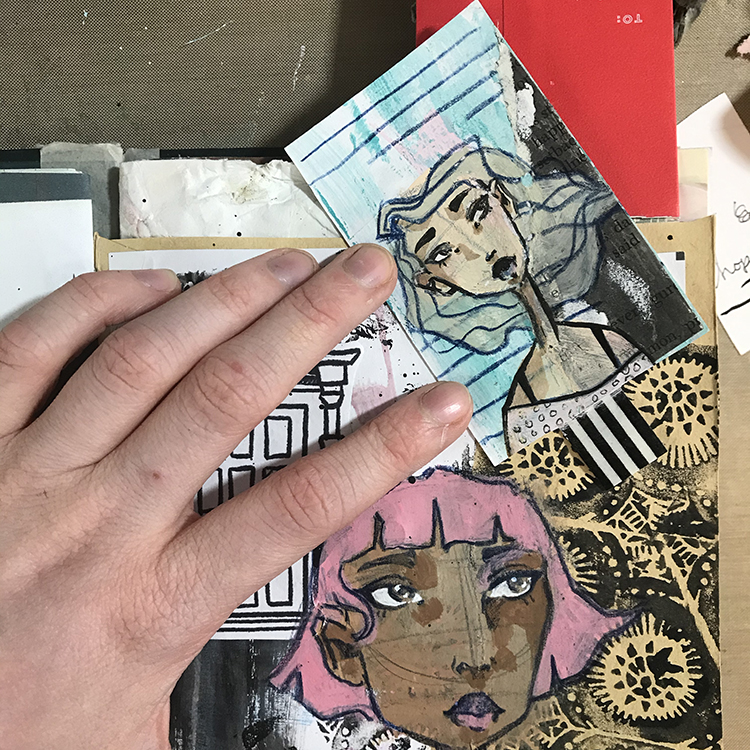 As one last little bonus element for this page, I also slipped a card inside of the coin envelope I glued down in step one, and created a little mini page on top of it. To me, the idea of this hidden page is yet another nod to the theme of "Another Door Opens".
I hope you enjoyed following this process and possibly try some of the ideas for yourself!
---
Thank you Jordan, I just love the intriguing backgound you created with the stamps and collage!
Give it a try: you can find all my Foam Stamps in my Online Shop and in addition to collage papers, here are some of the supplies Jordan used: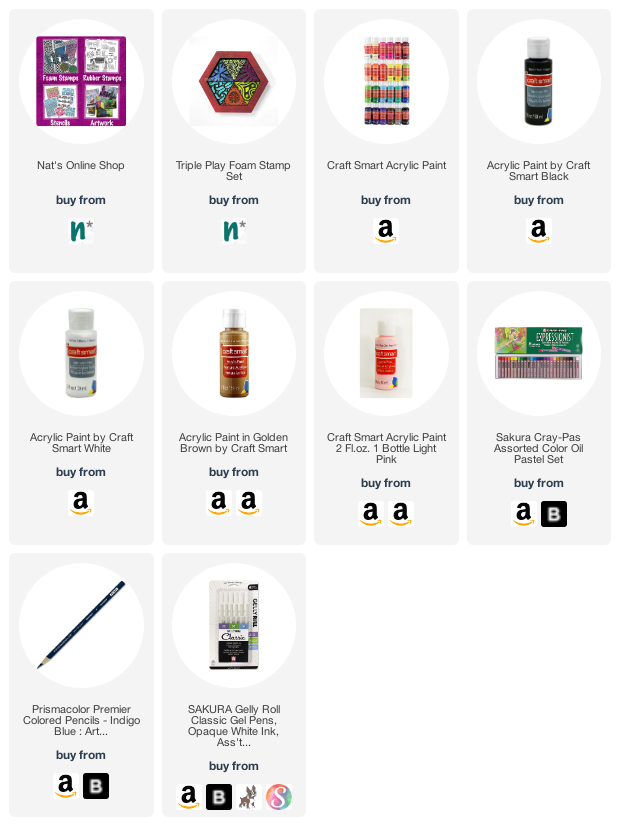 For more projects and ideas, check out Nat's Creative Squad on Instagram too: Each week we post projects, ideas, and inspiration for mixed media art.