Hello from my Creative Squad! Today we have an art journal page from Maura Hibbitts that presents a really cool way to look at life's challenges and changing circumstances. She's using my new Triple Play foam stamp set and this month's theme: Another Door Opens – There is this saying, "when one door closes, another door opens" that basically is an optimistic way of looking at change in your life. Create an art journal page with this in mind, however you'd like to express it, however the idea inspires you to create!
---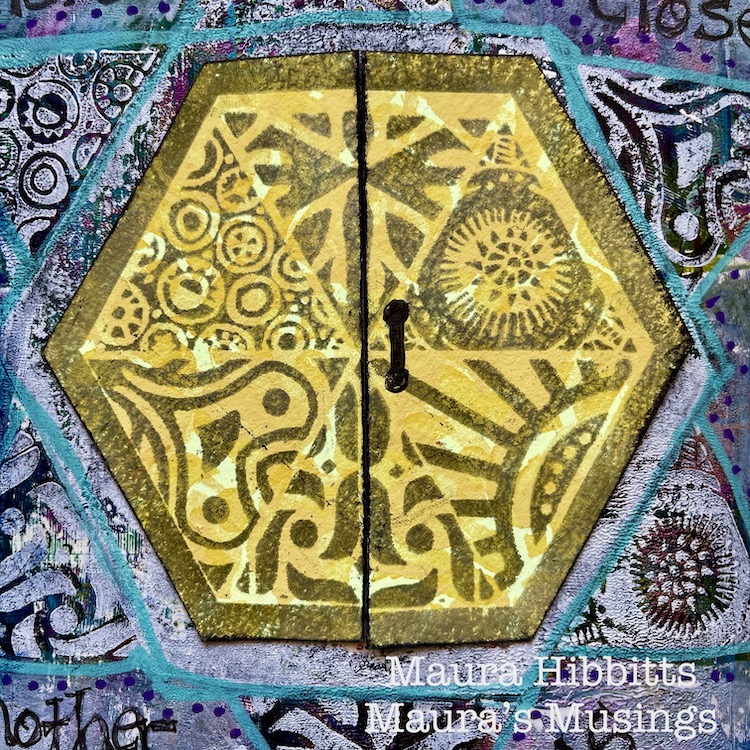 I have always been a firm believer in the adage "When one door closes, another door opens." Maybe it is a part of my optimism, and maybe I have been lucky in this life, but even in the times I have struggled the most, whether physically, emotionally, or financially, new opportunities arose that led me forward. During my teaching career, I worked at opening doors for my students, so they could follow the path they chose. It has always been a joy to hear how they are doing, and which doors they have opened. Keep yourself open to the possibility of doors!
I started in my large art journal, layering paints. I started with my darkest green and blue, Prussian Blue Hue and Phthalo Green Yellow, and scraped the paint across in broad swathes with a silicon brush. I painted only on the right page, then closed the pages to spread to the other side. I repeated this step with Green Gold and Primary Cyan, then another layer with Turquoise Hue and Quinacridone Magenta. Final layer was more Magenta along with Titanium White and Gold.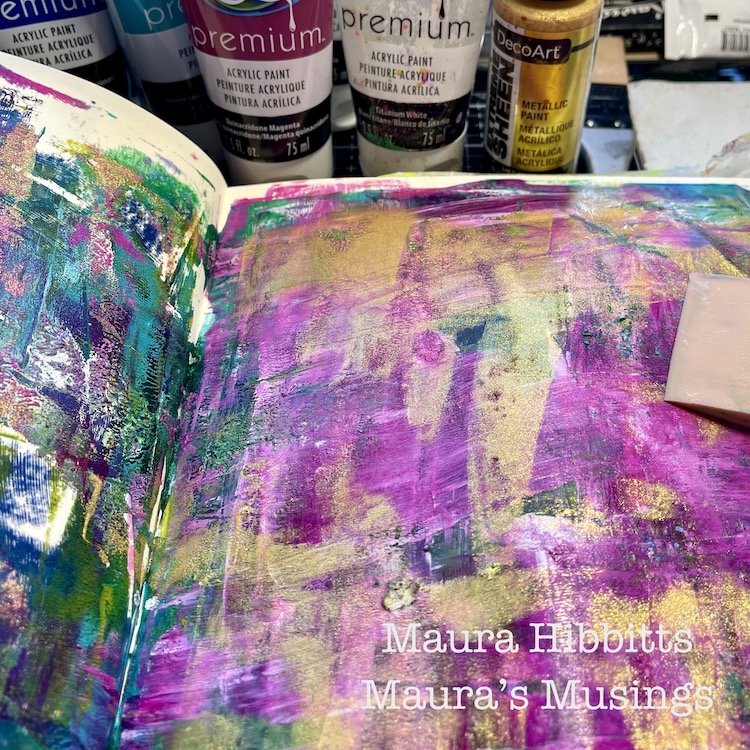 After I heat set the painted layers, it was time to stamp with the oh, so awesome, Triple Play Art Foamies stamp set. I like to use my gel plate and a brayer when I am using foam stamps, it acts like a giant ink pad, and gives a nice layer of paint on the stamps. On the right side, I repeated the stamped pattern several times.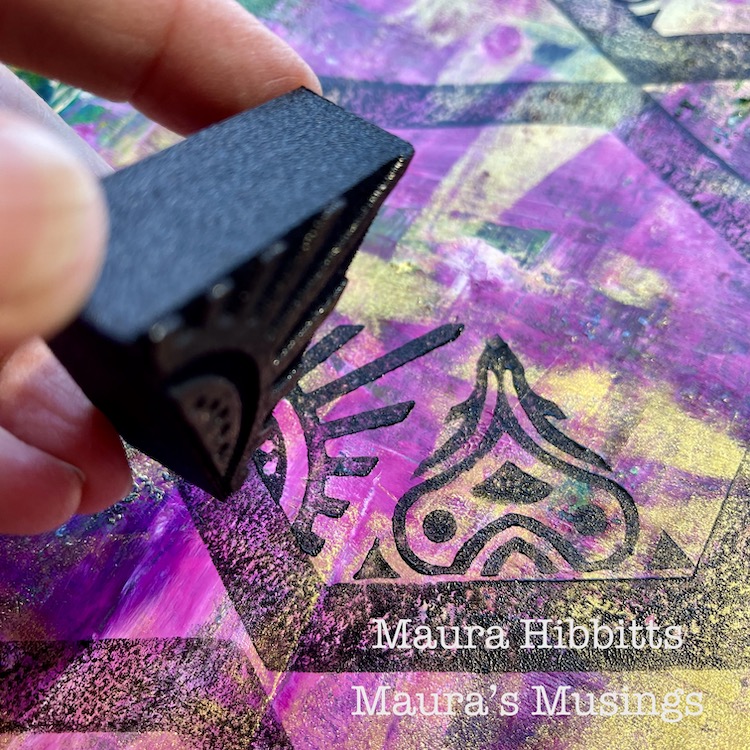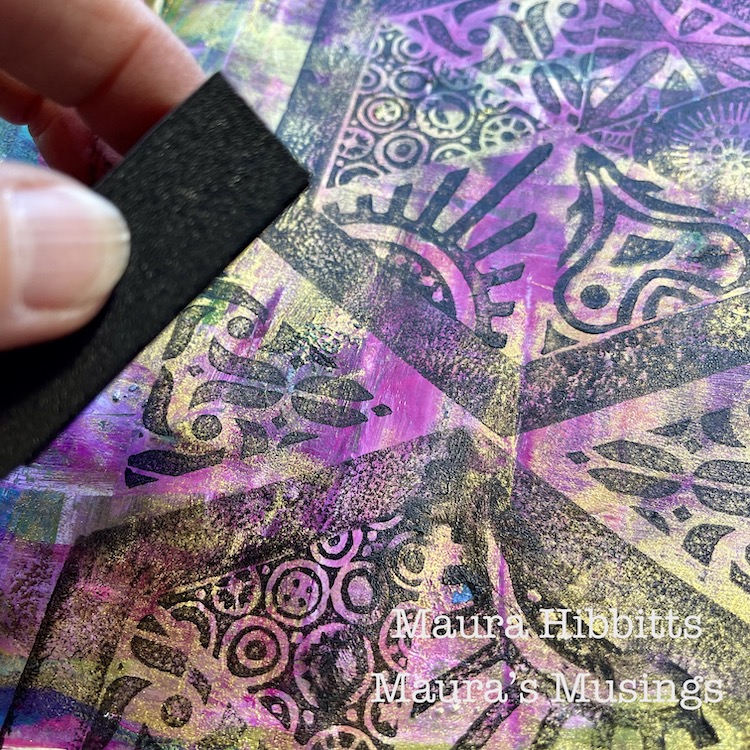 On the left side, I stamped the hexagon and the triangles on the outside this time. I first did it in black paint, but it didn't show up well, so I went over it with white paint. Again, I added paint to the gel plate and smoothed it out with the brayer, then stamped into it, to transfer a nice image to the paper.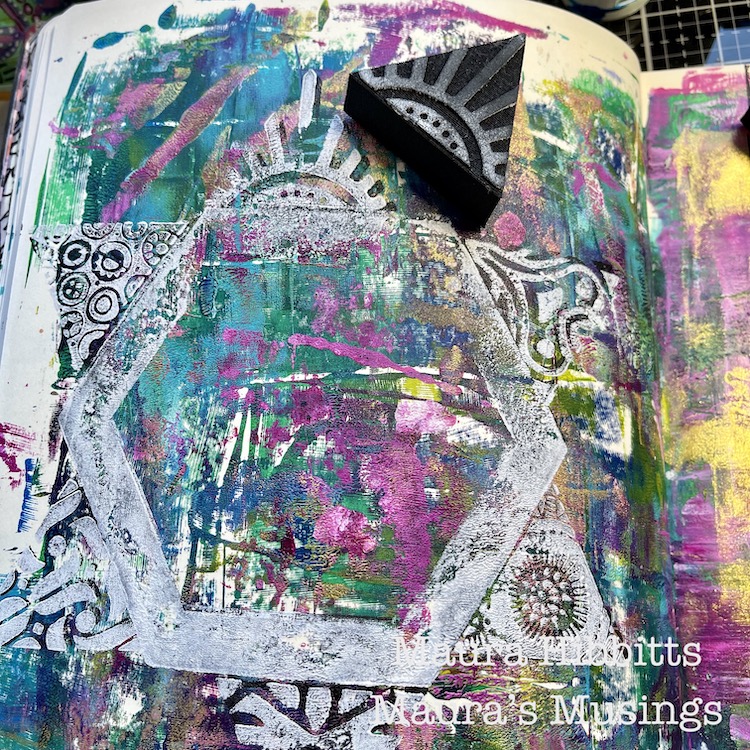 To create more of a focal point on the left side, I added some water to the white paint left on the gel plate, mixed it to create a whitewash, and brushed it around the design. Now it stands out more.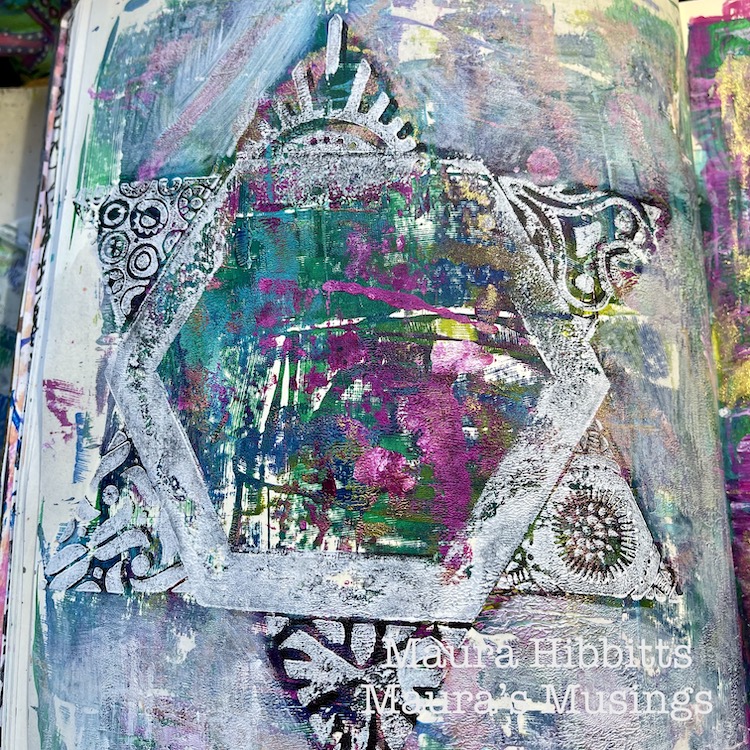 I also whitewashed around the design on the right, dried it completely, then added doodles and details with Posca paint pens. I also doodled a door, and added the words around the image on the right – "When one door closes, another door opens." I also smudged Prussian Blue with fingers and a baby wipe around the edges of both pages to tie them together. I thought I was done.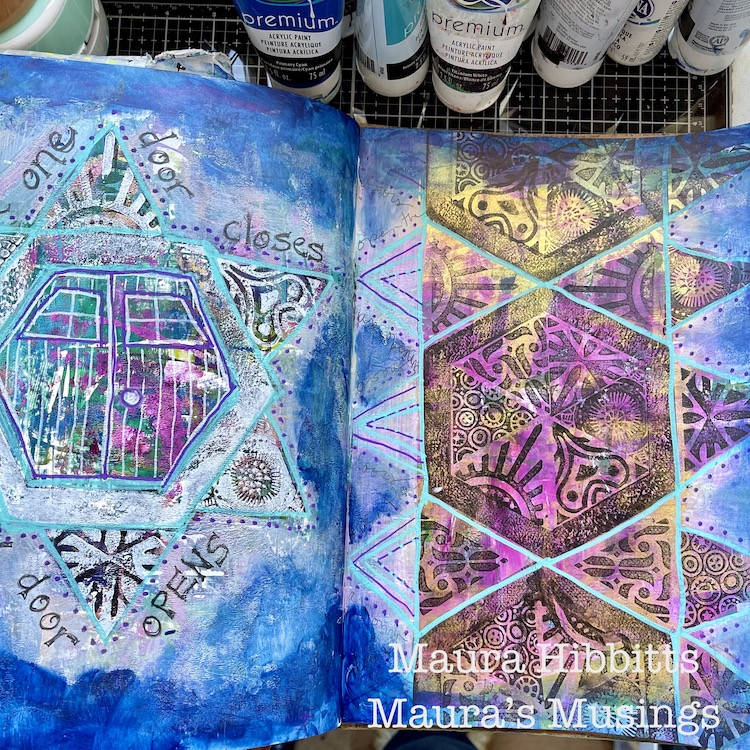 I slept on it, and decided to make a different door for the left page, so I pulled out some leftover paper from last month's project, and stamped the entire Triple Play with Moonlight Duo ink. I cut it out, cut it in half, drew on a door handle, and inked the edges with black ink. My original idea was to have the door open, but with the hexagon shape and the orientation I had, I decided against it and adhered it with adhesive tape.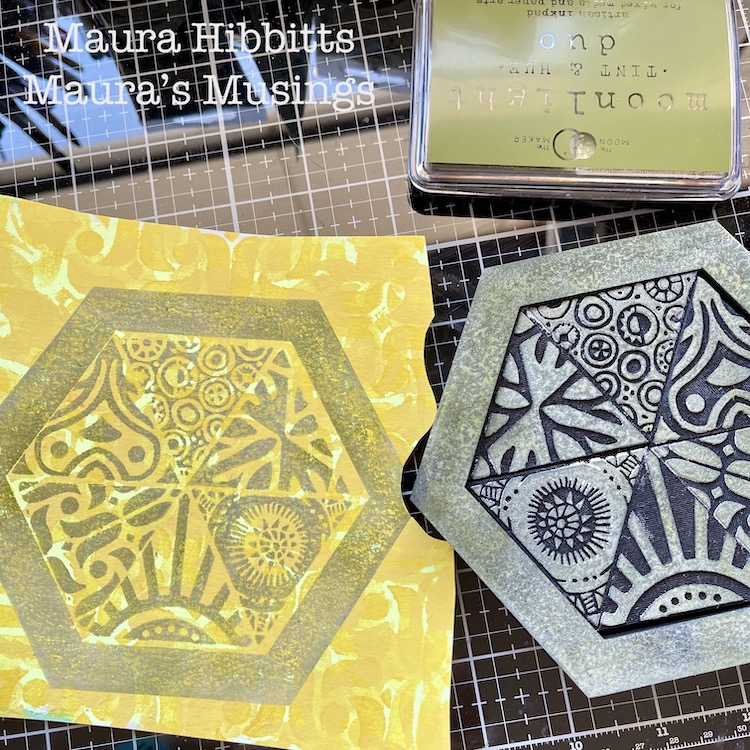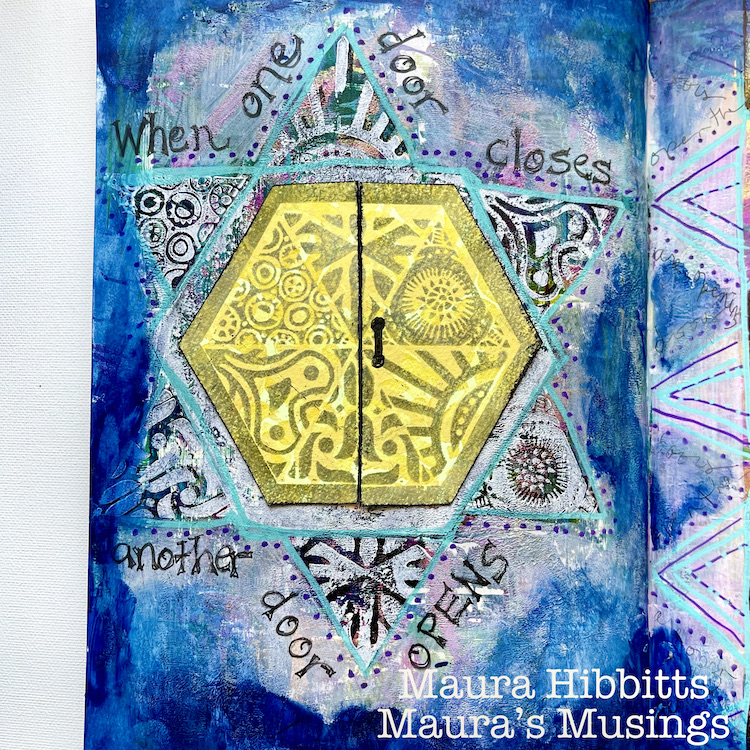 All of those background colors pop through the designs, even in the whitewashed areas. I think sometimes toning down areas makes the rest of the page pop.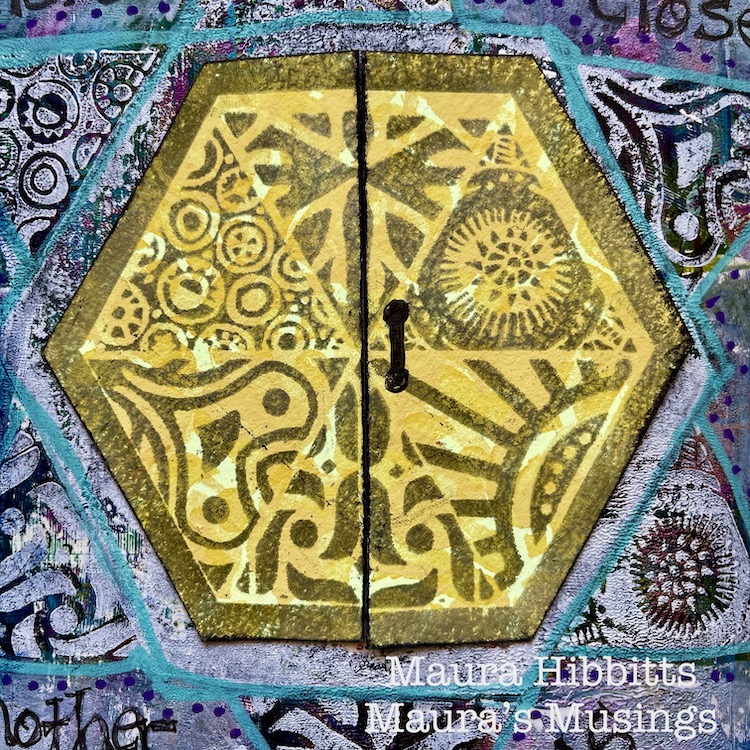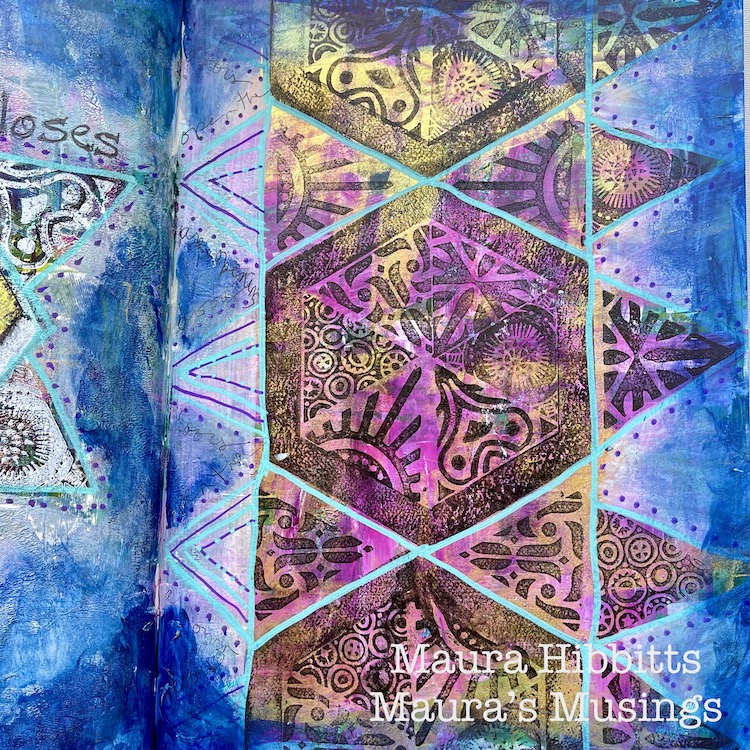 I realized at the end what I had been working toward on my pages…pulling out memories of beautiful and colorful doors I had seen in India. I remember ones with colorful columns of tiles, like the right page, and others with intricate mosaic-like designs, like the left page. Isn't it interesting when you are creating that your muse knows where to take you, even when your brain does not? This year, I also feel that we think very differently about doors opening…waiting for the reopening of our special places once again. Be safe, stay healthy and open the doors!
– Maura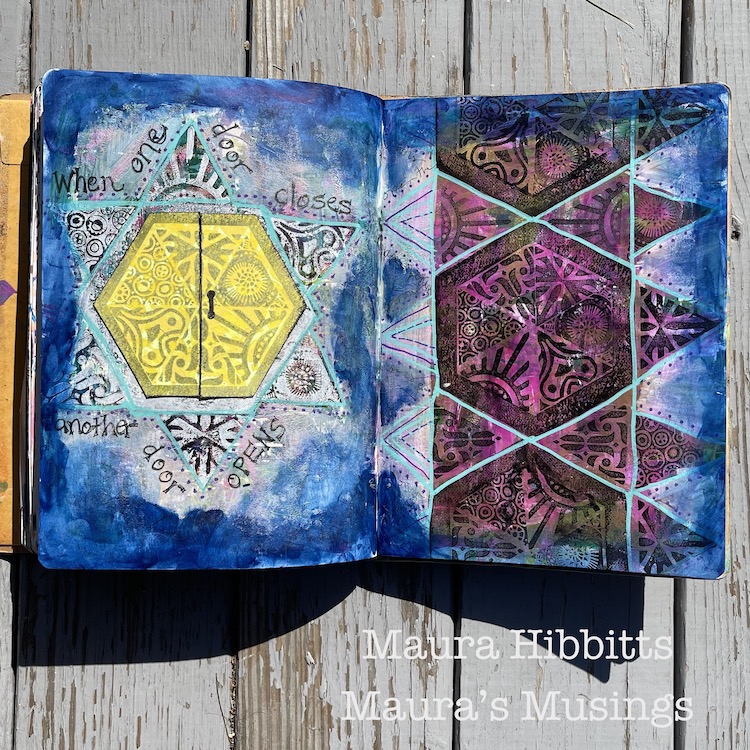 ---
Thank you Maura – loved learning your process and how you came back to the page to add that amazing door. Beautiful spread and beautiful ideas to keep in mind :)
Give it a try: you can find all my Foam Stamps in my Online Shop and here are some of the supplies Maura used:

Don't forget to check out Nat's Creative Squad on Instagram too: Each week we post projects, ideas, and inspiration for mixed media art.