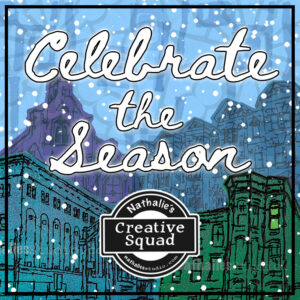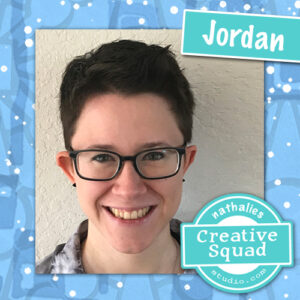 Happy Holidays from my Creative Squad! Today we have a post from Jordan Hill who is sharing a mixed media piece that she turns into the cover of a mini journal. She is using my Hydrant and Powerhouse foam stamps and our theme: Celebrate the Season – Many cultures celebrate in December so let's do some celebrating ourselves with our favorite art supplies and the holidays that make this season so festive.
---
When confronted with this month's theme of "Celebrate the Season", I found myself really wanting to try to encapsulate the holiday season as a whole. Here in the United States where I am located, January 1st marks the start of the new year. Since that day falls so near to other holidays, that is personally where I mark the end of the season. With the new year comes the idea of reflections, and so I wanted to create a little journal that I could use to reflect on the past year as well as prepare for the new! With that explanation out of the way, let's get into it!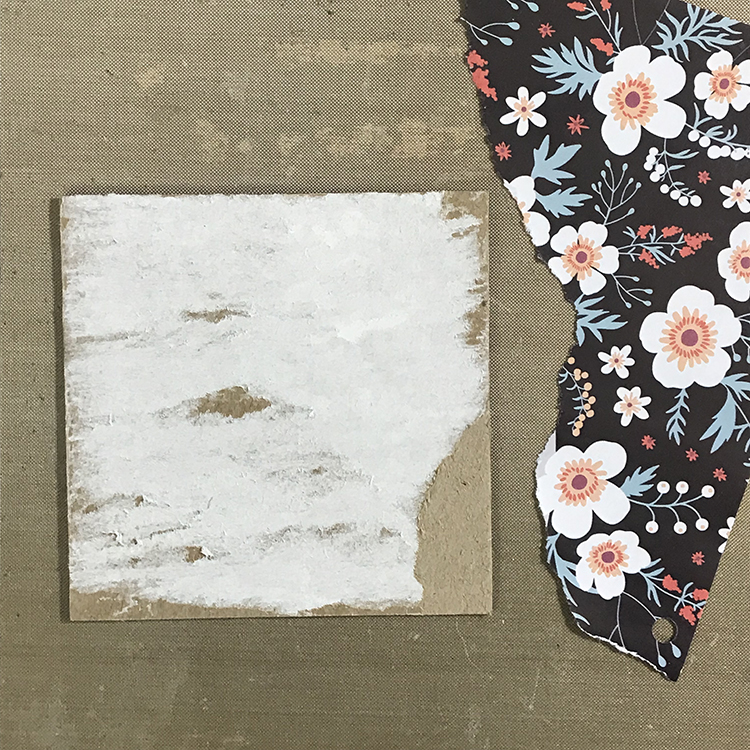 Recently, I created a handful of little journals, but one of the covers backfired on me. The wrapping paper I had originally used to try to glue to it wrinkled and tore, so I ended up removing as much of it as I could. I decided to try to use this as my base for this project, so none of this chipboard went to waste!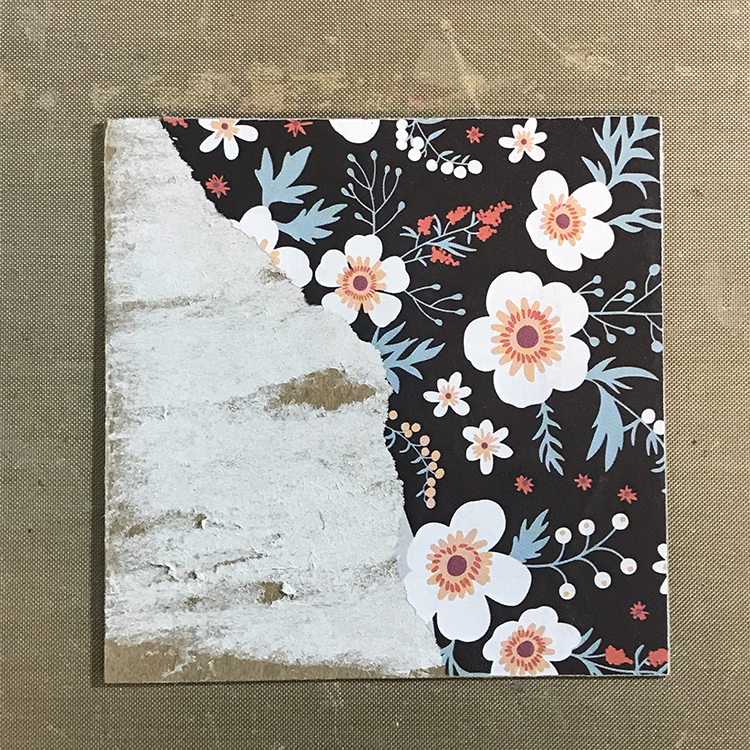 Once I had selected my base, I then tore a piece of floral paper and glued it to one of the edges of my chipboard piece using a glue stick. This piece of paper is from a 2021 wall calendar; it seemed like a good choice for a project revolving around the idea of reflecting! Once the paper had been glued to my chipboard, I trimmed the excess and then used a small piece of sandpaper to smooth out the edges.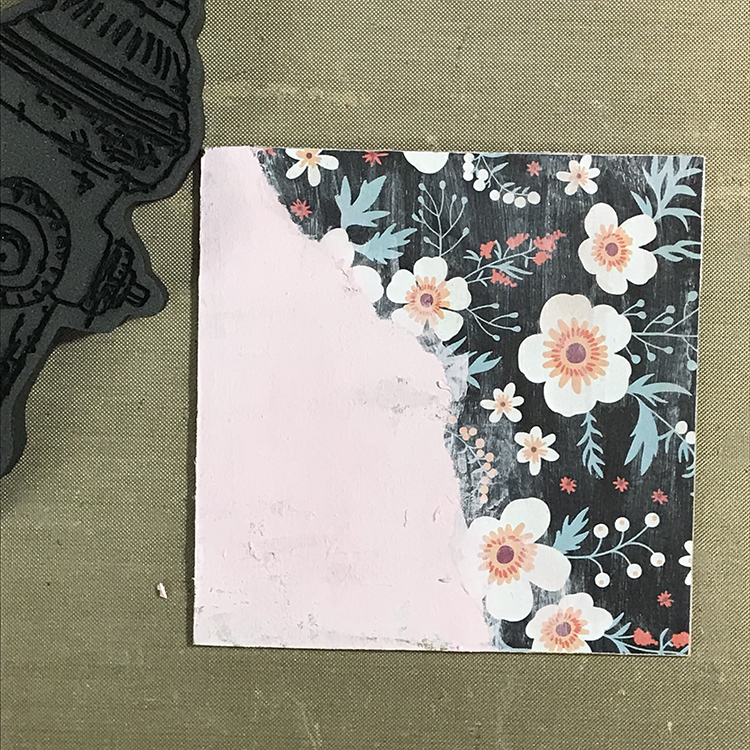 Next, I used some light pink acrylic paint to cover the remainder of the chipboard. While I was adding the paint, I also used a bit of clear gesso over top of the floral paper. Since the paper was originally from a wall calendar and wasn't intended to be used as collage fodder, it had a bit of a slick surface. The clear gesso dealt with this and gave me a great surface to work on top of.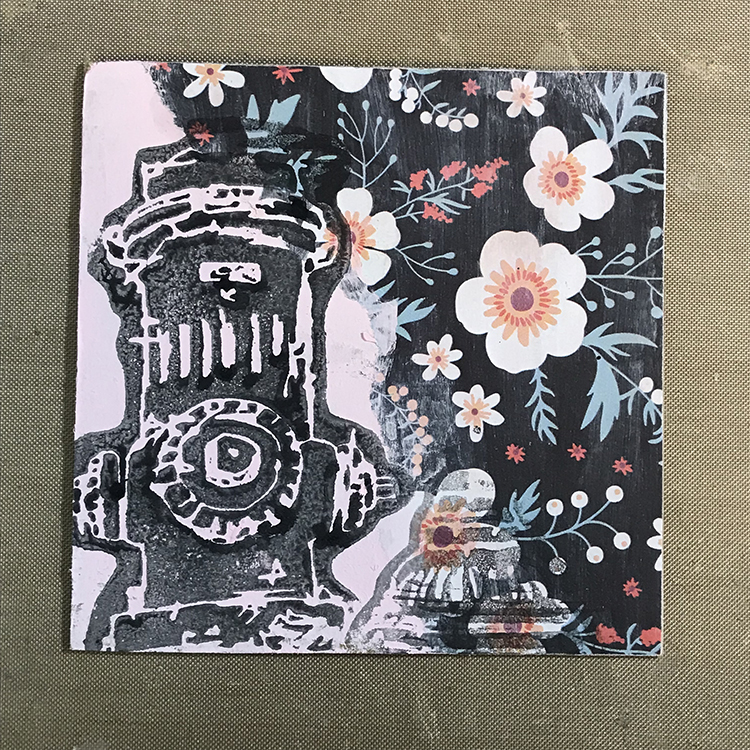 I then used Nathalie's Hydrant Foam Stamp and some watered down black acrylic paint to add some patterning and texture to the left side of my page. I love reimagining stamps and finding new ways to incorporate them; I thought this one would be a great way to add some interesting detail to my background. I also placed the stamp upside down to further disguise the nature of the original image.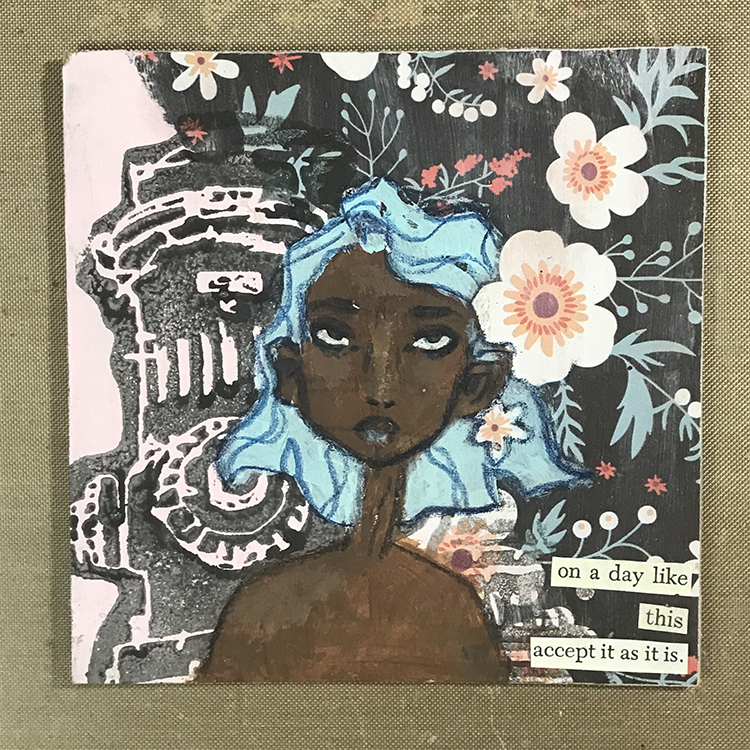 It was then time to add my focal image. When painting this particular figure, I tried to keep the background stamping visible by placing my image a little more towards the center of my page. I also tried to incorporate the flowers from the background paper into my character by painting the hair around the flowers as opposed to on top of them. At this point I also decided to add a few words in the lower right to further incorporate the idea of reflecting on the past year.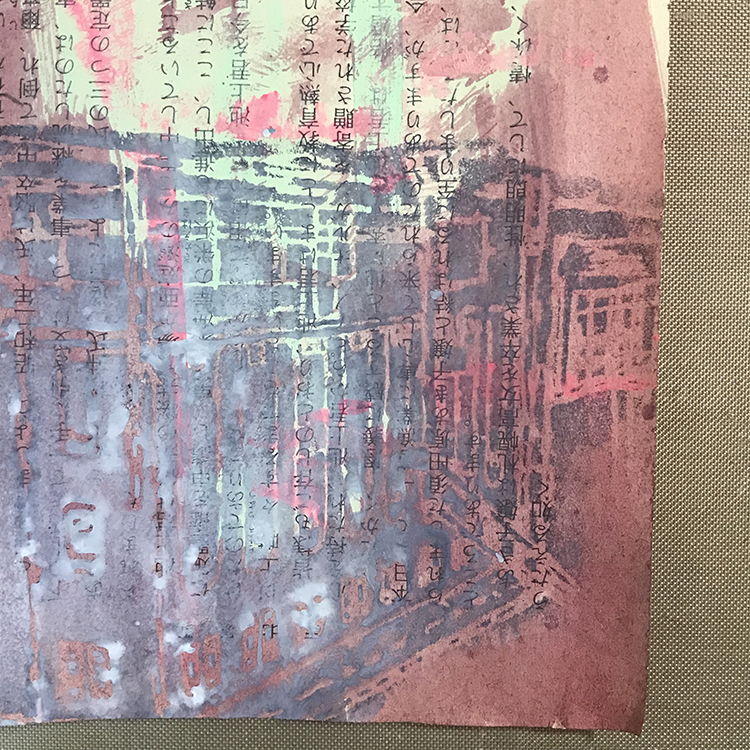 Next, I wanted to create a paper to use for my figure's shirt. I started off by selecting a piece of Japanese book paper that I had previously cleaned some of my brushes off on. Then, using Nathalie's Powerhouse Foam Stamp and a gray colored paint, I added it over top of my painted paper. I again stamped the image upside down, in order to get some interesting bits of the stamp where I wanted them.
I then cut a piece from my stamped patterned paper, making sure to choose an area where the stamping was visible, and adhered it to my page. Using the same colored pencil I used to sketch in the face, I went over the edges of the shirt in order to further blend them in.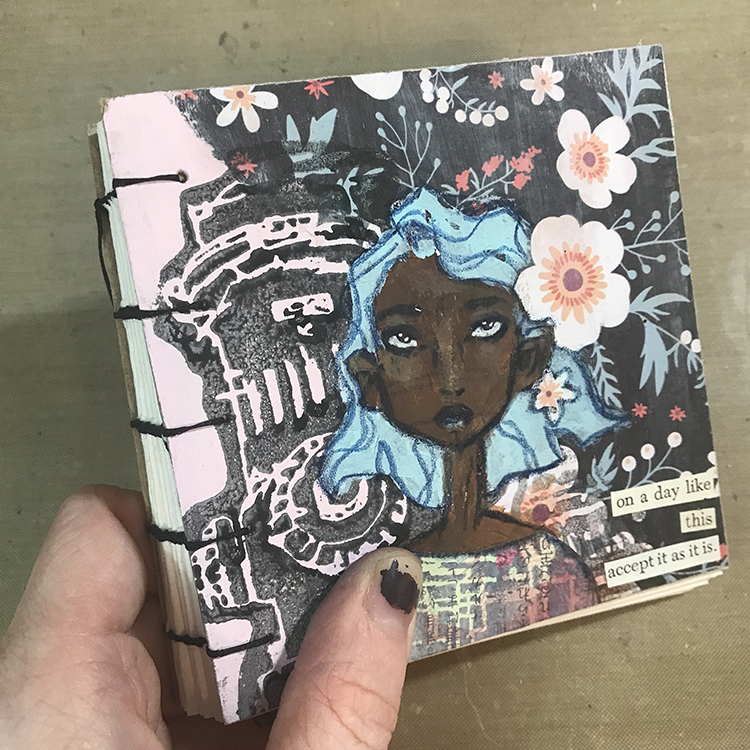 Finally, I punched some holes along the side of my chipboard panel and stitched it onto the front of a little coptic stitched journal. I'm very excited to start working in this little journal and I hope you enjoyed following the process of making it with me!
---
Thanks Jordan – love the idea of using these stamps as pattern elements and especially that Powerhouse turned blouse!
Give it a try: you can find all my Foam Stamps in my Online Shop and in addition to collage papers, here are some of the supplies Jordan used: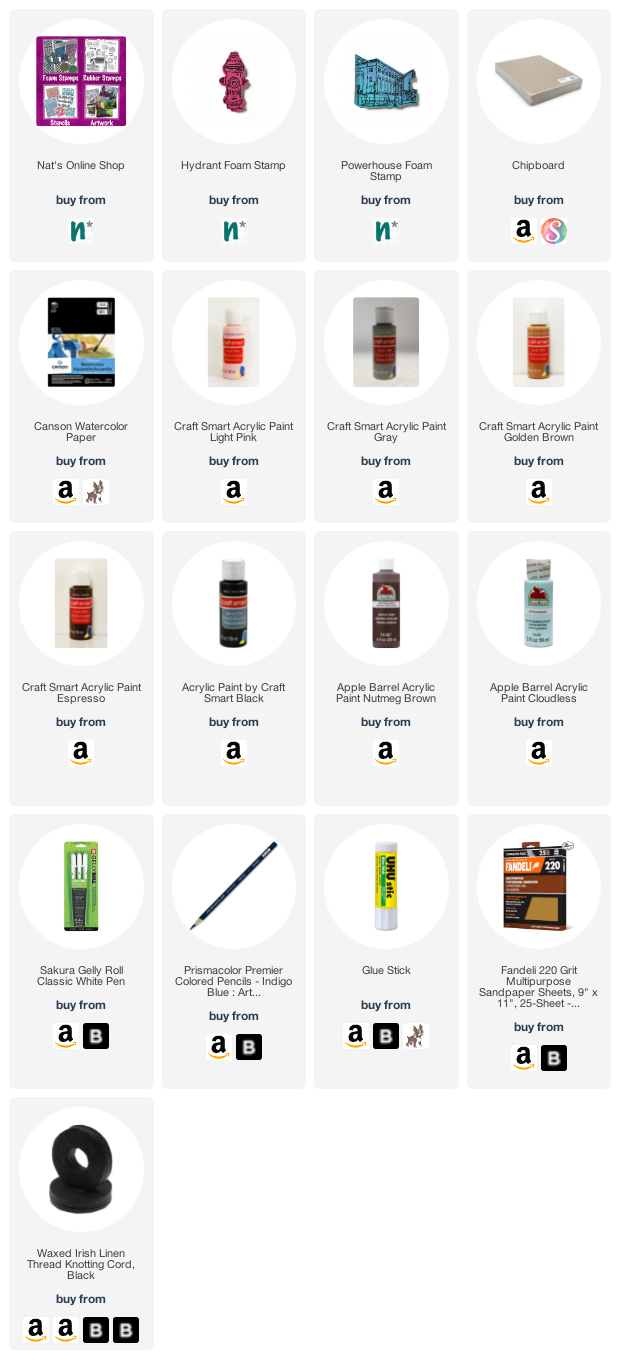 Looking for more inspiration from the Creative Squad? Follow them on Instagram here.