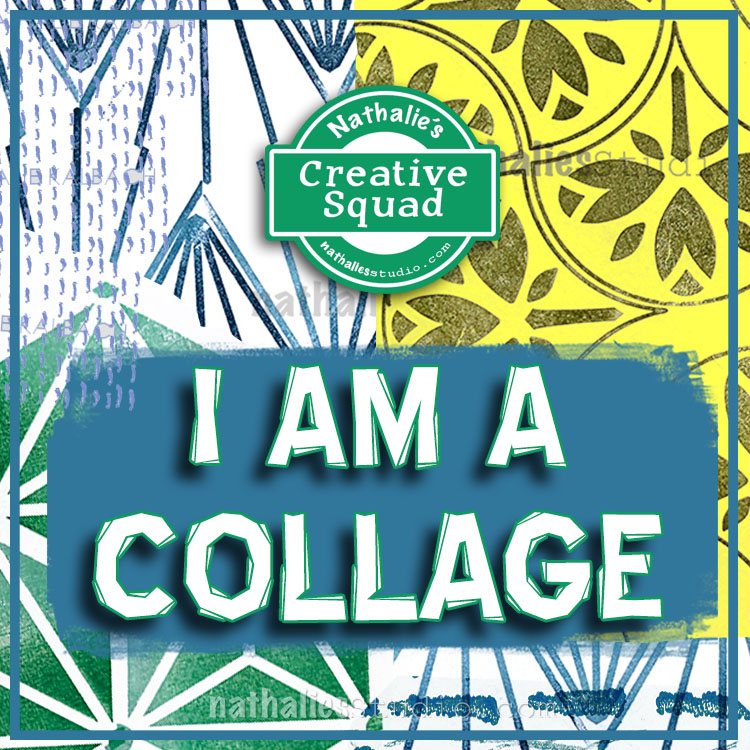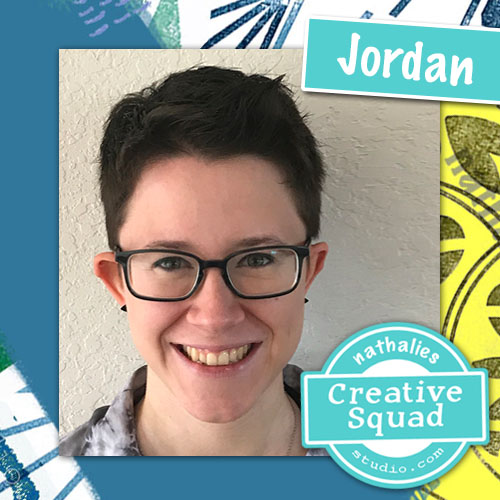 Hello from my Creative Squad! Today we have a post from Jordan Hill who is sharing an art journal page with a special self portrait technique to take on our theme this month: I am a Collage – We are all complex beings with many different facets. Create a "self portrait" piece using collage to represent parts of yourself, either literally or in an abstract way.
Jordan is using my Empire Triangle Stamp and my Arts and Crafts Motif Stamp.
---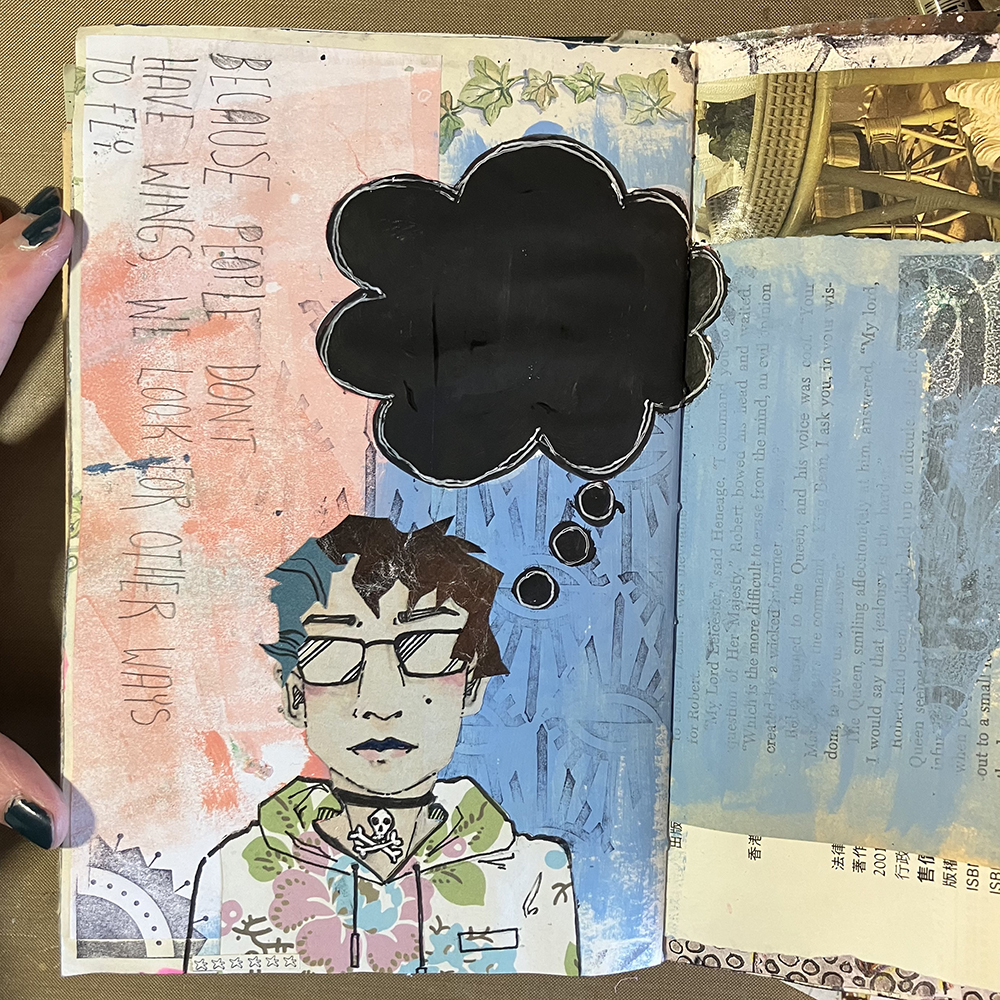 Happy October, everyone! I'm really happy to be here and sharing this project with all of you! When I was presented with this month's theme of "I Am A Collage", I immediately had an idea for a technique that I wanted to experiment with, which is quite different from things I've done in the past. I hope you enjoy following along with me!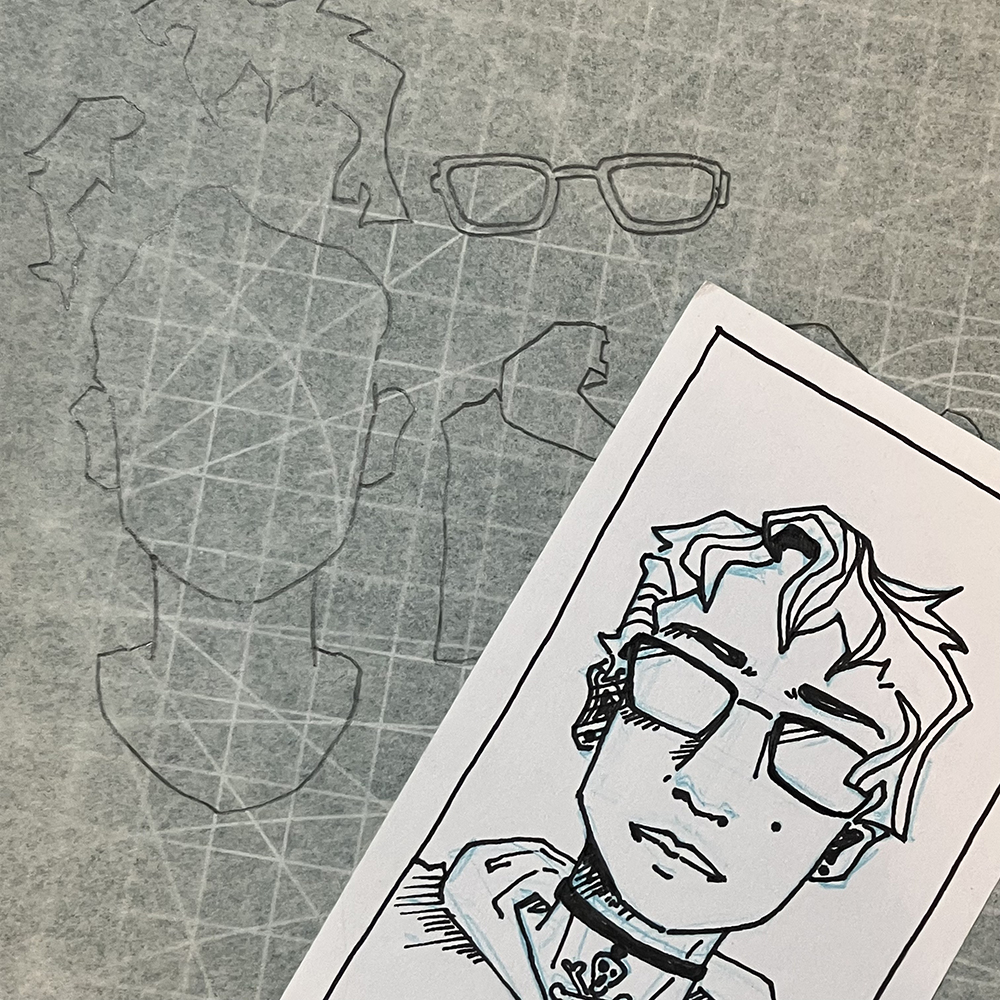 I started this page with a self portrait I had already drawn and a piece of tracing paper. You could just as easily use a photograph to achieve a similar result, but I really liked this drawing and wanted to work with it. I then placed the tracing paper over top of the self portrait and drew the portrait in chunks. I did one chunk for the face and neck, one for the shirt, one for the glasses and two separate pieces for the hair (the left and right sides). I don't end up using the glasses.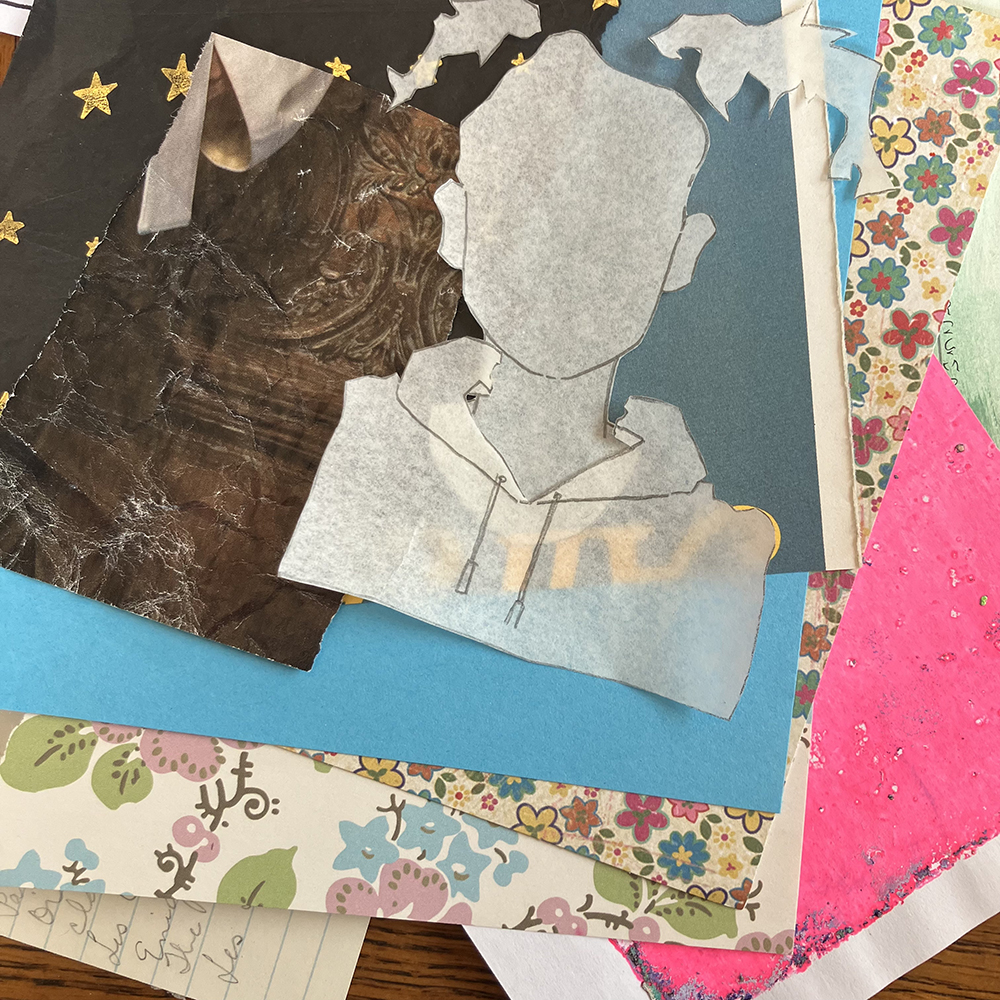 Next, I cut out the individual pieces of tracing paper to create patterns. I then selected some scraps of paper, traced my patterns onto the back of them, and cut them out with scissors. For more intricate pieces, you might consider using an X-Acto knife.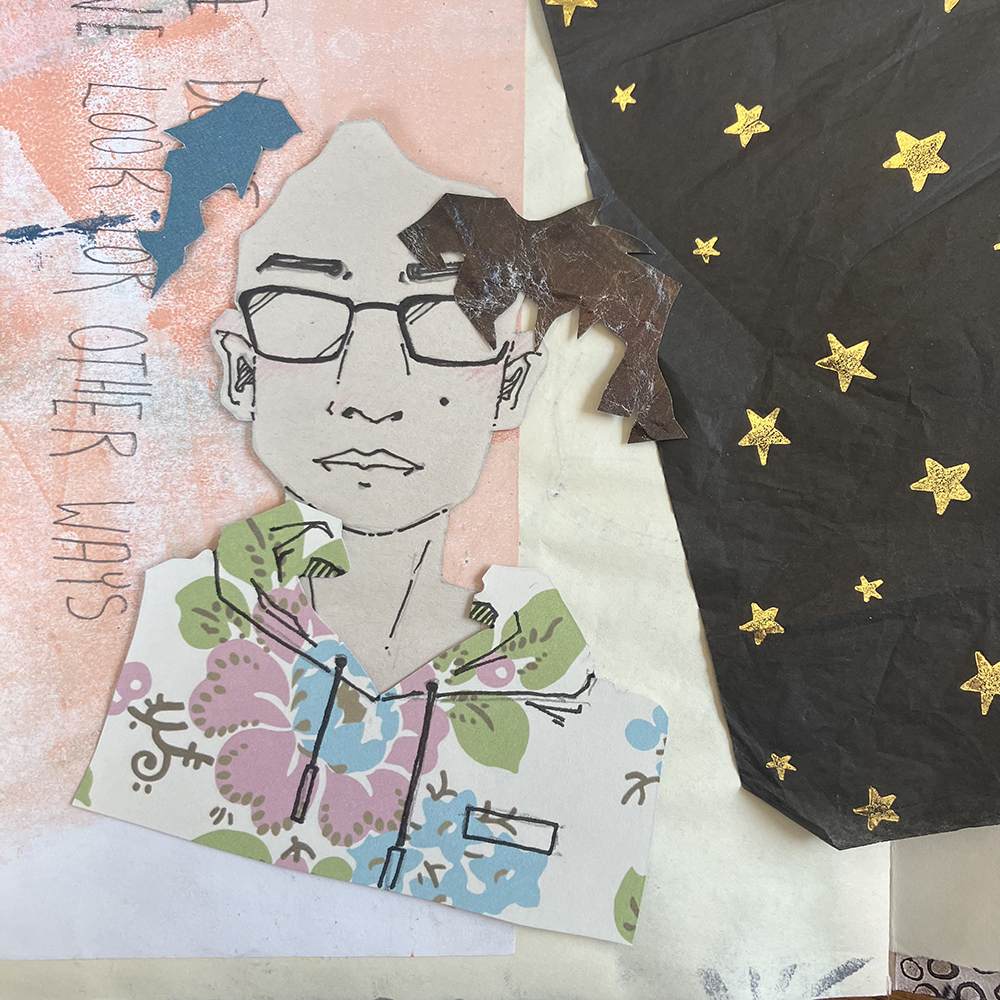 Once my pieces were cut out, I added a few more details onto the pieces using a black ink pen. This allowed me to add in the facial features and some folds and wrinkles to the sweatshirt without as much trouble as a lot of fiddly paper bits would have given me.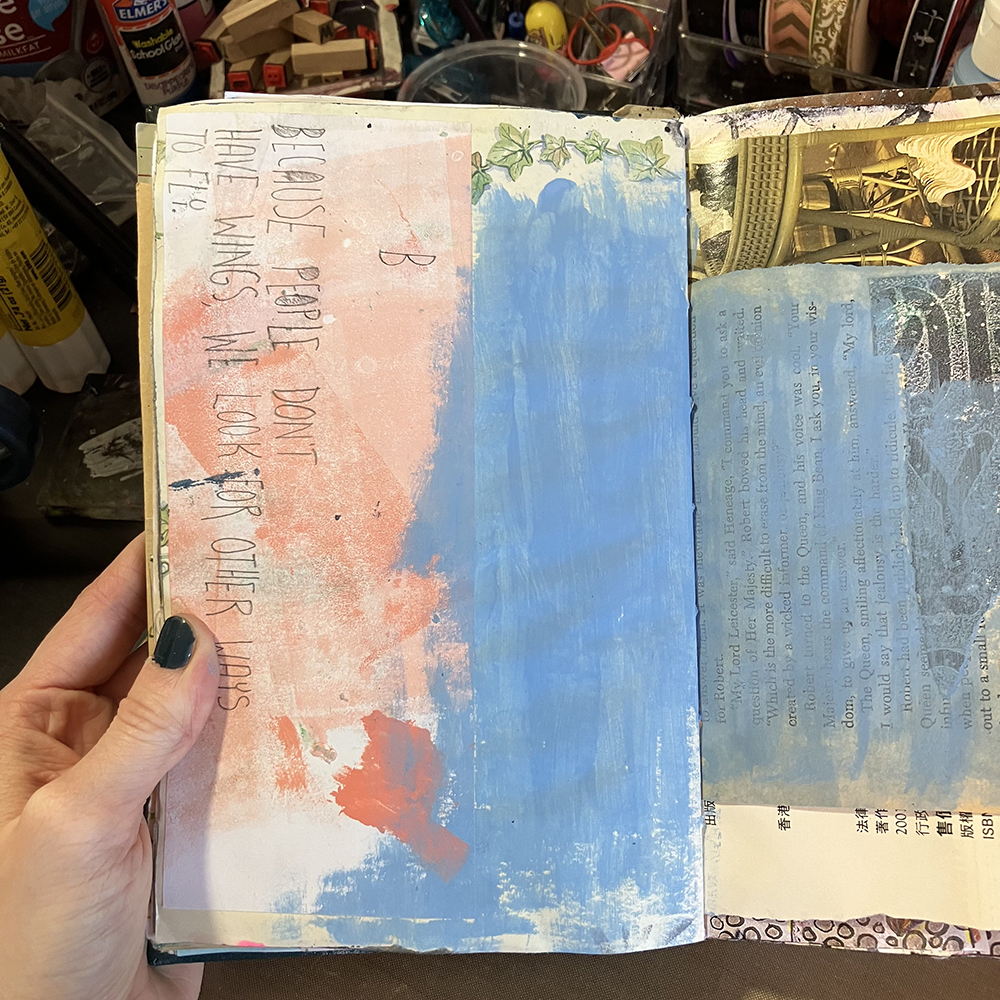 I then selected a page in my journal to work on. I ended up going with this one because of the quote along the left hand side of the page. I actually used this same quote on the Creative Squad project I did back in April; it is from a show/manga called Haikyuu!! I figured that it would be fitting to use something that is that important to me as part of this month's theme.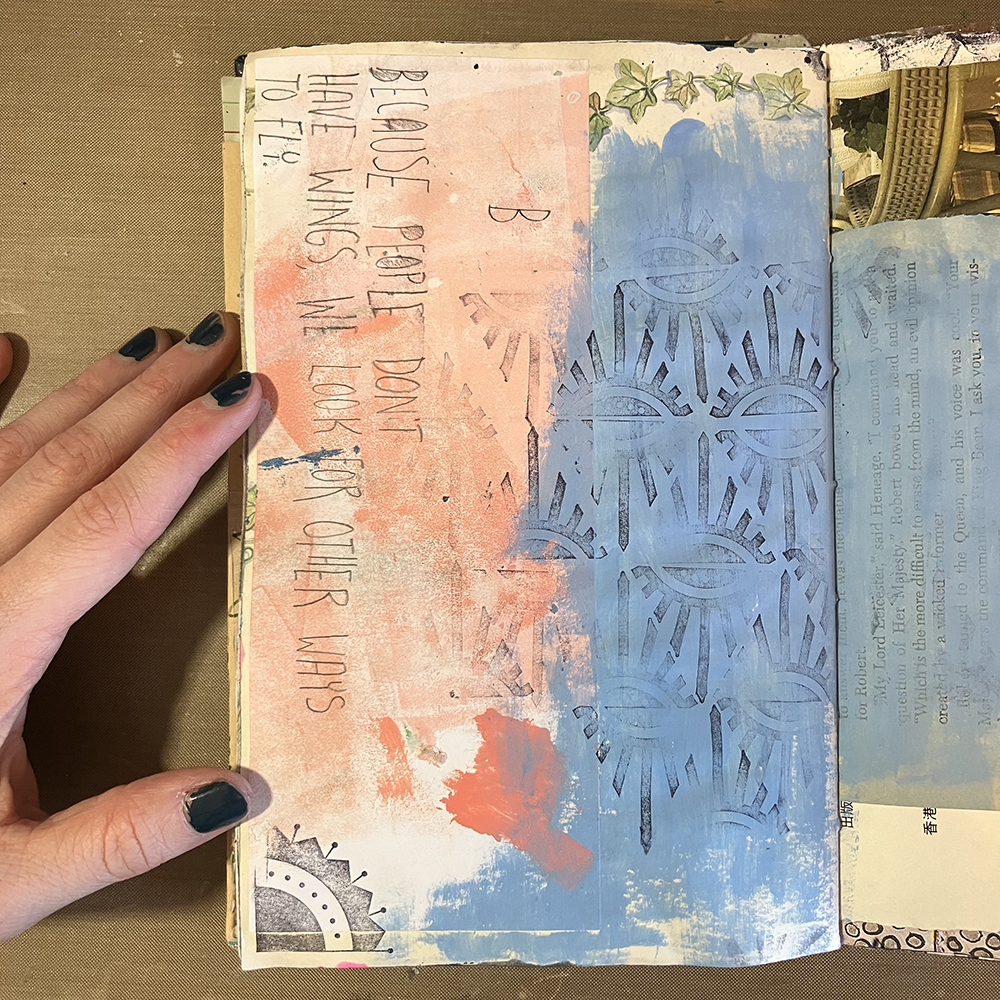 Next, using two of Nathalie's rubber stamps (the Empire Triangle Stamp and the Arts and Crafts Motif Stamp), I added some texture and interest to the background. I used the Arts and Crafts Motif in the lower left hand corner, and used the Empire Triangle Stamp to create a pattern across the background.
It was then time to add the focal point. Using the different pre-cut scraps of paper, I glued them to my background in layers, overlapping where necessary. I used a glue stick to adhere my pieces.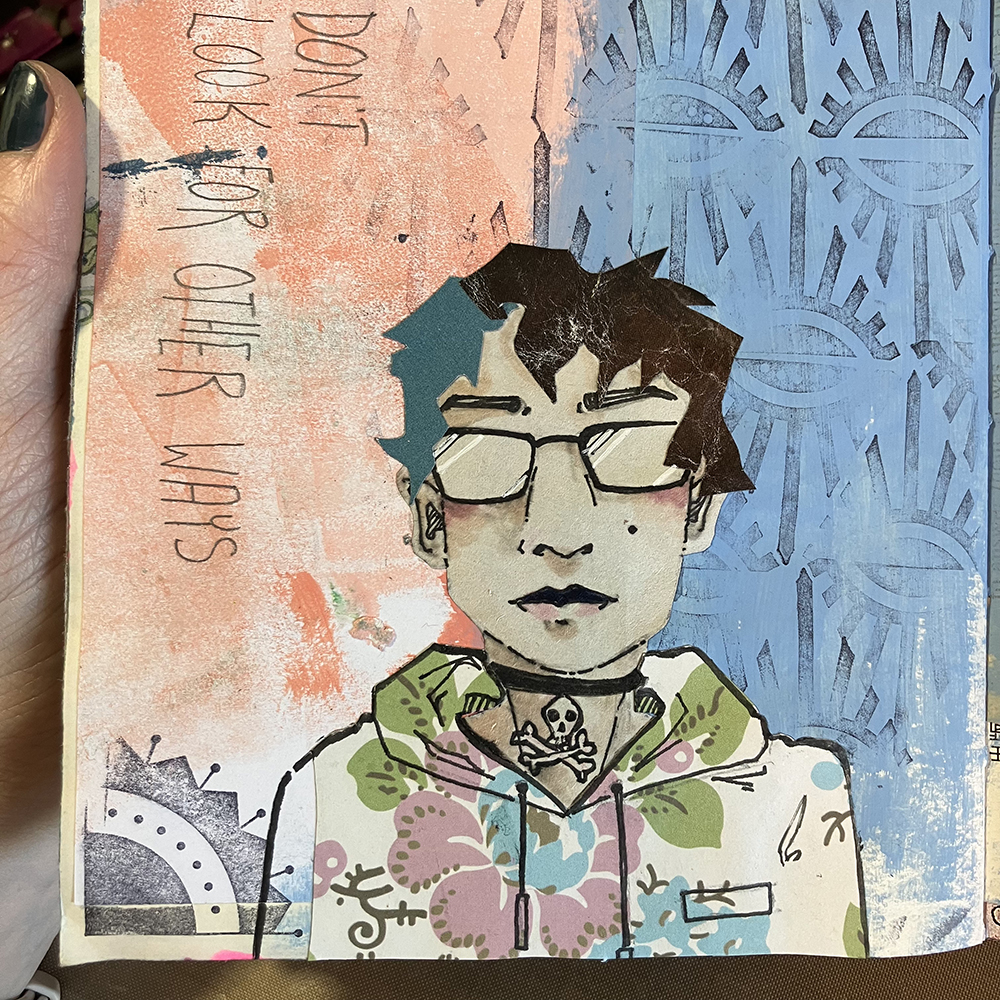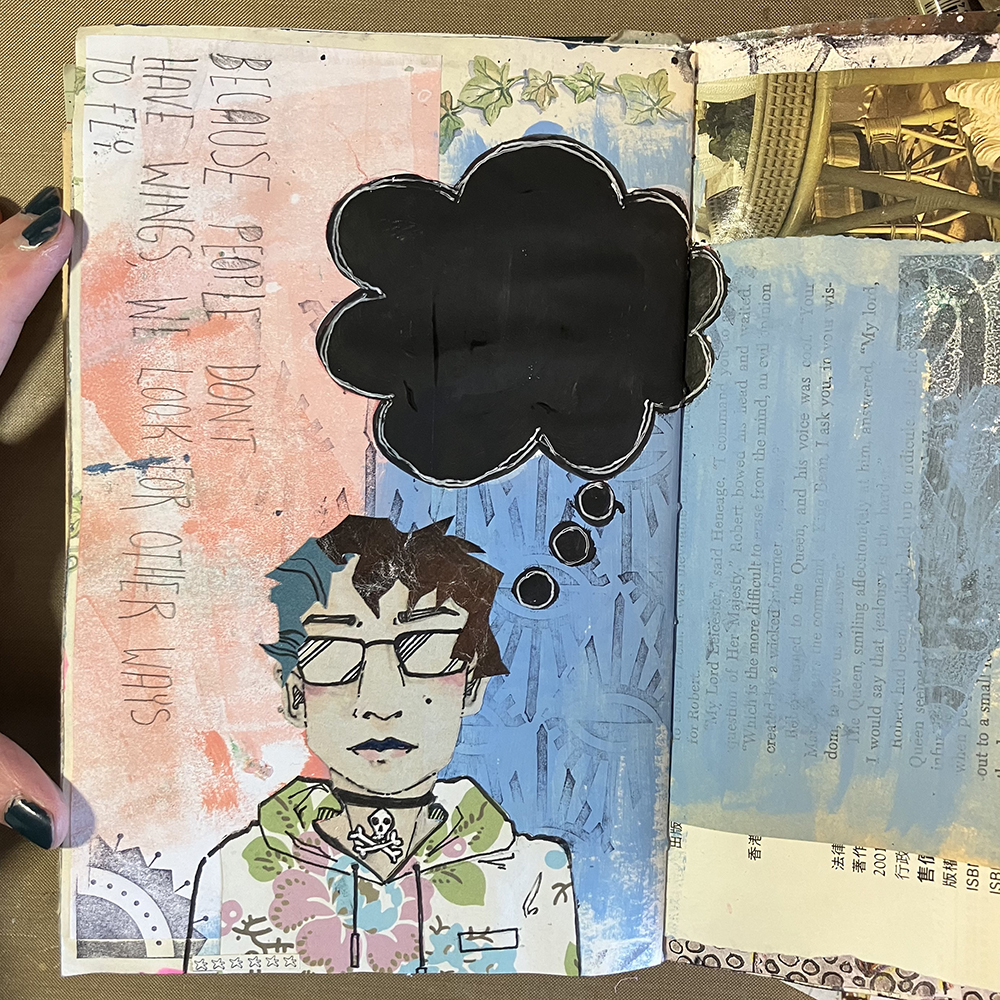 Finally, to finish the page off, I added a thought bubble shape using black acrylic paint and outlined it several times with a white gel pen. I haven't added anything inside this thought bubble yet, but I think it will be a great place to add some journaling in the future.
I hope you enjoyed following along with the process of this page and that you consider trying this technique for yourself in the future!
---
Thank you so much Jordan! I love how you created the self portrait and how you added different elements with various amount of details – it is a perfect example on how complex we are as human beings – we do have many facets.
Give it a try: you can find all my Rubber Stamps in my Online Shop ; here are some of the supplies Jordan used: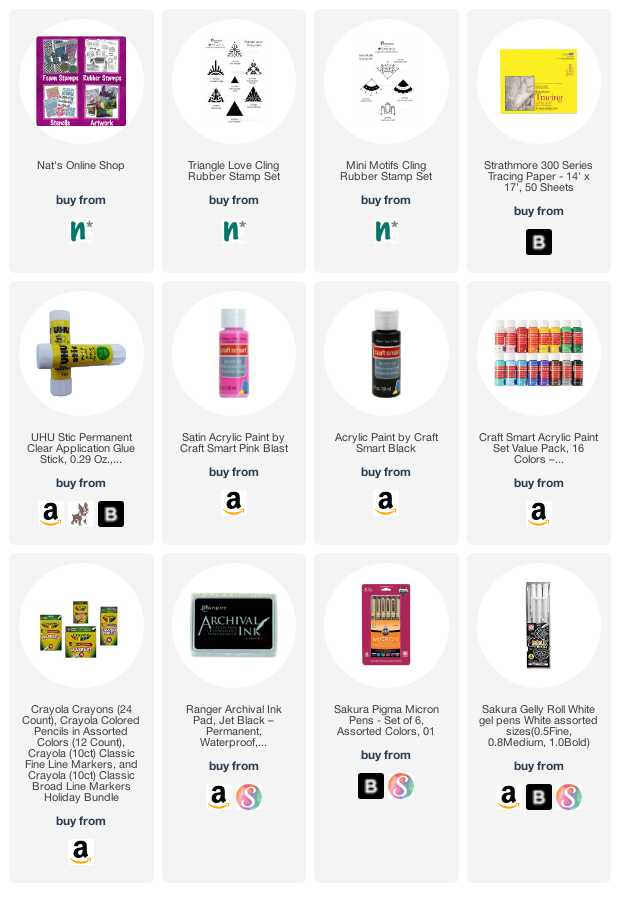 Looking for more projects? Follow the Creative Squad on Instagram here.