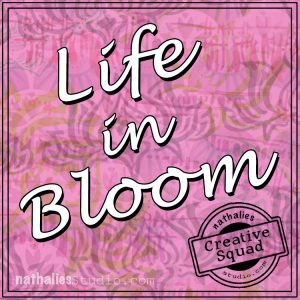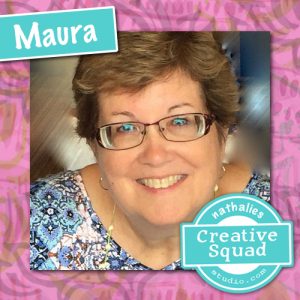 Hello from my Creative Squad! Today we have a lovely and uplifting art journal page from Maura Hibbitts that just might get you thinking about spring :) Maura is using my Amsterdam, Art Nouveau Wallpaper, Art Deco Fairview, Versailles, Batik, and Tokyo stencils and our new theme: Life in Bloom – It's been a long winter where we are and I'm dreaming of flowers and gardens and spring. Indulge us all in a project that focuses on one of Mother Nature's most exuberant symbols of life: flowers flowers flowers!
---
This is the time of year my son and I start pulling out the seed and gardening catalogs and making our lists and getting our orders out. Luckily this year, we have quite a few seeds left from last year's gardening. During the pandemic, we along with many other people, added to our gardens to grow more of our own food, and it was well worth it. I did not neglect the flowers though, because I so enjoy their beautiful shapes, colors and aromas. We filled the deck with plants and are looking forward to doing that this year. As I worked on my project and looked out, the snow kept falling all day long, so it was fun to make wonky flowers and dream of Spring!
I started my Life in Bloom project by creating papers to use with paints and stencils. First step was to brush the lightest layer of each color onto watercolor paper – Radiant Yellow, Jadeite Glass, Peach Punch, and a blend of yellow and pink.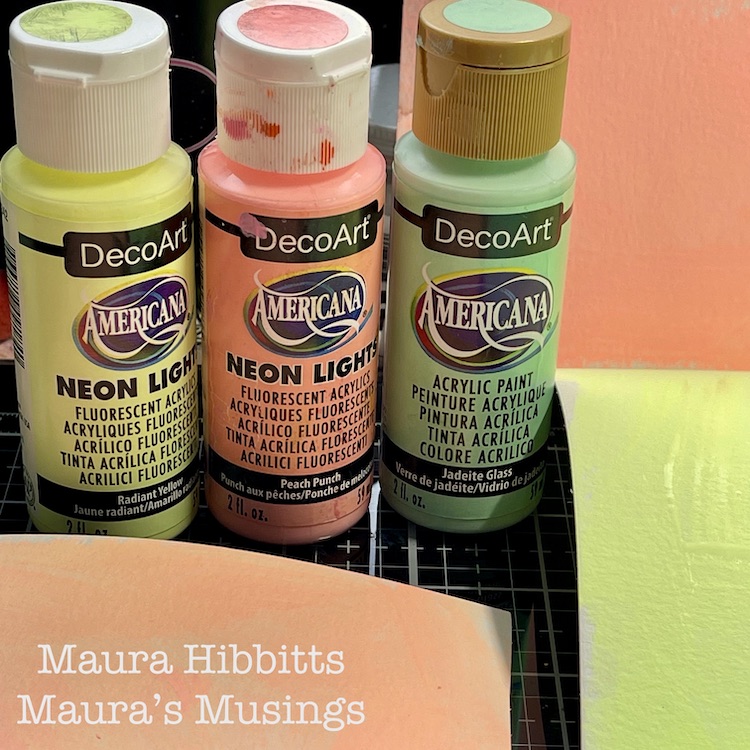 Green paper first – I stenciled the background green with the Tokyo stencil and darkest shade of green (apple green), and dried it with the heat tool. Then I added another stencil layer with the Batik stencil and Matcha Green. Tip: My favorite tool for stenciling with paint is a cosmetic sponge, you can buy them in bulk and they are not expensive. I make them go even further by cutting off the end and reusing them multiple times until they become too small. Just remember when stenciling, to dab most of the paint off of the sponge before applying, otherwise you can lose the design.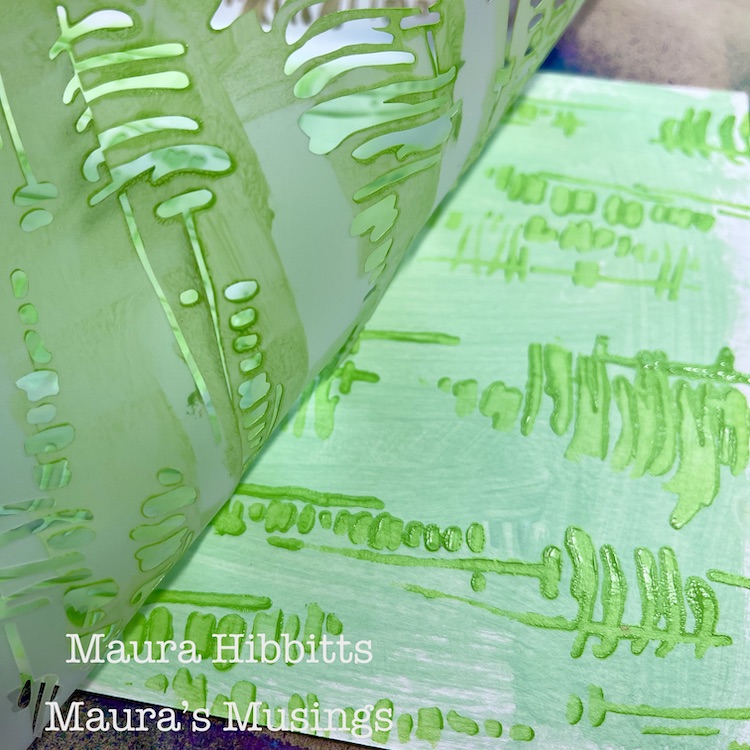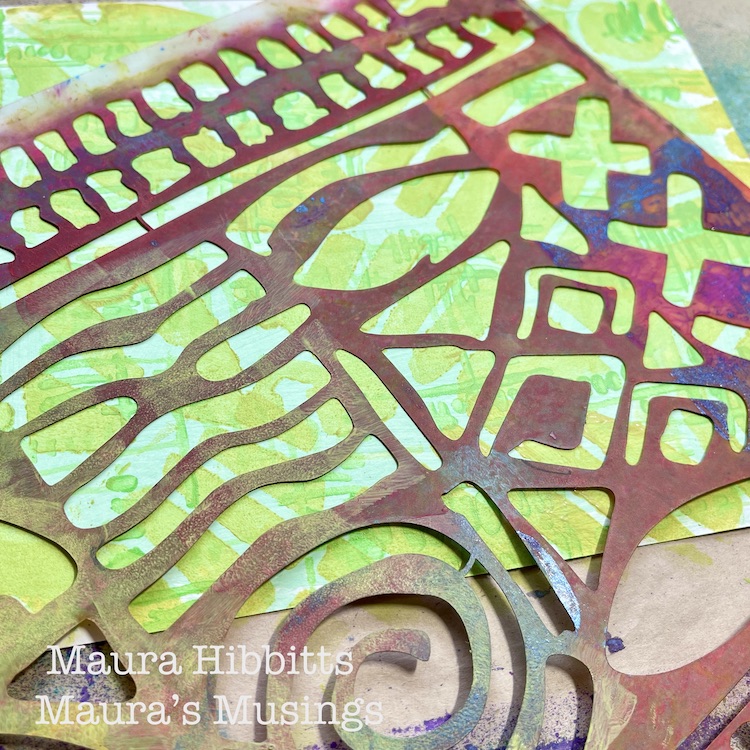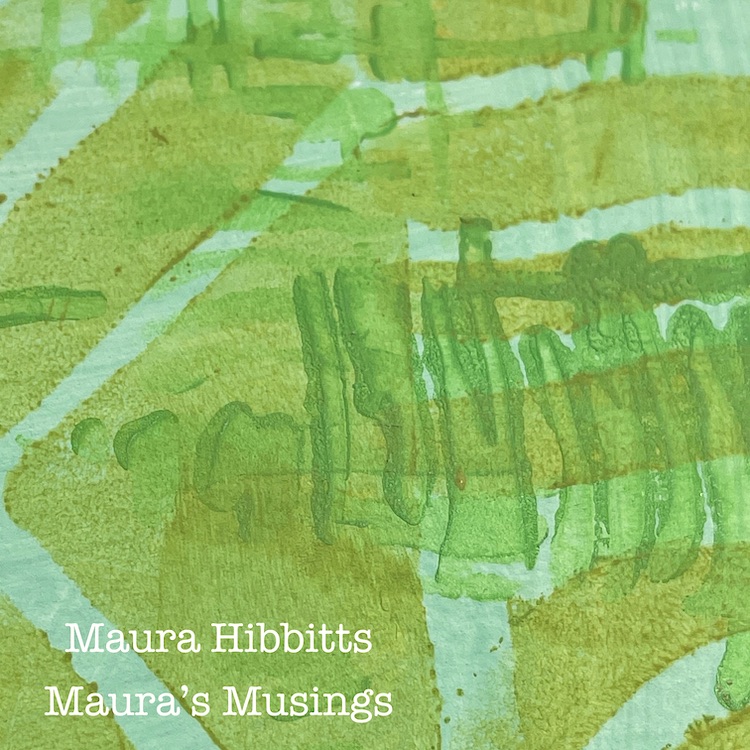 Yellow paper next – I started with the Versailles stencil and Sunny Day ( I meant to use the darker color first, but reached for the wrong one, so the stencil designs don't stand apart as much here.) Next layer once dry, is using the Amsterdam stencil and Canary.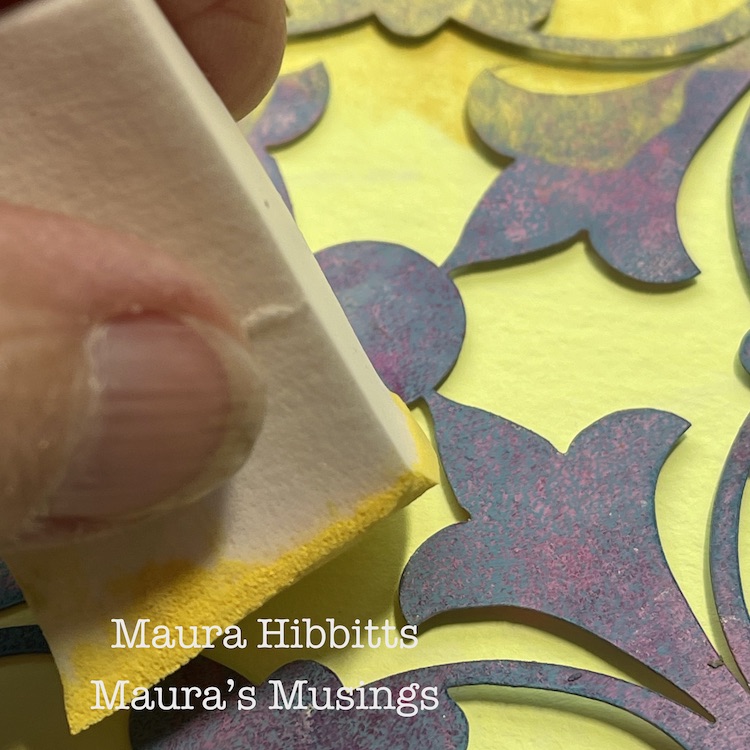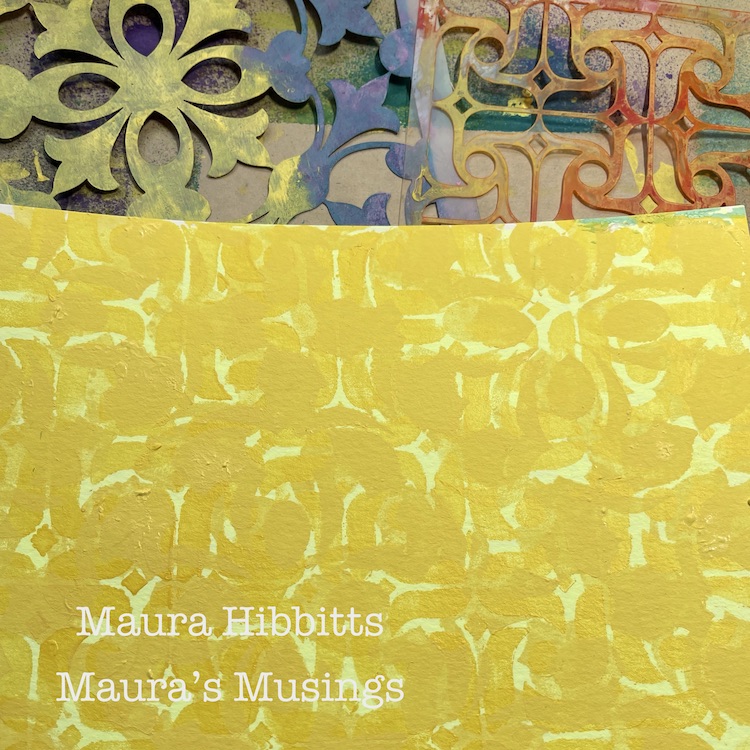 I added a blended paper with both yellow and pink, and stenciled this one with the Amsterdam stencil (yellow) and the Versailles stencil with pink.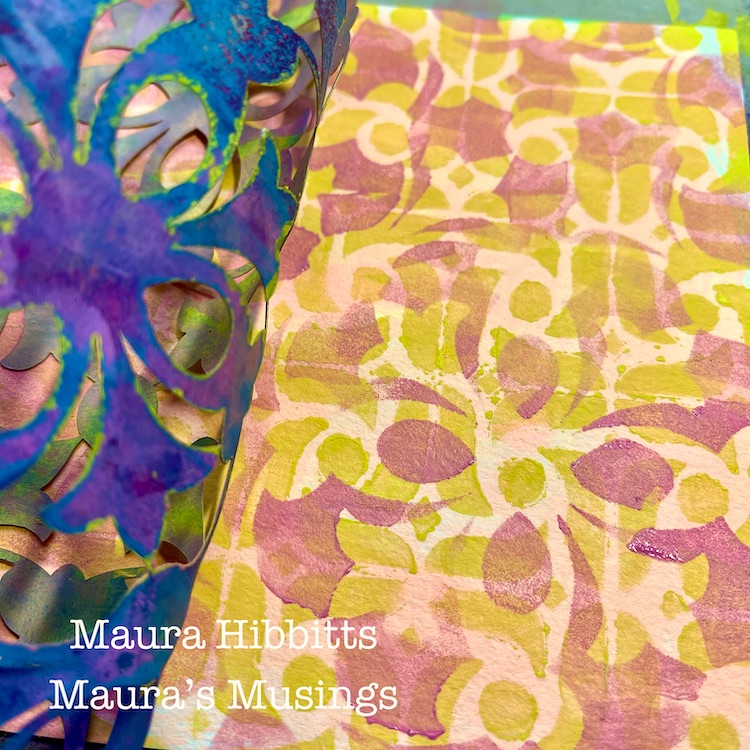 Now, it's time for the pinks. My first stencil layer is with the Art Nouveau wallpaper and Pink Tropic. Once dry, I added the Art Deco Fairview stencil with Cactus Flower.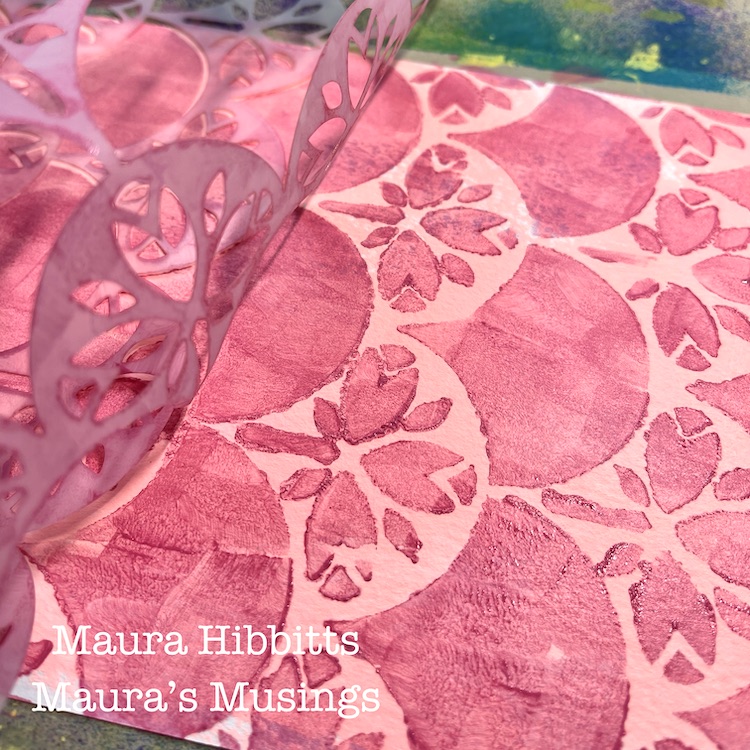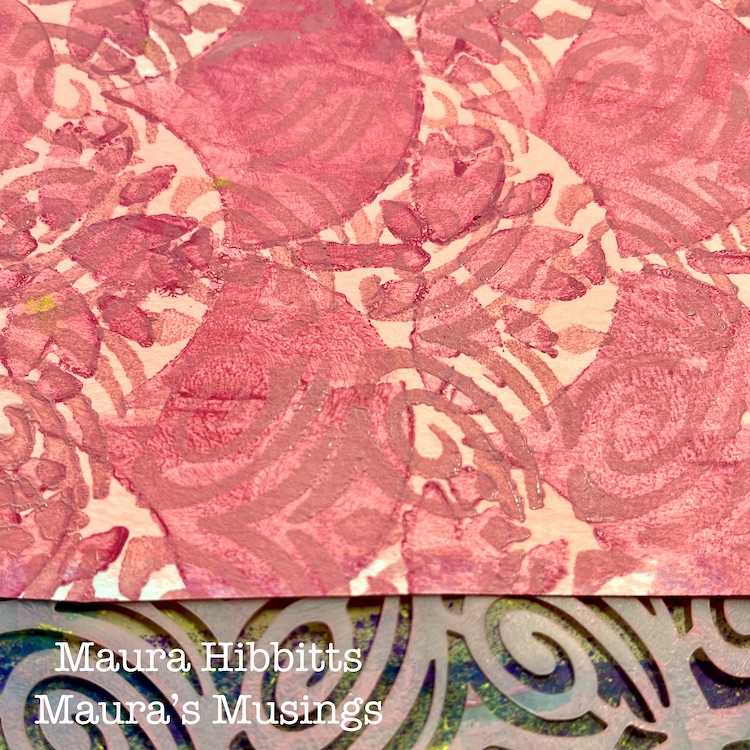 Now that I have my paper variety, I can create my flowers. I just cut out wonky shapes for the flowers and layered them, and cut out stems and flowers from the green paper.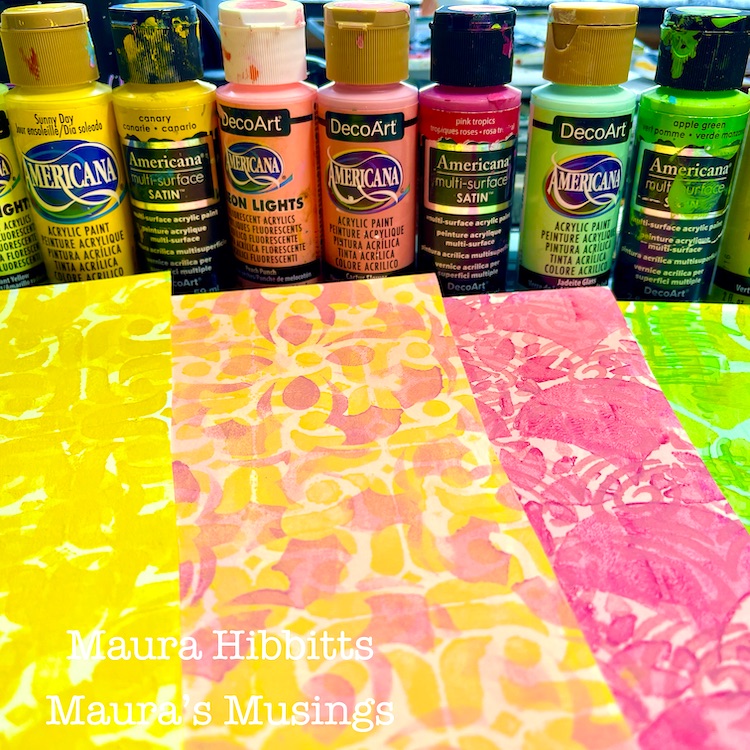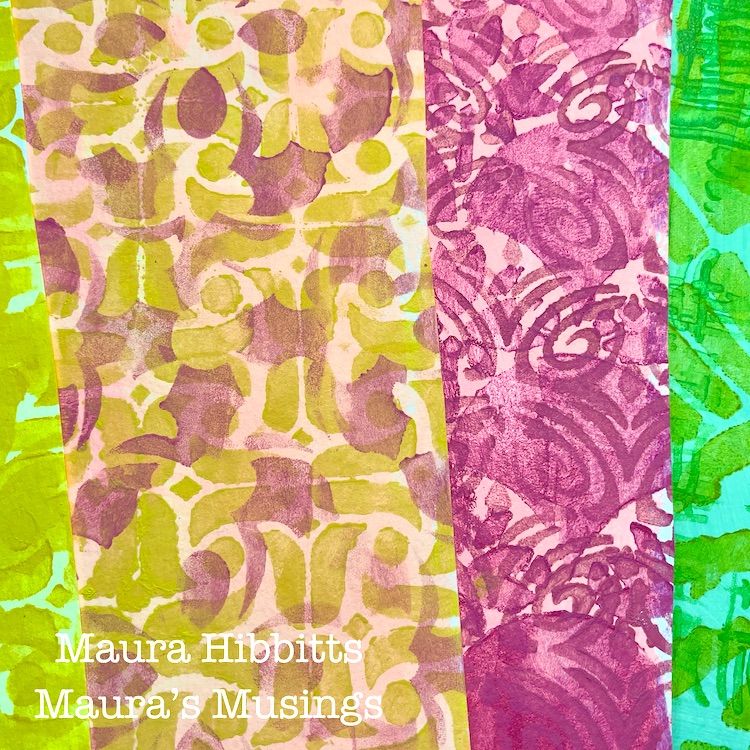 I like edging my pieces with black pen, it brings more drama to them, and my favorite pen for this is a Carbon Ink pen. Of course, any black archival pen will work. I draw two lines around each piece and don't worry about being precise. Next, I assemble the pieces of each flower and glue them into my journal with tacky glue. I chose the black background, so the bright colors would pop.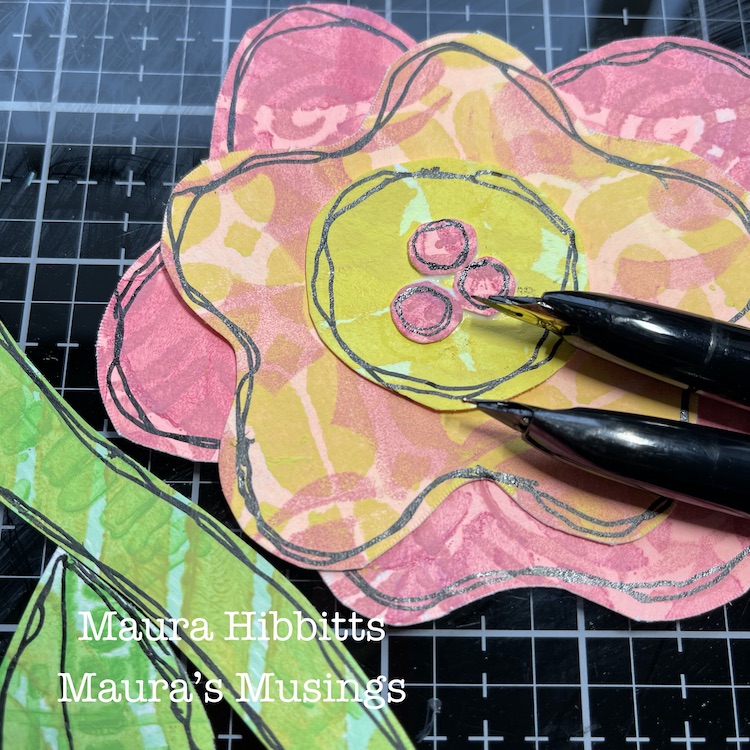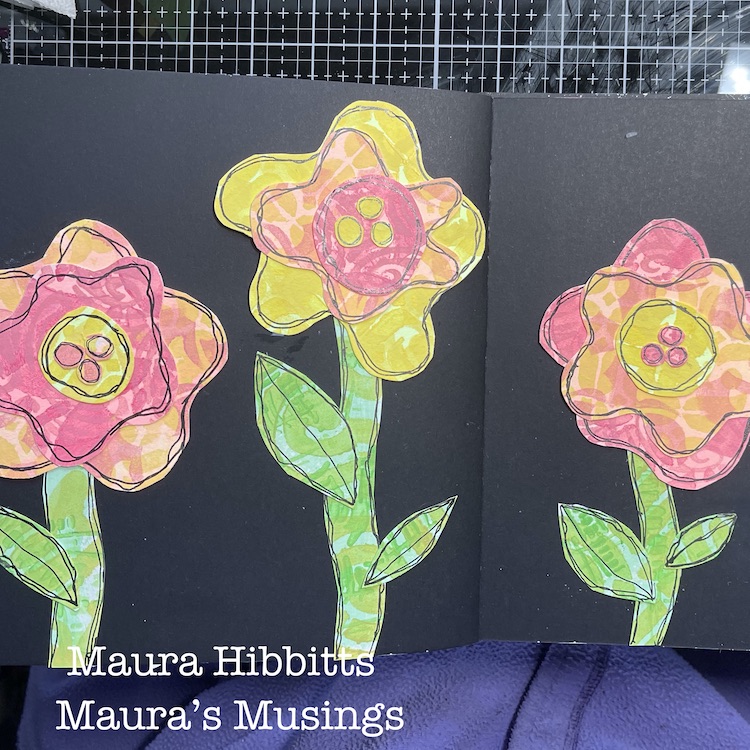 I printed out the quote "All the flowers of the tomorrows are in the seeds of today" (an old proverb), using my label maker. Hand lettering it would work beautifully too. Then, my final step to pull it all together was to add faux white stitching around the pages. One of the flowers from my deck last summer inspired me to use the pinks. We saved seeds from this beautiful plant to grow more this year.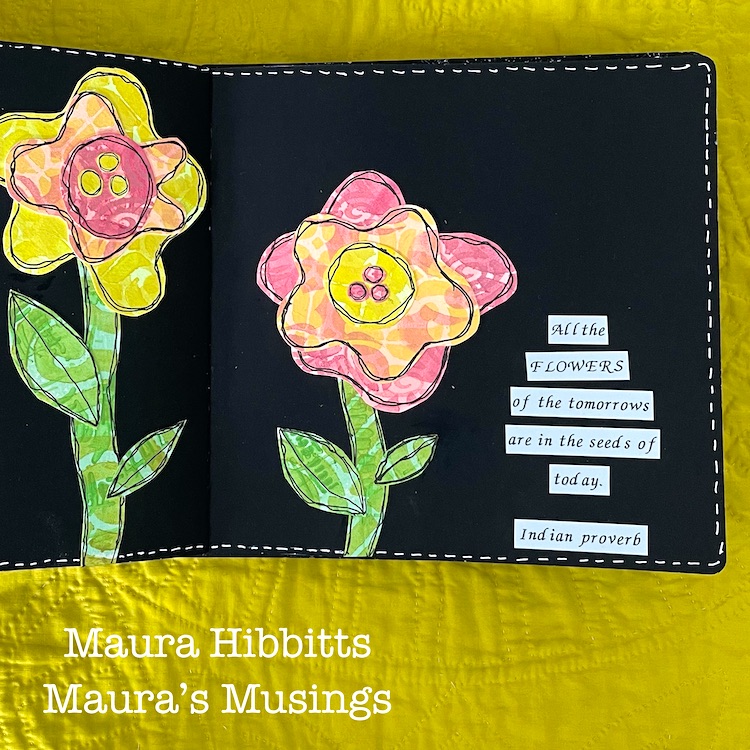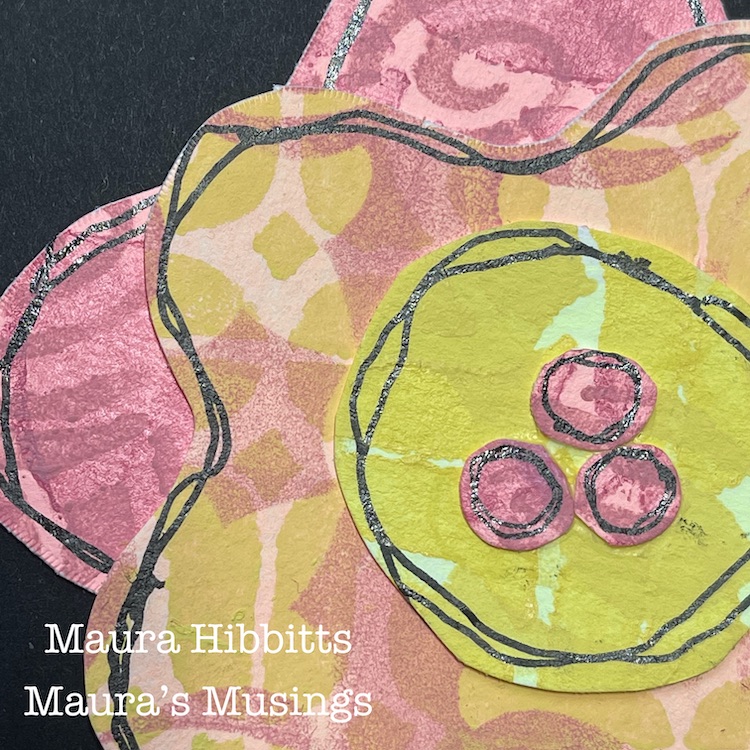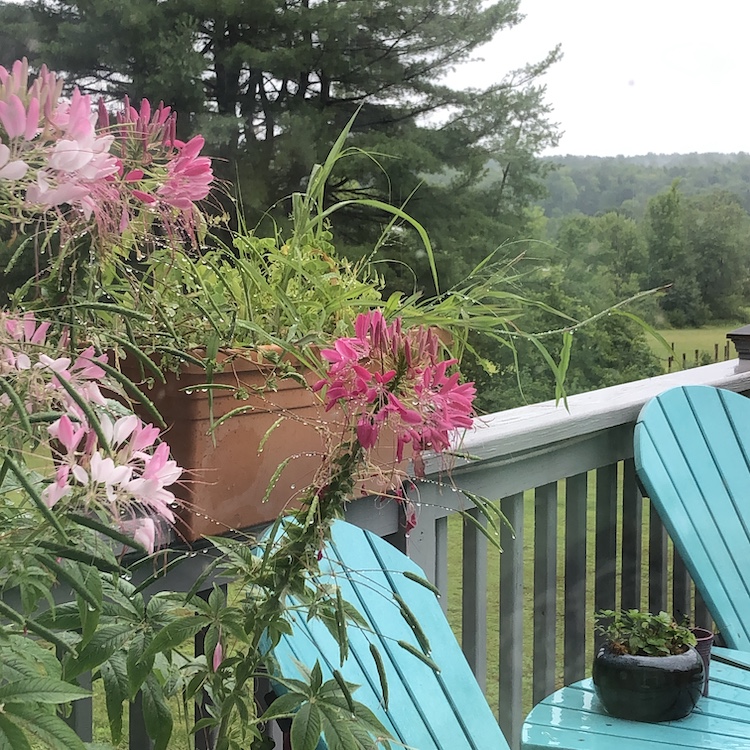 It's fun to think that life is in bloom in other parts of the world, even when mine is covered in snow. I can tell you, I am really looking forward to spring and this year, that includes being able to get together with family and friends outdoors, a few at a time. The seeds are saved and ready for planting new flowers and gardens come spring. Let's look forward to a new season together, Maura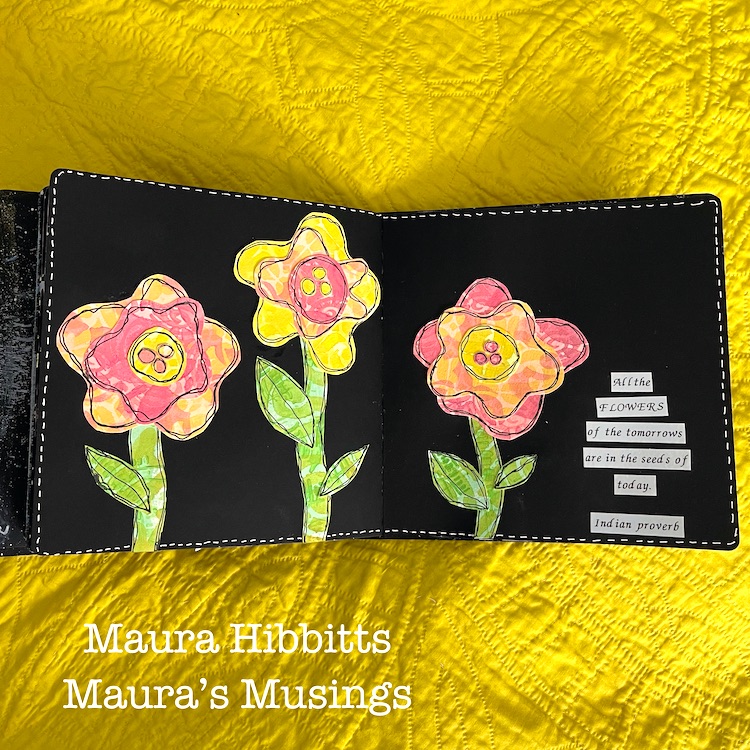 ---
Thanks Maura – so fun that this spread came together during a snowstorm!
Give it a try: you can find all my Stencils in my Online Shop and here are some of the supplies Maura used:

Don't forget to check out Nat's Creative Squad on Instagram too: Each week we post projects, ideas, and inspiration for mixed media art.