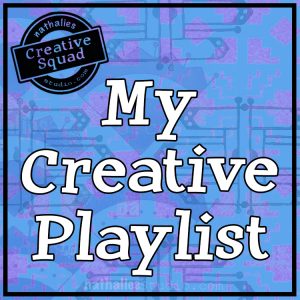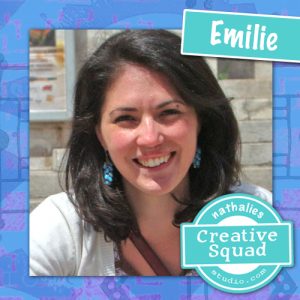 Hello from my Creative Squad! Today we have Emilie Murphy sharing a nifty art journal page with a list of her favorite mixed media supplies. She is using my Mini Motifs foam stamp and my Exchange Place stencil and our theme: My Creative Playlist – Your favorite mixed media supplies are like your favorite songs: they lift you up, inspire you and just feel good to groove to. What are your favorite supplies? Use them in a project – YOUR Creative Playlist that always gets you going.
---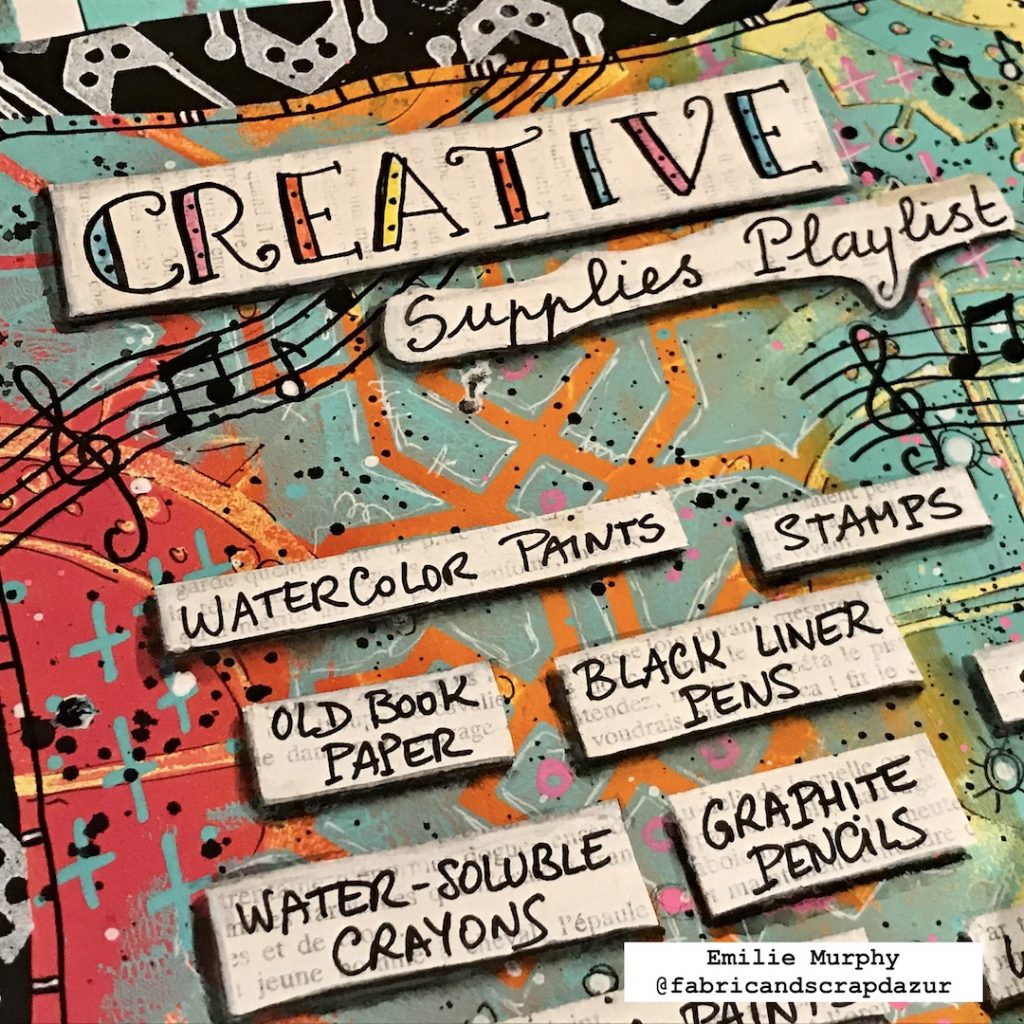 Hi there! Today I'm presenting you my take of the theme of the month that is "My Creative Playlist". I chose to make an art journal page listing some of my favorite art supplies. It was tons of fun making it. Let me guide you how I made it!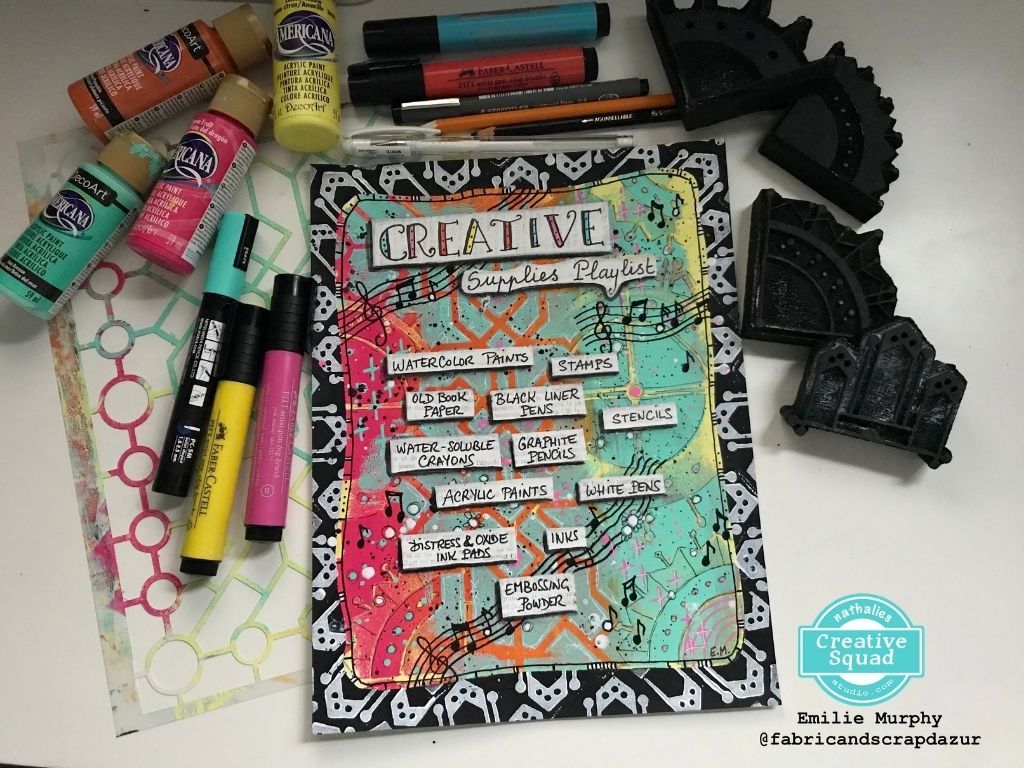 To start my project, I used my Gelli plate and a sheet of 8.5×11 white cardstock to make the background. I first applied only a layer of yellow paint and pulled the print.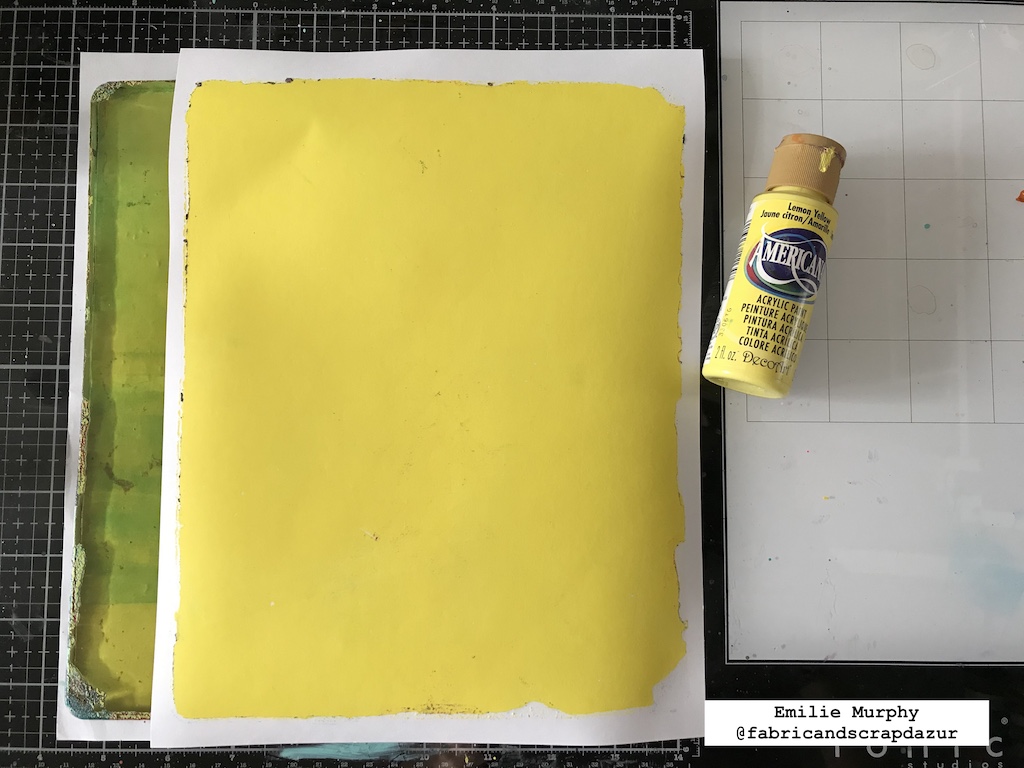 Next, I chose three colors and applied the paints in strips using my brayer. I stamped on it using the Mini Motifs foam stamps, one at the time, in line. My intention here was to remove some paint to be able to see the previous yellow layer, so that I rubbed my foam stamp on scrap paper after each stamping.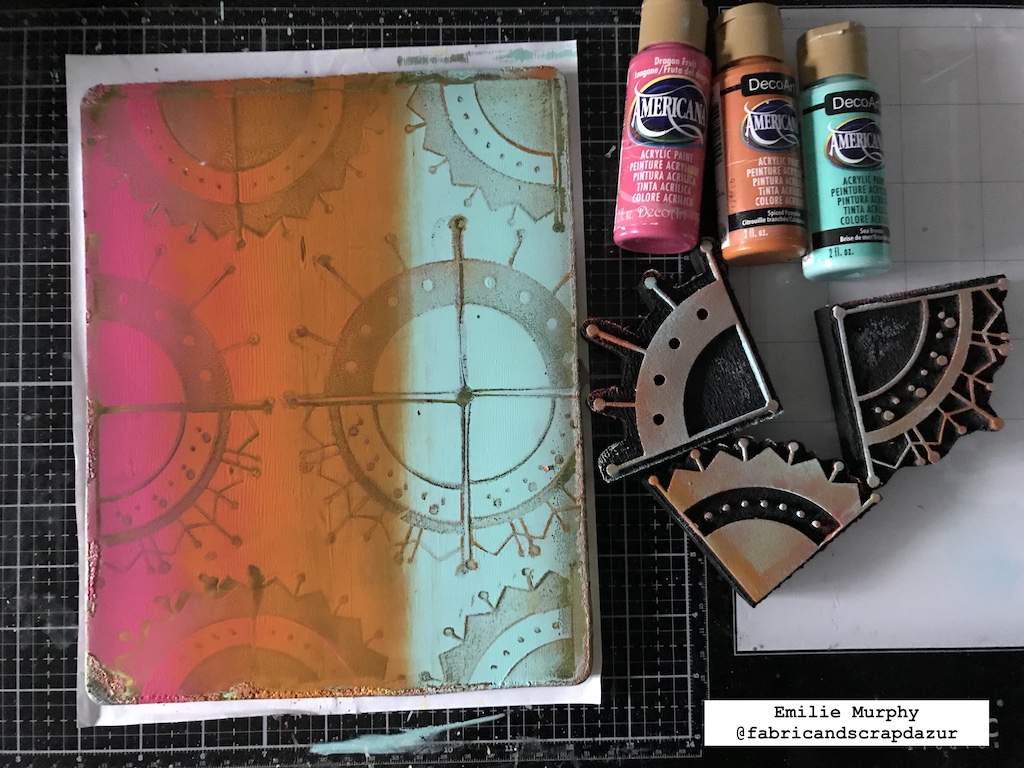 Next I pulled a print.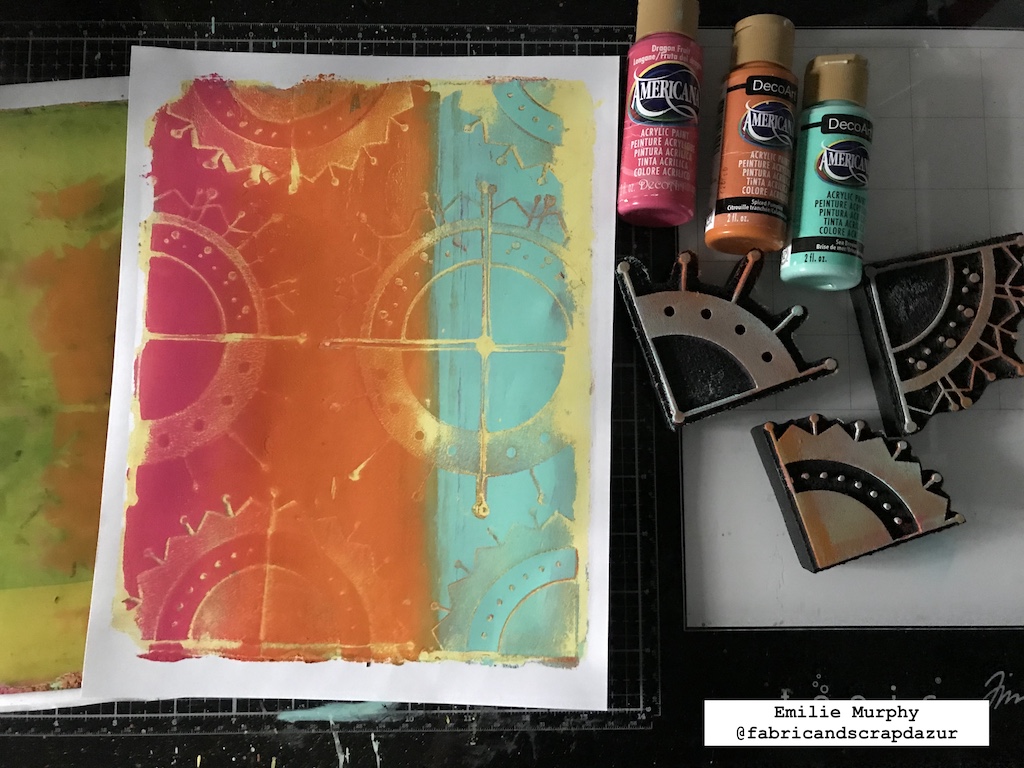 To add a little more texture and interest to my background, I used Nathalie's Exchange Place stencil. This time, I applied a partial layer of paint, laid down my stencil and pulled the print.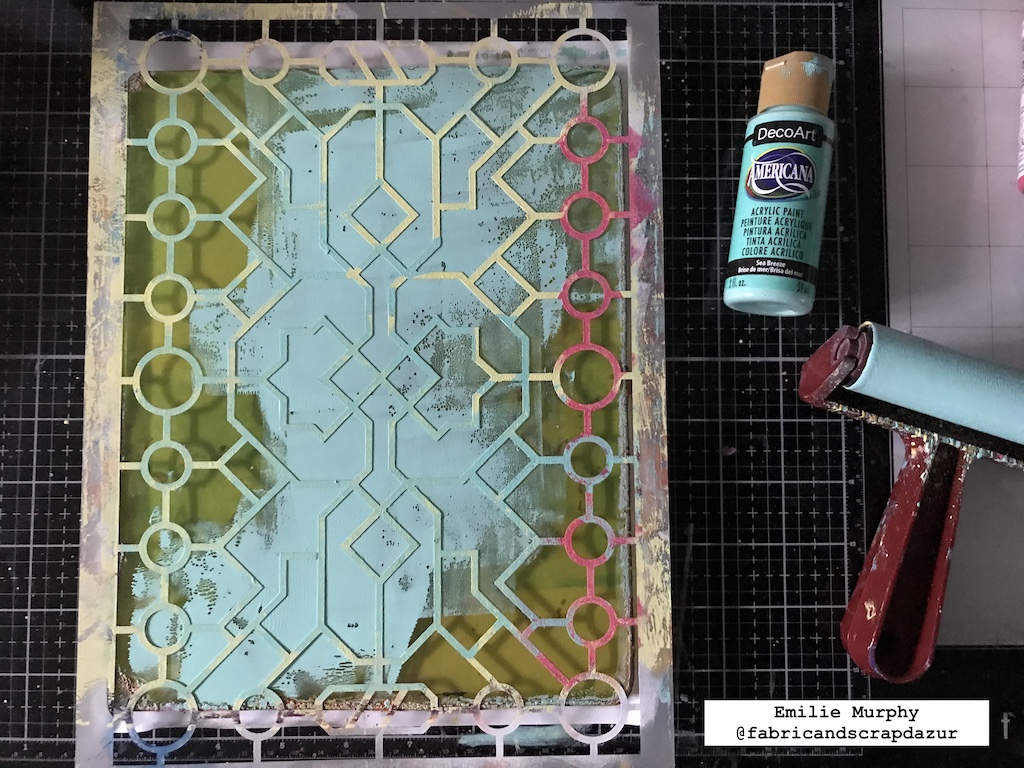 And Voila! Isn't awesome? That's why, I think, it is so fun to play with a Gelli plate. At that point, I was satisfied how my background looked like.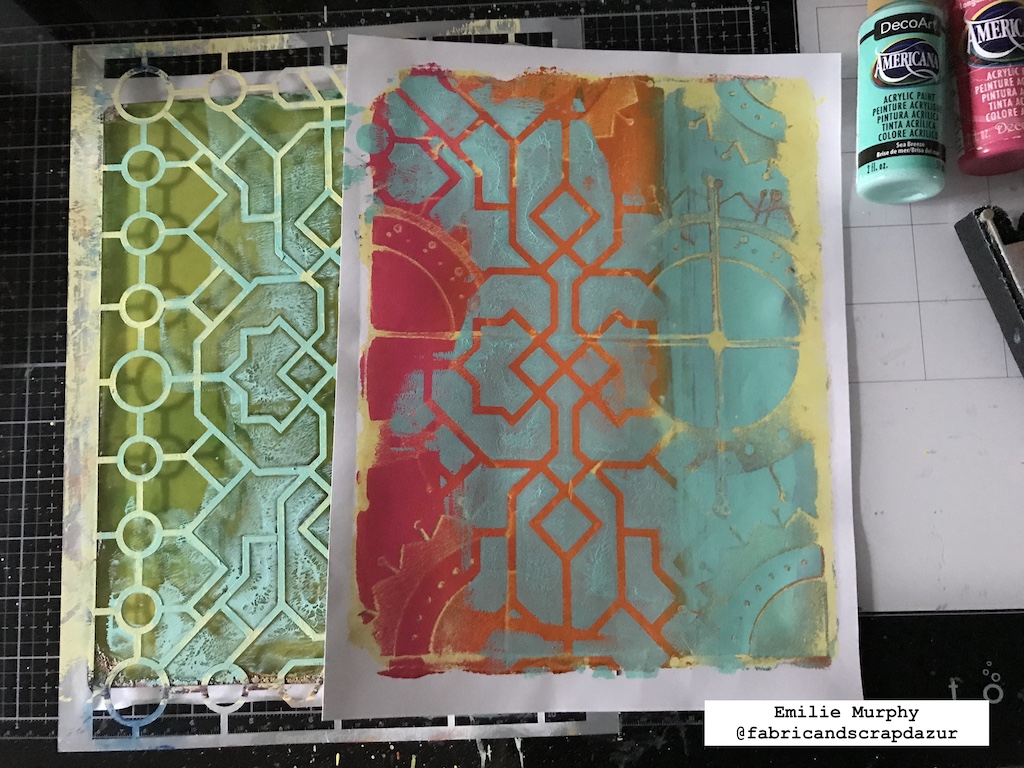 Next, I gave to my background some highlights getting over the different patterns with black and white pens.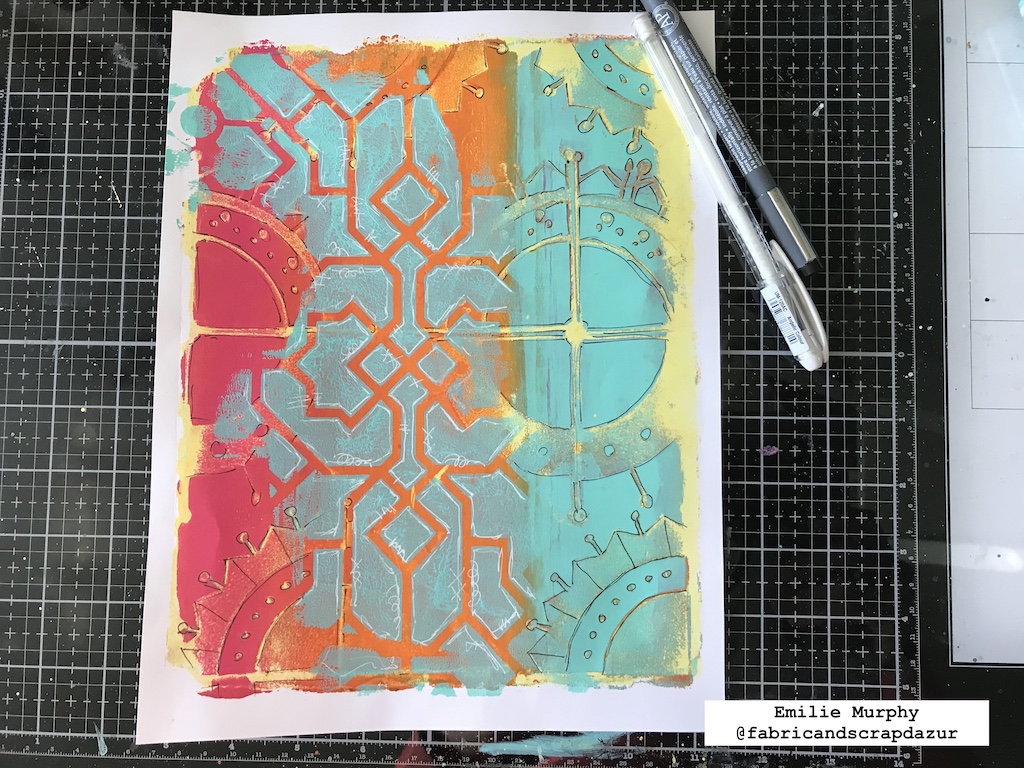 Then I created a border around the edges. I cut a mask and secured it with removable tape to prevent from moving.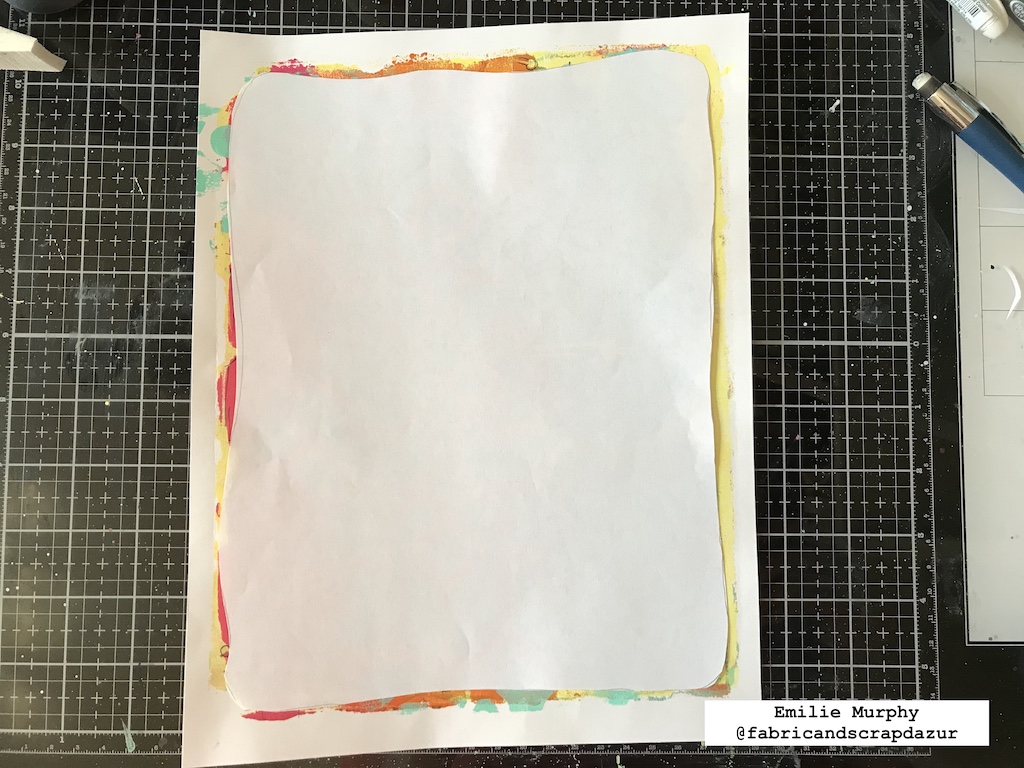 I applied black paint and let it dry. Then, I applied some white paint on the foam stamp with a sponge and stamped repetitively on top of my black layer.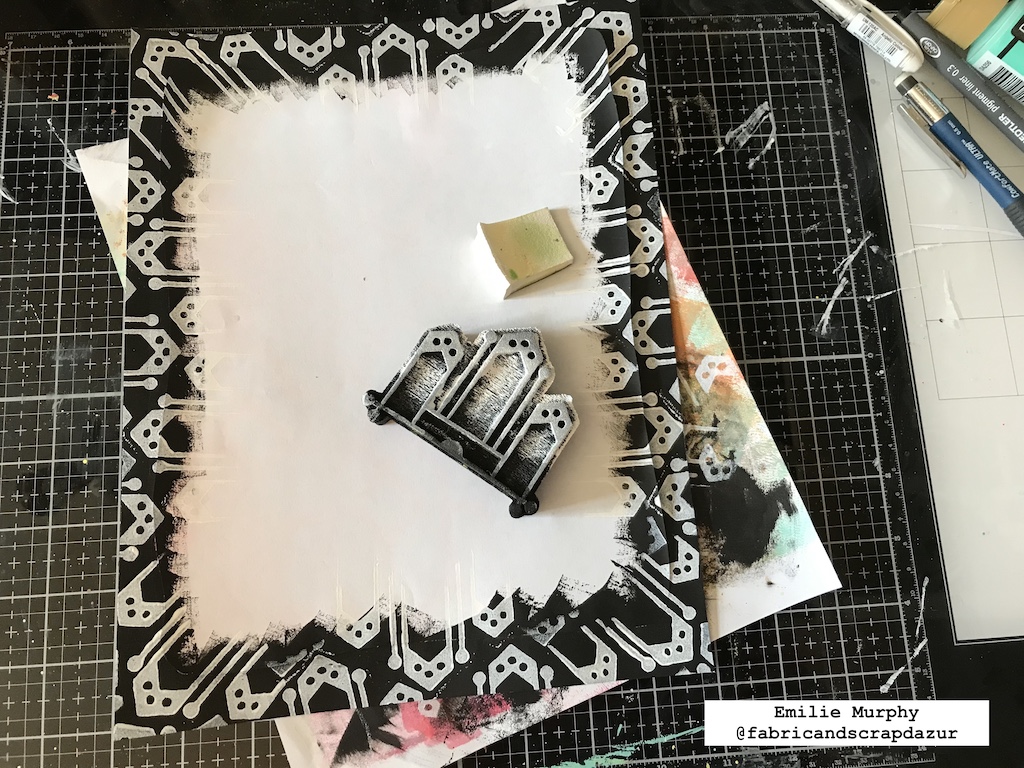 I removed the mask and doodled a little more adding some marks, lines and splatters using some Posca pens.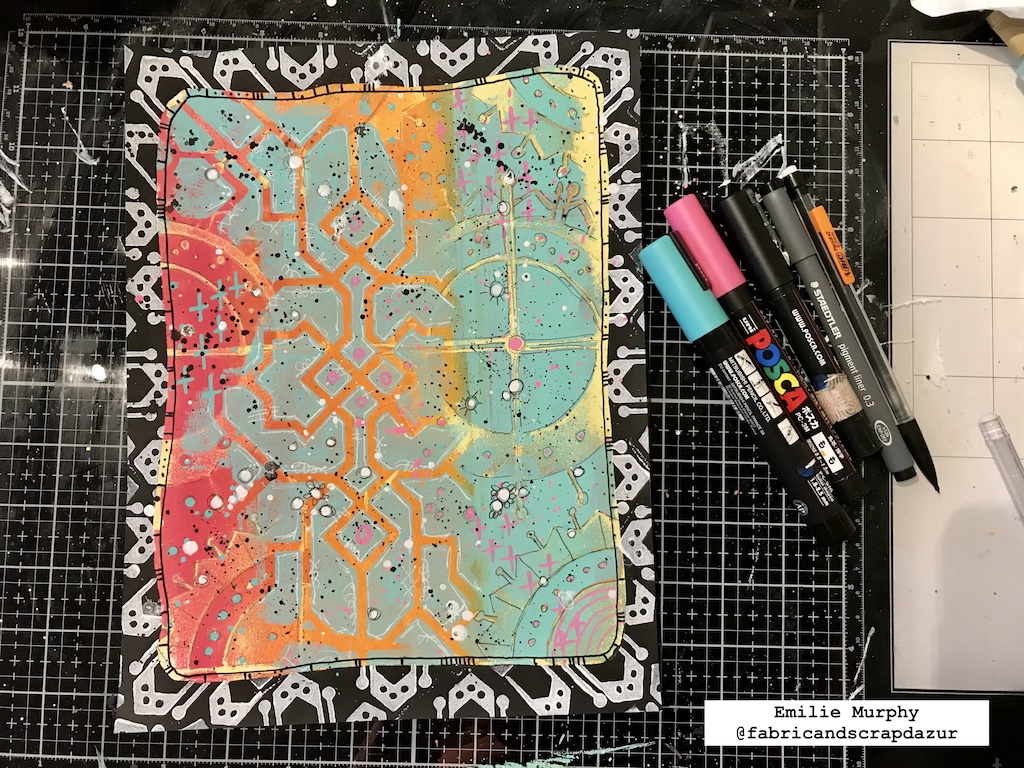 I created some labels with a page of old book coated with a thin layer of white paint. I let my page dry completely before writing down my favorite supplies with a permanent black pen to avoid the ink to smear.
After I cut and glued down all my labels with a glue stick, I gave them a dimensional effect drawing around, only on the left and bottom edges, with a black Stabilo pencil. I stayed closed to the edges and wiped my brush off from time to time when I applied the water on the black Stabilo to avoid spreading it too much. I added a little tint around the others edges of the labels in order to make them embed in the background.
To finish off my page, I added some music keys with black and white Posca pens.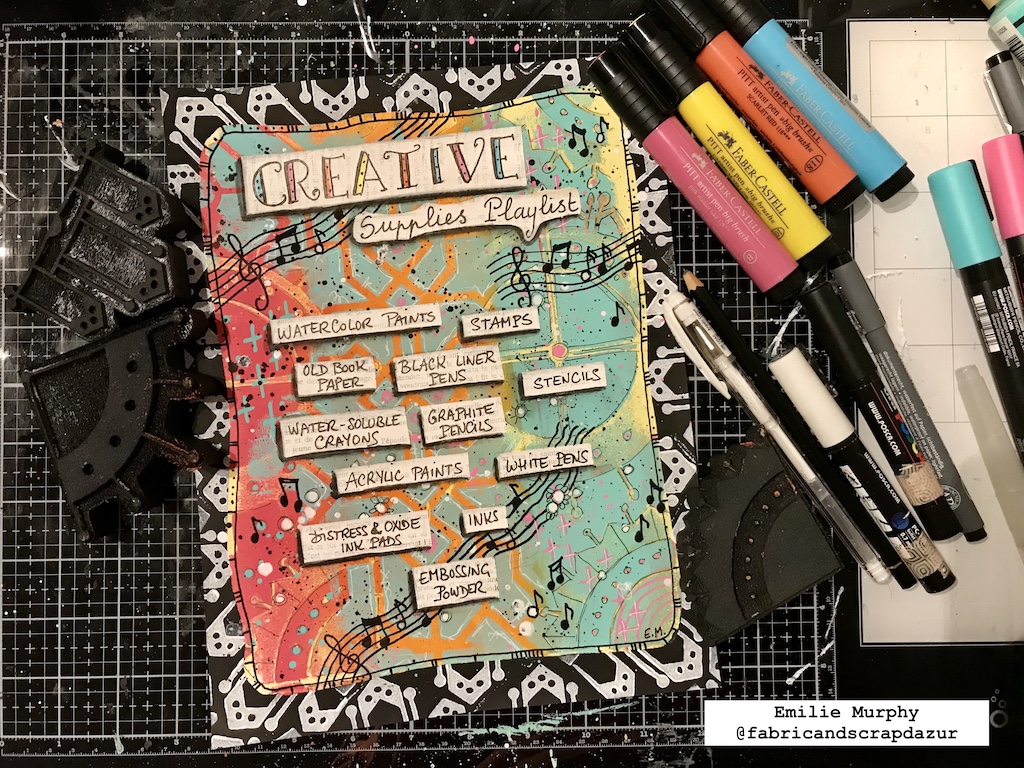 Voila! I really love to the way it my page turned out and the fact I can still see the mini motifs and the beautiful pattern of Nathalie's "Exchange Place" stencil on the background.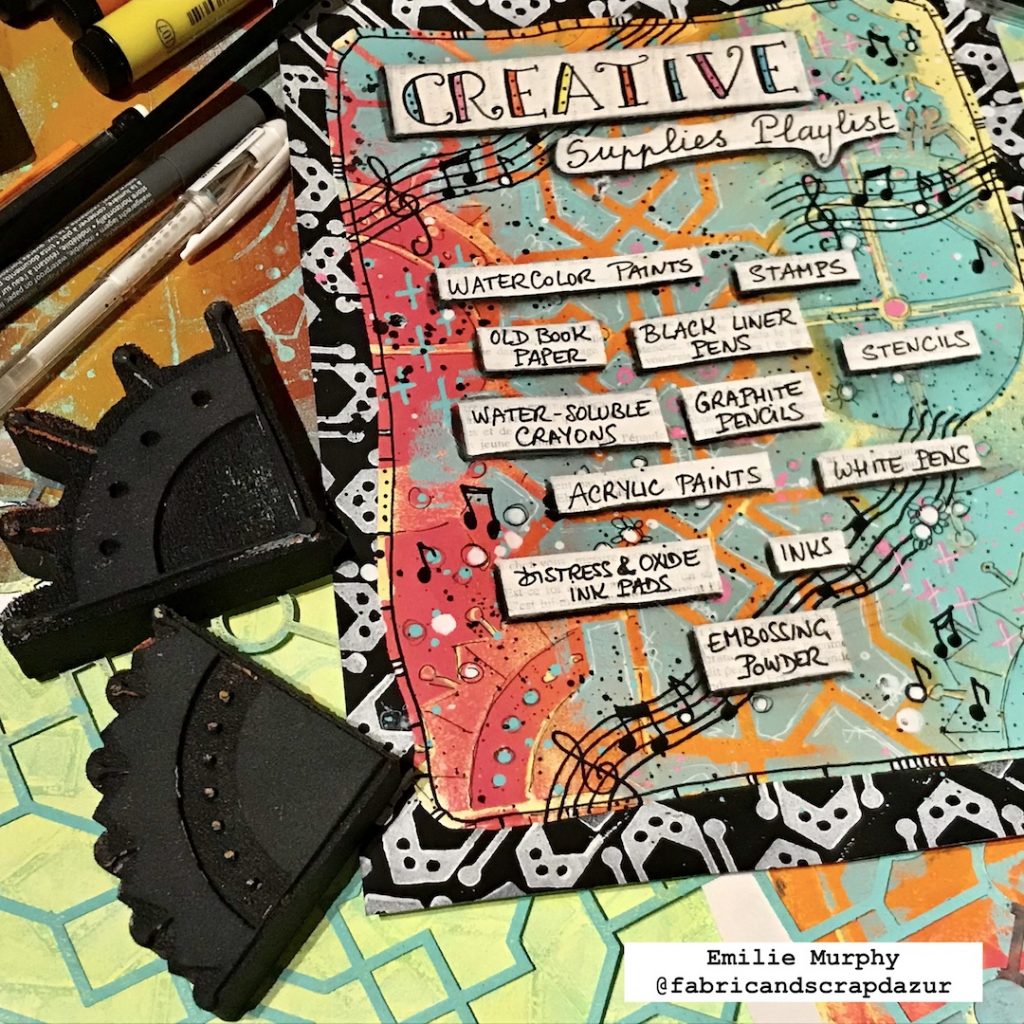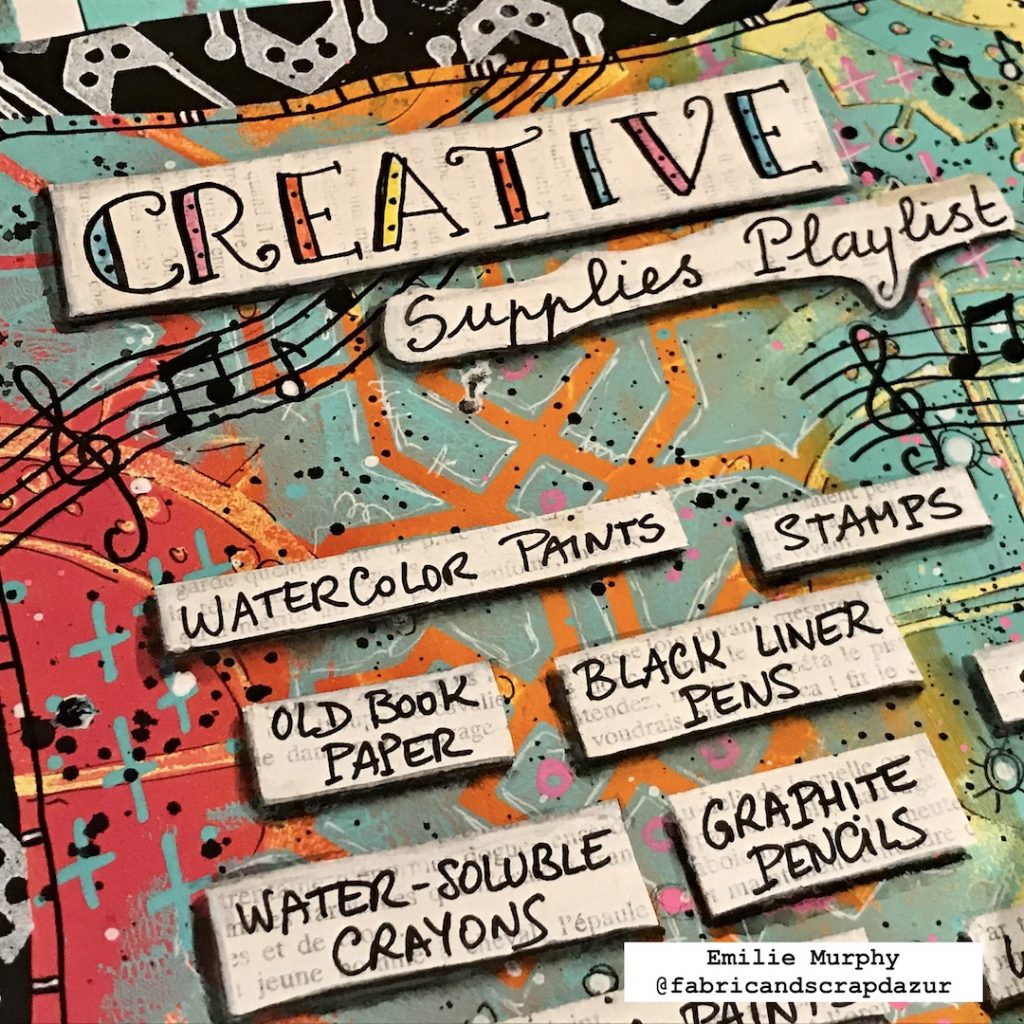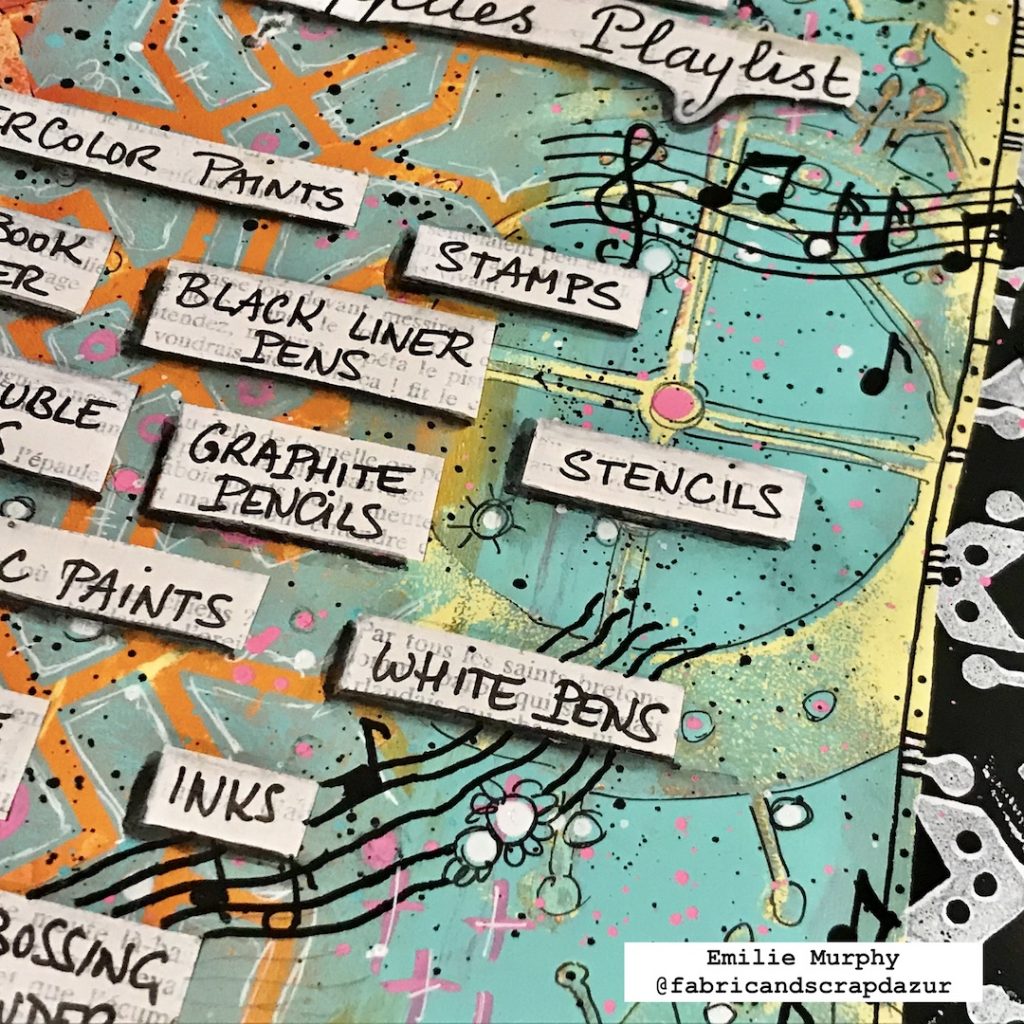 Hope you enjoyed my February project and it gets you inspired to make your own creative playlist. Have some fun playing with your favorites art supplies!
Have a good rest of the week and see you next month!
---
Thank you Emilie! I love this idea for an art journal page!
Give it a try: you can find all my Foam Stamps and Stencils in my Online Shop and here are some of the supplies Maura used: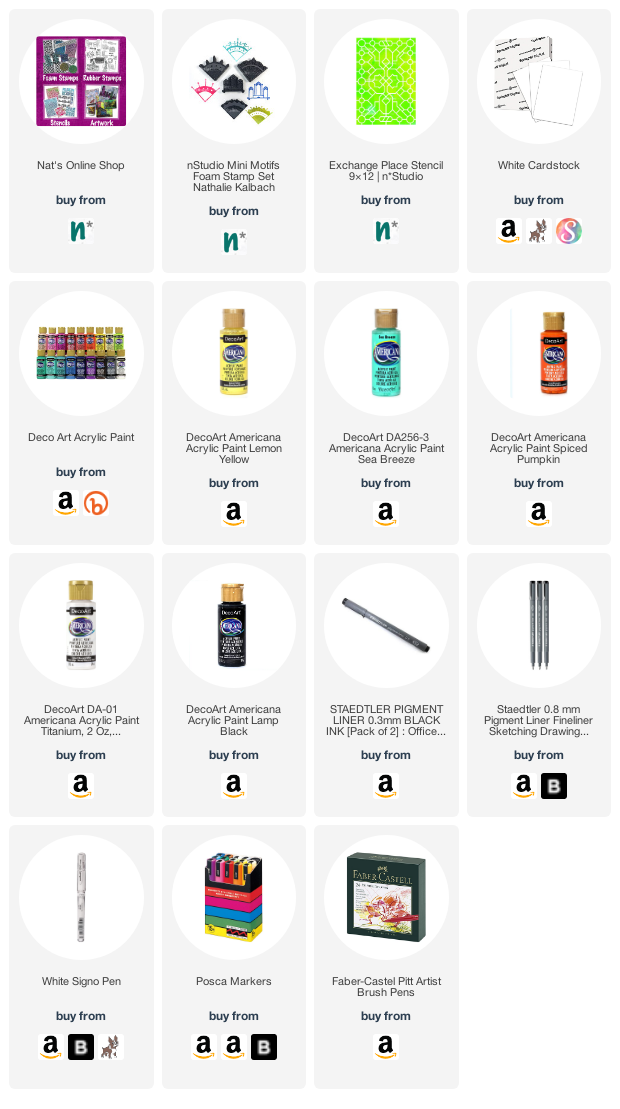 Don't forget to check out Nat's Creative Squad on Instagram too: Each week we post projects, ideas, and inspiration for mixed media art.