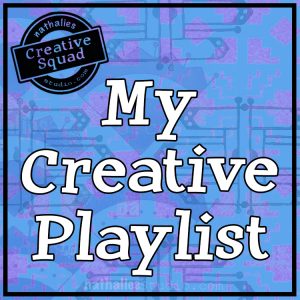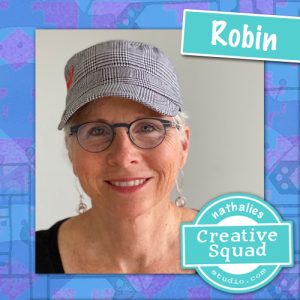 Hello from my Creative Squad! Today we have Robin Seiz sharing her love of layers with us and creating a dreamy background paper who's destiny is TBD :) She's using my Mini Motifs rubber stamps and my Art Nouveau Wallpaper stencil and our theme: My Creative Playlist – Your favorite mixed media supplies are like your favorite songs: they lift you up, inspire you and just feel good to groove to. What are your favorite supplies? Use them in a project – YOUR Creative Playlist that always gets you going.
---
Layers and Layers and Layers
Hi Friends, Happy February — the month of LOVE! I don't know about you, but I LOVE putting down layers; all that yummy texture and color! It's so fun see what peeks through in the end.
My studio is overflowing with materials so I wanted to use what I had right down to some heavy 12×12 paper from a beautiful paper pad sitting on my shelf. When I first started out in mixed media, I used my paper pads a lot to make card backgrounds, but now, I tend to make my own papers so all those beautiful paper pads are not being unused. We can't have that! Pull out the old stuff and infuse new life into it! I started with this sheet of paper: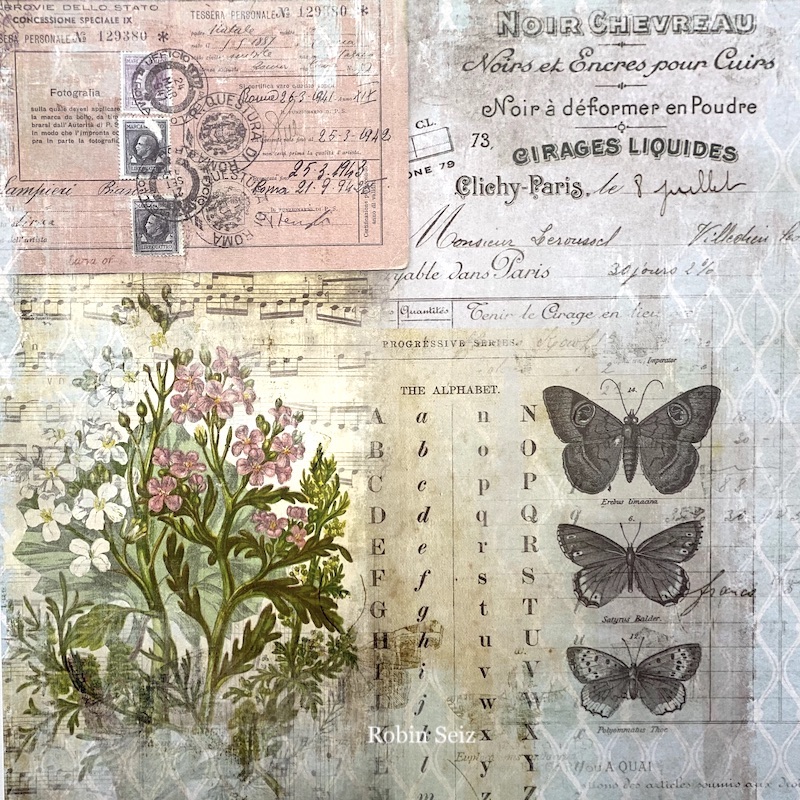 I put a light coat of Golden Absorbent Grounds on the page because I wanted to mute the background and I knew that I would be using acrylic stains; I wanted the page to have both texture and "tooth". There were some patterns that I knew I wanted to peek through in the end, so I applied an extra light coat to those areas.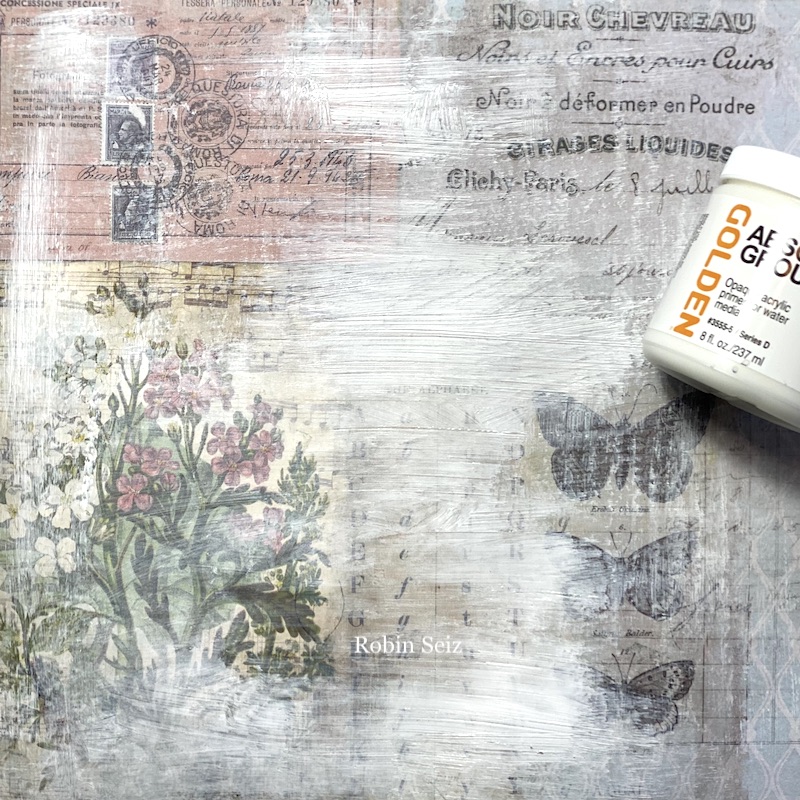 Most of the materials I used are shown in this picture. I did end up adding a few more materials (who doesn't when you get going!) I'll mention those when we get to those steps.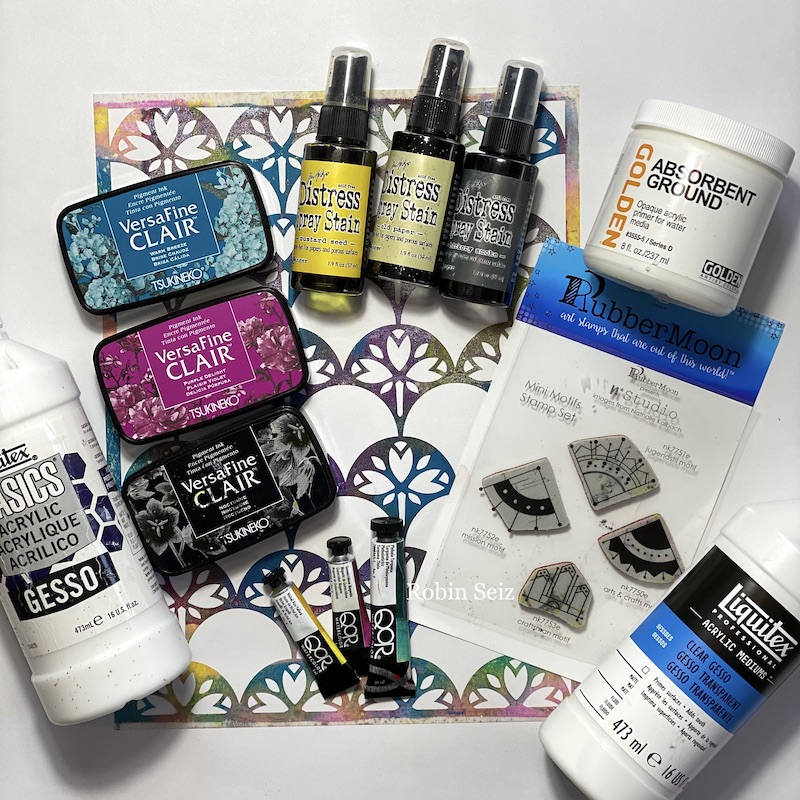 Once the Absorbent Grounds were dry, I randomly stamped Nathalie's Mini Motifs rubber stamps on the background. I used both the Mission Motif and the Craftsman Motif. I knew that I wanted just a "hint" (or you might say a "kiss" for February) of these to be shown in the background in my final piece.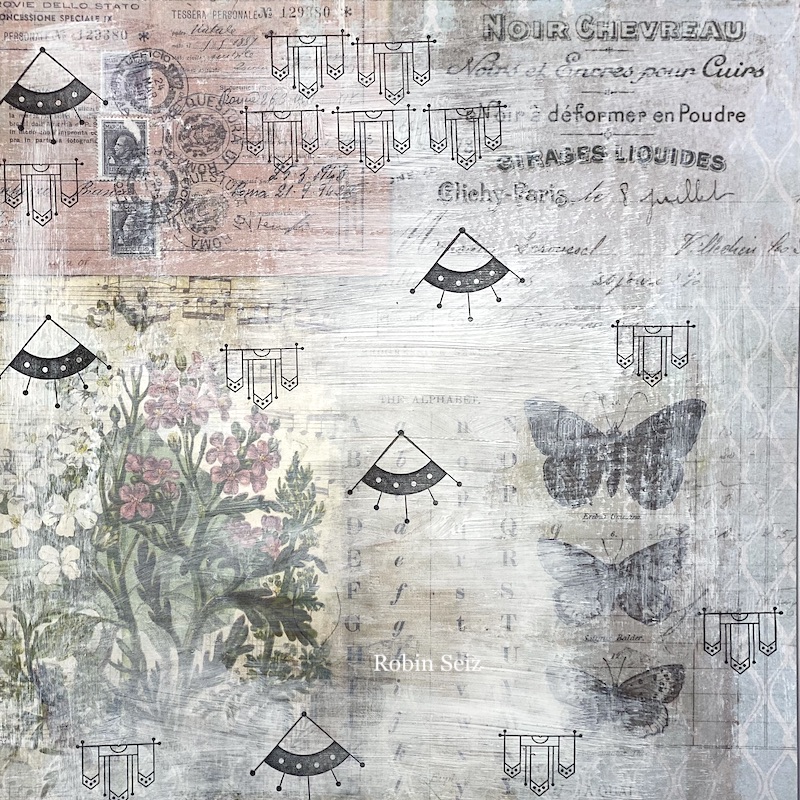 I love the look of splatters on a page. I think it adds so much and is easy and fun! I used watercolors, (Phthalo Turquoise, Nickel Azo Yellow, and Quinacridone Magenta) although I could have just as easily used acrylic paints. Use what you have in your stash and just tap your brush against your finger to create the splatter.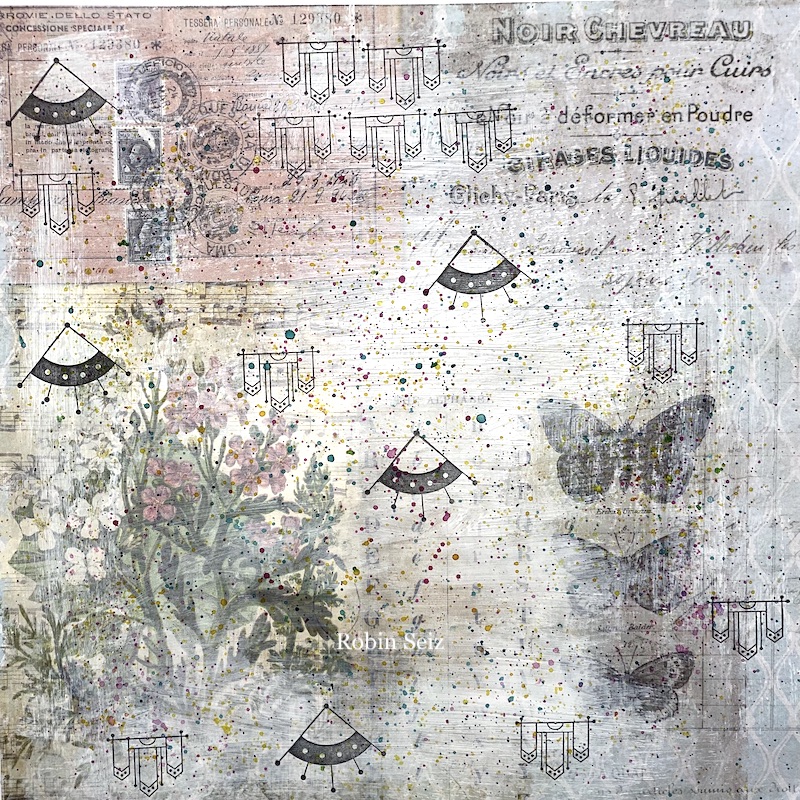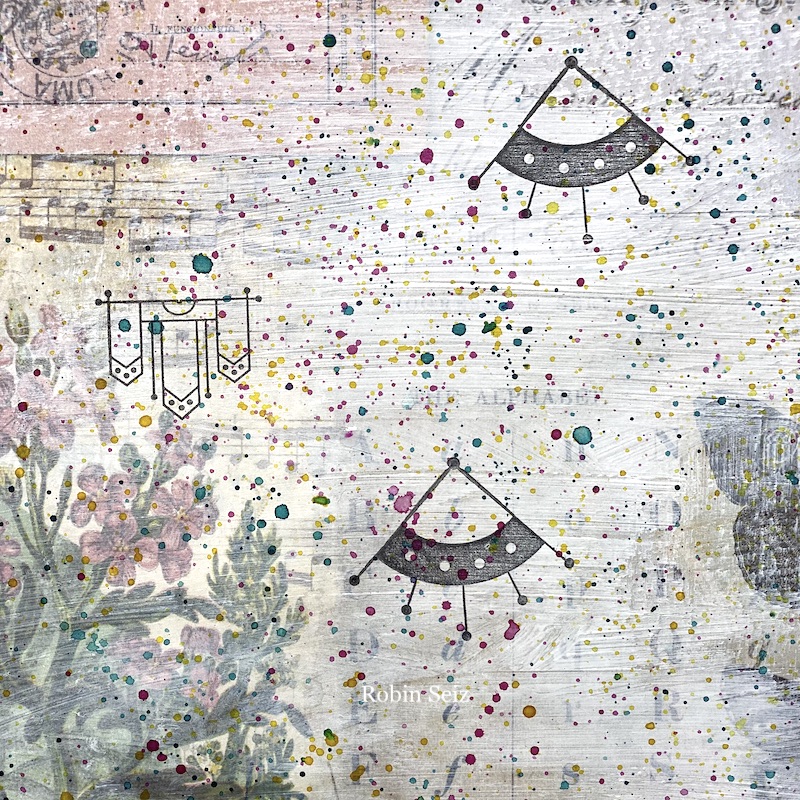 To create even more interest, next I applied Nathalie's Art Nouveau Wallpaper Stencil and sprayed Distress Spray Stain by Ranger. I used stains (Old Paper, Mustard Seed, Hickory Smoke) that would pick up the background and would give the page a vintage look.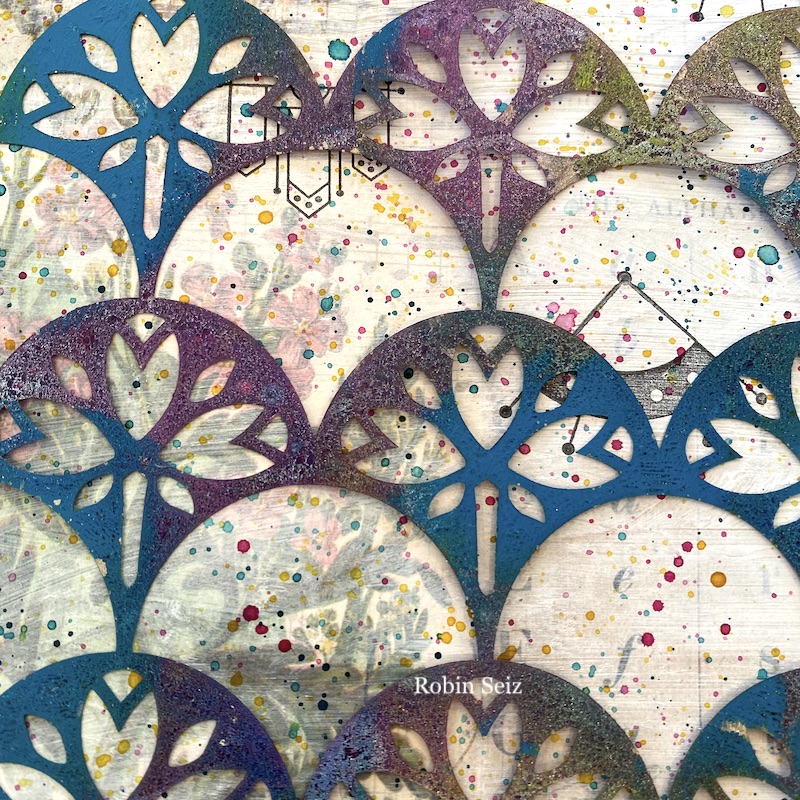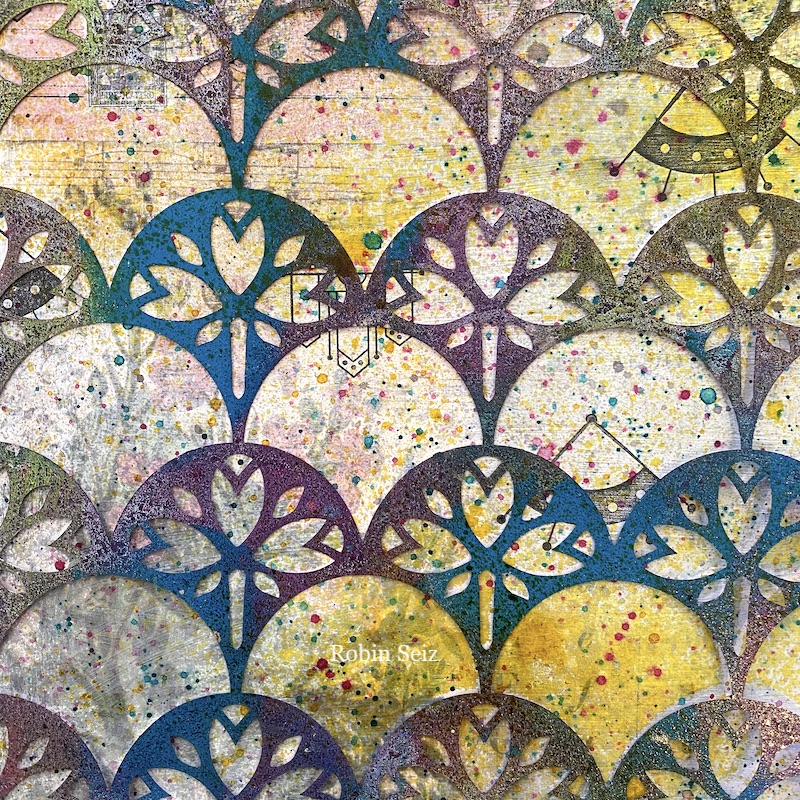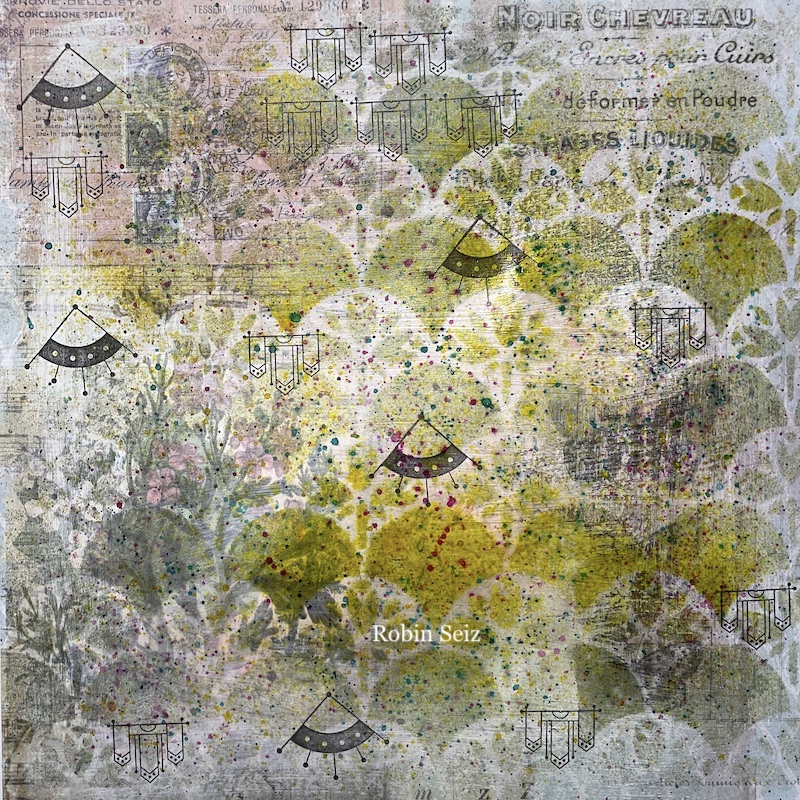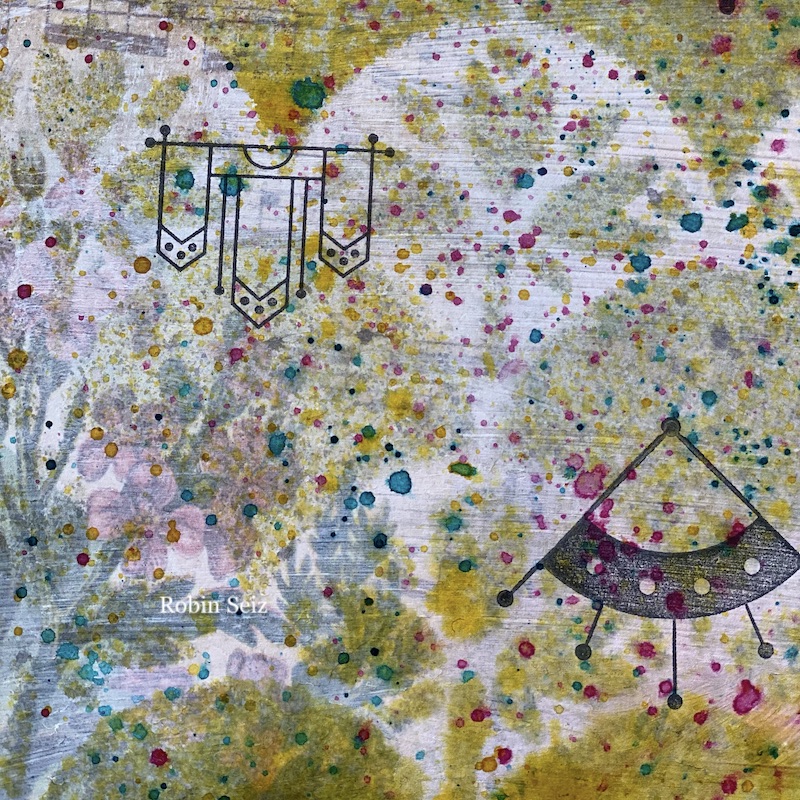 Once the Ink Stain was down, I wanted to pull everything back just a little. Gesso is the perfect medium to do that, however, I'm notorious for not letting things dry long enough; that's exactly what happened. OOPS! But that's why I said, this project was about layers and layers and layers. I applied a second coat of gesso to the areas that I smeared, and chalked it up to just another layer! I'm not a perfectionist and really like the process of creating as much as the outcome. My motto is, "When all else fails, just add another layer and begin again!"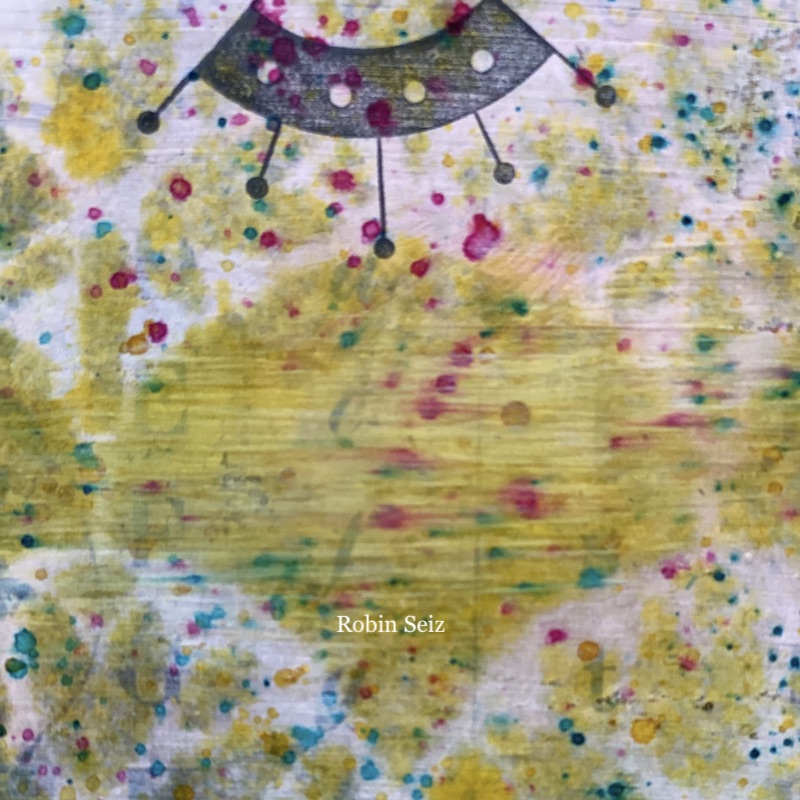 Now that the gesso was down, I wanted those splatters to show through more — again another layer of splatters! There is something so satisfying about these, so I never mind giving it another go!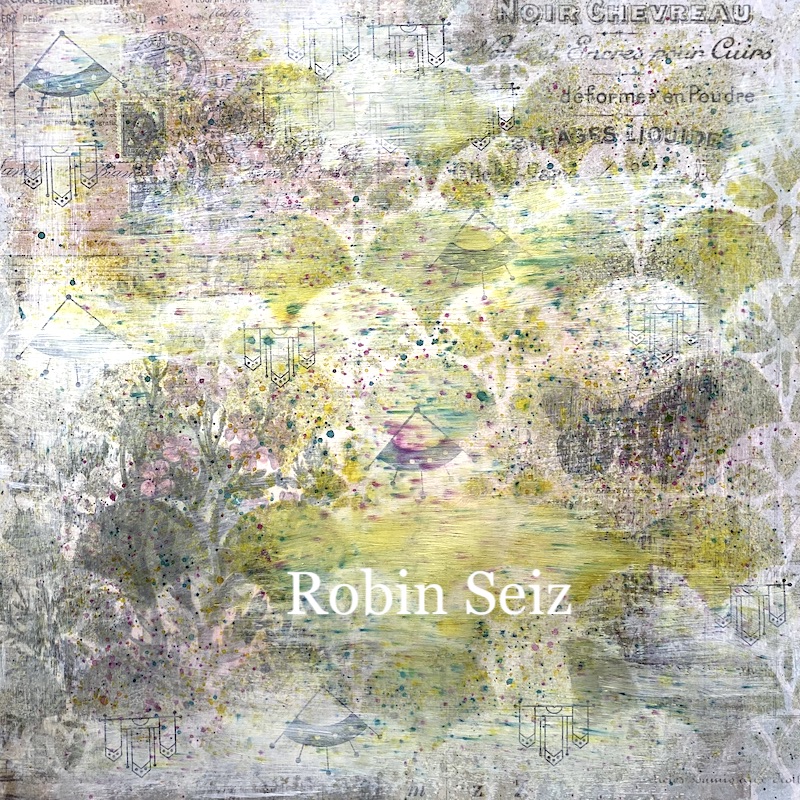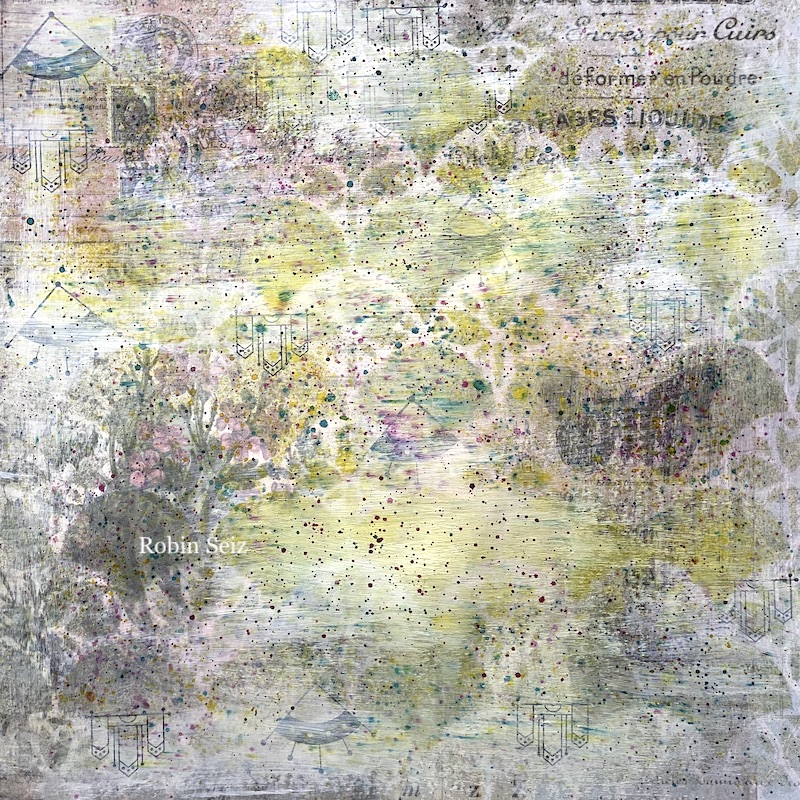 Next, I'm sure you can guess, I applied another layer of the stencils with the spray stain. This time I also used Spun Sugar because I wanted more pink to show up on the page.
As you can see, Nathalie's original motif stamps are peeking through the background as I had planned, but I also wanted to use the Jugendstil Motif, giving it more prominence. I used Versa Fine Clair Charming Pink and stamped it on top of the stencil pattern. (I was going to use Purple Delight and Warm Breeze as shown in my materials picture but changed my mind at the last minute. Again, I wanted to pick up more pink.)
And finally, I pulled out my watercolor pencils and a few pastels and went over the butterfly and the flowers where I wanted to bring out the pink. I also used some 100 Proof Press postage stamps at the top, to stamp over what was already there.
I will most likely use this as a journal cover, but it could certainly be used for a background page or journal page. Of course, every time you try this process, you will get a completely different result! Isn't that the beauty of mixed media! No matter what — have fun putting down layers and layers and layers. Remember, it's not done until you are satisfied with it… you could go on and on!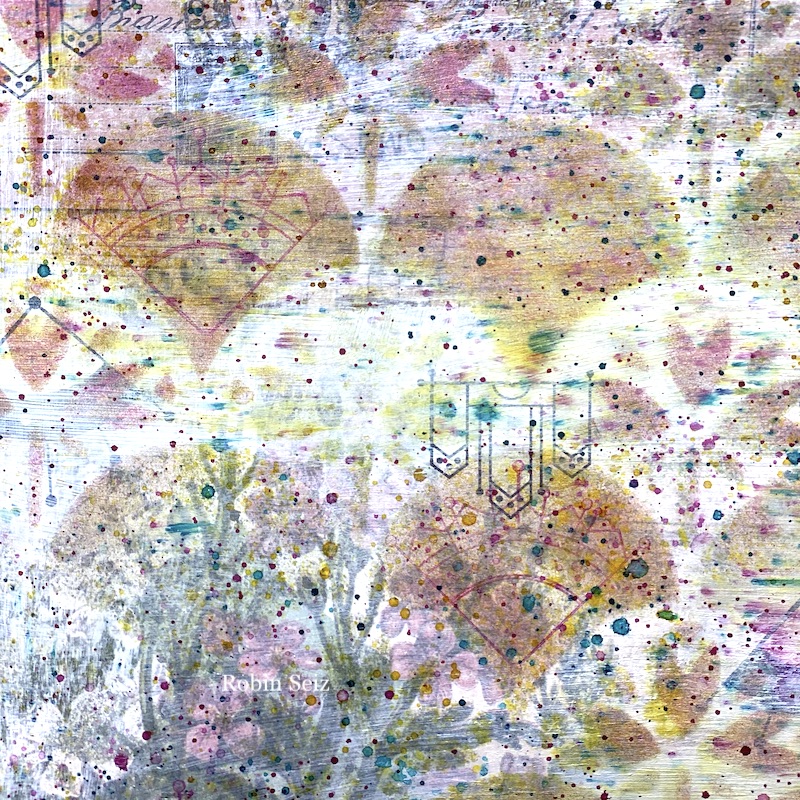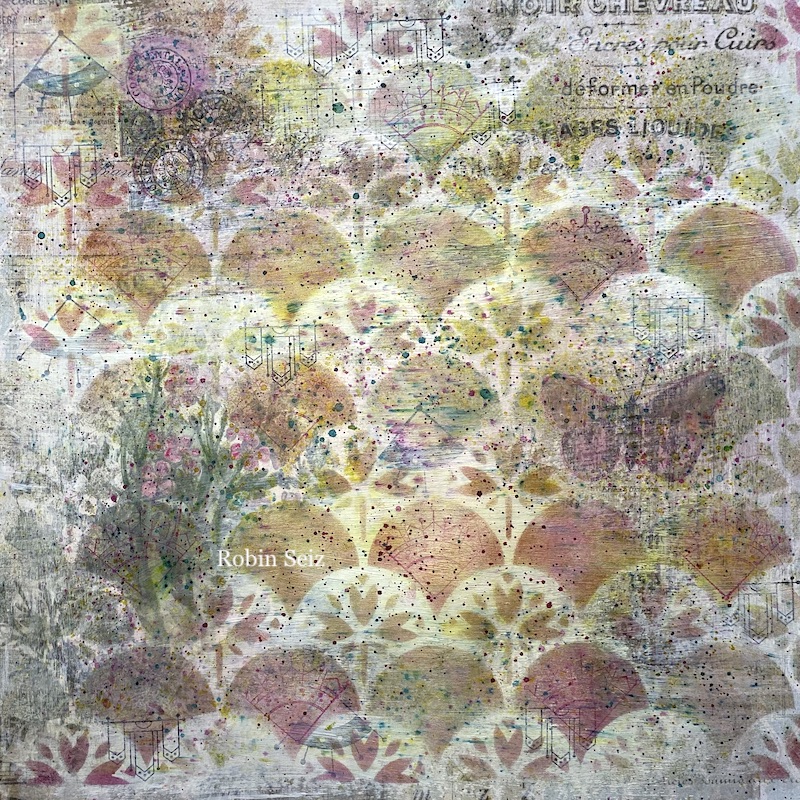 ---
Thank you Robin – love all the subtle layering and love that you were able to share your oops moment with us too :)
Give it a try: you can find all my Stencils and Rubber Stamps in my Online Shop and here are some of the supplies Robin used: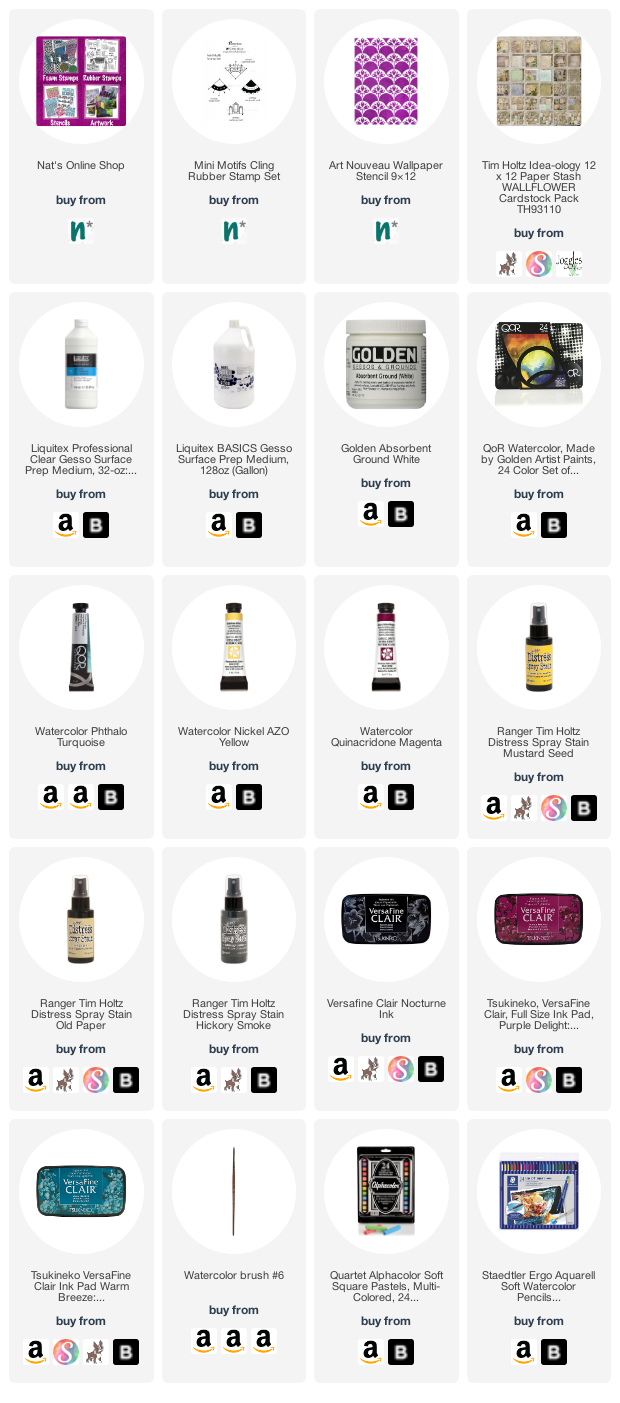 Don't forget to check out Nat's Creative Squad on Instagram too: Each week we post projects, ideas, and inspiration for mixed media art.