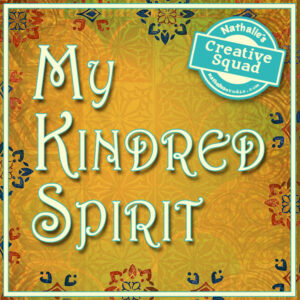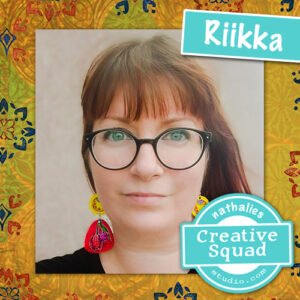 Hello from my Creative Squad! Today we have a post and video from Riikka Kovasin who has created a mixed media artwork featuring a raven, using my Fan-tastic Small, Love Knots, and Queen Anne rubber stamps and our theme: My Kindred Spirit – Animals are often symbols of qualities that we humans identify with, so let's take some inspiration from them this month. Do you have an animal whose characteristics you identify with? Maybe it changes depending on your mood or what life throws at you. Who is your Kindred Spirit in the animal kingdom today?
---
For the Love of Ravens
Hi there! It's Riikka Kovasin here today with my take on the "Kindred Spirit" theme. I'm not sure I identify with a raven, although there are some similarities. But I do love ravens and crows and feel drawn to them. I also have several pieces of art on the walls with ravens and I also use the theme in my own pieces. So, I decided to go with this raven or crow theme.
I had quite a vivid mental image of the project from the start. I had this idea of a printed bird with different toned feathers, kind of like a woodcut. I first thought to make the look by cutting several pieces of paper using a craft knife, but then realized I had another solution, too. It was to use my electronic cutting machine. That way I could make several birds, if I'd like. So, I sketched a bird and instead of using that as my template to cut the pieces for one bird, I scanned it to the Cricut Design Space and turned it into a cut file.
I saw the bird more like a blueish black, than just pure black. Kind of oil on the water, with different blue and green tones mirrored from the black. I first thought to colour the pieces simply by stamping repeatedly onto them but was worried that it might leave too much white showing. So, instead I laid a priming layer with gel printing. I used four different acrylic paints to have a varying layer of colour as the first layer, but in the end those different tones get lost underneath everything.
I started with gel printing and a more or less a solid layer of colour but added pattern later. Again, I had two options, pattern the print before cutting or then after cutting. Before cutting would mean that I'd pattern the pieces blindly, not sure what would come and where. But if I'd add patterning after cutting, I could be perfectly in charge what pattern and where. The only possible problem was then to keep track of each piece to get them to their places again. The solution proved to be easy – just cutting the bird twice and using the other cut as a stencil!
As you could see from the video, I used three different ink colours when patterning the pieces as well as three different stamps or stamp sets. When I wanted a darker spot, I used a more solid stamp and when I wanted lighter texture, I used a more detailed, more like a line design version. For example, I used the "Love Knots" for the black parts and "Queen Anne" for the down-like details. I also placed some stamps from the FAN-tastic set in particular places, like the "Broadway fan" in the wing and "Van Vorst Fan" to the legs. As you can see from the finished piece, I chose to do the wing quite dark, using black ink, legs pale using blue ink and other parts with grey or mix of two inks.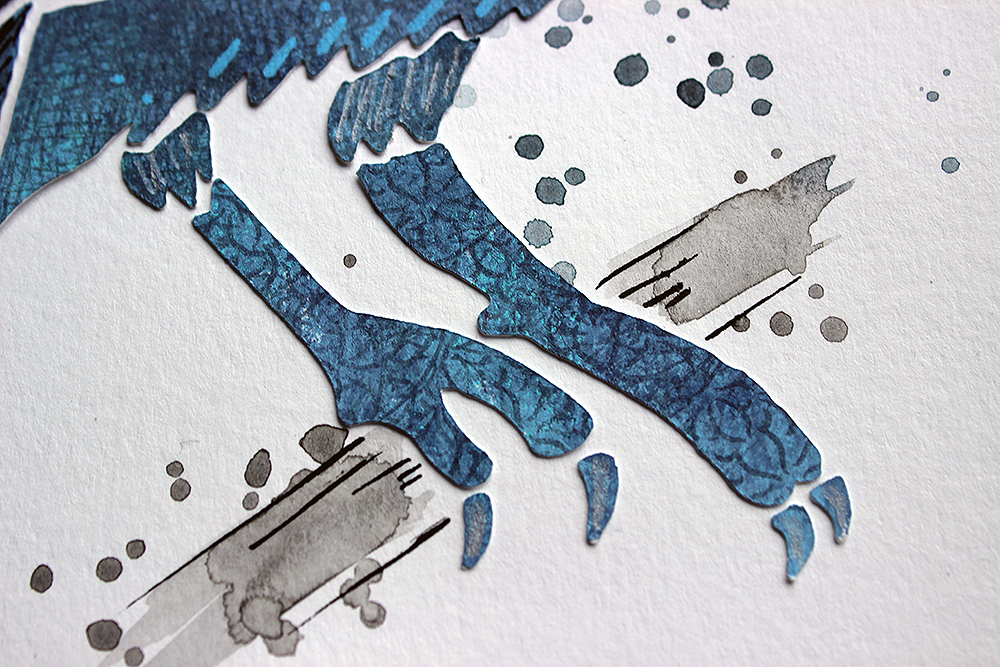 Like I say in the video, after making the bird almost just the way I saw it in my head, the whole thing looked too clean for my taste. Luckily, there was an easy solution of splashes! I opted for watercolour rather than acrylic as I thought it to be more forgiving and lighter. Also, I could remove some of the splashes on top of the bird as the acrylic blocked the watercolour from soaking in. While I wanted the stamped texture to be as much visible as possible, I did add some drawn details here and there as the last touch.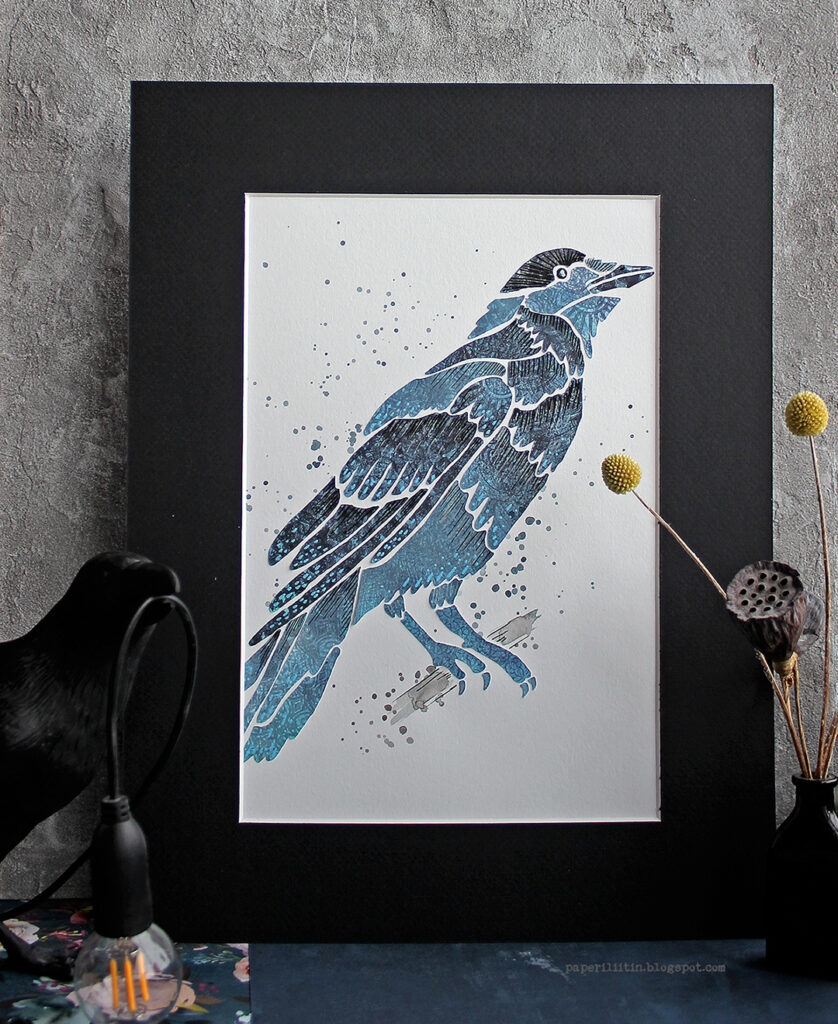 The bird turned out quite ok. It's a bit bluer than I originally thought and the beak is too narrow for a raven, but still, I like it. Yet another raven piece for the living room walls!
Thank you for stopping by today! I'll be seeing you again next month!
Xoxo Riikka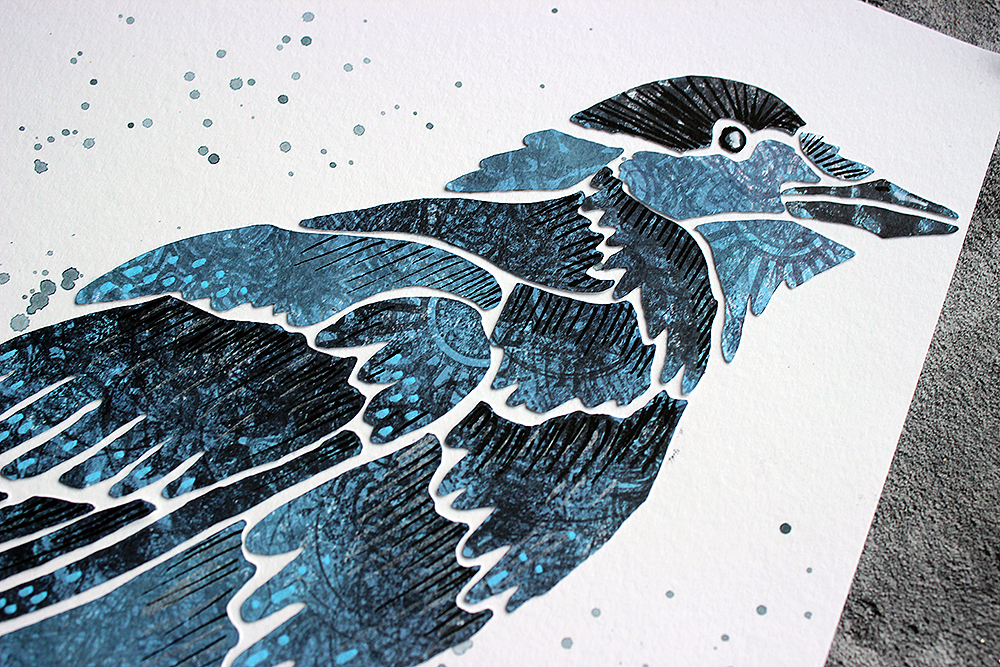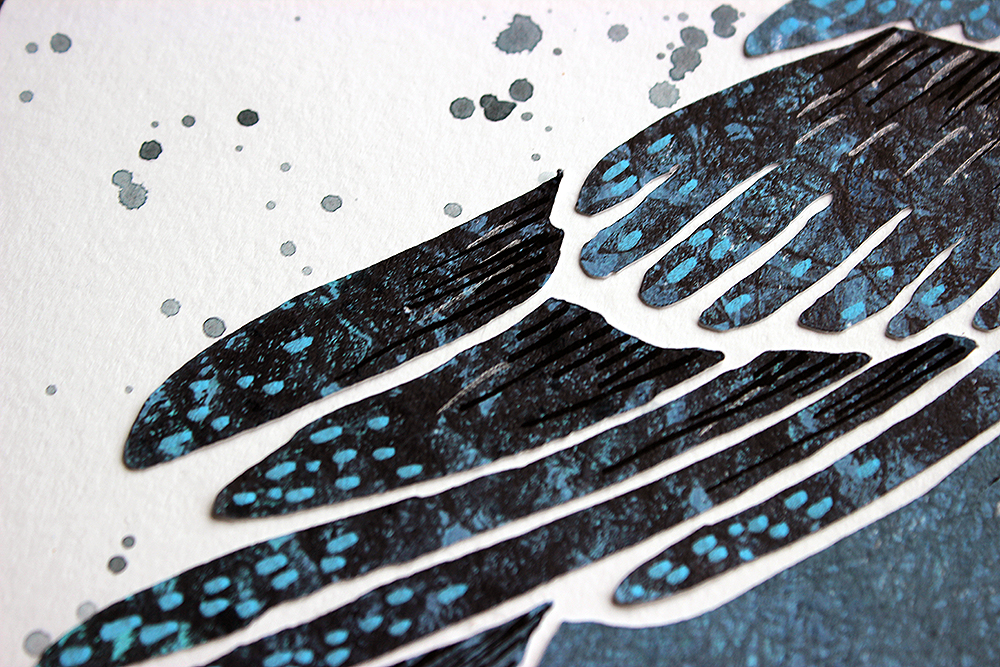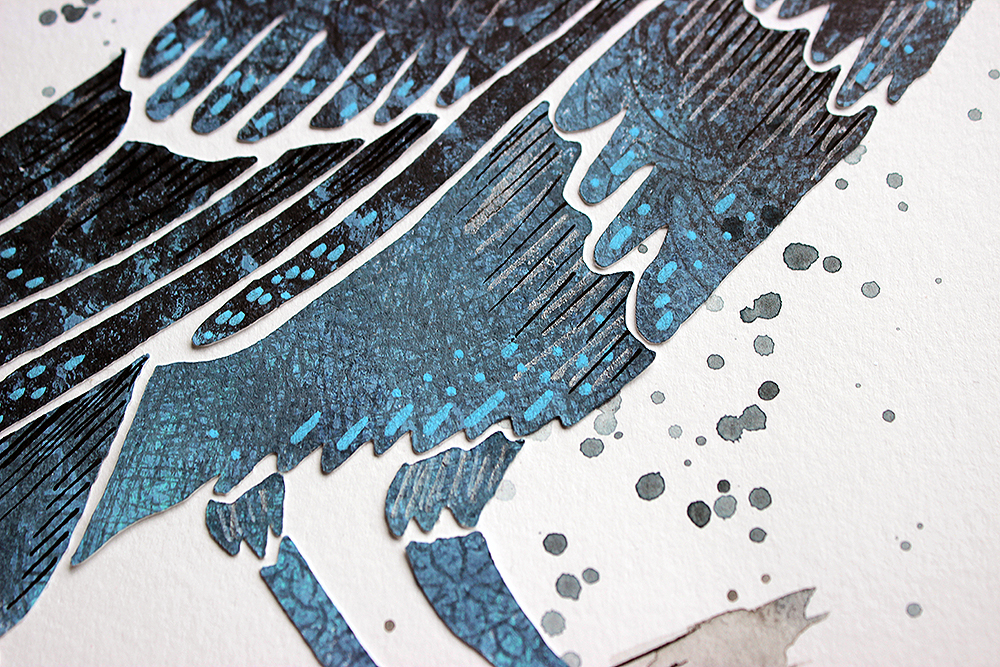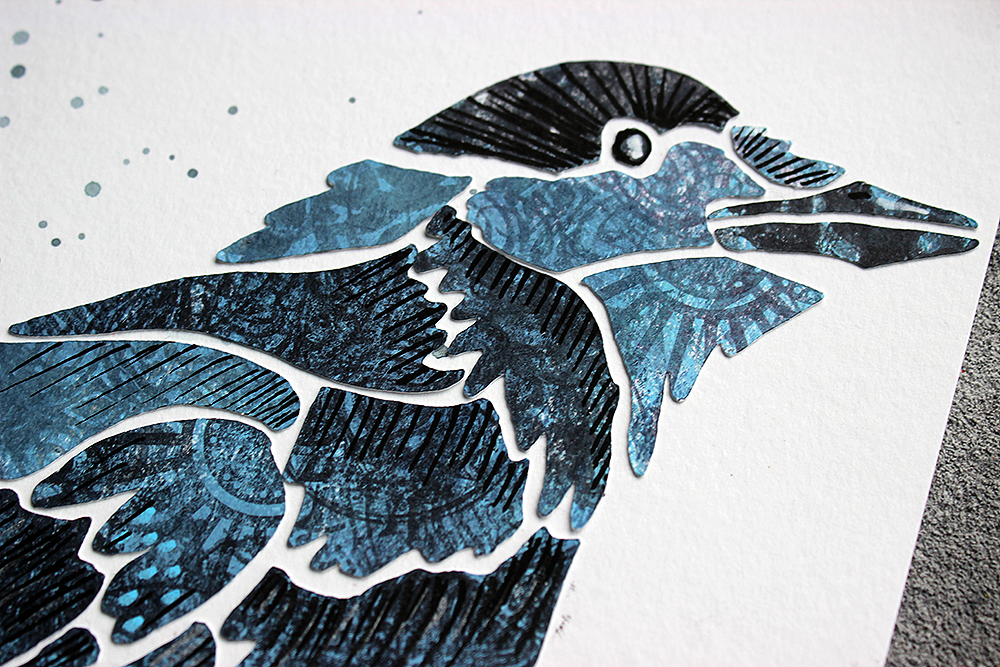 ---
Thank you Riikka – love how you used the stamps to create shadow and texture in the raven. The end result is very magical!
Give it a try: you can find all my Rubber Stamps in my Online Shop and here are some of the supplies Riikka used: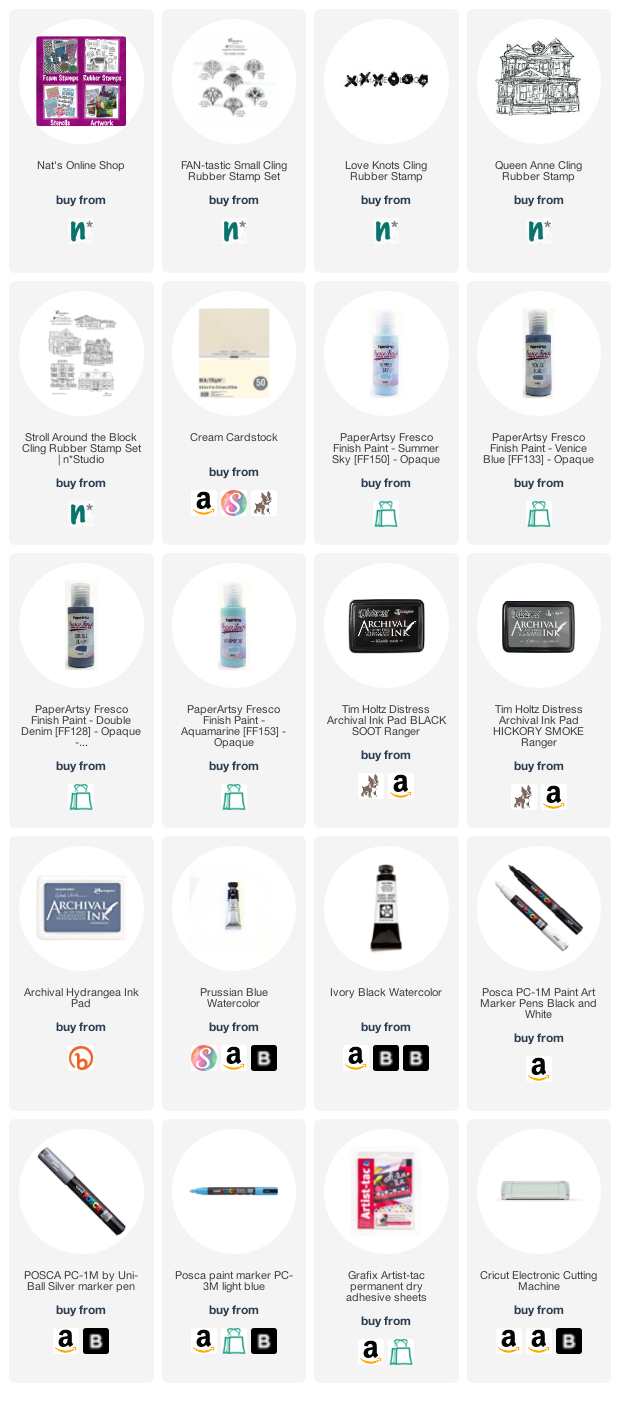 Looking for more projects? Follow the Creative Squad on Instagram here.