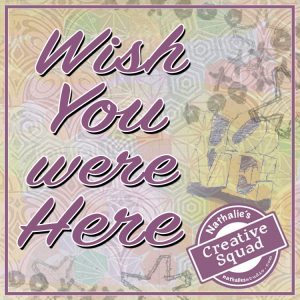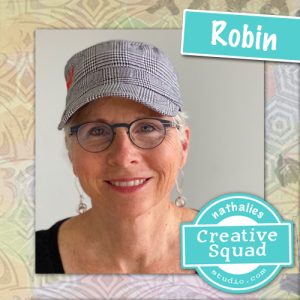 Hello from my Creative Squad! Today we have some gorgeous cards from Robin Seiz who is using my Embroidery stamp set and our theme: Wish You Were Here – This time let's think about those old travel postcards, or someone you are missing or haven't seen in a while, or maybe a place that you are missing. The message is loud and clear: Wish you were here!
---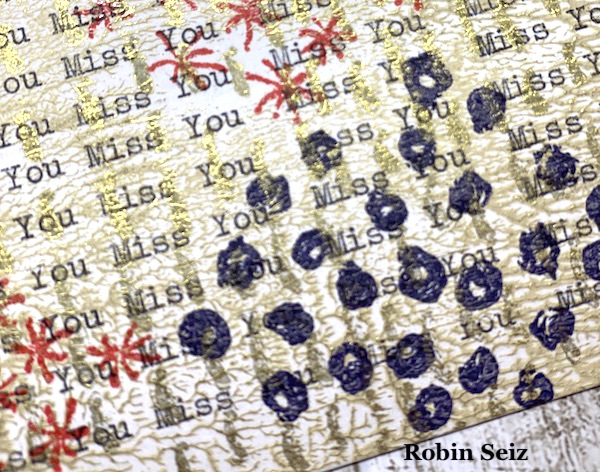 Our theme for the month, "Wish you were here" really struck a chord with me. There are people who I love and still haven't seen because of COVID and my own comfort with traveling, especially to areas with higher transmission rates. (Which is where some of these "peeps" live.) I miss them and really wish they were here or I was there!
For my project I pulled out some Strathmore Mixed Media Postcards which I had in my stash. Don't you love it when you can use what you have! If you don't have these postcards, any mixed media paper, or really any paper cut to size, would work. The ones I used were 4X6; the standard postcard size. I also wanted a muted pallet; perhaps it was the gloomy day when I was creating or the feeling of longing to see my friends, I'm not sure, but I like the subtleness of the color pallet I chose.
You all know I LOVE my Gelliplate; I pulled out my 5 x 7 plate and lathered it with Liquitex Basic Acrylic Unbleached Titanium. It's highly opaque and has both a creamy color and consistency to it. It's great to use as a base on a piece of paper; I use it a lot! When I say I lathered it on, I mean that I used a thick coat of paint. I do this when I want a lot of texture on a piece. Because this paint is so thick to start with, it performs really well to make texture. Picture #3 shows you the paint on the paper once I pulled the print.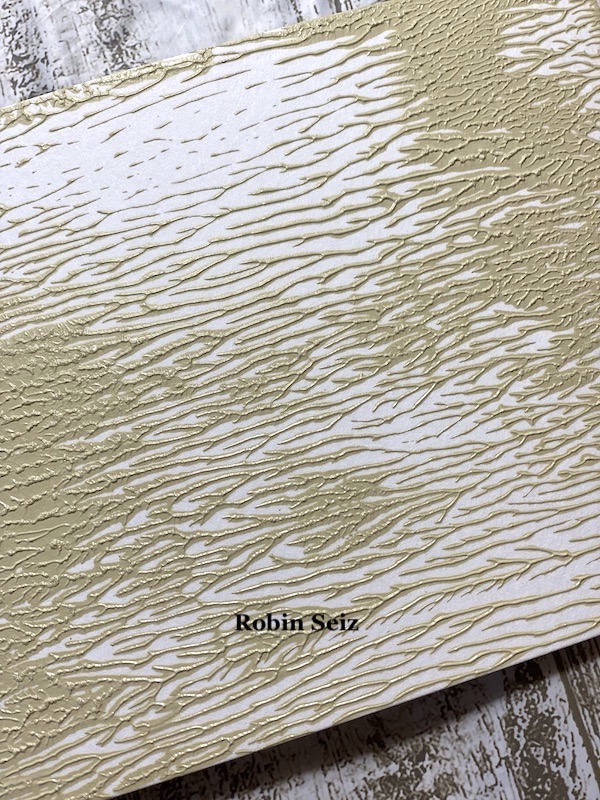 I decided to use Nat's Embroidery Set for this month and I wanted to challenge myself to use every rubber stamp in this collection — and I did! It's such a versatile set. If you like mark making, it's the perfect set for you! I'm loving gold right now, it seems to bring a little "pop" to any piece. I stamped the card with the "Running" stamp and a gold pigment ink. (It takes forever to dry, but has a great feel to it when it does.)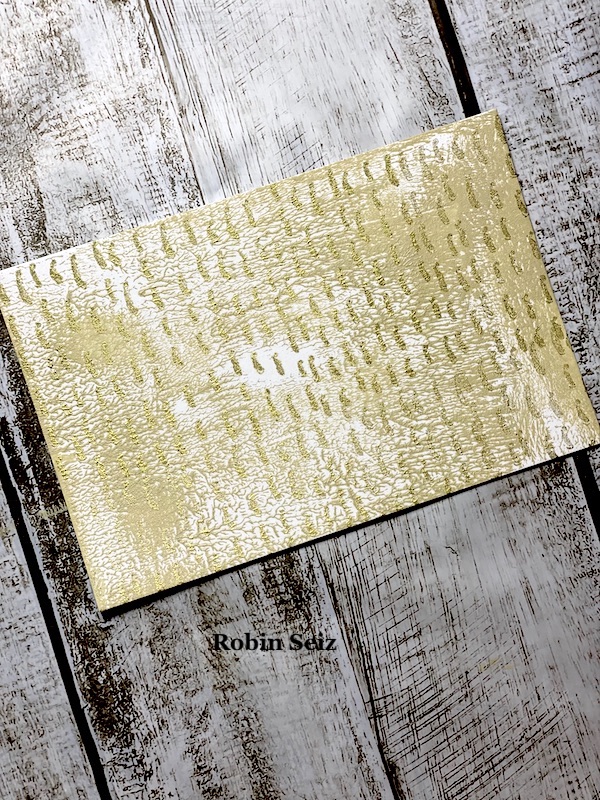 Next, I took the postcard to my typewriter and typed, "Miss You" continuously on the entire card. If you don't have a typewriter, you can certainly use a stamp or hand write the sentiment which would also be lovely.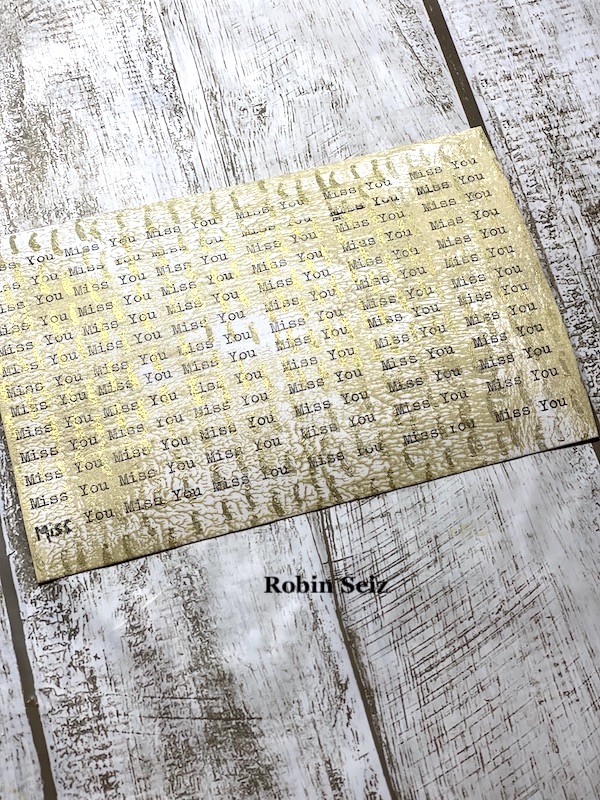 Next, I stamped with the "Grannies" and the "Star Fish." It turned out a little busy, but I like how the stamps muted the typewritten message. It can still be read, but the print moves to the background. It's just as easy as that!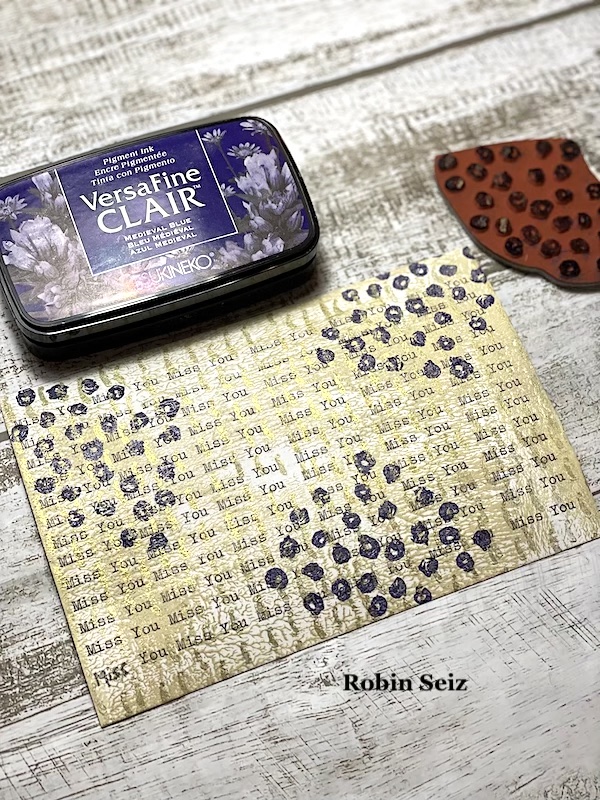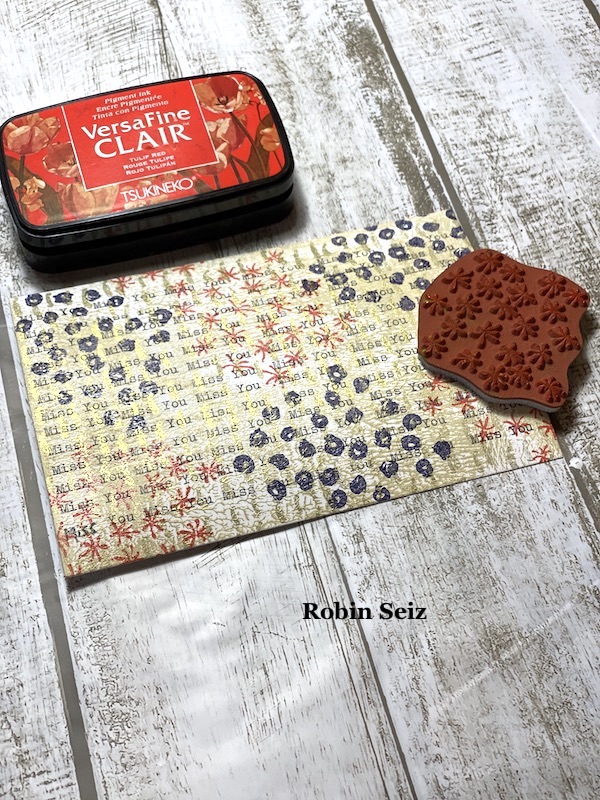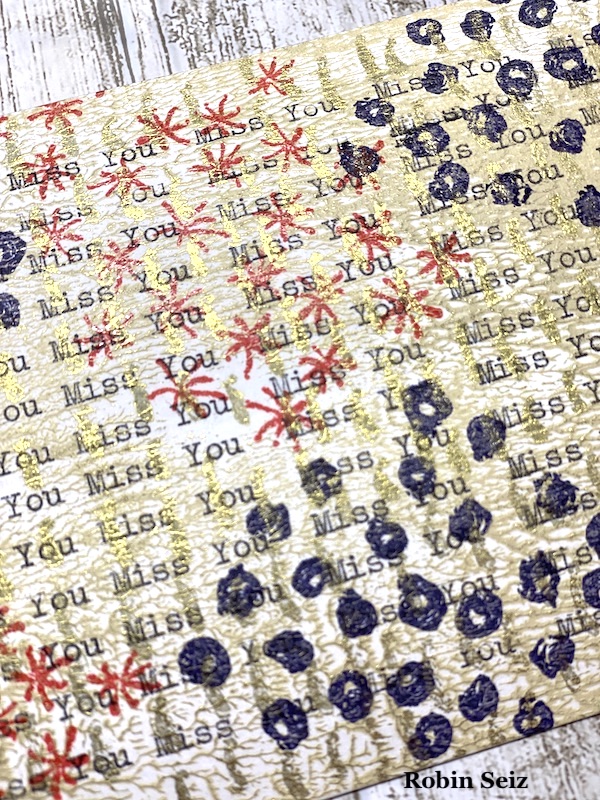 This is a great afternoon project if you just want to send something out to say, "I miss you" or "I wish you were here." As a matter of fact, I couldn't stop making these little postcards. I made two more using the rest of the stamps as I committed to do! (Cross Circle, Chain Link, Satin Doll, and Love Knots.)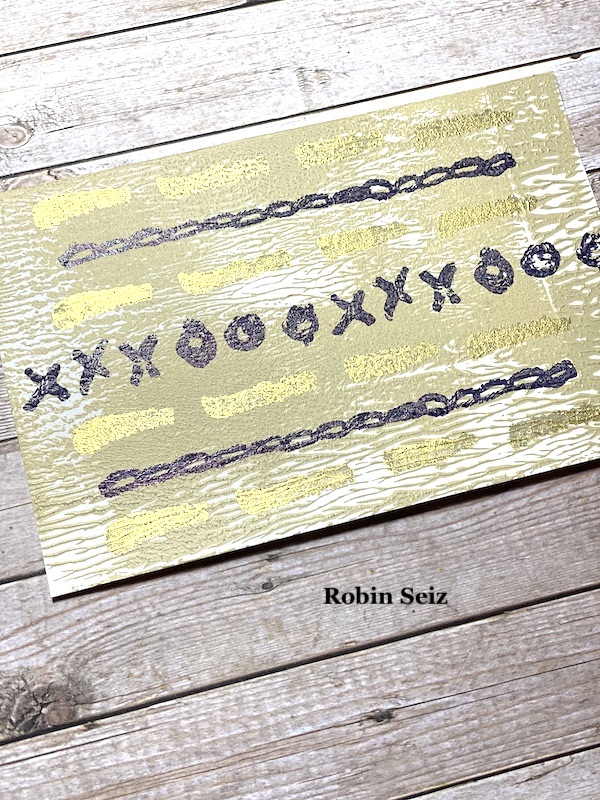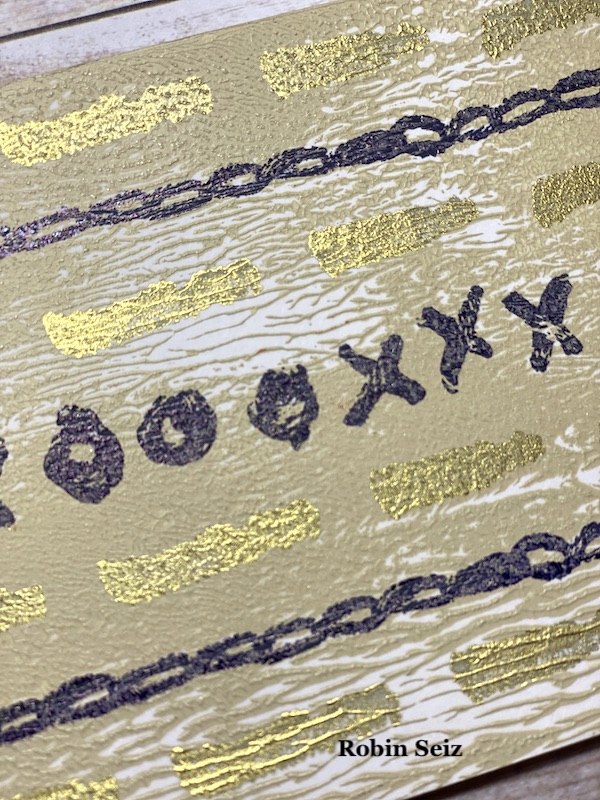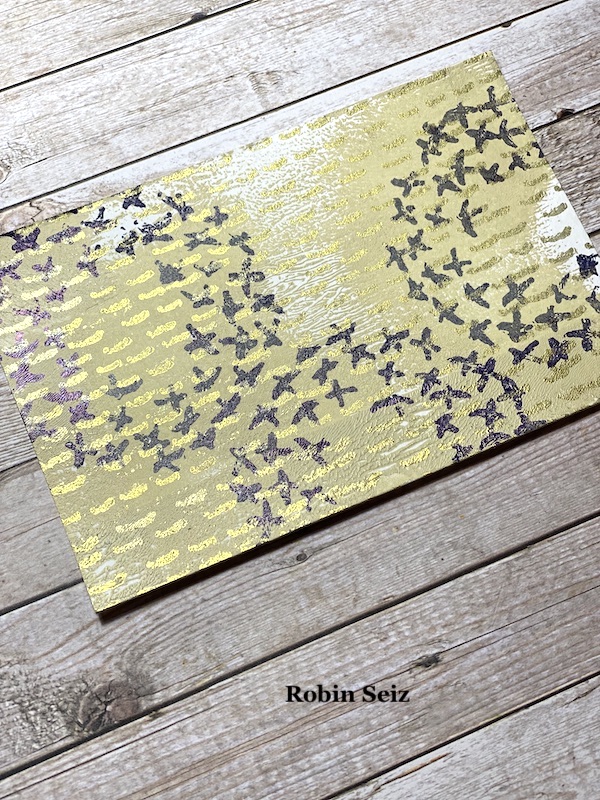 I hope you will give this a try. The possibilities are infinite! And it's always great to have a few postcards on hand for when you need them! Peace, Robin
---
Thank you Robin – we love your color palette too and how you layered the juicy paint with the stamp designs.
Give it a try: you can find all my Rubber Stamps in my Online Shop and here are some of the supplies Robin used: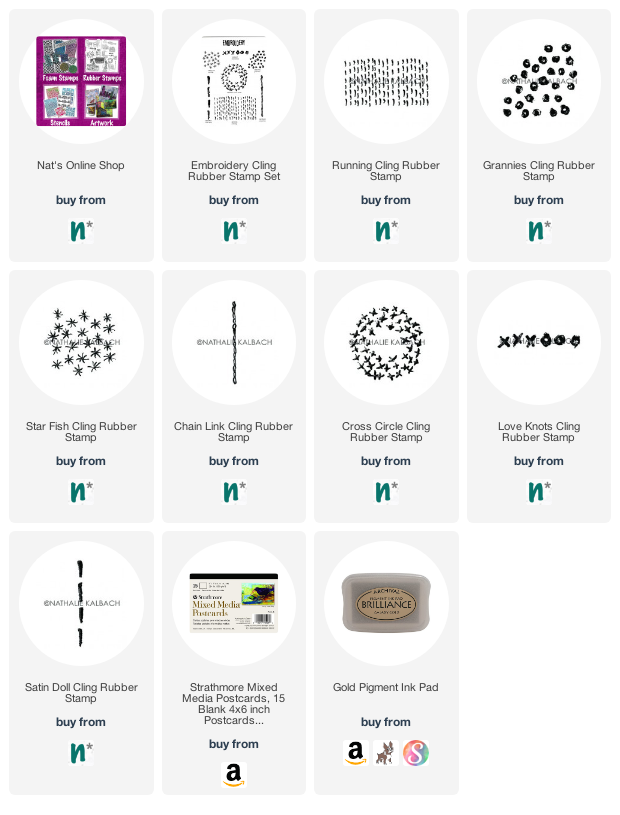 Looking for more inspiration from the Creative Squad? Follow them on Instagram here.