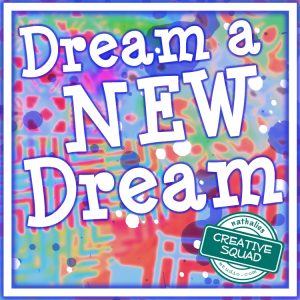 Happy first Tuesday of 2017! My Creative Squad is starting the New Year with a new theme and a fresh batch of inspiring projects. Today Tina Walker is sharing 2 uplifting art journal spreads using my Chicago Positive and Negative Foam Stamp set and this month's theme: Dream a New Dream. Let's start the New Year with a focus on all the possibilities of a fresh start.  What are your dreams for this year?  Whether it's art-making, family, travel, or work related, January is a great time to dream about what the future could hold.
---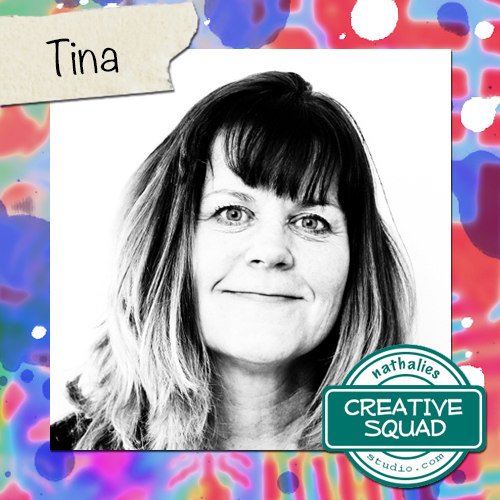 Hi! Tina Walker here today with my take on this month's theme, 'Dream a New Dream'. There is something about the freshness of each new year that kicks my mind into overdrive. I think of all of the possibilities, dreams, and wishes for the next 365 days and what I can/will accomplish. 2016 left us with uncertainty and sadness, so my dream for 2017 is for everyone to live a healthy, happy, and joyous year. May all your wishes and dreams come true and that you plant the seeds of kindness and hope for many years to come.
I created two art journal spreads that includes words to remember for 2017.
For spread #1, I used 'Chicago', positive/negative Art Foamies for a fun and colorful background. This is about as simple as it gets as a starting point. I alternated the color for more interest.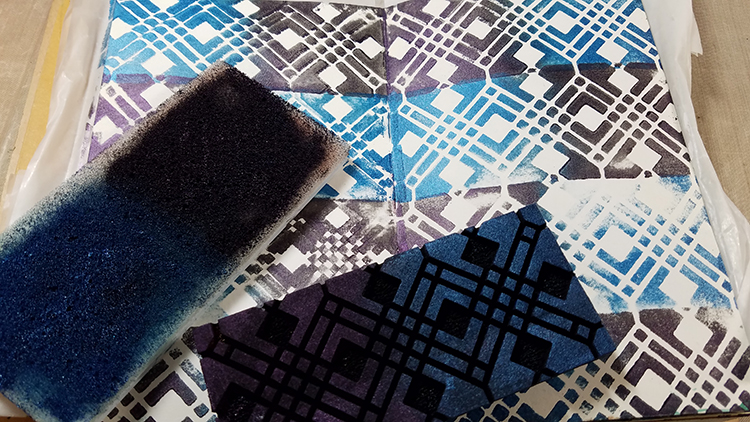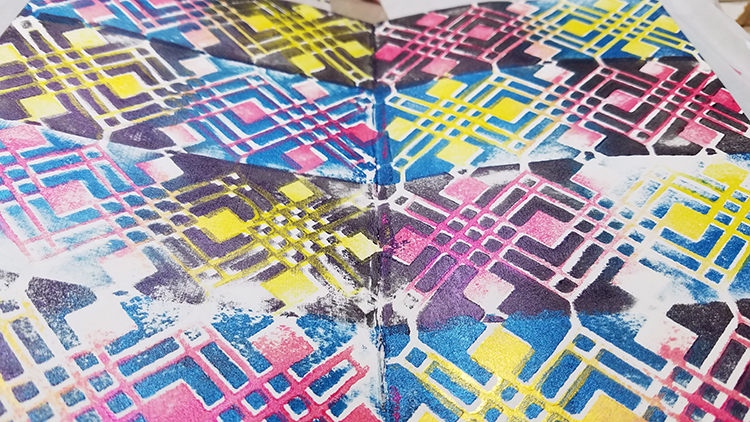 I hand-drew three body silhouettes and painted around the shapes so that they were highlighted on the page. Yes, I painted over the super cool background I stamped, but it's all about layers. Layers make art journal pages special.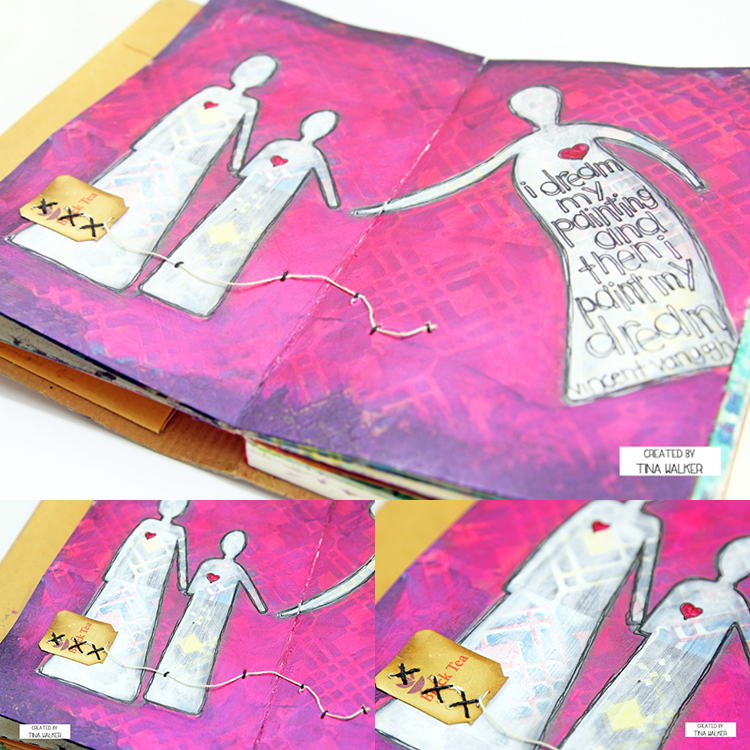 I painted each shape with white paint then added my journaling inside. Done! How's that for quick?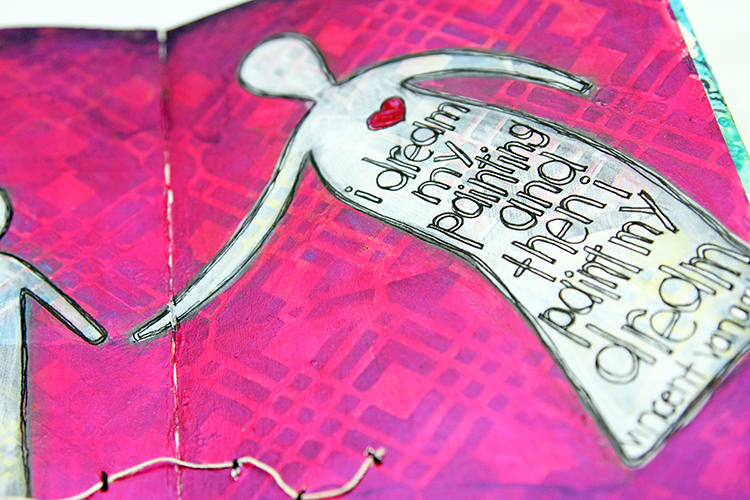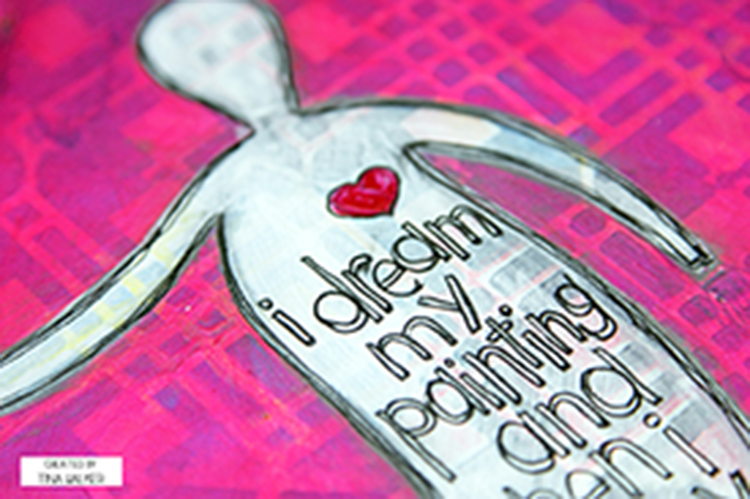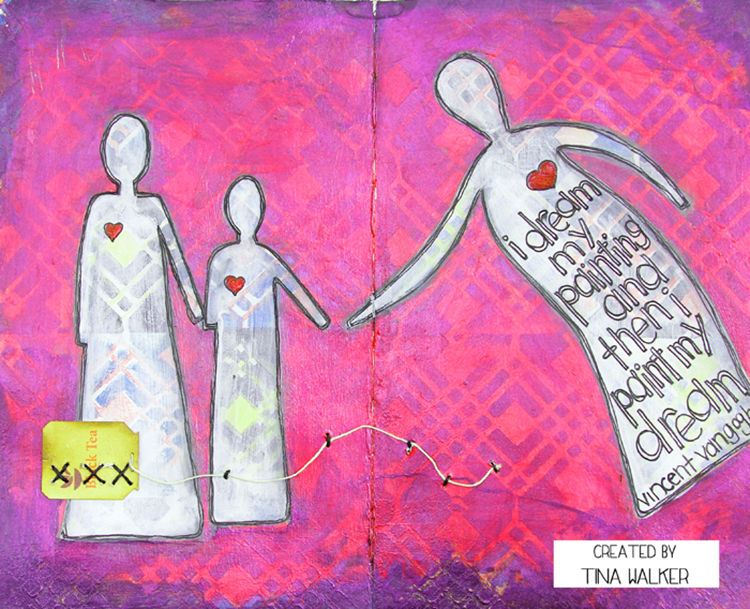 For my second spread, I randomly painted blocks of color. Over the blocks of color, I painted 2 girls who would be the highlight of my page. I embellished the girls with a quick stamp of the 'Chicago' stamp. In addition, I wanted to 'frame' the girls and journaling, so I stenciled over the color blocks, using the 'Crackle' stencil. It adds the perfect punch of black.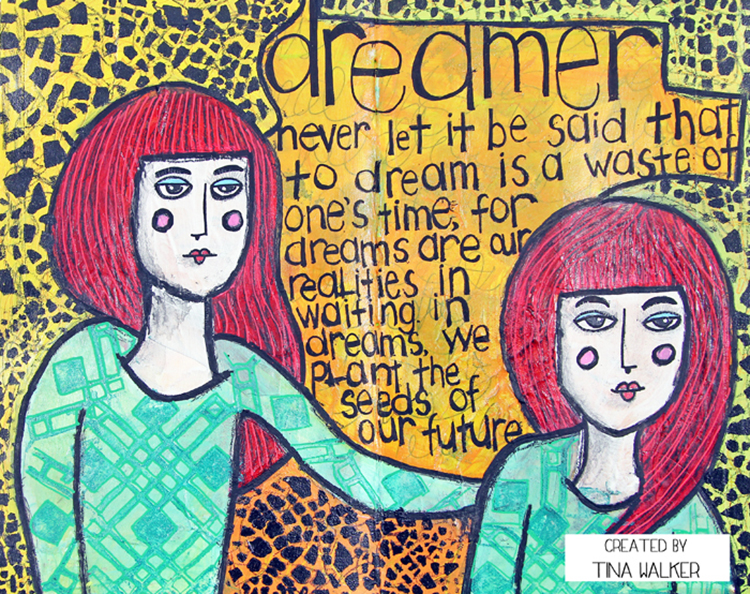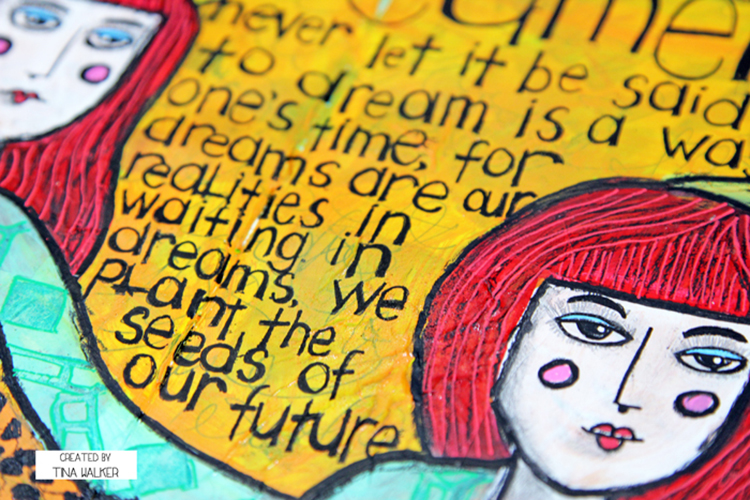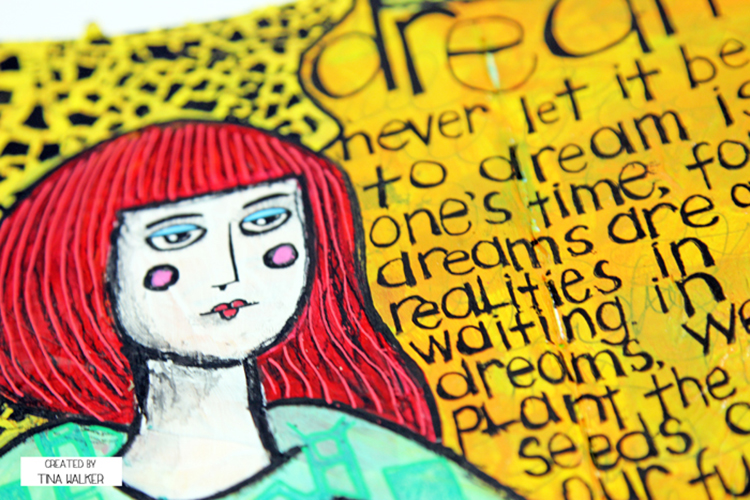 Do you have creative dreams for 2017? If yes, I wish that all your dreams come true!
Thank you for taking time today to visit us today. See you next month.
---
Thank you Tina! I love the subtlety of the backgrounds she created and the figures! In addition to semigloss Art-C paints in Blue, Bright Red, Yellow, Lime, Orange, and Black, Tina used these supplies – some links are affiliate links:

Play along with us! I love to see how you interpret our monthly themes. Email me how you used my stencils and stamps with the theme and email me an image – I would love to share your projects in my "n*Spiration From Around the Globe".