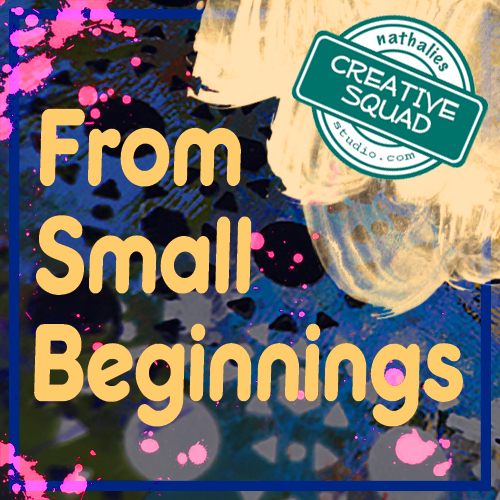 It's Tuesday and time for my Creative Squad to share a project with you with this month's theme: "From Small Beginnings". Throughout the month of September, the team will be using my n*Studio Stamps to interpret the theme. The change in seasons and the childhood ritual of Back to School in September has me thinking about starting new things – new projects, learning new things, and meeting new people, and all the excitement and challenges that come with all of these "new"s. For this theme, From Small Beginnings, my Squad will think about the process of starting something new and the very first steps they took. I'll ask them, how did you experience a Beginning?
This week we bring you Tina Walker, our newest Creative Squad member!  Tina brings her beautiful vintage inspired style to our team and we are so excited to welcome her to the bunch.  We are also saying goodbye and thank you to our dear squad member Gwen Lafleur for the time being while she begins some new journeys in her life!
So here we have two gorgeous projects from Tina that use my Marks stamp set: an inspiring art journal page and a charming little keepsake gift bag for you to enjoy!
—————————————————————————————————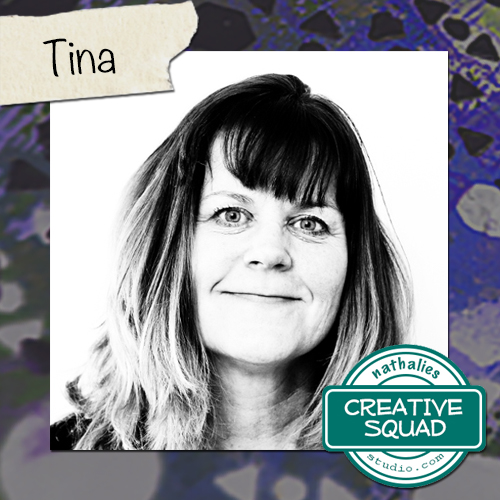 Hi!  Tina Walker here today with my very first n*studio Creative Team post!  I am super excited and super thrilled to be part of Natalie's Creative Squad and I have to pinch myself every day to make sure my life is real!  This month's theme is a perfect way to celebrate my new beginning here at Nat's and to share a bit about the beginning of my creative journey.
The theme this month is "From Small Beginnings" and that explains simply in three small words how I got to where I am today.  My creative journey began with an occasional crafty project that could be completed when I had a few spare moments in between daily family and work responsibilities.  It wasn't something that I had to do, but more something I did as a hobby and fun activity.  As life changed (as it does) and my children grew, I found myself immersed into the scrapbook world with full force.  Scrapbooking evolved to all types of mixed media, art journaling, and DIY.  Many of my creative dreams were actually happening and creating was no longer just a hobby, but more a way of life.  I found that the more I enveloped myself in creating, the more I discovered who I was and the more it revealed who I wanted to become.  I really wanted to capture this 'light bulb moment' on an art journal spread, using a quote from 'Joyce Meyer' to say what I struggle saying in my own words.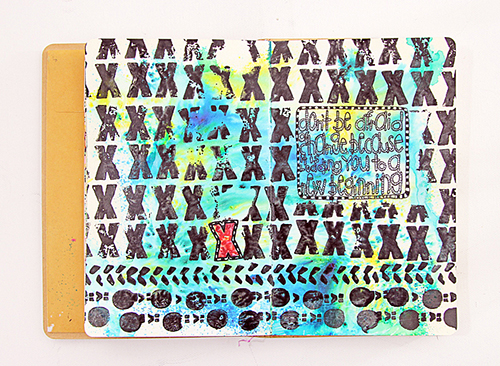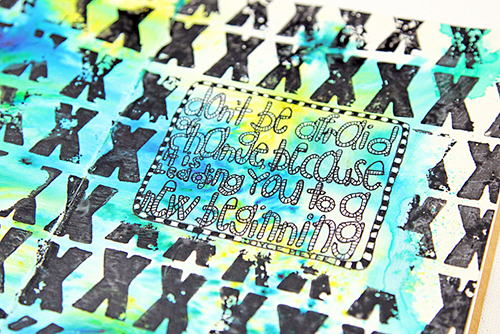 To be honest, the graphic image created by using all 'Xs', with one lone red 'X', visually defines the feeling without words.  But I think the quote strengthens the message about how a small change can actually bring about a big beginning.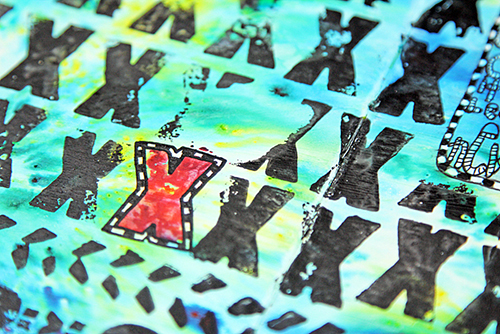 Keeping the rest of my spread simple and un-cluttered emphasizes the message even more.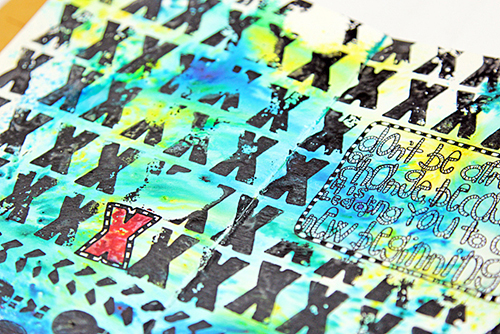 Because this is a new beginning for me, I wanted to share another quick and fun project that is also a great functional way to celebrate new beginnings.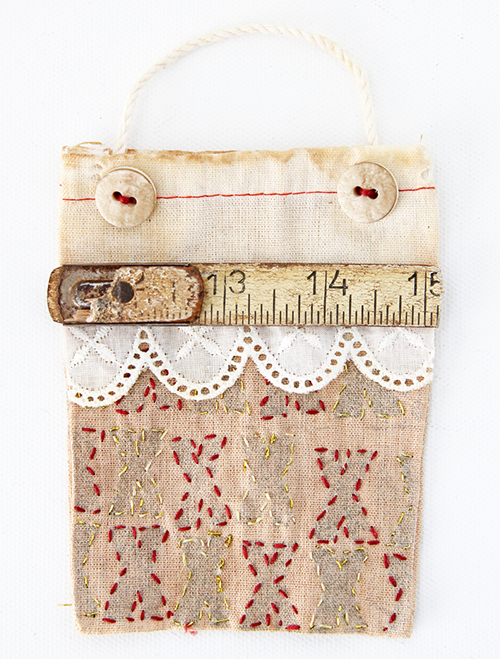 Do you know someone getting married?  Do you have a friend starting school?  Do you want to say Thank You to a special somebody?  How about creating a handmade gift bag perfect for gift cards and jewelry. Using the same 'X' stamp I used on my art journal spread, I stamped/heat embossed the canvas bag, adding hand-stitching to highlight the 'X's. You can decorate your bag with your favorite ribbons, buttons or vintage findings to make your gift even more memorable.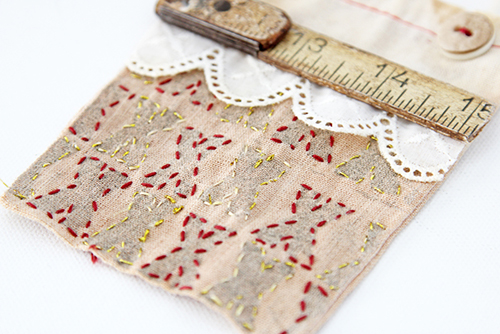 You can make these ahead of time and display them until they are ready for giving.  I have mine hanging from an old vintage printer drawer. Functional and decorative.  Perfect!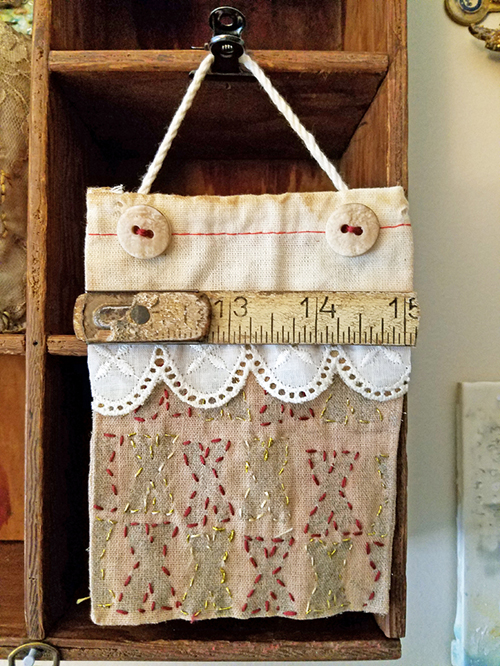 Thank you for taking time today to take a peek at my inaugural projects.  I can't wait to see you next month.
—————————————————————————————————
Tina is off to a great start with these two projects, showing us the versatility of that Marks stamp in two really creative and fun ways.
In addition to vintage ribbon, vintage buttons, and a vintage ruler, Tina used the supplies listed below (some are affiliate links):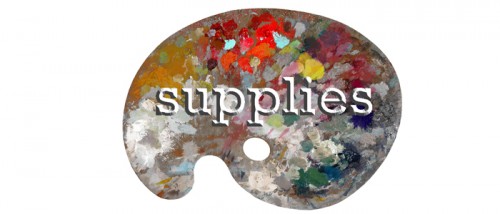 Maybe you will even play along with us -I would love to see how you interpret our monthly themes. Email me how you used my stencils and stamps with the theme and email me an image – I would love to share your projects in my next "n*Spiration From Around the Globe".
See you next Tuesday for another project from the Creative Squad!