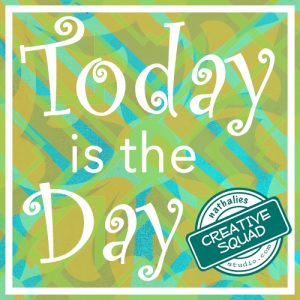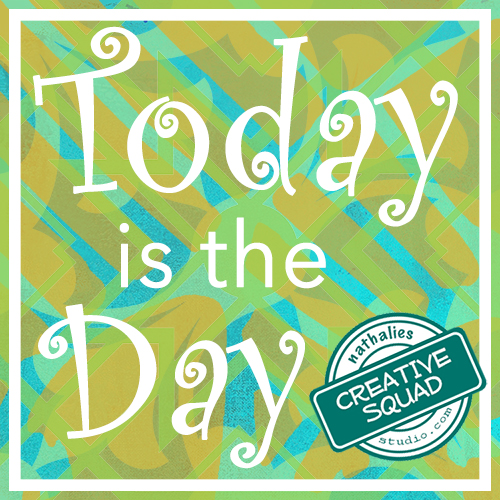 This Tuesday, Cheiron Brandon from my Creative Squad is happy to share with you some amazing cards using my new Manhattan ArtFoamies and inspired by this month's theme: "Today is the Day."  I invite you to join me and my Creative Squad to stop procrastinating and be inspired to make today the day you finally tackle that artsy thing you've been meaning to get to for so long.  Start that new project you've been planning for months.  Try out that new product you bought ages ago.  Experiment with that new technique you read about last year.  Try it!  Today is the Day!
---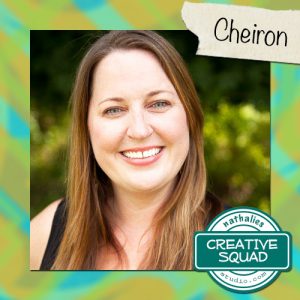 Hi there! It's Cheiron here with my monthly post for N*Studio. This month 'Today is the day' is our theme, and our mission was to 
tackle
 the artsy thing you've been meaning to get to. As a card maker, I make tons of cards…but I never seem to have one when I need to send for a birthday, thank you etc. I kept saying I would make a stack of cards, like at least a dozen to have on hand for occasions that come up. I also always say that I will take new products and spend some just for fun playtime with them, but that does not always work either. I set aside two hours the other day to play with Nat's new art foamies and two things happened 1) I had a great time playing, and 2) I made a dozen cards! 
I started out just playing with the Manhattan foamies. The set includes a positive and a negative, so you can add two different layers of color to the stamped image. I tried them out with all different kinds of paints including Distress Paints, Golden Fluid Acrylics and Blick Matte Acrylics and got great results with all 3!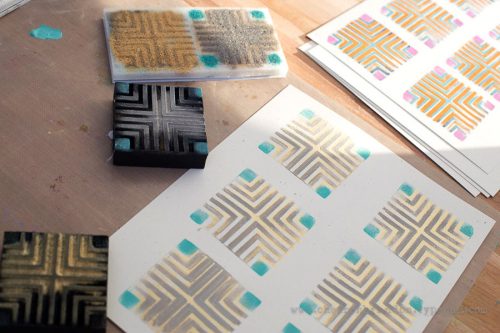 Once I was finished stamping, I cut all the images into squares.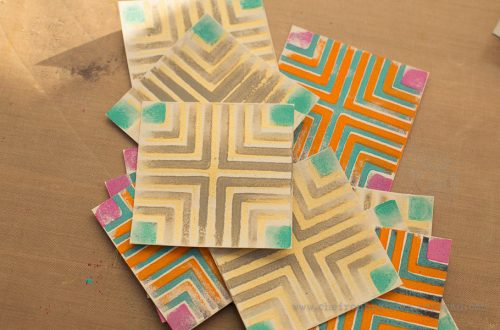 Then I turned them into cards. For some cards I used just the square and a simple sentiment. For a couple I turned them into a shaker card and used the cut out heart on the shaker card on another card. I think you can be real simple or fancy depending on the recipient. It sure feels good to know I have built up my card stash AND have managed to throw in some play time at the same time!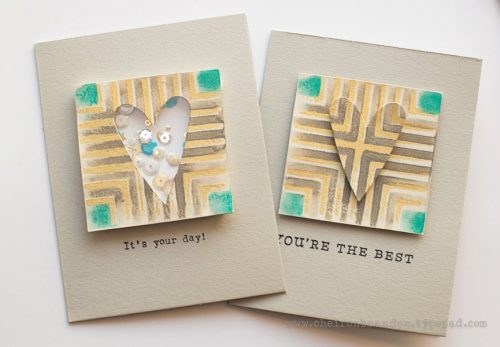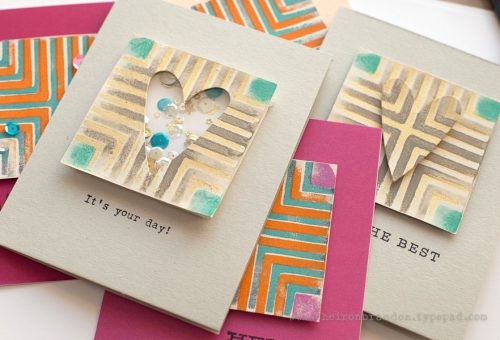 ——————————————————————————————————————-
Aren't these cards awesome! I colors Cheiron used and the shakerbox is just too cute!
Here are the supplies she used to make those cards – note that some of the links are affiliation links:
Maybe you will even play along with us -I would love to see how you interpret our monthly themes. Email me how you used my stencils and stamps with the theme and email me an image – I would love to share your projects in my next "n*Spiration From Around the Globe".
See you next Tuesday for another project from the Creative Squad!