Woot Woot- so stoked that the Stampendous Design Team and my wonderful Creative Squad is doing a blog hop together this week. It always is my favorite thing to see how others use my stamp and stencil designs – makes me so happy. Loads of yummie projects – check it out!!!
Here are the links for today:
I thought I would play along with my awesome team's theme this month "My City Speaks To Me" and I used the Urban Scribble Stamp Set as well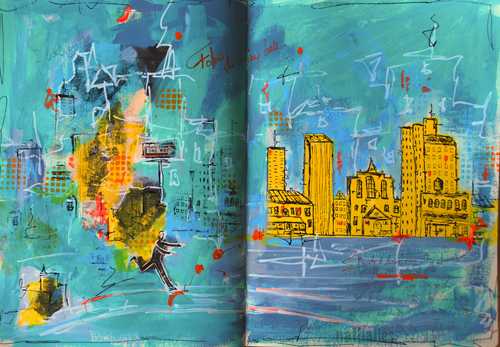 My city – Jersey City – is such a city of juxtapositions. Grungy – Spotless, Old – Modern, Artsy – Financial, Jersey – NYC, Loud – Calm ….and so much more. I love it – it is such an inspiring place to live.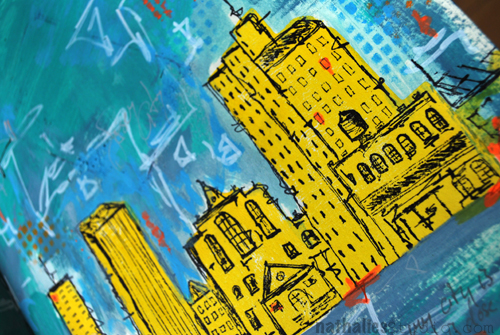 I stamped with the solid side of the Urban Scribble Foam Stamp and yellow acrylic paint into my art journal and then used the Rubber Stamp with black ink to stamp over it. The Solid Foam Stamp and the Rubber Stamp pattern fit perfectly together. I painted the background and for the grungy side on the left I used the rubber stamp on purpose rudimentary and in a non perfect manner to enhance the juxtaposition of the two sides.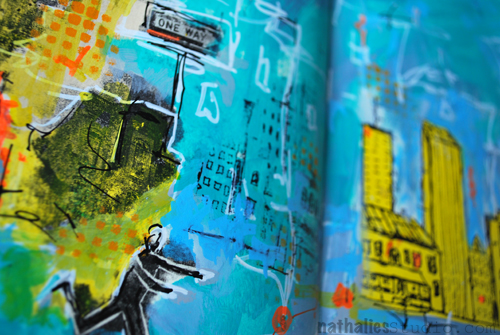 Watch this video if you want to know how to apply acrylic paint to the foam stamps:
Rule of Three – #1 "Three Ways to "Ink" up Foam Stamps from Nathalie Kalbach on Vimeo.
Check out all the wonderful posts, comment on any of those posts and win a price and join us :)

Stampendous is offering three prize packages that consist of ALL THREE of the foam/cling/stencil sets. THEY'll ship them to anyone who wins (yes, internationally, too) just comment on this post here or any of the posts the teams or Stampendous or here to be eligible to win. Good luck!!!!
Thank you so much for visiting- I hope you like my new Bird, Elephant and Urban Scribbles Foam, Cling Rubber and Stencil Sets ! Have a beautiful and creative weekend!