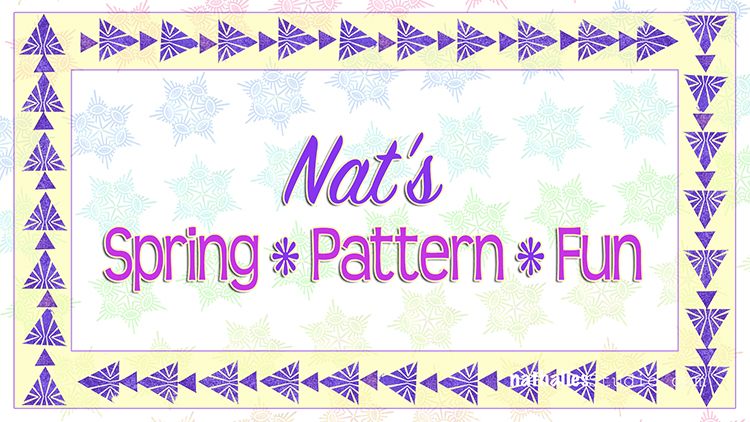 When I received my new RubberMoon Stamp Designs I once again couldn't stop making samples and patterns (remember last year's April Patterns — well it happened again this year lol). I decided to record a short video for some of them and post them on my Instagram.
These videos are short and sweet – You can see what I use and how I pull the pattern together. I hope it inspires you to give some of them a try and maybe come up with your own too.
Here is a recap of Patterns 8-14 – I hope you enjoy :)
---
Pattern 08: First up is a simple linear pattern using my Mini Motifs and Fan-fare stamp sets. 2 colors + 2 stamps = Pattern Success
Pattern 09: Next up is another duo – I love when stuff fits nicely together and that is the key with this pattern. I'm using one stamp from my Hex Set Small along with one stamp from my Triangle Love set.
Pattern 10: How about Diamonds and … Pearls? I made this pattern with one of my Triangle Love stamps and one of my Small Circle Jumble stamps.
Pattern 11: Another fits-just-right combo is my Solid Hex Large with my Triangle Love stamps overtop. This pattern also has a stamp from my Floral Tile Small set in there too. Hexes, triangles, and squares.
Pattern 12: Balancing delicate and bold is a winning strategy for patterns. In this one I use some stamps from my Mini Motifs set and the Solid Triangle Large stamp from my Triangle Love set.
Pattern 13: My Triangle Love stamps are also designed to play really well with my Hex Set Large rubber stamps: the sides of the triangles are the same length as that of the hexes. Look how that can translate into a great field of pattern!
Pattern 14: How easy is it? All you need is a couple triangle stamps and 2 different ink colors to make a field of pattern.
---
Here are some of the stamps I used for these patterns: