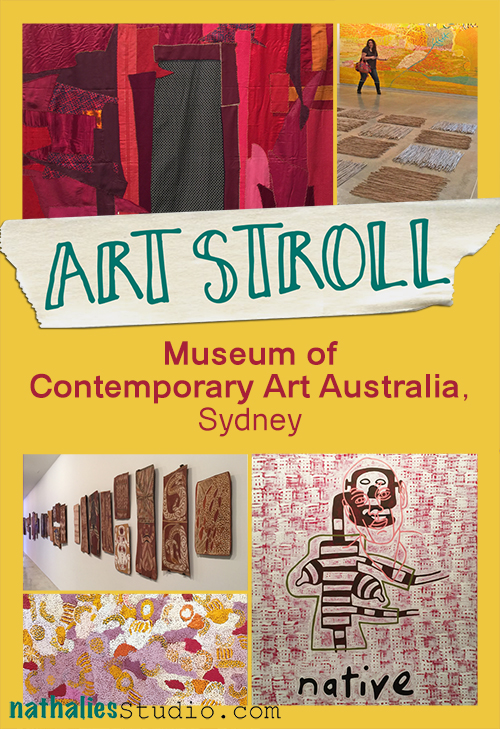 A couple of months ago, I was in Australia and visited a couple museums but I wanted to spread out the posts for you a bit- so finally I would like to take you on an art stroll through the Museum of Contemporary Art in Sydney, Australia.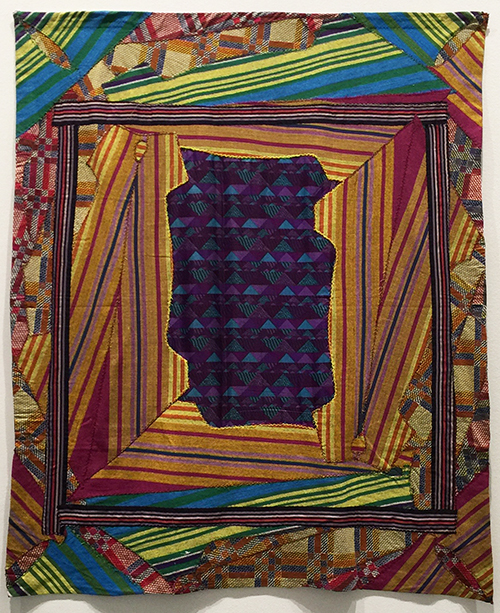 Isn't this an amazing piece? It was quite big – Noah Eshkol, Window to the Sea, 1975, Cotton, pique, satin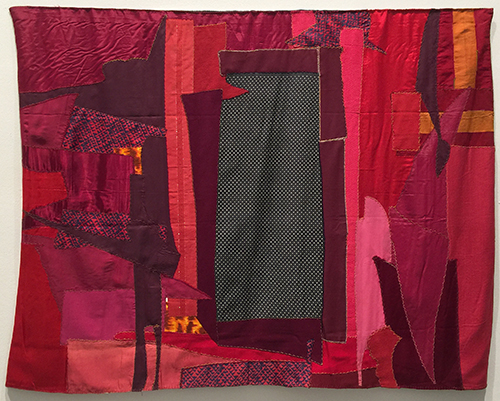 Noa Eshkol, Window to the Night, 1981 – cotton, cotton lawn, flannelette, twill, cretonne, jersey, percale, pique, poplin, satin, taffeta, repp with lurex threads, crepe fabric.
The material list reads like a "Who is Who of Fabric", don't you think? These pieces made me wish I was a sewer …I am not, but I would like to include more fabric and sewing into my work.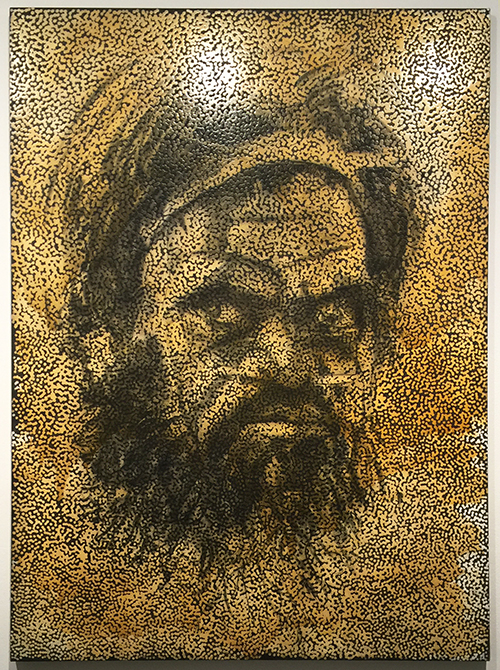 Daniel Boyd, Untitled, 2016 – oil, charcoal and archival glue on linen.
The details are just so amazing and I love the combination of classic charcoal drawing on top of aboriginal art.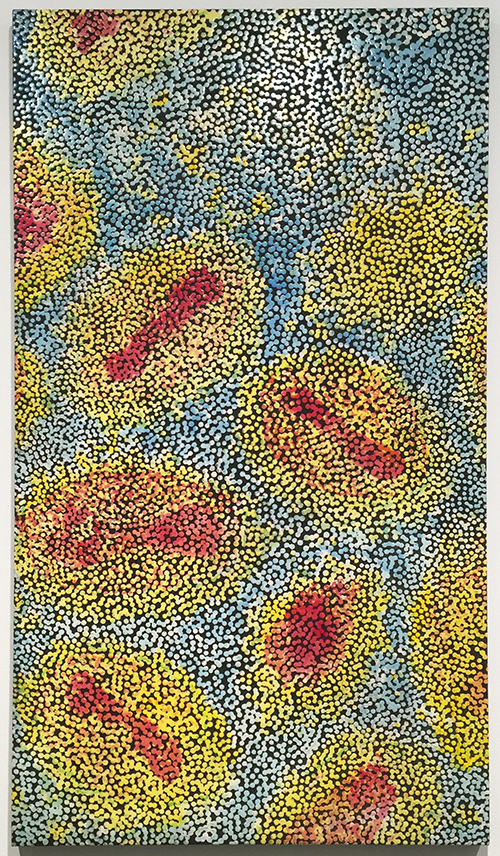 Daniel Boyd, Untitled, 2016, oil, digital print and archival glue on canvas
Mesmerizing!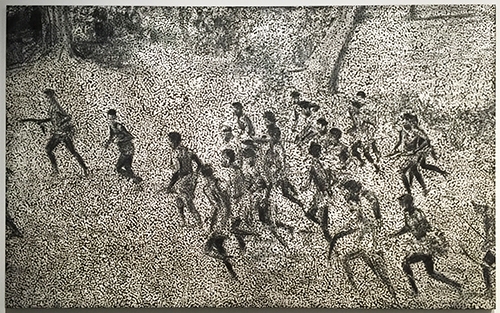 Daniel Boyd, Untitled, 2016, oil, charcoal and archival glue on linen
Boyd translates and re-contextualizes historical images and explores ideas of strength, spirit and aboriginal resistance while at the same time commenting on science, evolution and Darwinism.
"He uses dots as a veil to create scenes that appear incomplete, leaving space for the viewer to complete the story, and mirroring how history is partial and completed through memory and myth." – Signage at MCAA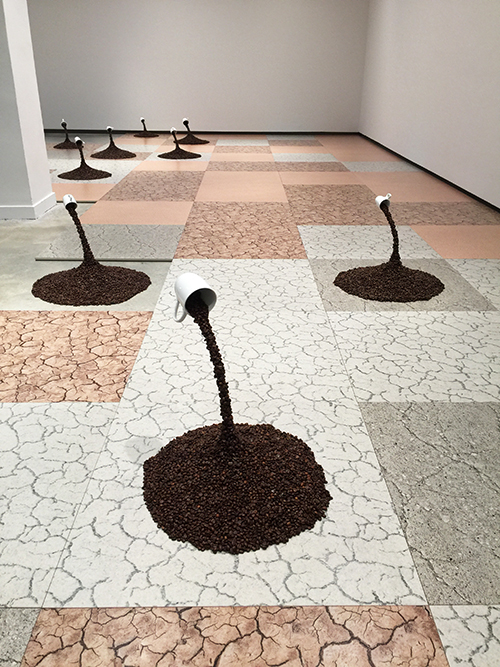 Nina Beier, Allegory of Charity, 2015 – ceramic cups, coffee beens, resin, wood, metal
Look at the crackle texture!!!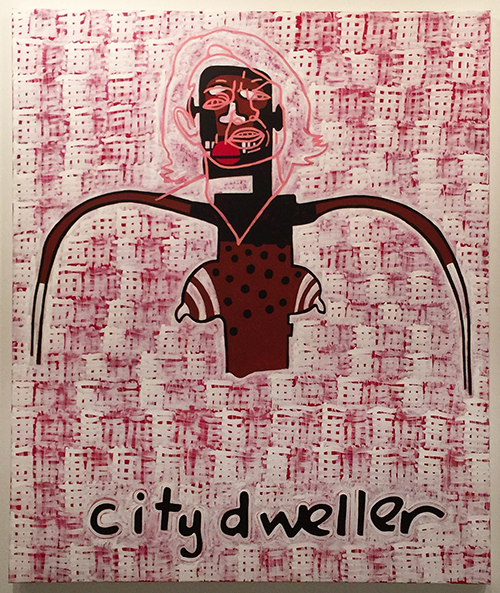 Gordon Bennett, Abstraction (City dweller), 2013, acrylic on linen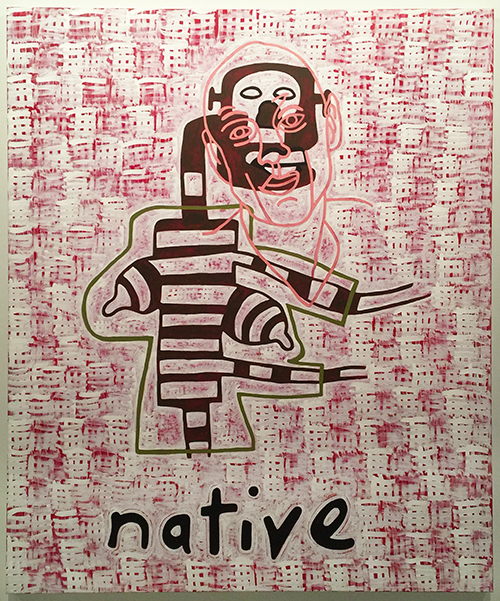 Gordon Bennett, Abstraction (Ntive), 2013, acrylic on linen
"These two paintings are part of a larger series that superimpose the faces of contemporary Australians over earth-toned figures bearing similarities to representations of primitivist figures in the paintings of late American Artist Jean-Michel Basquiat".  What a wonderful example on how an artist got inspired by a different artist, and translated the inspiration into his own cultural background and style – into something entirely new that only a little hint off the inspiration is left. I love this!!!!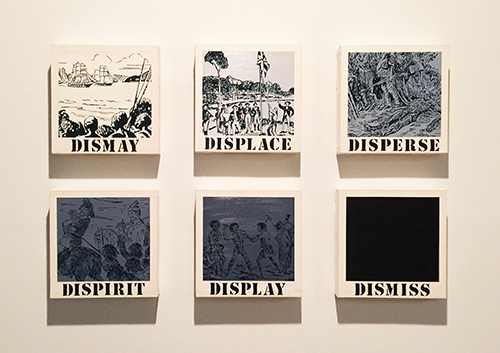 Gordon Bennett, Untitled (dismay, displace, disperse, dispirit, display, dismiss), 1989, oil and synthetic polymer paint on canvas
Bennett is interested in the power of language and the way it shapes culture and identity.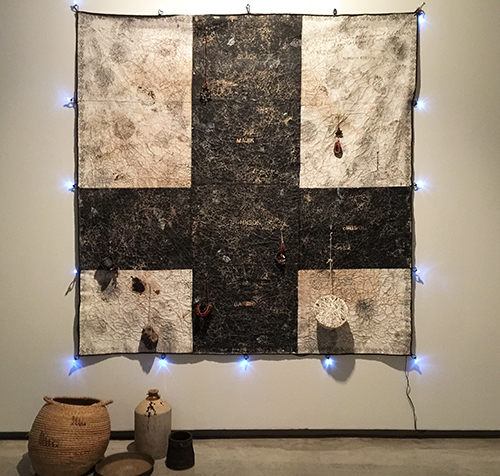 Newell Harry, As Veneral Theists Rest/The Natives Are Restless, 2008, letraset, black and white gesso and ink on craft paper backed with interfacing, lights, beads, rubber, wool, wood, ceramic, plant fibres, metal, string, cotton, shell, transformer
This was such an amazing piece to explore visually – I did restrain from touching it- but it was very very tempting. BTW- this was the first museum where I actually saw two different people touching paintings and being told off by the guard. I had never seen this before but heard that this happens quite often from one of the Conservators at MoMA and I am just astonished. Tempting – yes – but big no no!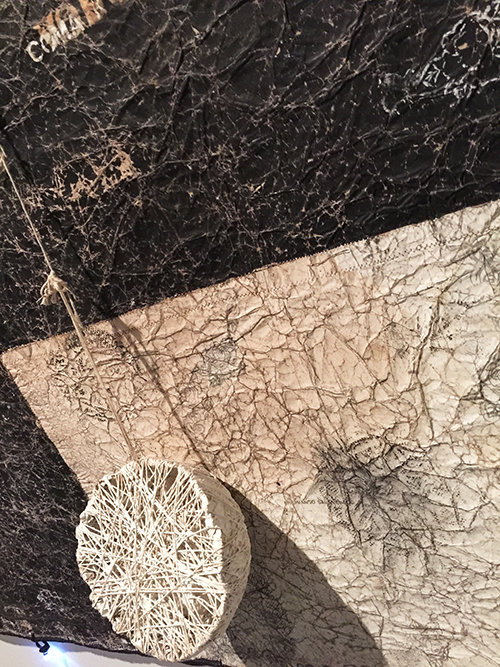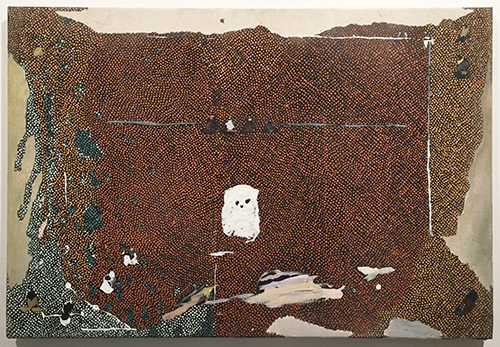 Tim Johnson Four elders, 1986, oil on canvas.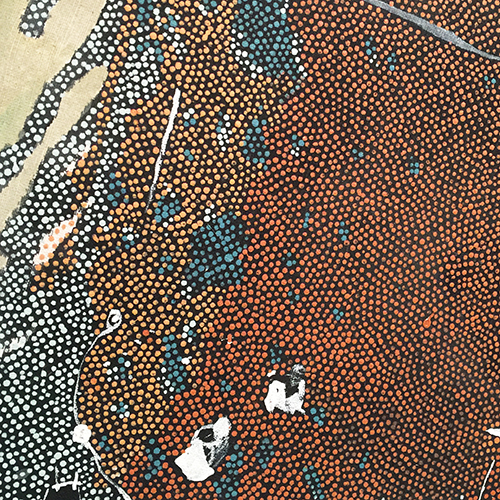 again so amazing to see the painting from further away and from a very close distance.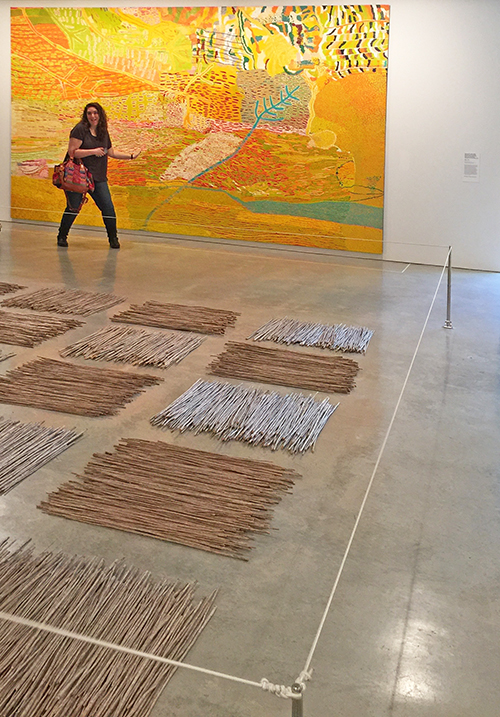 Wait…who is this goof ball in my pic? Awe- my sweet friend Julie- LOL. We had such a good time :)
These pieces on bark were just so amazing- I would love to have some of those hanging in my living room!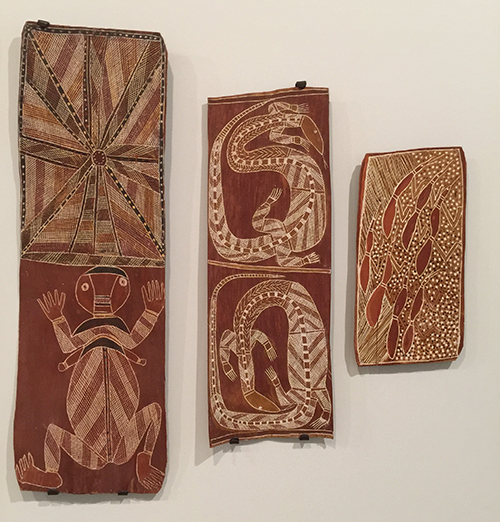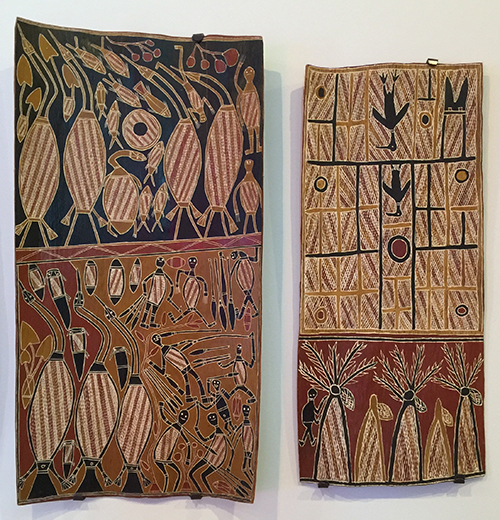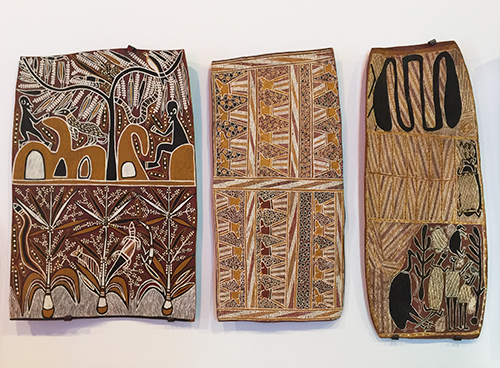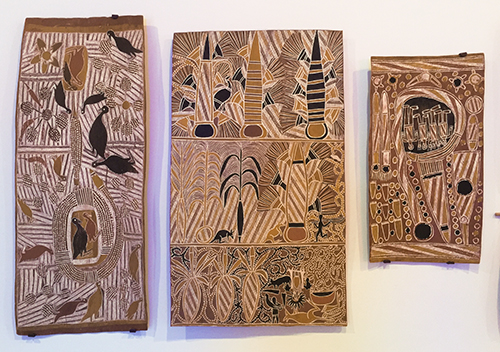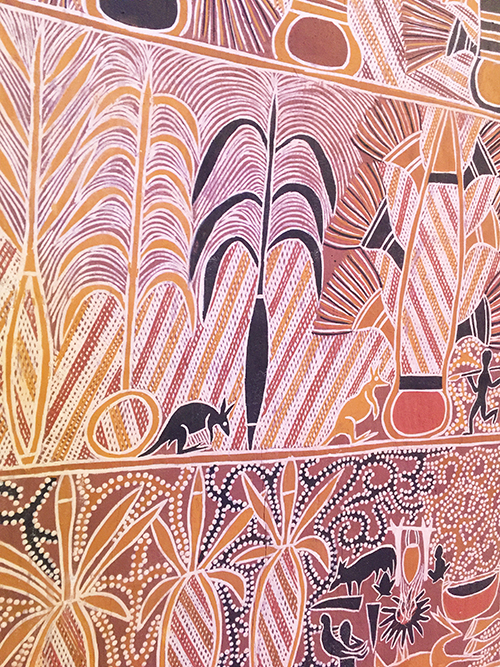 I hope you enjoyed the stroll and those images and materials inspired you :) have a wonderful creative day!