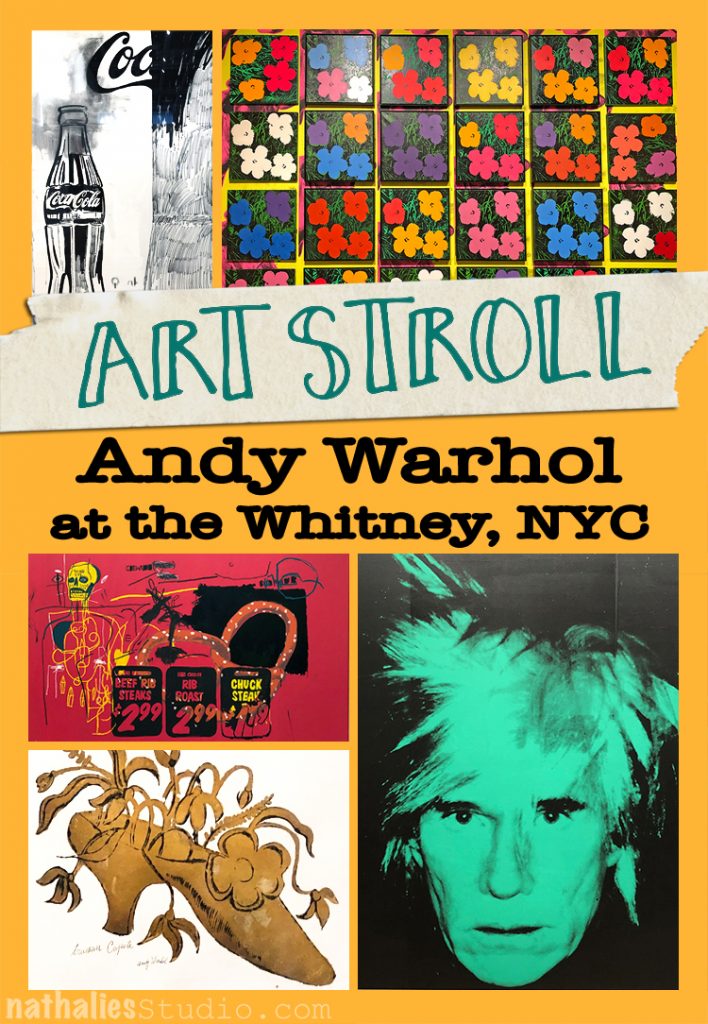 Last week Kim and I took a day off and for our annual Christmas Party at the n*Studio we decided to go into the city to visit the Andy Warhol Exhibition at the Whitney and have a nice lunch afterwards. It was a wonderful day!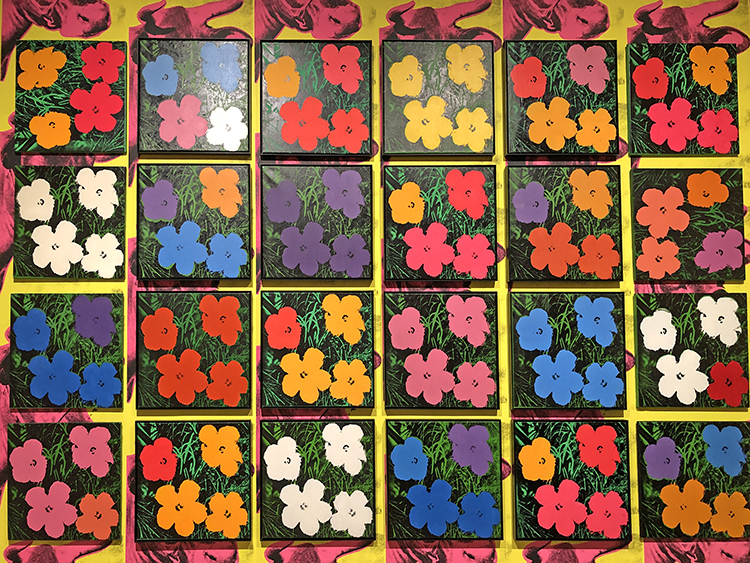 Warhol began his series of Flower paintings in 1964. He used an image of four hibiscus flowers from a magazine and, with the help of assistants, silkscreened it across more than five hundred individual canvases, methodically producing paintings in different sizes and seemingly endless color combinations.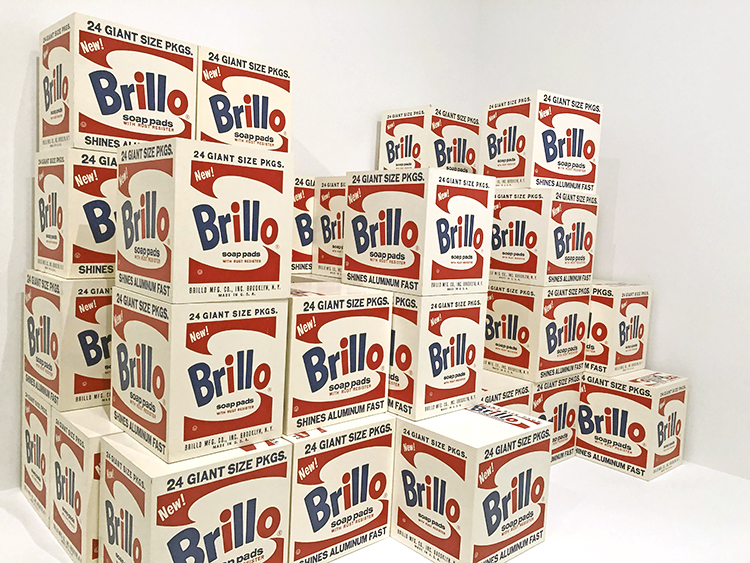 "In the mid-1960s Warhol employed carpenters to construct numerous plywood boxes identical in size and shape to supermarket cartons. The finished sculptures were virtually indistinguishable from their cardboard supermarket counterparts. Warhol first exhibited these at the Stable Gallery in 1964, cramming the space with stacked boxes that recalled a cramped grocery warehouse. He invited collectors to buy them by the stack, and, though they did not sell well, the boxes caused controversy. In reference to his boxes, Warhol later said that he "wanted something ordinary," and it was this mundane, commercial subject matter that infuriated the critics. The perfectly blank "machine-made" look of Warhol's boxes contrasted sharply with the gestural brushstrokes of abstract expressionist paintings."
Would you buy one? (if money was no obstacle)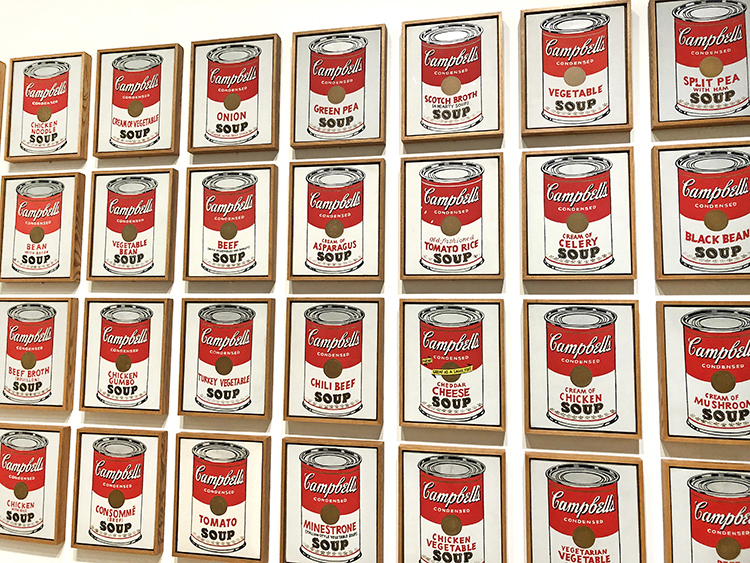 Sorry- it was so crowded it was hard to take any pictures LOL – but this was too iconic to let it just go …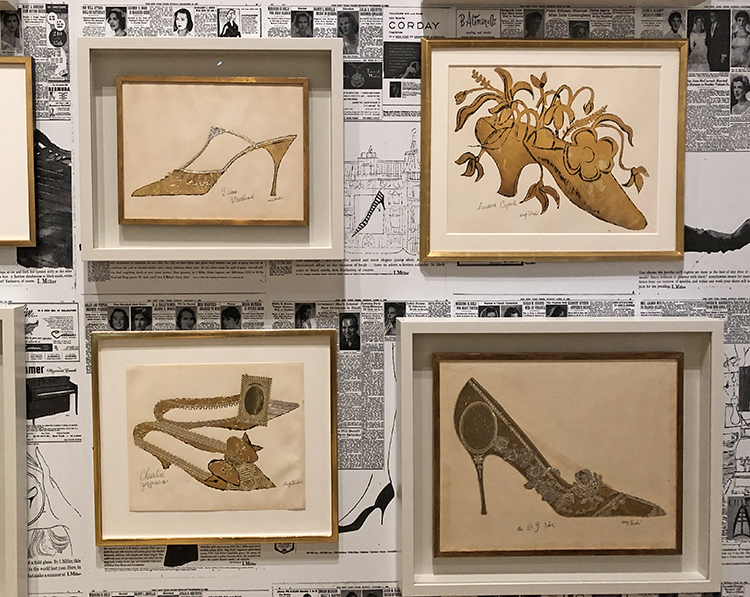 Loved seeing his gold leafed shoes – the detail are actually quite fascinating on those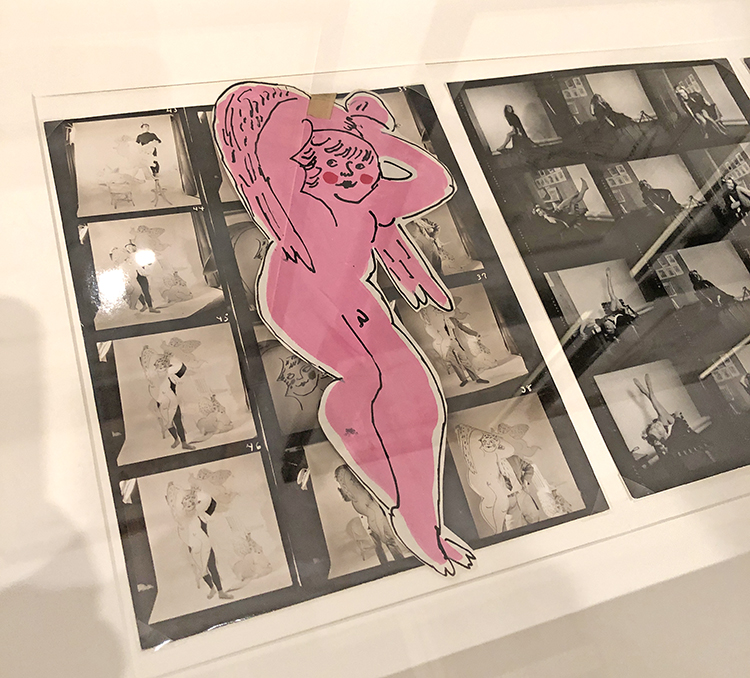 Love his sketches the most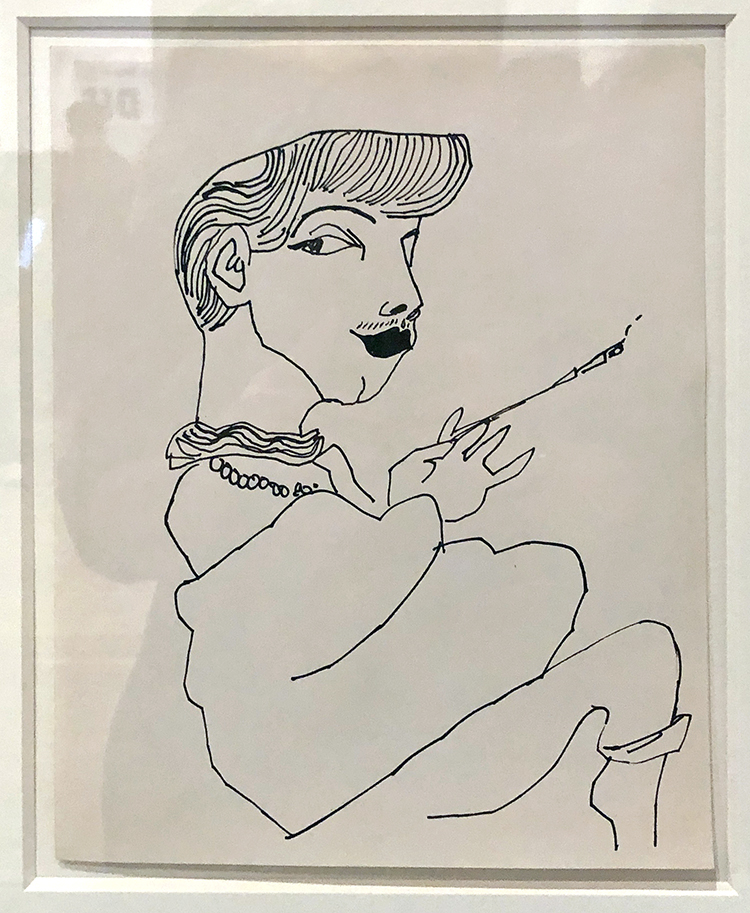 The early stages of his work and concepts.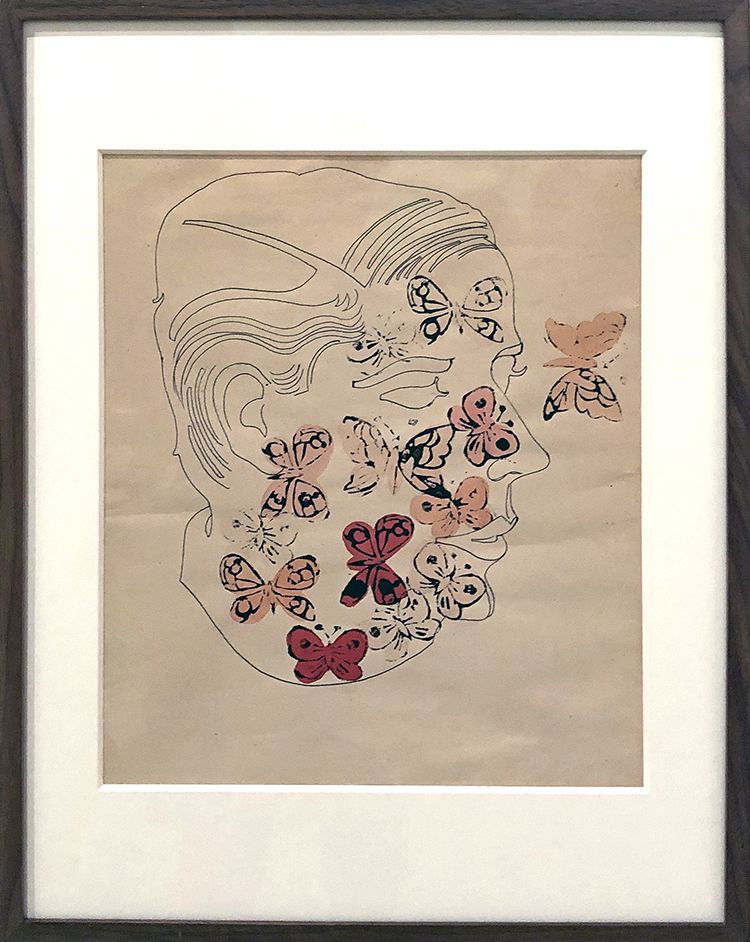 I love seeing the early work that shows where things were going -stencils, marks, people, lines …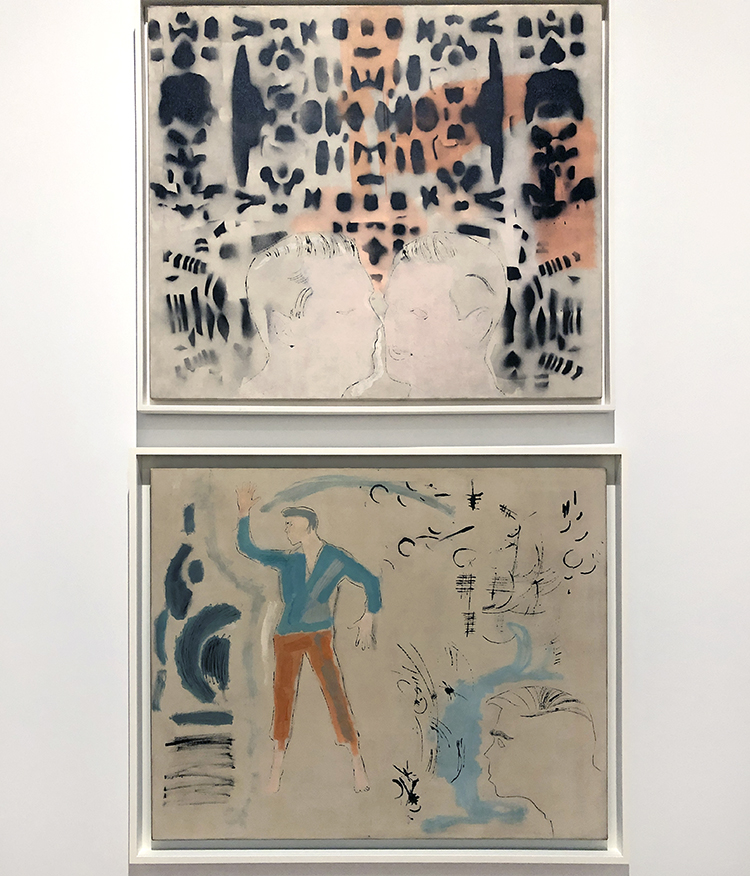 In embracing the image of the Coca-Cola bottle as fine art, Warhol opened up the possibility of linking the worlds of commercial and fine art.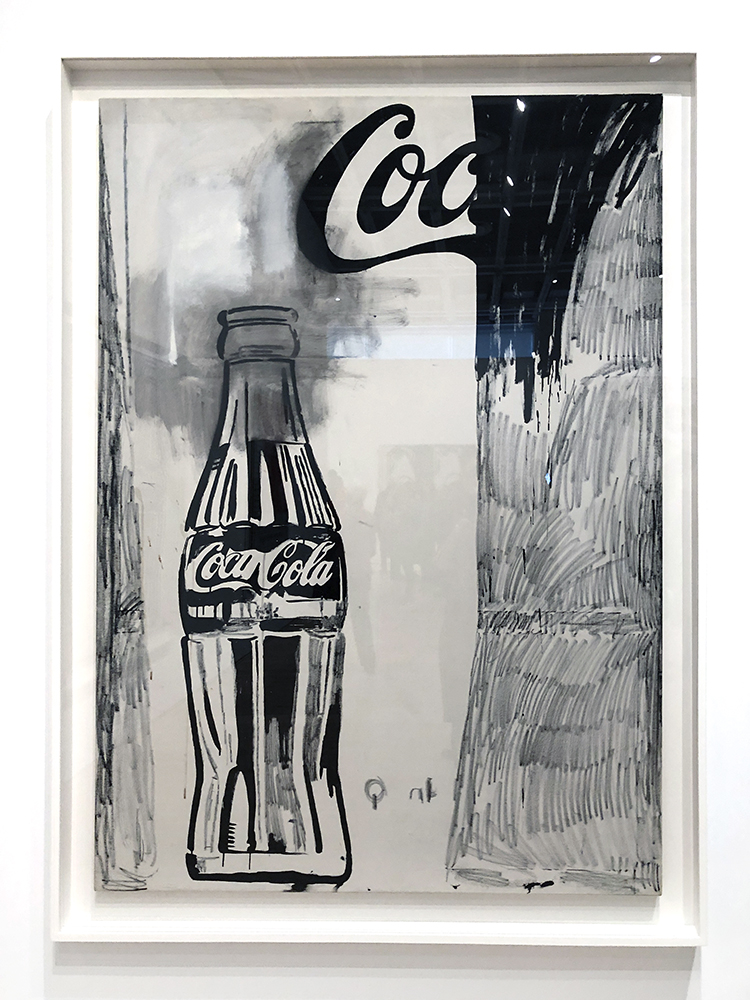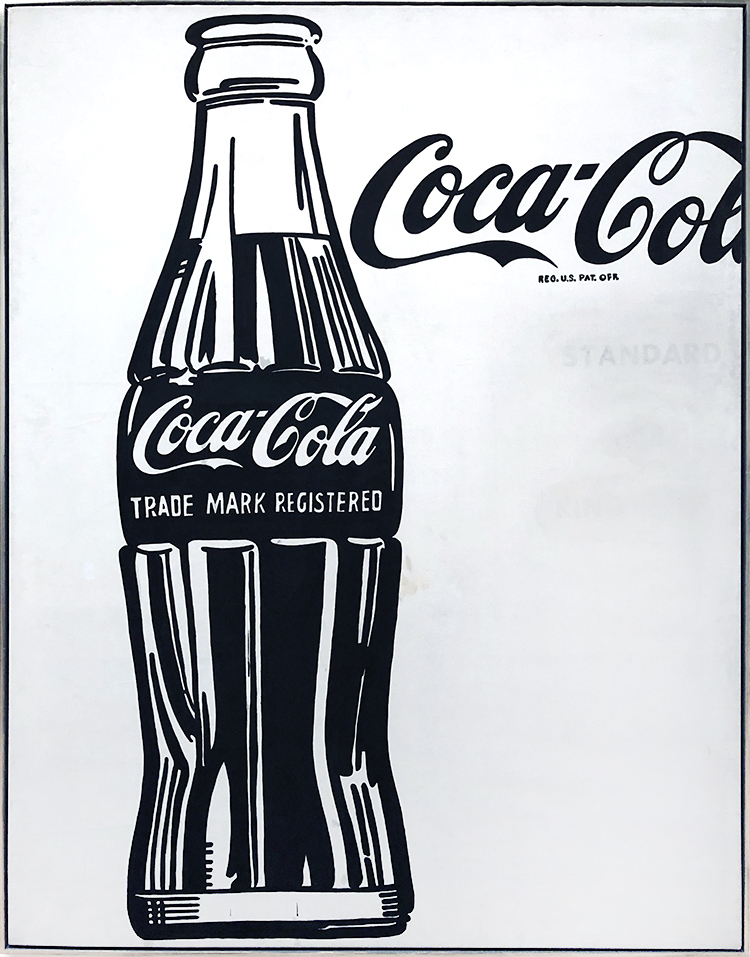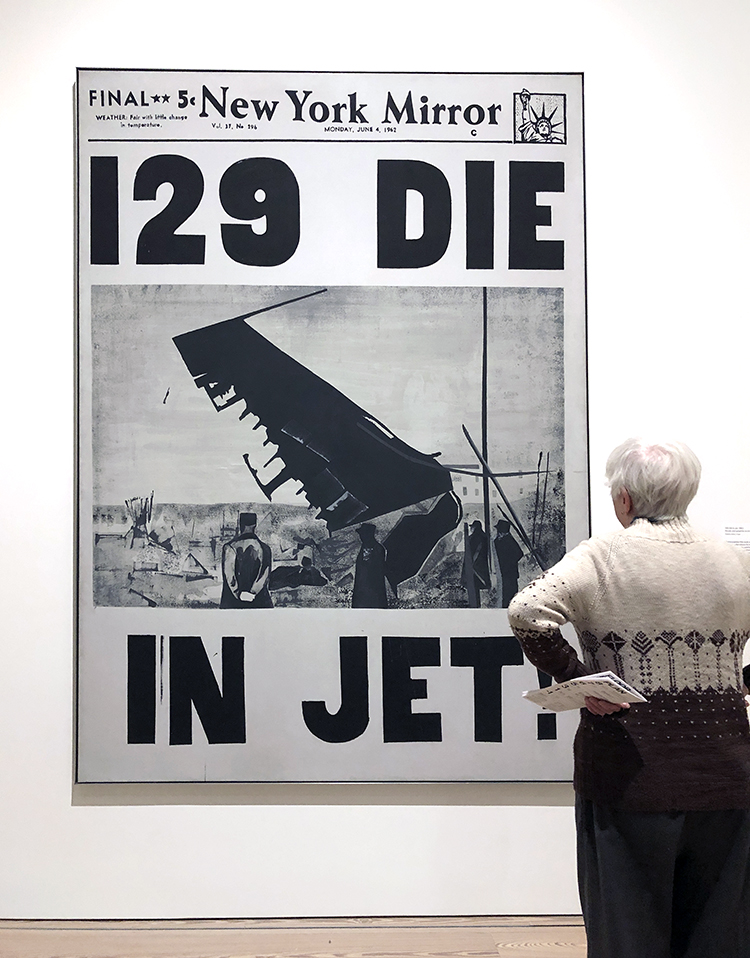 Death and Desaster- depicting magazine and newspaper headlines in oversized images.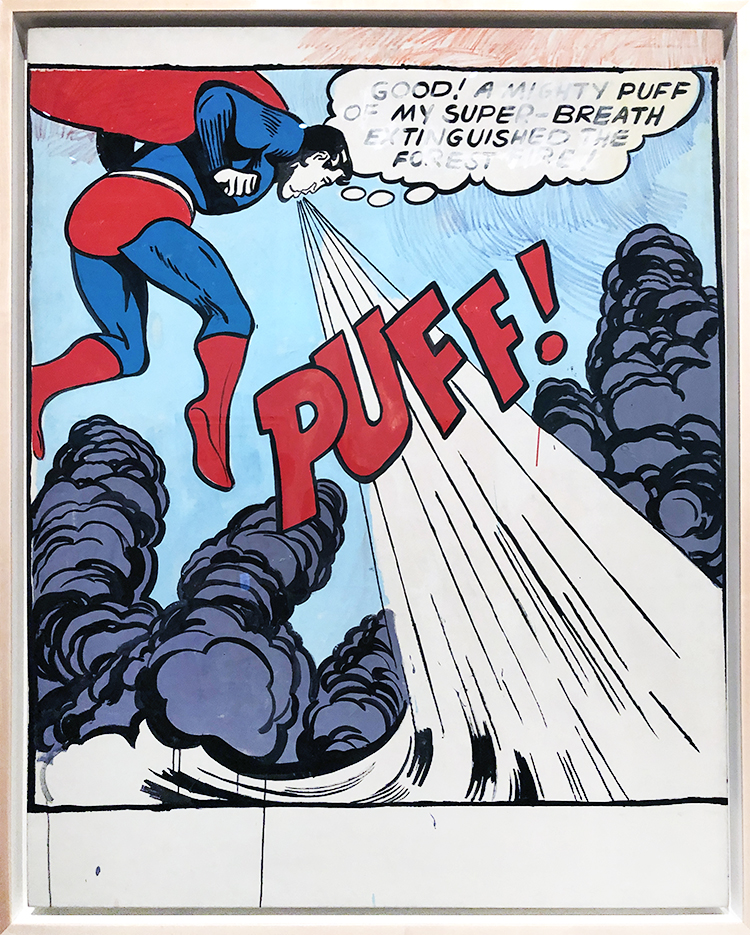 "Warhol's depiction of Superman is based on a drawing by Kurt Schaffenberger from the comic Superman's Girl Friend Lois Lane (April 1961). Warhol's decision to use Superman as a subject may offer a biting commentary on the heroic machismo associated with Abstract Expressionist "action" painting, or a queer reading of the Man of Steel, or both. Warhol displayed Superman and four other paintings shortly after they were made in a window display at the Bonwit Teller department store (below), where he and many other artists produced window displays."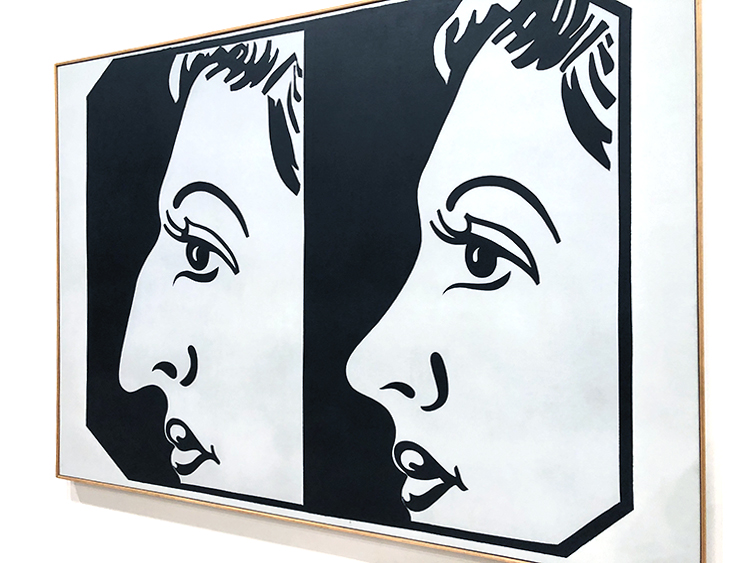 "Warhol based this composition on a small advertisement for a plastic surgeon that ran in the National Enquirer in early April 1961, which he had enlarged and projected in order to trace it onto the surface of the canvas-a precursor to the silkscreen technique he pioneered the following year. The work was first exhibited in the window of Bonwit Teller, the Fifth-Avenue department store, in early April 1961 as part of a display that included five other early paintings by the artist."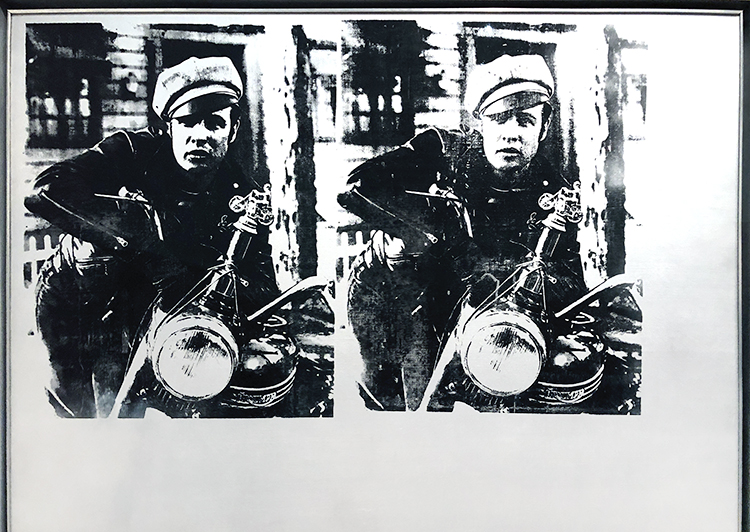 Loved this – I had just used this very same image in a class for image transfers and seeing this silk printed with a similar effect in a big size was quite cool.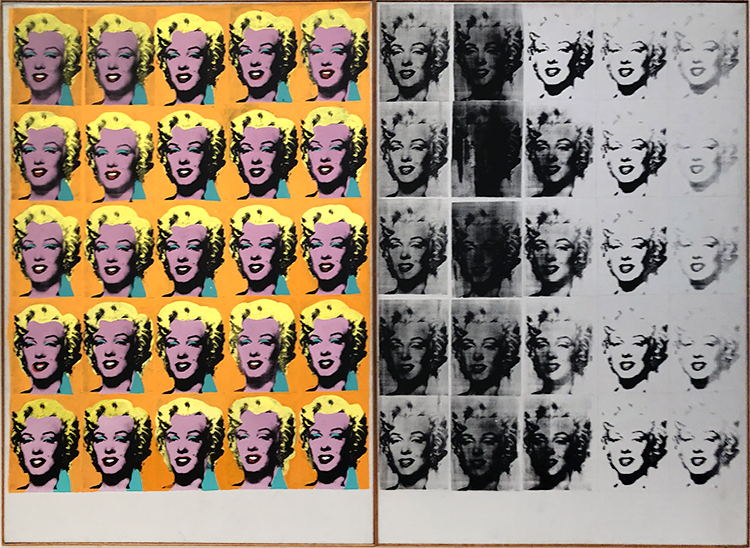 Well – another iconic one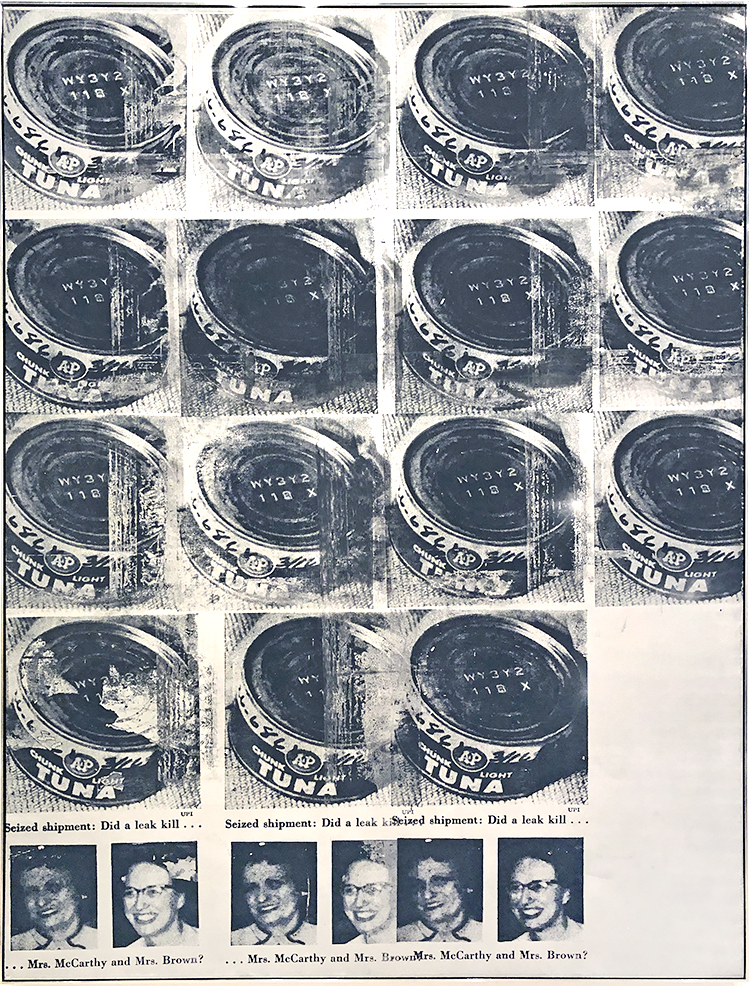 "Warhol was as captivated by the lives of the ordinary as he was the rich and famous. This work was created from the Newsweek article, "Two Tuna Sandwiches," about two Detroit mothers, neighbors who ate tuna sandwiches while they watched their children play and, two days later, the women died. The two housewives died via poisoning from tainted tuna. It shows how harmless consumerism can lead to accidental death. Warhol explored the brief and tragic fame bestowed on people after violent and unexpected termination of life."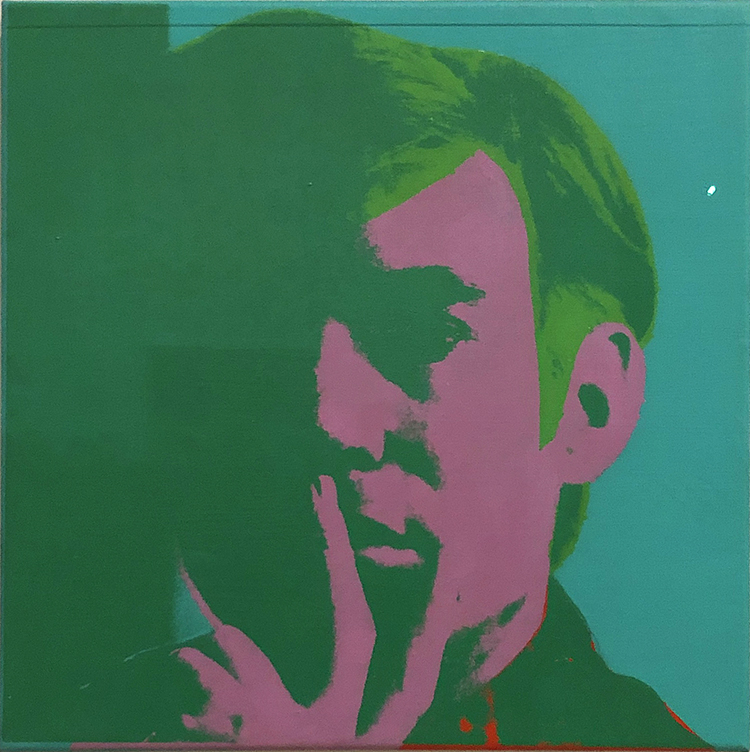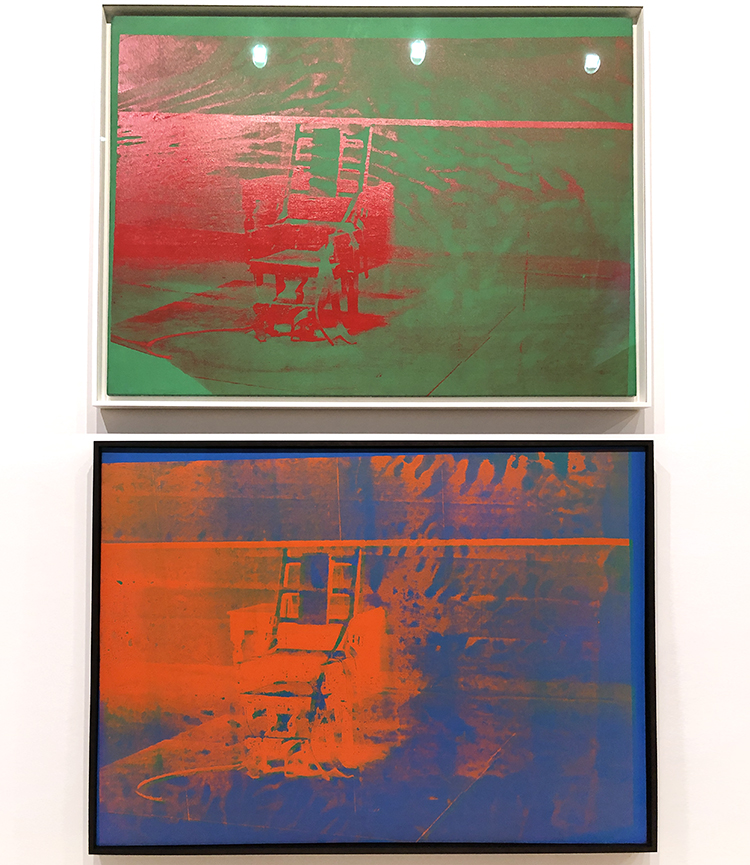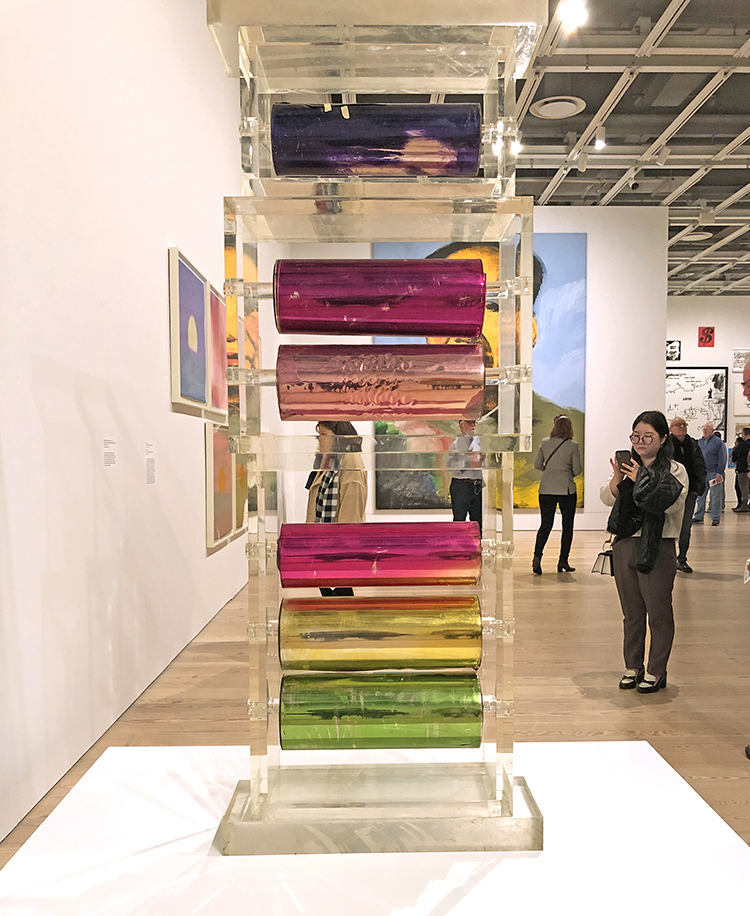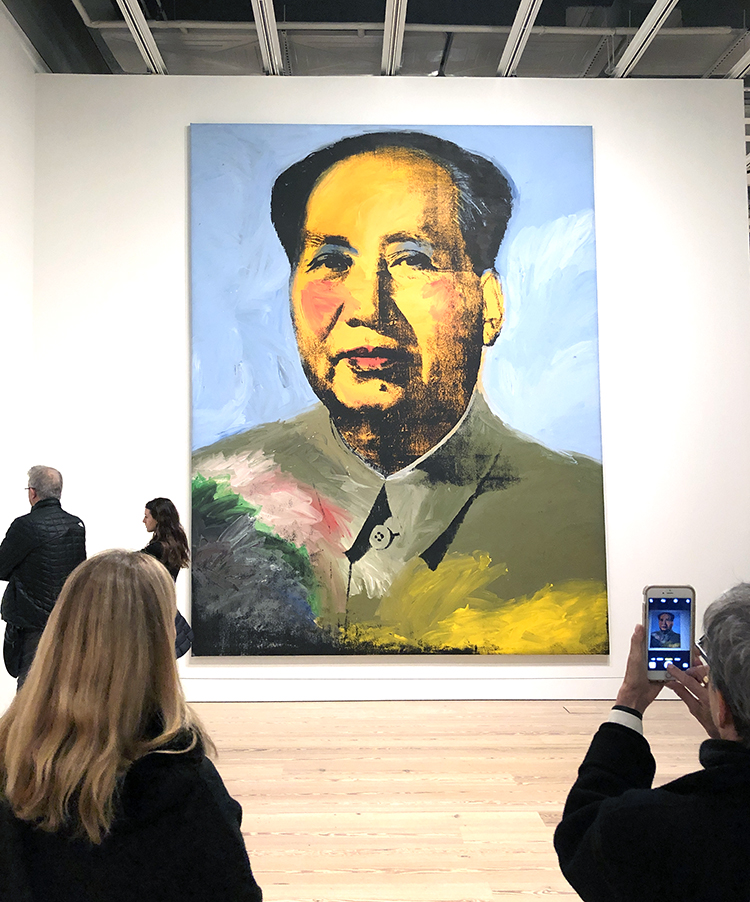 "Warhol chose the image of Mao—then the Chairman of the Chinese Communist Party—after reading news coverage of President Richard Nixon's trip to the People's Republic of China in February 1972. An unprecedented act of Cold War diplomacy, Nixon's trip marked the first visit by a sitting American president to the nation, which at the time was considered an enemy of the state."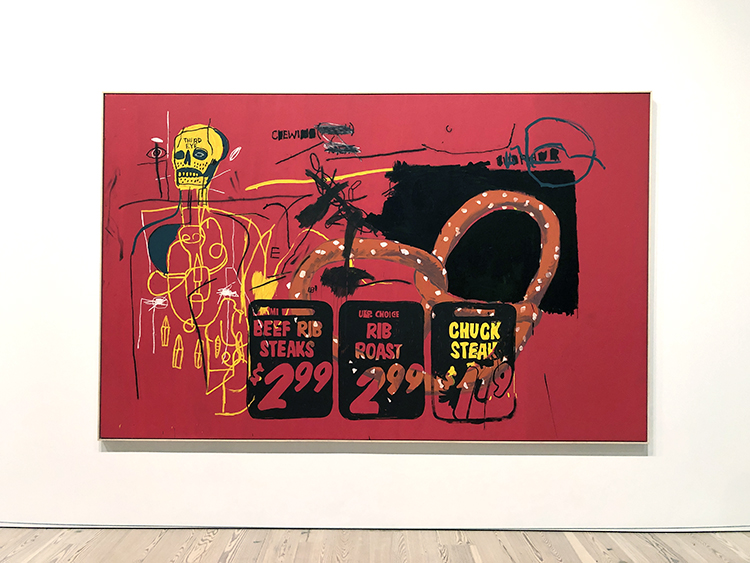 When I went to the Andy Warhol museum in Pittsburgh I was fascinated by the collaborative works Warhol made with Jean-Michel Basquiat. "According to Basquiat, Warhol would begin the paintings with "something very concrete, like a newspaper headline or product logo, and then I would sort of deface it." Depending on the work, this process could continue for two or three rounds, until a balance was reached between Warhol's hand-painted images and Basquiat's abstract gestures, text, numbers, and pictographs. "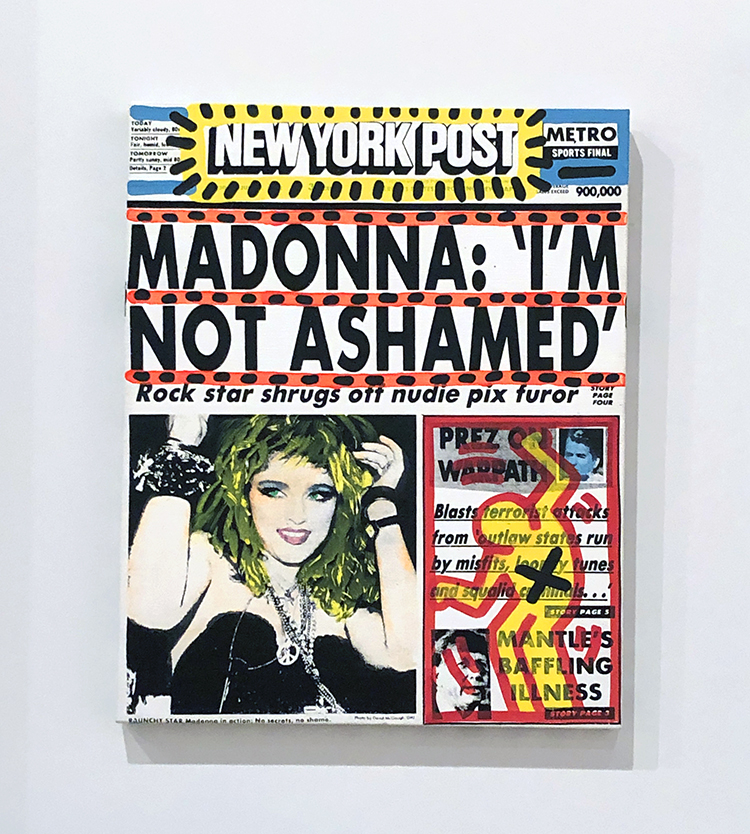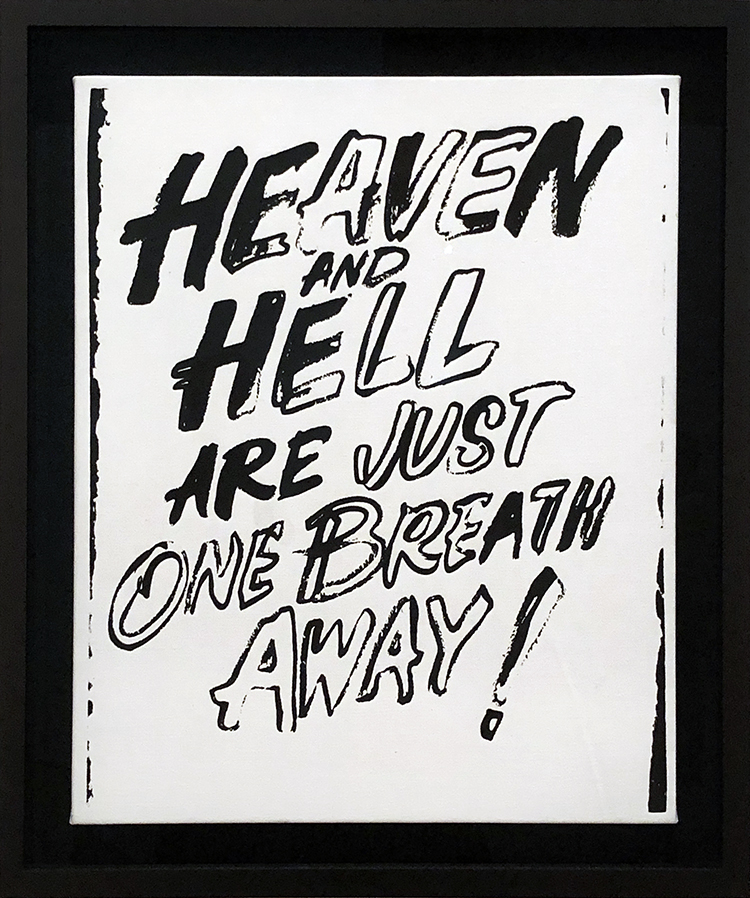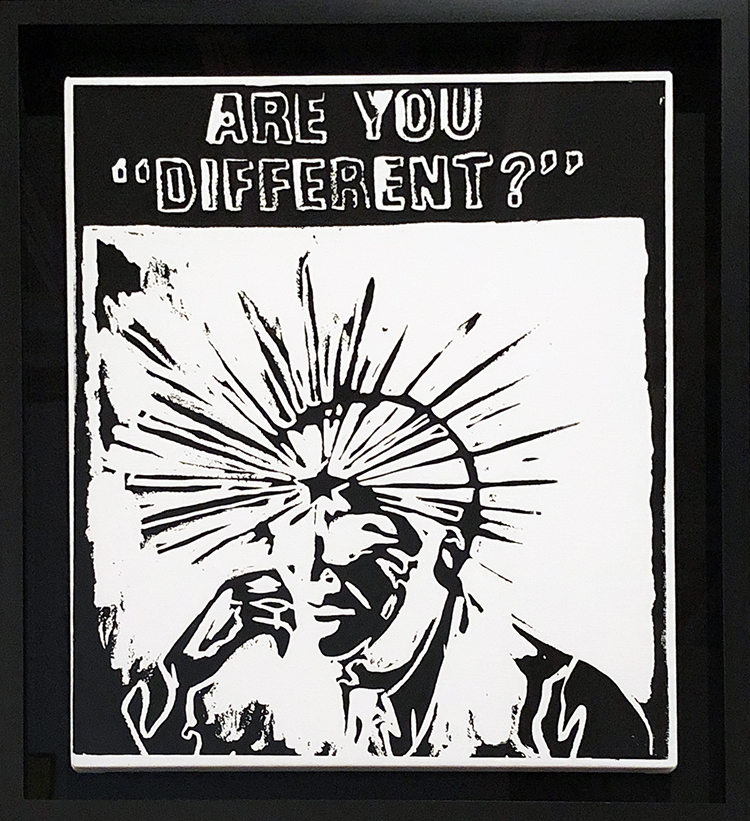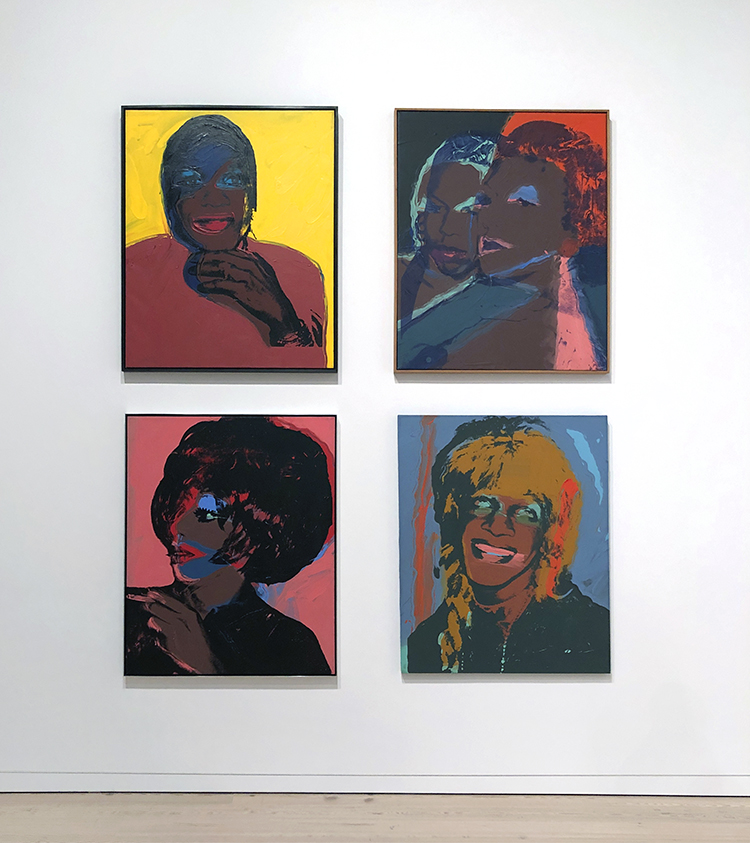 "Unlike in his other portraits, Warhol did not name the subjects of this series. They were not, however, truly anonymous. Marsha P. Johnson (bottom right), for example, had been a key player in the Stonewall rebellion that sparked the struggle for LGBTQ rights and, like Wilhelmina Ross, was a member of the performance group the Hot Peaches. In recent years, research into the other sitters' identities has allowed their names to be instated. Warhol's portrait of Marsha P. Johnson captures the confidence, warmth, and charm that made her a beloved member of New York's queer community. Johnson was a pioneering trans-rights activist: she participated in the 1969 Stonewall uprising and later, with her friend and fellow trans activist Sylvia Rivera, founded Street Transvestite Action Revolutionaries (STAR), a political organization that advocated for the rights of queer and trans people and sex workers, particularly those who were homeless or incarcerated."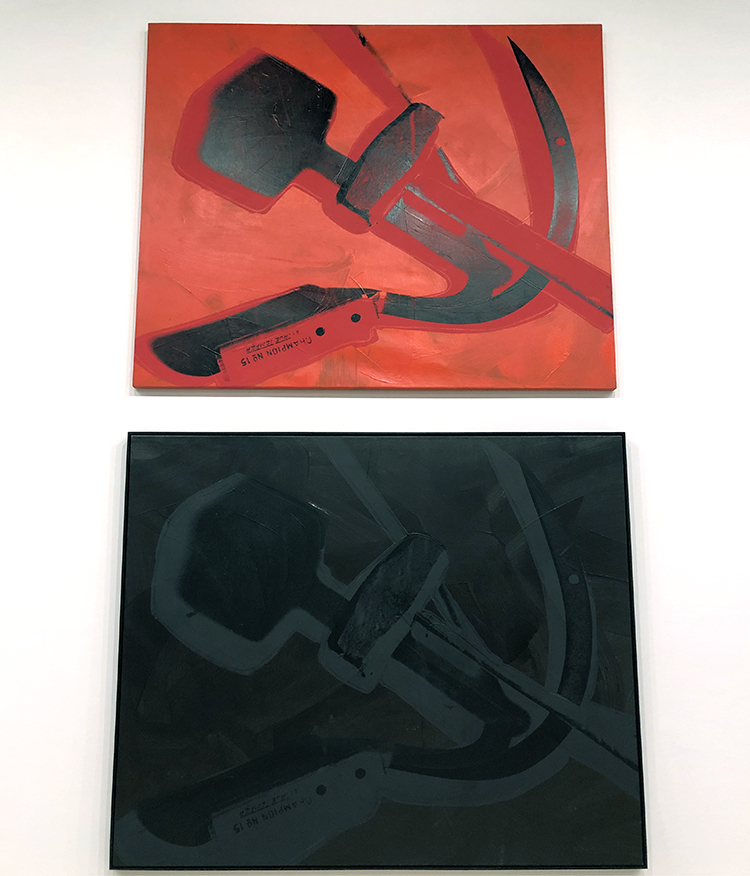 What are the symbols of a country? Thought provoking? Was he political?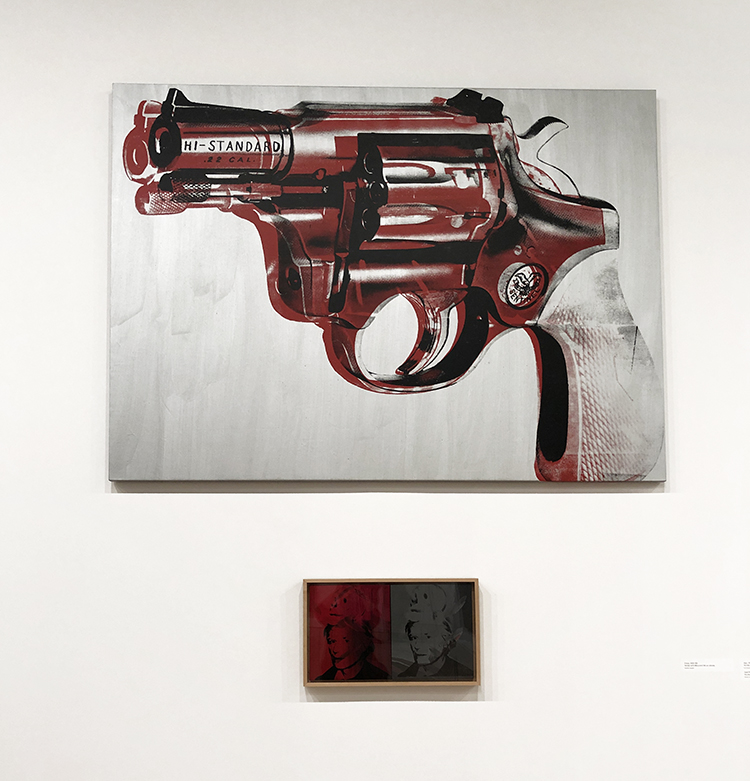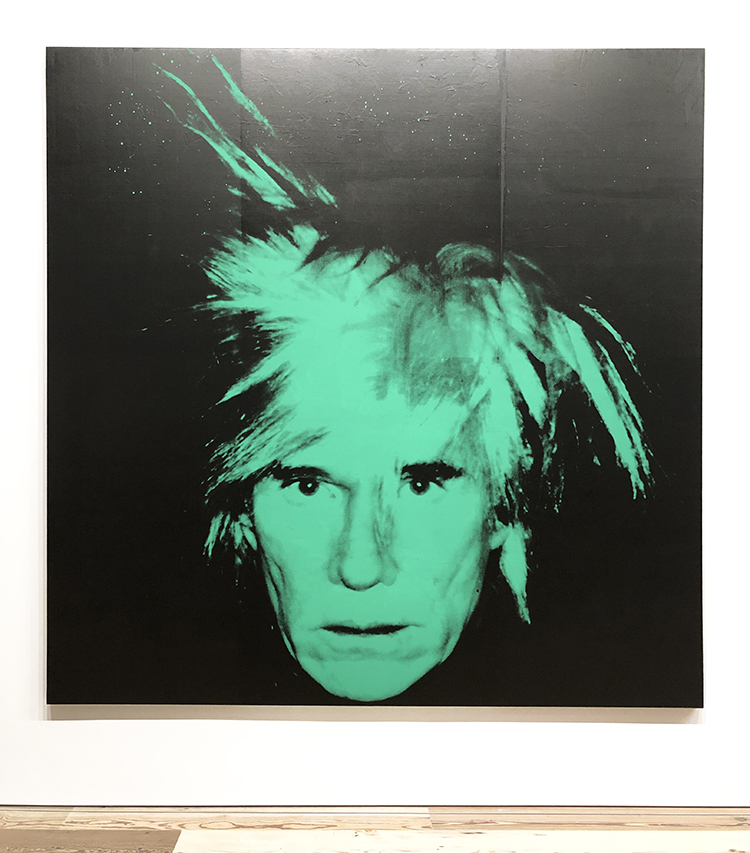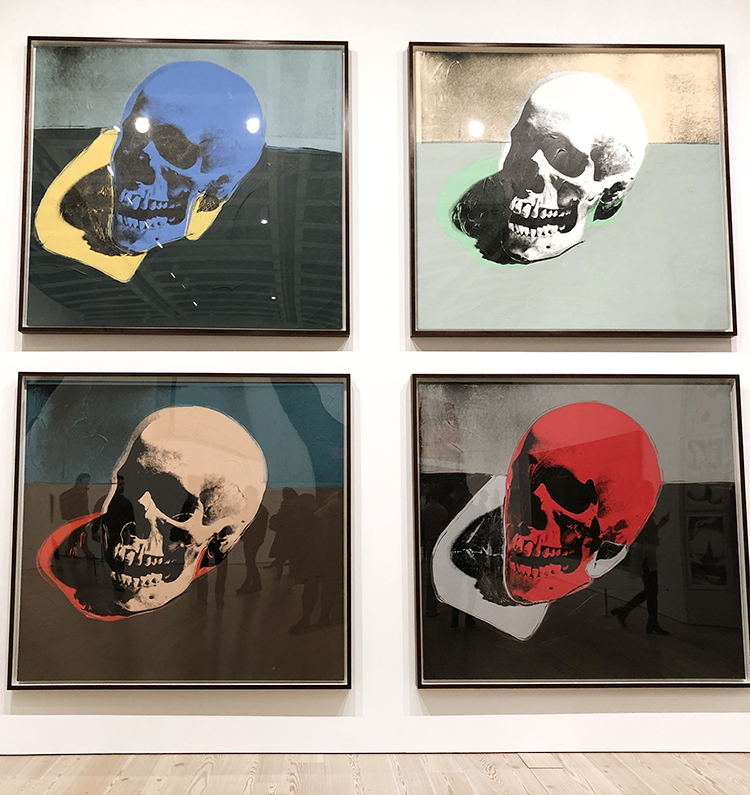 "For a series of still lifes begun in 1975, Warhol worked with assistants to make theatrically lit studio photographs of a variety of objects, such as a skull or a hammer and sickle, positioning them to cast shadows so dramatic that they took on identities of their own. In the years that followed, he created a number of paintings based on these photographs. It was through these investigations into photography—a medium most commonly associated with accurate representation—that Warhol was able to make works that read more overtly as abstraction. Beginning in 1978, he made a radical shift and did away with the objects entirely, producing an expansive series of more than one hundred paintings focused only on shadows, which he titled just that: Shadows. In these works Warhol freed himself from his Pop subjects by experimenting with something close to pure abstraction. Yet he never completely divorced himself from his sources, maintaining his connection to the everyday world while still playing with the problem of how images generate meaning."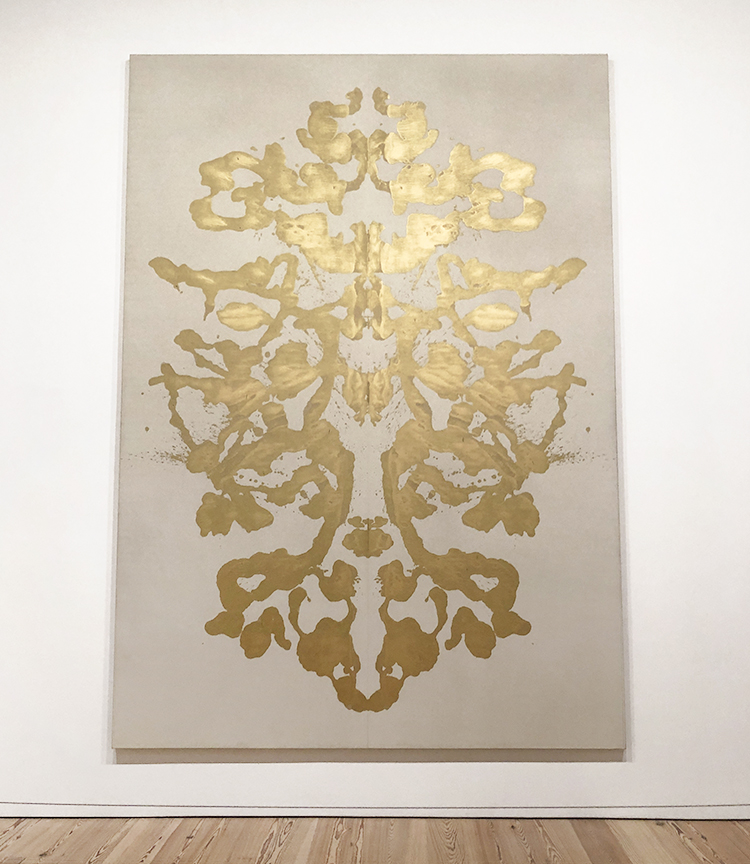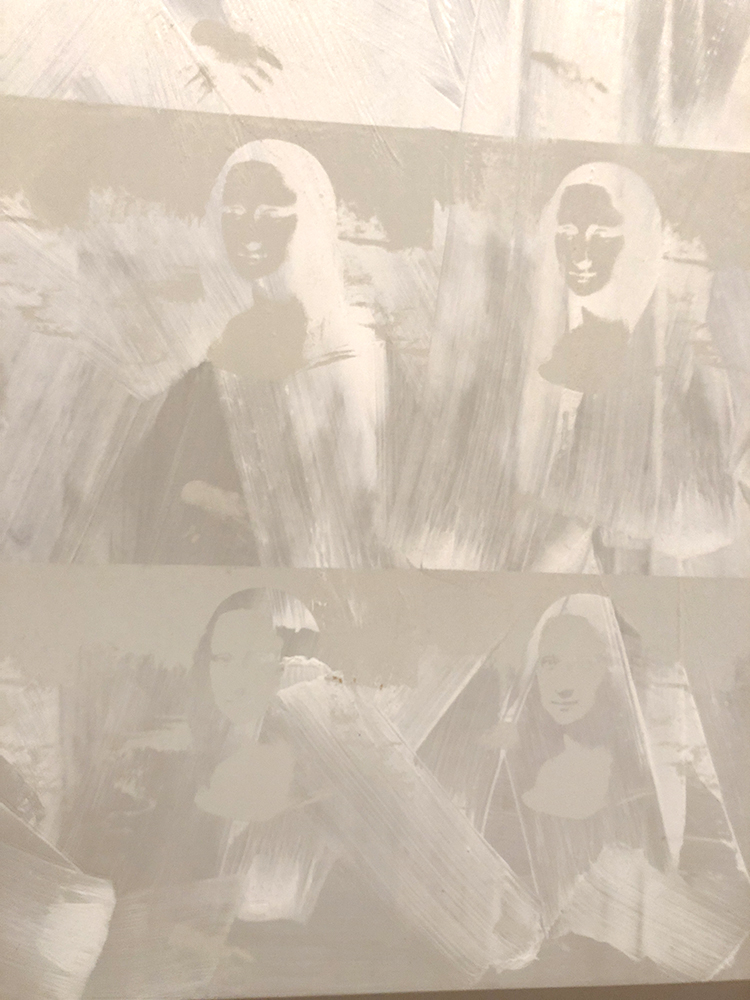 I love what someone said that there is no "supreme court of art and he experimented with the boundaries of art is" It is a great exhibition – I would def. go again but in the new year and during the week again as it the museum was stuffed even early at 10am when we went.
I hope you enjoyed the is little Art Stroll! Hope to take you on another one soon :)