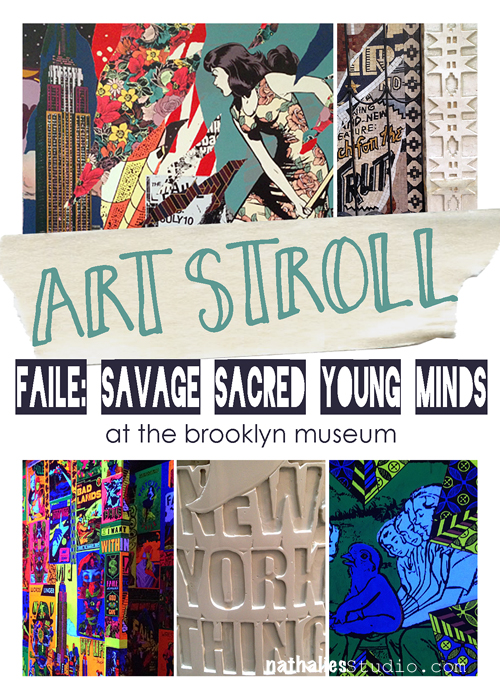 My friend Karen and I went on a daylong Art Stroll hitting the Brooklyn Museum as well as the Whitney Museum last week – It was pretty cool. Our first stop was the "Faile: Savage Sacred Young Minds" Exhibition at the Brooklyn Museum which was an unplanned surprise. The exhibition speaks to Faile's (Artists Patrick McNeil and Patrick Miller) "interest in youth culture and it's often coherent contradictions. Young minds insatiably search for meaning but they also rebel against sanctioned systems in order to create their own language that is at once sacred and profane".
Disclaimer: This post includes photos of limestone boobs and profane language …get over it, it is called ART . If you have a problem with art, you might be better off looking at something else . Don't email me to complain, don't visit my blog anymore because I might post things like this again and, farewell!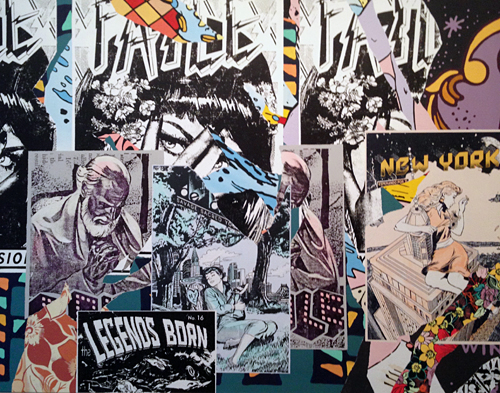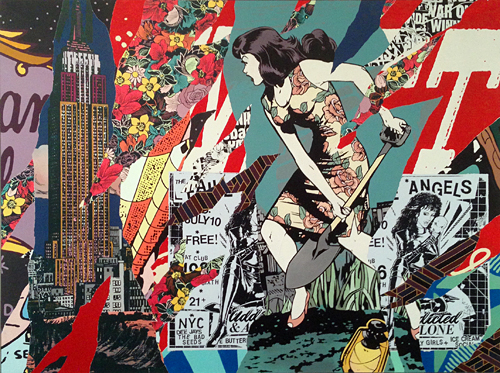 These two big acrylic and silkscreen on canvases were part of a series of six and very enthralling. I love the layering, collage, poster and color effects.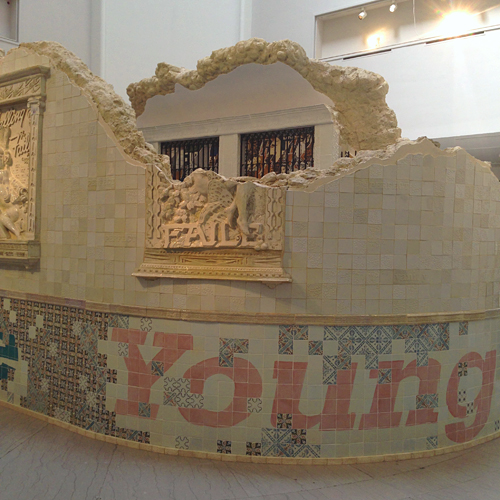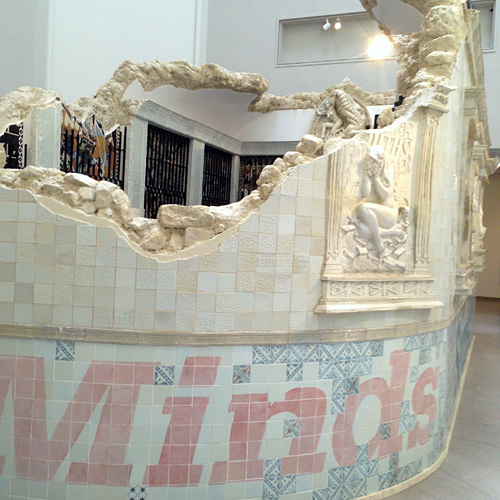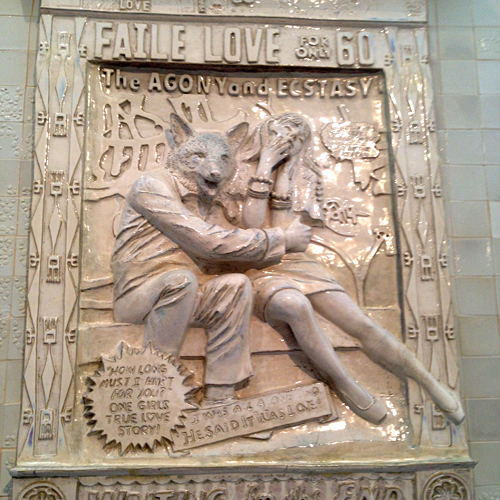 In the middle of the room under the rotunda was a an installation called: temple. Mimicking the ruins of an ancient house of worship which you were invited to enter. The temple was built with ceramic, marble, bronze, cast iron steel and limestone. It really did remind me of some of the temples that I visited last year in Malaysia and Hong Kong.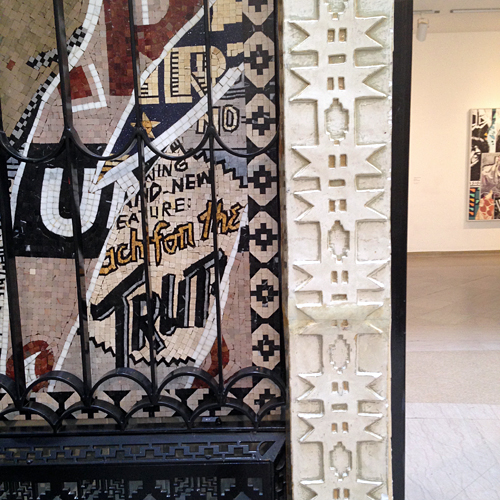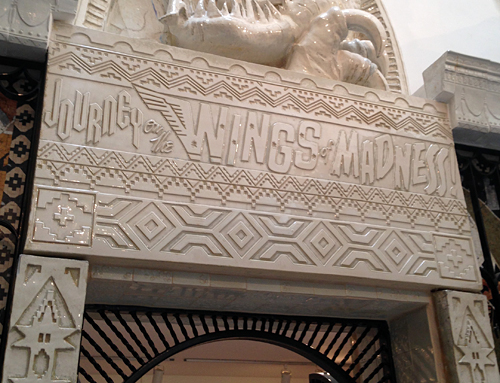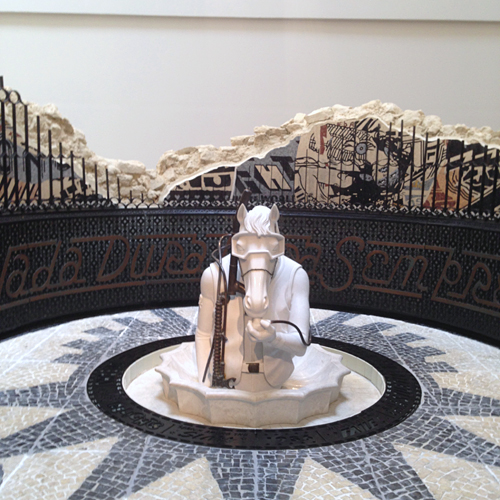 It was an interesting experience to walk around and into the temple, familiar and traditional religious elements were juxtaposed with modern and present mythology. It took often times a double take to realize that something that looks familiar was resembling something else then expected. Inside the temple were spinning prayer wheels like those used by Tibetan Buddhists in daily spiritual practice.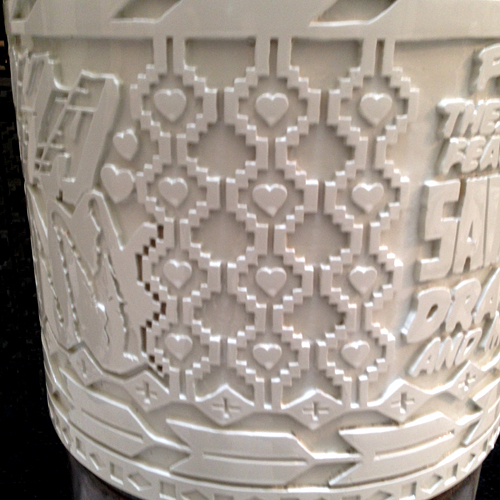 It was fun to touch those prayer wheels and spin them finding different messages and enjoying the tactile dimension of the art.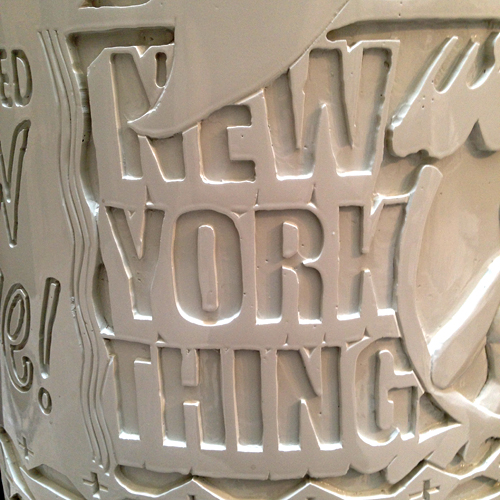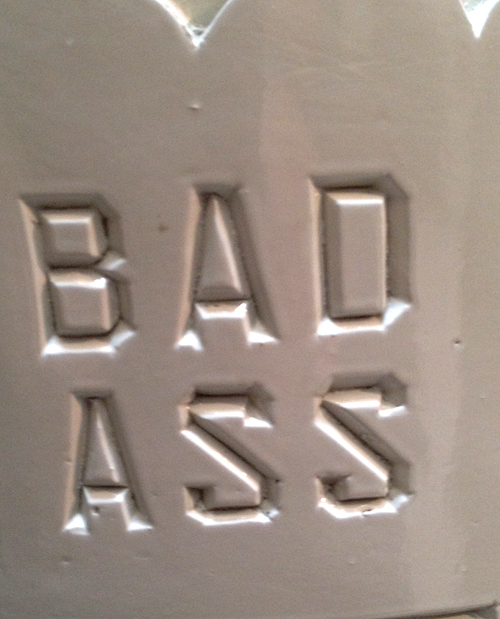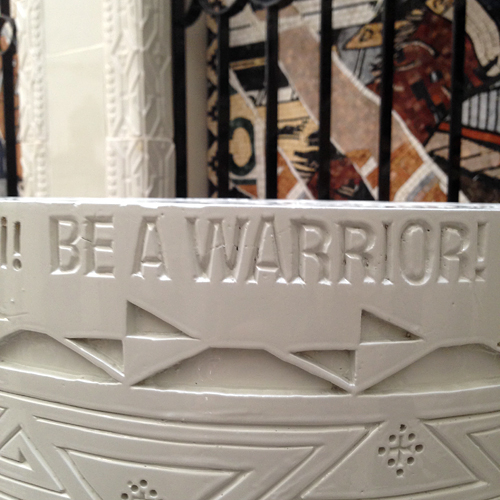 I was very intrigued and amazed by the craftsmanship of this work – it just blew me away.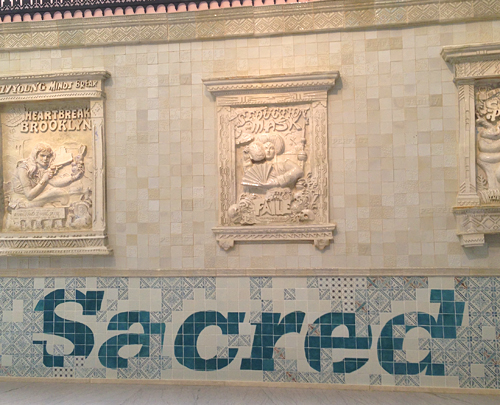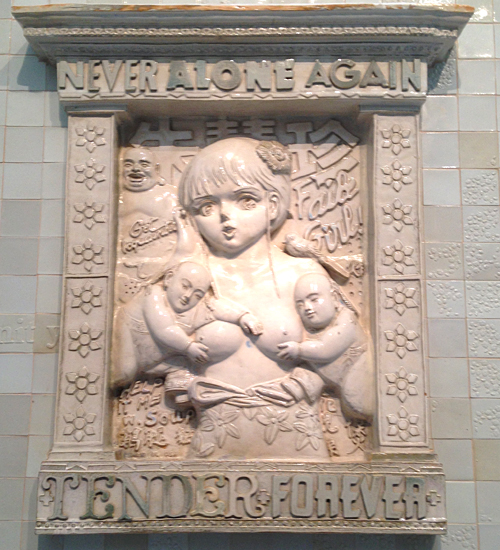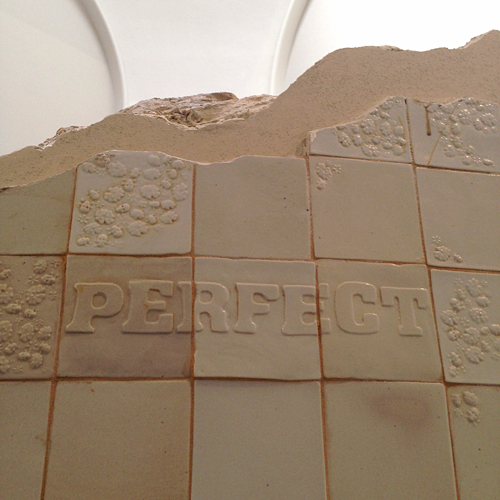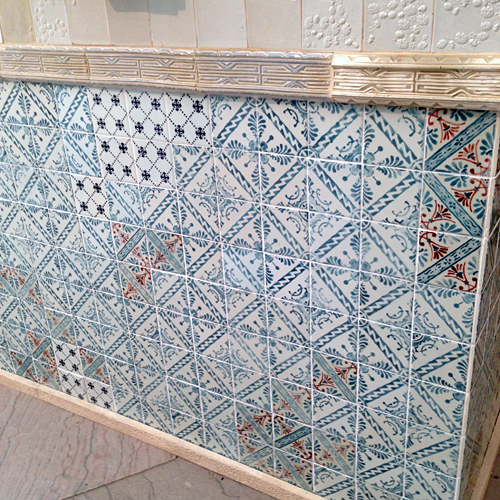 The FAILE & BÄST Deluxx Fluxx Arcade, an interactive environment came next.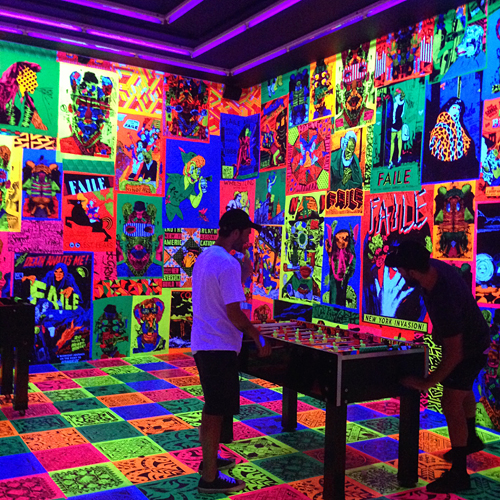 The installation was created in "collaboration with Brooklyn artist Bäst that includes video games, pinball machines, and foosball tables that are simultaneously sculptures and functioning games. The installation is a nostalgic nod to video arcades and punk rock and graffiti culture."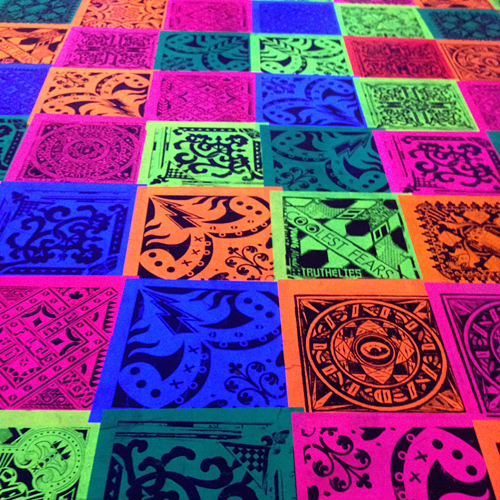 Besides the wall and floor covered neon posters and tiles, you were also surrounded by the Arcade sound. This one had a physical effect on me. While I wasn't disliking it, I felt sick and confused – everything was competing to get my attention and it just made me want to get out of there.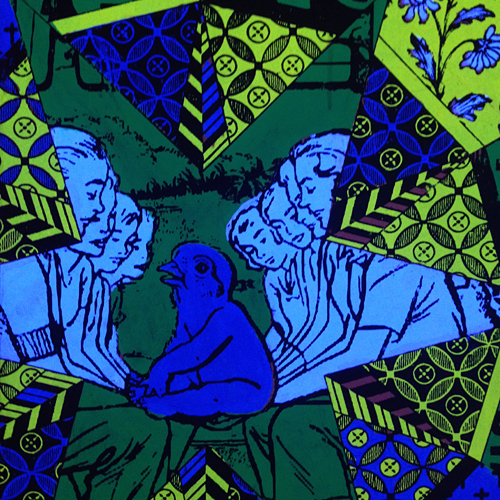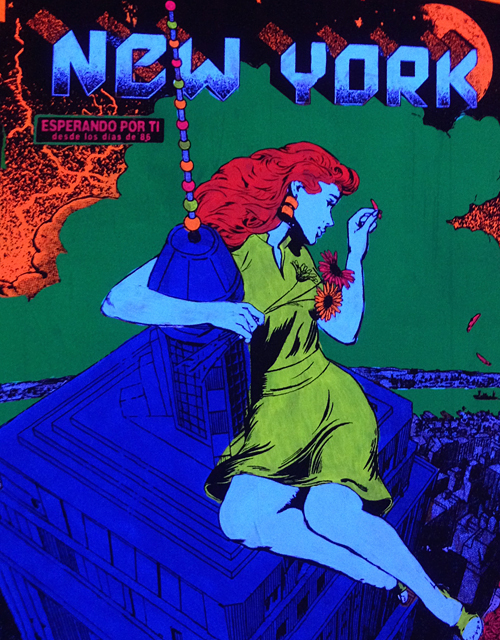 But not before I was able to focus on some smaller details- again – this just amazed me. LOVE.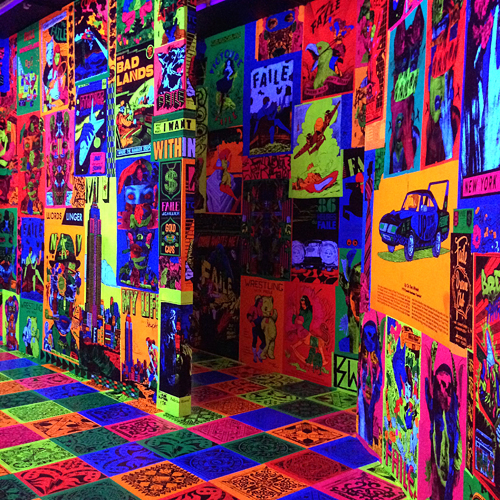 I enjoyed walking this exhibition with Karen, seeing her sometimes similar and sometimes very different reactions and I loved how we would point out different things to each other that otherwise would have gone unnoticed. I was fascinated and overwhelmed by the exhibition. I am definitely inspired by many small elements …but it made me feel like I missed out on seeing the bigger picture. It was the same feeling I often times have in regards to NYC – I love it and sometimes I hate it. You always miss out on something, you are intrigued and sometimes you detest it, it is loud, it wants your attention, it doesn't care if you care. It can inspire but it can also overwhelm you. It gives a fly if you enjoy it – you take what you can, if you want. Maybe that is exactly what this exhibition was about.
What do you think?
Hope you enjoyed the Art Stroll – more from this day to come soon :)