The first day Julie, my husband and I arrived in Melbourne, it was raining and so we went straight to the National Gallery of Victoria. A beautiful building filled with wonderful artwork. I am not showing everything we saw, only a couple of my favorites, either for their subject matter, composition, material, texture or else.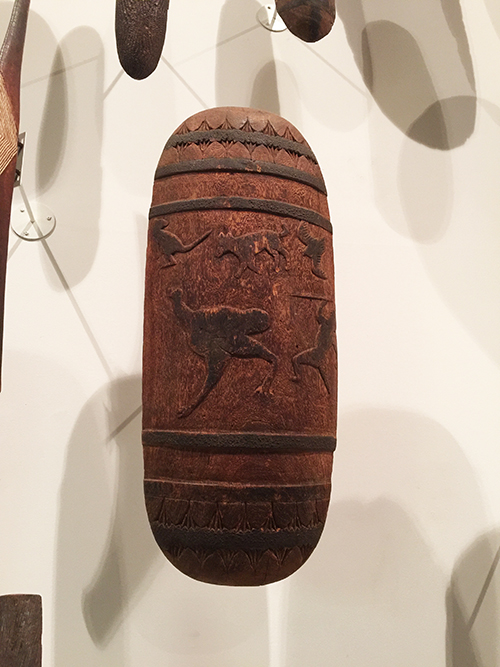 Shield made of bark I assume and I loved the scenery depicting typical Australian animals.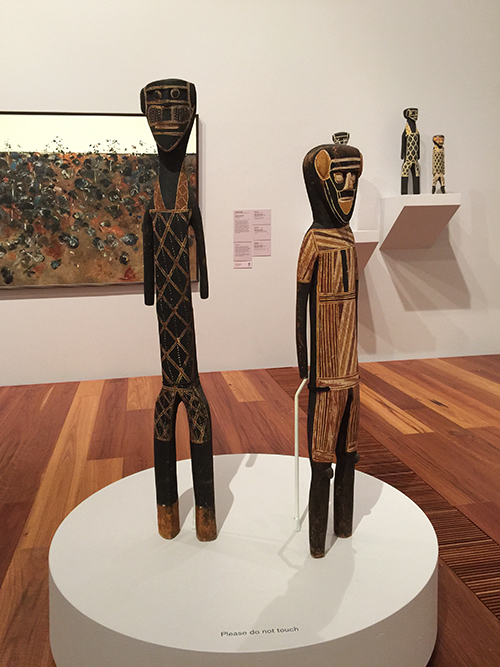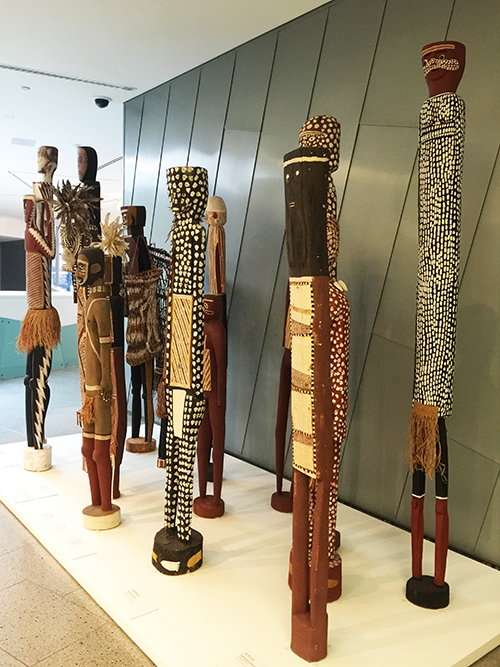 The Australian Indigenous Art was amazing. These wooden sculptures were intriguing and beautiful.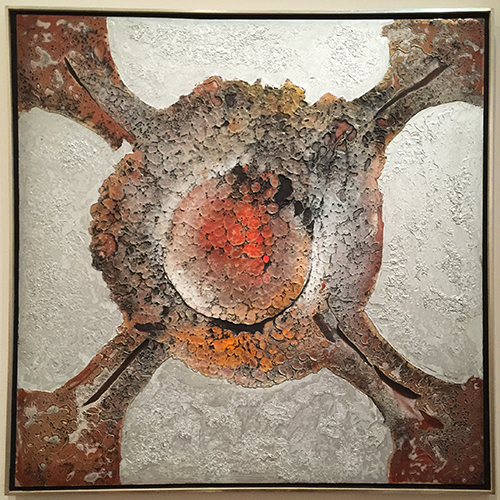 This Painting made me happy with it's texture and the colors- yummmmmie!
Asher BILU, Yuga ii, ca. 1966 Melbourne, mixed media on composition board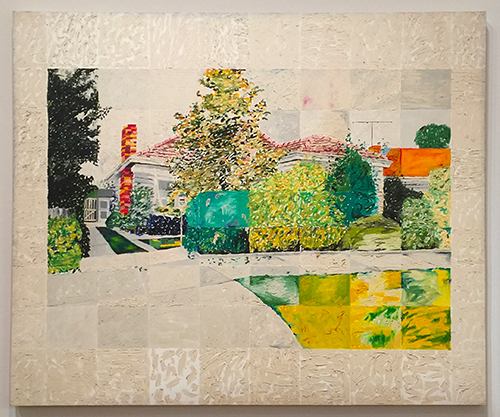 I love how Jenny Watson created texture and dimension in a grid on this oil painting called House painting: Box Hill North, 1977 Melbourne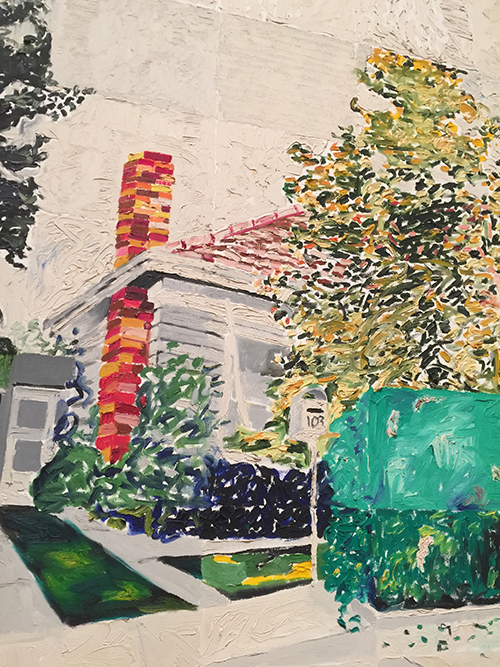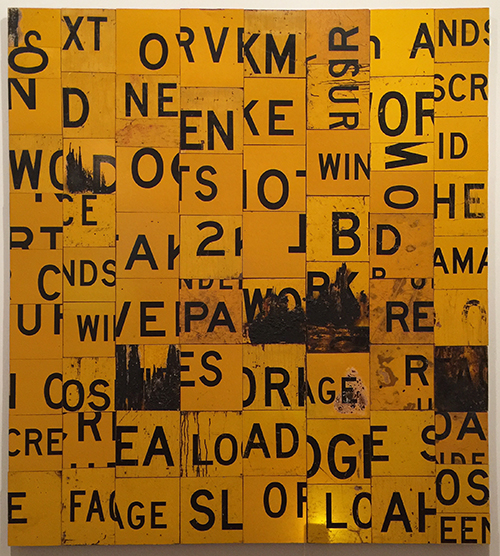 Rosalie Gascioigne, Flash Art, 1987 Canberra, tar on reflective synthetic polymer film on wood
Rosalie made assemblages from found objects found around her home in Canberra. The piece above is made from retro-reflective road signs, which she cut up and rearranged. She once said "Most of the things that I use have been exposed to the weather and in that sense, mine is an art of the outdoors." I love that- I have never thought about this when you use found objects that have been part of the world outside :)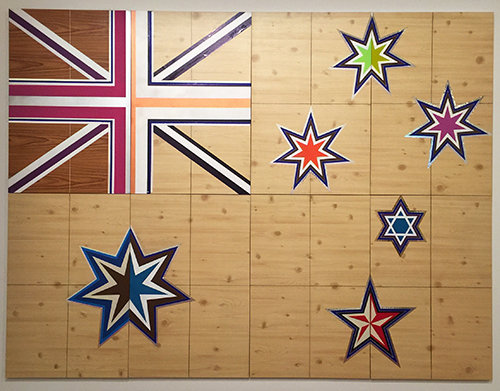 Constanze Zikos, Fake Flag, 1994 Melbourne, thermo-setting laminate, enamel paint, crayon, metallic and plastic self-adhesive tape on composition board
In this painting Zikos uses everyday materials and inserts stars symbolic of other cultures. It reflects his examination of cultural identity and the concept of authenticity.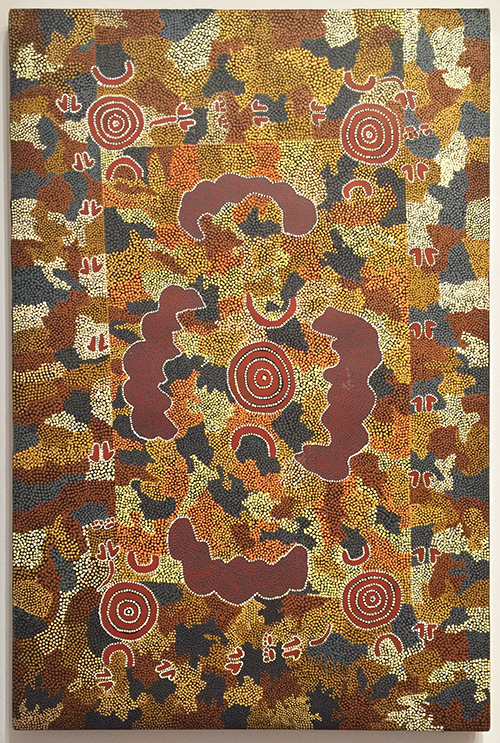 I could not stop looking at this! The colors were so vibrant and the dots were pulsing.
Paddy Japaljarri Stewart, Marlu Jukurrpa (Kangoroo Dreaming), 1987 Yuendumu, Northern Territory, synthetic polymer paint on canvas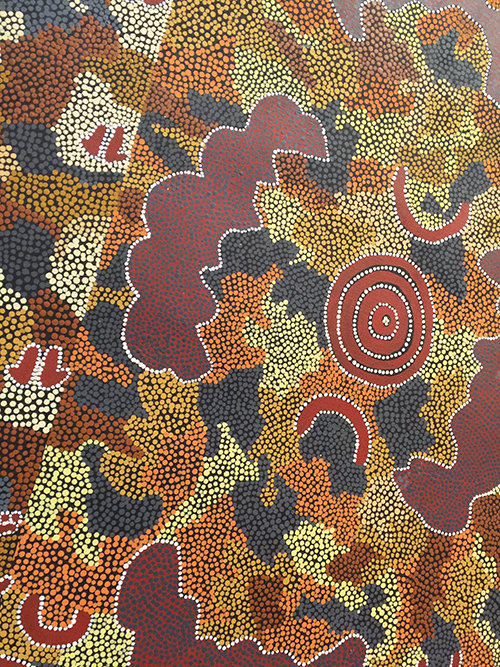 Trevor Nickolls, Third eye, 1986 Adelaide, synthetic polymer paint on canvas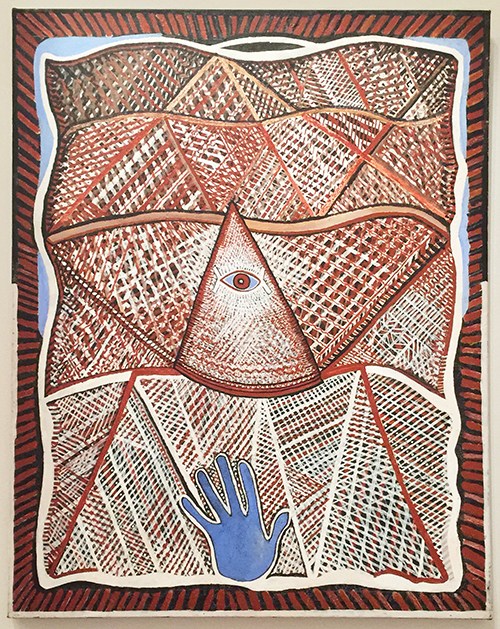 This painting was so mesmerizing- I love the depth of it and the limited color palette.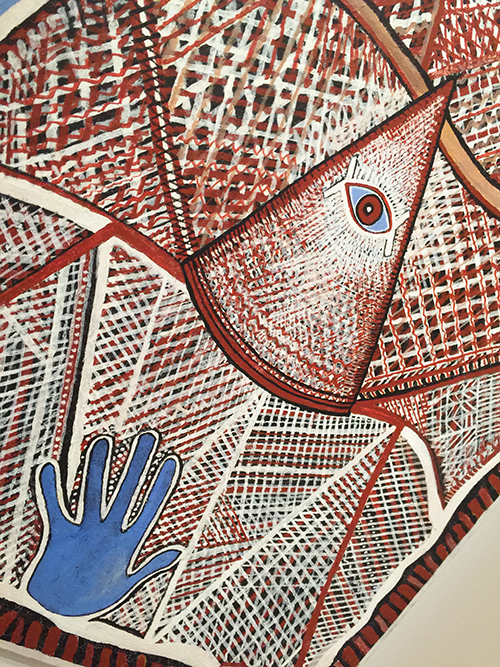 This one is also by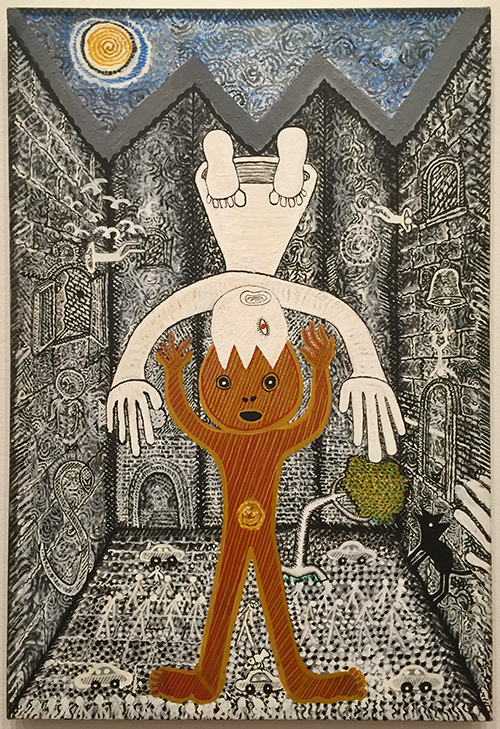 Trevor Nickolls, Wrestling with the white spirit, 1990 Adelaide, synthetic polymer paint on canvas. The details and symbolism of this painting !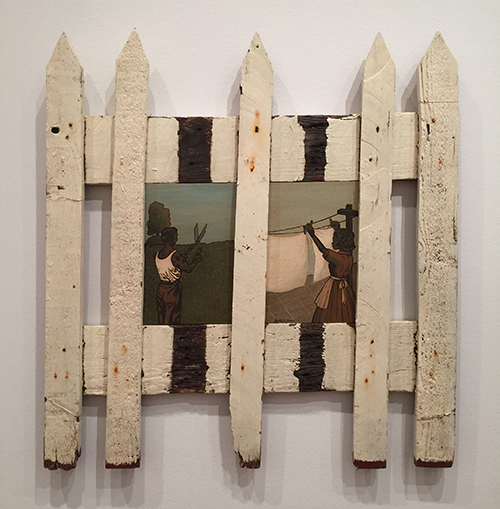 This artwork touched me deeply. It refers to the experience of Indigenous people as outcasts.
Sandra Hill (born 1951) , Beyond the pale, 2010 Balingup, Western Australia, synthetic polymer paint on plywood, painted wood
Sandra Hill was taken from her parents at just seven years of age – the third generation of her family to be removed and placed in an institution.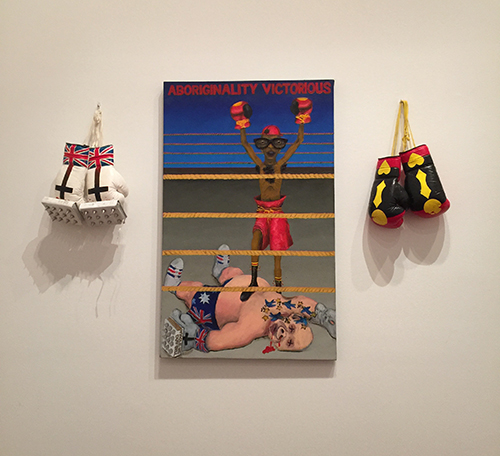 Gordon Hookey, Aboriginality victorious, 2008 Brisbane, oil paint, plastic and metal on canvas, paper, metal and metallic and oil paint on boxing gloves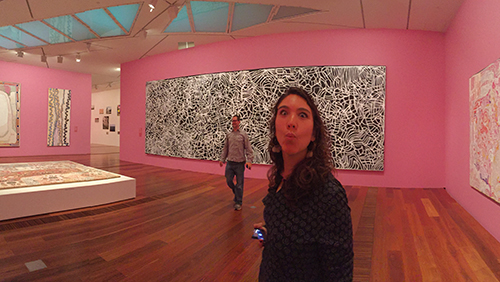 Wait…who are those people here ? Goof balls- LOL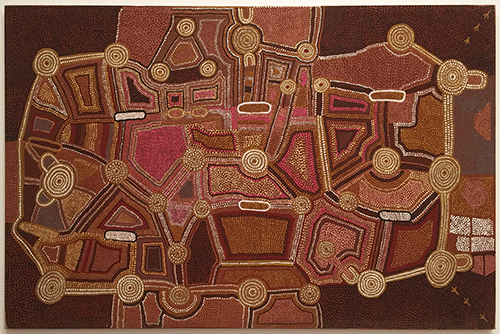 Limpi Tjapangati, Waputi and Tatupa, 1979, synthetic polymer paint on canvas
This painting provides an aerial view of how the artist perceives his landscape. We will see the landscape entirely different from our perception of the same landscape. I love this concept and idea!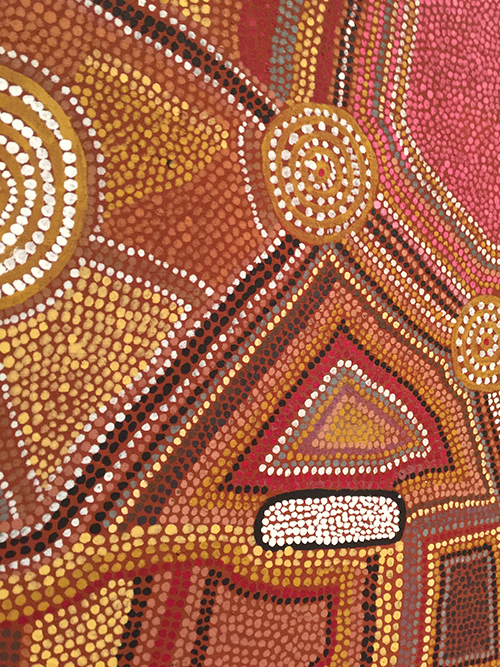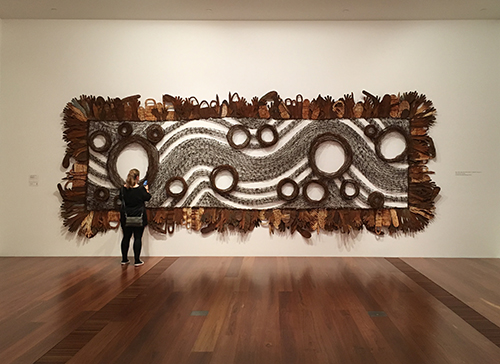 This was massive.
Lorriane Connelly-Northey, Possum-skin cloak: Blackfella road, 2011-13 Vistoria, rusted iron and tin, fencing and barbed wire, wire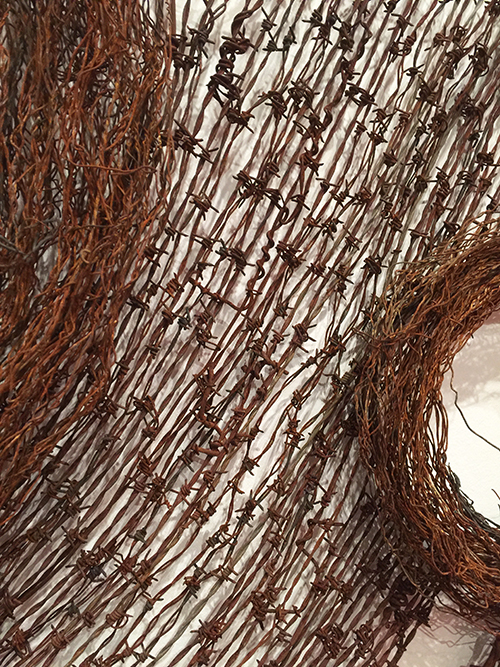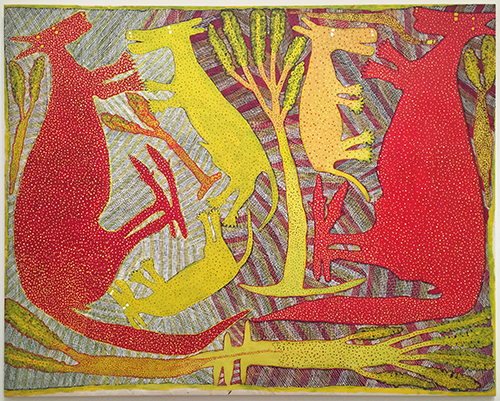 Djambu Barra Barra, Preparing for ceremony, 1988, synthetic polymer paint on canvas
The colors – the details – swoon!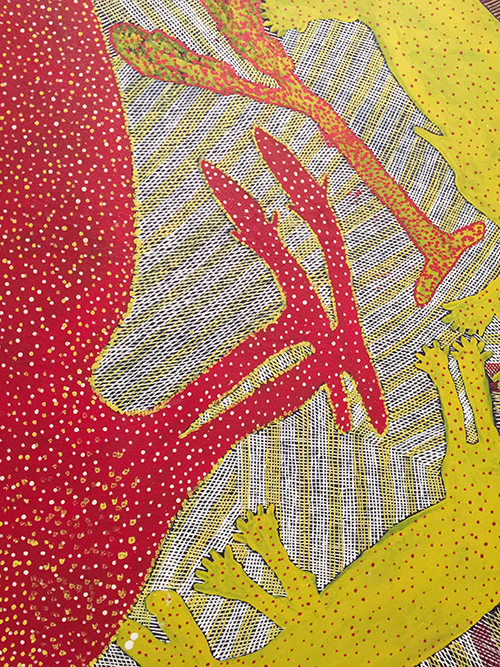 I hope you enjoyed this art stroll through the National Gallery of Victoria in Melbourne. It was such a different museums experience and we spent many hours there.