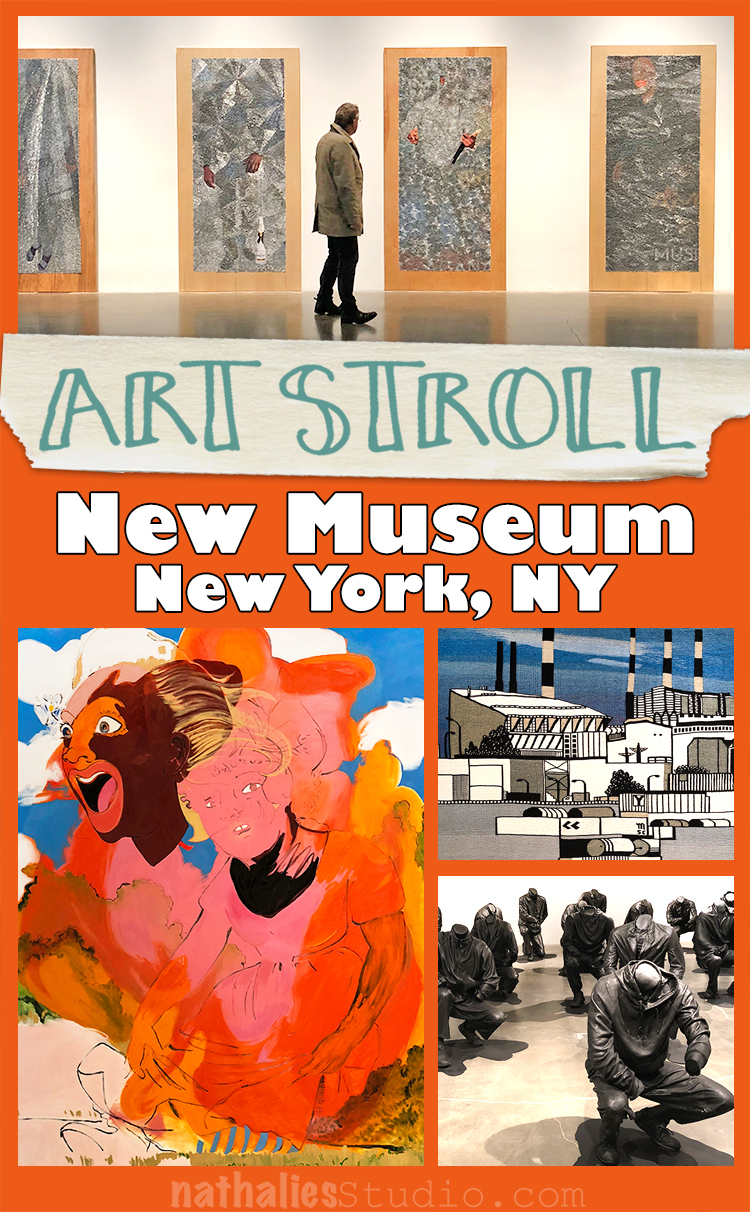 A couple weeks ago my friend Thomas visited us from Germany and we spent a wonderful day with Kim and went to the New Museum in NYC for the Songs of Sabotage: New Museum Triennial 2018. This major exhibition, held once every three years, looks to highlight young, international artists working in a variety of media. .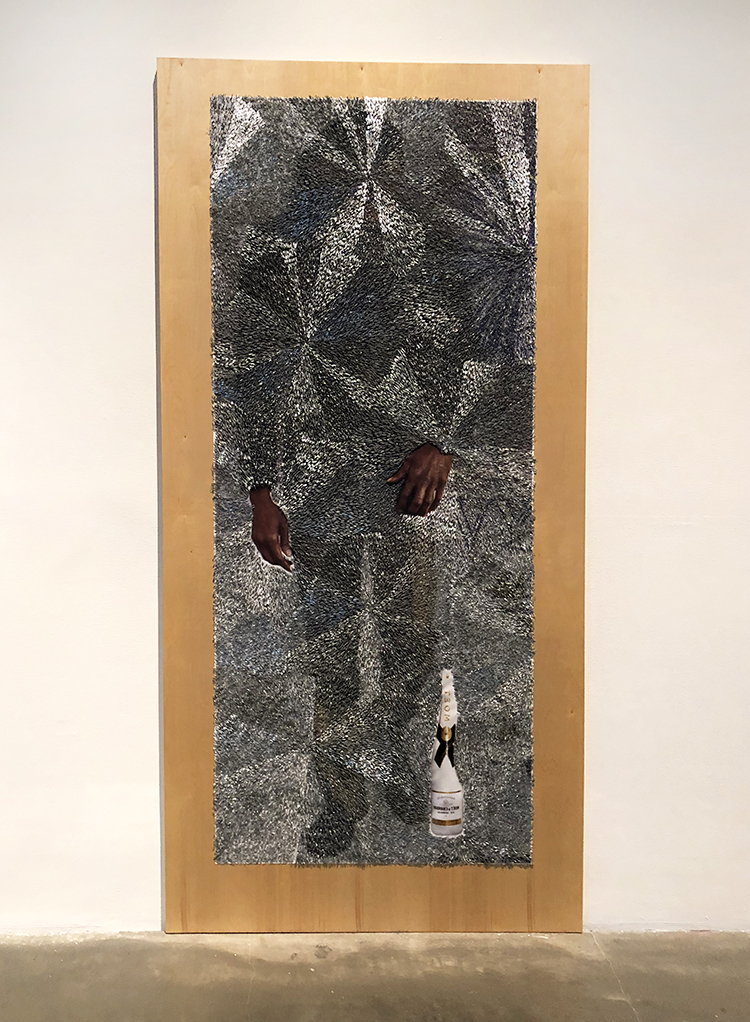 Wilmer Wilson IV – staples and pigment print on wood.
Wilmer Wilson IV enlarges photos of people, most of them African-American, that he finds on fliers for parties and church events in his West Philadelphia neighborhood. He attaches the the prints to wood with thousands of staples so that the photograph is almost entirely covered, leaving just small sections clear.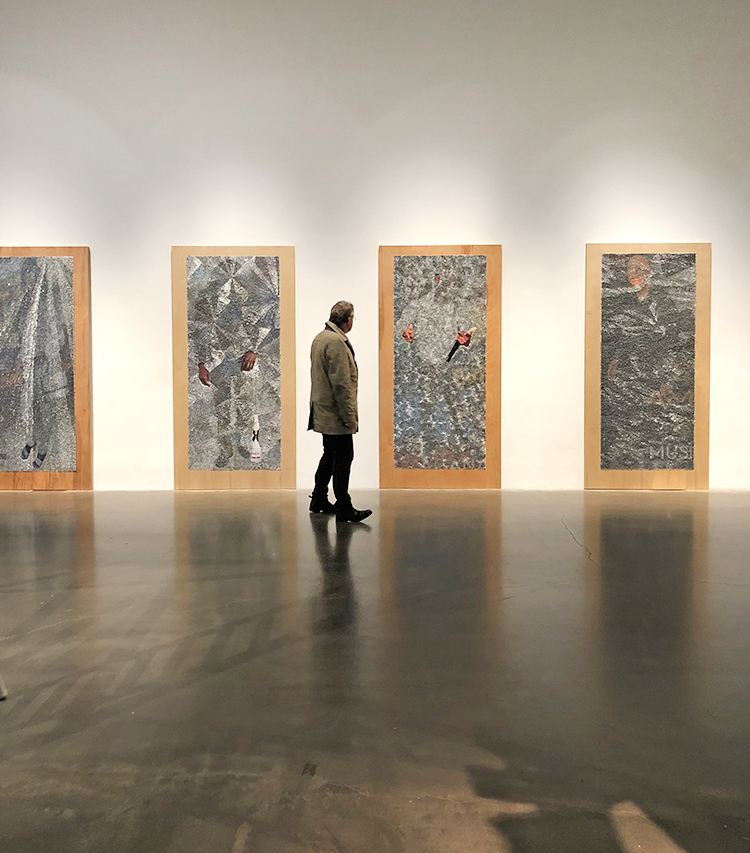 Amazing from afar but upon coming closer eerie!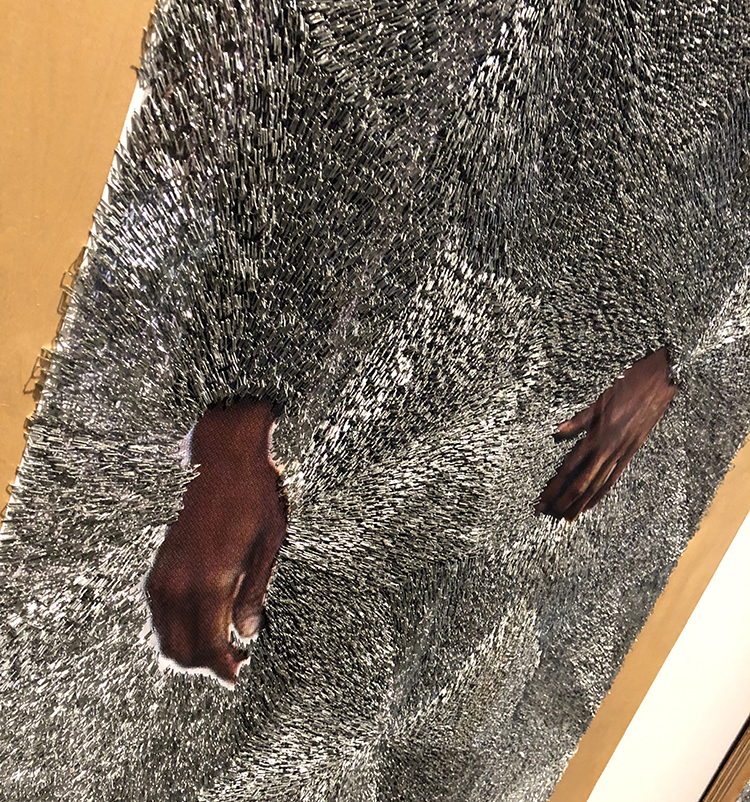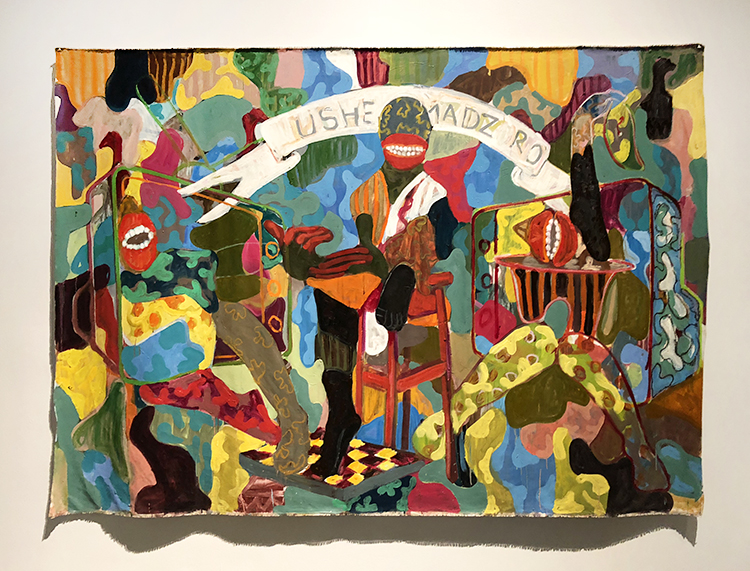 Gresham Tapiwa Nyaude – The New Zimbabwe (2018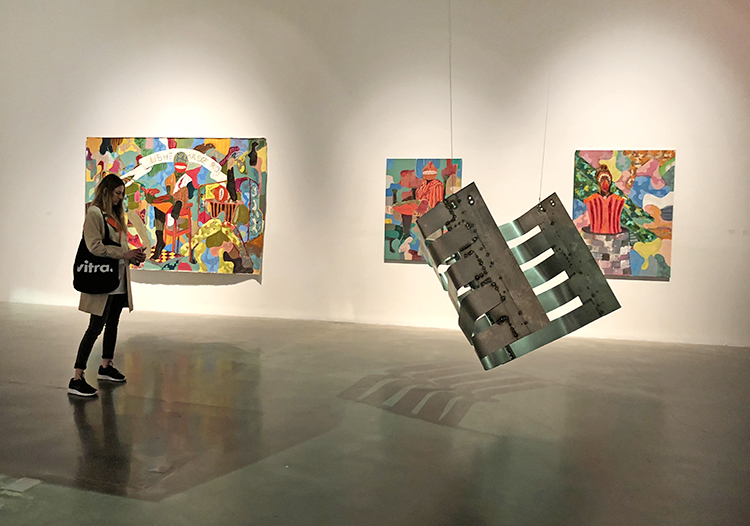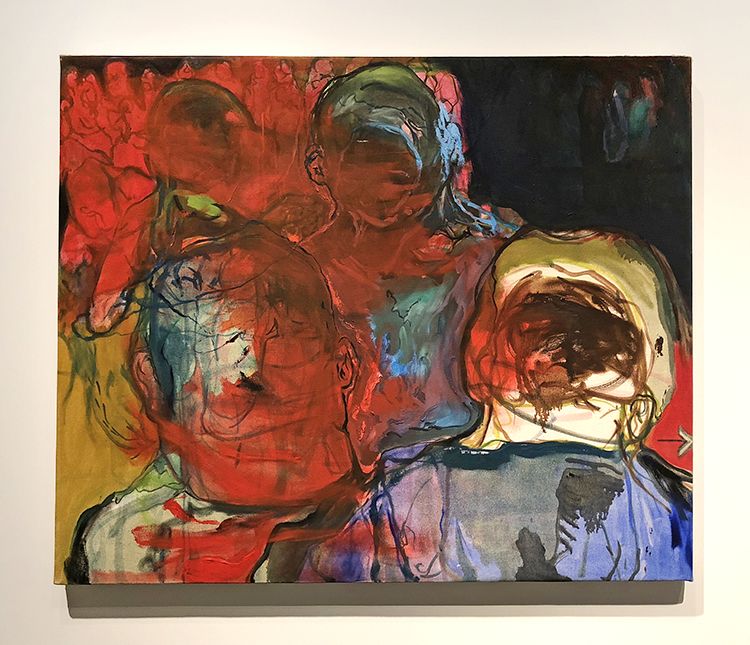 Chemu Ng'ok's paintings consider individual and collective identities and the role protest plays in their formation. Ng'ok was a student at Rhodes University in Grahamstown, South Africa, during the Rhodes Must Fall student protests, a social justice movement across universities in South Africa calling for the decolonization of education.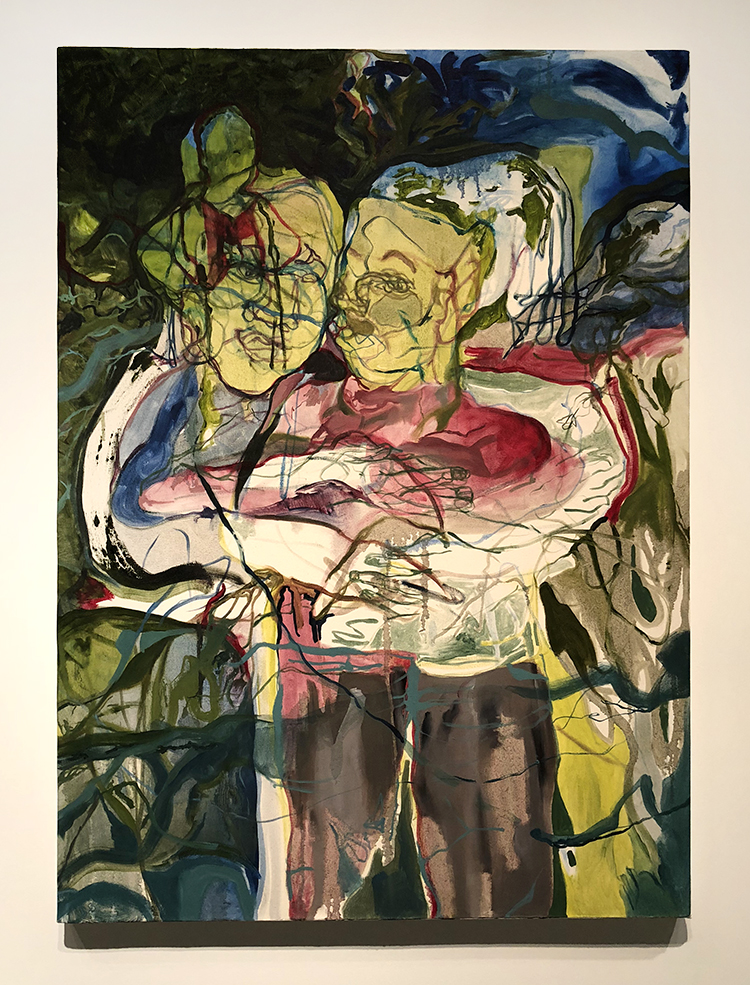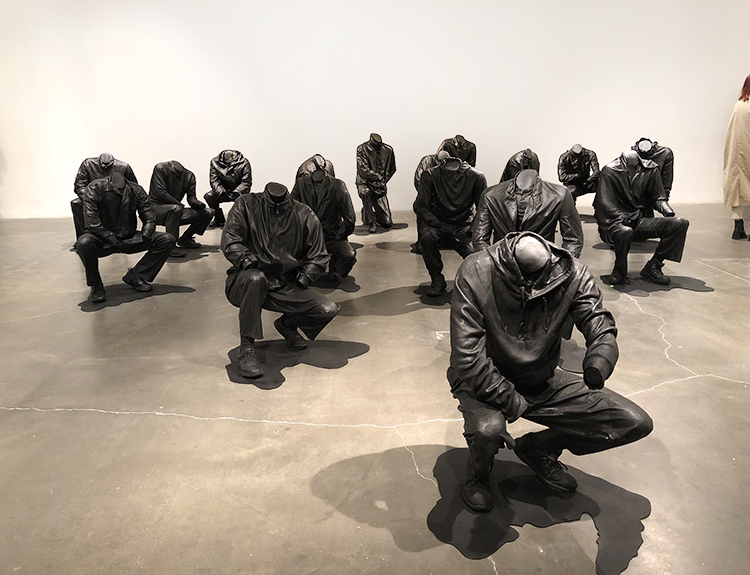 "Senzenina" (2018), an installation by the South African artist Haroon Gunn-Salie, memorializes the 2012 police massacre of striking miners in his homeland.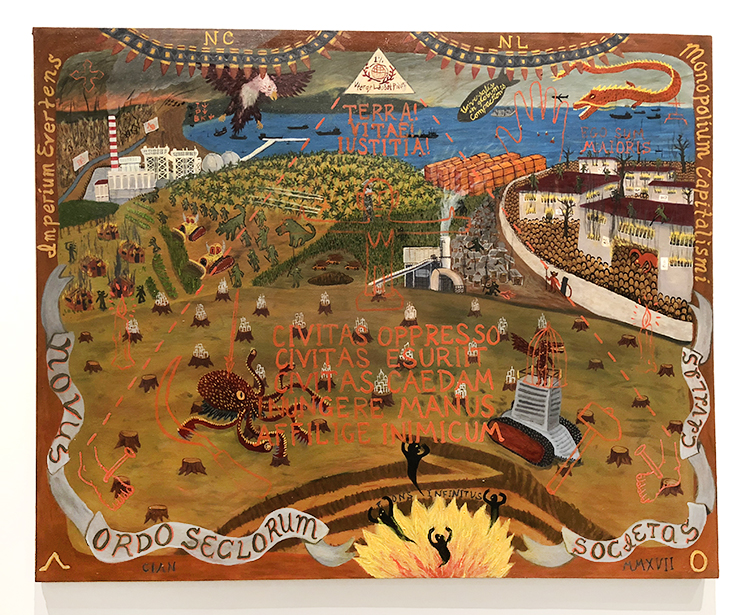 Cian Dayrit's uses tapestry-like mappings, part fact, part fiction, of Philippine colonial history.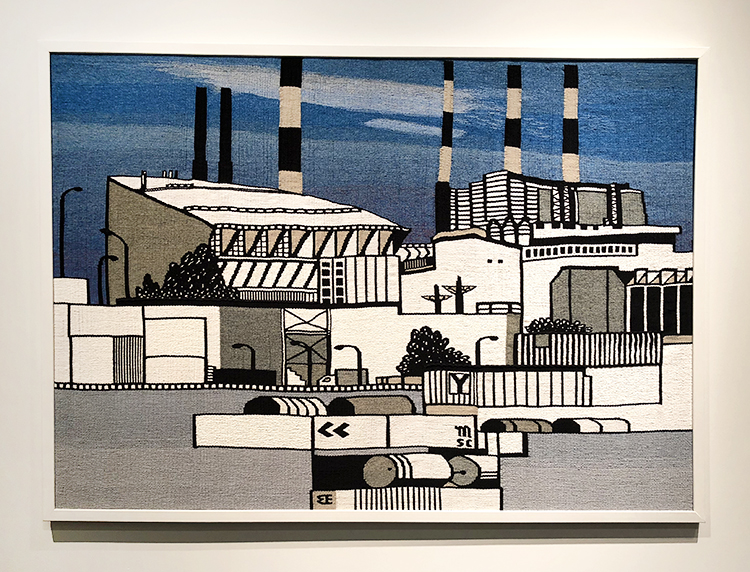 Zhenya Machneva, CHP-14 (2016)
Zhenya Machneva reflects on the collapse of the Soviet Union in a series of tapestries depicting scenes of industrial factories. Her use of traditional weaving methods mirrors the demise of traditional manufacturing in the wake of technological advances.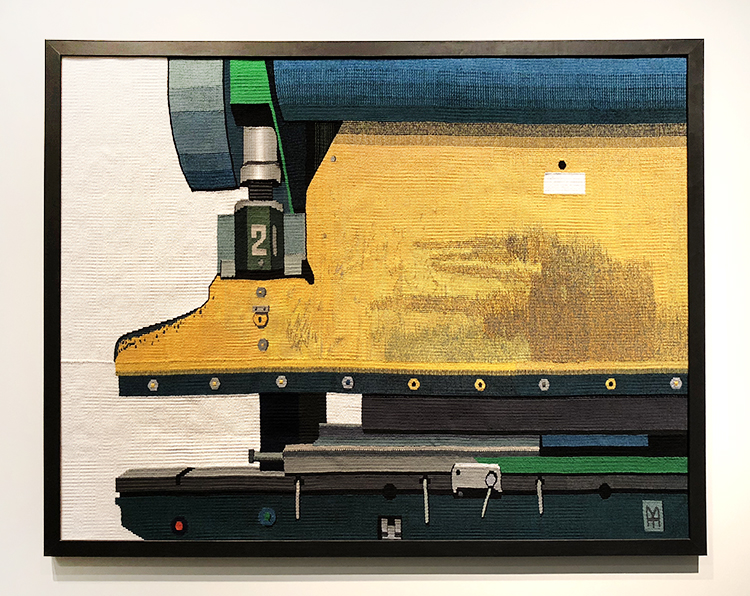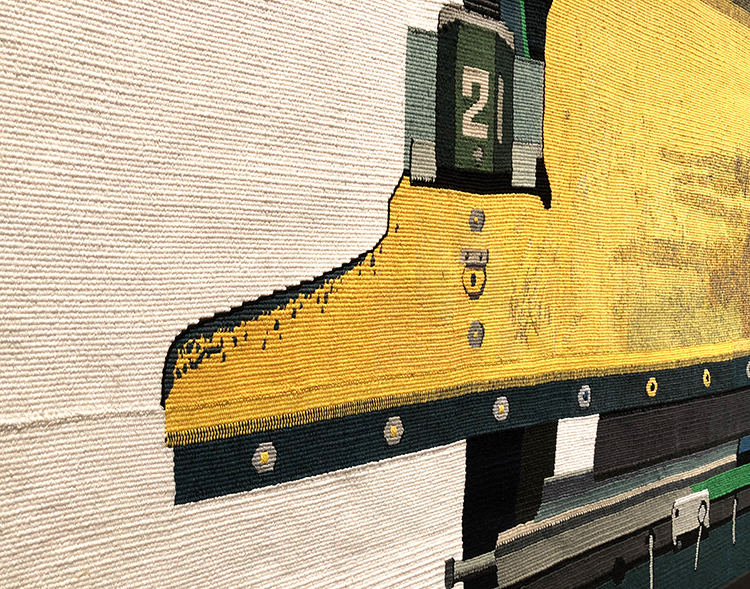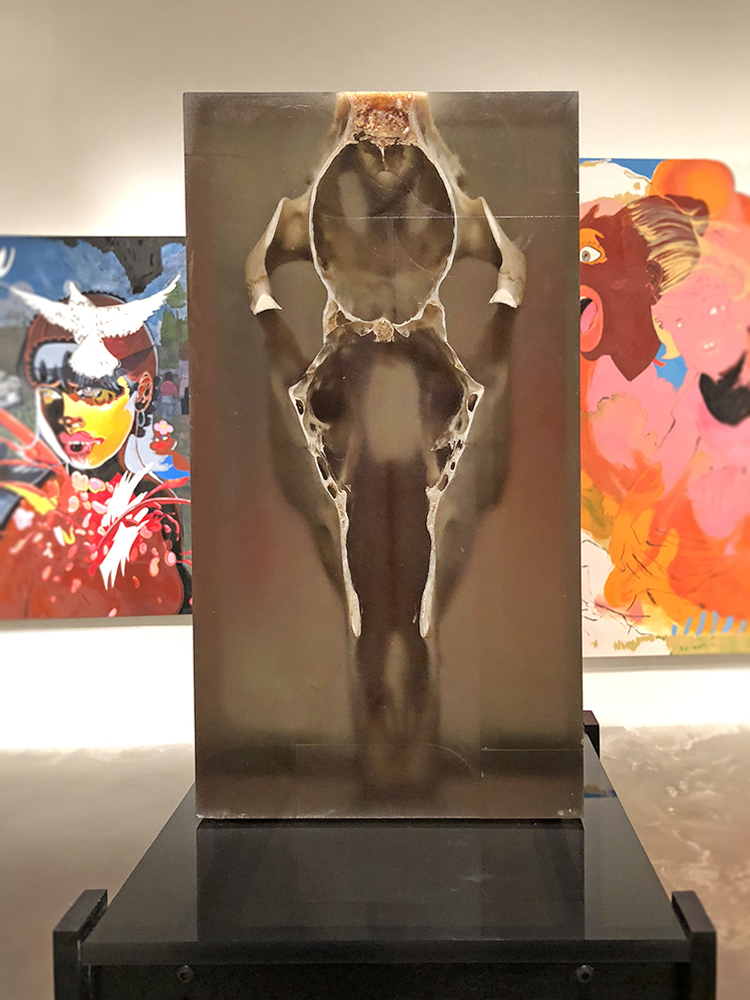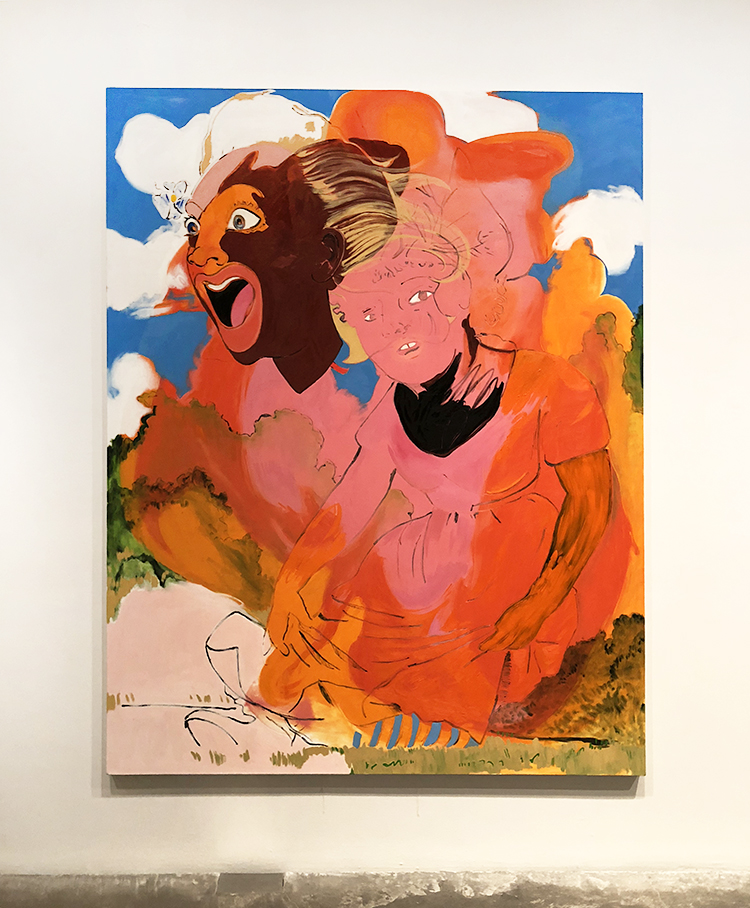 Janiva Ellis's "Thrill Issues" (2017). Her vivacious paintings incorporate religious and racial stereotypes.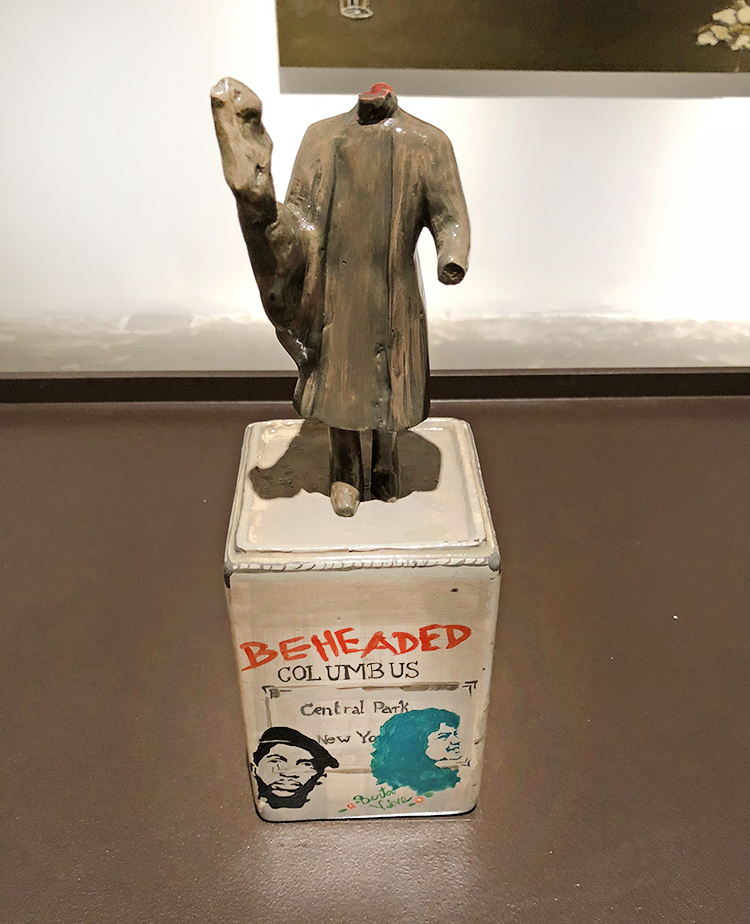 Daniela Ortiz, who is based in Barcelona, brings a selection of tabletop-size ceramic prototypes for anti-colonialist monuments, including a beheaded alternative to a Christopher Columbus statue in New York City. Ms. Ortiz has proposed replacements for monuments to Christopher Columbus in Madrid; Lima, Peru; and New York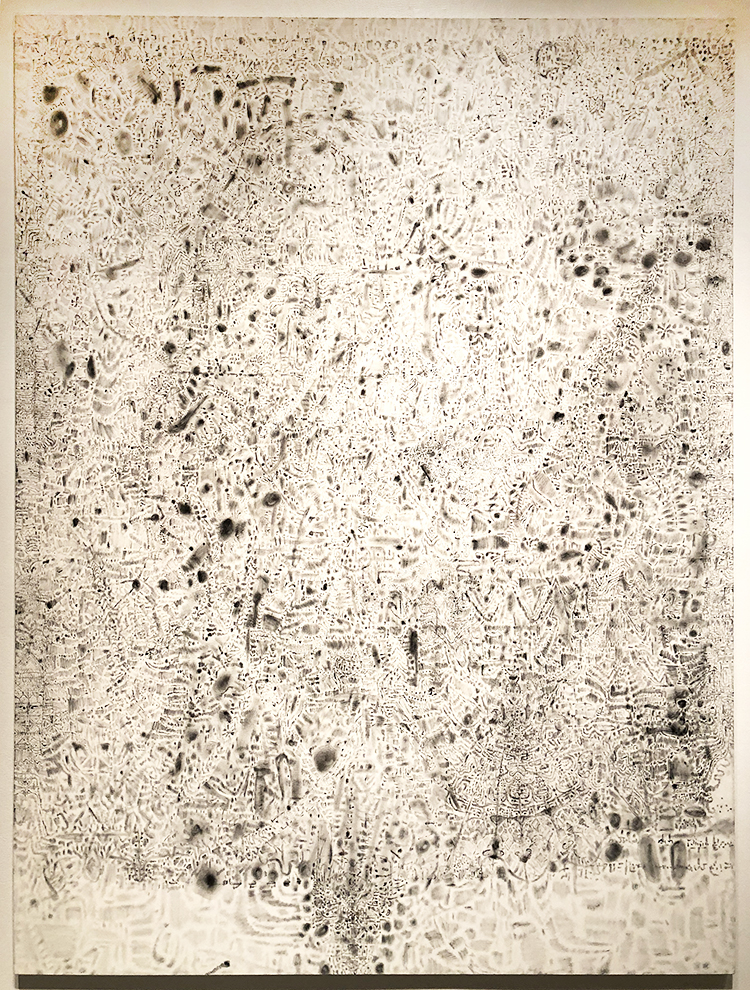 Tomm El-Saieh, a Haitian-born painter based in Miami. His works are made up of tiny, obsessively applied marks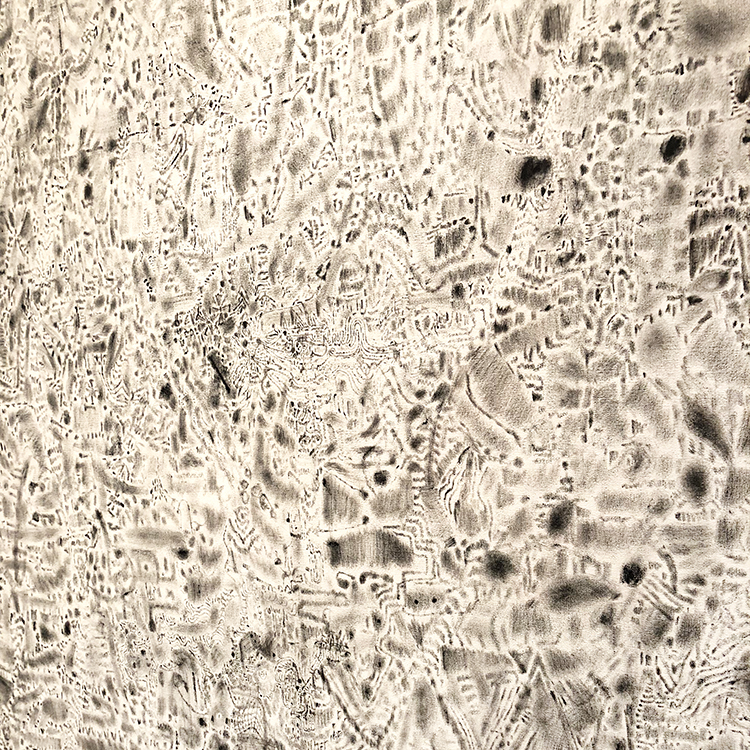 I really loved his work- I could get lost in it!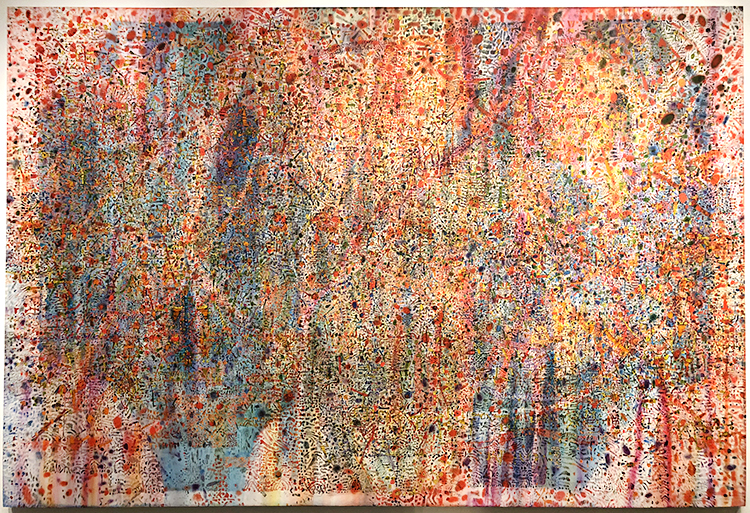 Tomm El-Saieh, Walking Razor (2017–18)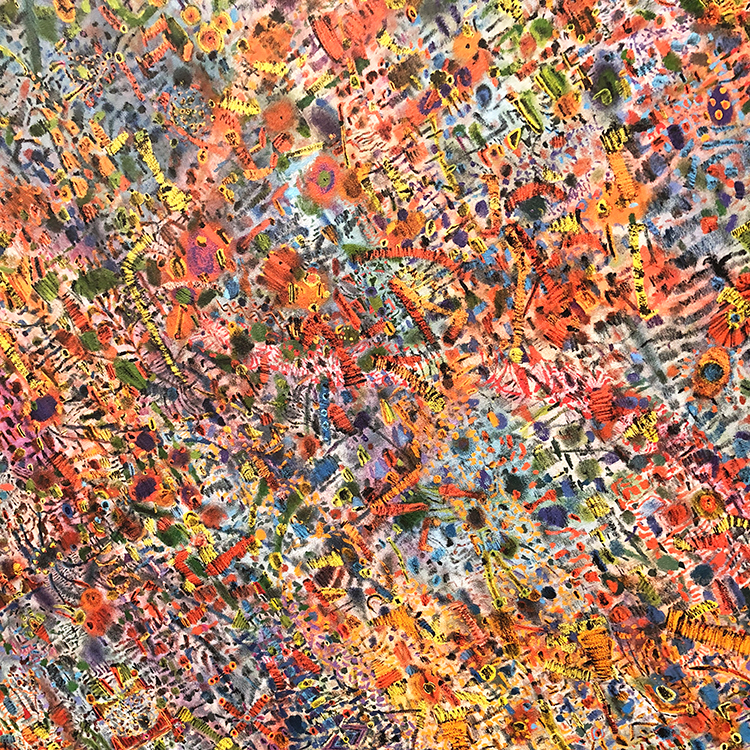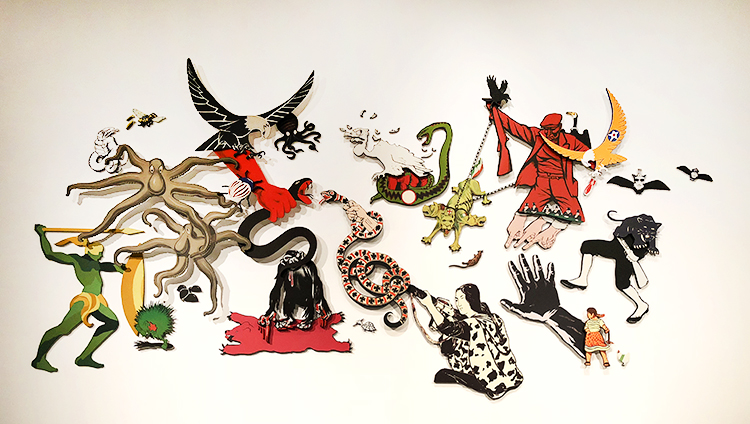 Claudia Martínez Garay, Cannon Fodder/Cheering Crowds (2018)
Claudia Martínez Garay deconstructs visual imagery in propaganda as a way of understanding worldwide labor and social movements. For the triennial, she scoured the International Institute of Social History in Amsterdam for posters and leaflets across the political spectrum, focusing on repetitive imagery of fighting warriors and animals. She is interested in how the same types of images have been used by right and left ideologies to manipulate the viewer. She reproduced the figures as painted wood cutouts and juxtaposed them attacking each other in this mural-size work.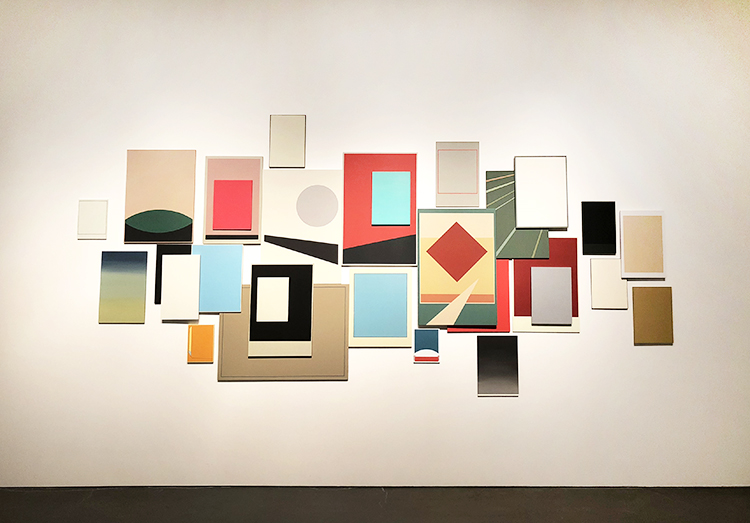 It was an interesting and for sure thought provoking exhibition. It was interesting how different the three of us would "read" the artwork. This is the best part of an Art Stroll -going with different friends and then discuss. Highly recommended :)
Hope you enjoyed this Art Stroll to the New Museum.