A couple weeks ago Kim and I decided to take a little trip to the Botanical Garden in New York City to see the Roberto Burle Marx Exhibition. It was such a treat – even though going that far uptown is quite a hike.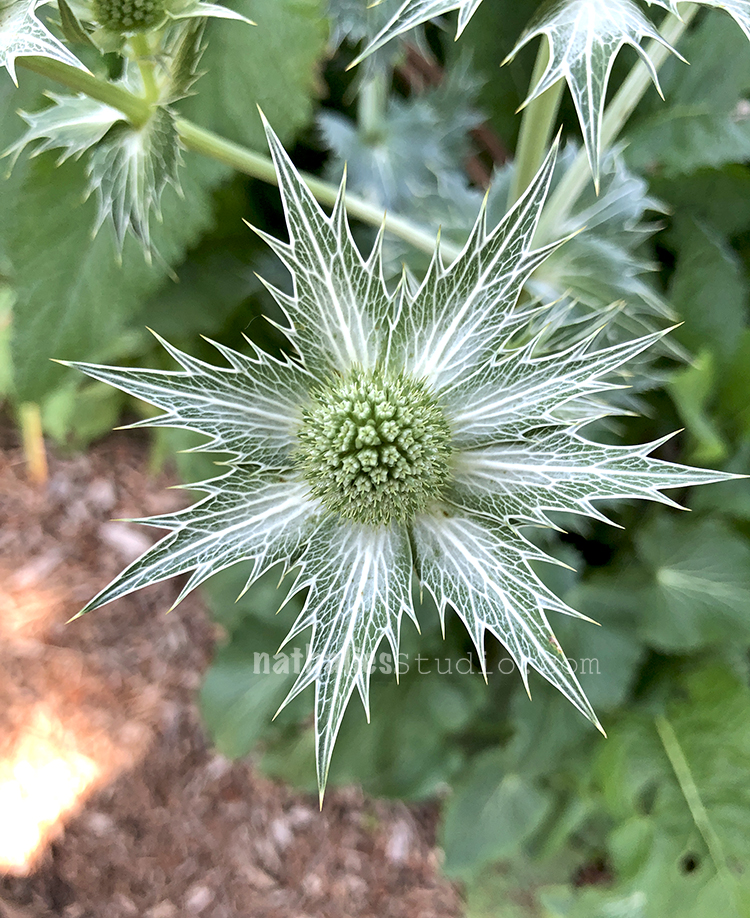 One thing that the visit reminded me instantly of is what an amazing artist nature is and how inspirational it is to go to a Botanical Garden.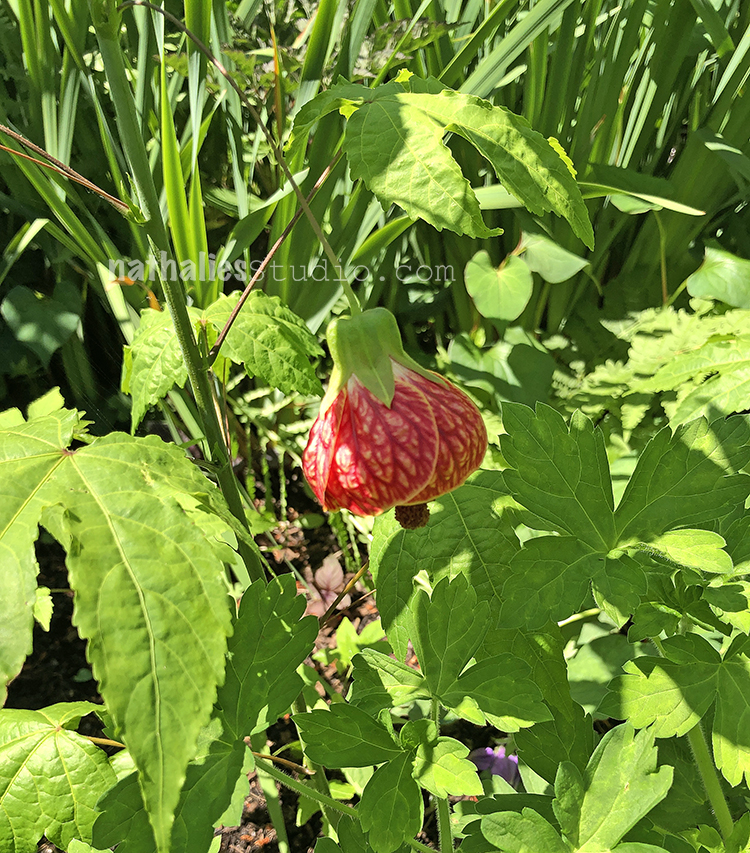 From Flowers that look like something from a fairy tale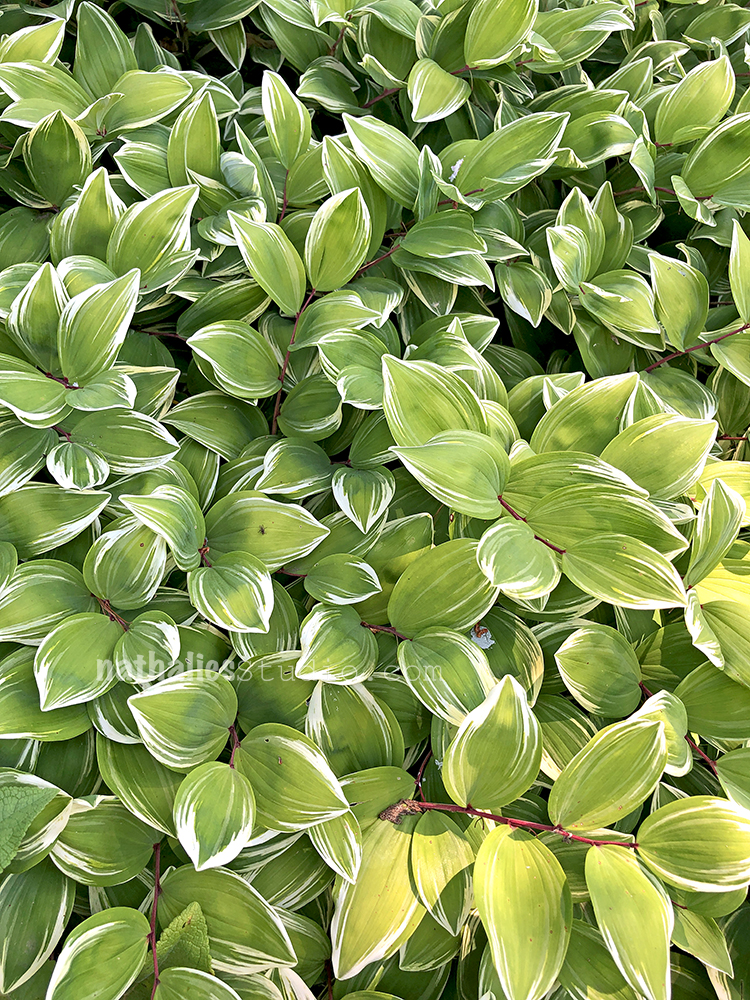 To plants with leaves that look as if they were painted on.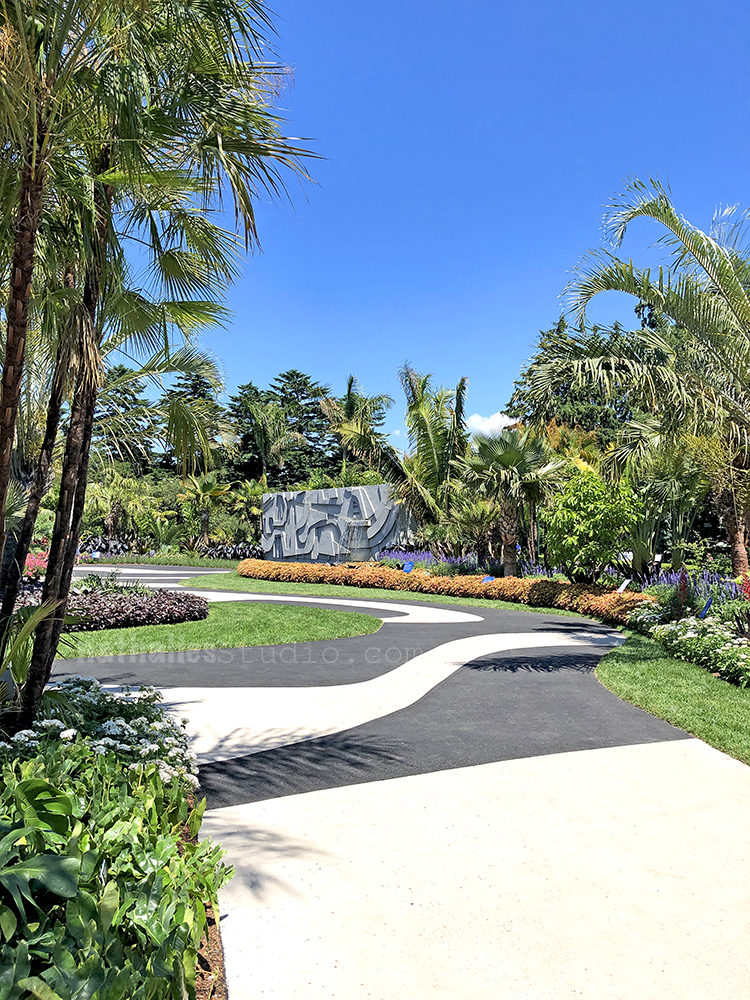 We loved the Garden part of the Roberto Burle Marx exhibition a lot – gorgeous pattern on the pavement- beautiful plants with tons of patterns, texture and lines. As he said: "A garden is a complex of aesthetic and plastic intentions; and the plant is, to a landscape artist, not only a plant – rare, unusual, ordinary or doomed to disappearance – but it is also a color, a shape, a volume or an arabesque in itself"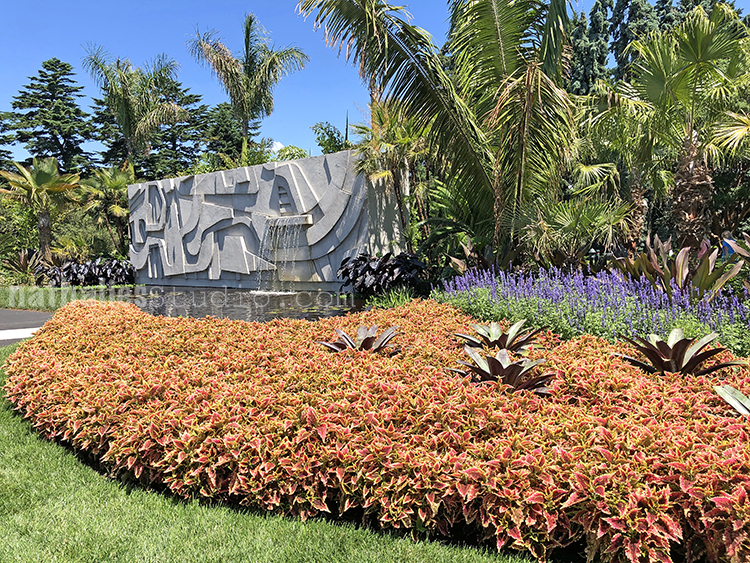 Made me appreciate plants that I usually do not really think of wanting to have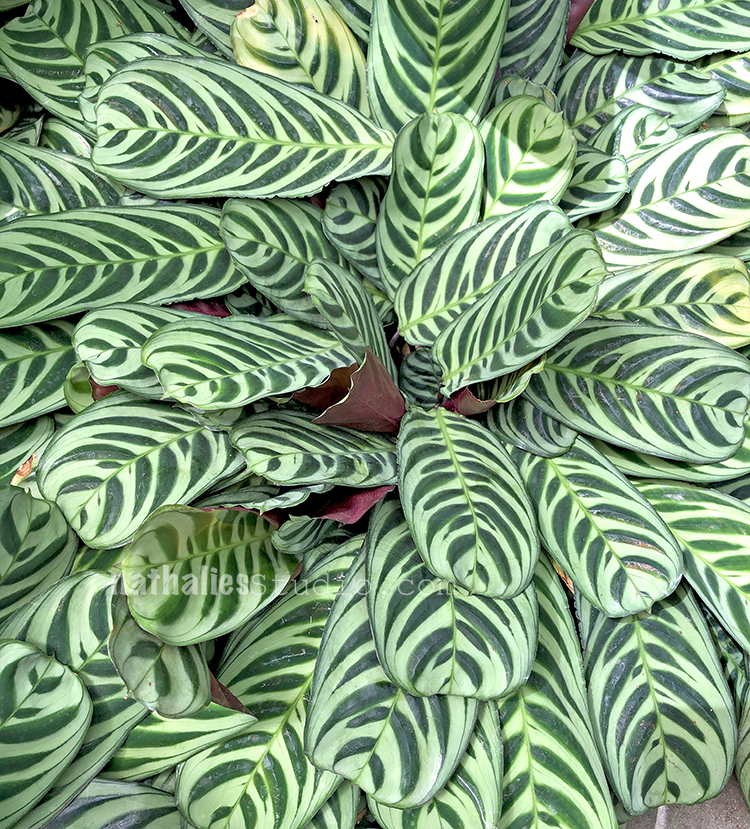 Another amazing plant with awesome leaves! "One might think of a plant as a brush stroke, as a single stitch of embroidery; but one must never forget that it is a living thing. " Roberto Burle Marx in a 1962 lecture.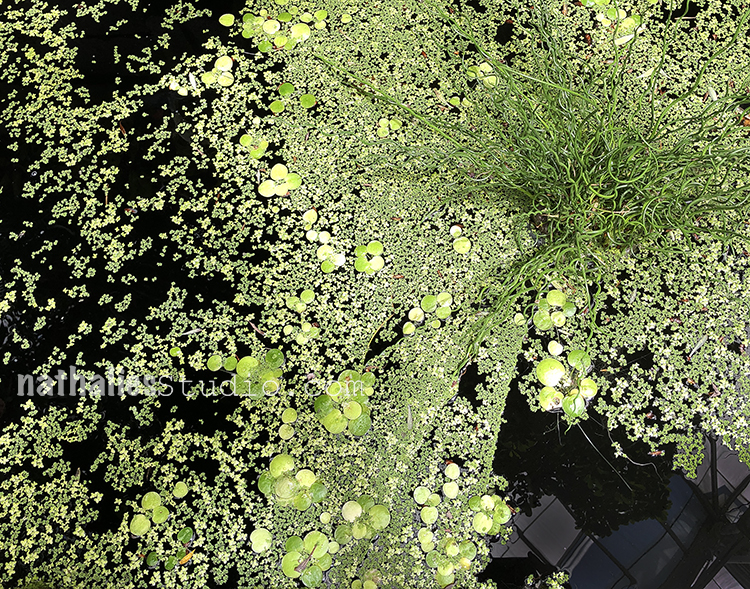 Looking into the water in front of the fountain.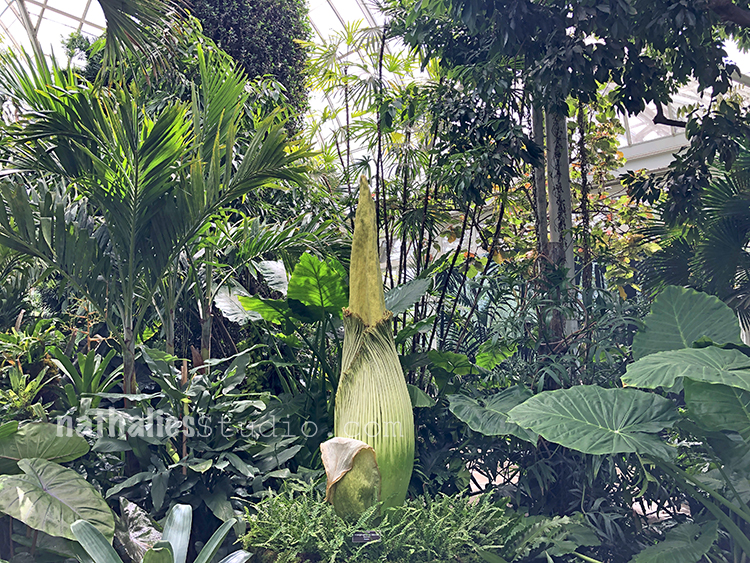 We also happened to come a day too early to see the "Corpse Plant" open.It rareley blooms and only for about 1-2 days. It was a coincidence that we went right when it was going to bloom as we had planned the trip for quite some while but it was cool to see this amazing plant right before it opened. We were spared of the insane smell it releases when it opens (hence the name) but fear not …the ride home at 94 F on the NYC subway probably was worse when the Corpse Flower smell hahahah ;)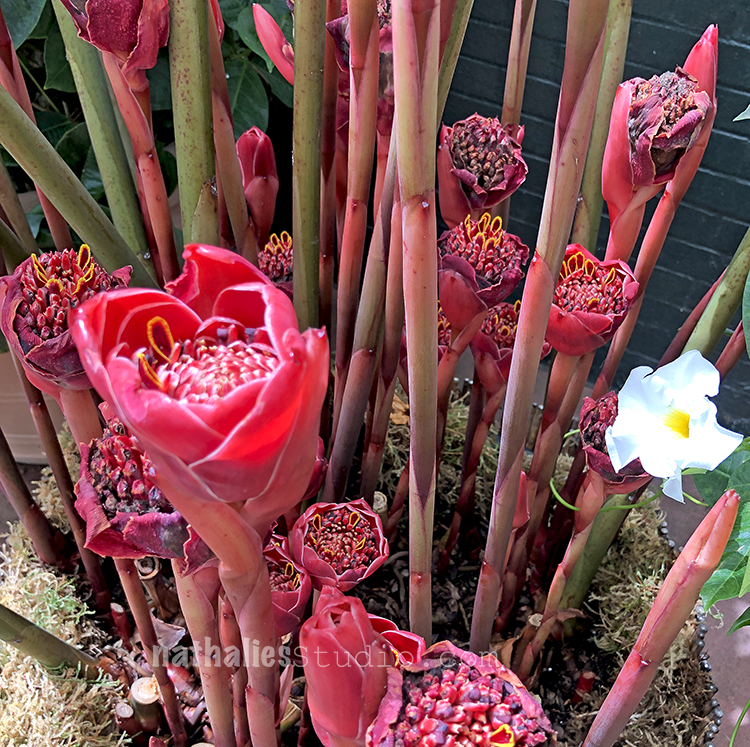 This is some kind of ginger – isn't this insanly cool? I love ginger and this makes me love it even more .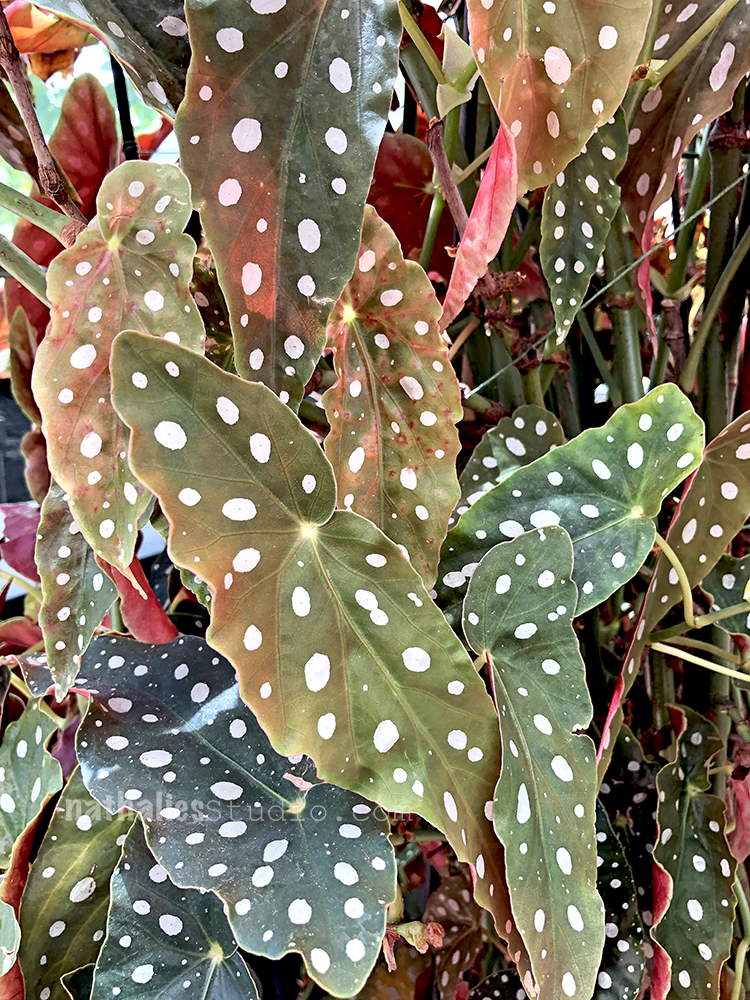 Let me sneak in another awesome plant …and nope we did not go into the Botanical Garden with a white paint brush LOL –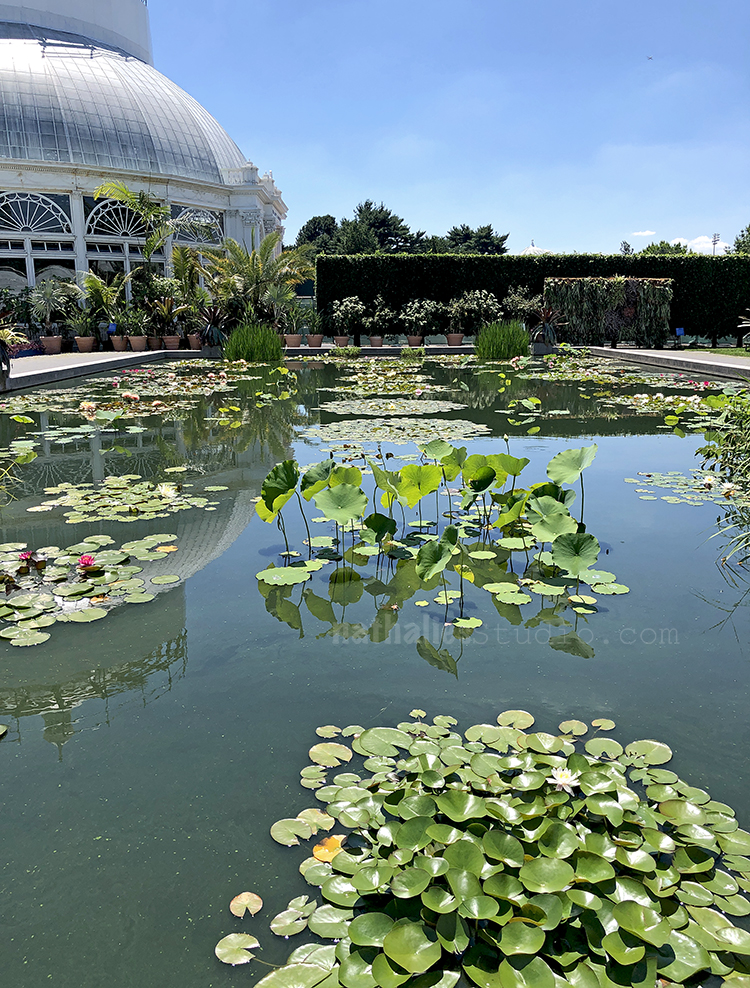 Water plants- where is the frog. I am always fascinated by water plants must be all the stories and fairy tales too.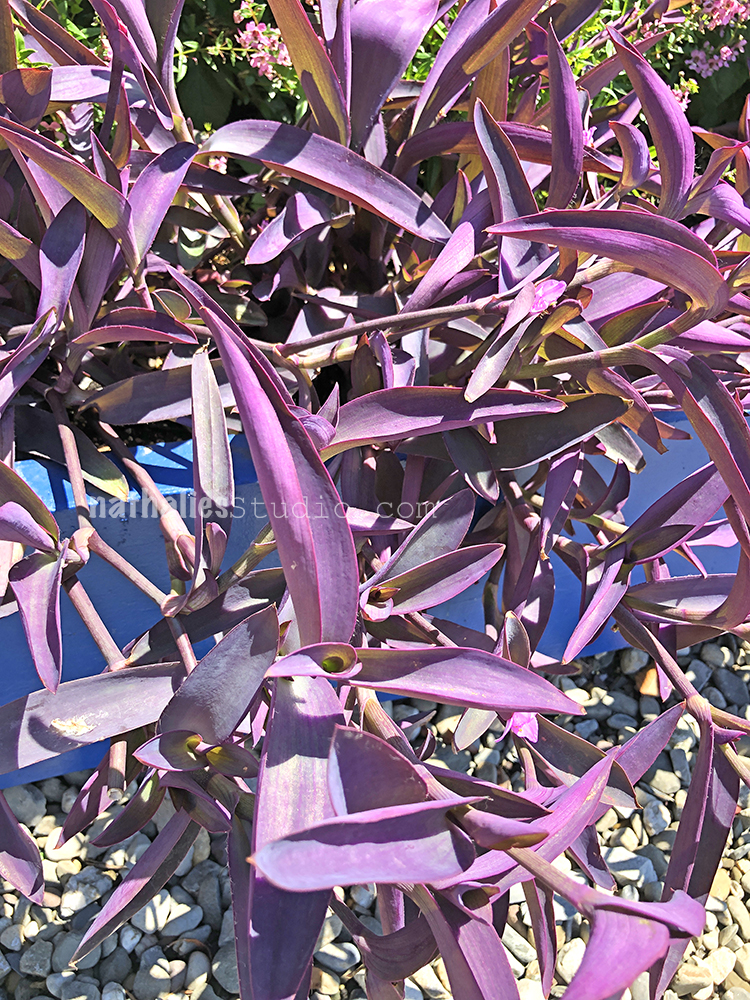 Look at the color !!!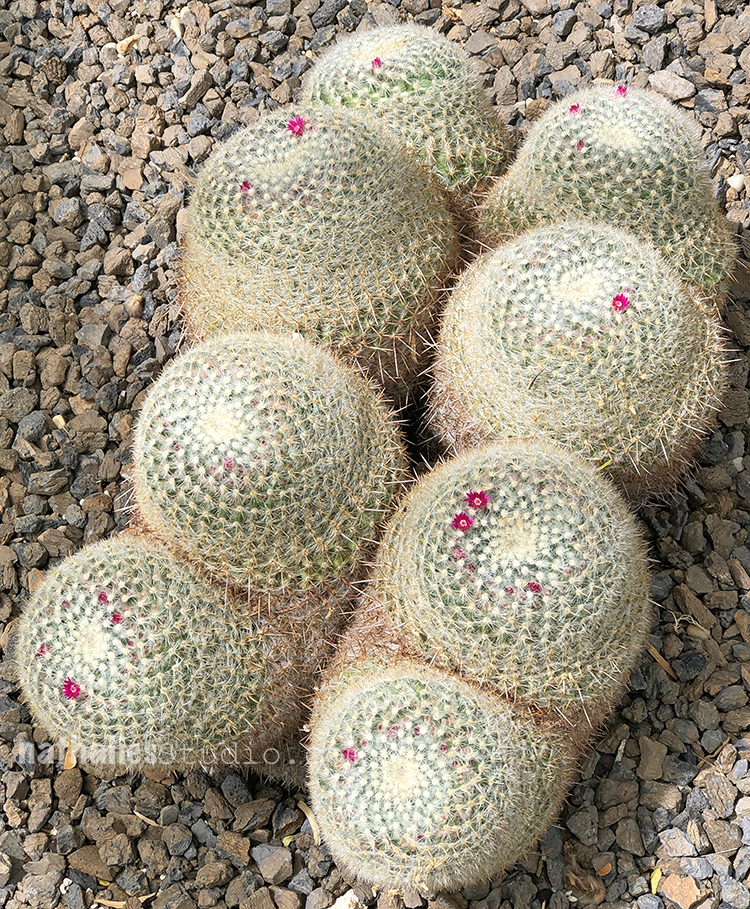 And these cacti – it is so funny to me that these delicate flowers are blooming out of this really prickly sturdy thing.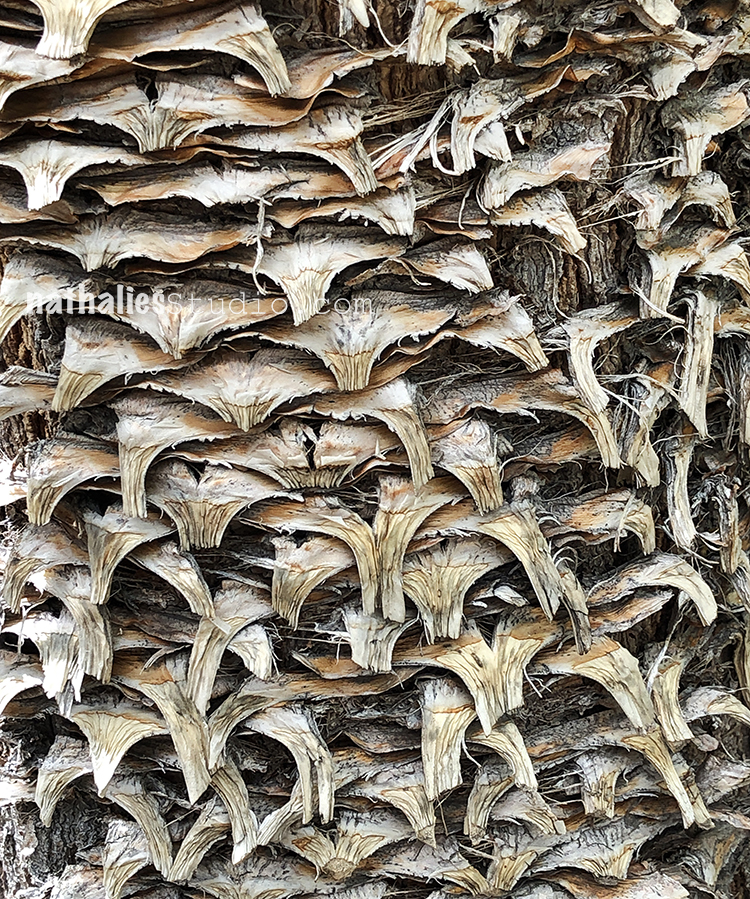 Palm tree pattern and texture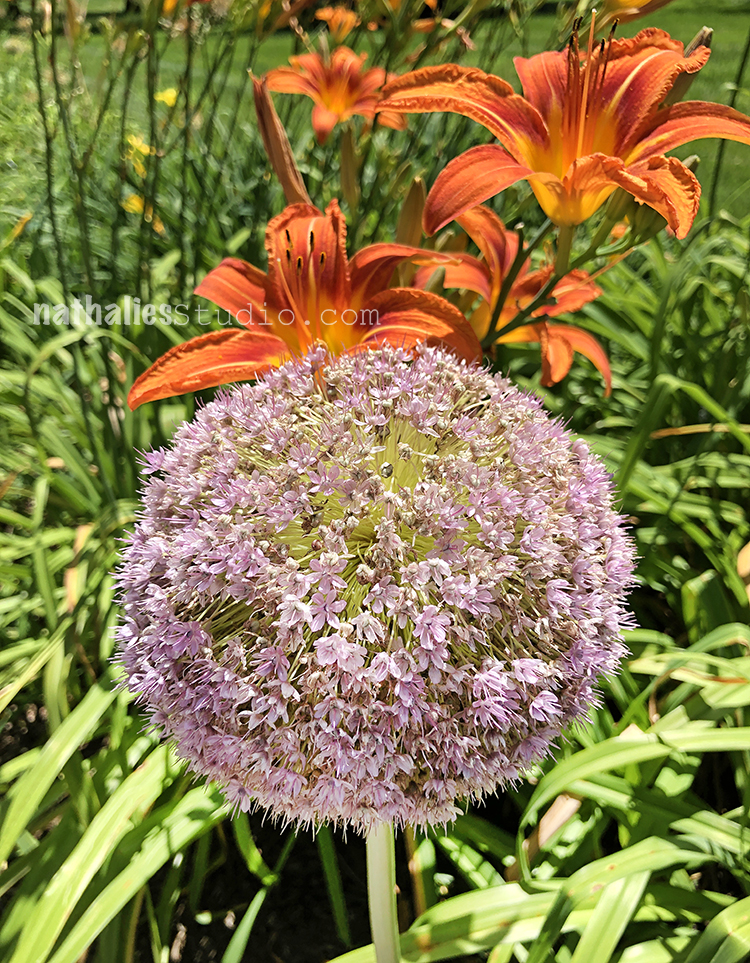 And a giant allium – I need one of those for our garden .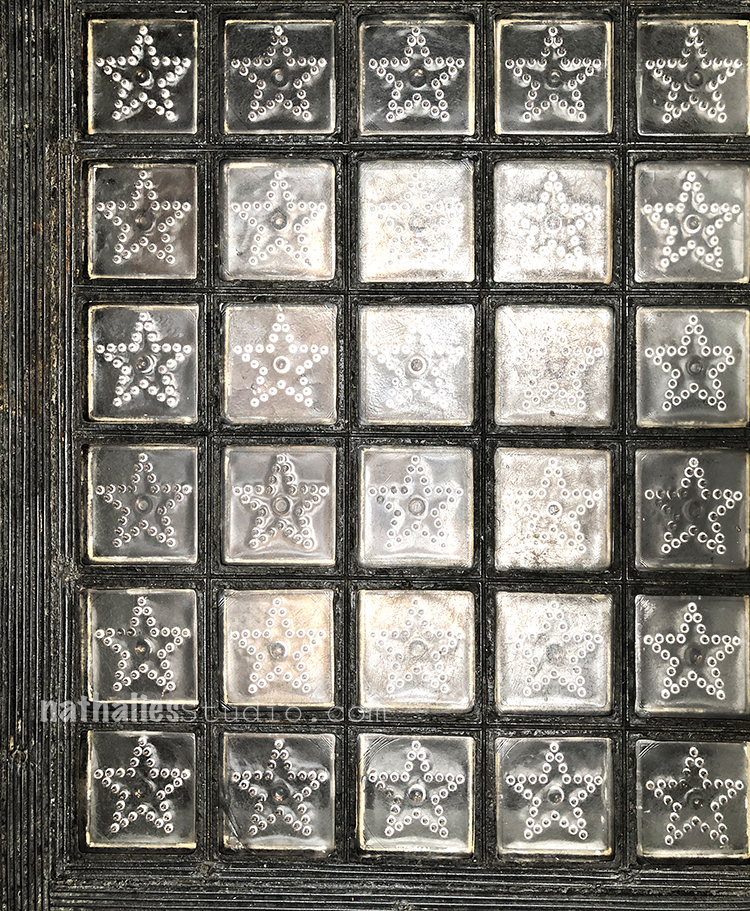 Inside the Library we found this beautiful glass on the floor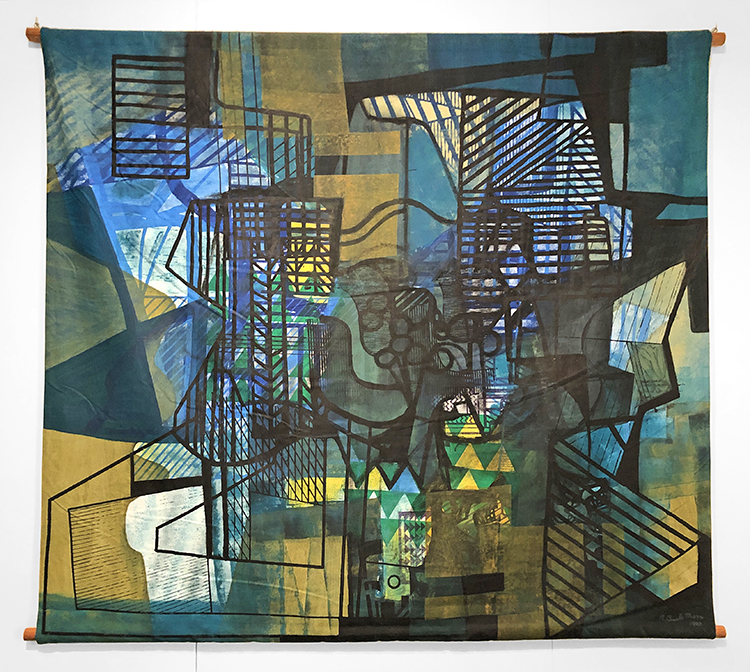 And then enjoyed some gorgeous paintings – the one above on fabric by Roberto Burle Marx.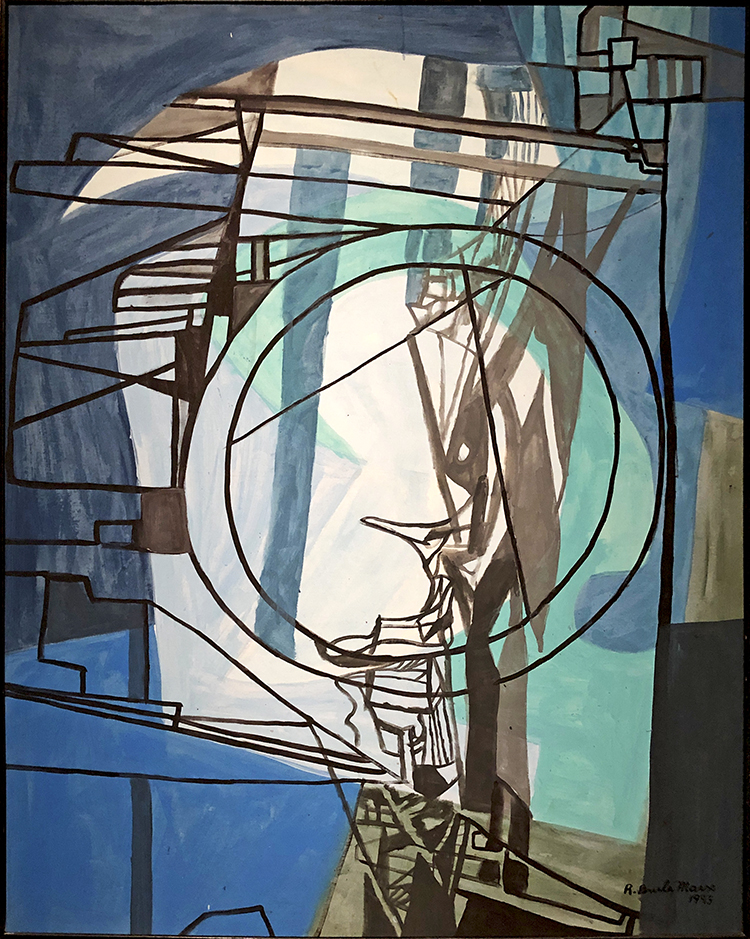 I found it fascinating to look at his paintings after walking through the garden and seeing pictures of his gardens.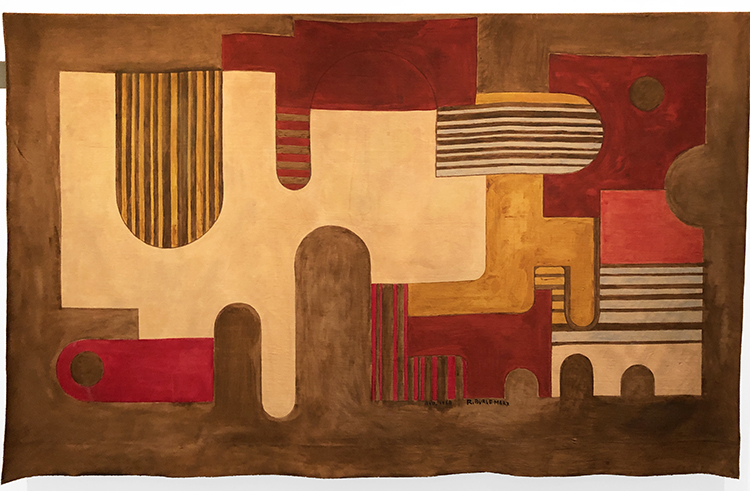 "If I do gardens, I don't want to paint; if I do paintings I don't want to do woodcuts; if I do prints from woodcuts, I don't want to do lithography. Each specialty calls for its own technique and medium of expression…I will not do a painting that is a garden. Without a doubt painting and and all sorts of artistic issues have influenced my whole concept of art. I have always sought to avoid being restricted by formulas…" Roberto Burle Marx 1973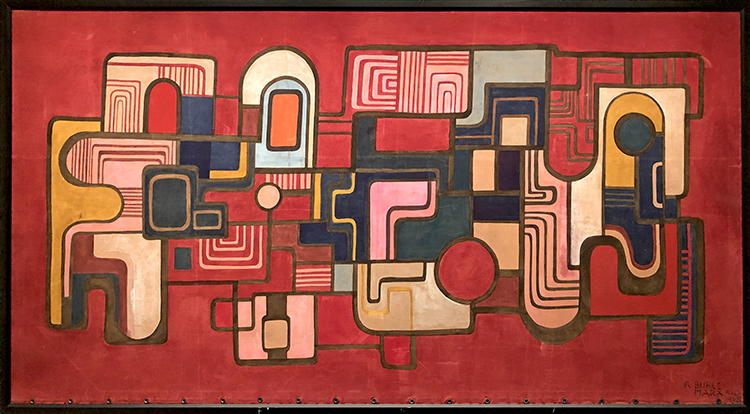 I love the shapes and colors and some of them look like gardens or landscape to me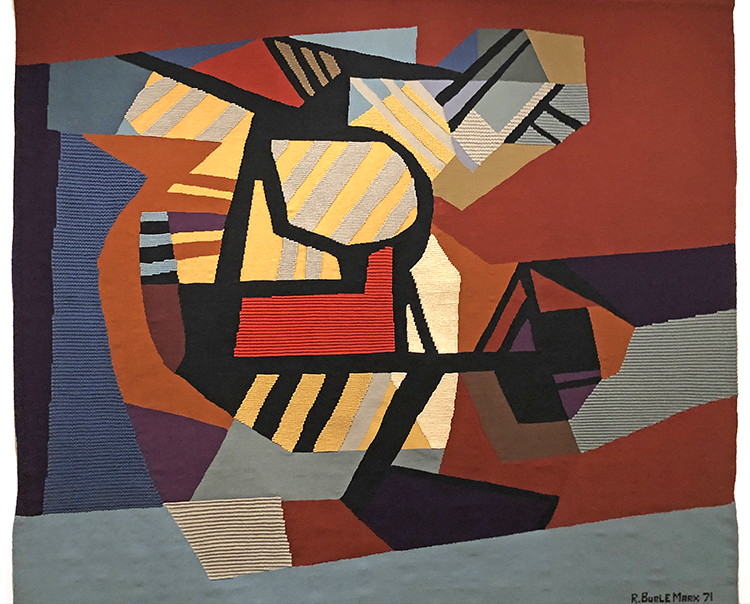 Here is a tapestry by him – also pretty amazing.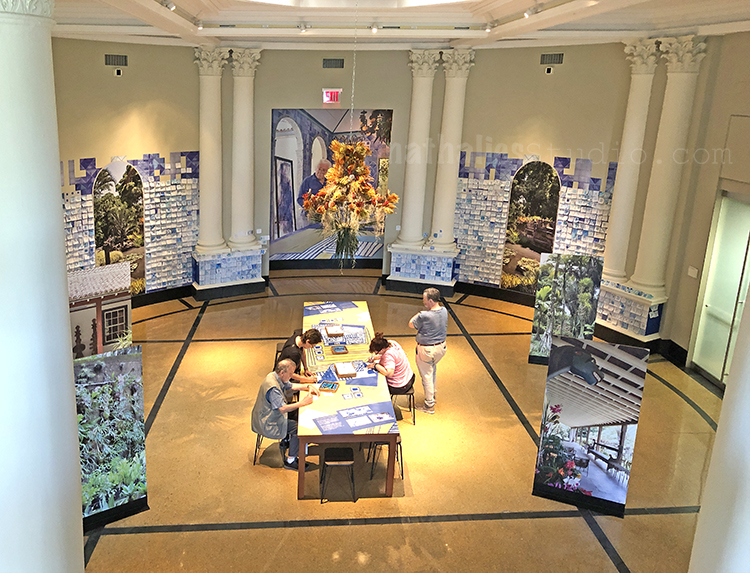 Another favorite part of the exhibition was the interactive tile making – based on Marx' tiles some tile post-its were provided along with different blue colored pencils.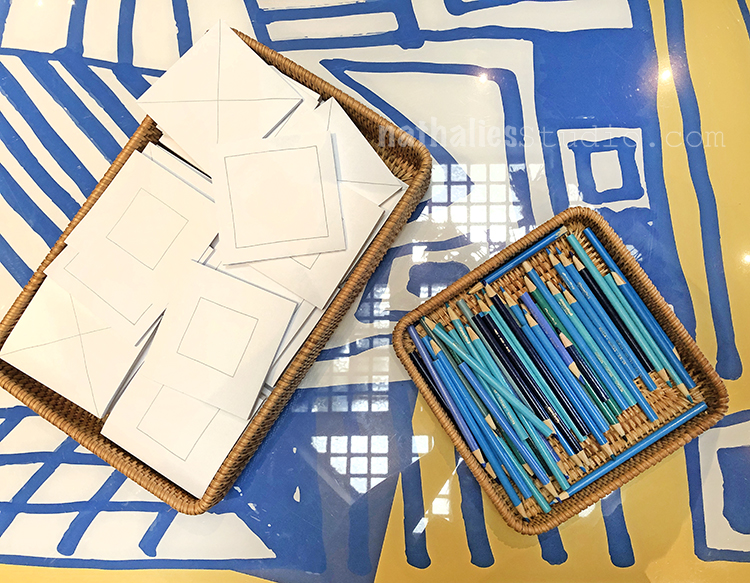 After painting the visitors were encouraged to place them on the wall – it was so beautiful – and fun to see this post-it tile wall.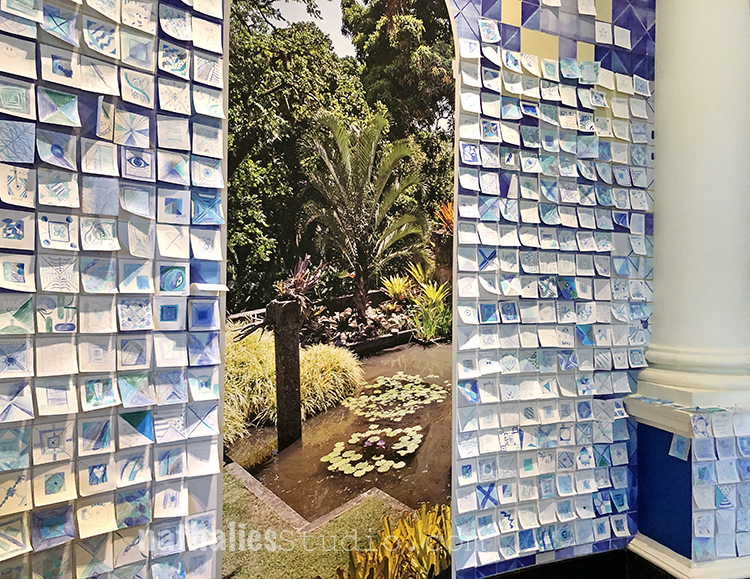 A wonderful exhibition with an awesome mixture of nature and art. If you have a chance to go – it was so worth the trip!