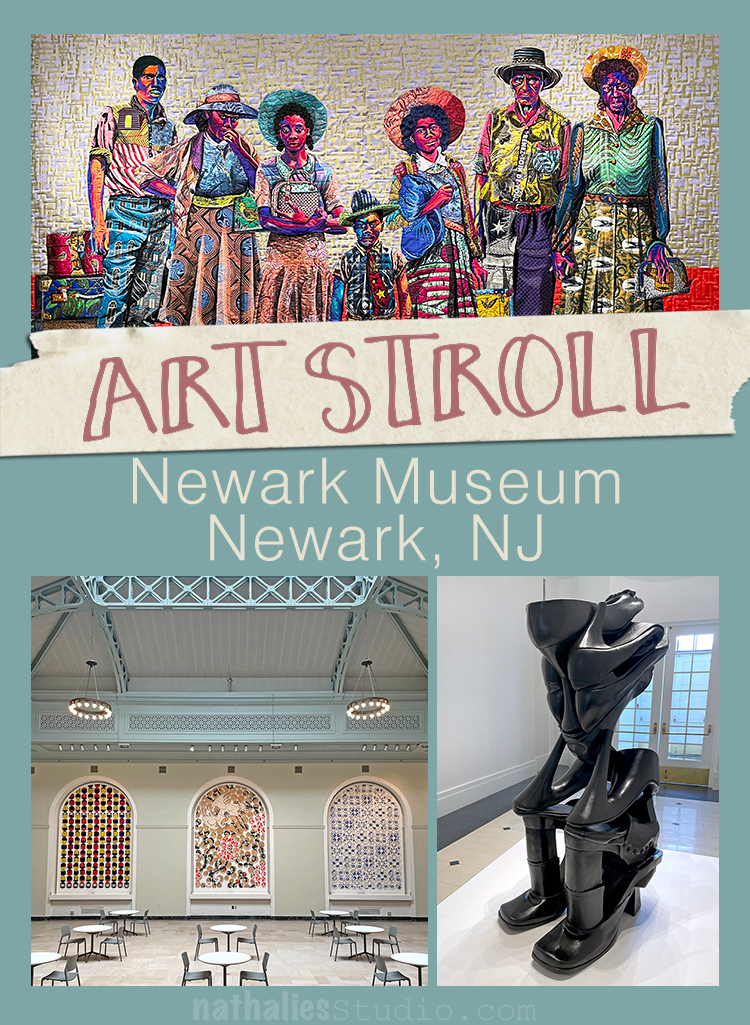 Visiting the Newark Museum, NJ was long long overdue …in fact it was already overdue when Kim and I had planned a visit in March 2020 but alas …you get the picture. Anyway finally we were able to go in July this year and boy oh boy what a treasure Museum this is. Def. have to go back.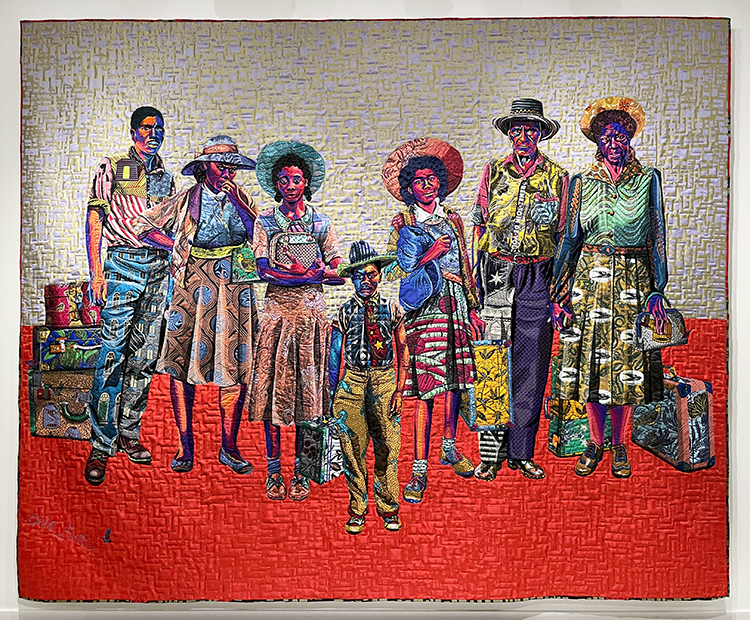 I am starting with this beauty by NJ-Artist Bisa Butler– The Warmth of Other Sons, 2020.
It was stunning to see her work in real life. The piece is based on a photo of an unidentified family traveling north as part of the Great Migration. In the original photos the boy in the foreground had no shoes, she gave him shoes on purpose – taking care of him as she stated in this interview.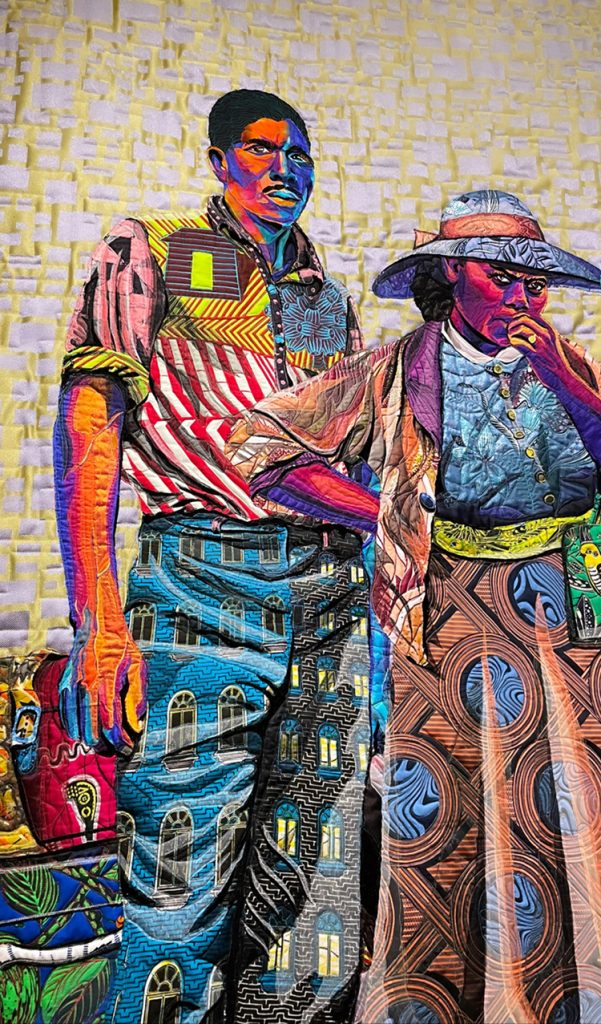 Bisa uses fabrics sourced from Ghana, Nigeria, and South Africa to create live sized quilt portraits.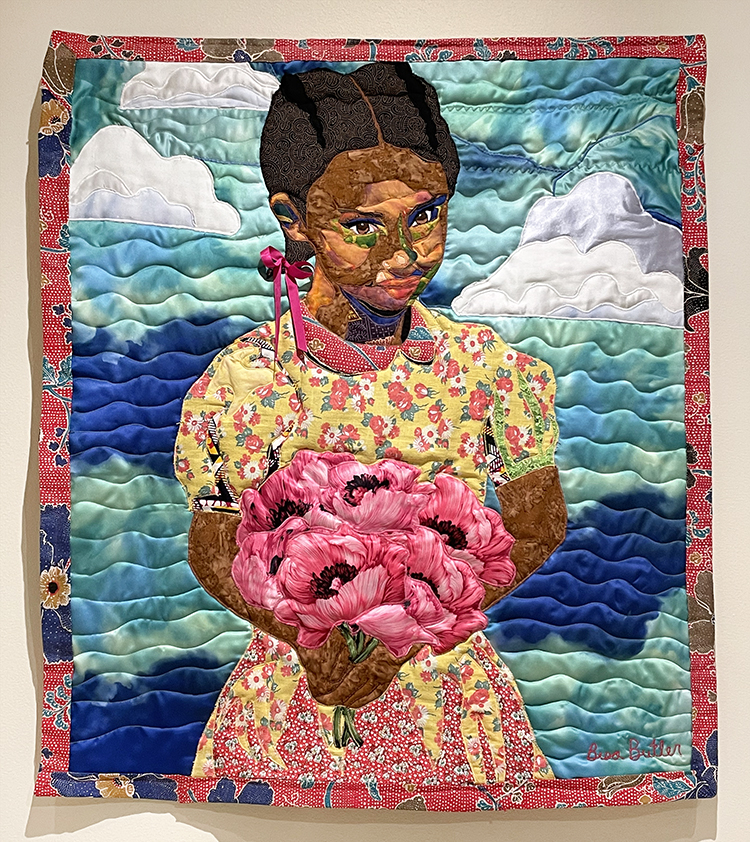 Also in the Museum was a piece of Bisa from 2011- Flowers of Faith – I love seeing how the idea for her work has been consistent but how it evolved so amazing!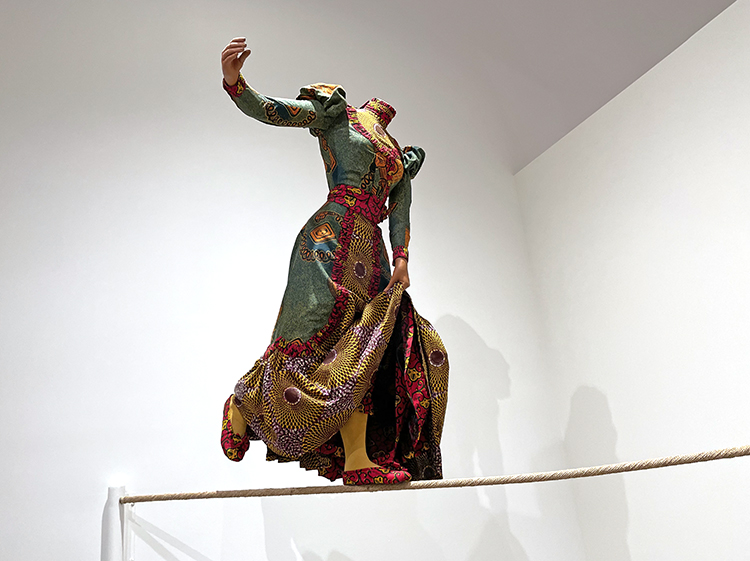 Such a powerful piece! Lady Walking a Tightrope, 2006. Yinka Shonibare. Nigeria.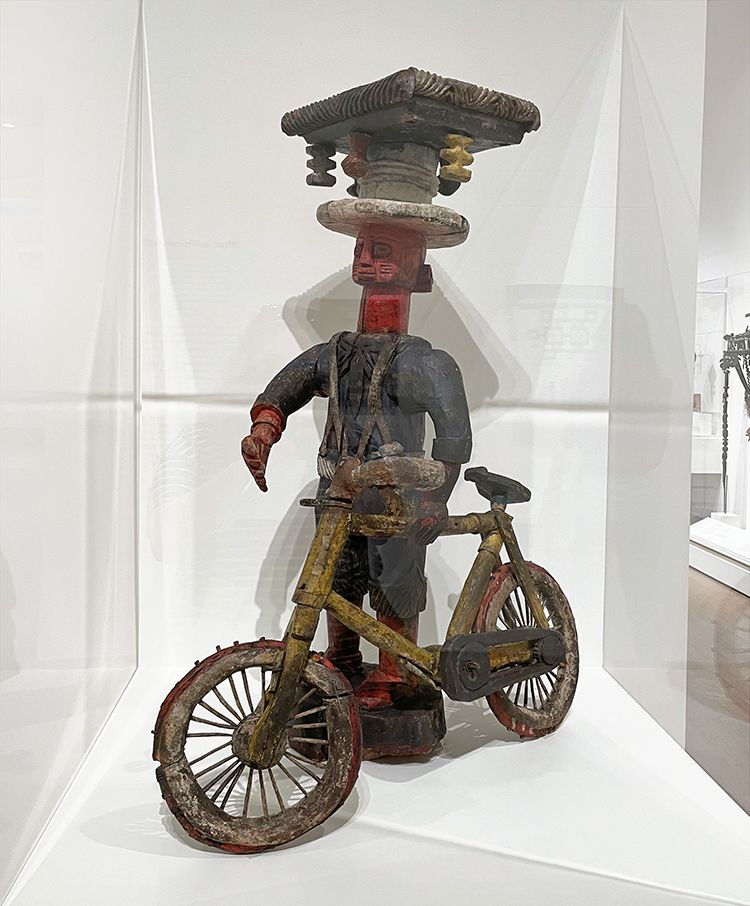 Man with Bicycle – Mid 20th Century but an unrecorded Yoruba artist in Nigeria.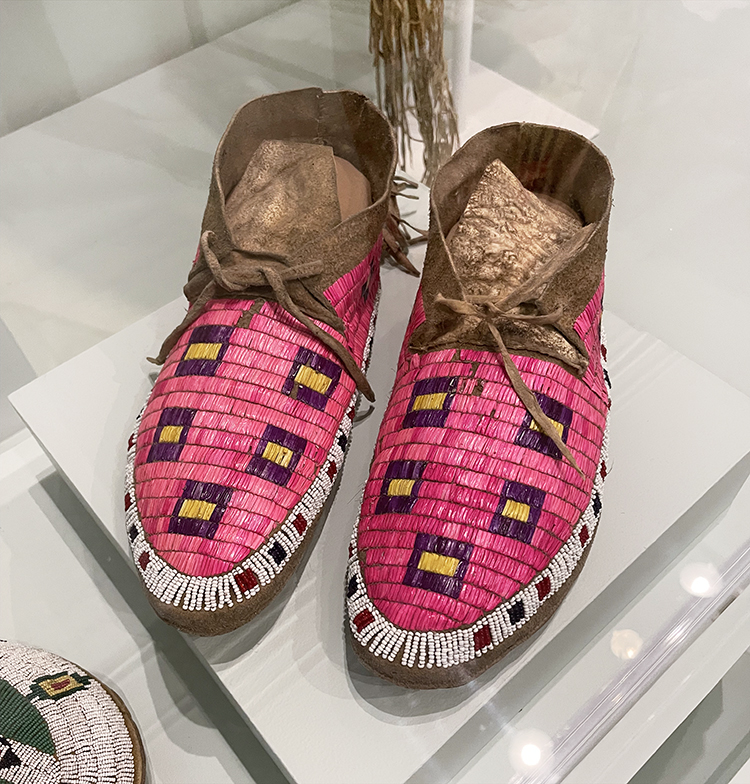 Moccasins from the late 19th – early 20th century but a Lakota artist. So modern and amazing.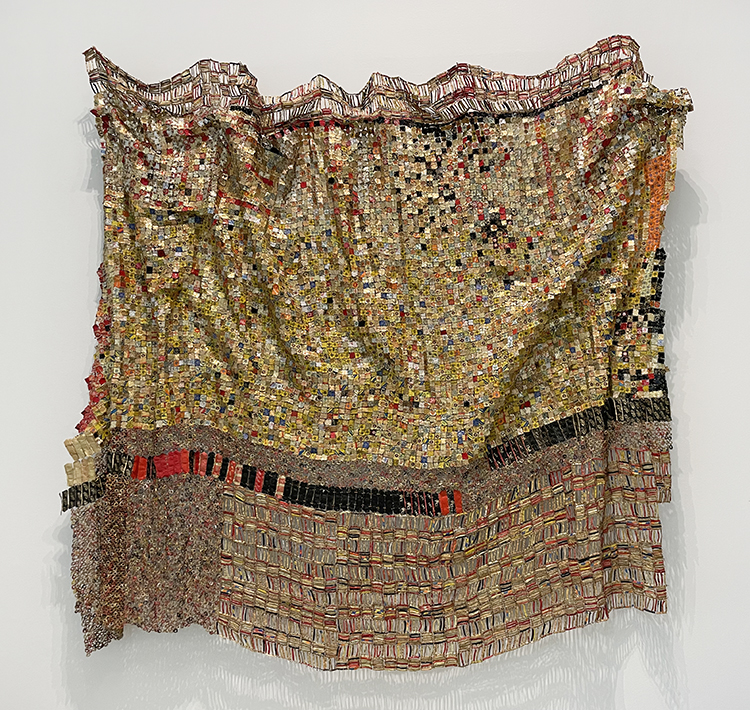 "Many Came Back" by El Anatsui, Ghana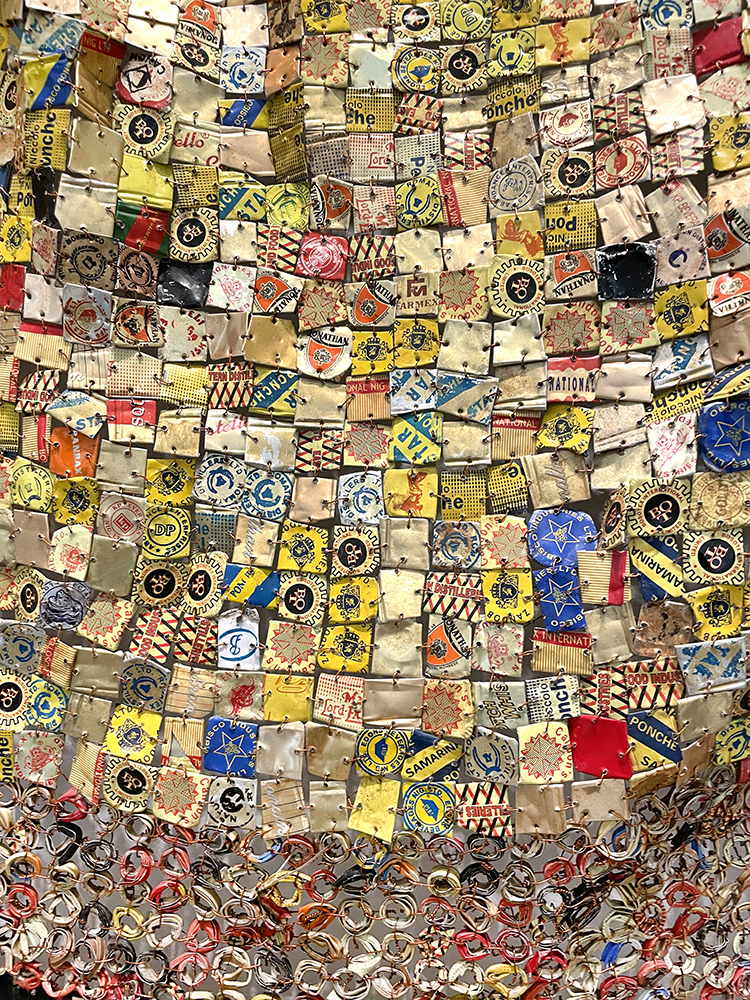 A wonderful wallhanging made of liquor bottle tops and copper wire.
The following pieces were part of a room about Pop Culture and Religion in Contemporary Art. "The varieties of religious experience run wide and deep in America, and yet we are bound together by our shared democratic values and a common culture of material consumption. Far from comprehensive, this installation brings together works from the permanent collection that explore intersections between spirituality and pop culture. Using diverse materials – including yarn, cigarette wrappers and discarded clothing – and sources a disparate as graphic novels and Buddhism, these works tell stories and contemporary parables in styles that range from documentary to abstract, from handmade to high tech."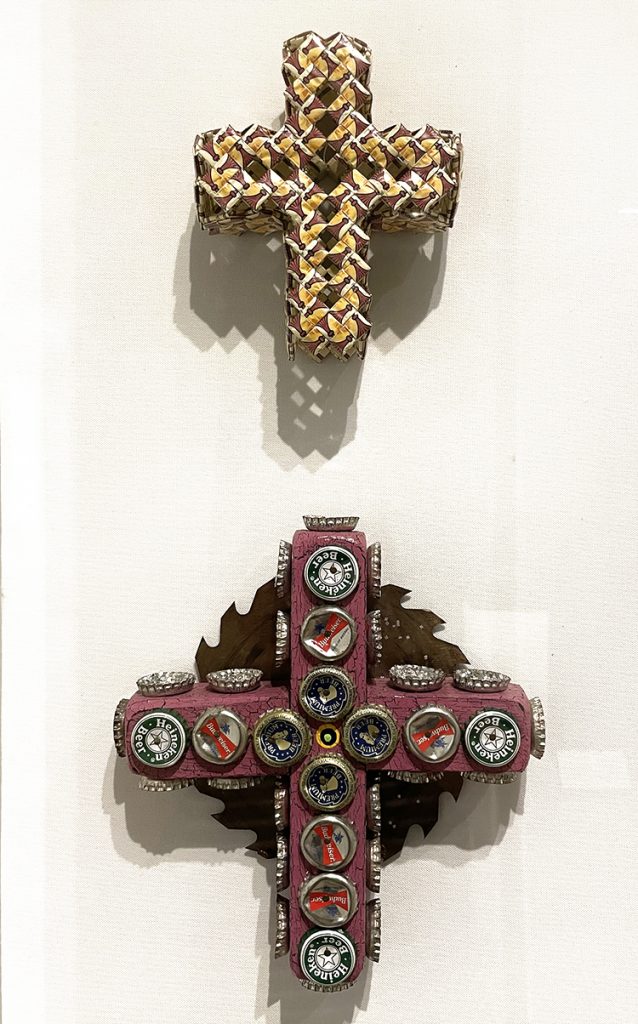 Top Cross by Edrick Jenkins made with Camel cigarette wrapper paper and the bottom cross by Jon Bok made with bottle caps and saw blades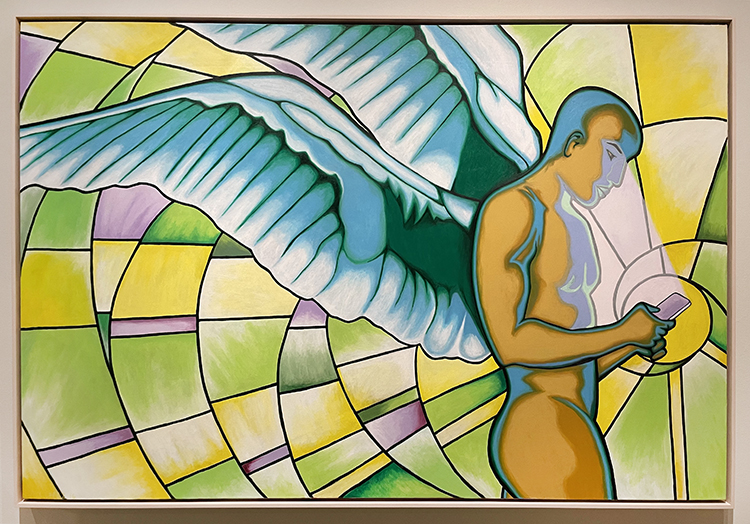 Millennial Guardian Angel by Newark Artist Jo-El Lopez.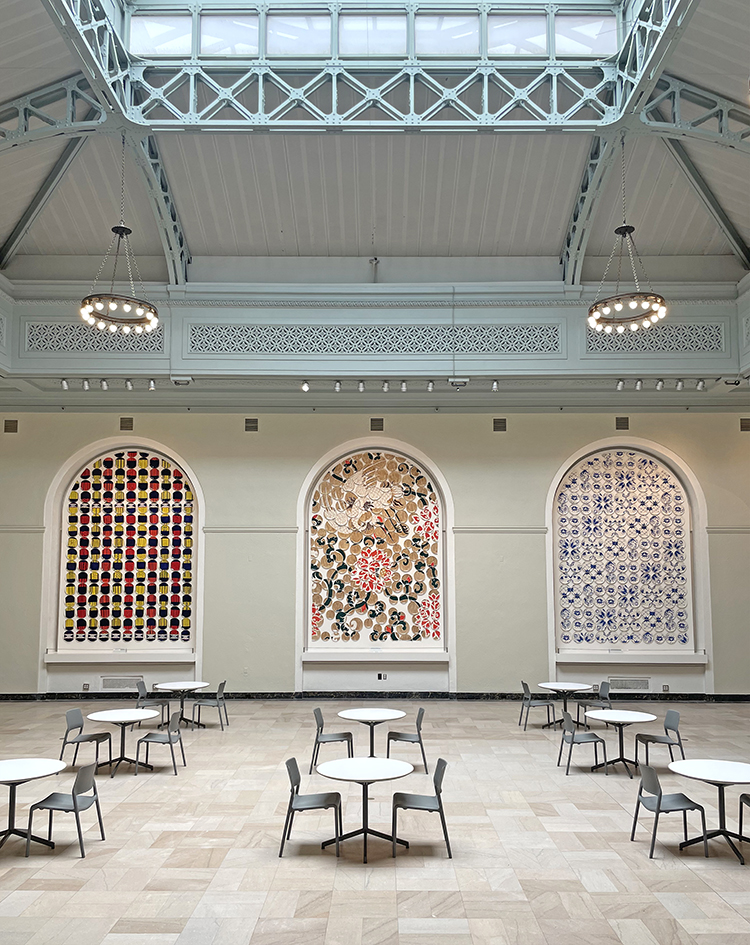 The Newark Museum is also a really beautiful building by the way – we didn't get to sit down in the hall but in non Covid19 times I might.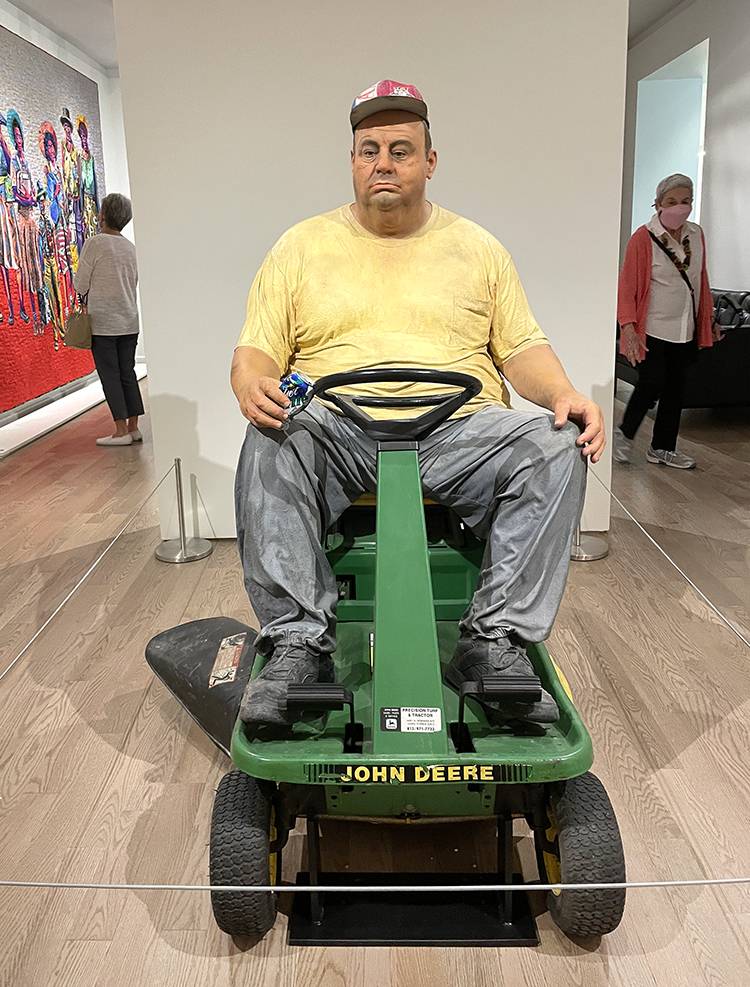 YEAHHA!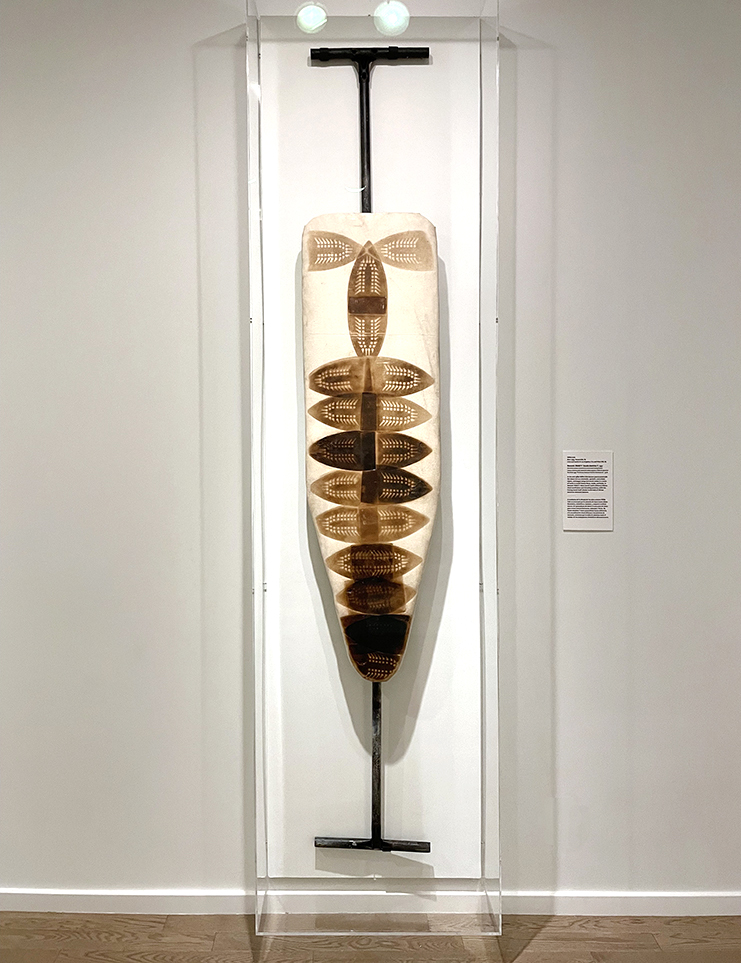 Domestic Shield V by Willie Cole – Scorched Canvas mounted on wood and ironing board. In the 80s "…Willie Cole became pre-occupied with the steam iron as a domestic, symbolic, and artistic object, and began using iron scorch marks in a series of works to evoke human faces, masks and boats. In Domestic Shield V, these scorch marks reference African ritual scarification and branding practices, while the ironing board itself alludes to the work of African American domestic laborers."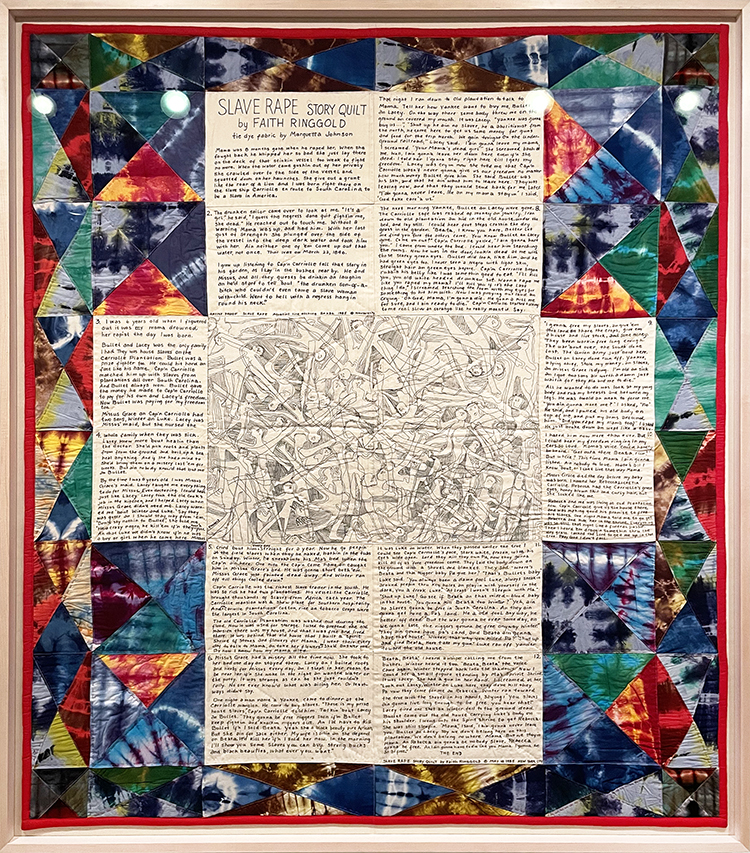 Slave Rape Story Quilt – Faith Ringgold 1985″The Slave Rape story was very hard to do. There is so much we don't know about black women during slavery – it simply hasn't been written. I read a lot and I simply made up the rest from what I thought to be true. The facts I researched, but the events are manipulated in order to bring a message of the sheer horror of slavery for black women in America." Faith Ringgold, 1985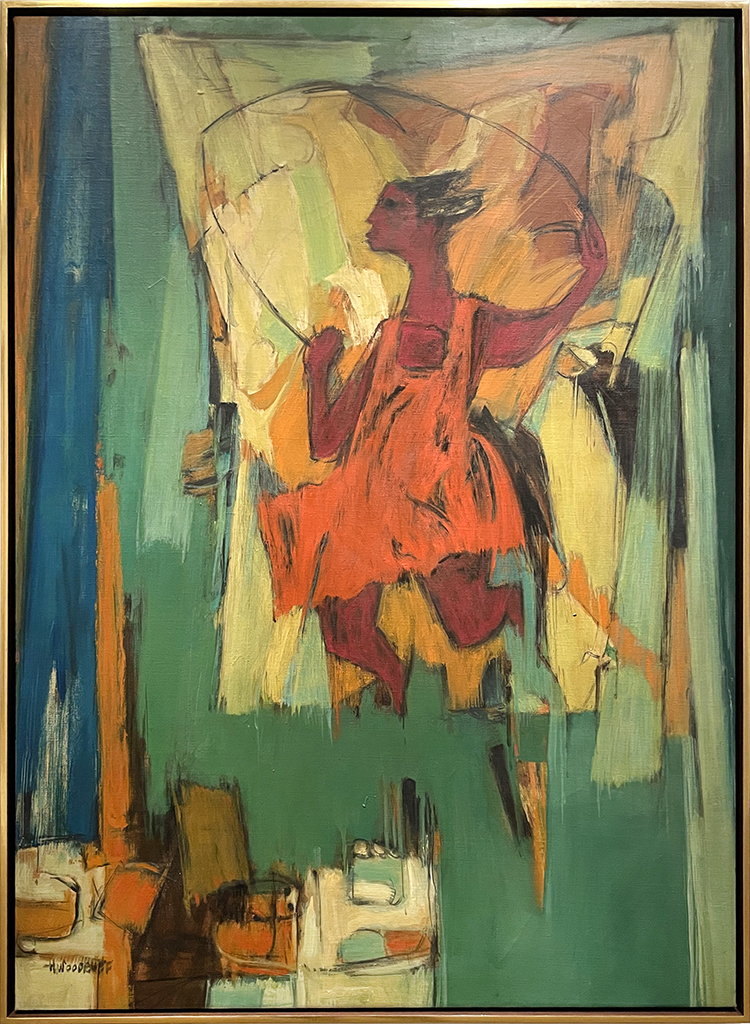 Girl Skipping Rope by Hale Woodruff 1959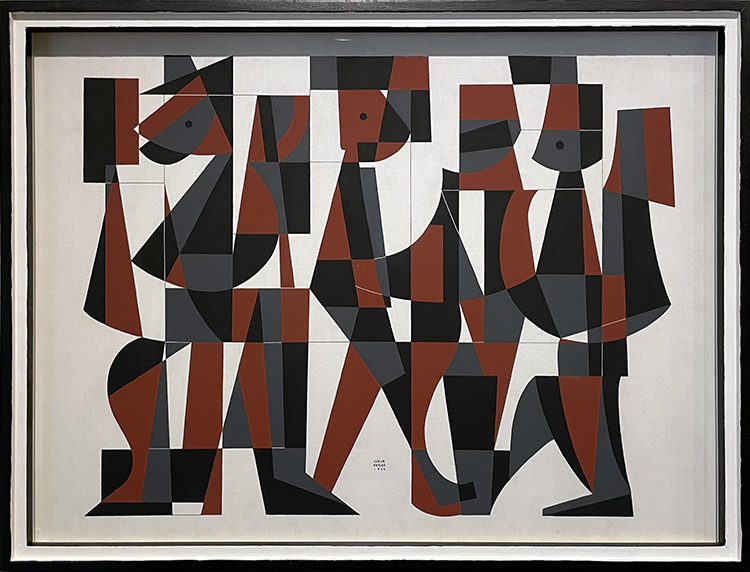 Danza Ritual (Ritual Dance) by Carlos Mérida, Guatemala 1962
The abstract treatment of the figure in this painting refers directly to the motifs of ancient Mayan art. He was also influenced by Cubism and Surrealism.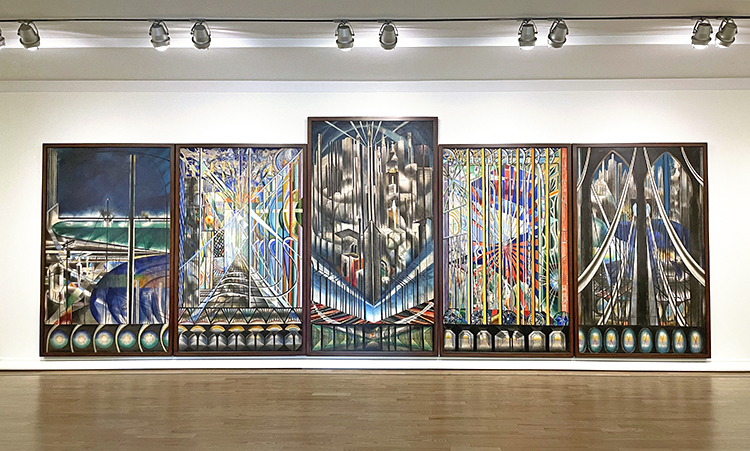 Joseph Stella – The Voice of the City of New York Interpreted" 1920- 1922
This Multi -Panel Painting is reminiscent of altar pieces – Stella portrayed American Engineering and technology as a kind of new religion, an association reinforced by the deep, saturated colors – like stained-glass windows.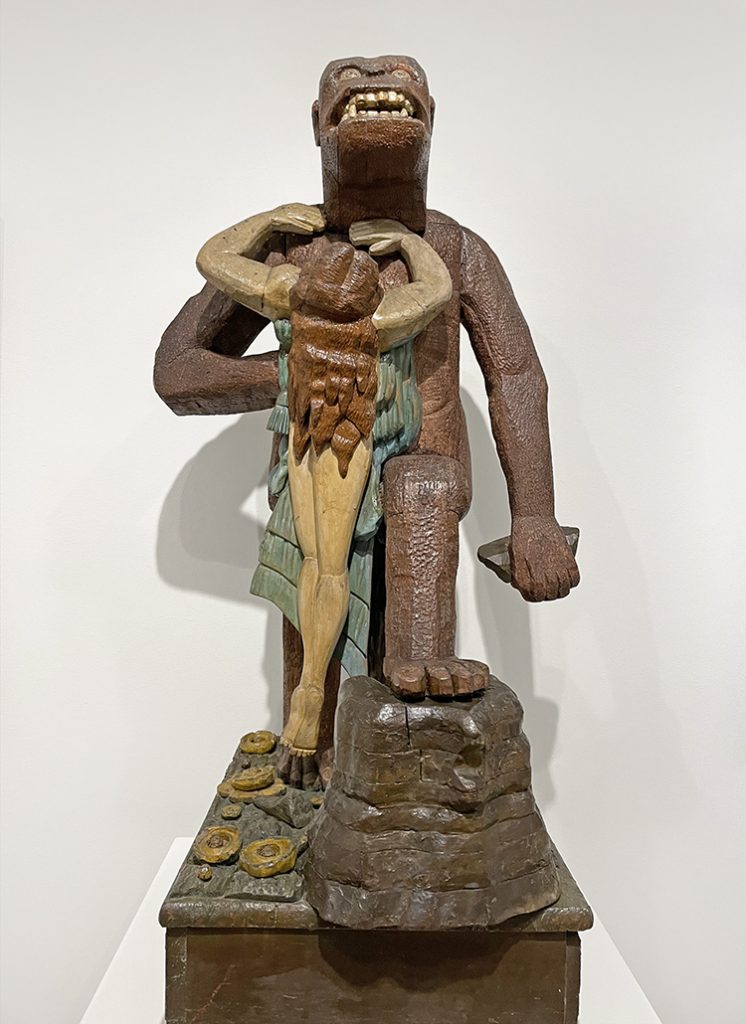 King Kong and Fay Wray ca. 1933 by an unidentified artist. This sculpture was likely created to decorate the lobby of a movie theater to celebrate the opening of the film King Kong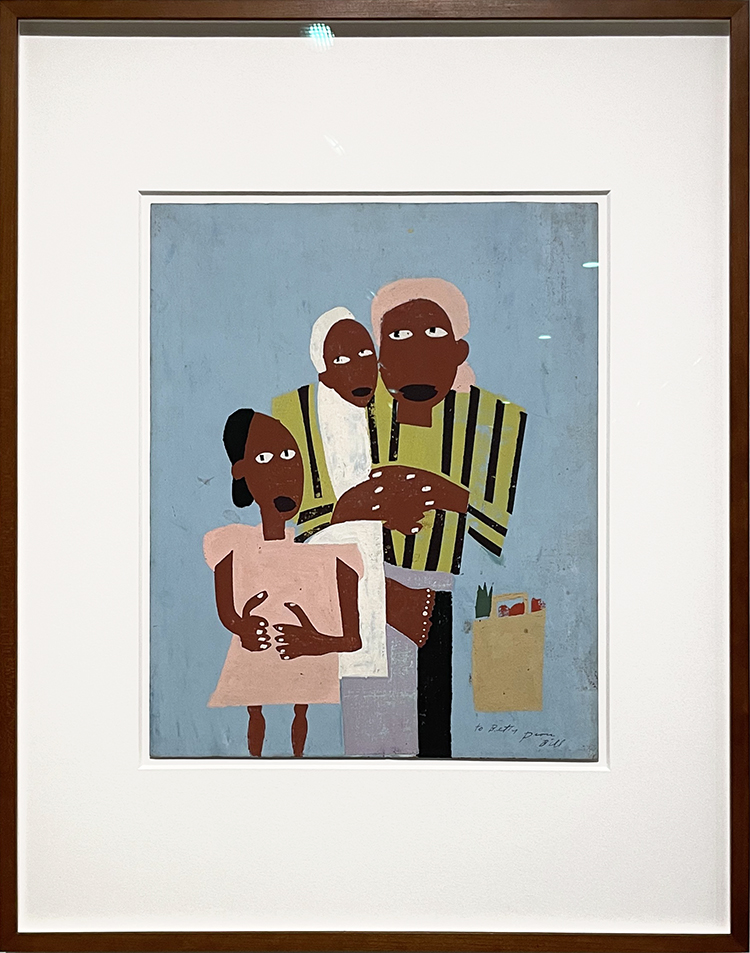 Fright by William Henry Johnson – a Serigraph on Posterboard ca. 1985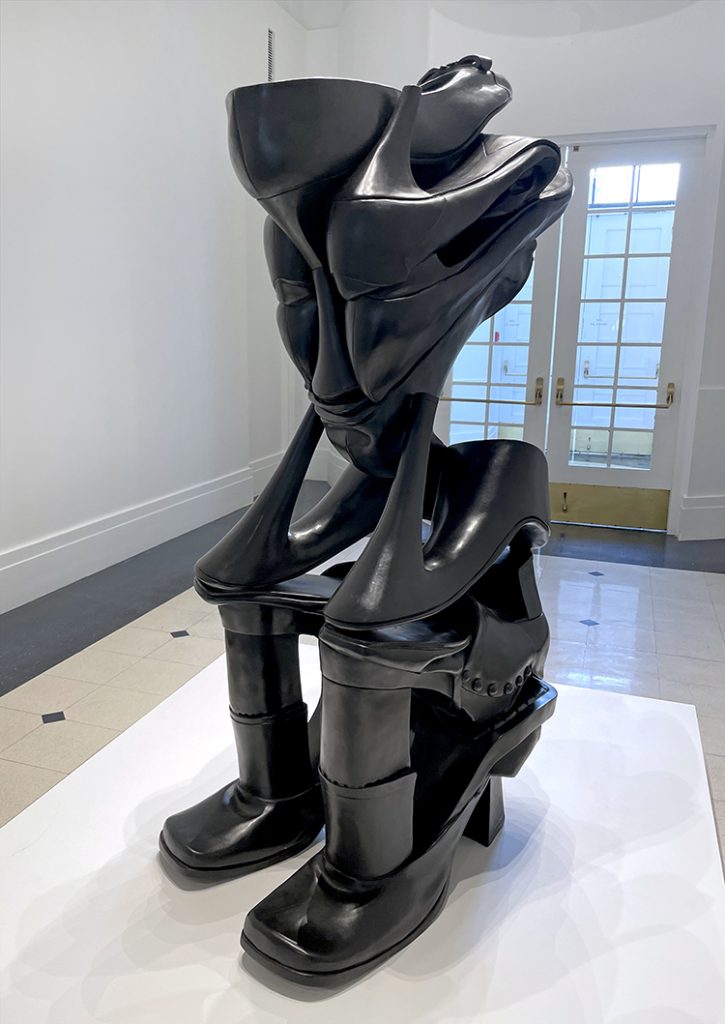 The Sole Sitter – another piece by Willie Cole, 2013. ..Look closely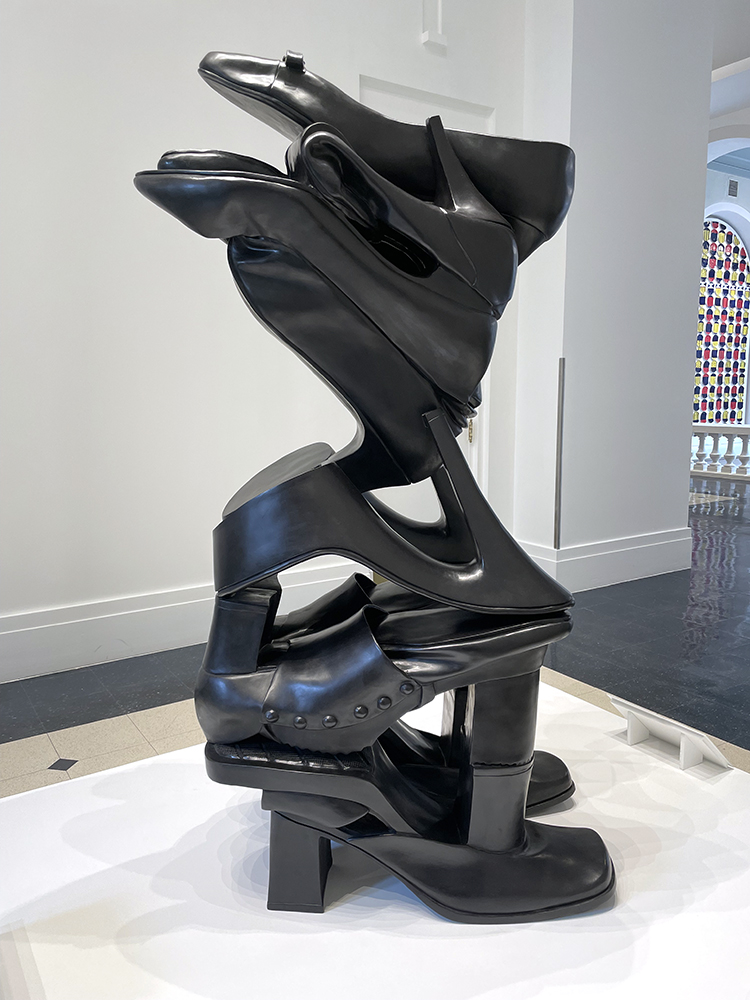 "I surround myself with images of African sculptures…these images get embedded in my subconscious and re-emerge almost effortless in my work."
I hoped you enjoyed this art stroll as much as Kim and I did. Timed tickets, masks, vaccination proof and a temperature check made sure we felt safe and sound and could enjoy the art – We will be back for sure!