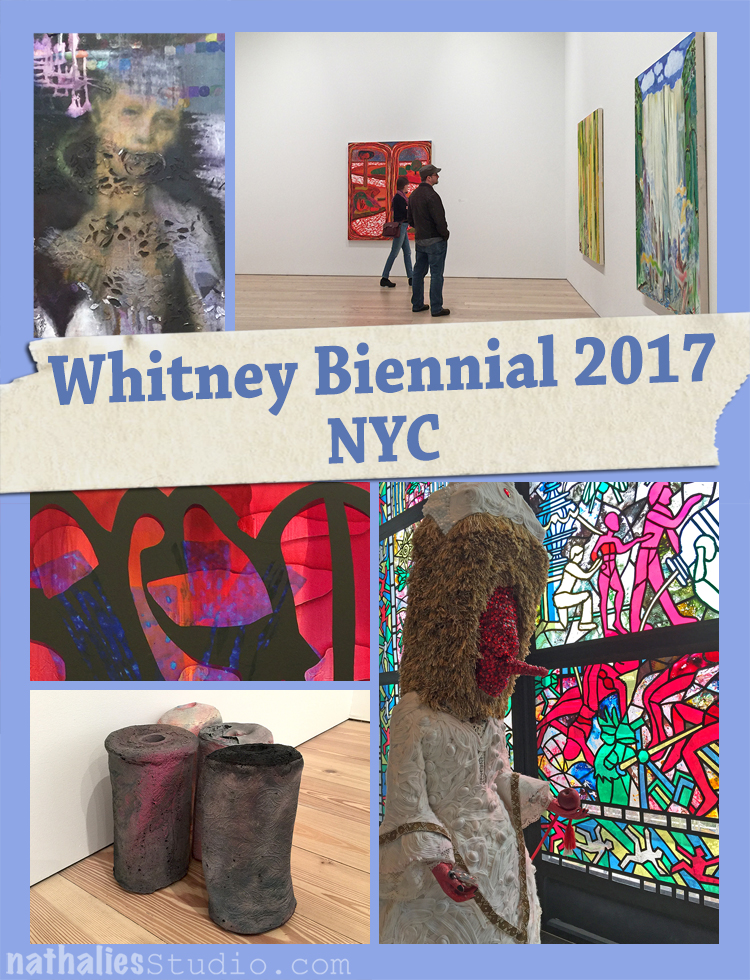 The 2017 Whitney Biennal, the 28th installment of a survey of American art, features sixty-three individuals and collectives with various art styles. This Biennal has been highly controversial and after much consideration I decided to not show any of the most controversial pieces …simply because I haven't made up my mind about them myself and it is really complicated. All I can say is that the work in question in the article I linked up to made me sick to the stomach. So I keep this Art Stroll more on the inspirational and fluffy side.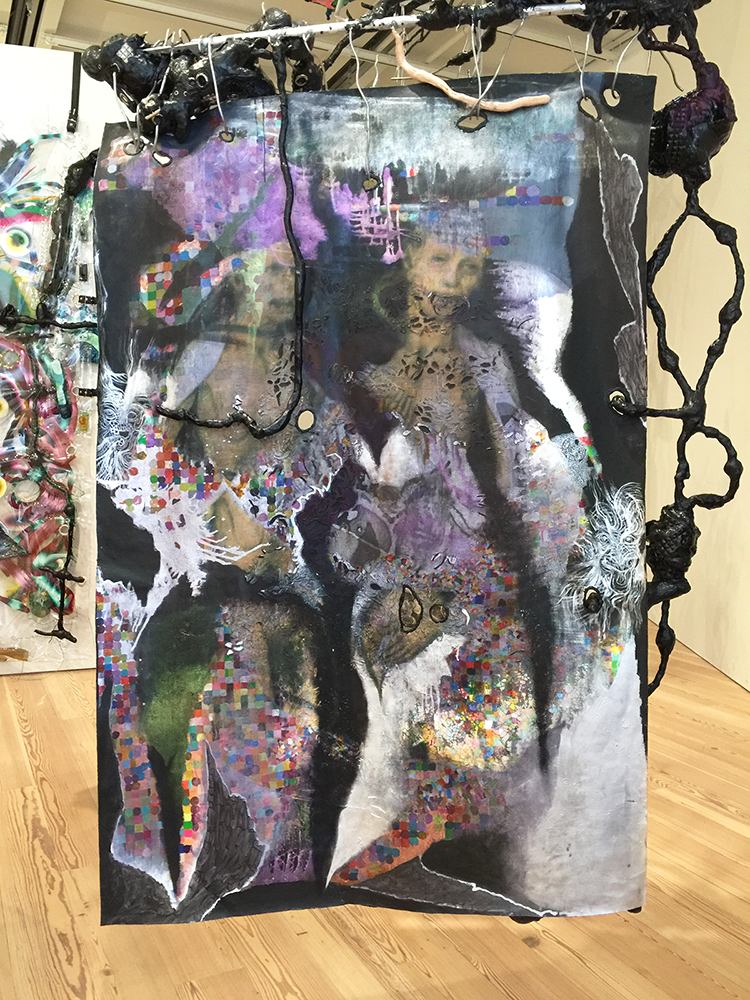 These wall hangings and sculptures by collaborative duo KAYA, painter Kerstin Brätsch and sculptor Debo Eilers are made of of melted plastic, leather straps, oversized grommets, paint and stainless-steel towel bars.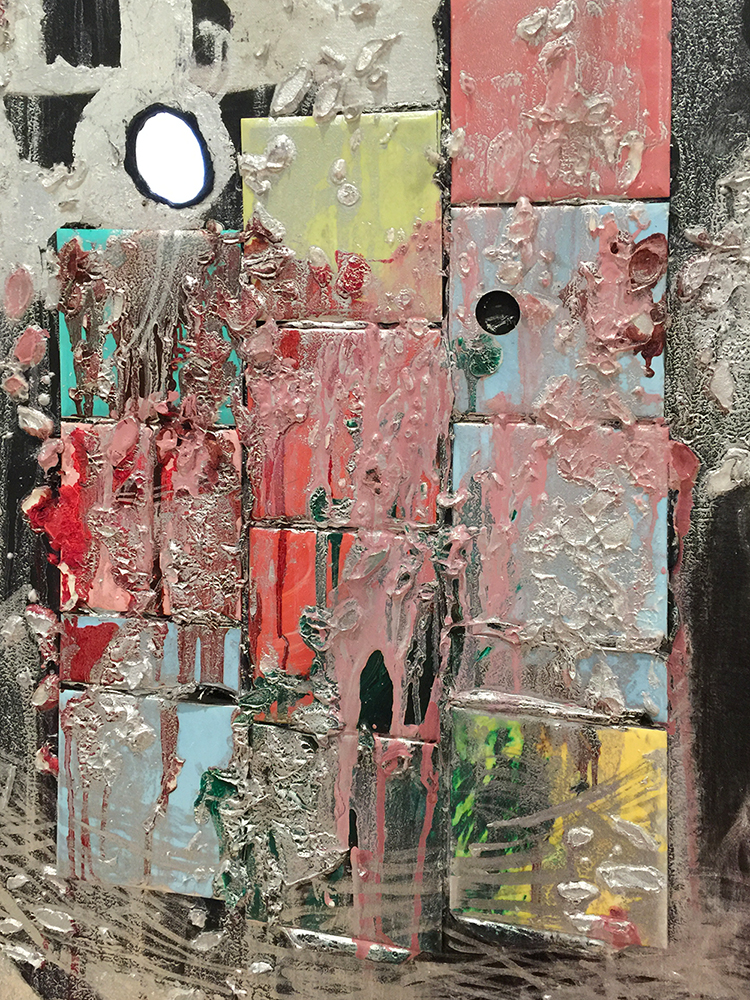 I liked the connection of sculptural and painterly work and the mix of materials.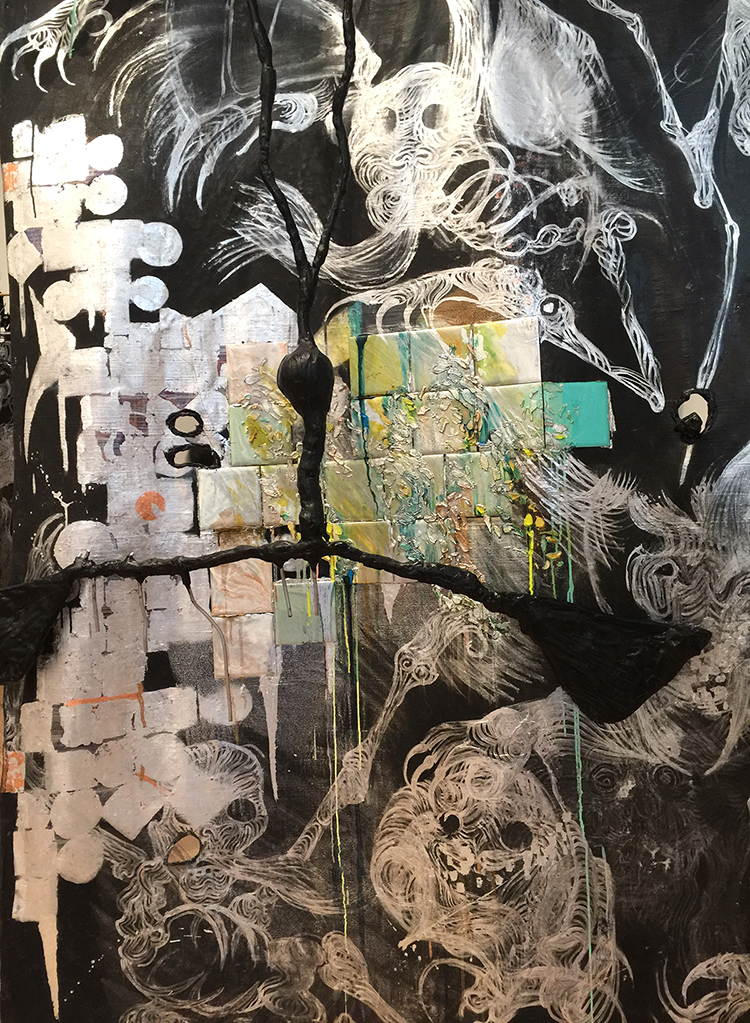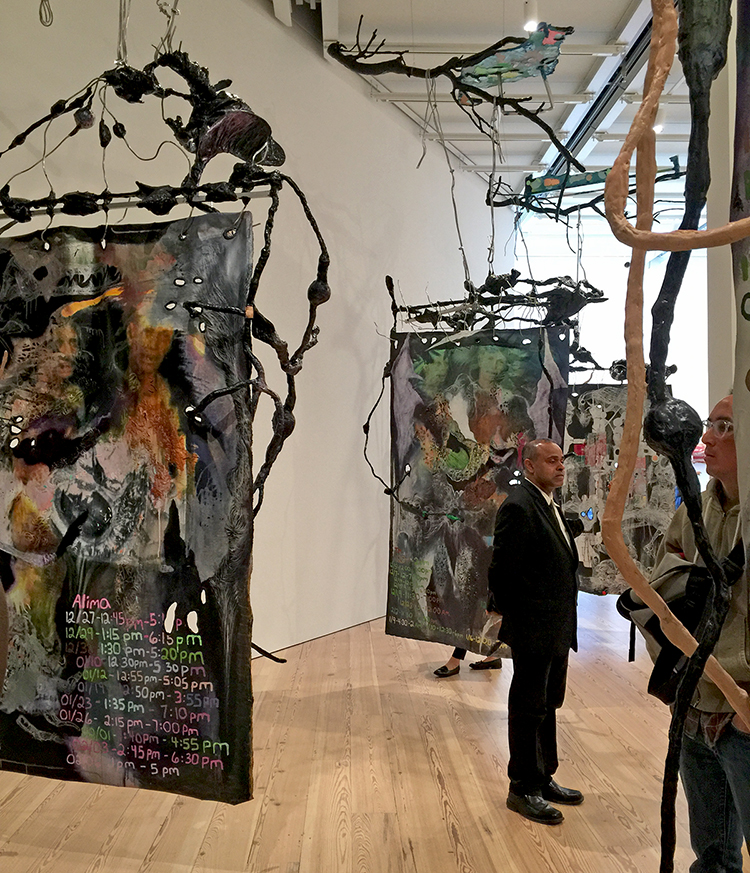 I found them intriguing even if some people called those wall hangings a hot mess.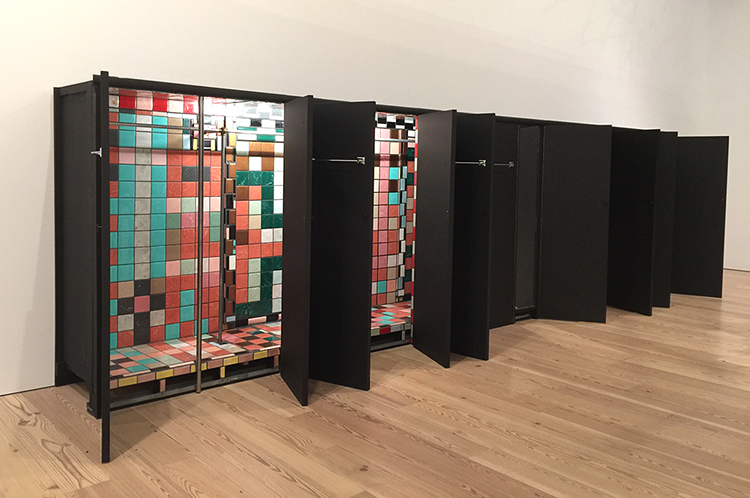 The cabinet above was also by them – it reminds me of lockers in a gym as well as a swimming pool at the same time. Also the piece below- which I assume is made with resin .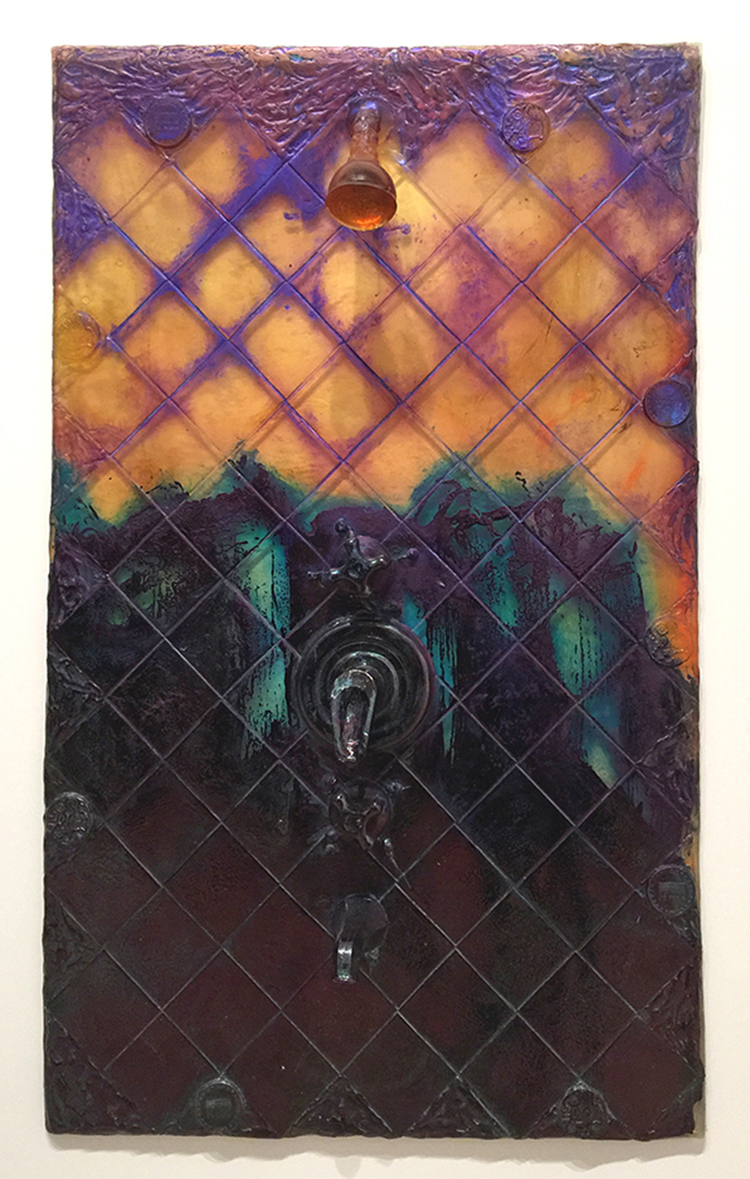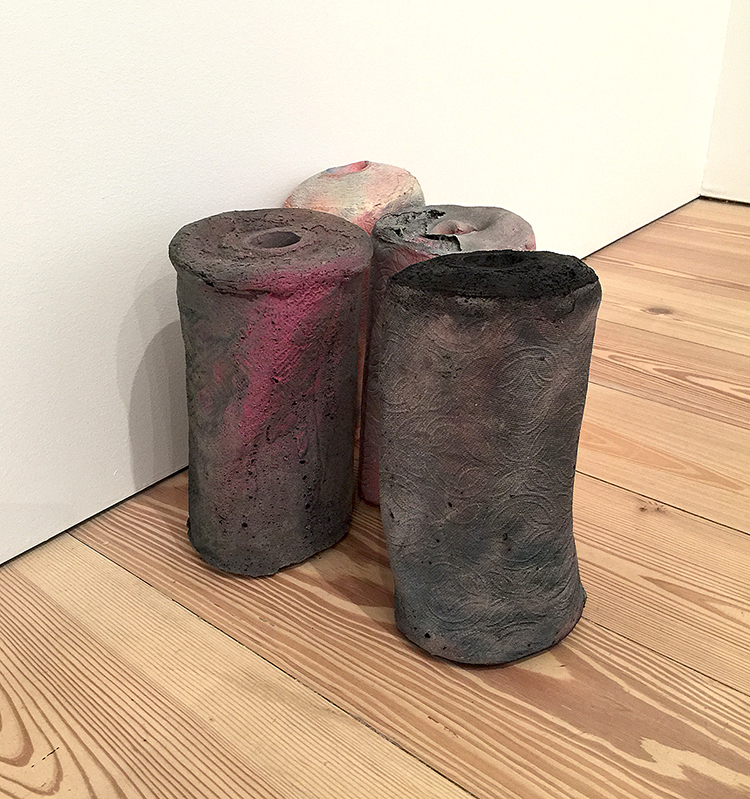 Kaari Upson …yep these are paper roll towels. Kaari turns stained paper towel rolls and upholstered furniture with the help of urethane, pigment and aluminum into lush sculptures.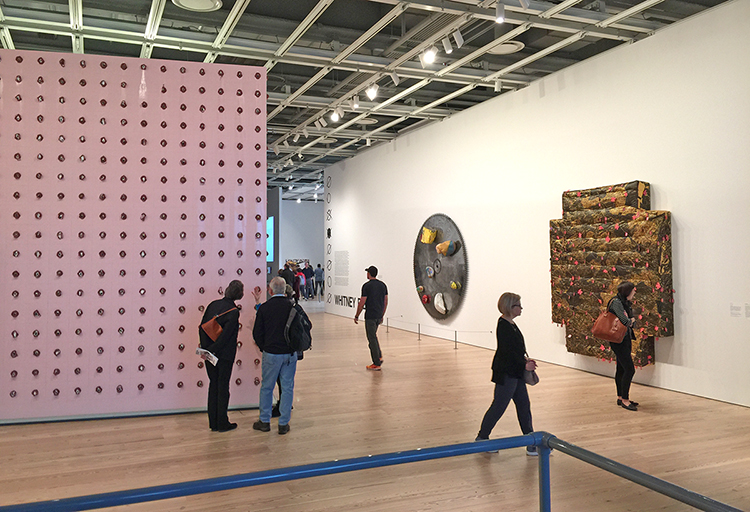 OK- I lied- not all inspirational – LOL- this one on the left was just weird and gross and I don't care if that makes me an idiot. This installation by Pope.L's with 2,755 slices of bologna with a photo pinned to its walls – I didn't get the whole thing – the explanation with the artwork revealed at the same time as being done using "made up data". What's the point?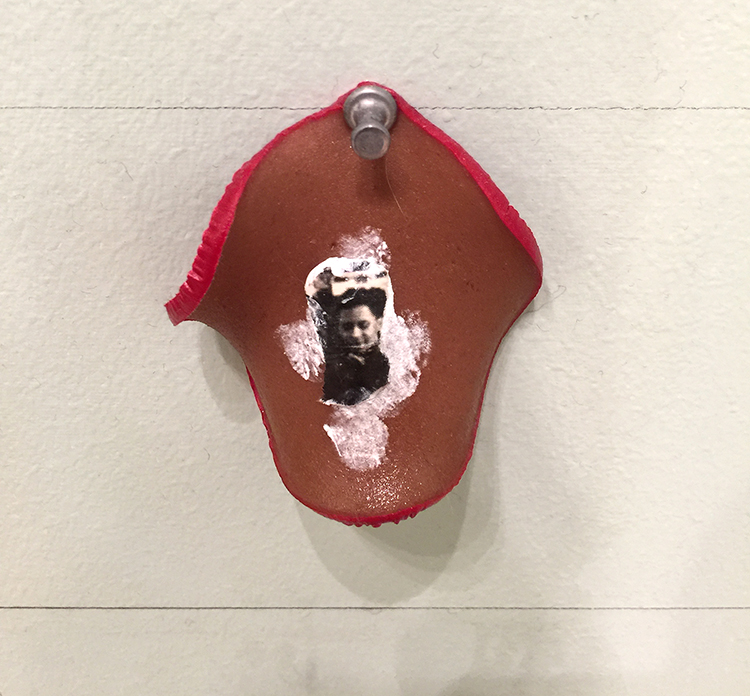 OK- now …back to inspiration …The paintings in the gallery below are by Sarah Hughes.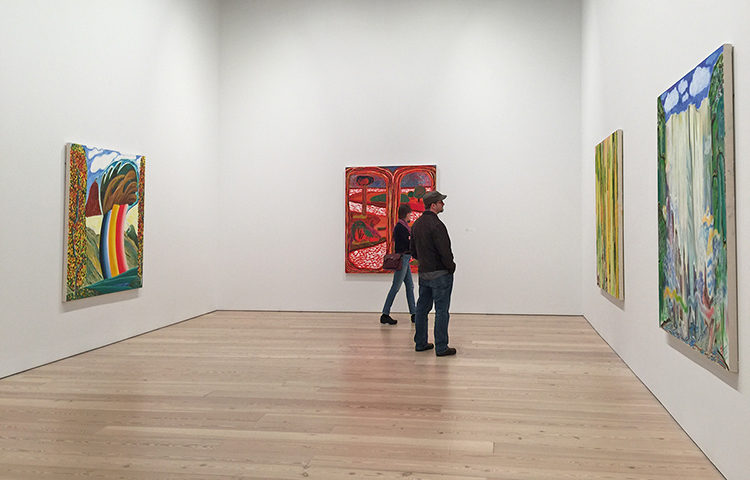 Most of the paintings are done with oil, acrylics, enamel and dye. I love the vibrant colors!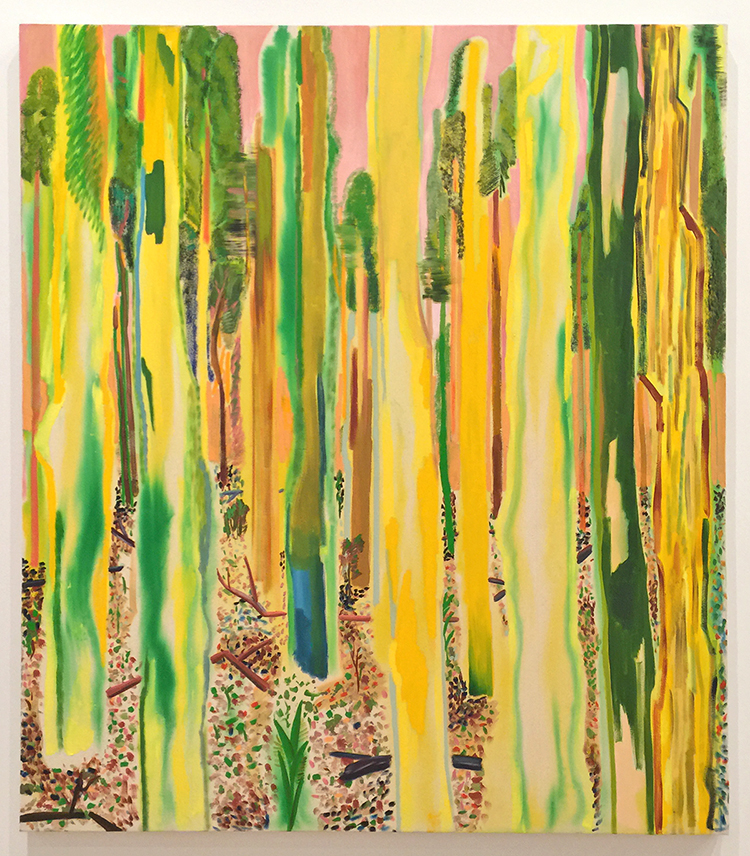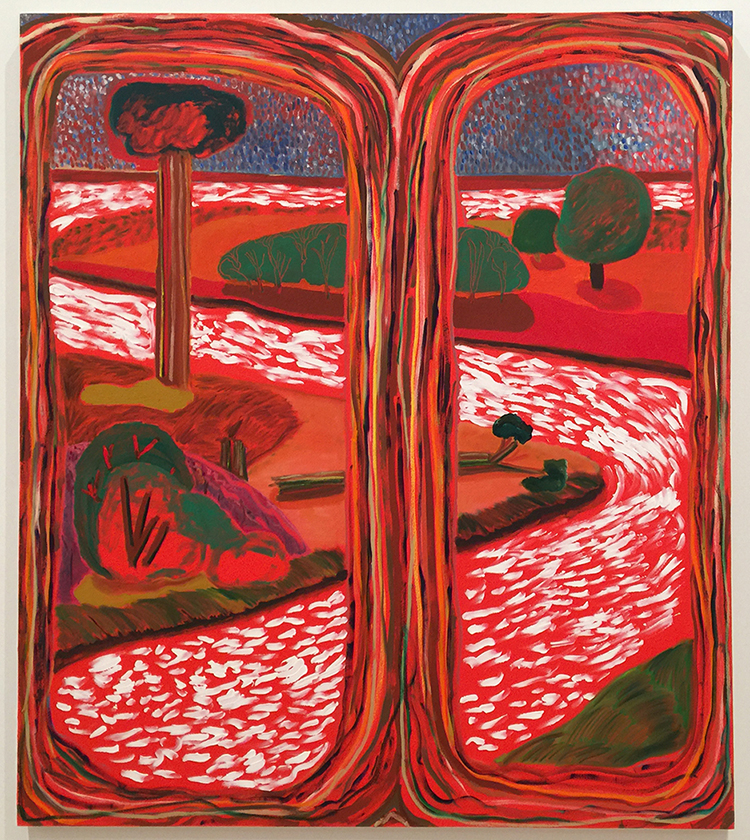 The next group of paintings are by Carrie Moyer.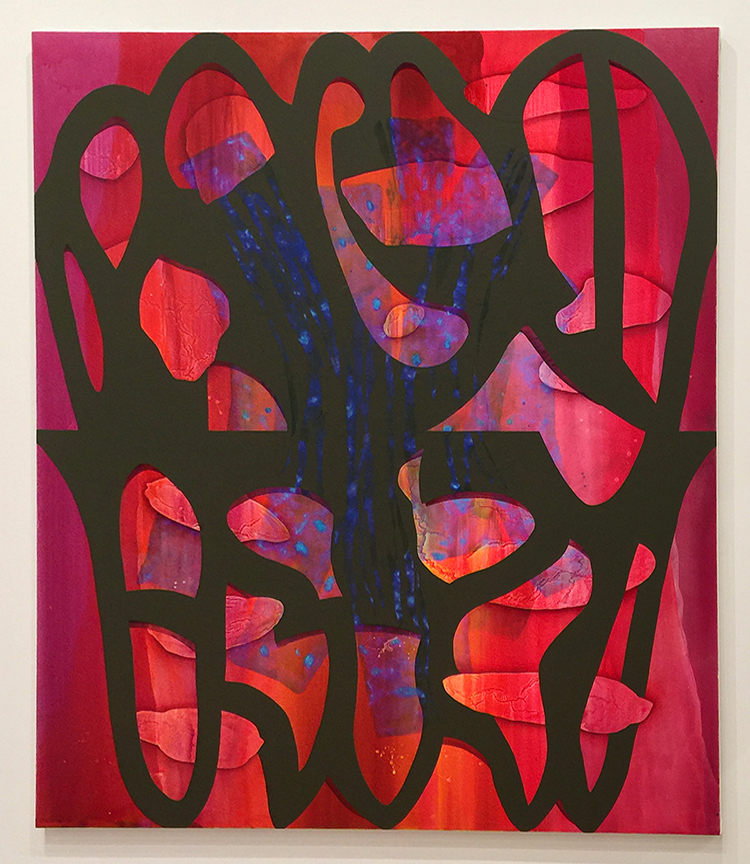 She begins a painting often by creating small collages from cut paper, pours acrylic  and then mixes in glitter.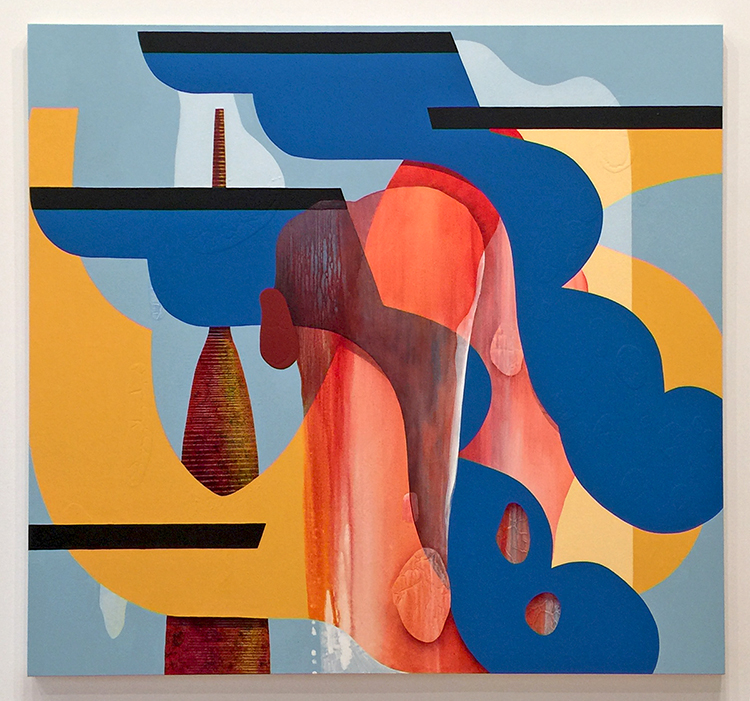 I loved the texture and colors and shapes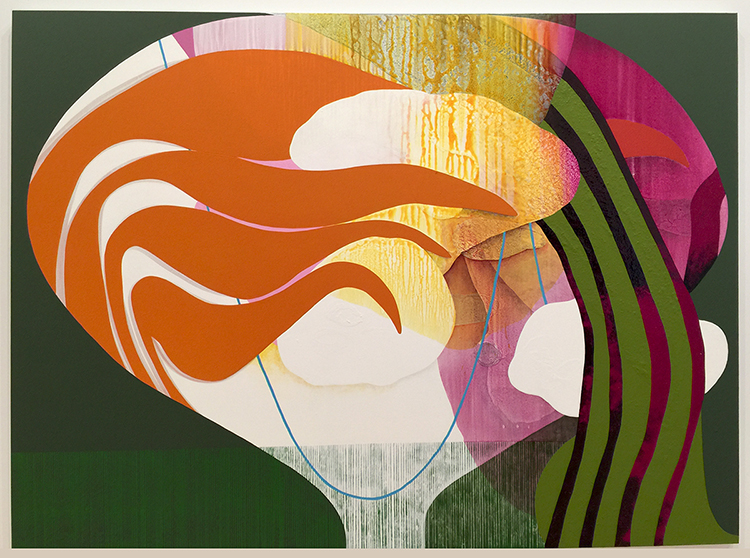 Definitely one of my favorite artworks of the show.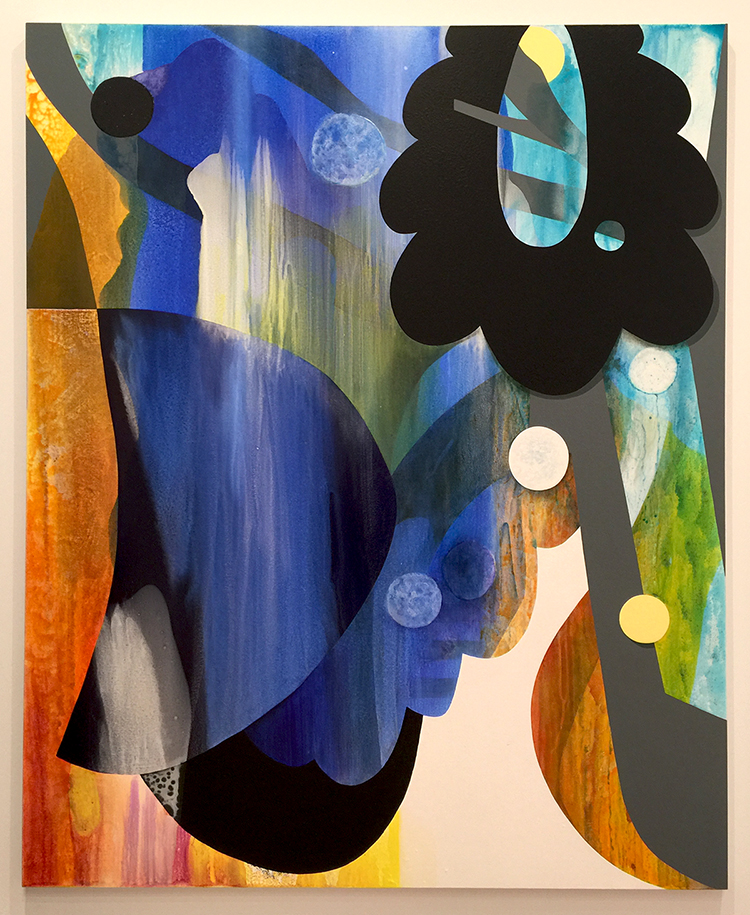 The window and sculptures in this room are by Raul de Nieves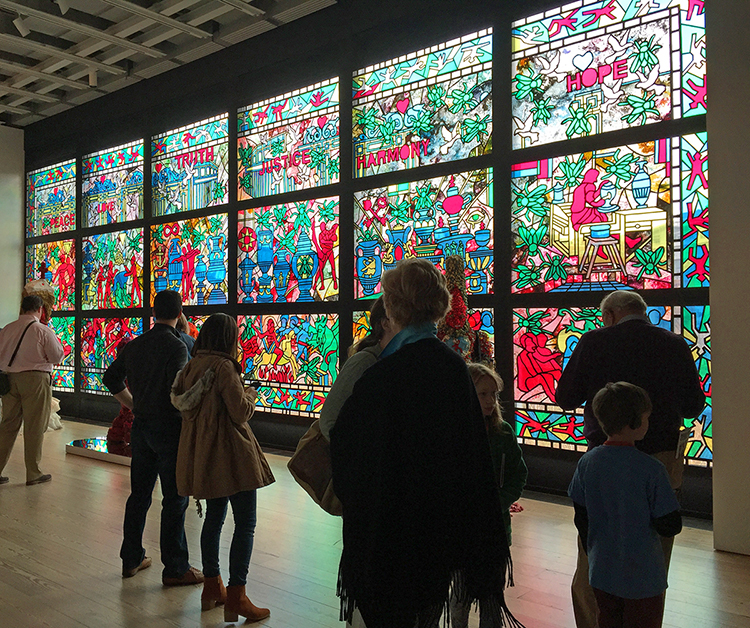 For this site-specific wok de Nievies covered the windows with "stained glass" panels which he created using paper, wood, glue tape beads and acetate sheets.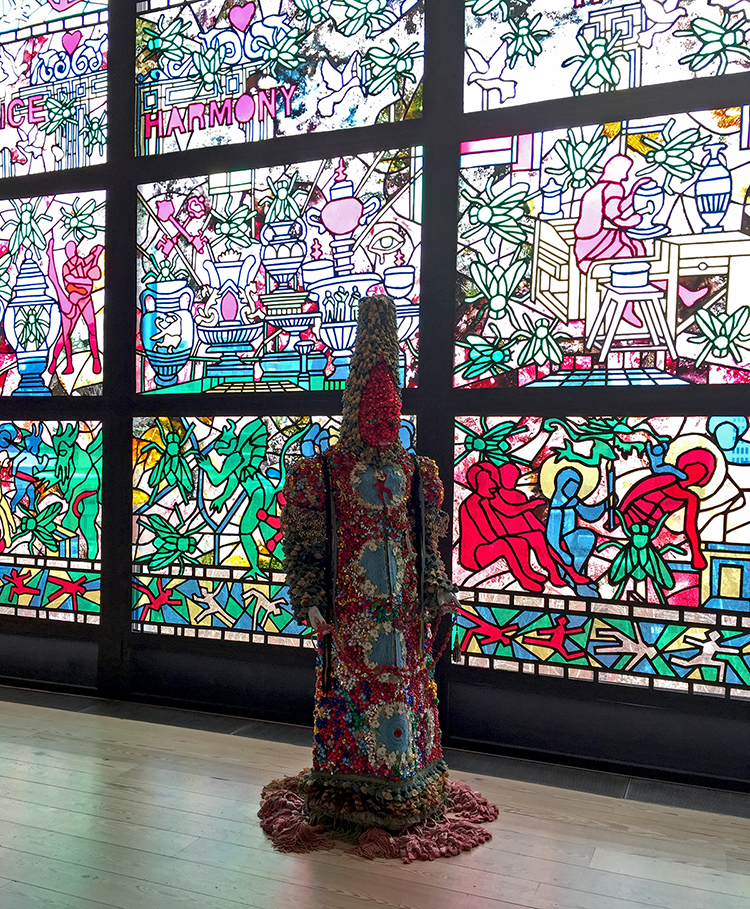 The sculptures are based on shoes …and amazingly beaded and and put together.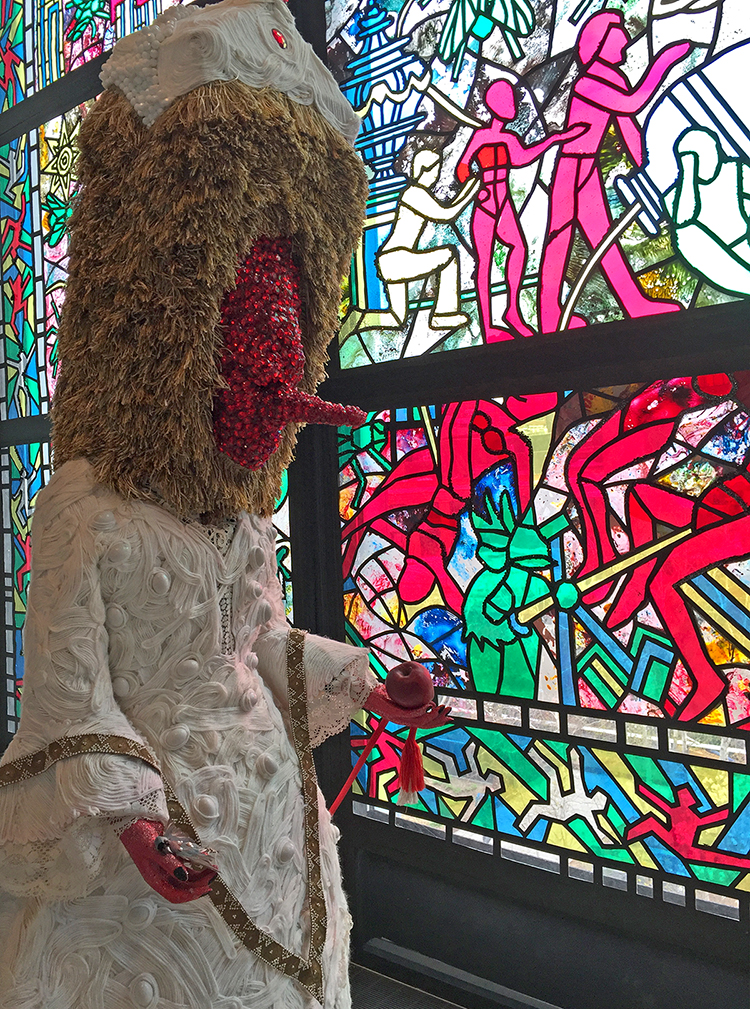 It was weird and beautiful.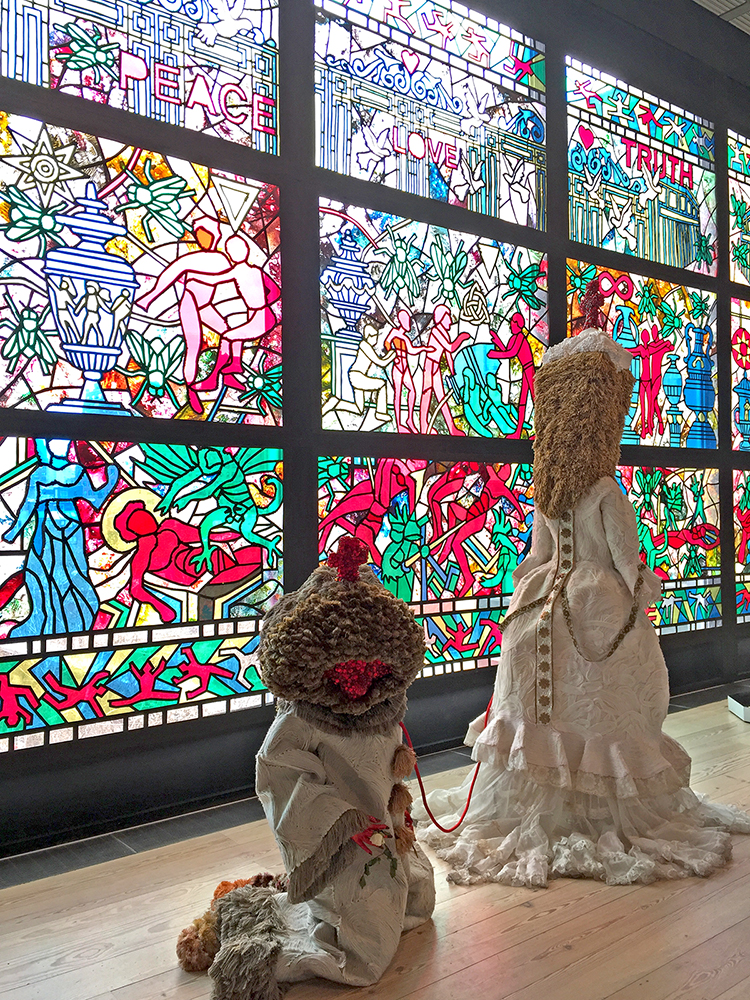 That was it …. a very soft art stroll of an exhibition that was filled with controversial discussions and artwork which I did not show here. If you are going…you will be seeing a lot of different things and if you went, I would love to hear your thoughts.