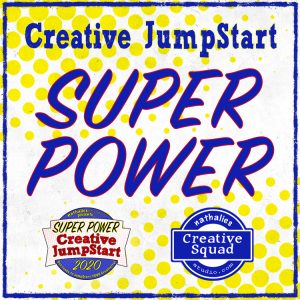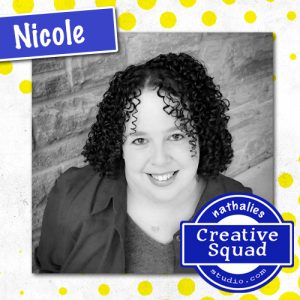 Hello again from my Creative Squad! Today we have Nicole Watson sharing her artist super power with us: making messes! Well we are truly gaga over this scrumptious mess that she's created in her art journal, using my Art Deco Fairview stencil and this month's theme: Super Power – this month we are joining Creative JumpStart 2020 and exploring our Artistic Super Powers. It could be your unique technique or style, the way you like to use a medium or tool, or maybe your way of approaching artmaking. What is yours and show us how you use it.
---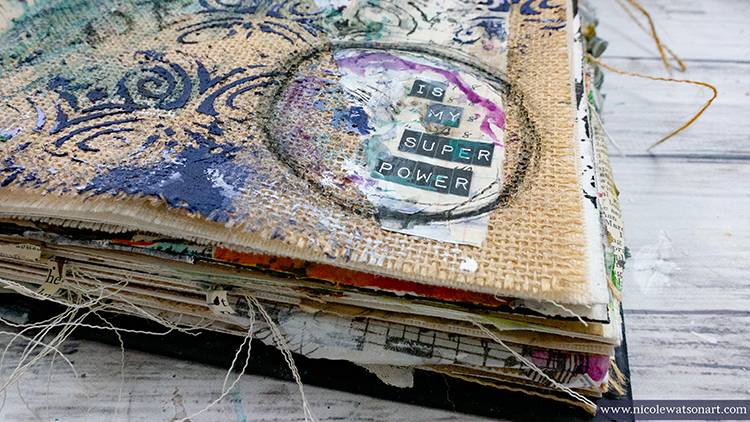 I love the idea that artists have super powers! When walking through a museum, one can usually spot a Monet, van Gogh, Mondrian, Cassatt, O'Keeffe, Rothko, etc. without even looking at the information card. The same is true today. When scrolling through Instagram, I can often tell who the artist is before looking at the user name. How cool is it that we all have unique talents!
When thinking about my super power, honestly, I struggled. Circles, dripping paint, color mingling, layers, my favorite weapon the stabilo all, gesso, and book text often fill my pages. All of these supplies and techniques come together to create a mess… a mess that often I over-think, want to gesso over, and struggle with where to take it next. This part you don't see in my pretty pictures and edited videos. This week as I played in my journal using my "super powers," the struggle was there. The mess appeared. Thoughts of defeat and wanting to start over filled my head. I'm sure you can identify! However, the thing about an art journal that we often forget is that it's for exploring, journaling, playing with ideas… and creating messes! Not everything has to be a masterpiece. Often, it's in taming the mess, that new ideas are formed and discoveries are made. Don't let that mess stop you from creating. Use it as a way to learn and grow as an artist. I like the idea of turning something negative, into something positive. (Remind me that when I make my next mess!)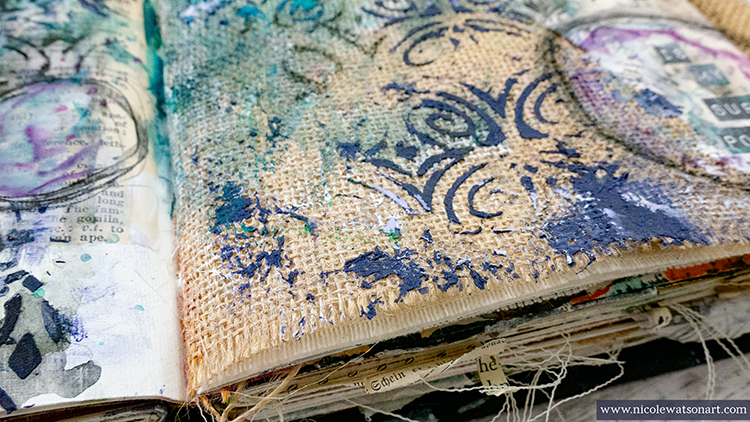 This week I decided that though there are several techniques and tools that I might be known for, making messes is my super power! And, here's how I made this one. Check out my video and then read my how to below: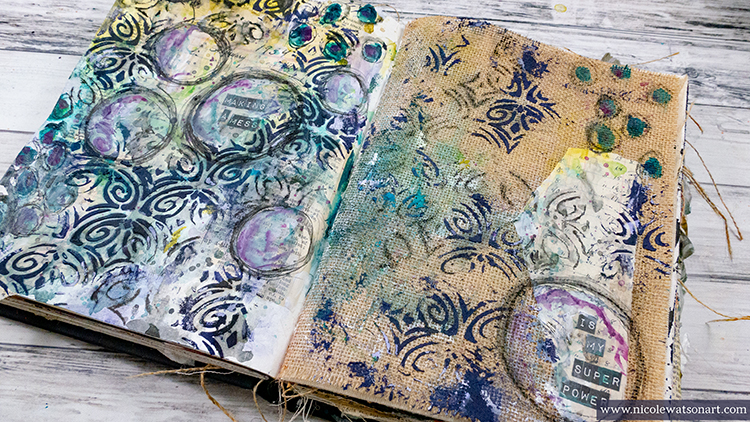 I used a journal spread where a white (watercolor) paper and a burlap page came together in my Dina Wakley Media journal. Before collaging the book pages, I gessoed the white page and spread a bit of the gesso on the burlap for fun. Then, I began to add some book text with matte medium and used a heavier gel medium to add a piece onto the burlap side.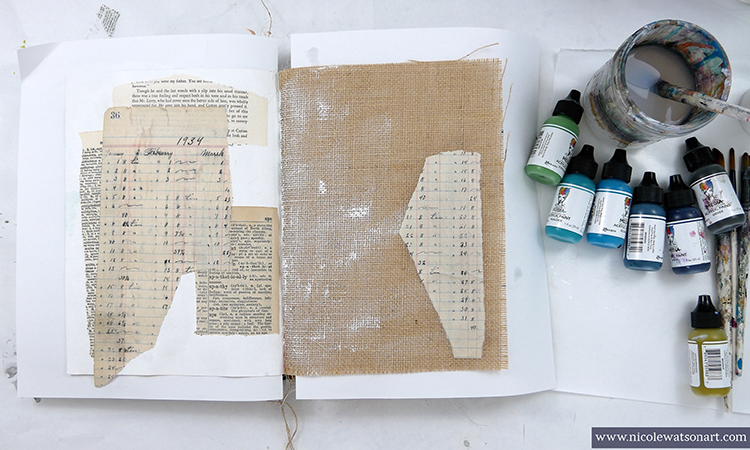 Next, I chose a cool color palette to play with. I really enjoy the process of playing with color and letting it mingle on my pages. I also added gesso at times. When I was finished layering color on the pages, I pulled out Nathalie's new Art Deco Fairview stencil.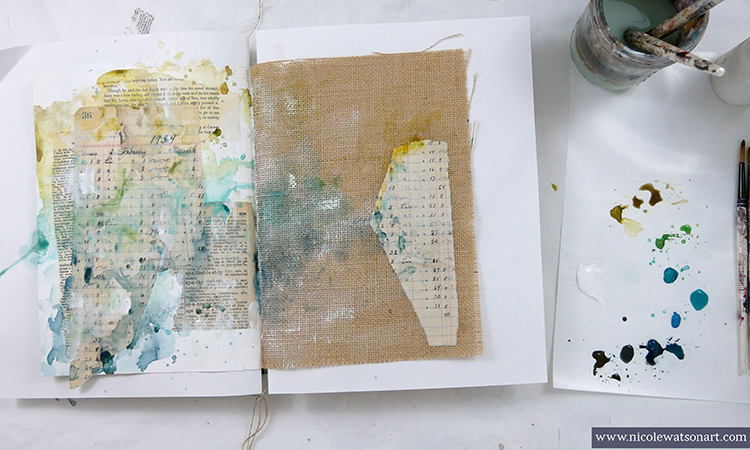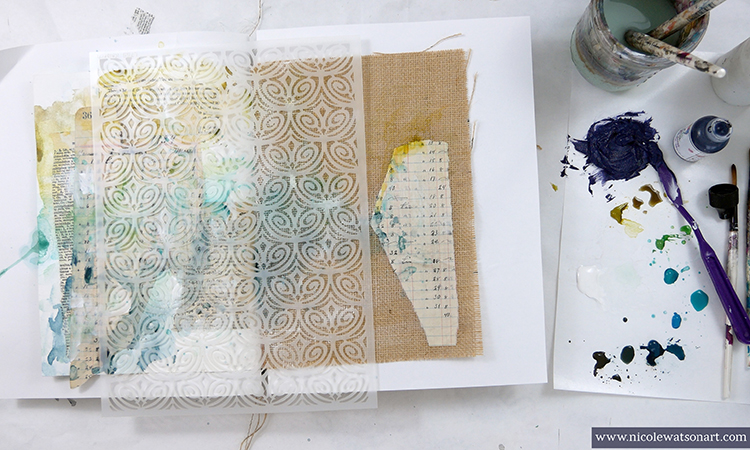 I wanted to add some texture and dimension with the pattern, so I used light molding paste through the stencil. I decided to color the paste with paint so it would pop even more. I spread a thin layer with my palette knife randomly on both pages. Since the molding paste is white and not clear, my dark blue paint ended up looking more purple (first mess accomplished).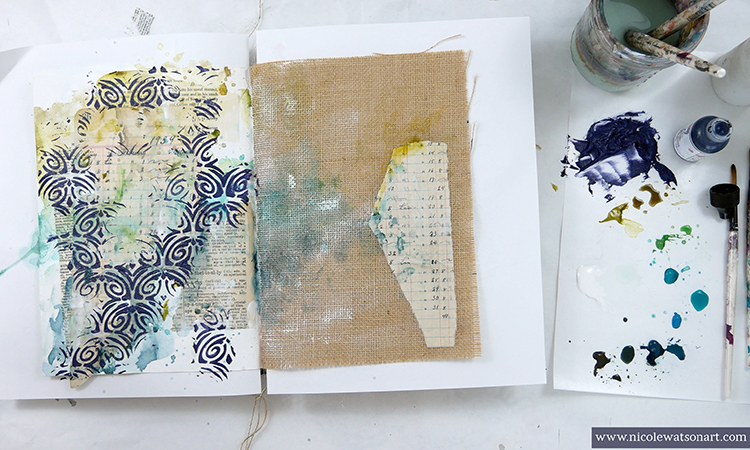 To make the random stencil look a little more intentional and perhaps like it was crackling or breaking off the page, I scraped it here and there with my palette knife and smoothed some out with a baby wipe. I also added extra paste in places outside the stencil.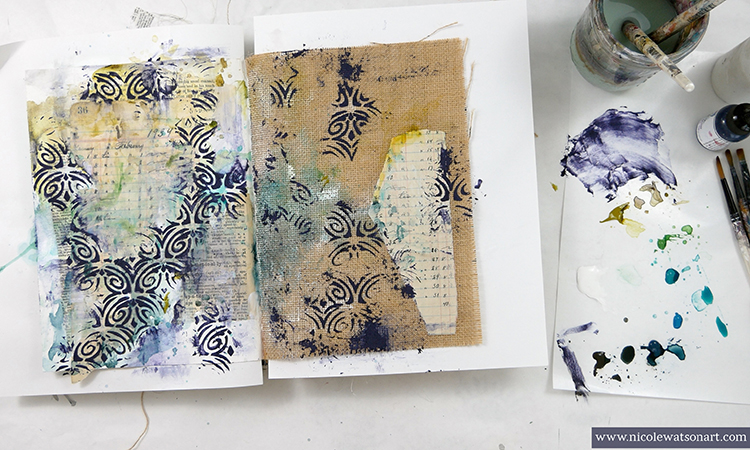 Then, I needed to think. So, I made some marks with paint and my stabilo all (mess number two). In the process of activating the stabilo, I decided to use one of my favorite techniques that I call the "stabilo puddle." I scribbled some stabilo on my palette paper and activated it to make a puddle. I used this to shade around the stenciled areas to make it look a bit grungier. Ah-ha! This grunge helped darken the purple molding paste.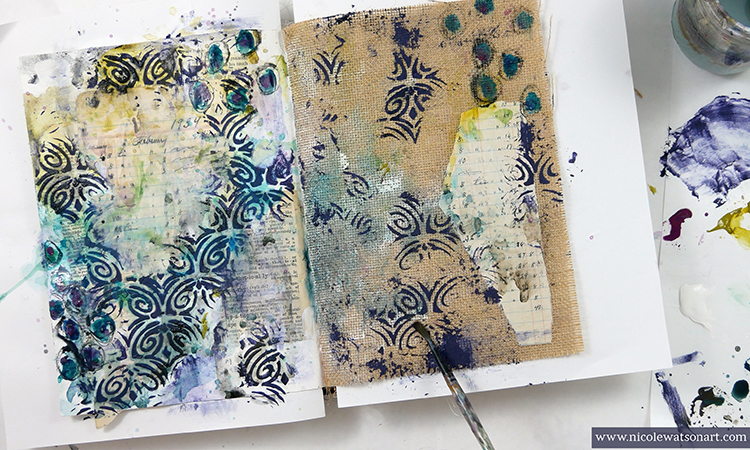 Since I liked the direction this stabilo was heading, I grabbed the stencil again and used the stabilo to trace the design. It was easy to put the stencil back on the pages since the paste fit right back into the empty spaces. I randomly chose areas to trace in to add to that worn, peeling look. Then, I activated the stabilo with water.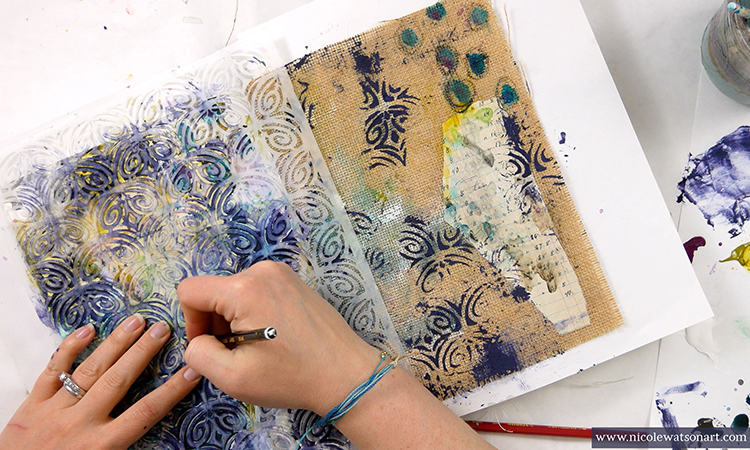 Several messes later, after adding some more paint, flicking color, gesso and stabilo, I decided to label the pages with my official super power. After sticking the letters down, I used the stabilo to draw circles, shaded them with gesso and then again with a contrasting warm color to make them pop.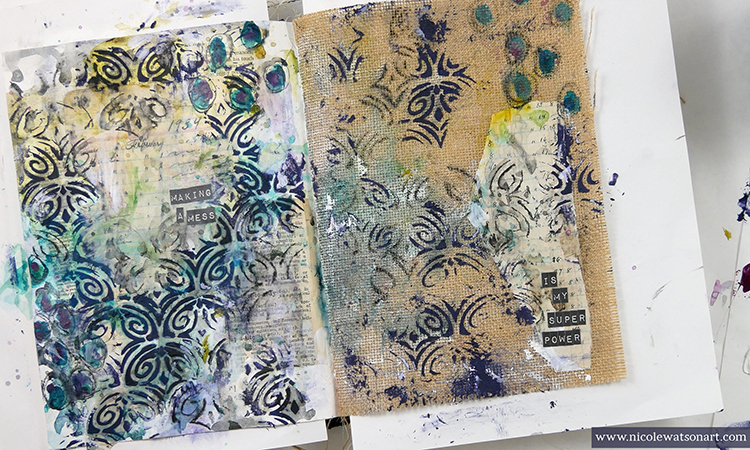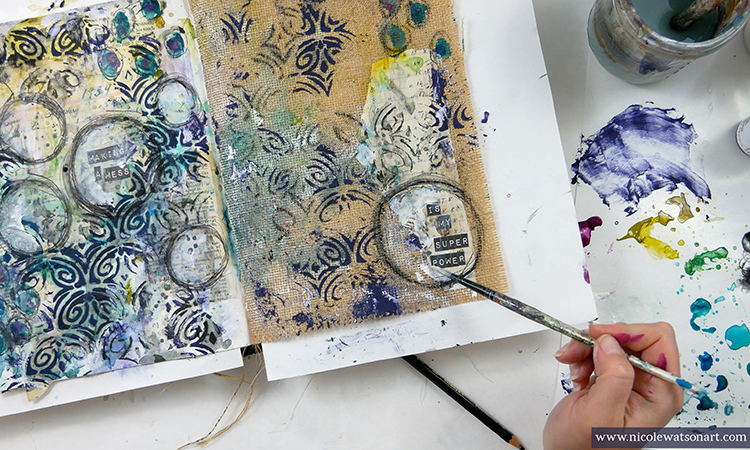 Mess accomplished!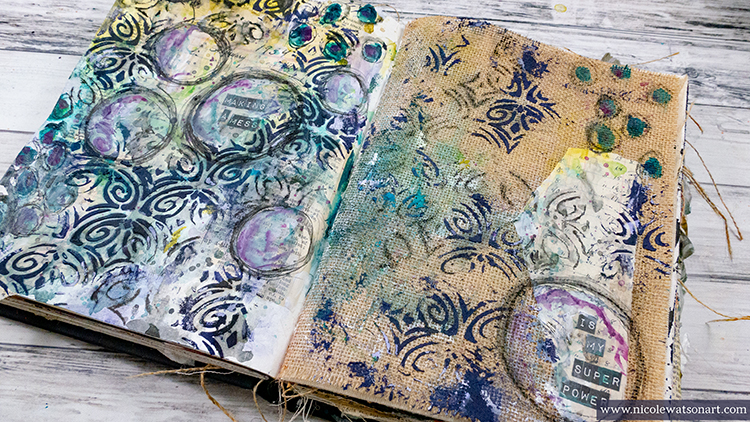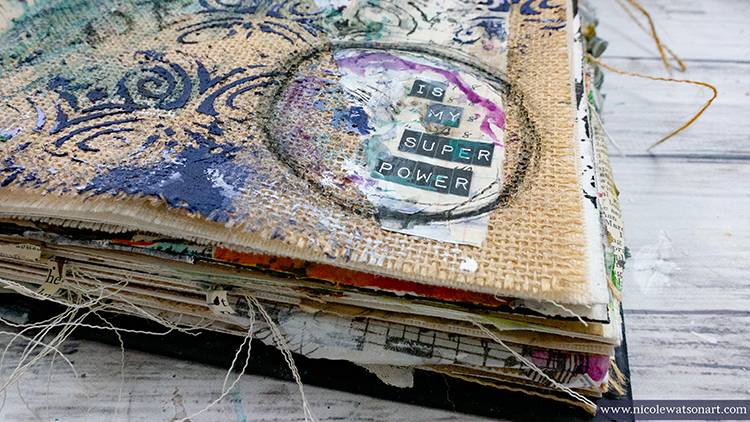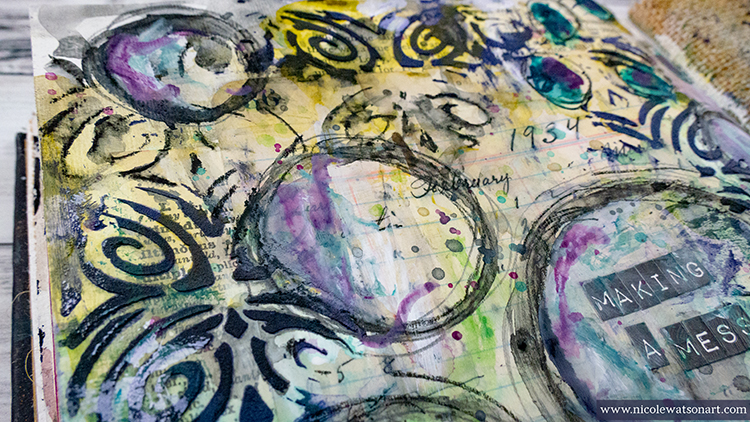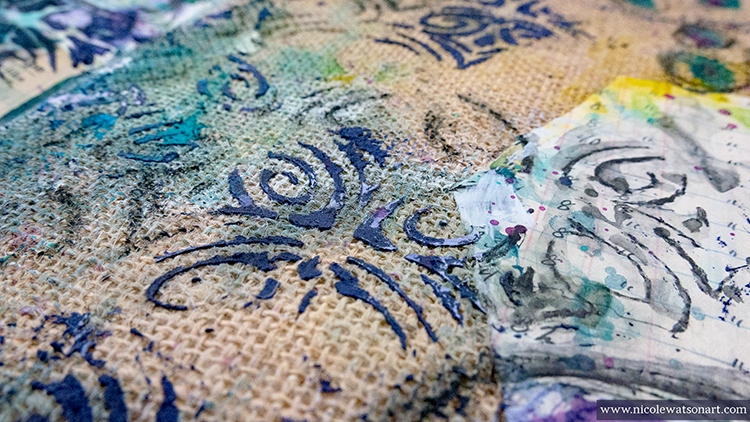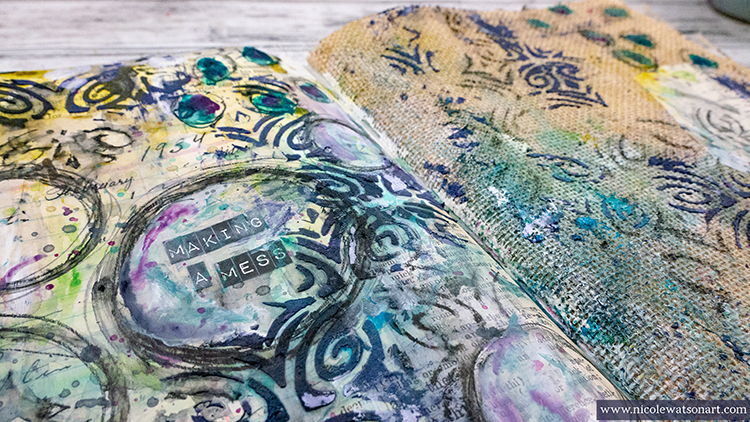 ---
Thank you Nicole – we LOVE what you do with messes :)
Want to give Nicole's project a try? You can find all my Stencils in my Online Shop and in addition to book page/ephemera, here are some of the other supplies Nicole used: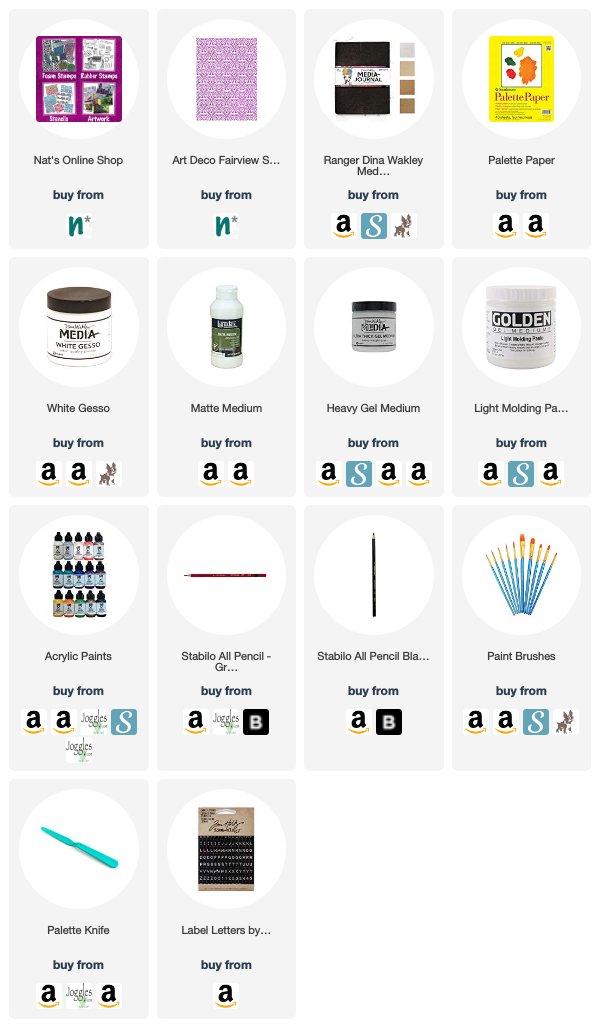 Feel inspired? Playing along with Creative JumpStart and the Creative Squad? Working on something yourself that you'd like to share?  I love to see how you interpret our monthly themes. Email me how you used my stencils and stamps with the theme and email me an image – I would love to share your projects in my next  "n*Spiration From Around the Globe".