Hello from my Creative Squad! Today we have a post (and video!!!) from new member Robin Seiz – sharing her mixed media panel painting using my Midtown Minis and Central Ave foam stamps and this month's theme: A New Day – Let's try something new today :) Although these are tumultuous times and we never know what each new day will bring, it also seems like the perfect time to throw caution to the wind and just jump into something new with both feet. Try a new material or technique or approach. Why not? Today is a new day… and tomorrow is too!
---
I am very excited to be one the newest members of Nat's Creative Squad. When I thought about the theme for the month, A New Day, I immediately thought about the morning. (even the song in my video is called "Morning Mood"), but as often happens in my artwork, as I worked on this little scene, I felt more of an evening mood. But really, don't we each have the "promise of a new day" every evening as the sun sets? Whether out day was wonderful and we look forward to a repeat for the next day or our day wasn't so good and we look forward to tomorrow —— that is promise of A New Day.
In this project, I worked with new paints (as my New Day theme) and I have to say that I absolutely love them. They are paints by Art Alchemy and they come in both a variety of finishes and a variety of yummy rich colors. I also hadn't worked with Nat's Central Ave Artfoamies and I see so many uses for them for the future.
I started this project with my gel plate, the Art Alchemy Spark paints, (colors Butterfly Spells and Magical Pond) and a 3" x 4" Art Bite Panel. I often use my gel plate to put paint on a substrate whether it's a piece of paper, canvas or something like what I used here, an Art Bite. I do this because I like the organic look which always includes lots of texture.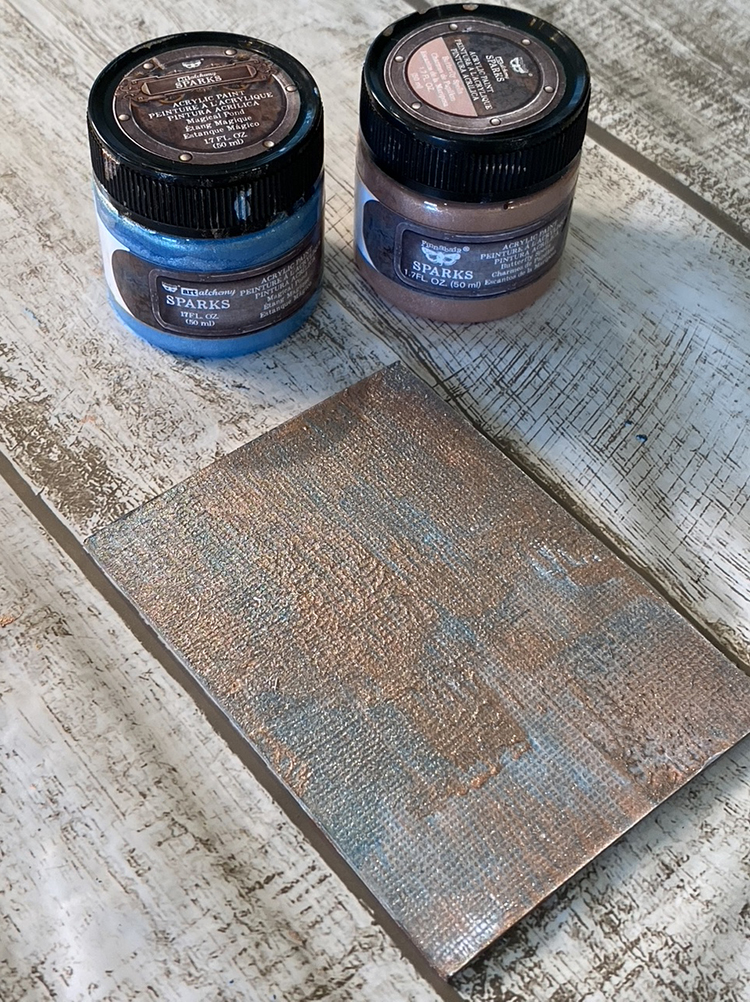 Once I was happy with the finish on the Art Bite, I used VersaFine Clair permanent Nocturne ink to stamp the Midtown Minis Artfoamies on the substrate.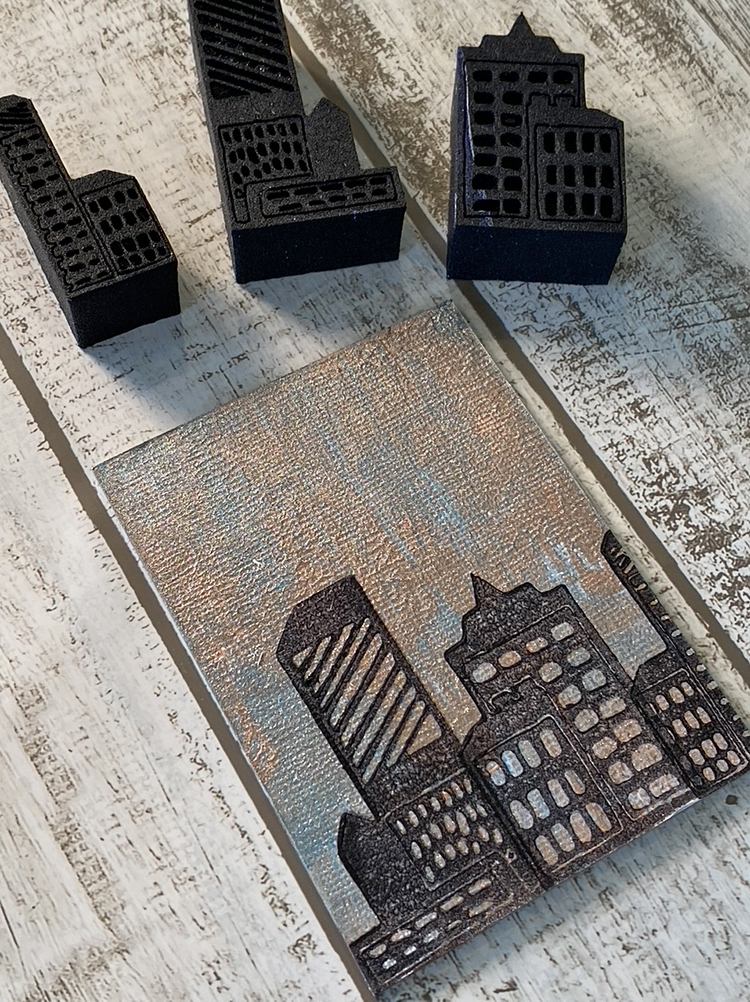 The next step was to stamp and cut out a mask of the Midtown Mini Artfoamie buildings so I could apply it to the buildings. This allows for the buildings to be in the foreground and the Central Avenue Artfoamie to be in the background.
To apply the Central Ave Artfoamie, I used Art Alchemy's Metallique Paint in Deep Waters blue.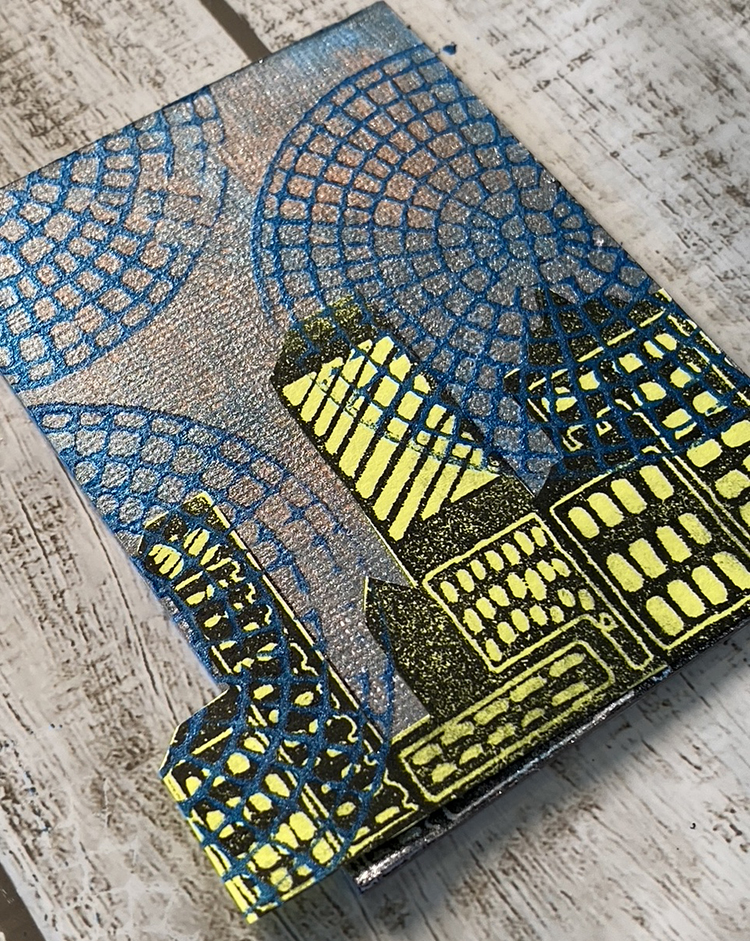 Since I was seeing more of a evening, sunset sky, I applied the Butterfly Spells paint I used in the background with a #2 rounded brush for the detail and a #6 flat brush for the larger windows and spaces giving the piece and evening glow.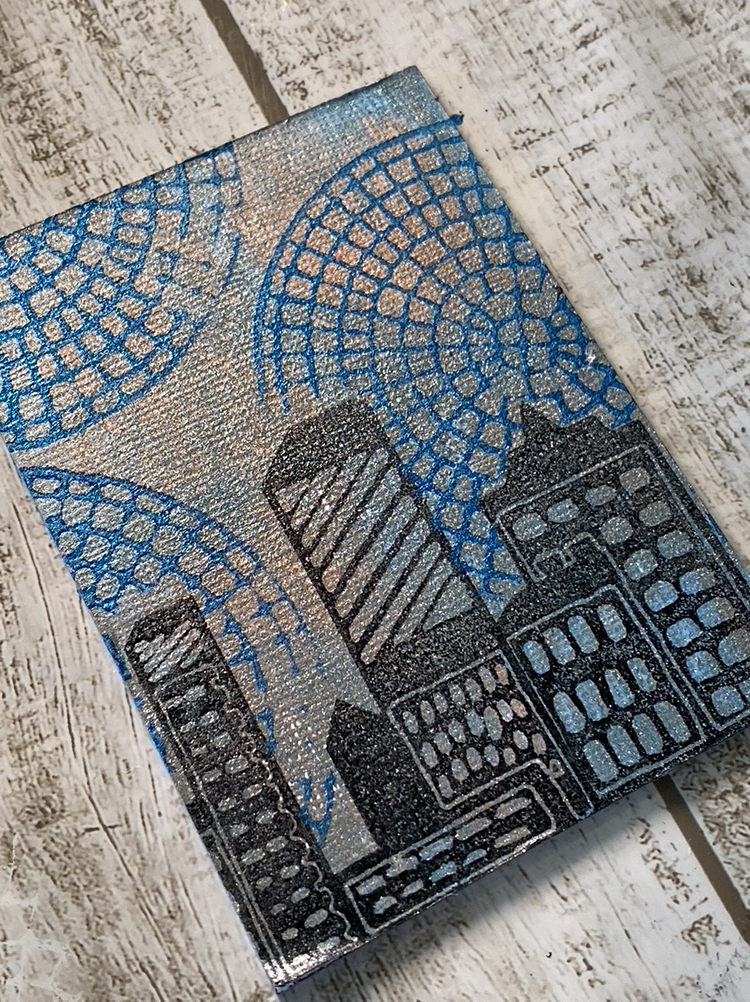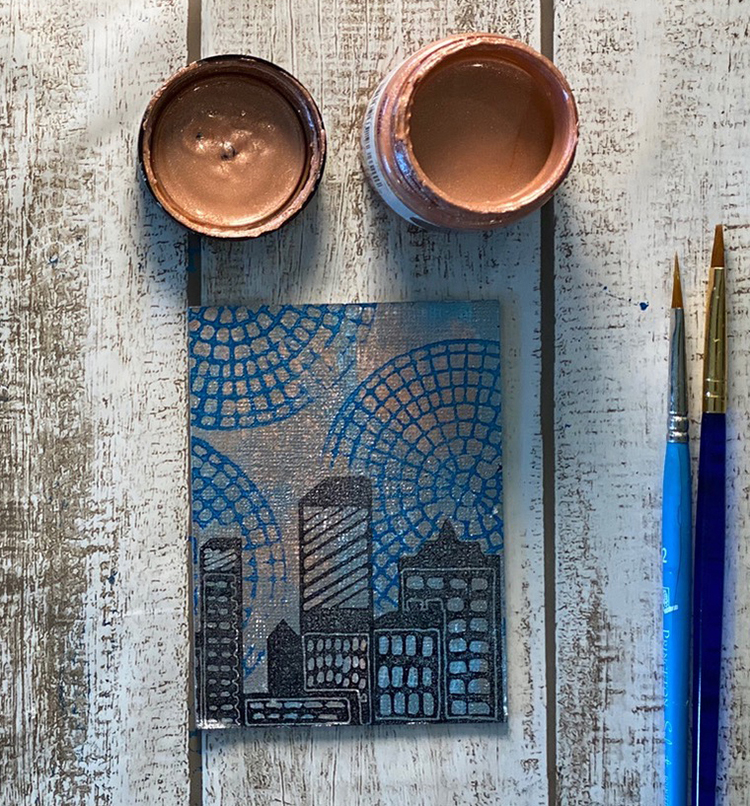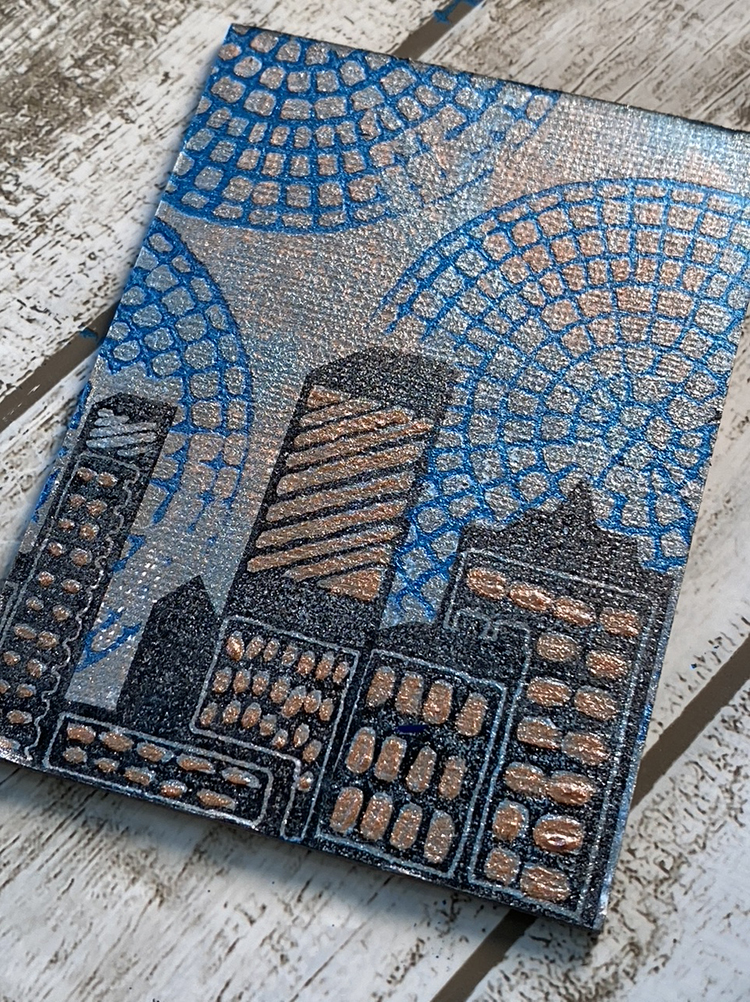 The finishing touch was to apply a Posca White Paint Pen .7mm to outline the piece.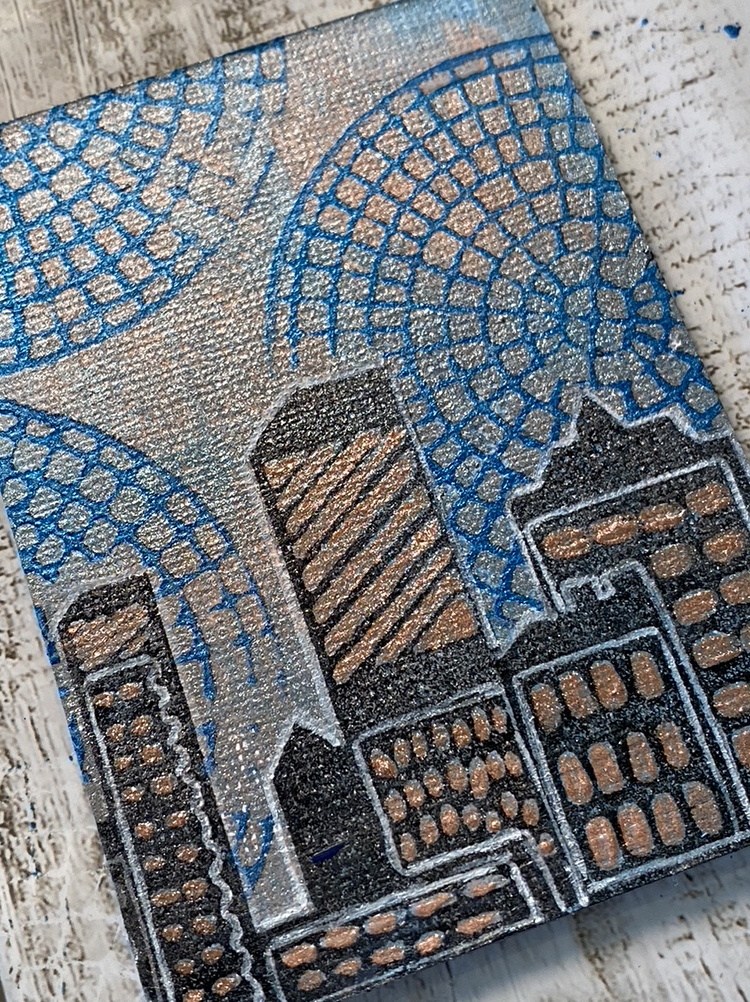 This piece could be framed or used as is to sit on a shelf.
It's an easy project and, all told, it probably took me about 60 minutes to complete from start to finish.
---
Thank you Robin for this gorgeous panel – love the color palette and your making technique!
Give it a try: you can find all my Foam Stamps in my Online Shop and here are some of the other supplies Robin used: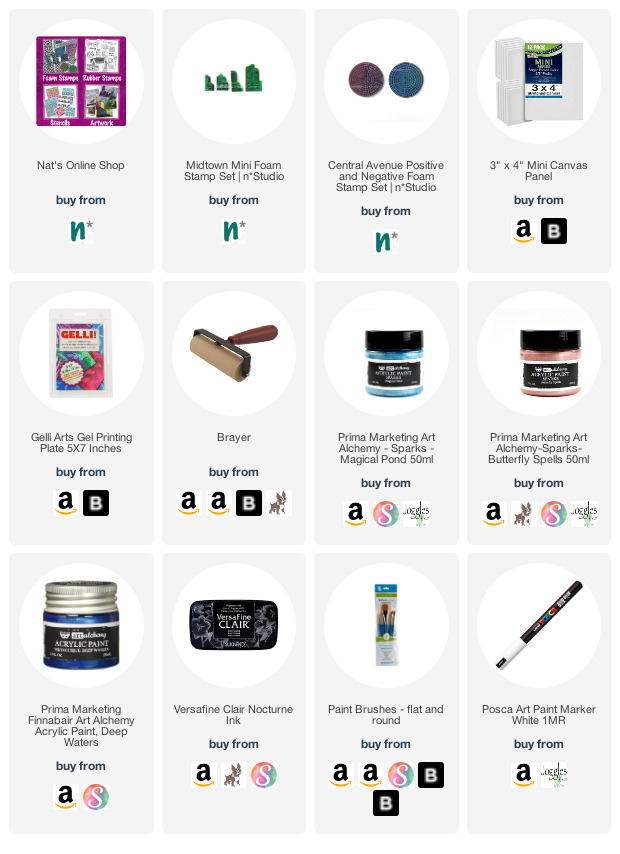 Feel inspired? Working on something yourself that you'd like to share? I love to see how you interpret our monthly themes. Email me how you used my stencils and stamps with the theme and email me an image – I would love to share your projects in my next "n*Spiration From Around the Globe".