We've got an extra project from Creative Squad member Judi Kauffman for you today. If you enjoy sending notes in the mail or even tucking little cards in lunchboxes or laptop bags with a special note on them then this is definitely for you :) Judi is on a roll with my ATC Mixup stencil with these and rocking all the patterns. Read on!
---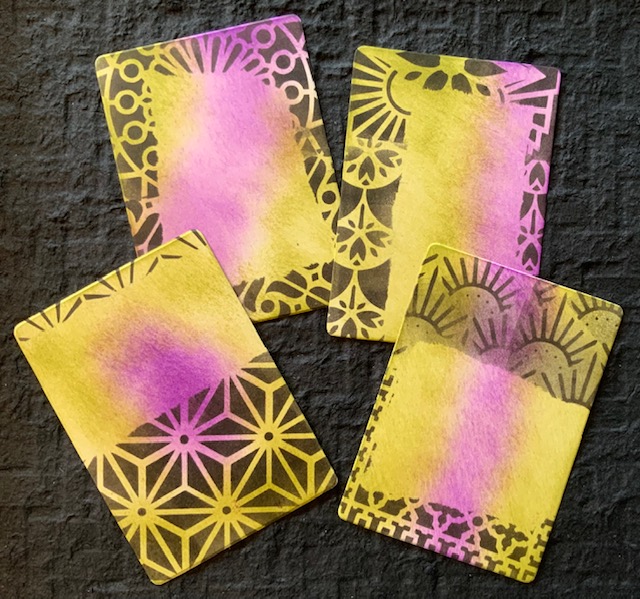 If you're like me, far too often all attention is paid to the exterior of the cards I make and the interior is left blank, getting at most a line or two and my signature. I thought it was about time I do something different so while I was stenciling insert cards for my early April "Lost in a Book" library pocket project, I stenciled a big bunch of extras to keep handy for stamping with a birthday, anniversary or other sentiment, or for adding a hand-written note to the inside of some of my upcoming folded note cards!
These are larger than ATC size, but this same idea would work at 2.5 x 3.5 as well. Masking the center area with torn paper before stenciling the rest of the surface provides interesting open spaces for writing or stamping and for adding collage or found poetry.
---
Thank you Judi – love the combination of color and bold pattern on these. They are also a great reminder when you're working on a larger project to keep some cards, tags, or ATCs around to stencil, stamp and work on as well.
Give it a try: you can find all my Stencils in my Online Shop and here are some of the supplies Judi used: