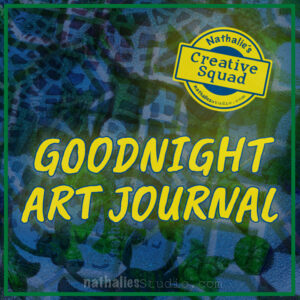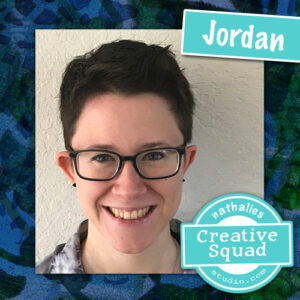 Hello from my Creative Squad! Today we have a post from Jordan Hill who is sharing an art journal page with a beautiful night sky and one of her illustrated figures too. She is using my Art Deco Fairview stencil and our theme: Goodnight, Art Journal – Think about the colors, sounds, rituals of night – any aspect of it – and use that as your catalyst to create!
---
Hello everyone, I'm very happy to be back with you all again for the month of August. I was very excited to hear that this month's theme was 'Goodnight, Art Journal' because galaxies and night skies are some of my favorite things to incorporate into my work. Let's jump into this month's spread!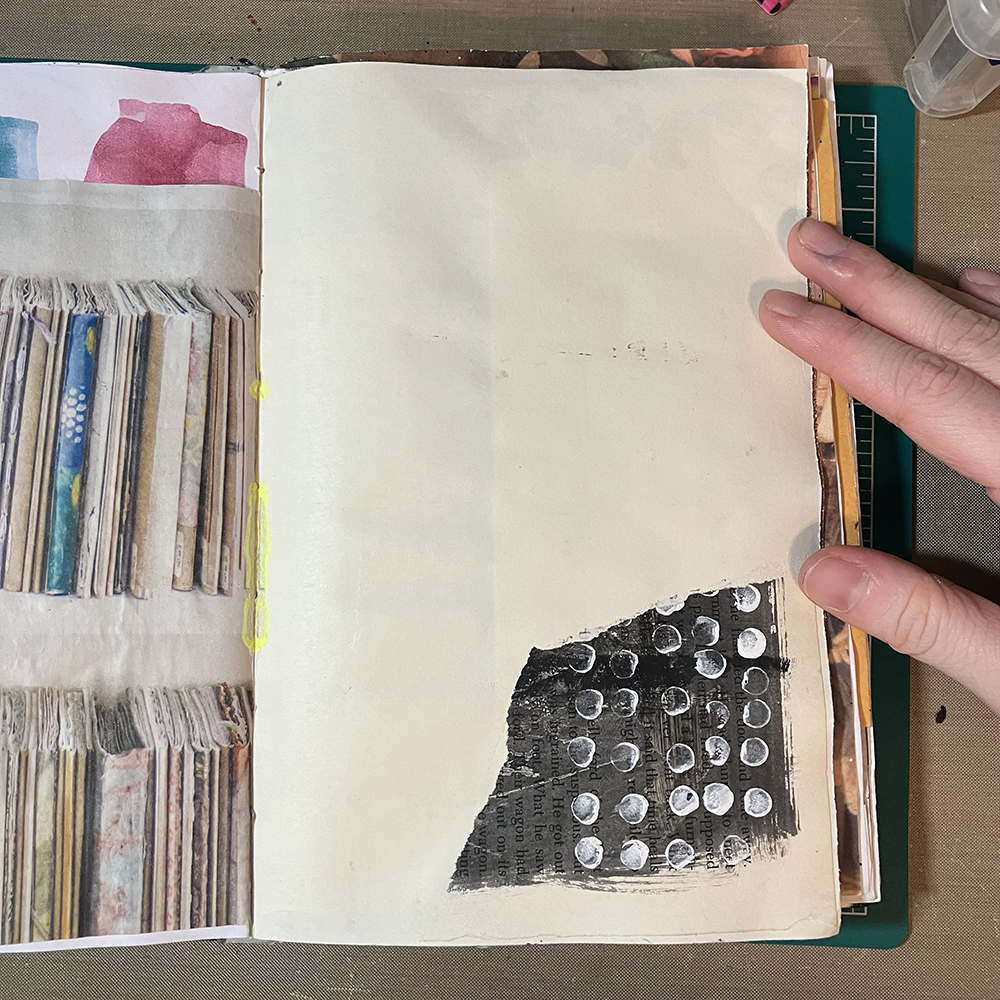 First things first, I needed to choose a page to work on top of. I knew that I wanted a white (or off white) page for the idea I had, so I selected this one that had a small scrap of black and white paper already adhered to it. I felt as though it already fit this month's theme of 'Goodnight, Art Journal', since it vaguely reminded me of a night sky.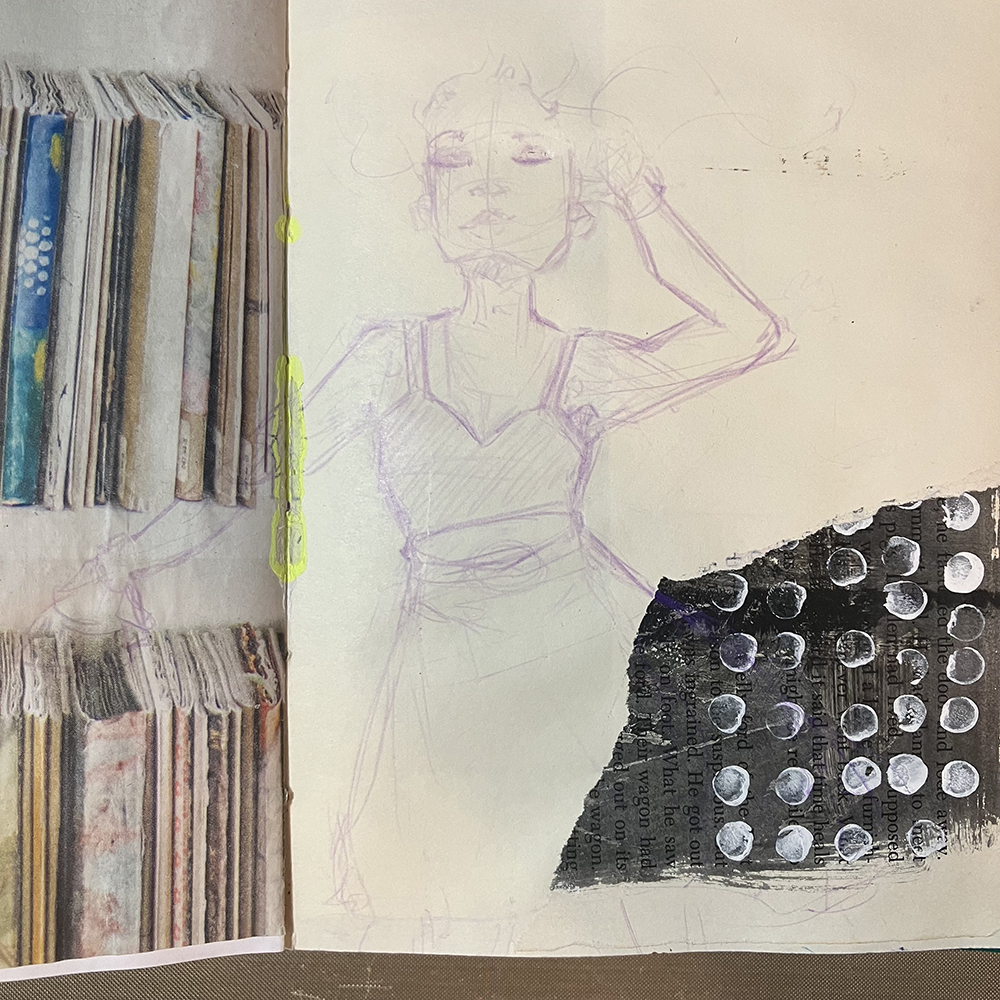 Typically I would work on the background next, but this month I wanted to experiment with sketching my focal point first. I used a Lavender Col-Erase pencil to sketch this figure directly onto my page. If you don't feel like drawing your focal point, collaging an image down will have a similar effect.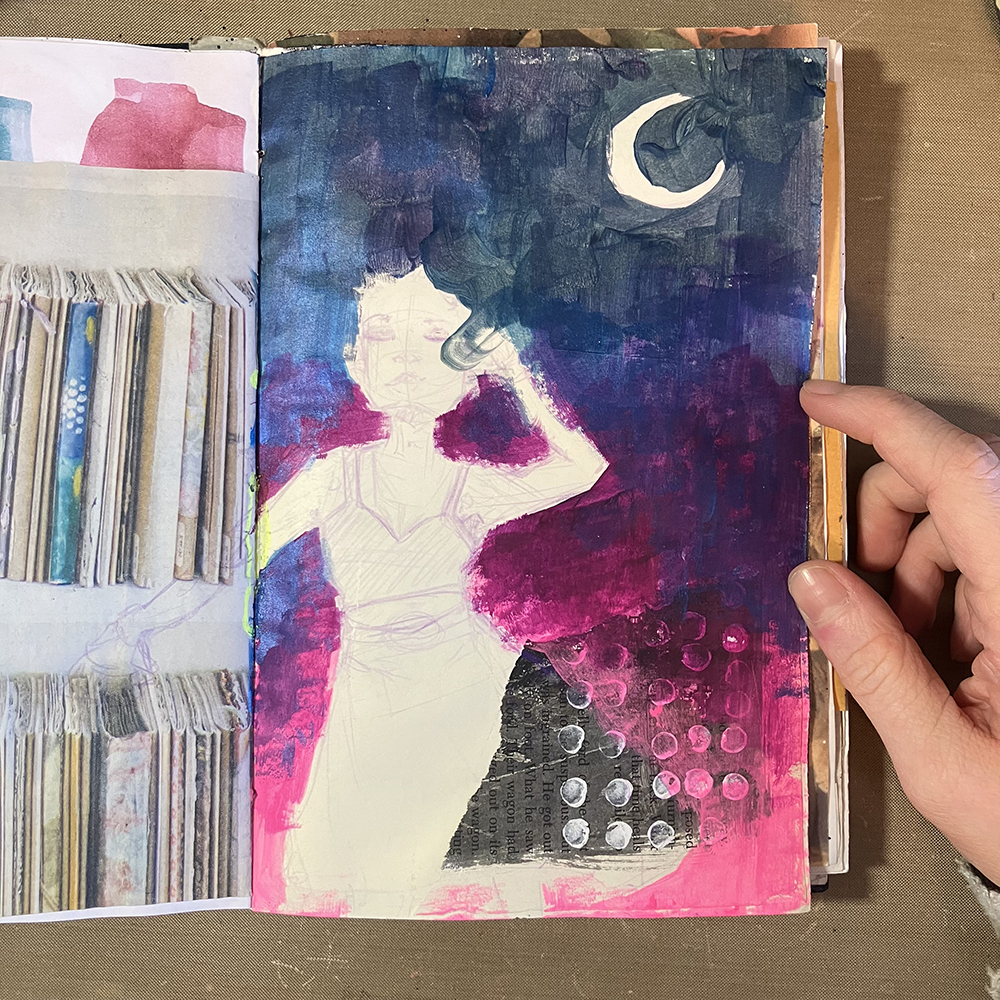 I then wanted to add in the background. Using a variety of different paints in pinks, purples and blues (with a hint of black), I created a gradient. I added the paints directly to the page and blended the colors together as I worked.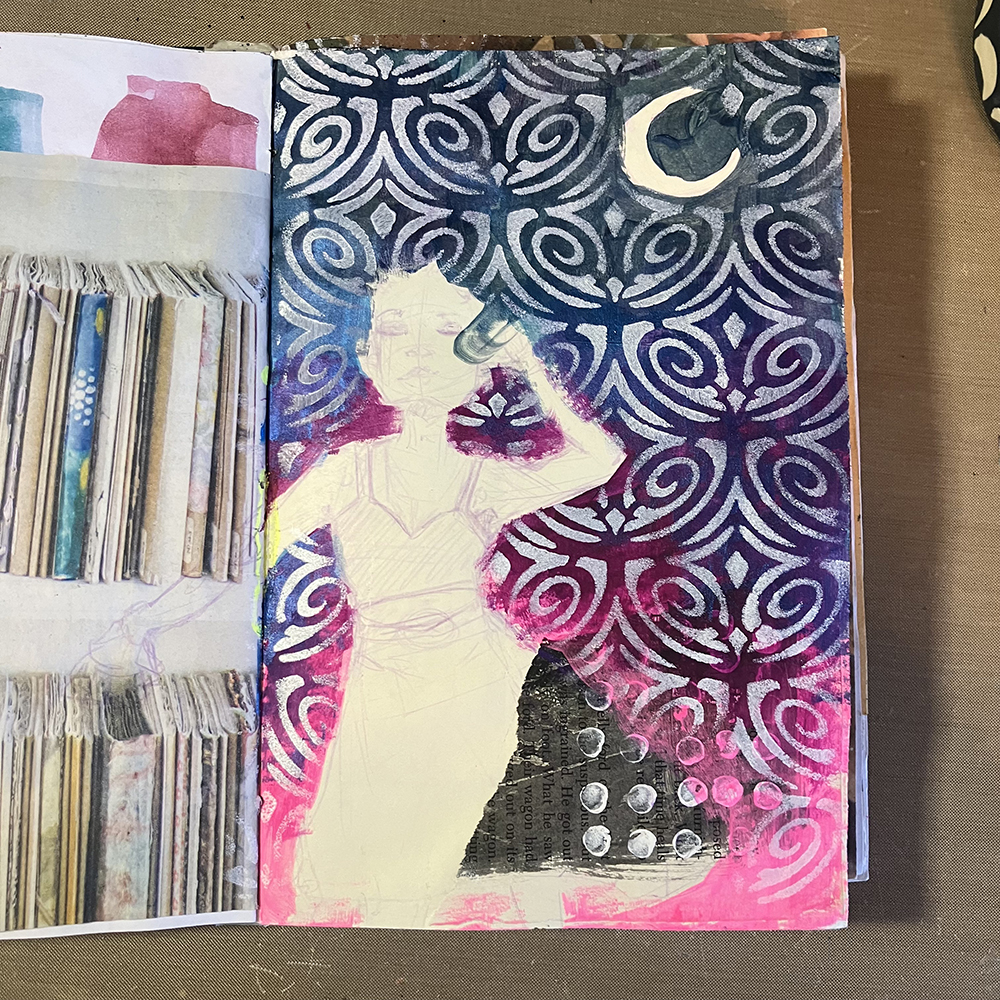 Next, I used Nathalie's Art Deco Fairview Stencil and a makeup sponge to apply some white acrylic paint over the entirety of the background. I was trying to create an effect reminiscent of a night sky, with stars and galaxies swirling together.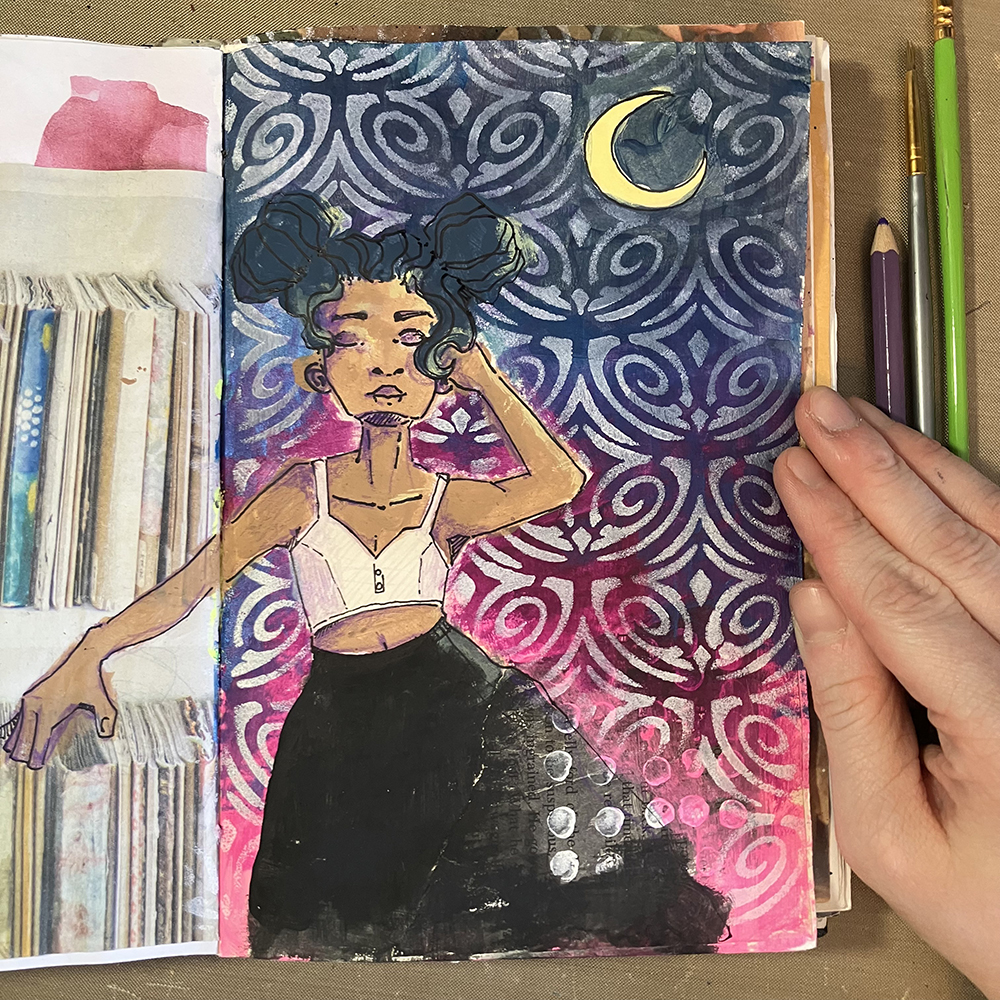 It was then time to add color to the figure. I used a variety of acrylic paints to do this, and used my Lavender Col-Erase pencil to shade the skin. I added some highlights in the same yellow color I used for the moon to create some additional interest. Somewhere in between the sketch and finished render, this figure also ended up looking in a completely different direction. I guess that's what happens when you cover your sketch with acrylic paint.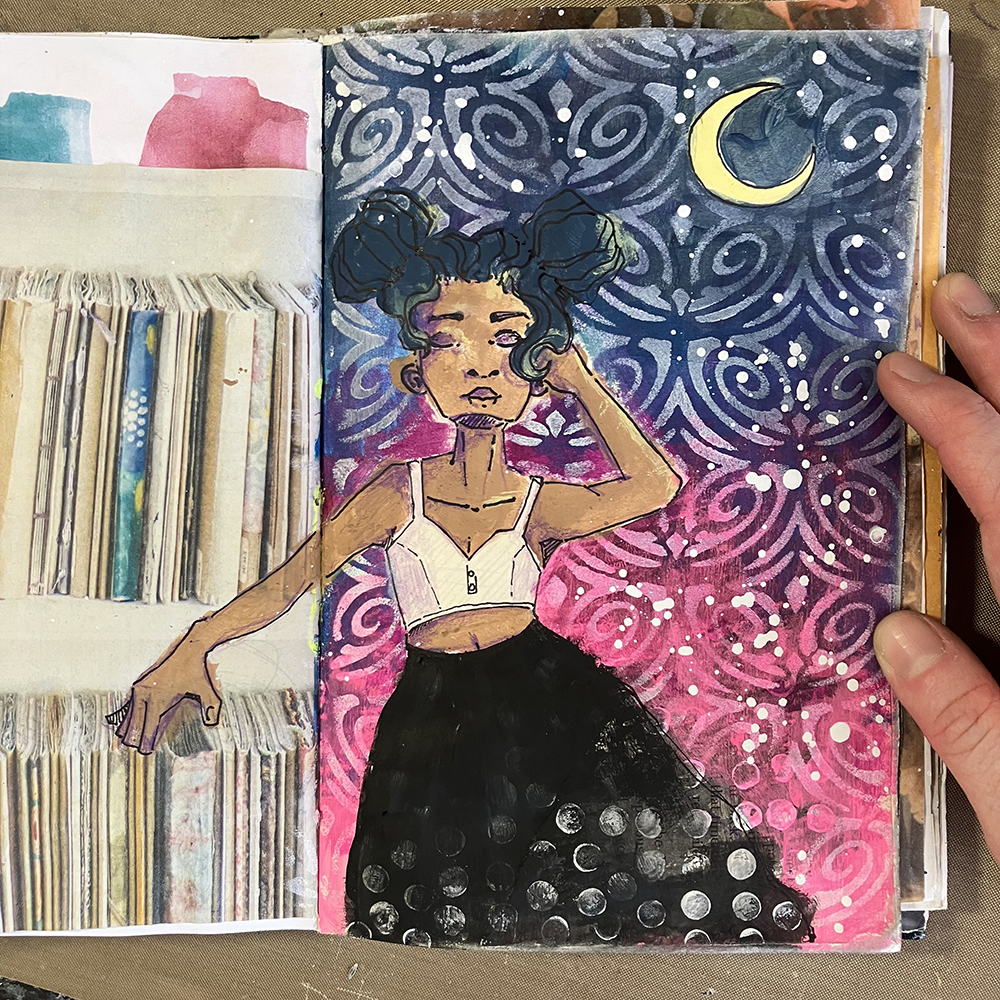 To add the finishing touches to this page, I toned down the brightness of the stenciling ever so slightly by applying washes of the same gradient colors over the top. I splattered some white paint over the background, added a few more dots along the bottom hem of the skirt with the tip of my finger, and I was ready to call it complete!
I hope you enjoyed following along with this month's art journal page!
---
Thank you Jordan! I love how your sketch turned out and that gorgeous celestial background!
Give it a try: you can find all my Stencils in my Online Shop and in addition to collage material, here are some of the supplies Jordan used: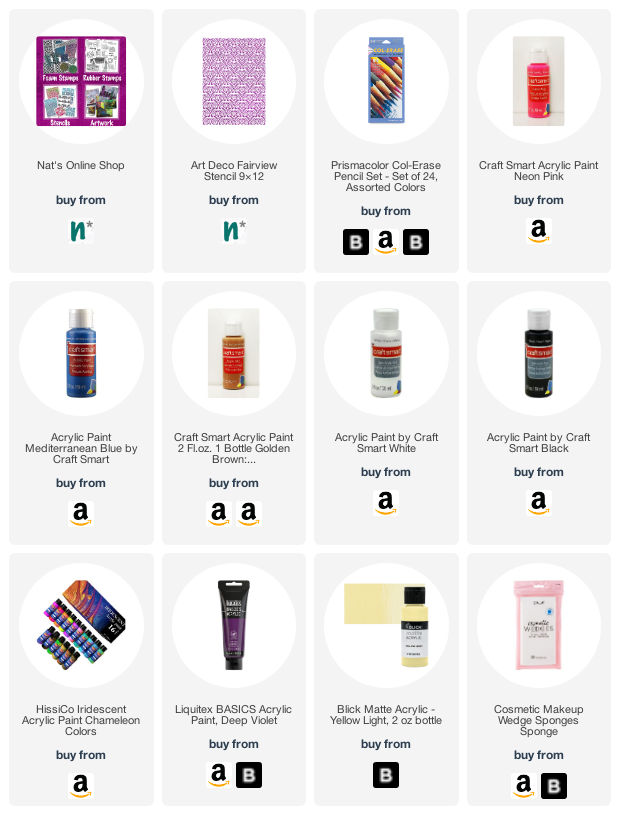 Looking for more projects? Follow the Creative Squad on Instagram here.