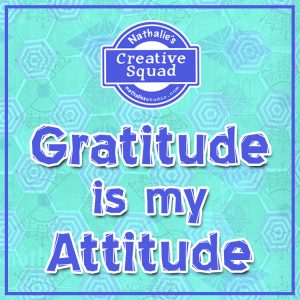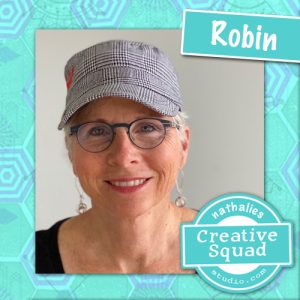 Hello from my Creative Squad! Today we have a post from Robin Seiz who is sharing her artsy gratitude with us in one of her art journals, a repurposed children's book. She is using my Hex Set Small rubber stamps, my Crackle stencil, and my Nightingale bird stamp along with our theme: Gratitude is my Attitude – This month we are playing along with the November ArtCollab: Showing Gratitude – and specifically giving thanks to those who have helped us along the way in our artistic journey. Who was crucial in helping you become the artist you are today? Let's give these amazing souls a shout out!
---
Hello everyone. I love our prompt for this month — Gratitude is my Attitude. I must say that I have so many things to be grateful for in my life that it was hard to focus my energy in one area. I love keeping my options open, but sometimes it helps to break things down into smaller, more intentional, pieces.
While the word Gratitude doesn't show up anywhere on my journal pages, these two pages represent my mixed media journey while honoring those artists who have taught me and supported me along the way. They are too numerous to mention by name. My pages honor them, the process, and the gratitude I have for having the time, resources, and excitement to pursue my passion. These pages also represent what I love most about mixed media – the fluid, grungy, imperfect aspects of this kind of art.
This project started with choosing a journal. I don't do much art journaling, but when I went to pull a journal, the one that spoke to me was a journal I created for a Creative Squad blog post sometime ago. Inside the book is a beautifully illustrated story about an owl. The pictures are so lovely that I knew I wanted to incorporate some of them in my pages. I felt like this was the universe talking to me. I'm grateful for be a part of this design team and this seemed to bring it full circle.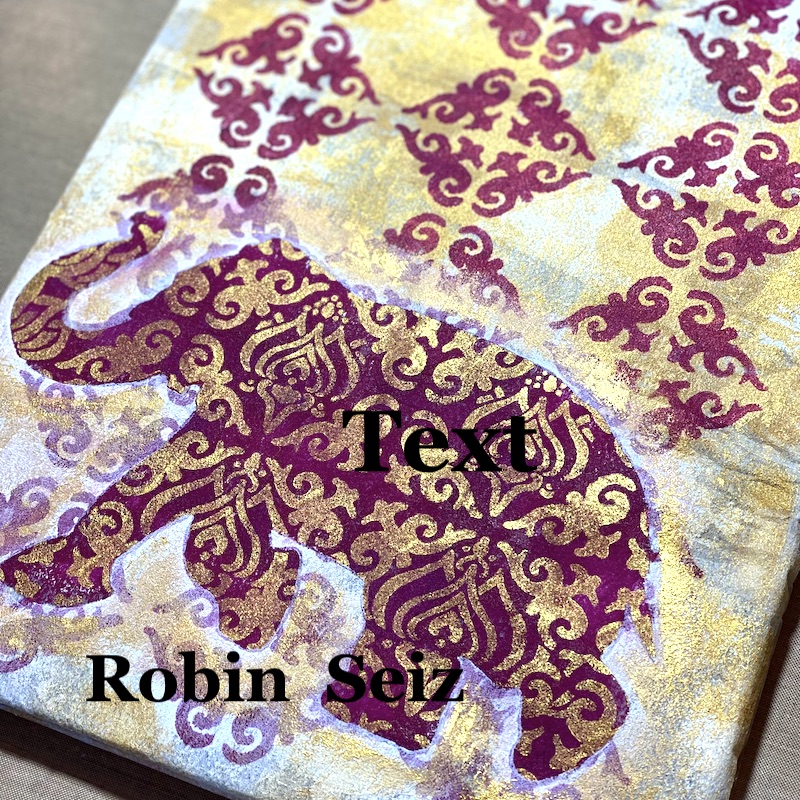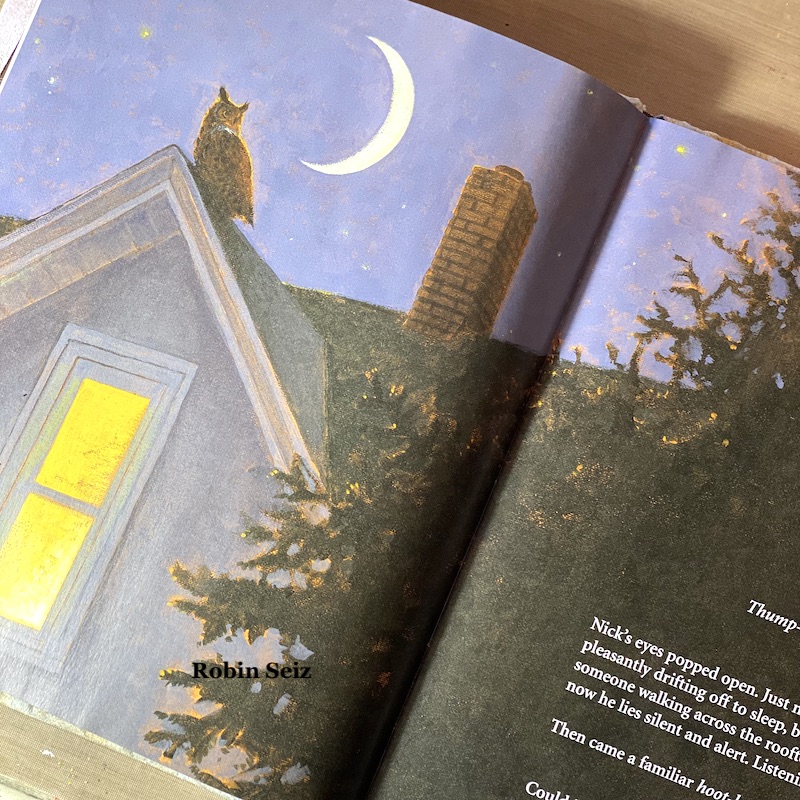 These pages honoring my journey include some of the many materials that have become my favorites.
I started by covering the pages, minus the pictures and words that I wanted to use, with white gesso. I used a hotel key card to spread the gesso because I can get great coverage and create an appealing texture along the way. I also knew that I wanted some of the page color to peek through so I made some areas thin and others thick.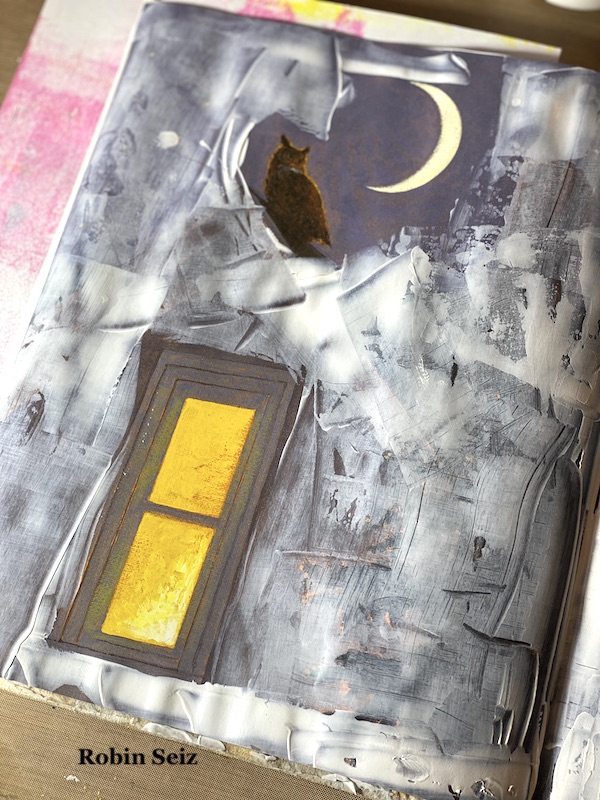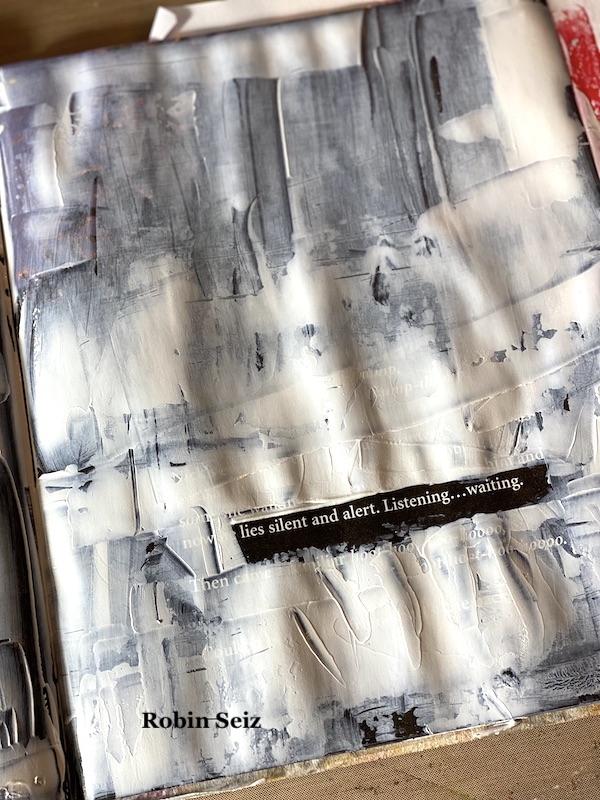 I have a love – hate relationship with water colors. I find them difficult to use; but honestly, I haven't given them enough attention to really master their use. They are, however, an important part of my journey. Using this medium, was the first time I really did a study (for one month) using a mixed media product. I followed one of the artists who excels in this area and joined my first on-line community. This community has become a great sense of joy. They are incredibly supportive; I have learned a lot from them and have been given lots of opportunities beyond what I might have gotten just creating in my studio on my own. I am grateful for these artists.
In order to use water color, I applied QOR water color grounds to the top right corner of my page. This makes it easier for the watercolor to adhere to the page. I stamped Nathalie's Hex Set Small rubber stamp in purple. I always use odd numbers when doing this kind of work, it's a more pleasing composition.
Some of the words in the middle of the right page were still visible even after I applied gesso, so I moved to acrylic paint to cover the remainder of the words that I didn't want to see and to break up the white on the page. This also made the words that I chose to leave come to the forefront. These words resonated with me because I feel like this is what I often do — listen and wait for inspiration to come. I used Nathalie's Nightingale bird stamp on top. They just seemed like the right stamp given there was an owl on the left page. It's almost like he is looking at the birds. Both of these steps used rubber stamps, another early product that I used on my journey. I'm grateful for the artists who create these wonderful stamps.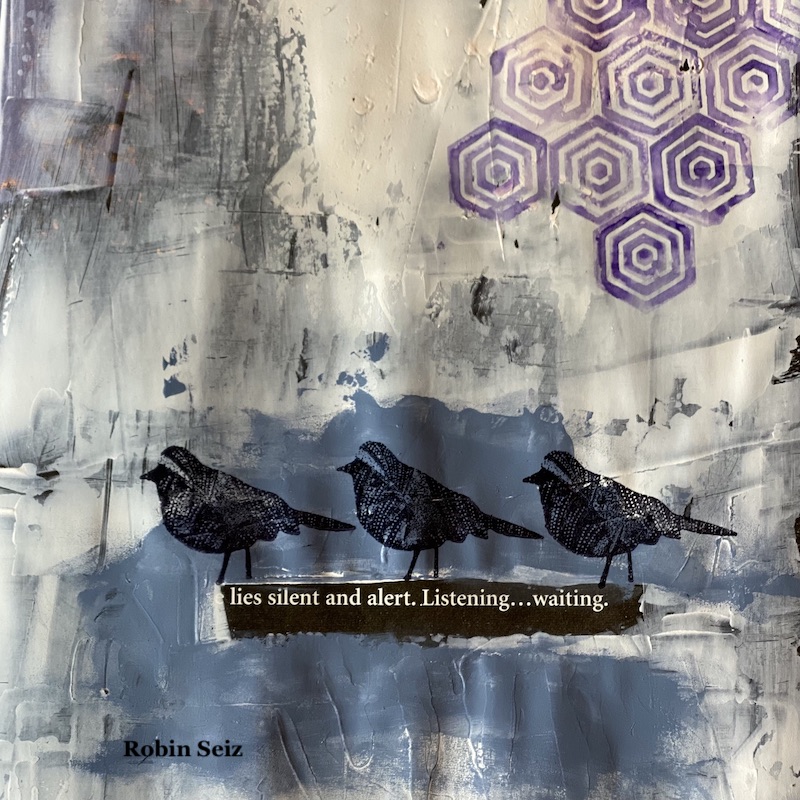 Next, I moved to a combination of Gel Printing scraps and sewing. When I first started mixed media, I was really interested in sewing on paper. Over the years, I have incorporated sewing into my projects; I think it adds such a wonderful dimension to a piece. I am grateful for all the artists who I follow who use this combination and who I have learned from. The sky is the limit. It can be frustrating sometimes; my free motion sewing still needs lots of work. After sewing the pieces together, I attached these three strips with gel medium. I could have just as easily stapled them. I love gel printing and am grateful for all the encouragement I have received along the way for my prints.
The left page really didn't need much. The window, which represents how grateful I am for the rise and fall of each new day, gives such a warm glow to the page. I applied the same hex stamp to the bottom middle and top left (again in 3's) because it was compositionally pleasing to me.
I also used Nathalies Crackle stencil (one of my favorites) a cosmetic sponge, and Tim Holtz Archival Black ink to fill in where just a little something was needed. This ink is good for use over acrylics and gesso. Again, I have such gratitude for those artists who regularly use stencils and have taught me how to have fun experimenting with them. They are one of the most versatile tools that I use.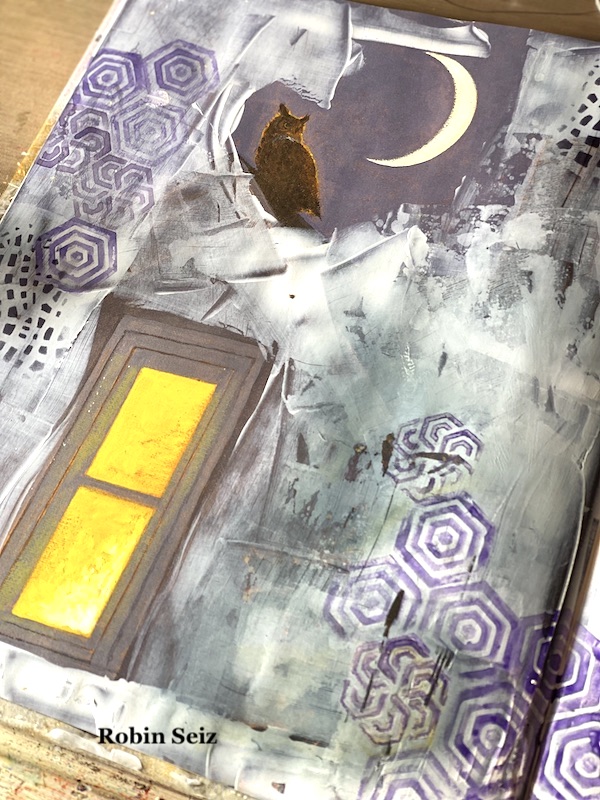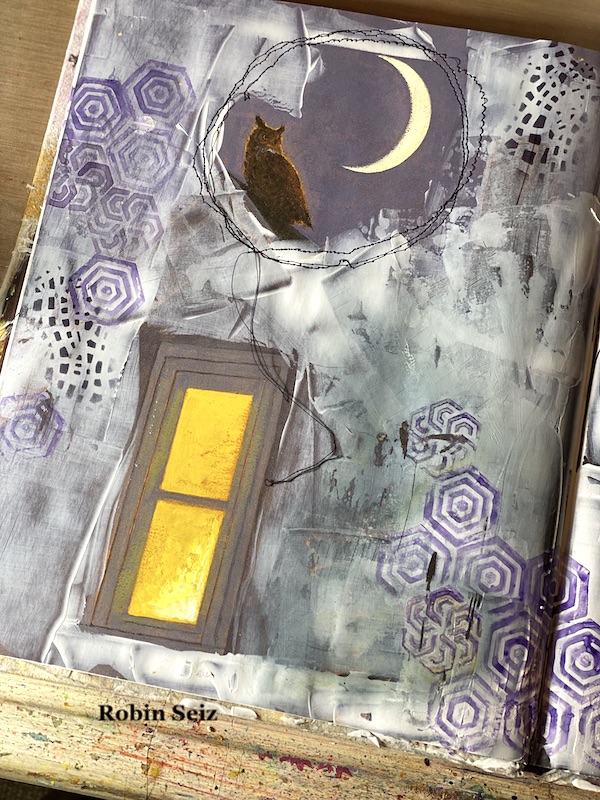 The final touches were free motion machine sewing around the owl and the moon to create an interesting border. And because compositionally I wanted sewing in 3 places, I sewed a zig zag for emphasis under the words on the right page.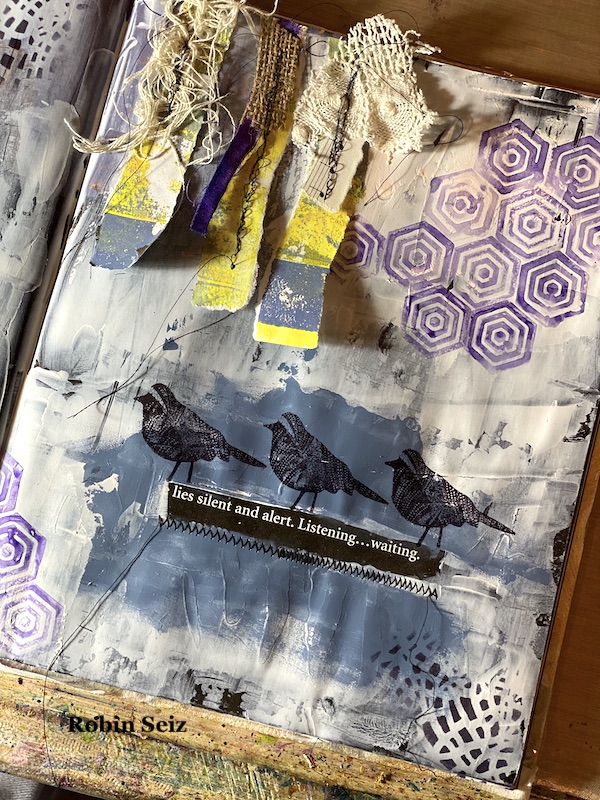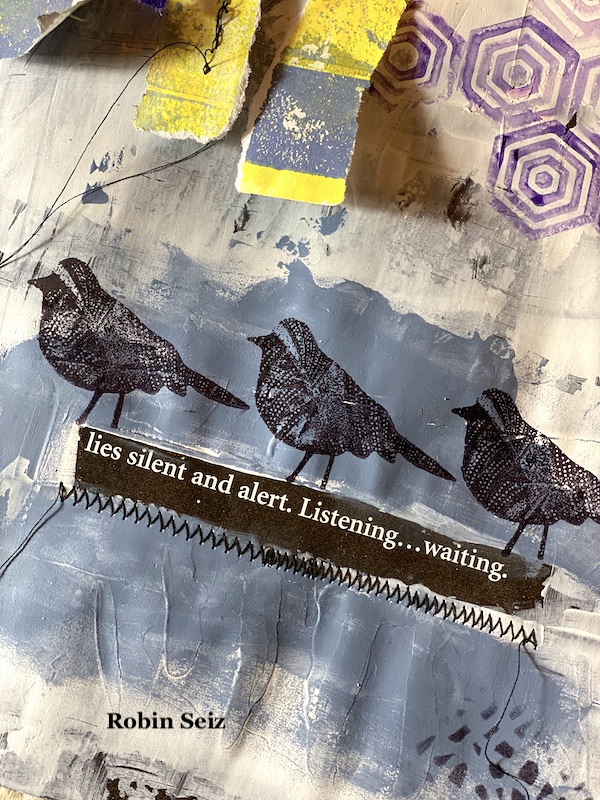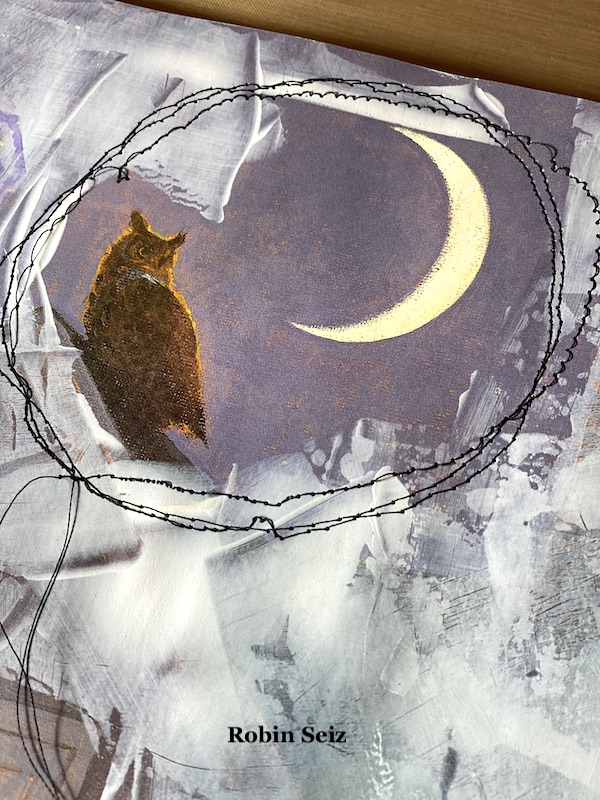 All and all, I had a loose idea of what I wanted to represent when I started and it just came together as I went. I am most grateful for the process of creating!
Thanks so much for joining me today on my gratitude journey in mixed media. I hope you create something that honors those things for which you are most grateful. Please post your pieces on Instagram and tag me. I would love to see them. Peace to you, Robin
---
Thank you Robin, love how you incorporated some of those original book illustrations and text into your page – very cool effect!
Give it a try: you can find all my Rubber Stamps and Stencils in my Online Shop and in addition to her repurposed children's book, collage papers, and scrap fabric, here are some of the supplies Robin used: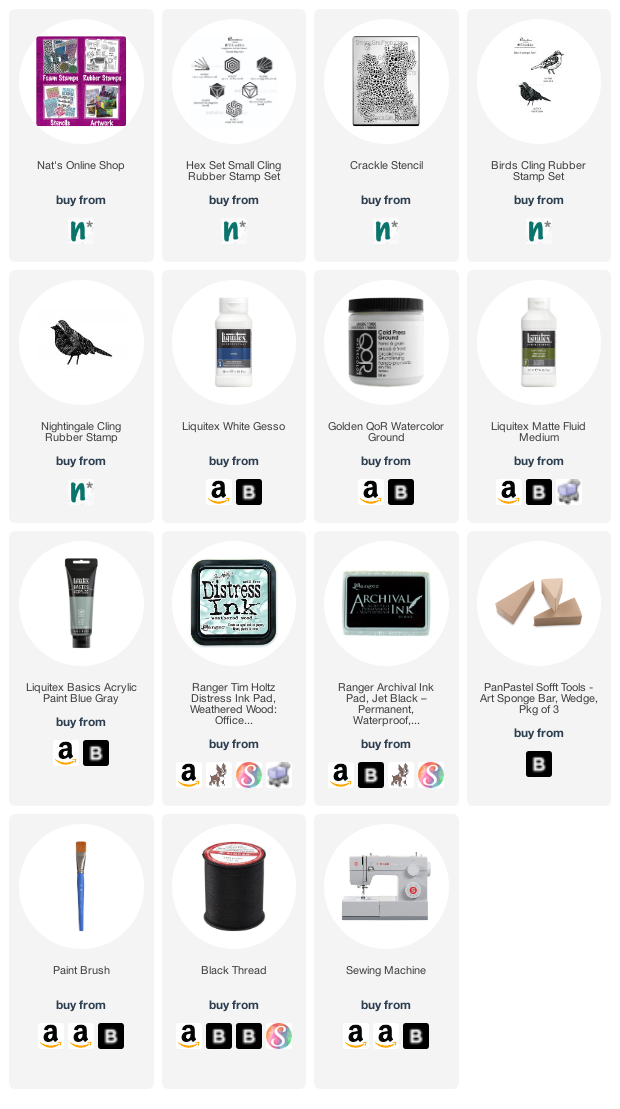 Looking for more? Follow the Creative Squad on Instagram here.