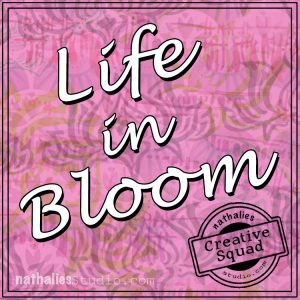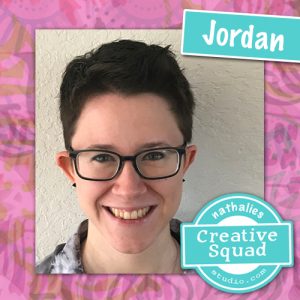 Hello from my Creative Squad! Today we have a post from Jordan Hill, who is sharing an art journal page that is uplifting and so appropriate. Jordan is using my Art Deco Empire stencil and this month's theme: Life in Bloom – It's been a long winter where we are and I'm dreaming of flowers and gardens and spring. Indulge us all in a project that focuses on one of Mother Nature's most exuberant symbols of life: flowers flowers flowers!
---
Hello everyone, I hope you're all doing well! For this month's theme of Life in Bloom, I knew I wanted to try incorporating it in several different ways. In the end, I'm quite happy with the way it turned out and I hope you enjoy following the process!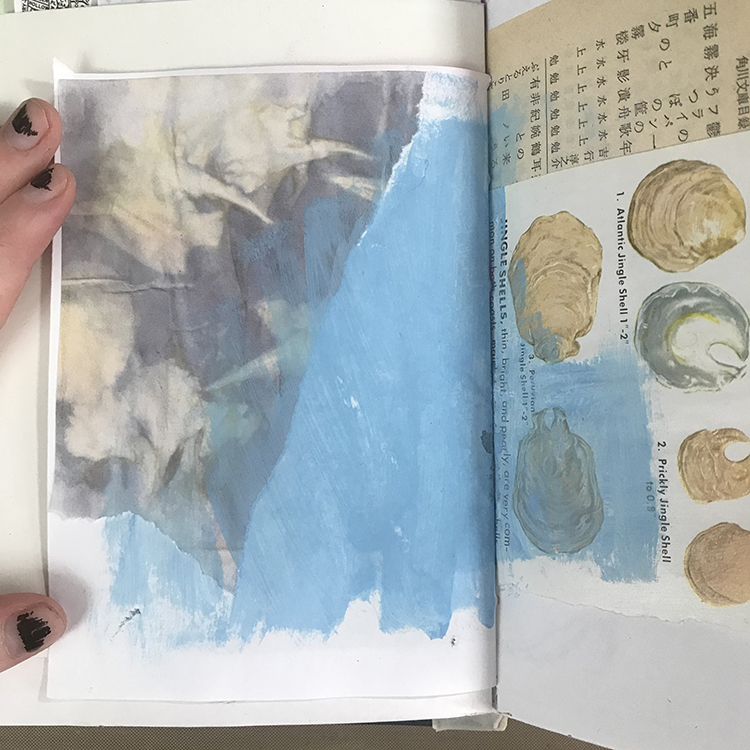 The first step in creating this month's page was gluing down a piece of collage. I then blended it into the background with a light blue acrylic paint by slightly overlapping the paper with the paint. I chose a piece of paper that I felt fit in with this month's theme of Life in Bloom; this particular paper is a scan of an eco dyed paper I did a while back.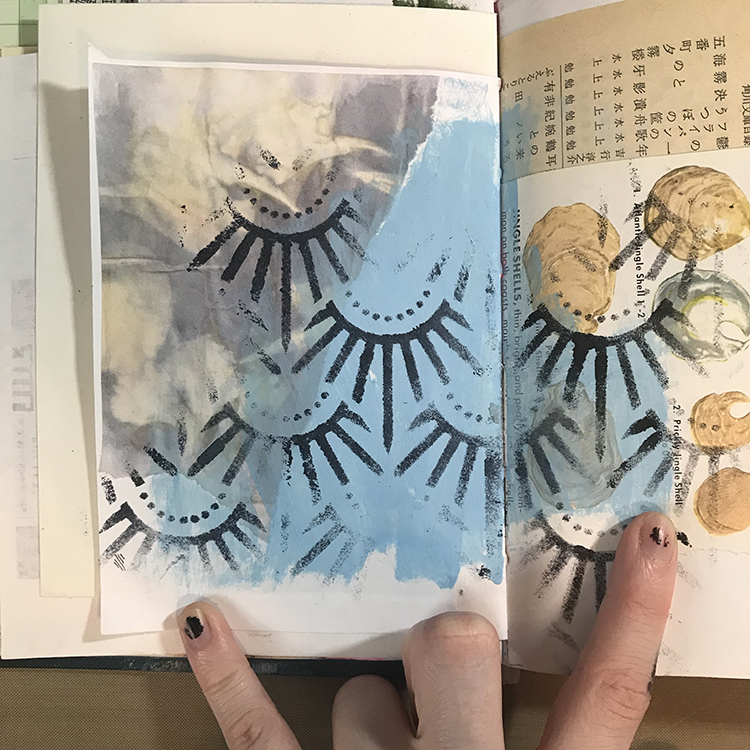 Next it was time to add some pattern! I used Nathalie's Art Deco Empire Stencil, some black acrylic paint and a makeup sponge to fill the background with interest. For this particular spread, I knew that I wanted the stencil to stand out. Since my background was such a light blue, black seemed like the natural choice!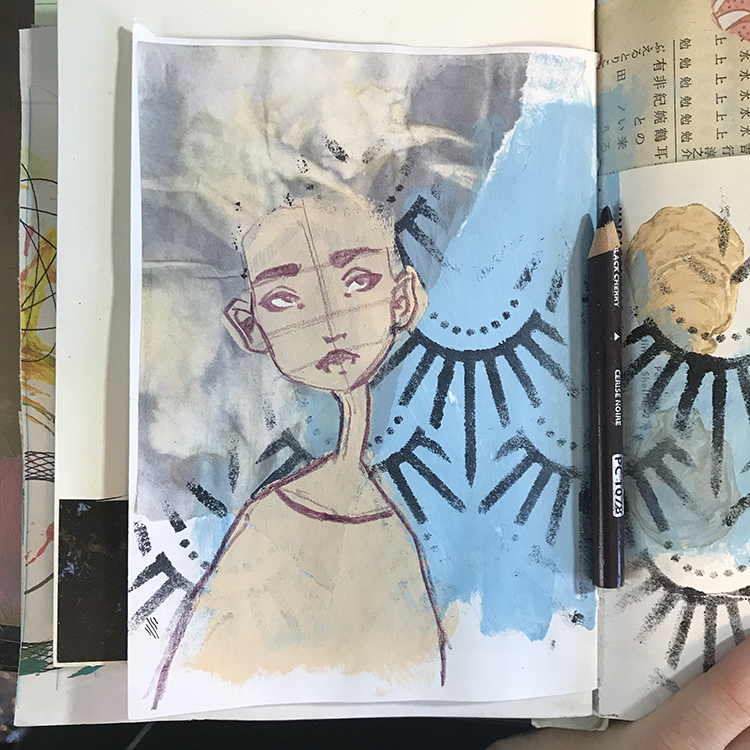 This is where I decided it was time to add a face. Using some acrylic paint in a vague face shape as a base, I started sketching over the top with my trusty Prismacolor colored pencil in the color Black Cherry. This is one of my favorites for sketching, as it isn't as basic as a black or gray, but is still dark enough for the lines to be clearly defined.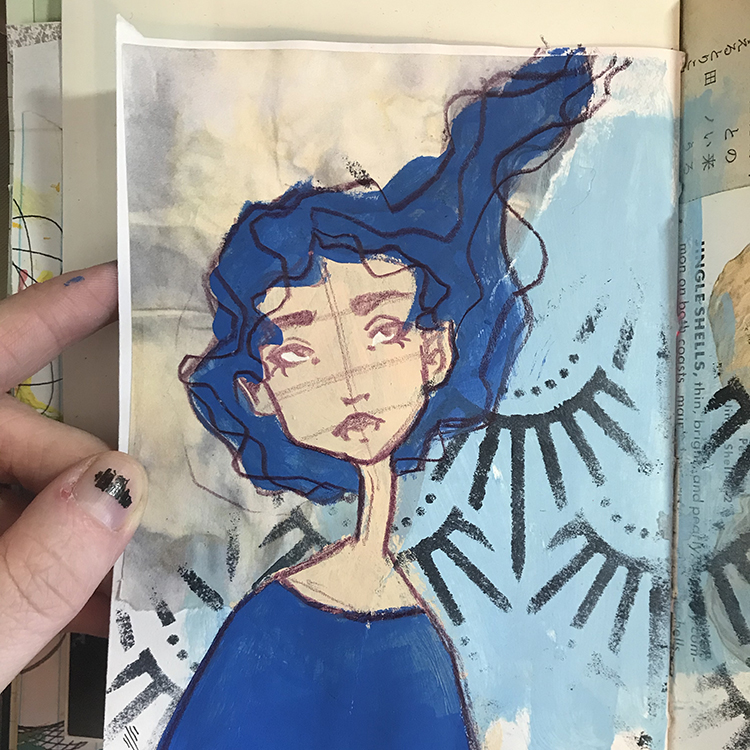 Next, I chose a supporting color of acrylic paint (I decided to go with primary blue for this spread) and started blocking in the shapes of the hair and shirt. I find that using the same color for these two elements is a good way to make your page (and character) feel cohesive. After I had blocked in the color, I then went back in with my colored pencil and reinforced the lines that I had lost when I added the paint. At this point, I also added a few extra lines in the hair to represent flowing strands.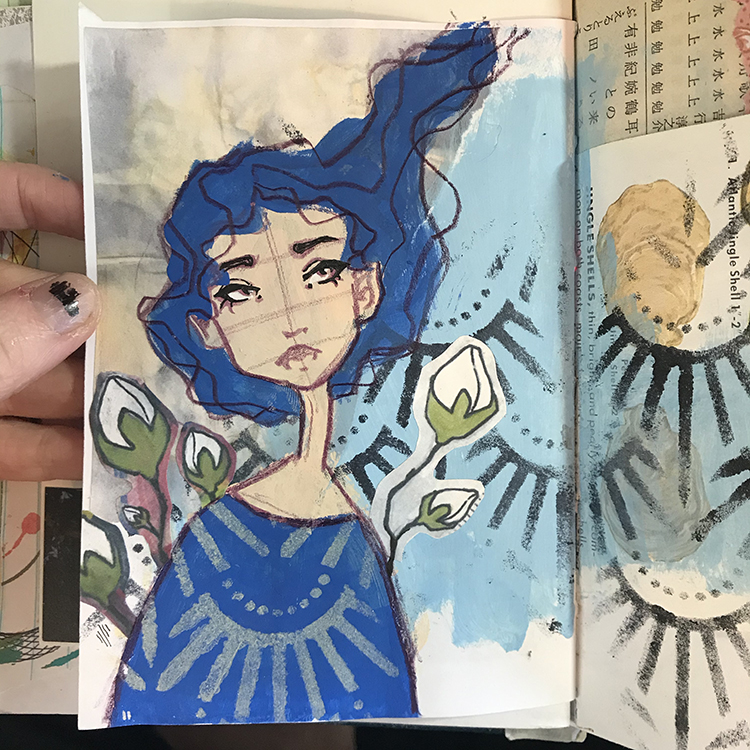 Around this time, I was starting to feel as though the Life in Bloom theme wasn't strong enough. In order to resolve this, I decided to use a piece of collage (another scan of some previous artwork of mine) to add various blooms around this character's shoulders. I wanted the buds to look like they were growing from behind her, so I cut up the collage piece (which used to be one large stem) and added them in a way that was more fitting.
During this step I also used Nathalie's Art Deco Empire Stencil again, this time with a cream colored paint, in order to add some patterning to this character's shirt.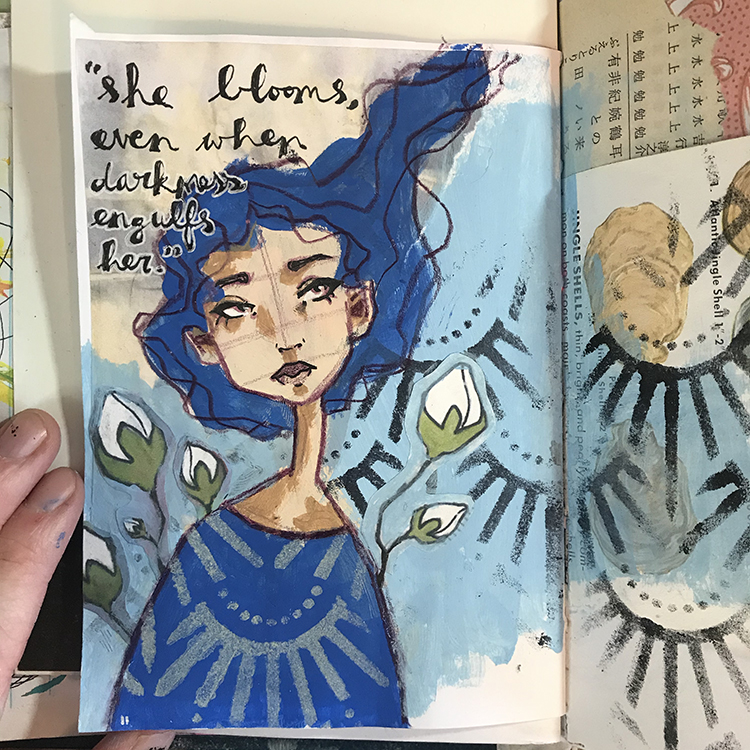 Then it was time to detail! This is one of my favorite parts of creating journal pages; it's where everything seems to come together and starts looking a bit more finished. For the details on this particular spread, there were a few things I did. First of all, I added some shadows to the figure's face using a slightly darker tone of paint, then I added some black line work to the facial features using an ink pen.
I also used the same color of blue I had used for the background to paint around my floral elements, further cementing them into the spread. Additionally, I added a quote in the upper left hand corner that I felt related to the theme of Life in Bloom.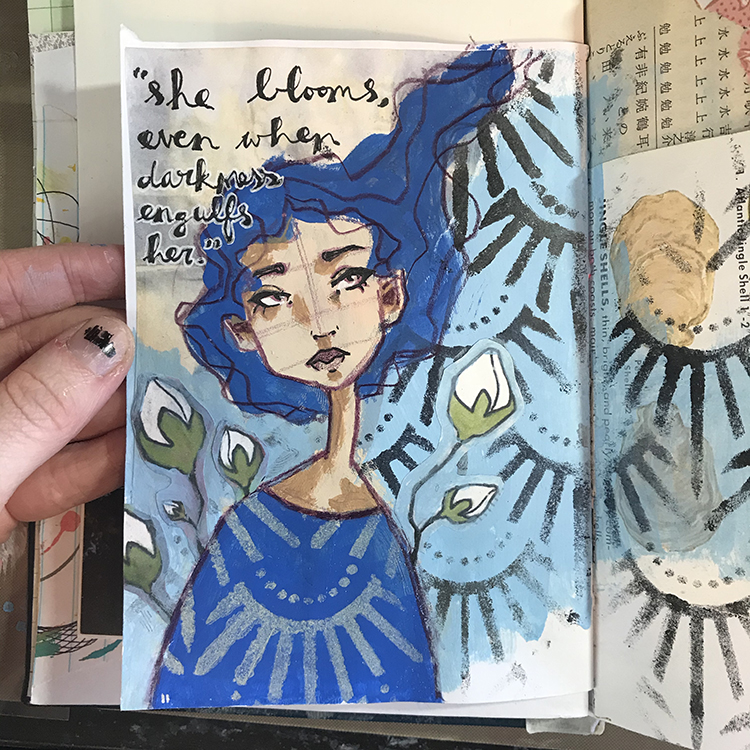 Finally, for the last step, I reached for the Art Deco Empire Stencil one more time in order to add to the stenciling in the background. After adding the figure I felt as though I had lost a lot of the patterning, so I simply lined it up and filled in the rest of the background.
In the end, I think this spread fits the theme of Life in Bloom in the way that I hoped that it would, and I had a lot of fun playing around with the stencil in particular. I hope you enjoyed following the process!
---
Thank you Jordan – I love that quote and how you pulled your page together. Your character's style – blue hair and how you used the Art Deco Empire stencil for her top is so cool!
Give it a try: you can find all my Stencils in my Online Shop and in addition to some collage pieces, here are some of the supplies Jordan used: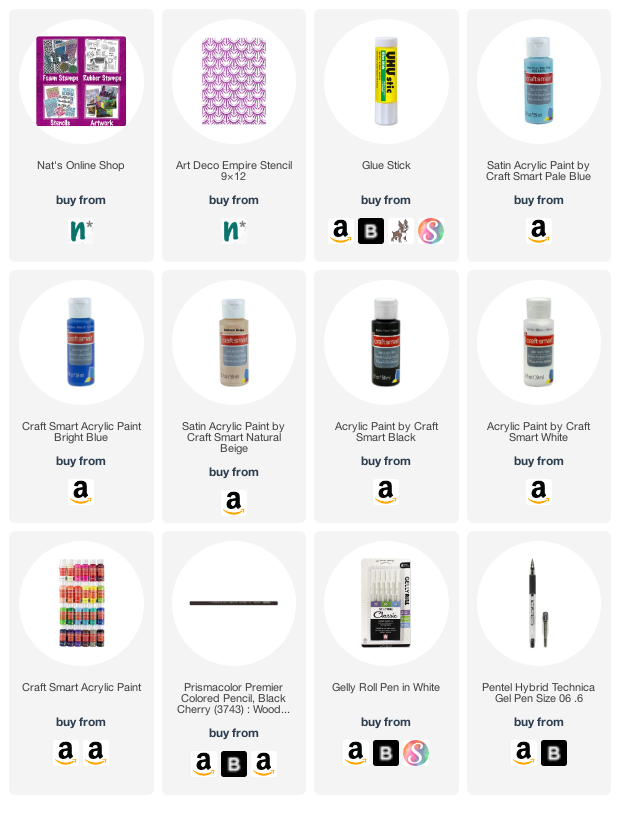 Don't forget to check out Nat's Creative Squad on Instagram too: Each week we post projects, ideas, and inspiration for mixed media art.