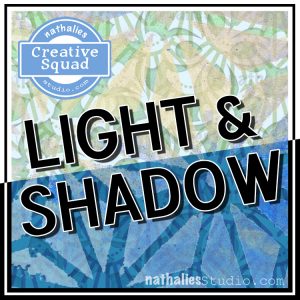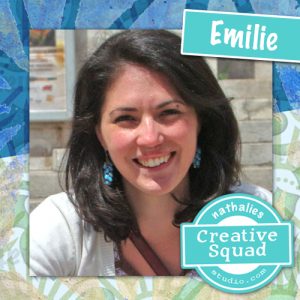 Hello from my Creative Squad! Today we have a magical nighttime winter scene from Emilie Murphy to share with you. Emilie is using my Art Deco Wallpaper and Toledo 4×4 stencils for this one and our theme: Light & Shadow – In art and maybe also in life, the balance between light and shadow is an important consideration. Play with this equilibrium in your art and show us how the two sides work together.
---
Hi there! Hope you are doing well.
As the theme of the month is "Light and Shadow", it made me think right away of a winter scene during a snowy night in the forest, where we can see the shadows of trees and some light coming from the moon.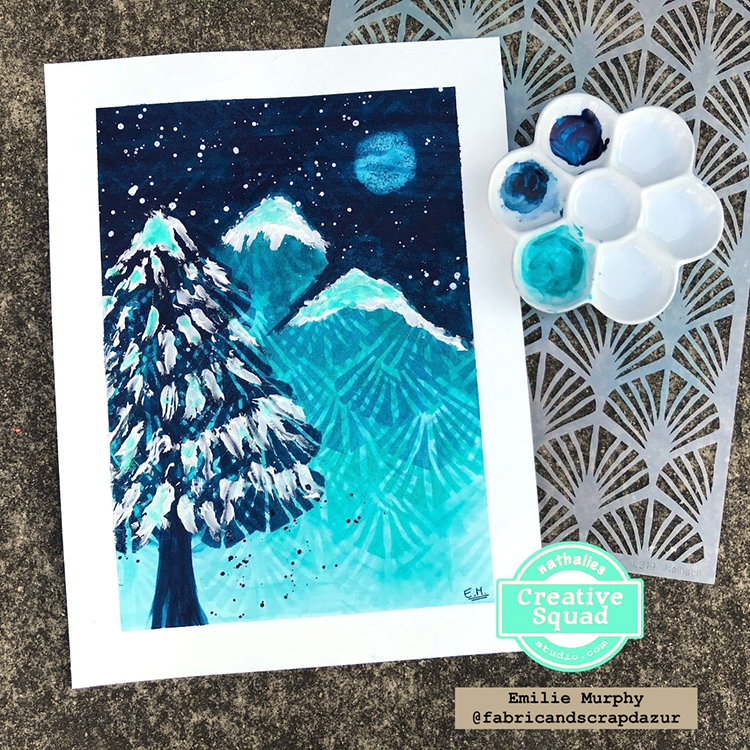 I started with a light wash of "Turquoise green" watercolors from bottom to top.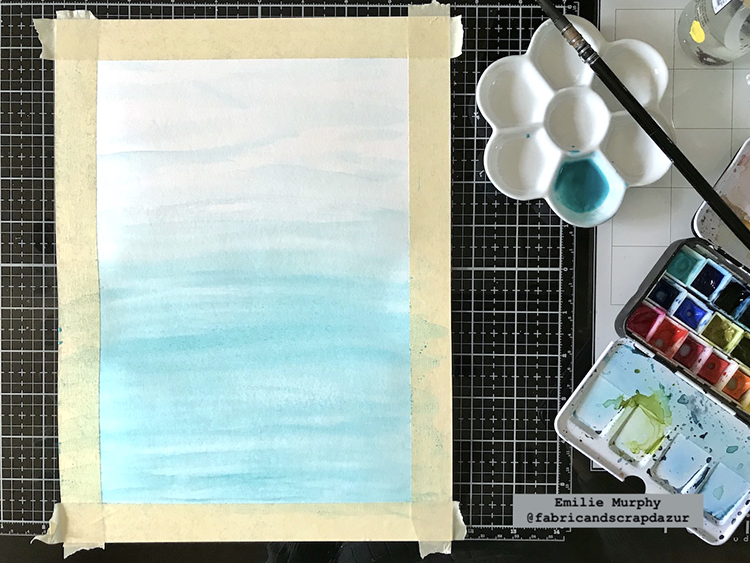 I laid down my "Art Deco Wallpaper" and applied some "Tumbled Glass" distress ink to keep a tone-on-tone effect.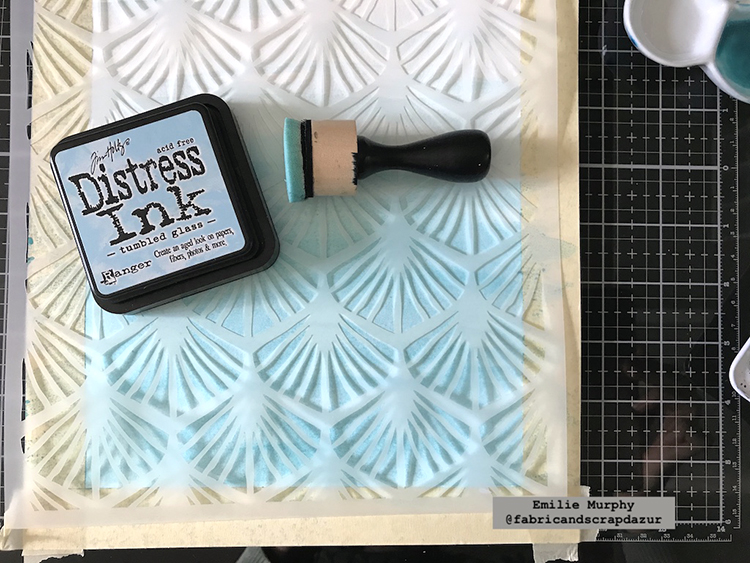 I added more watercolors slightly darker than the first layer. As a result, I mixed some "Turquoise green" with a little bit of "Phthalocyanine Turquoise".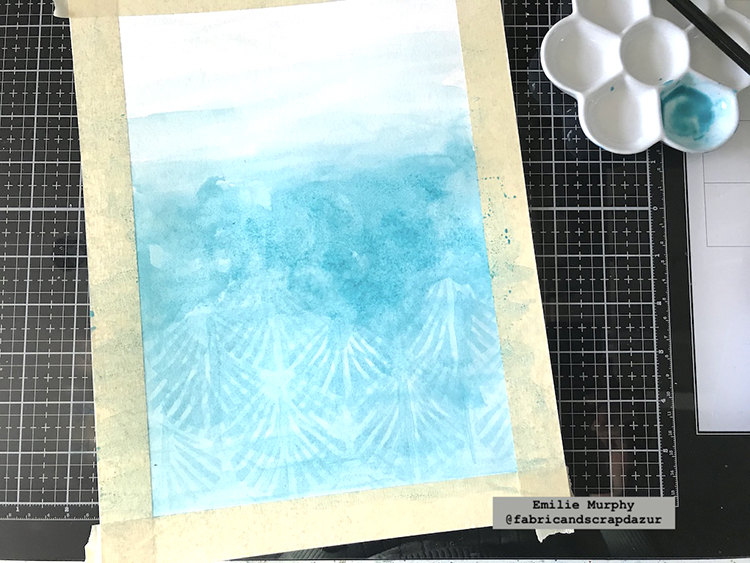 Again, I laid down my stencil and applied some "Peacock Feathers" distress Ink.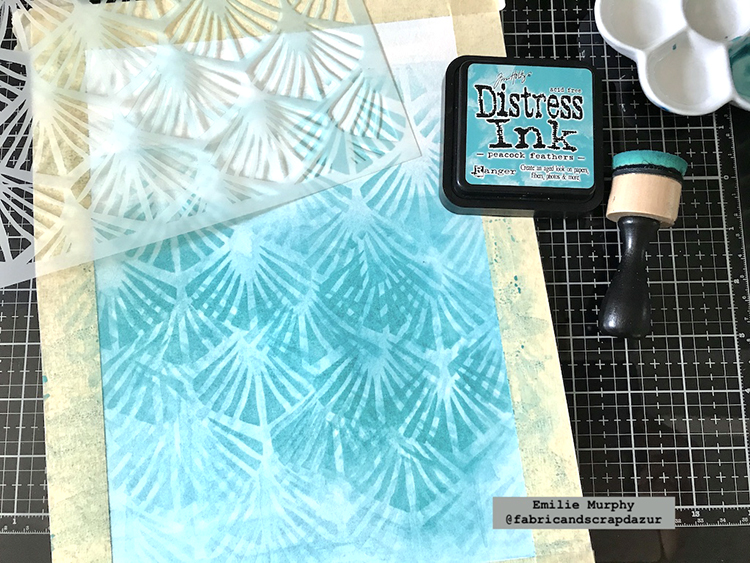 Working in layers, I repeated the previous two steps at the top again, but this time by darkening my watercolors using only "Phthaocyanine Turquoise" and "Stormy Sky" distress ink.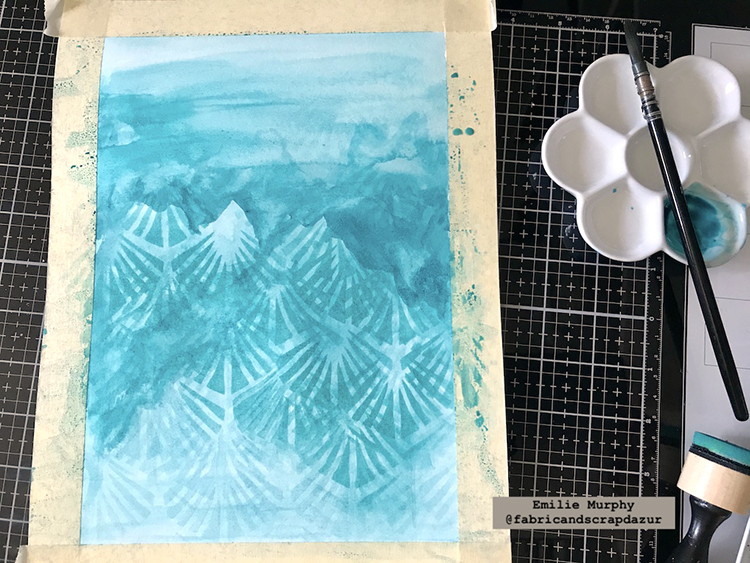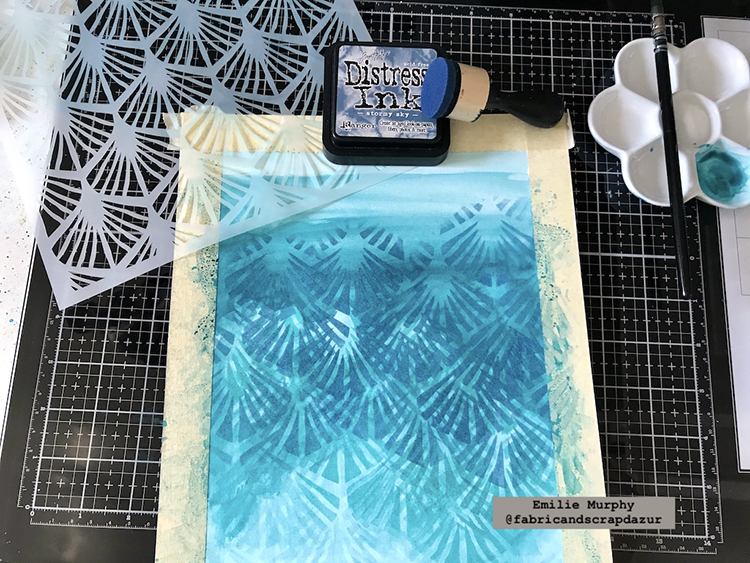 I started to apply on the top some "Indigo" watercolor to make the sky visible finishing my bluish gradient from bottom to top.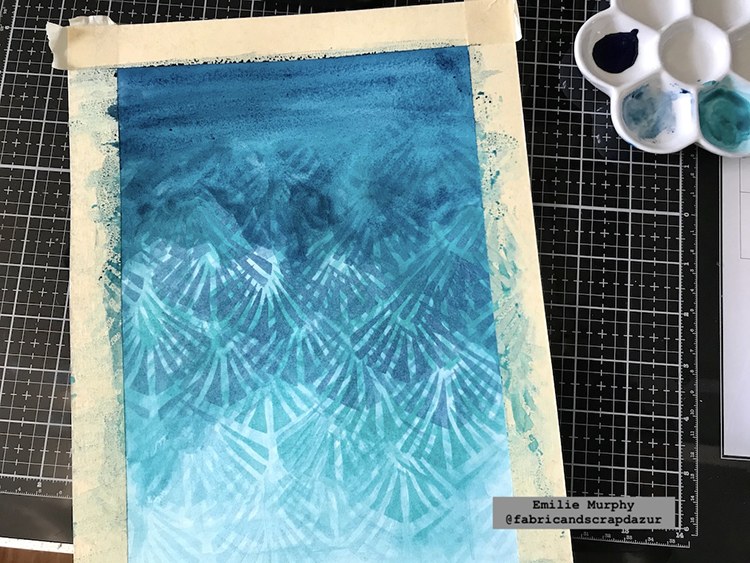 Then, I darkened the sky with some "Prussian Blue" acrylic ink and created some mountains. Next, I wiped off some paint with a rag just before it dried to make it appear as a full moon.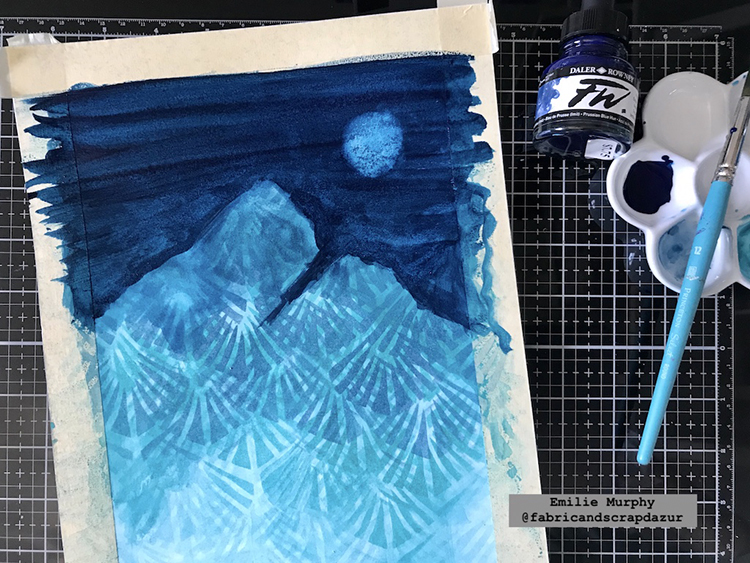 To finish the background I laid down the "Toledo 4×4" stencil and applied some "Prussian Blue" acrylic ink only on the sky part. It gives a subtle glow effect.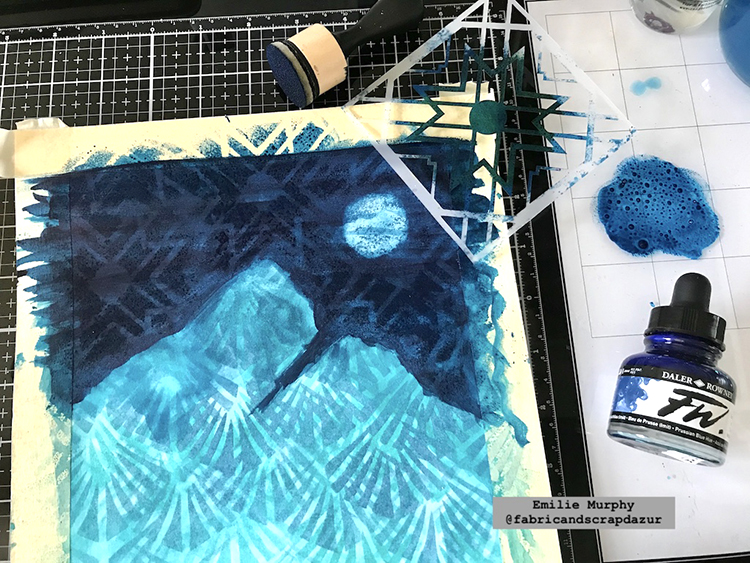 I applied again some "Prussian Blue" acrylic ink through the "Art Deco Wallpaper" stencil to make a tree in the foreground.
To finish up my painting, I applied some modeling paste on the summit of the mountains and on the tree with a plastic knife. I also applied some glitter glue on top and some splatters to get more interest.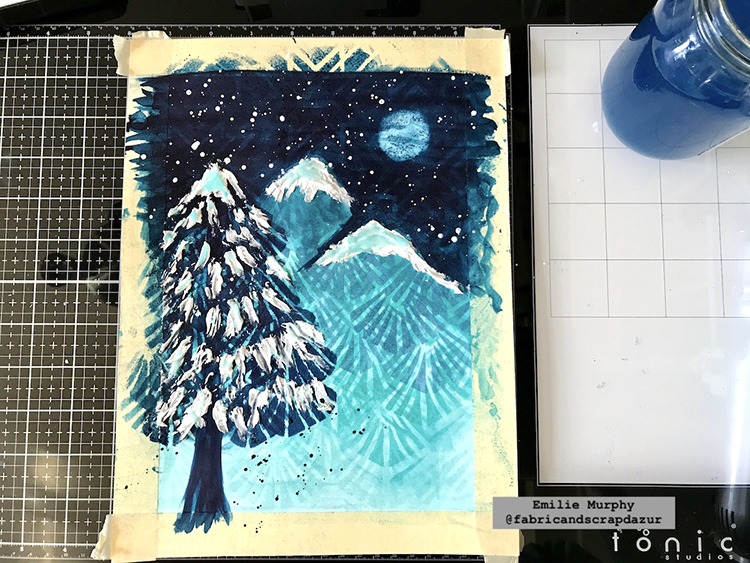 Hope it gets you inspired. I always try to use my stencils in different ways. I think this is a very simple painting project that gives a WOW look. You can leave it like it is or frame it and hang it out on your wall. Have fun!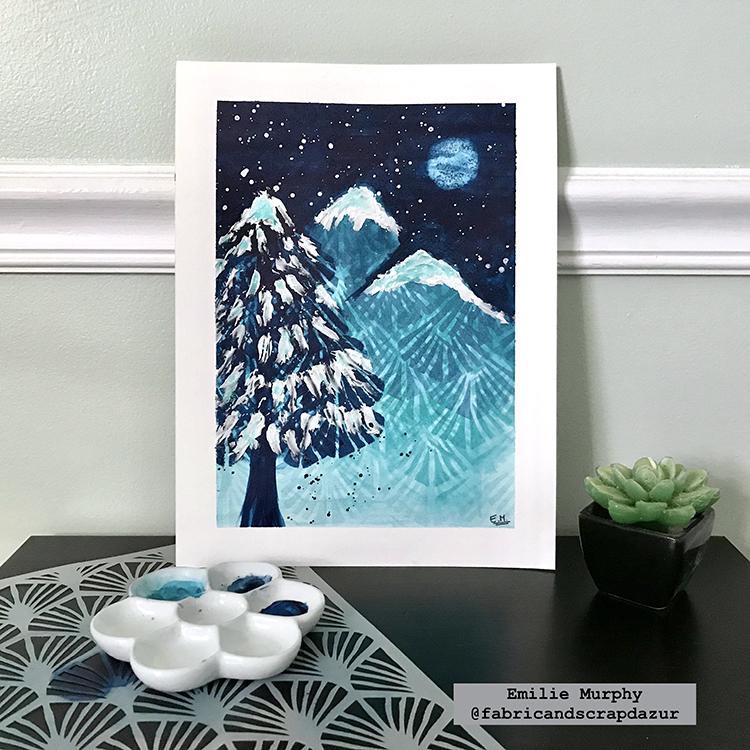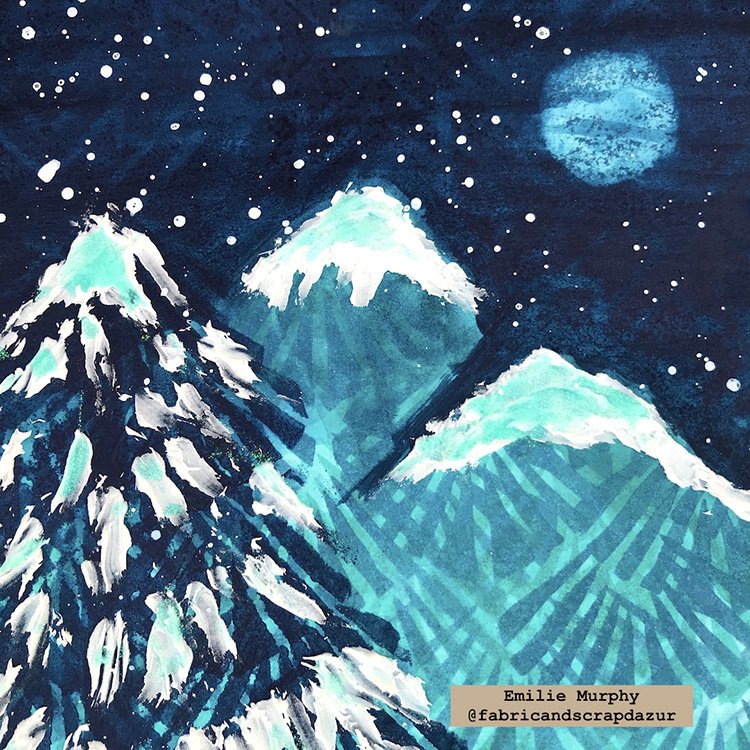 ---
Thank you Emilie! Love how you used the stencil to create the mountains and tree!
Give it a try: you can find all my Stencils in my Online Shop and here are some of the other supplies Emilie used: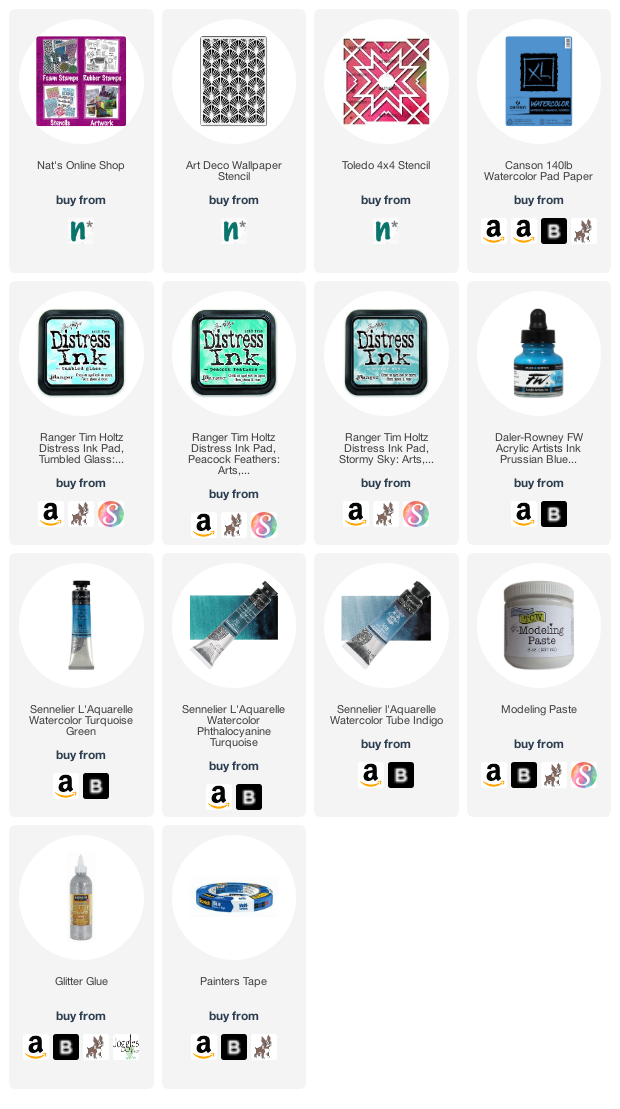 Don't forget to check out Nat's Creative Squad on Instagram too: Each week we post projects, ideas, and inspiration for mixed media art.