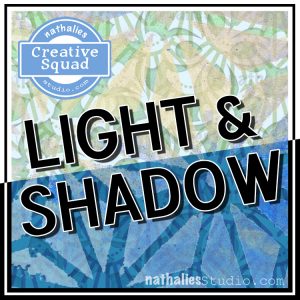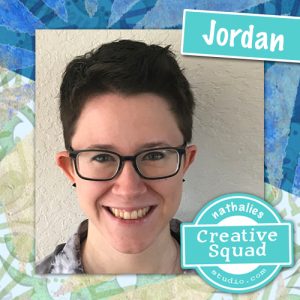 Hello from the Creative Squad! Today we have Jordan Hill sharing with us a nice little book that she's made using my Art Deco Empire stencil and this month's theme: Light & Shadow – In art and maybe also in life, the balance between light and shadow is an important consideration. Play with this equilibrium in your art and show us how the two sides work together.
---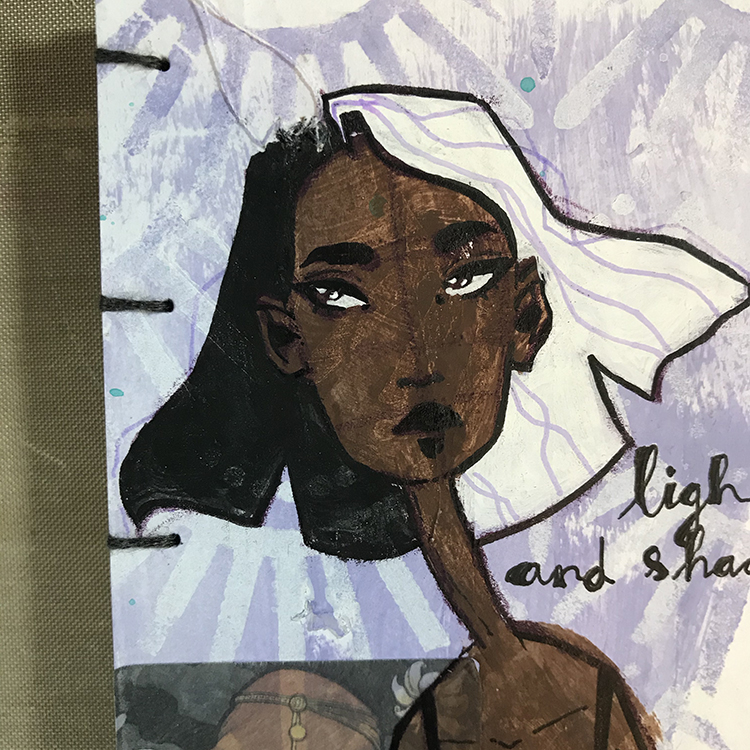 Hello, everyone! As a person who is quite fond of the concept of duality and contrasts, I really enjoyed creating this month's project using the theme "Light and Shadow"! I decided to bind a little book this month, and the actual pages also play off of the prompt. Let's get into it!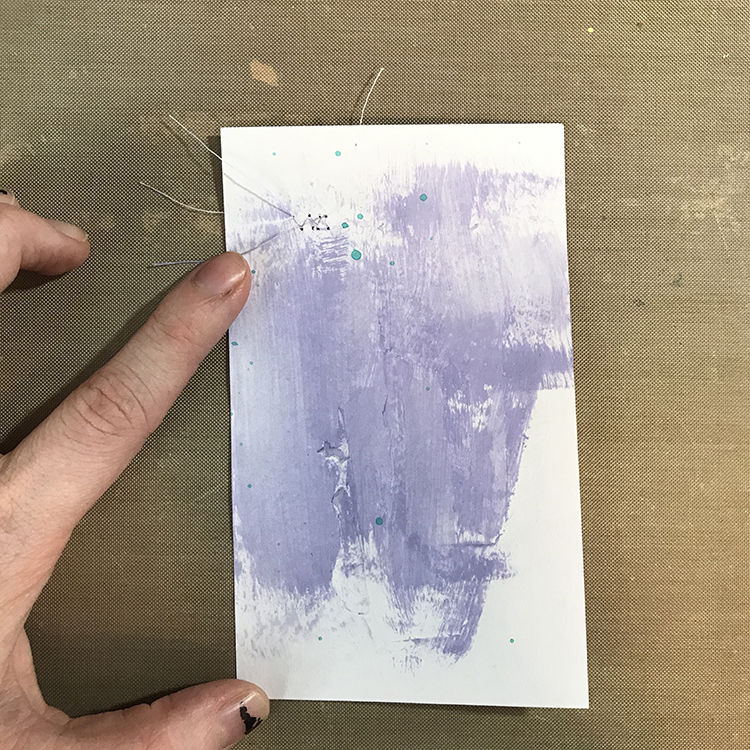 To start things off, I chose a 3″x5″ index card as my surface. I love working on index cards because they are extremely low pressure. This particular card was one I had leftover from an instance where I cleaned off one of my brushes that still had paint on it. It also ended up with a few specks of blue paint and a small section of machine stitching from where I was testing my sewing machine, which added some fun details!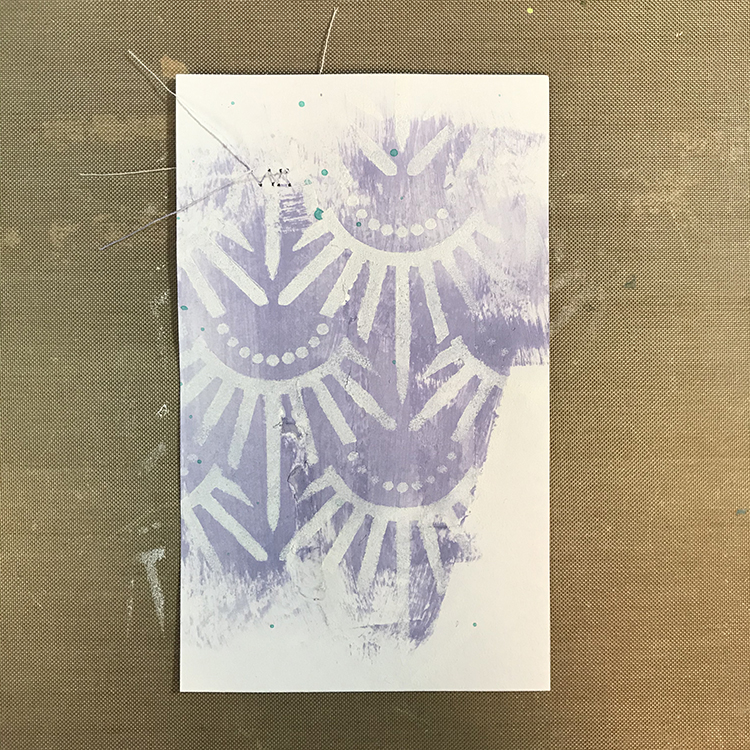 Next up, I used a makeup sponge, white paint and Nathalie's Art Deco Empire stencil to add some interest to the purple area of the card.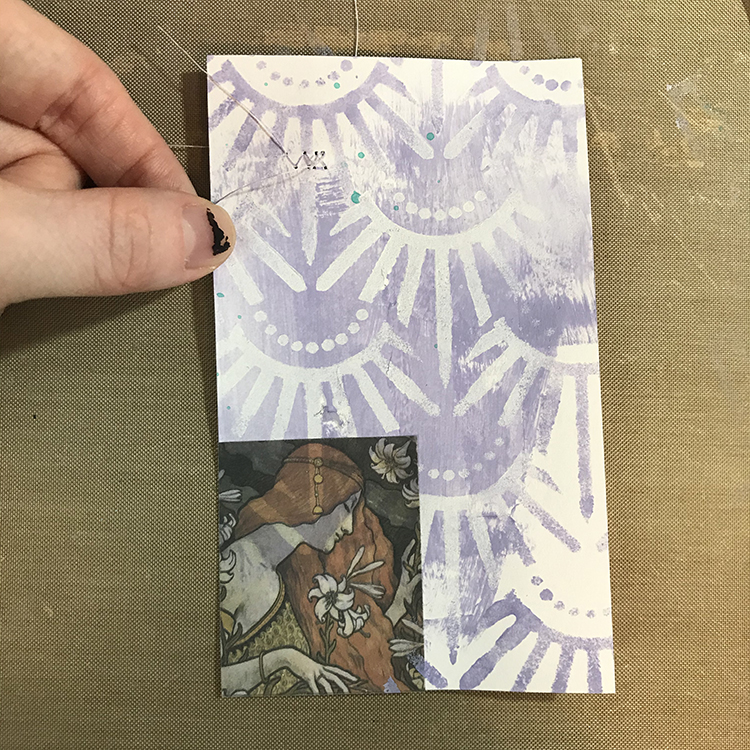 Using the same stencil and the purple paint I had used as a base, I then stenciled over the white areas of the card. This played into the idea of "light and shadow". I then selected a small piece of ephemera to glue to the lower left hand corner of the card.
At this point, I was comfortable calling this background done enough to add a face! As is the case with most of the figures that I draw, I blocked in her face roughly in acrylic paint first, then sketched and drew on top of that base. To further emphasize the idea of "light and shadow", I decided to make her hair two-toned; black and white!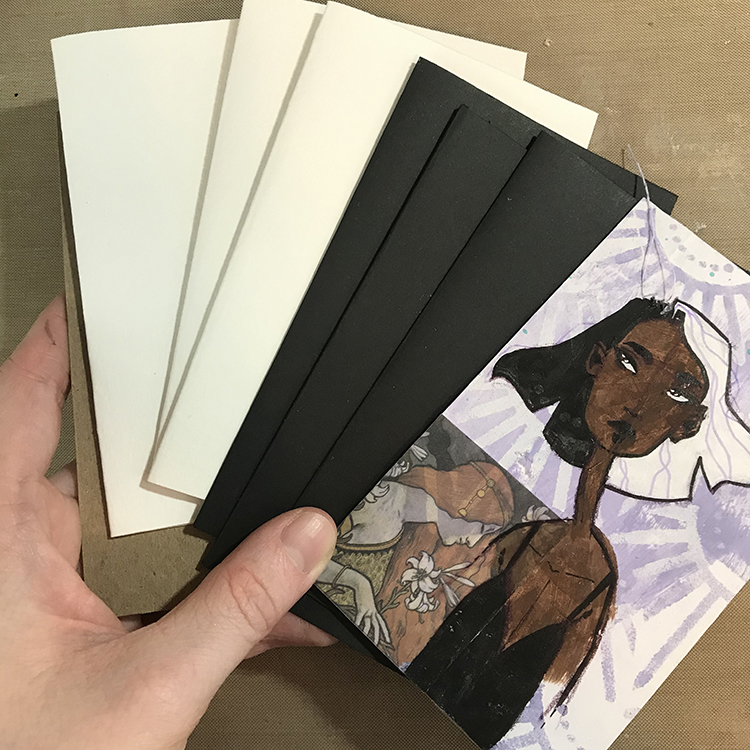 Once I was happy with my painting, I cut down two pieces of chipboard to the size of the card and glued the completed index card to one of them. I then selected some paper to use as the pages. I decided to use Canson watercolor paper for the white pages and some basic black cardstock for the black pages.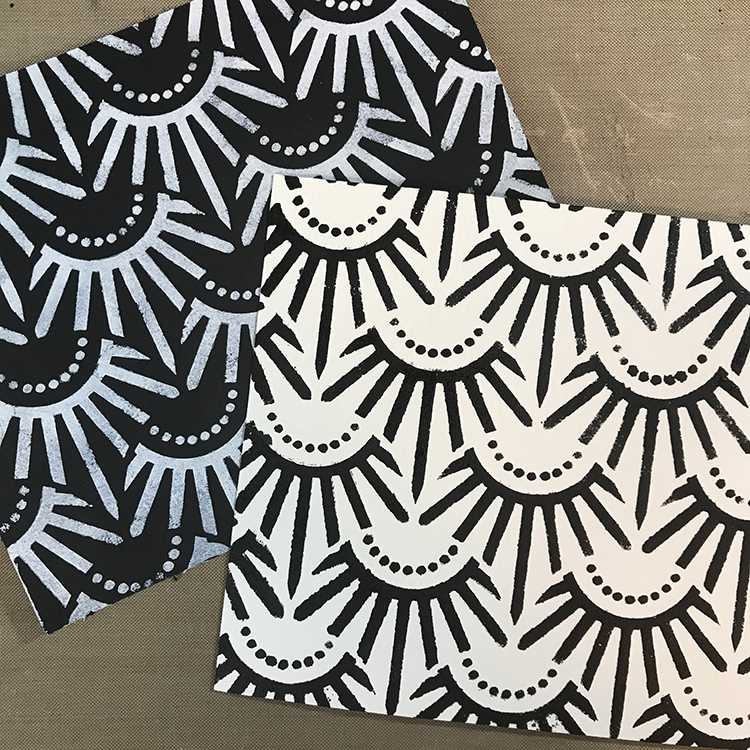 Before I actually bound the book, I decided to pull out the Art Deco Empire stencil again! Using the same stencil I did for the cover, I used white paint to stencil on a sheet of the black cardstock and white paint to stencil on a sheet of the watercolor paper.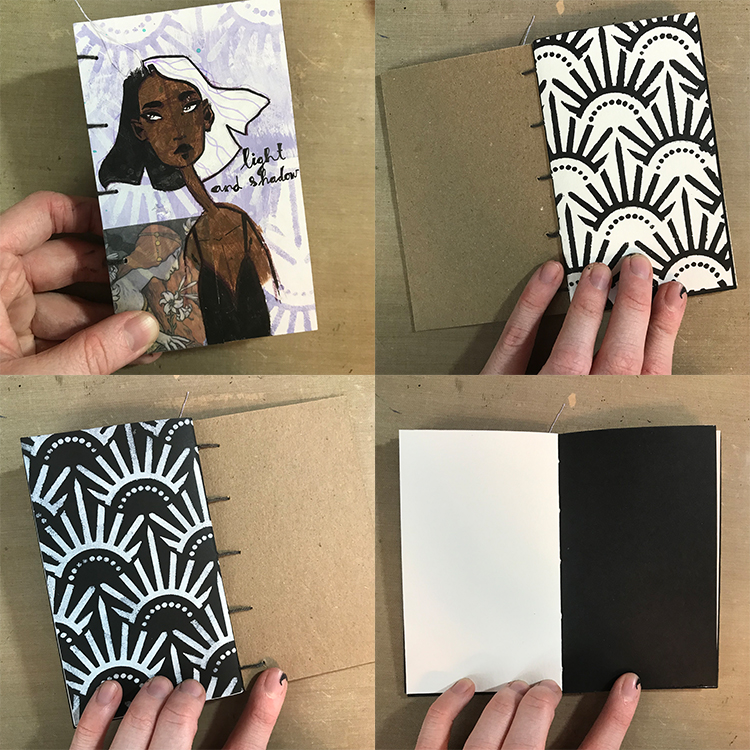 Using the stenciled pages as cover sheets, I then bound my book using a coptic stitch and black embroidery floss before calling it done! The fun thing about using both black and white pages is that throughout the book there is an interesting contrast effect that I think will be incredibly enjoyable to create on!
I hope you had fun creating this little book with me and I hope you are inspired to create something of your own!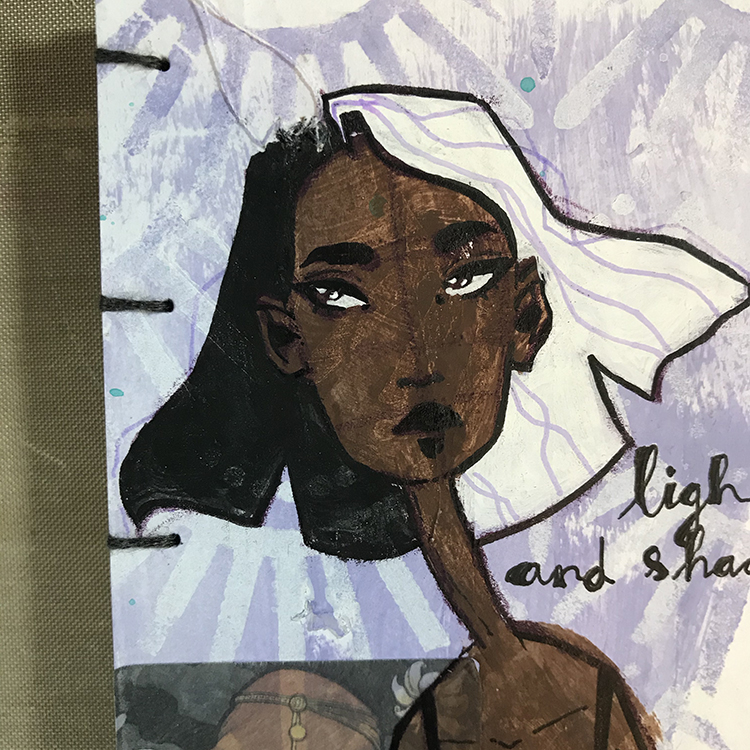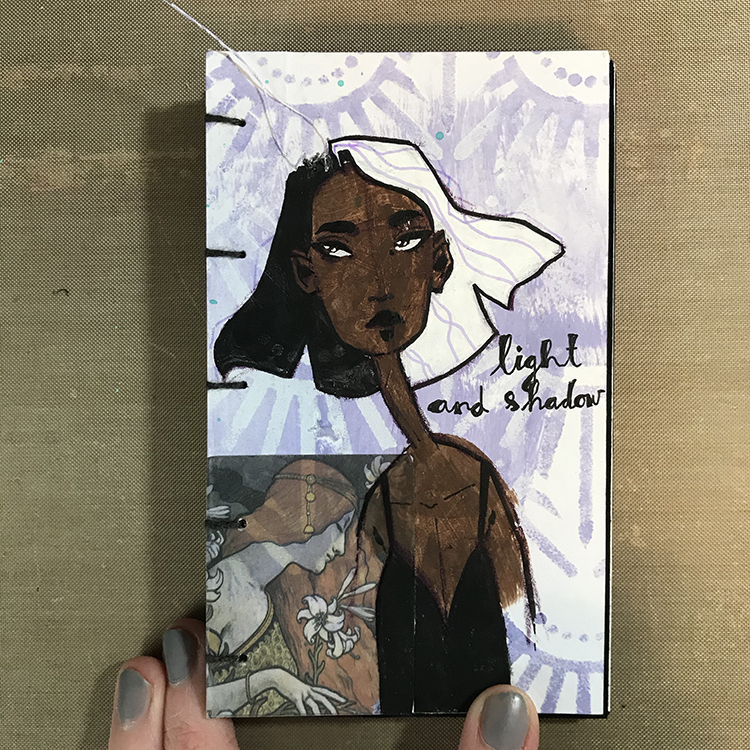 ---
Thank you Jordan – love the bold graphic quality of this little book's cover!
Give it a try: you can find all my Stencils in my Online Shop and in addition to a small piece of ephemera, here are some of the other supplies Jordan used: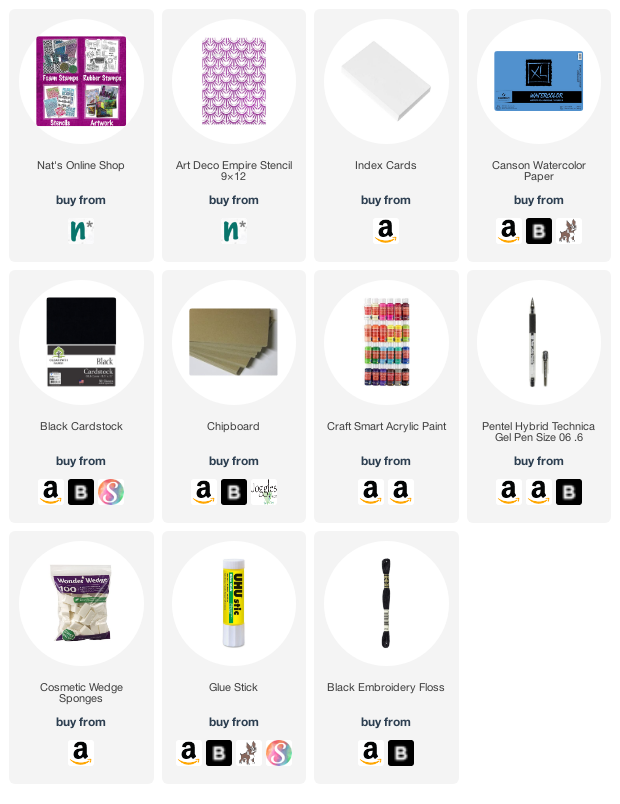 Don't forget to check out Nat's Creative Squad on Instagram too: Each week we post projects, ideas, and inspiration for mixed media art.