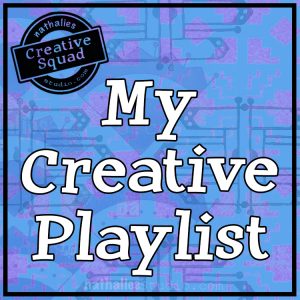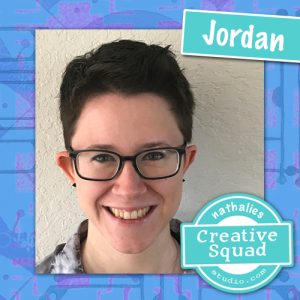 Hello from my Creative Squad! Today we have Jordan Hill sharing with us a guilt free art journal spread using her favorite supplies, my Mini Motifs foam stamps, my Art Deco Empire stencil, and our theme: My Creative Playlist – Your favorite mixed media supplies are like your favorite songs: they lift you up, inspire you and just feel good to groove to. What are your favorite supplies? Use them in a project – YOUR Creative Playlist that always gets you going.
---
Hey everyone! I'm excited to be back with a new post for this month's theme of "My Creative Playlist". I tend to reach for a lot of the same supplies in most of my art journal spreads anyways, so this was a great excuse to not feel guilty about it! With that being said, let's get into it!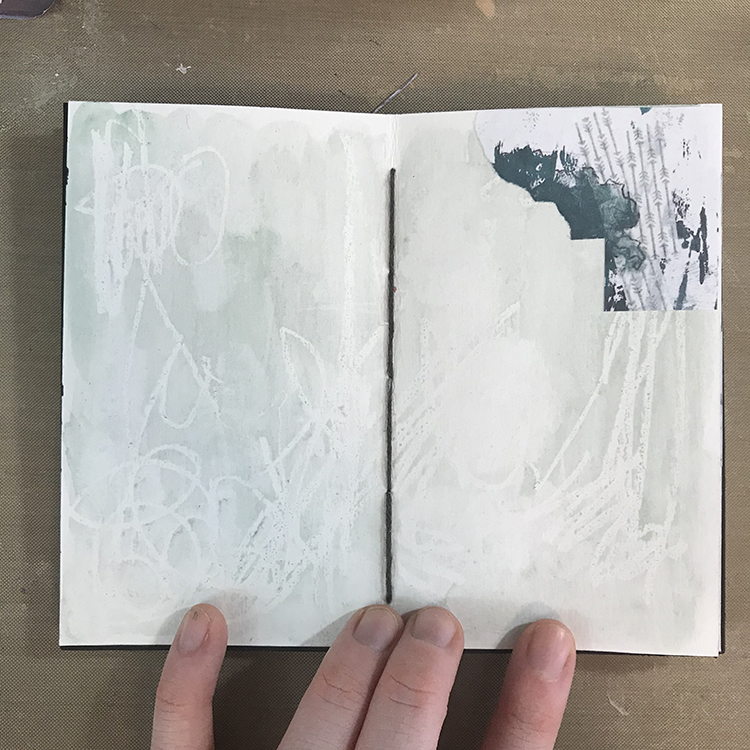 I started off today's page by scribbling randomly with a white crayon. I then reached for some of my handmade watercolors and did a wash over the entire spread. I used to be more of an acrylic paint person, but recently watercolors have really been speaking to me. Thus, for the theme of "My Creative Playlist", I thought I would take the time to really combine the two types of paint! Collage is also something that I really love using in my work, so I glued a piece down.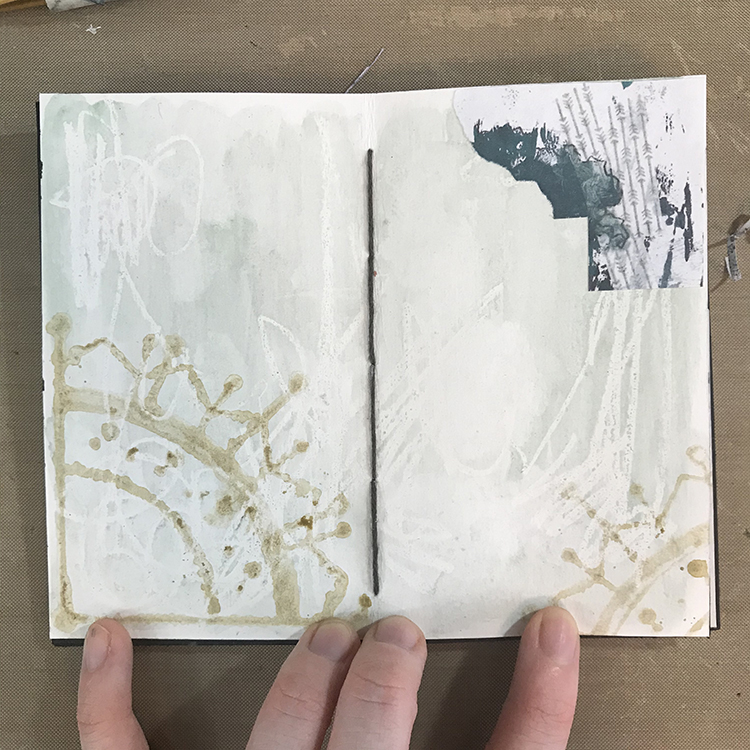 Next up, I wanted to play with Nathalie's Mini Motifs foam stamp set to continue building the background I had already begun. I decided to use another of my handmade watercolors in order to add these stamps to my spread. I was looking for a bit of a softer effect than what I often get from using acrylics, so using a slightly darker color of watercolor did the trick! In order to do this, I used a large, wide brush, loaded it up with paint, and painted directly onto the surface of the foam stamps.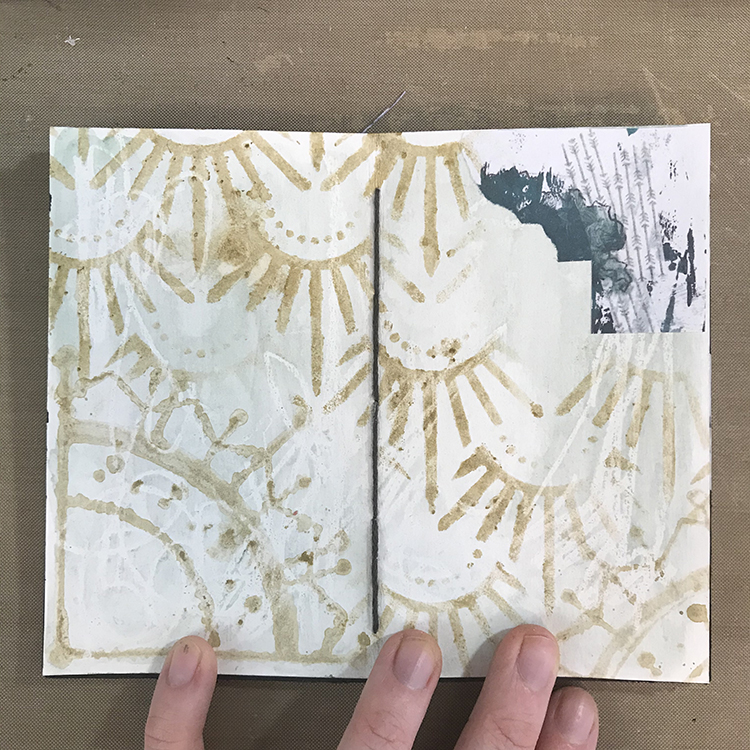 Using the same watercolor on a makeup sponge, I then used Nathalie's Art Deco Empire stencil to fill in the rest of the background space!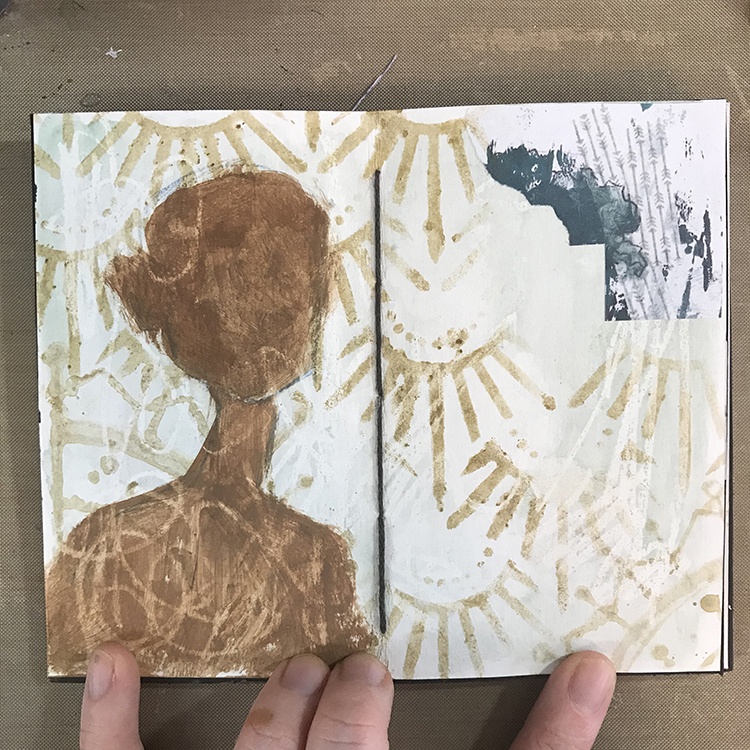 Next, I started blocking in the face I knew I wanted to add the page. For this particular page, I wanted to draw a new one from scratch, so I started by sketching in a basic face shape. Then I used some matte acrylic paints (another favorite supply of mine!) to block in the base skin tone.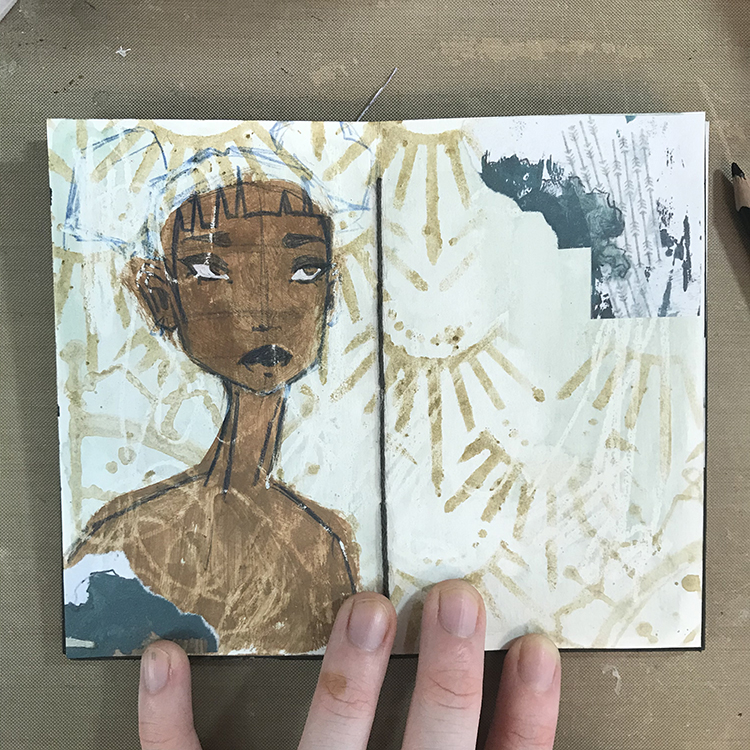 Following the theme of My Creative Playlist, I decided to use a Prismacolor colored pencil in the color Indigo to sketch in the details of my face. This is one of my very favorite colored pencils for sketching faces, and I'm at the point where I've used it so much that I'm going to need a new one very soon! I also added another piece of collage in the lower left hand corner to match the one in the upper right.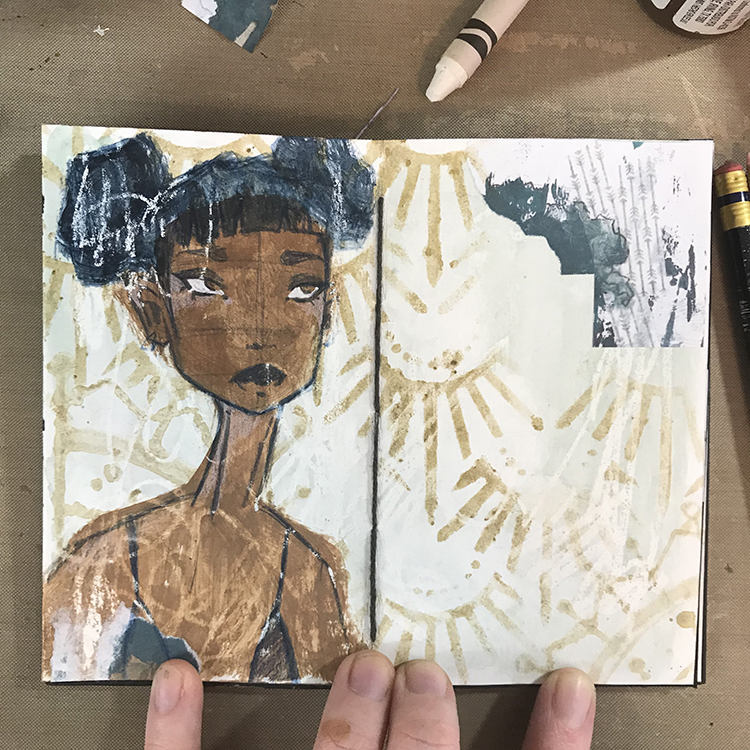 Using a dark teal acrylic that I mixed from Aqua and Black CraftSmart craft paint, I then blocked in the general shape of the hair. At this point, I also sketched in the general shape I wanted to use for the shirt. Things were still lacking a bit of cohesiveness at this point, but I love how the white crayon I used in my first layer acted as a resist through all the layers and helped tie things together.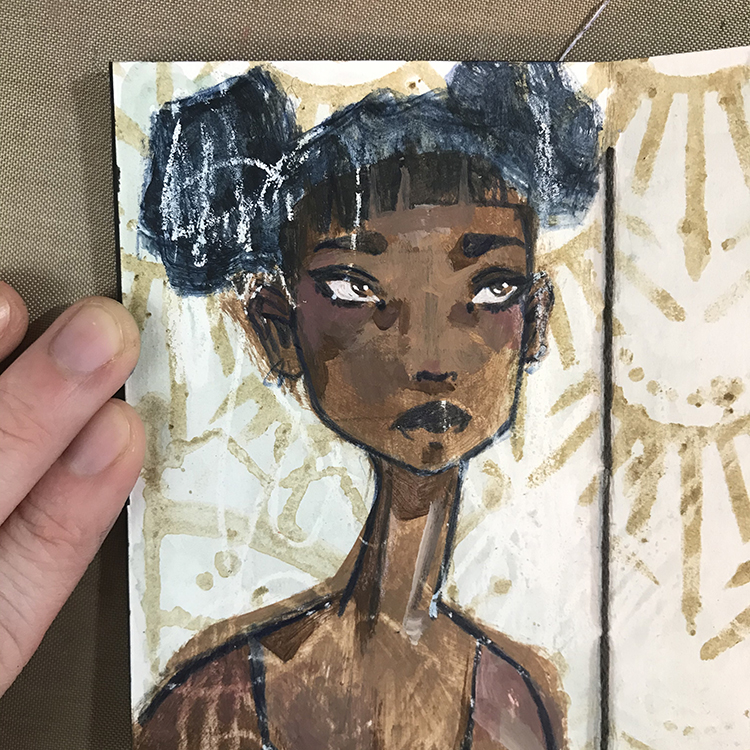 For this particular portrait, I knew that I wanted to spend a bit more time developing the details of the face, so using my trusty acrylic paints, I added some shadows, highlights, and general depth to the portrait. Once those details had been added in acrylic, I went back to my Prismacolor pencil in Indigo to reintroduce any lines that may have been lost by painting over top of them.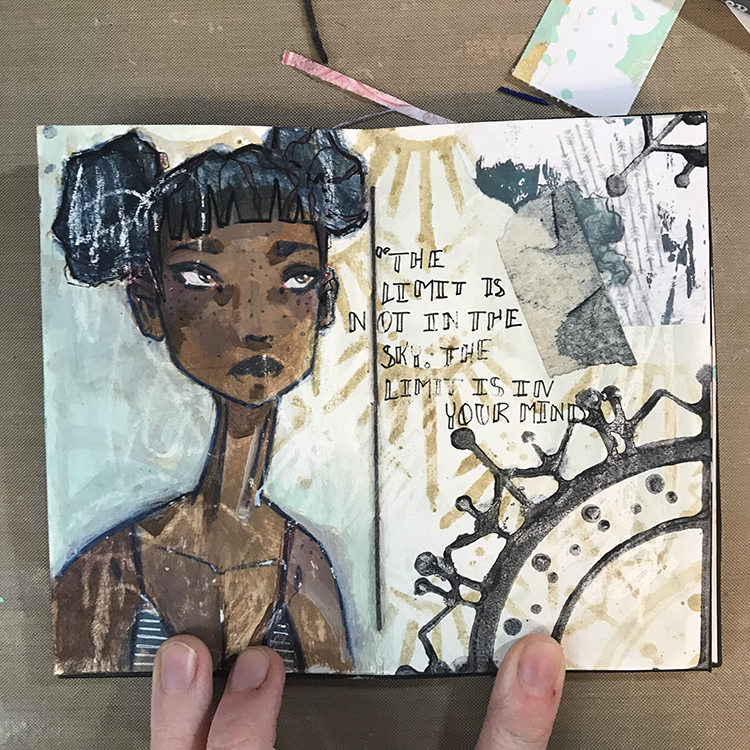 Finally, I added some finishing touches to the page. I decided that the Mini Motifs stamp in the background wasn't nearly pronounced enough, so I used the same teal paint I had mixed for this girl's hair to stamp the design in the upper and lower right of my spread. I also added a scrap of masking tape with a bit of paint on it, and added some additional details in pen to the hair, shirt, and in the form of a short phrase. With that, I was ready to call things done!
I had a lot of fun putting together the spread for this month's theme and I hope you enjoyed following me along for this process!
---
Thank you Jordan – absolutely love to see how you create your figures through different favorite media!
Give it a try: you can find all my Foam Stamps and Stencils in my Online Shop and in addition to her handmade watercolors and some collage pieces, here are some of the supplies Jordan used: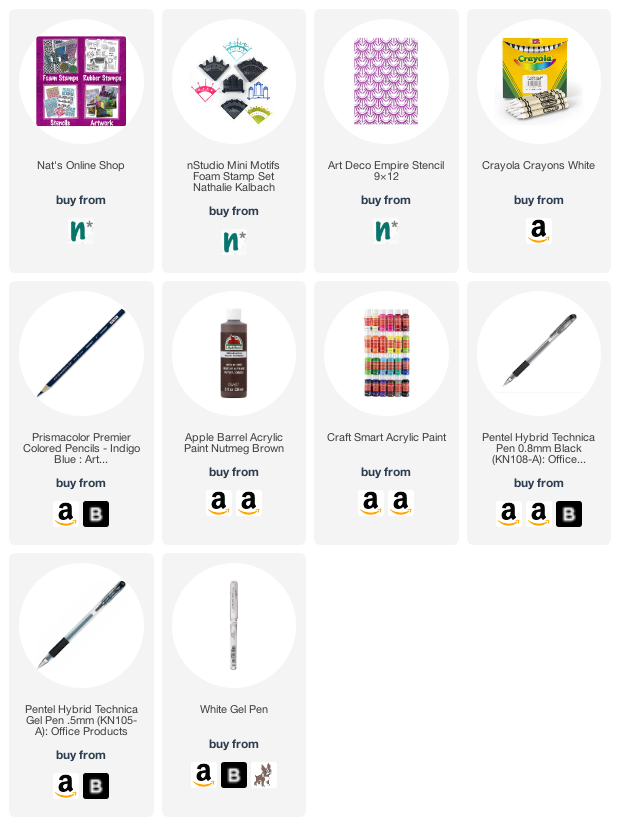 Don't forget to check out Nat's Creative Squad on Instagram too: Each week we post projects, ideas, and inspiration for mixed media art.