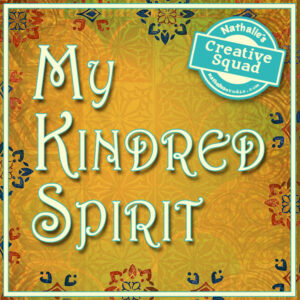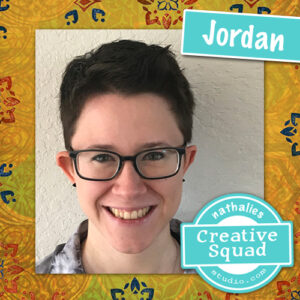 Hello from my Creative Squad! Today we have a post from Jordan Hill who is sharing her unique take on our theme this month by working on an old playing card with my Triangle Love stamp set. Our theme is: My Kindred Spirit – Animals are often symbols of qualities that we humans identify with, so let's take some inspiration from them this month. Do you have an animal whose characteristics you identify with? Maybe it changes depending on your mood or what life throws. Who is your Kindred Spirit in the animal kingdom today?
---
Hello everyone! I'm excited to be back with a new project for the month of April! I had a lot of internal debate on which animal I wanted to focus on for this month's theme; however, since I've always loved amphibians and the symbolism surrounding snakes (the idea of rebirth and new beginnings), I decided to go with a snake. I hope you enjoy following along with the process!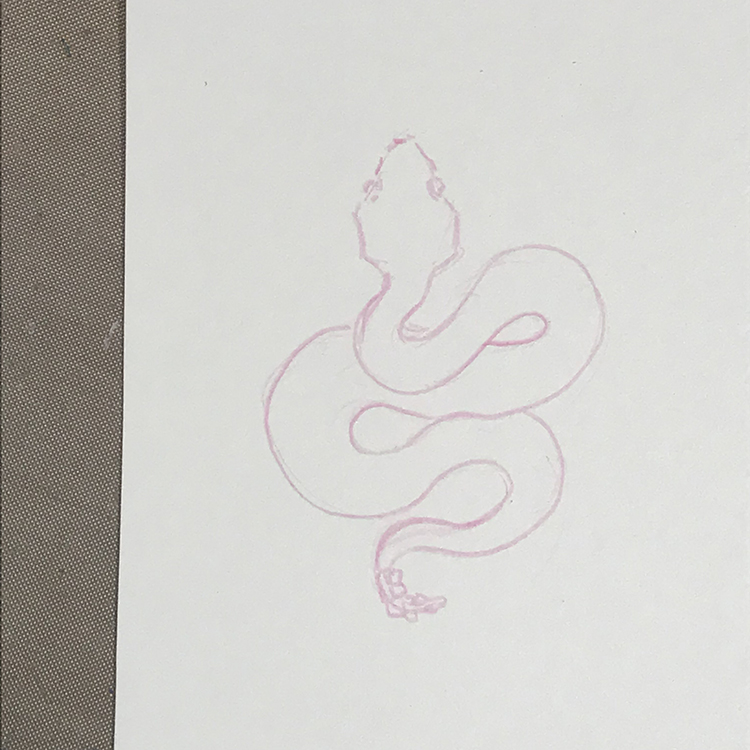 Since I knew that I wanted to do an illustration of my animal this month, I started things off by sketching a snake design on a scrap of watercolor paper with a pink Col-Erase pencil. I used a photo that I found online to get the general shape of the snake down.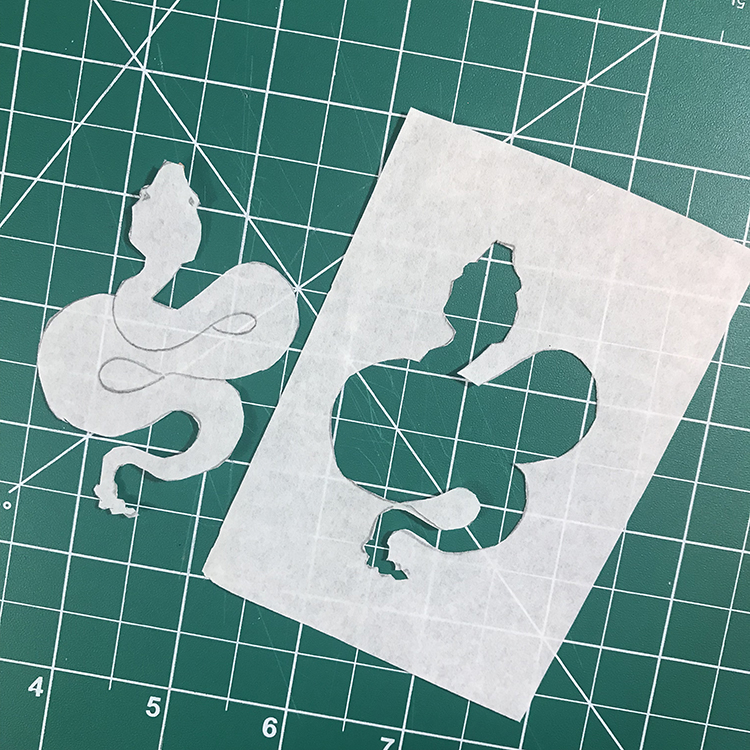 Next, I used a piece of tracing paper and a pencil to trace over my sketch. I then used a craft knife to cut out the shape of the snake so that I had a mask that resembled my drawing.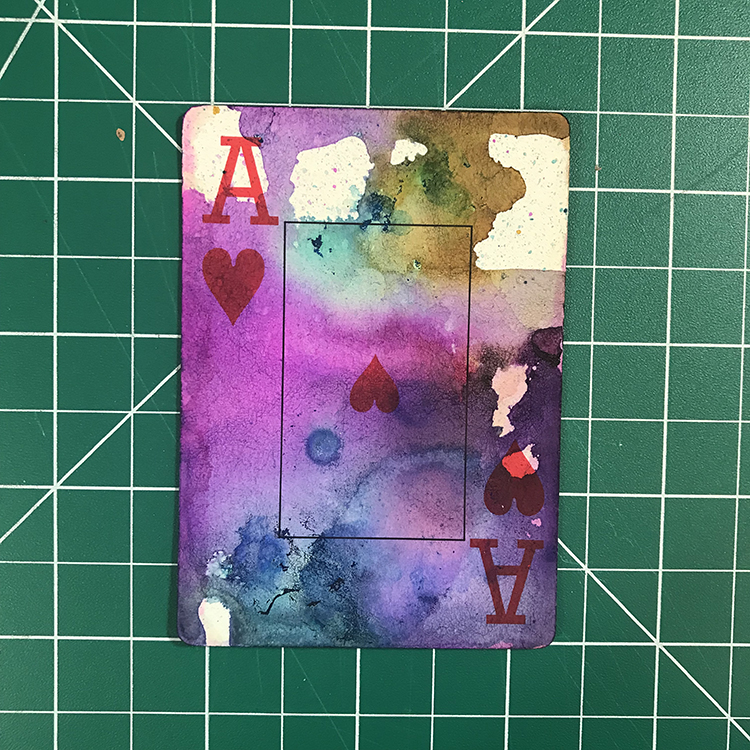 At this point, I wanted to focus on the background. This helped me know how to color my focal image. For the base of my project, I selected a playing card from a deck of cards I purchased at the thrift store for 49 cents. Then, I used a mix of plain rubbing alcohol in a spray bottle and a few colors of alcohol inks to create my background.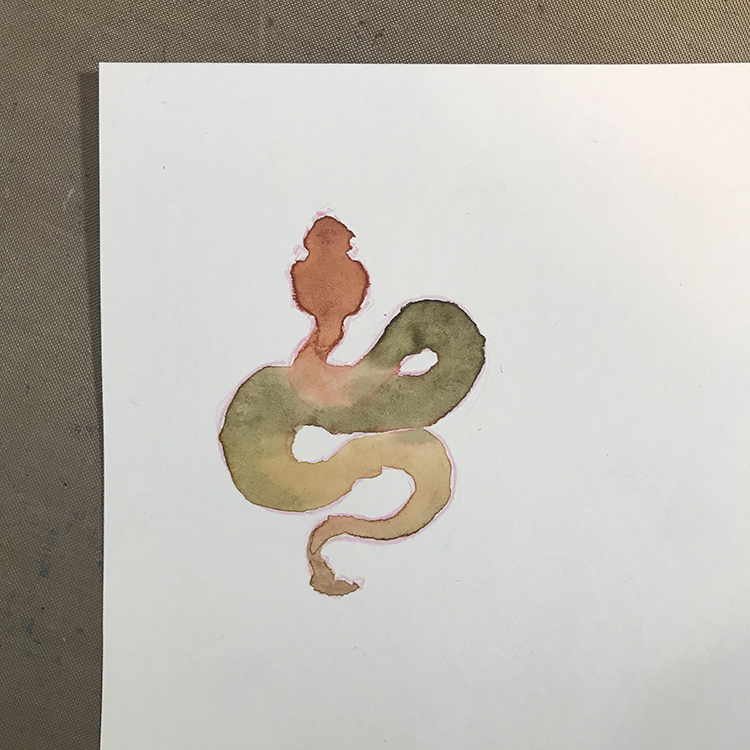 It was then time to paint my snake. Using clean water on a paintbrush, I filled in the shape of my snake. I then dropped several colors of watercolor paint in light oranges and dark greens directly into the water and allowed the colors to blend together.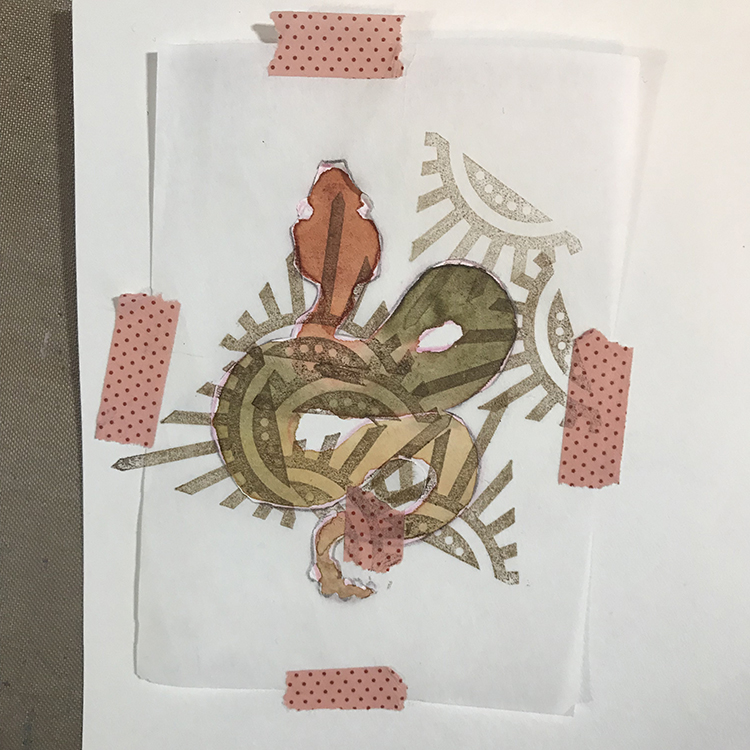 Once the watercolor was dry, I then wanted to add some pattern to the snake. I taped the mask I created in Step 2 over my illustration using washi tape, then used Nathalie's Empire Triangle stamp paired with Tim Holtz Distress Ink in the color Walnut Stain to cover my snake with a variety of pattern. I then removed the mask and used an ink pen to add some lines the illustration.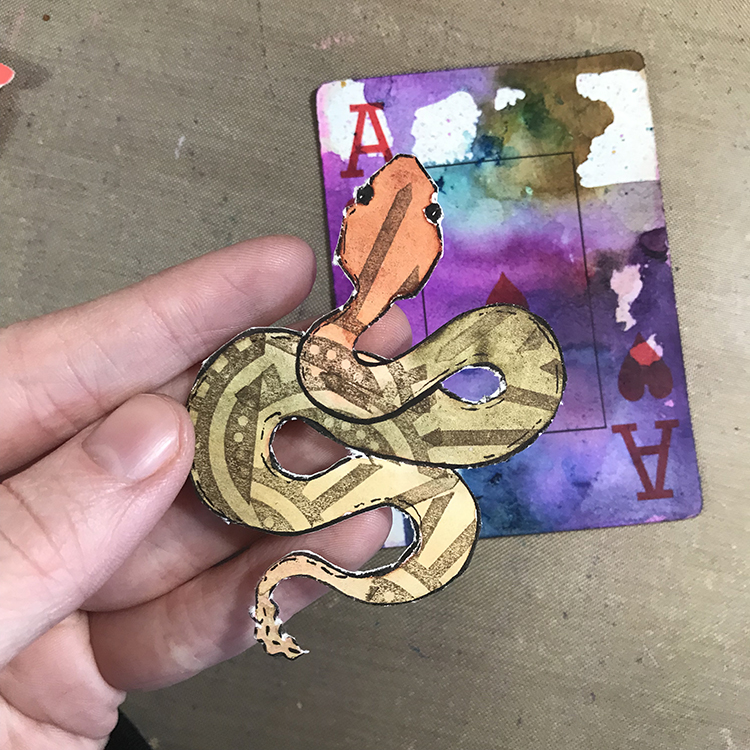 In the end, the use of the mask became mostly meaningless, because I decided I wanted to fussy cut my illustration, again using a craft knife. I then rubbed an Archival Ink Pad in Black around the edges of the piece so that it would stand out more against the background. It also covered some of the raw edges I got from cutting with a blade that wasn't quite sharp enough.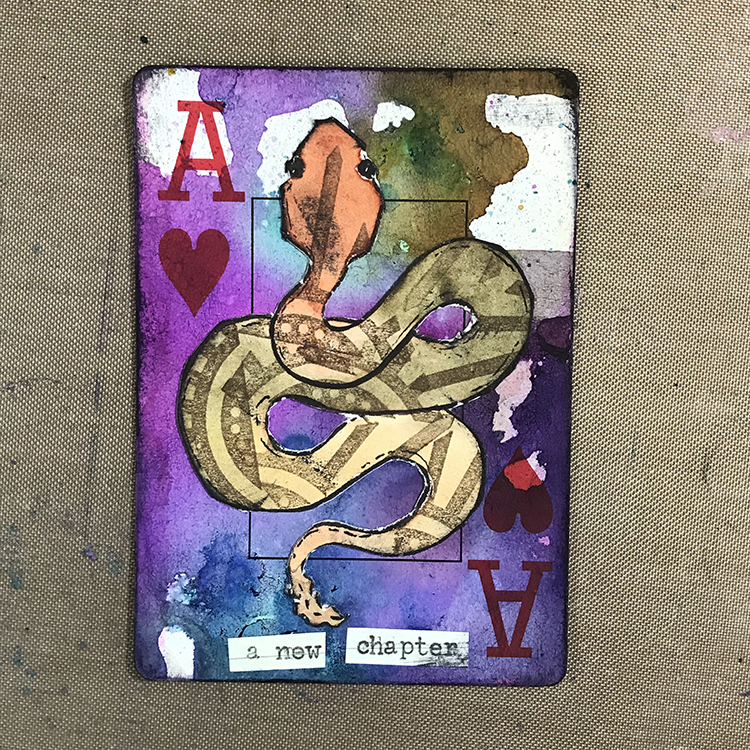 Then all that was left was to actually assemble the playing card! Using Aleene's Tacky Glue, I adhered the snake to my background. I then used a small phrase I typed out on my typewriter to give the card a title, rubbed my Archival Ink Pad around the edges of the card, and I was ready to call it done!
Altered playing cards can be a great addition to your mixed media repertoire; you can create an entire deck, or staple them into your journals to create quick pages! I hope you enjoyed following the process of creating this card and that you give some of the techniques a try for yourself!
---
Thank you Jordan – I love that you chose to work on a playing card, and the use of the stamp to create the snake's marking is just perfect!
Give it a try: you can find all my Rubber Stamps in my Online Shop and in addition to an old playing card, here are some of the supplies Jordan used: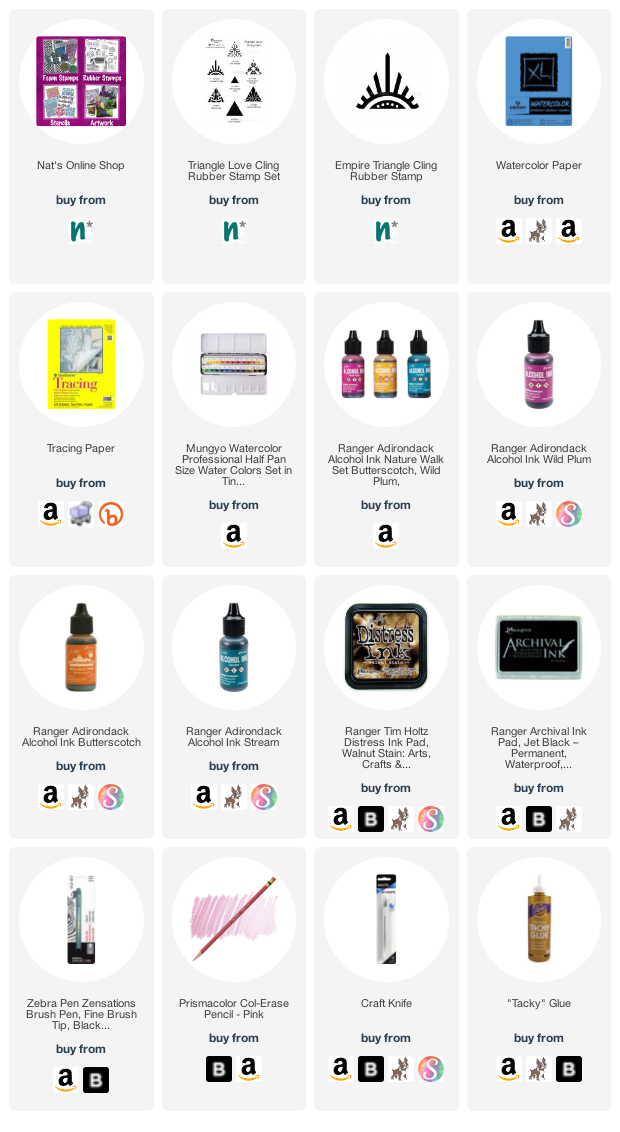 Looking for more projects? Follow the Creative Squad on Instagram here.