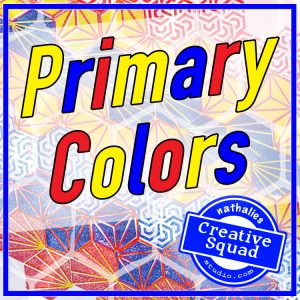 Hello from my Creative Squad! Today we have a clever post from Judi Kauffman using my Triple Play foam stamps, Broadway stencil, and a mini water tower model (including its envelope AND scrap pieces) and our theme: Primary Colors: Red, Blue, and Yellow it's your time to shine. Let's get back to the basics of color and light and play with primary colors. It's elementary my friend!
---
When I heard that this month's theme is all about primary colors I knew I was going to want to head in a different direction. Instead of using all three, I'd focus on just one – RED, my favorite color, plus basic black and pure white.

Or perhaps it was because I was thinking of the old children's riddle: What is black and white and red all over? A newspaper! (Red…Read…) Sorry! I couldn't help myself.

I thought it would be fun to use not only the pieces from the Water Tower Model kit I received but the negative shapes AND the sturdy envelope in which they were packed. Double the fun.

***TIP: If you are going to decorate the envelope be sure to take a photo of the assembly instructions BEFORE starting to paint and stencil!
Randomly paint the model pieces, envelope, and negative shapes with white paint. It's okay that some of the original board remains visible.
Randomly add red paint to the model pieces, envelope, and negative shapes.
Center the Broadway stencil on the roof piece and use black paint to stencil the pattern. Use black paint and your choice of triangle stamps from ArtFoamies Triple Play to randomly stamp all remaining pieces of the tower, the negative shapes, plus the envelope.
Assemble the tower per instructions. Add the negative shapes to the roof of the tower.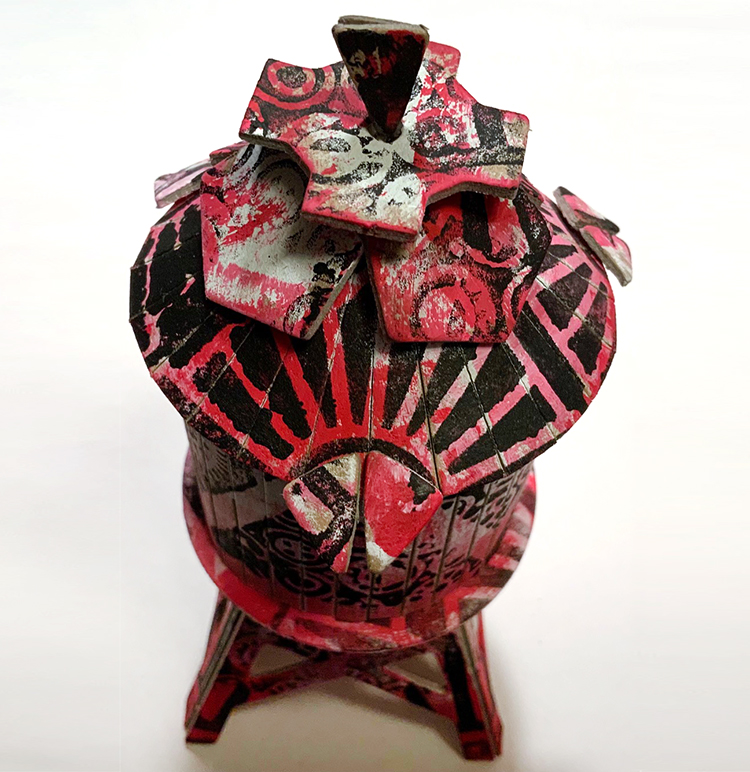 Option: Instead of securing the roof, don't use the criss-cross piece of board that acts as a structure to hold it in place; just perch it on top so you can hide candies or jewelry inside the tower!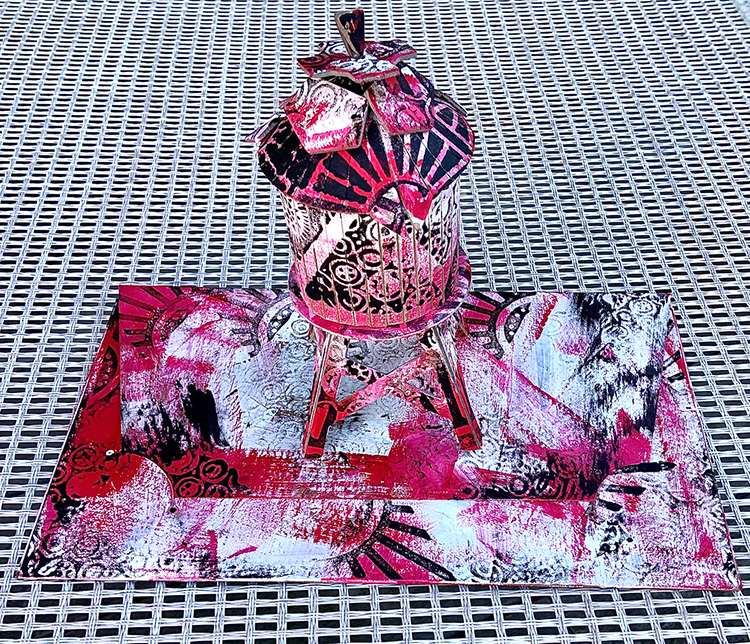 ---
Thank you Judi – love the idea of using the packaging and leftovers too!!! And look at that great use of pattern and layering!
Give it a try: you can find all my favorite cardboard models, Foam Stamps, and Stencils in my Online Shop and here are some of the supplies Judi used: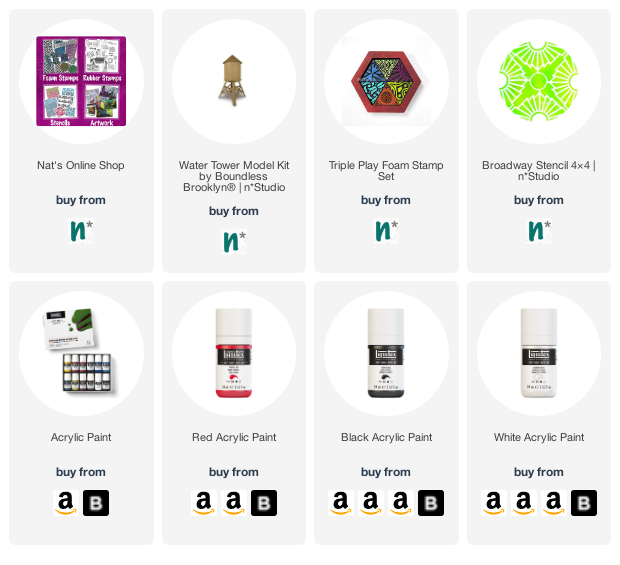 For more from the Creative Squad check out Nat's Creative Squad on Instagram too: Each week we post projects, ideas, and inspiration for mixed media art.