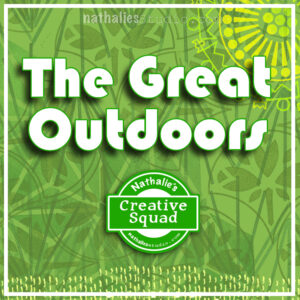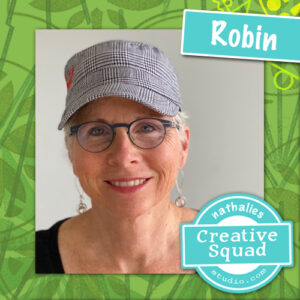 Hello from my Creative Squad! Today we have a post from Robin Seiz who is sharing a very thoughtful and poignant journal page with us. She's using my Cross Circle and Grannies rubber stamps and our theme: Great Outdoors – The experts agree that getting outside for activity each day is a super healthy thing you can do for your mind and body. Let's get outside and seek artistic inspiration out there. Find something that catches your eye and then when it's time to come back in, use that inspo to create.
---
Hello friends, I hope you are enjoying the weather wherever you are. It's spring here in Pennsylvania; one of my favorite times of the year. This months theme is about getting inspiration from nature; that's an easy one for me. I LOVE being outside. The colors of spring are so enticing, green golds, dark greens, yellows, pinks, purples and so on.
At my house we are in the middle of a sizable renovation. I am so fortunate to be expanding my studio and even adding a sink! The new studio space has 7 windows and, when complete, I'm quite sure I will never want to leave it. In the meantime, I am set up at a tiny little table in our open hearth room and most of my supplies are packed up in the basement. All that to say, this experience has made me realize that we don't have to have the perfect place to create; sometimes just keeping it simple is good. Not every project we create has to be our best piece of art or gallery worthy. Sometimes, it's just enough to sit down, wherever you can, and put a few things on paper.
This journal page speaks to how I have felt this month. All the gun violence has really upset me. I feel so sad about it all and a bit helpless about what to do about it.
I began with a children's book I often use which has fabulous illustrations in it. I frequently keep some part of the illustration and incorporate it into my page. As I sat down to create, I looked out the front window to our meadow; a peaceful pleasant place for me. While I wasn't trying to create the exact picture, I did want to capture the different shades of green and place some "flowers" in the meadow.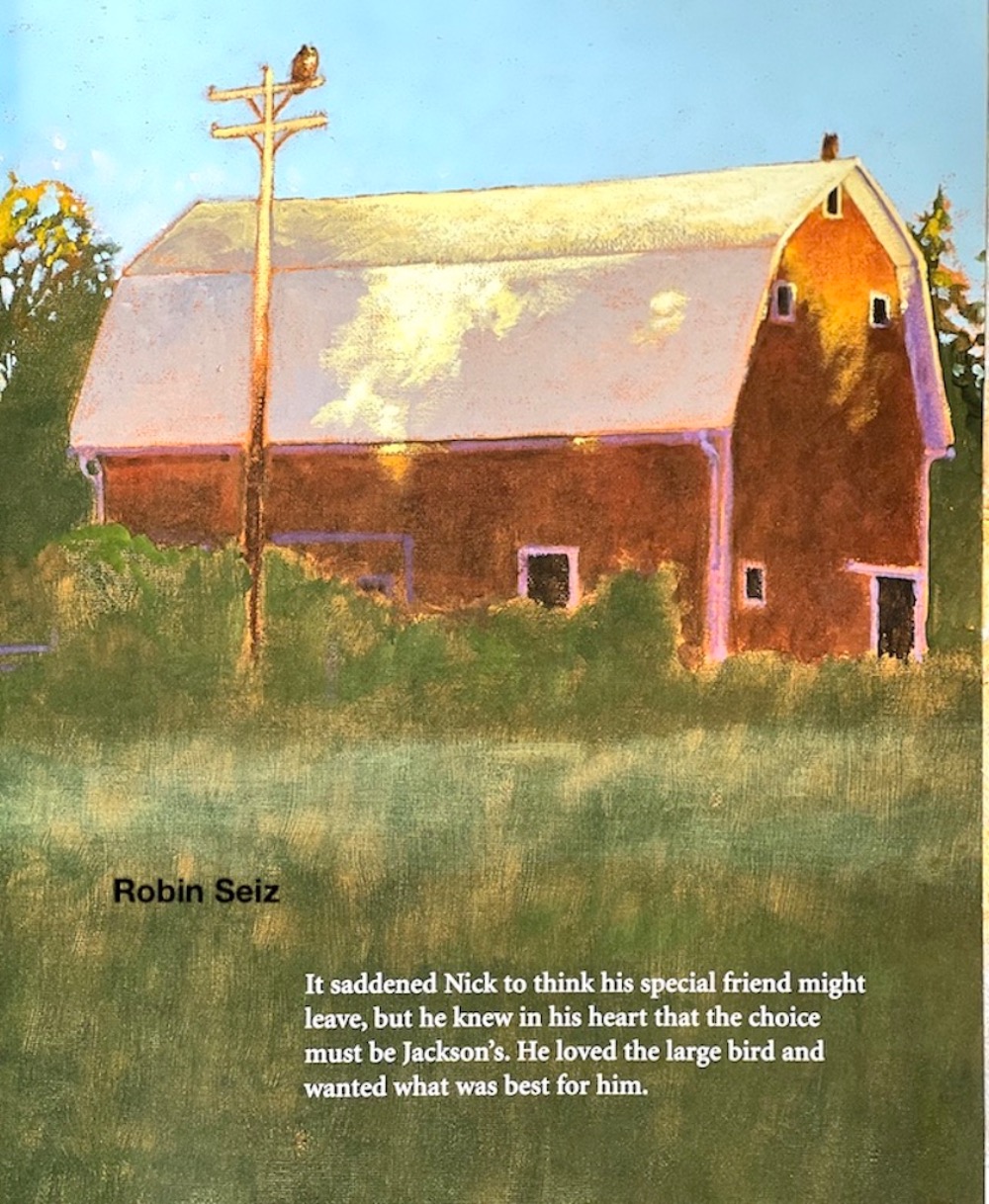 I started the page using Gesso to cover the bottom portion of the image, leaving the bird on the pole, a few trees on the side, and the blue sky.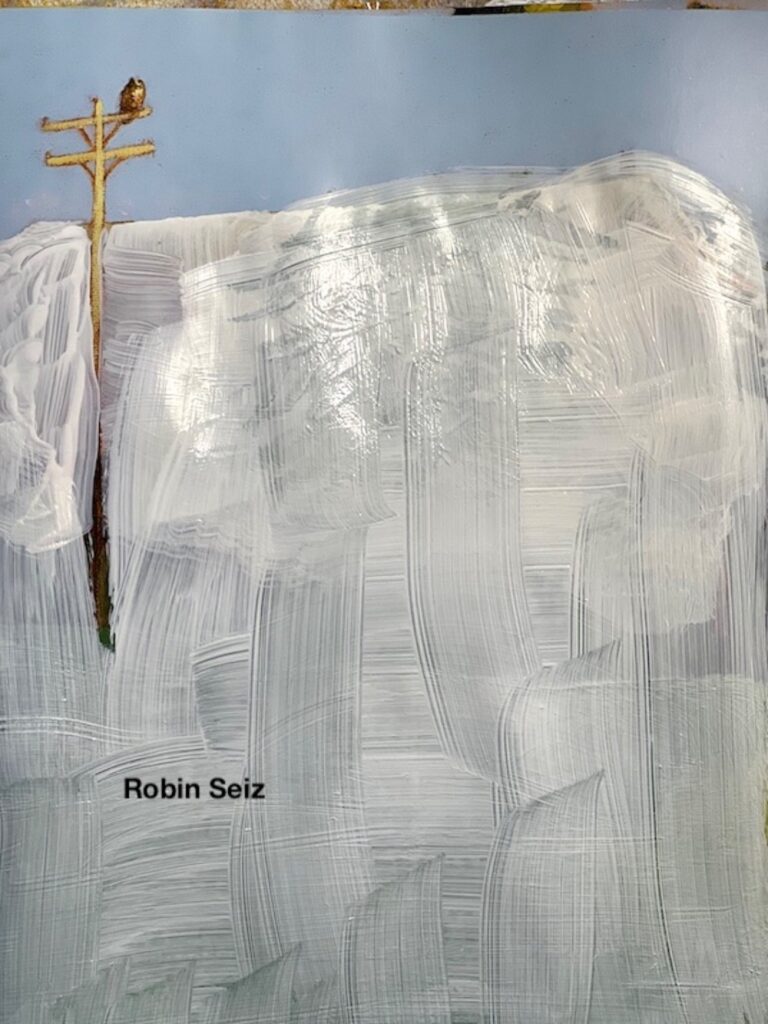 I wanted to add blue paint over the sky so it would feel consistent as I was going to place paint on the rest of the picture. I loved the purple hue around the bird, so I knew I wanted to leave some of that color.
What I know about myself is that I'm not a painter. When I try to "paint" on a page, I'm typically unhappy with the result. Gel plates are how I adhere paint to a surface. I used my 5 x 7 Gel Plate and carefully planned where I wanted the colors to go on the page. I mixed up Golden Teal and White Gesso to get a color that was close to the sky in the picture. I used Golden green gold, Benzimidazolone Yellow Medium, and Golden Chromium Oxide Green, to show the colors of the meadow. I used both a paint brush and roller to adhere paint to the plate making sure I wasn't going to cover the bird or most of the pole. I turned over the plate and laid it down on the page. Repeating this method until I got the intended texture and coverage I wanted.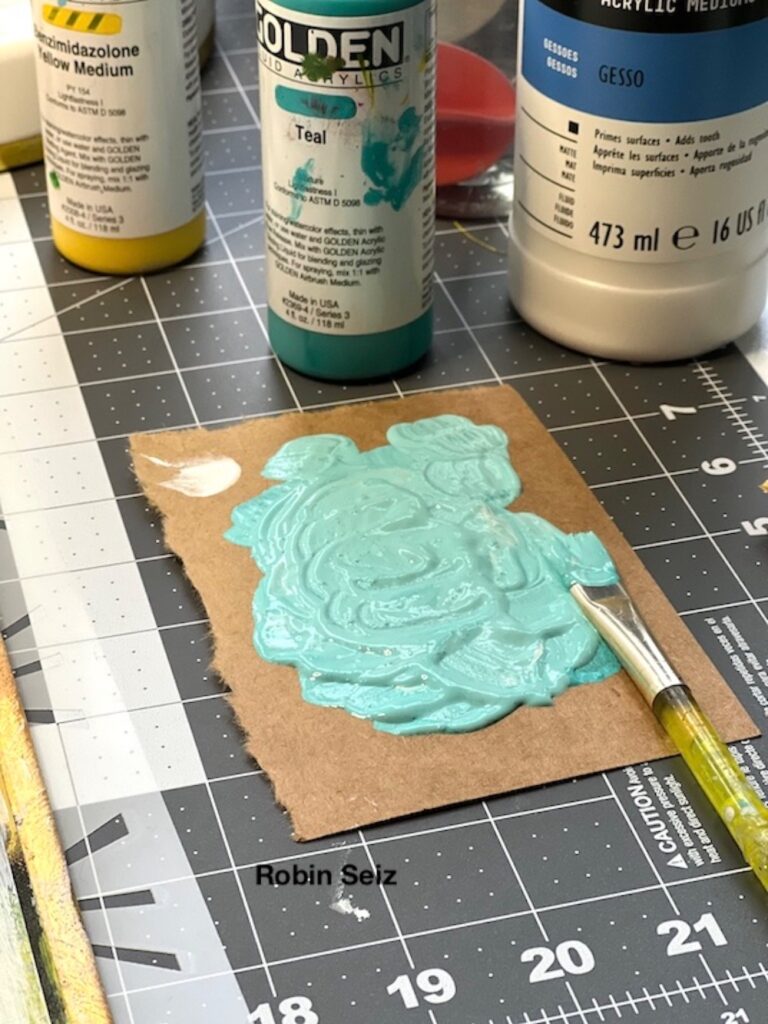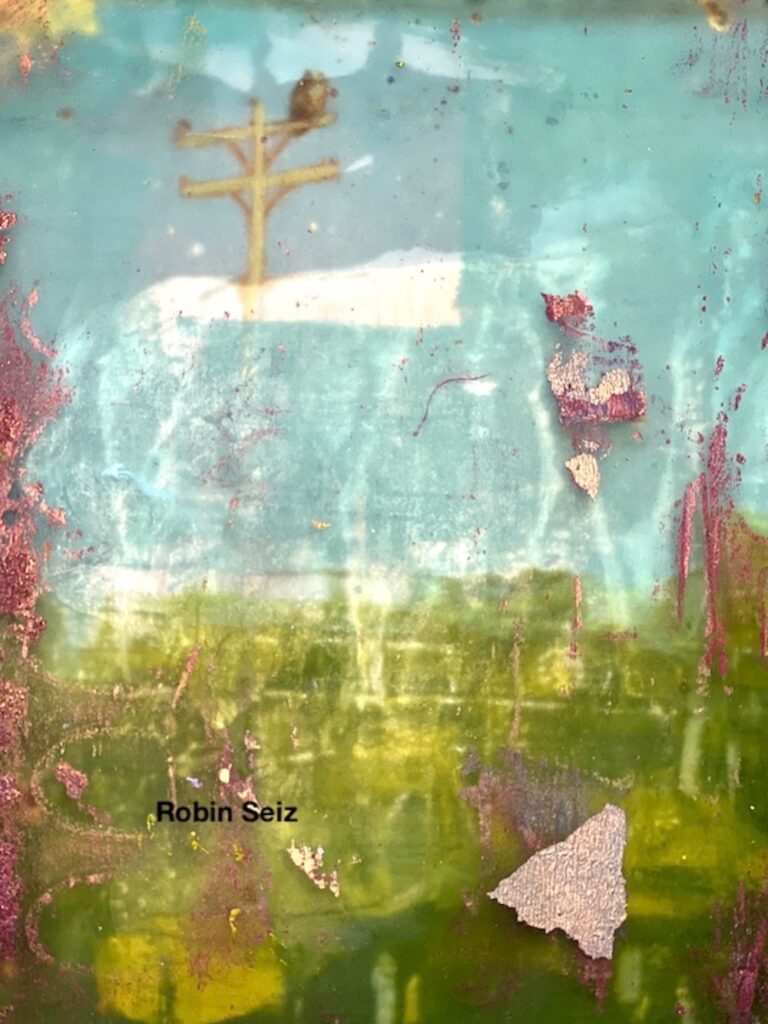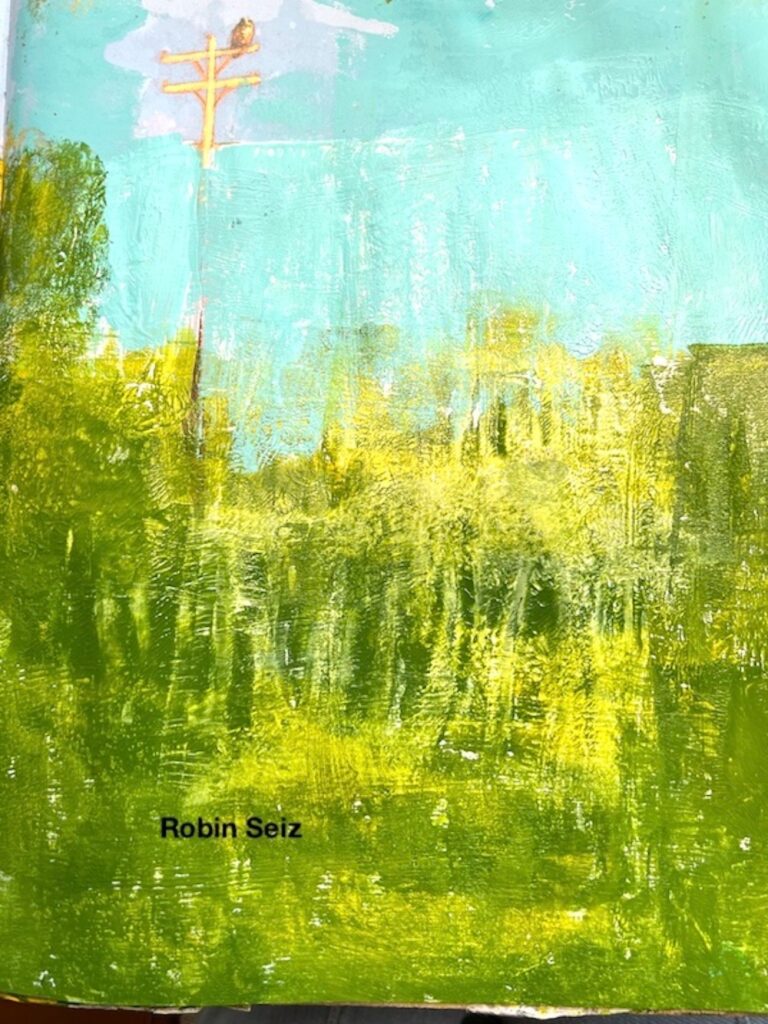 Once I had all the colors on the page, I used Nathalie's Cross Circle rubber stamp and inked it up with a brown Derwent Intense Block to give the illusion of birds flying. This stamp, while part of the embroidery set, has always reminded me of birds. I added some yellow paint highlights to the birds to give them more depth.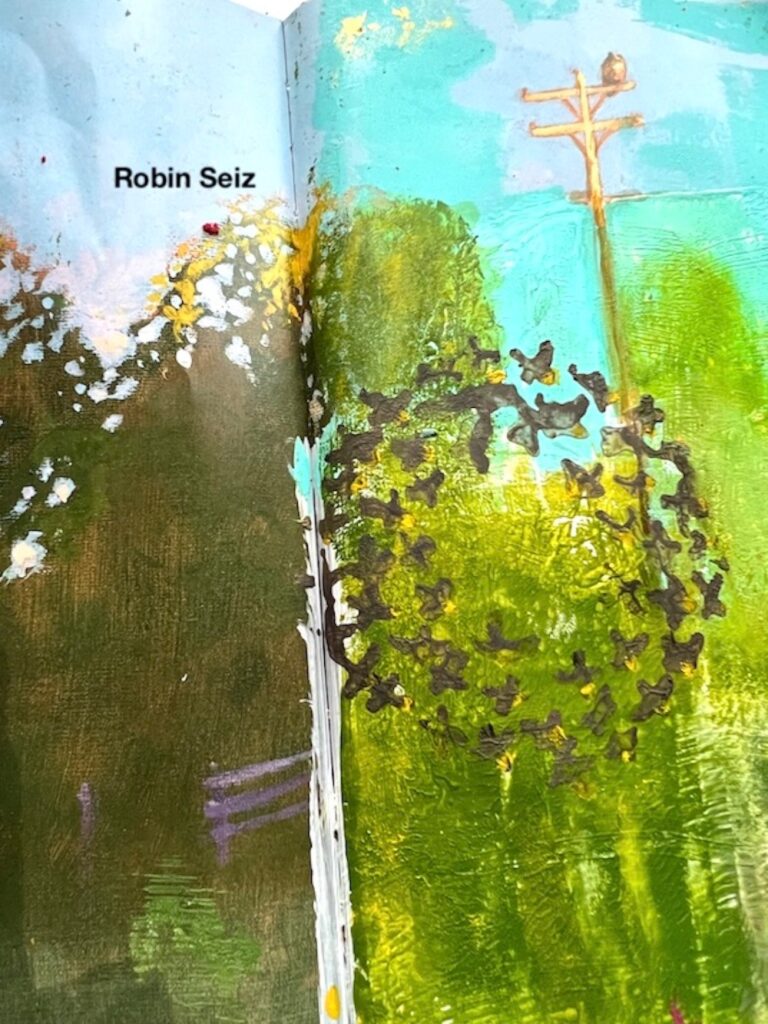 Next, I used a Red Violet Derwent intense block and really saturated the Grannies stamp. In my mind these were to represent flowers in the meadow. Once down, I used a small brush to fill in each flower, but decided they were too bold. The wonderful thing about mixed media is that mistakes can always be fixed. I used a baby wipe and carefully wiped off all the pink. I had to go back with a little extra of the greens and yellows, but it all worked out fine.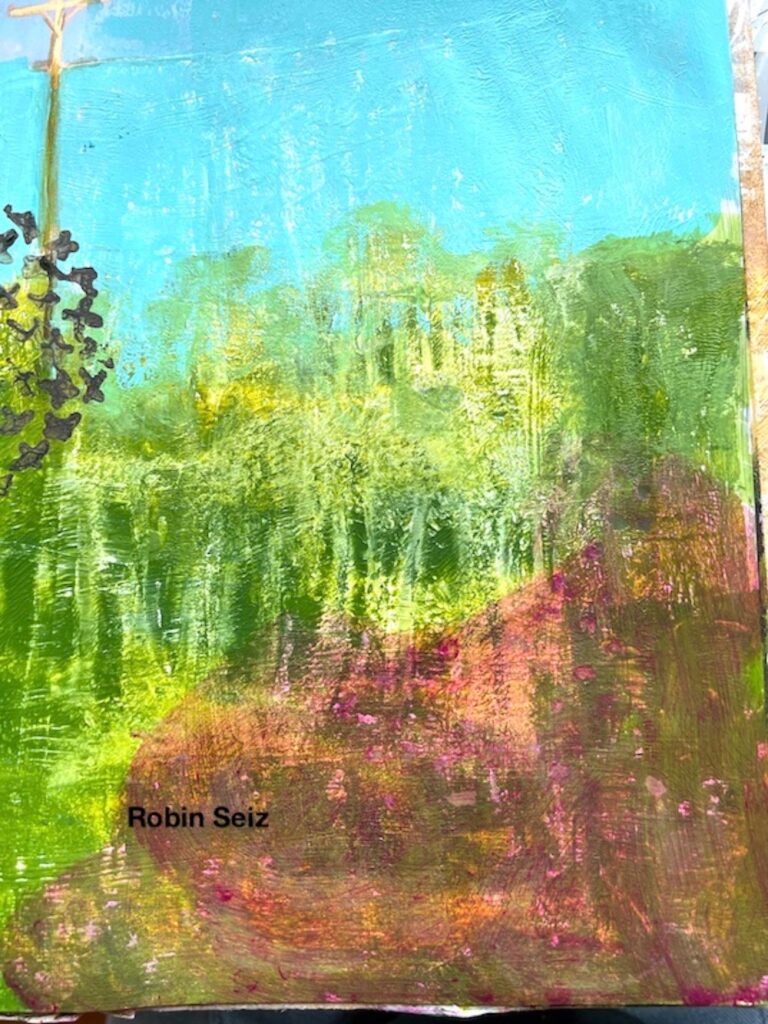 When the pink was off the page, I re-stamped the Grannies in a more subtle pattern because I wanted it to look like the flowers were fading into the meadow. Next I touched up the pole the bird was sitting on, as I wasn't that careful with the gesso.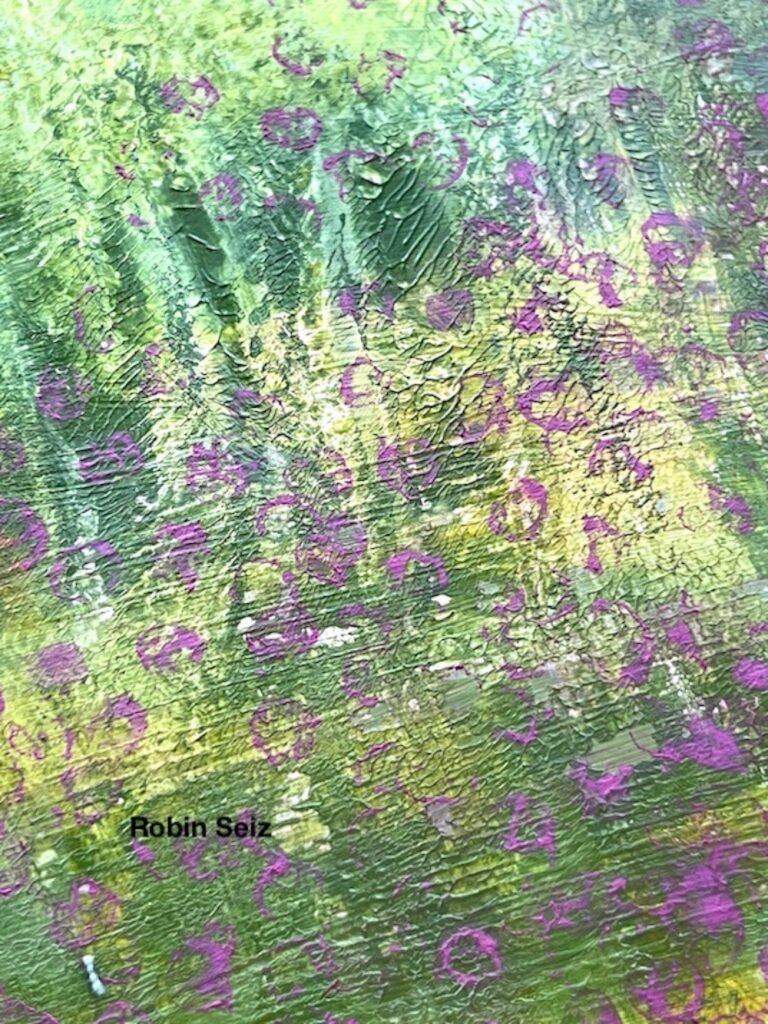 The final step was finding and writing the poem that so perfectly captured my feelings this month.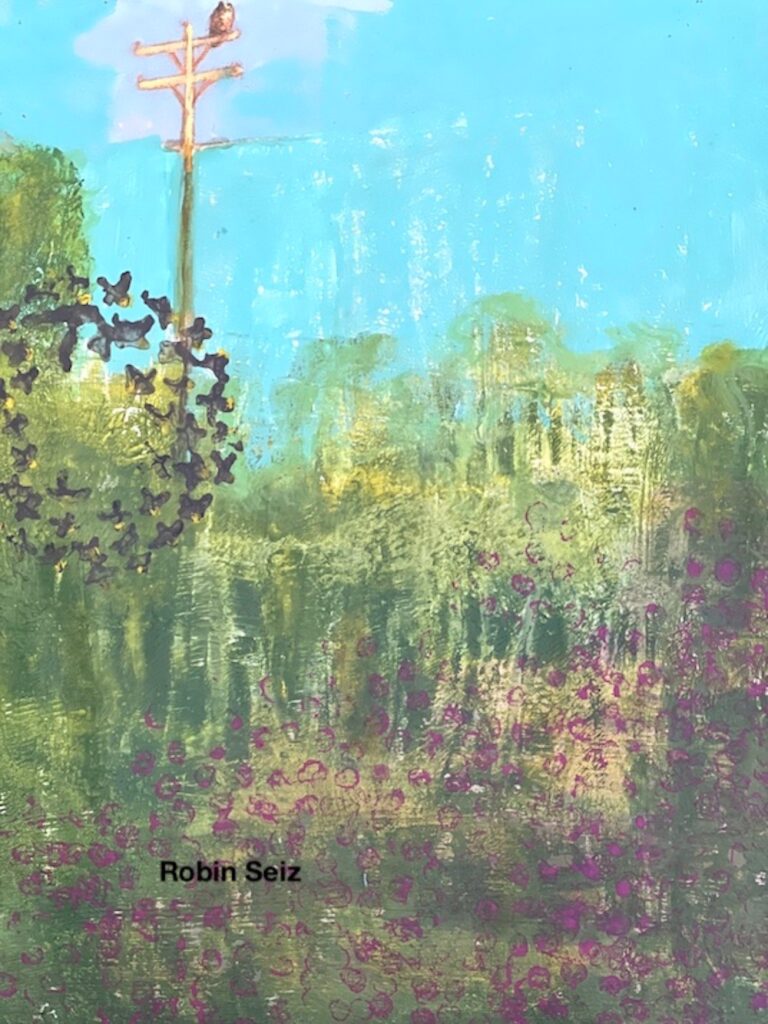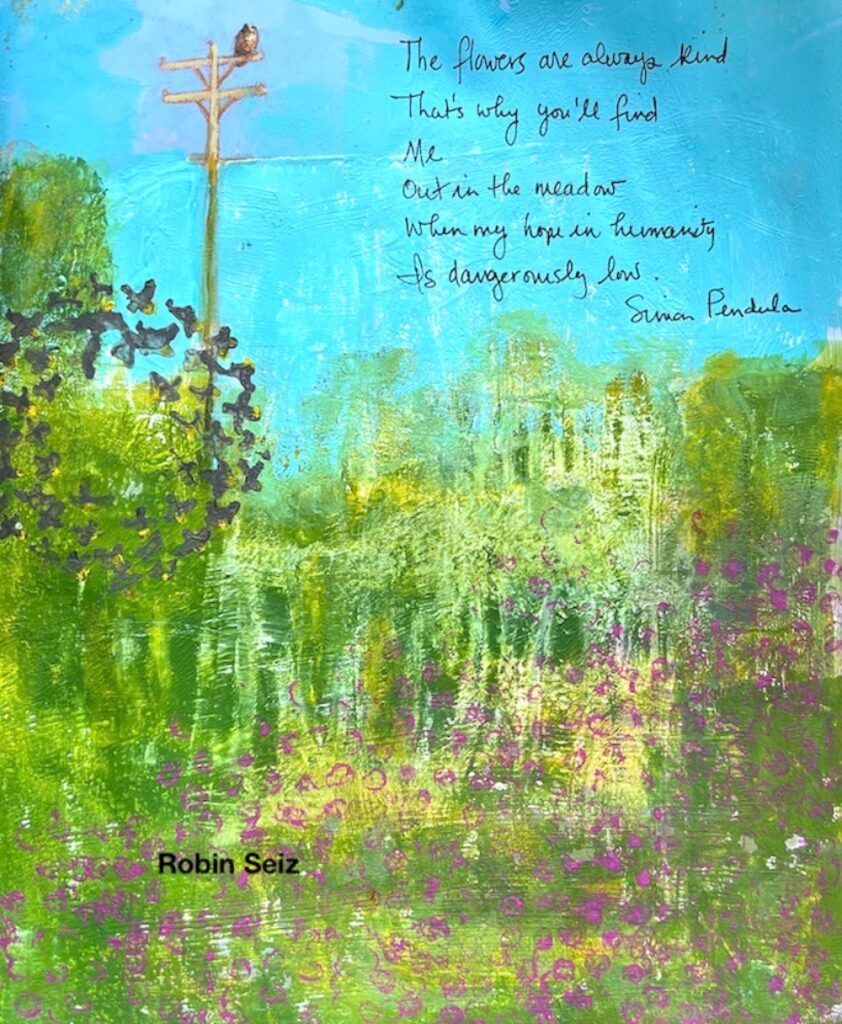 I don't often journal, but when I do, it's to try a new technique or to get my feelings out on a page. This one felt right. So much emotion inside; lots of good and lots of sadness and anger!
You can find and follow me on Instagram and Facebook. -Robin
---
Thank you Robin. We love when creating artwork steps in to help process and sort through complicated emotions and your page is such a beautiful example of that. Thank you for sharing!
Give it a try: you can find all my Rubber Stamps in my Online Shop and in addition to a page from an old children's book, here are some of the supplies Robin used: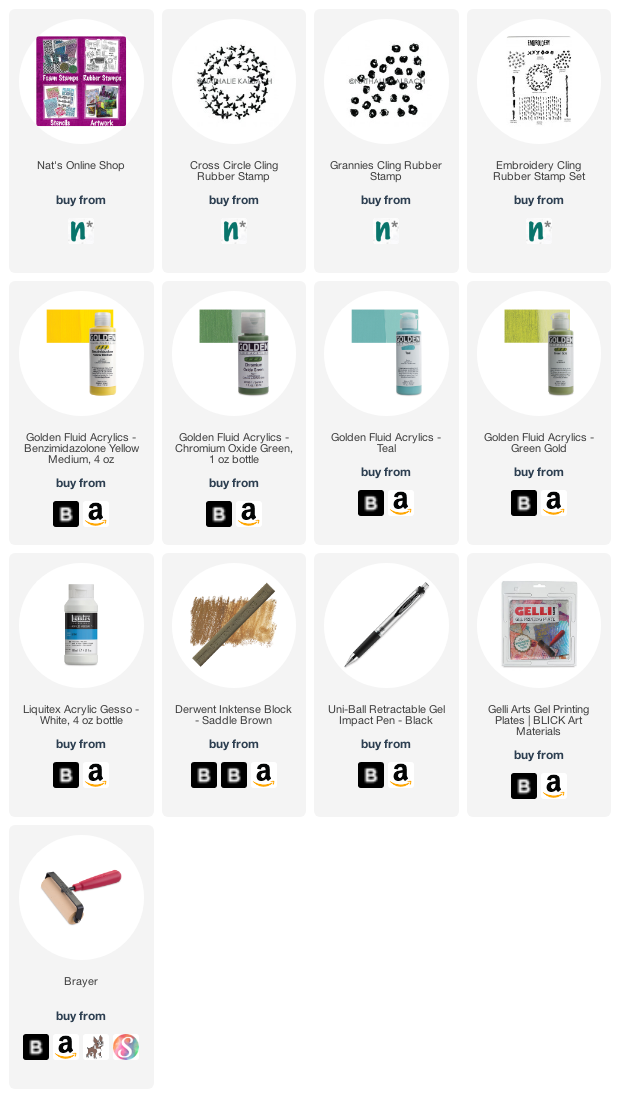 Looking for more projects? Follow the Creative Squad on Instagram.