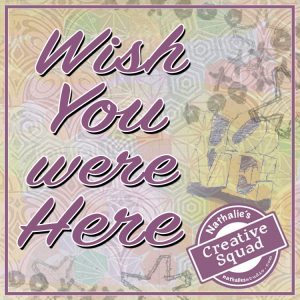 Hello from my Creative Squad! Today we have a post from Jordan Hill who is sharing with us a bit of mail art using my Triangle Love and Birds stamp sets, "The World's Pinkest Pink" powdered paint, and our theme: Wish You Were Here – This time let's think about those old travel postcards, or someone you are missing or haven't seen in a while, or maybe a place that you are missing. The message is loud and clear: Wish you were here!
---
Hello everyone! I'm very excited to be back with my project for September; I thought a fun way to interpret this month's theme of "Wish You Were Here" would be to create a postcard! I love working in a smaller size, so the 4″x6″ base was perfect for me. I hope you enjoy following along with this process!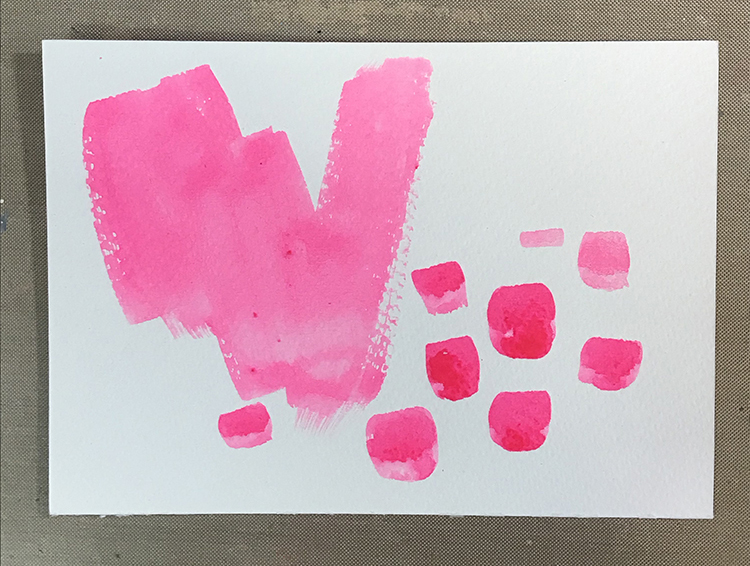 A friend recently sent me a powder pigment that is marketed as "The World's Pinkest Pink", and I really wanted to experiment with it. I mixed some of the pigment up with water, then painted it over my background in a very haphazard kind of way. The brightness of this particular pigment is so intense that I cannot show it accurately in photos, but just know that it is very bright!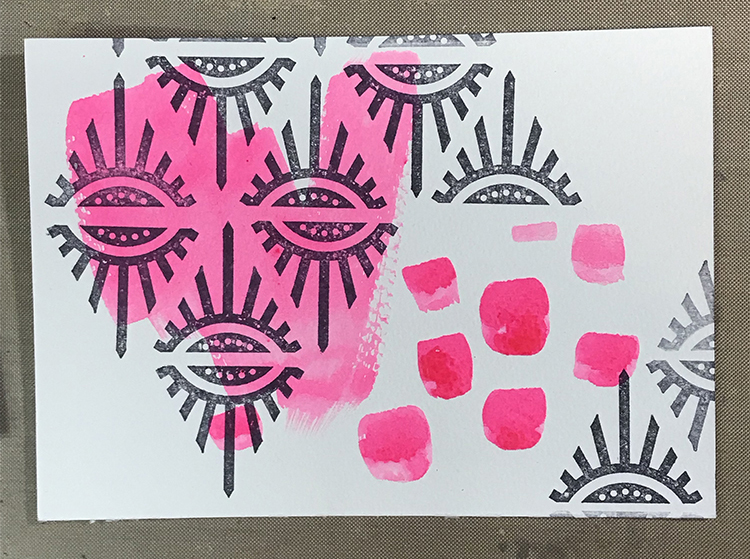 Once the pink background was dry, I used Nathalie's "Empire Triangle" rubber stamp with some Black Archival Ink to create a repeating pattern over my background. These small motif stamps are perfect for creating patterns!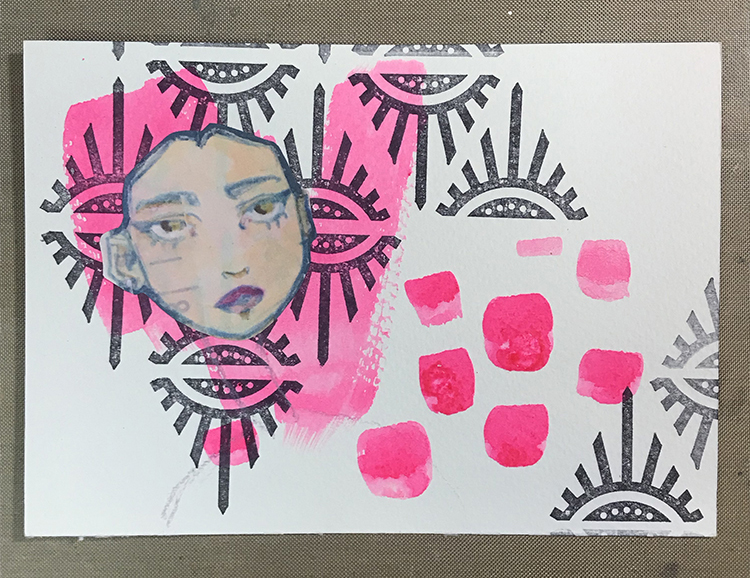 Next, I started to create a figure with a piece of collage. This particular piece started out as a full illustration, but I cut the body and hair away from the face of this particular scanned image, then glued it down. Sometimes partial images can be a great way to give yourself a jumping off point without committing to anything too intensely.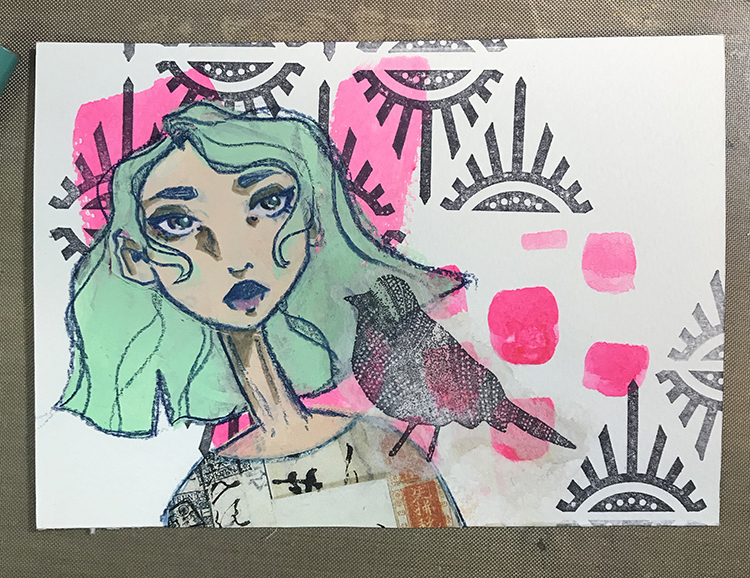 I then followed my typical illustration process to give the face a body and hair. Once that had been completed, I then used another of Nathalie's stamps, this time the "Nightingale" stamp, to stamp onto white tissue paper. I then glued that image to my postcard using Mod Podge and a paintbrush, to make it look like my figure had a bird on their shoulder!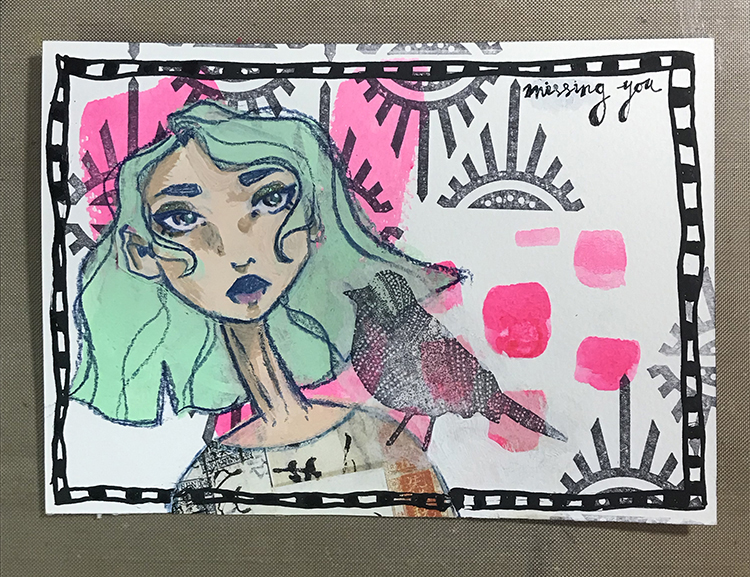 To finish up this postcard, I used a dip pen and some Speedball Calligraphy Ink in Super Black to add a border around the edges of my postcard, as well as to write the words "missing you" in the upper right hand corner of the card. I thought that particular sentiment matched the theme for this month, and it was a nice final addition to the postcard!
Though this month's project is more on the simple side (for me), I quite like the way this card turned out, and I'm excited to get it in the mail! I hope you enjoyed following the process of creating this postcard and that you try creating one of your own!
---
Thank you Jordan – love how you used the Bird on her shoulder!
Give it a try: you can find all my Rubber Stamps in my Online Shop and in addition to her collage bits, here are some of the supplies Jordan used: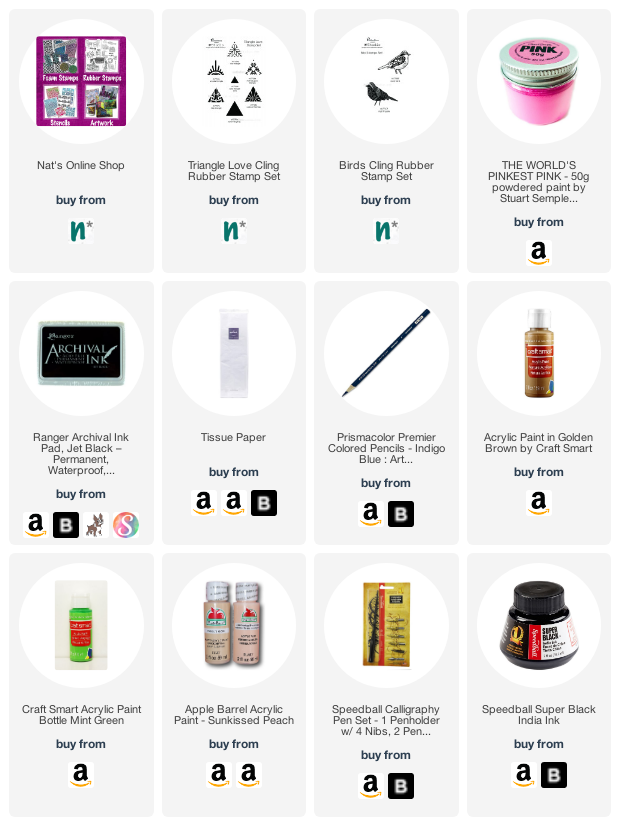 Looking for more inspiration from the Creative Squad? Follow them on Instagram here.