Hello my friends – today we have some very nice news to share with you. We have been waiting anxiously to let you know and now is the time: We have a new Creative Squad member to welcome to the team and introduce today!!!
Do you know my Creative Squad? They are my amazing design team of artists who bring you their creations each month. I give them a theme as a way to get their creative juices flowing, and then they make a project using some of my stamp and stencil designs. You can check out their projects each week on Tuesdays, right HERE on the blog. It is always inspiring to see what they come up with!
So without further ado, here is the Creative Squad: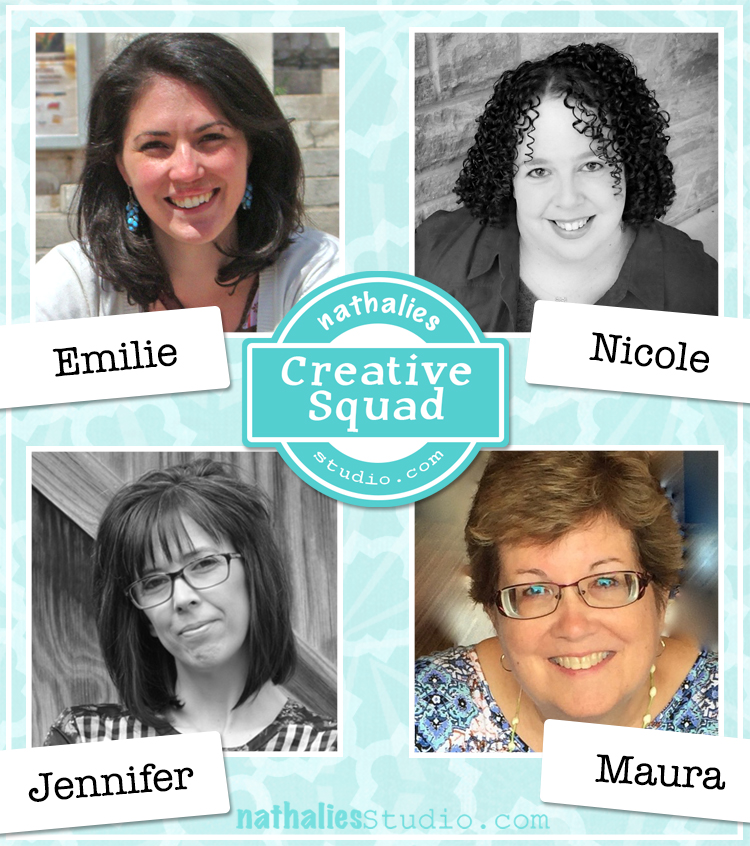 First, a BIG welcome to Emilie Murphy, our newest member! We have been following Emilie for months on social media and knew we wanted to invite her when a place opened up on the Squad. Emilie brings her joyful and colorful style to inspire us each month :)
Here's a little more about Emilie, and a reintroduction to the rest of the awesome squad too :) You can also explore squad members current and past on the Creative Squad page.
---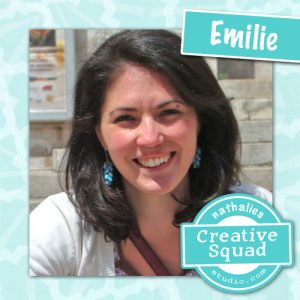 Emilie is a French scientist living in Maryland and you can check her out on her website here. And here is a little bio from her:
Emilie Murphy – Emilie has always been passionate about making all kinds of different things since her childhood. Ten years ago she started on a scrapbooking journey and since 2016, this has also evolved into card making and mixed media. She loves anything handmade, which seems to always spark her curiosity and enthusiasm to experiment with new techniques. Her favorite things to make are art books/journals; where she can play with stamps, stencils, inks, paints, mix papers, and fabrics. Making artistic kinds of things became vital for her well-being and provides an escape from her daily life routine. She can't thank Nathalie enough for giving her the opportunity to be a part of her Creative Squad!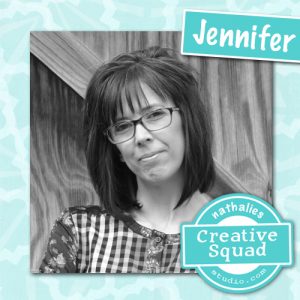 Jennifer from West Virginia has been with the squad for over 2 years and you can learn all about her here on her website. Her bio is:
Jennifer Gallagher is an artist and art instructor currently living in West Virginia with her husband and two sons. She has been involved in the arts her entire life in one way or another. After studying fashion in college, Jennifer found herself drawn to new art forms and techniques. She now enjoys painting, collage, art journaling, and mixed media. Geometric shapes and patterns are her greatest source of inspiration and joy.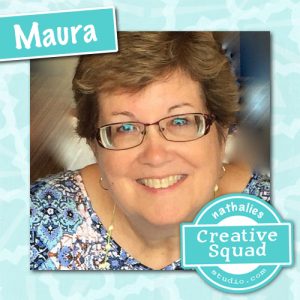 Maura from Upstate New York has been with us since January 2018 and you can check her out more here on her website. Here is her bio:
Maura Hibbitts – "I've joyously jumped to the right side of my brain to play with color and work in mixed media, sometimes with a steampunk twist, since retiring from teaching science. I'm back to being that kid that sat under the backyard tree and drew for hours. I enjoy life with my family in the Adirondack region of New York, love to travel, read, garden and still find myself fascinated by clouds and rocks from my years of teaching earth science."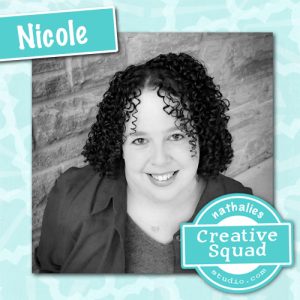 Nicole has been a squad member since 2019 and comes from Texas, you can check out her here on her website. Here is her bio:
Hi! I'm Nicole Watson, a Midwest girl who married a Southern boy now living in Austin, Texas. Art has always been part of me … from collecting random bits of paper at a young age, to selling my first painting in high school, then discovering mixed media while studying art and design in college. Other stops along my art journey include scrapbooking, card making, freelance photography, and layout/graphic design. Creating in my studio and sharing my work with others gives me life, purpose, and is healing to my soul.
And finally Judi Kauffman – our part time squad member who comes to us from Maryland. Judi likes to fly a little below the radar so you can learn all about her here on my blog post interview with her.
Please check out our Creative Squad posts each Tuesday for fun projects and inspiring techniques – there is always something new from this amazing gang and we are so happy to have them!