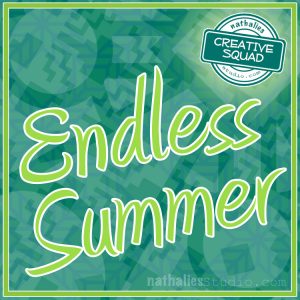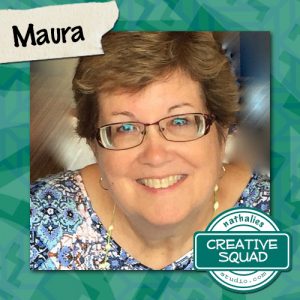 Hello from my Creative Squad this fine Tuesday! Today we have an art journal spread from Maura Hibbits who has expertly layered up a ton of pattern and visual texture to create a spread that is so fun to look at! There is so much to the layers, including my Crackle and Toledo 4×4 stencils, my Maze Hex foam stamp, and my Tread rubber stamp from the Cardboard stamp set. I love her take on this month's theme: Endless Summer – The days are long, the sun is shining, the air is soft… it must be summer! Let's take a stroll down memory lane and save a summertime memory forever.
---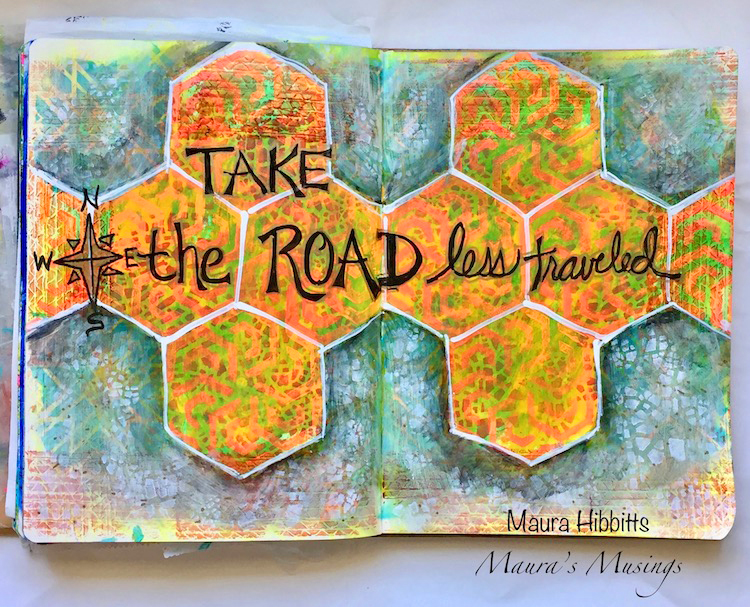 When I was teaching, summer was the magic time to look forward to when I got to play and travel, and finally relax and rejuvenate for my next year. Now that I am retired, all the seasons are mine, so to speak, but summer still is very special. There are so many festivals, free music, barbecues, gardening and more to look forward to, but one of my favorite summer things is to do some traveling off the highways. I like to find the little roads that go through the towns and villages, even if it is just a crossroads with one building, there is so much more to see!  Do I ever get lost? Of course! But then I find my way again. Happy travels to you this summer!
I started by applying a thin layer of Diarylide Yellow with a key card onto my large Dylusions part journal. I swiped up and down in a random fashion.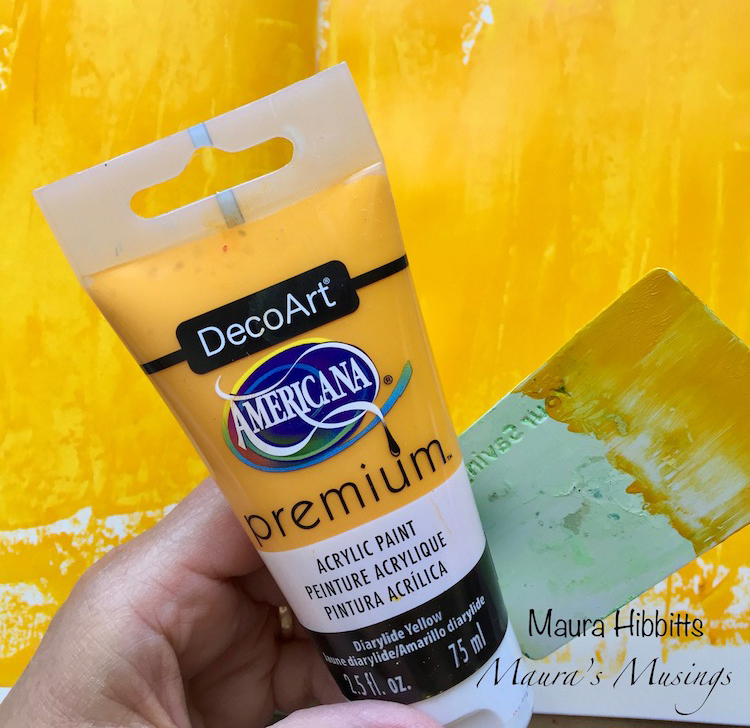 Next, I sponged on Pyrrole Red and Cadmium Orange hue with the Crackle stencil. I moved the stencil around, and varied where I added the colors.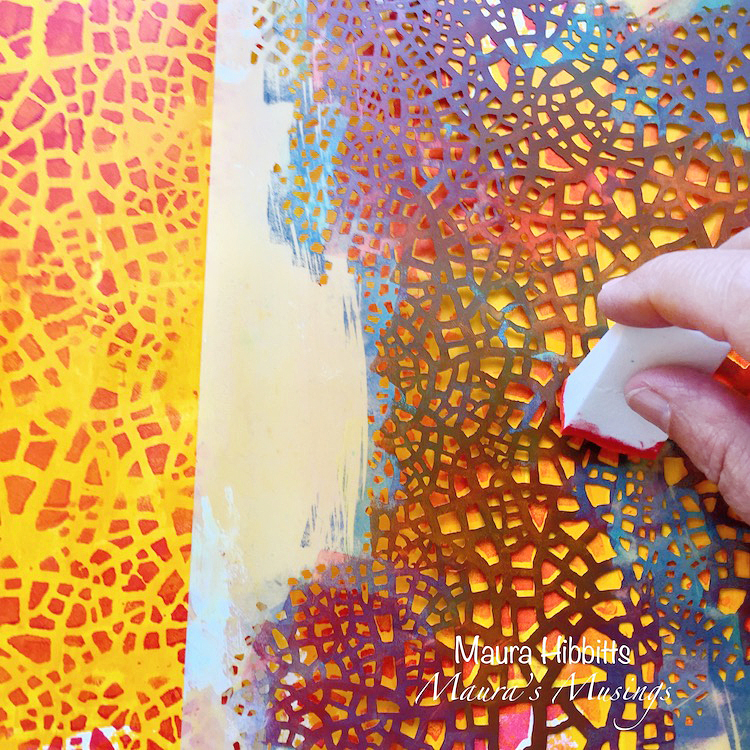 Ok, with my background started, now comes the fun! I squirted the Neon Torrid Orange and Sizzling Pink (hot summer colors, right?) onto a small gel plate, and spread it with the brayer. I stamped into the paint with the new ArtFoamie Maze Hex, and transferred this to my page. I repeated this step a number of times.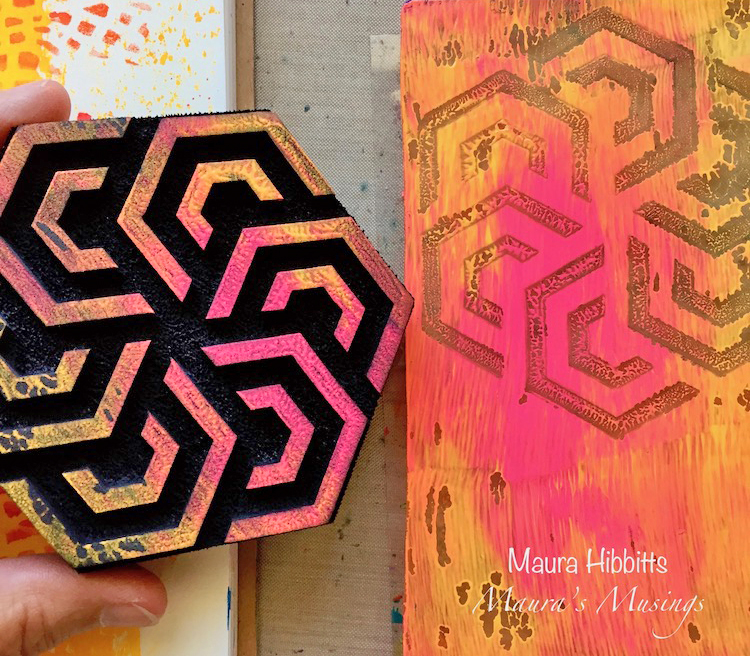 I wanted more of a contrast between my background and the neon stamped images, so added a bit of translucent color with the Green Gold and Cobalt Teal Hue. I wiped it back a bit with a baby wipe and blended it in.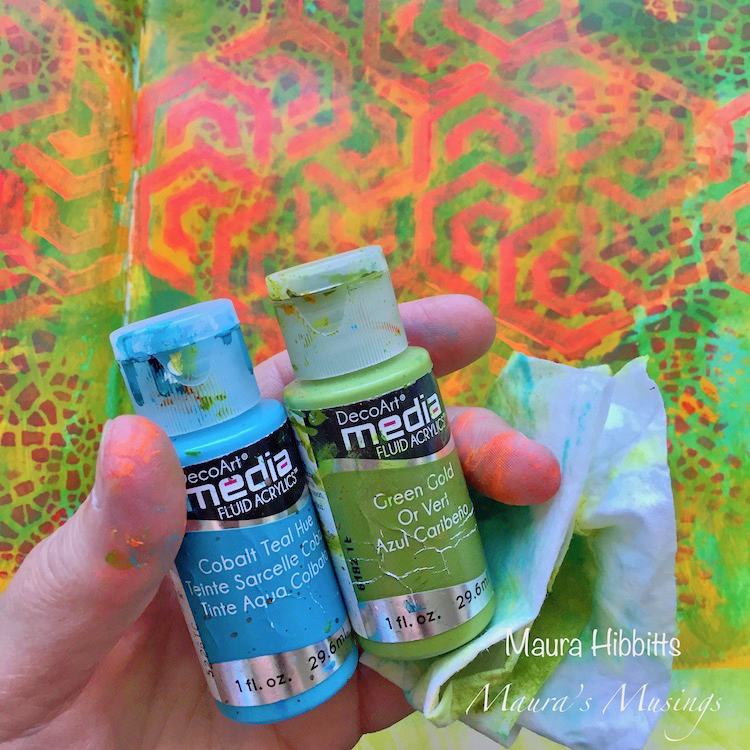 Time for another stencil. This time it is the small Toledo stencil, and I sponged the heavy body Cobalt Teal hue on, focusing on the center of the stencil.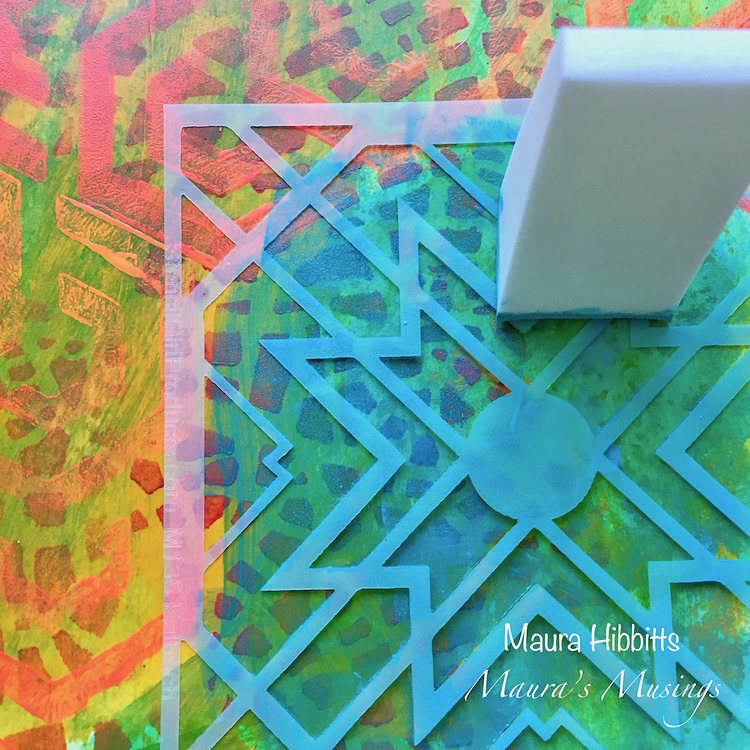 I stamped the Tread design around the edges with Quinacridone Gold, so it would be visible, but not overpowering.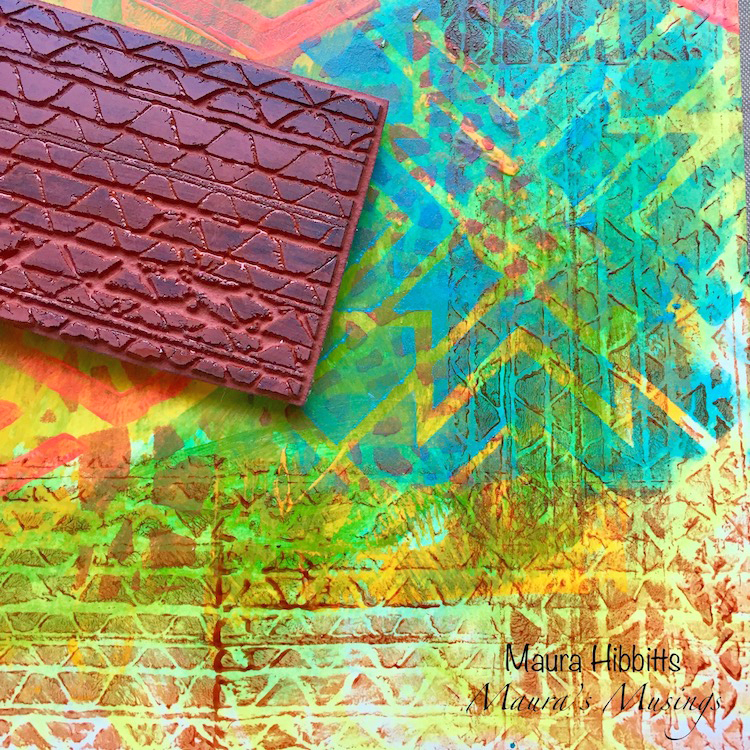 Now that my pages are almost done, it's time to add some detail. I went around each hexagon shape with a white Posca paint pen, and toned down the outer section with a layer of Translucent White.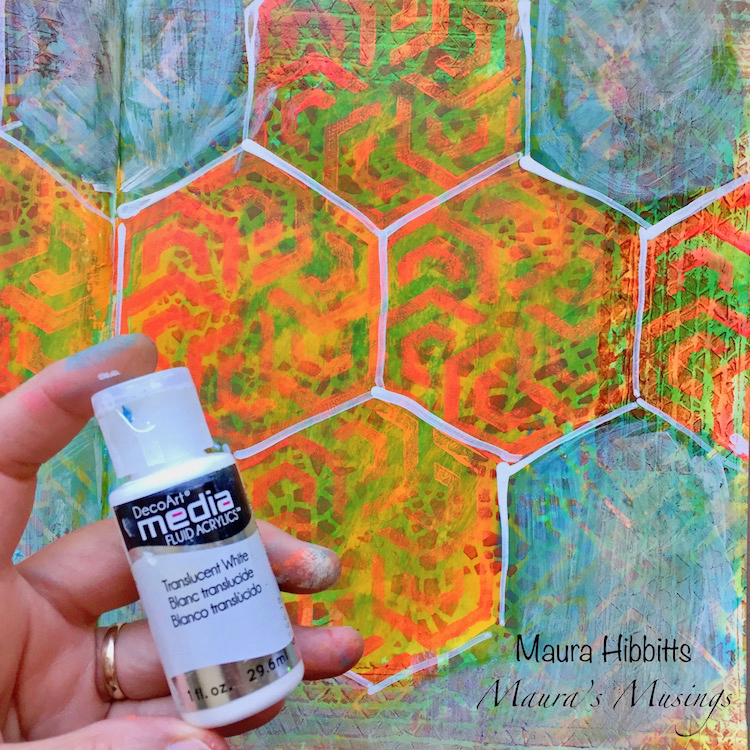 Then I went around my neon hexagons with a graphite pencil and water brush, added my words, "Take the Road less traveled" with a black Pitt pen and Gold Sharpie. I decided to go around the outer section and add gold dots too.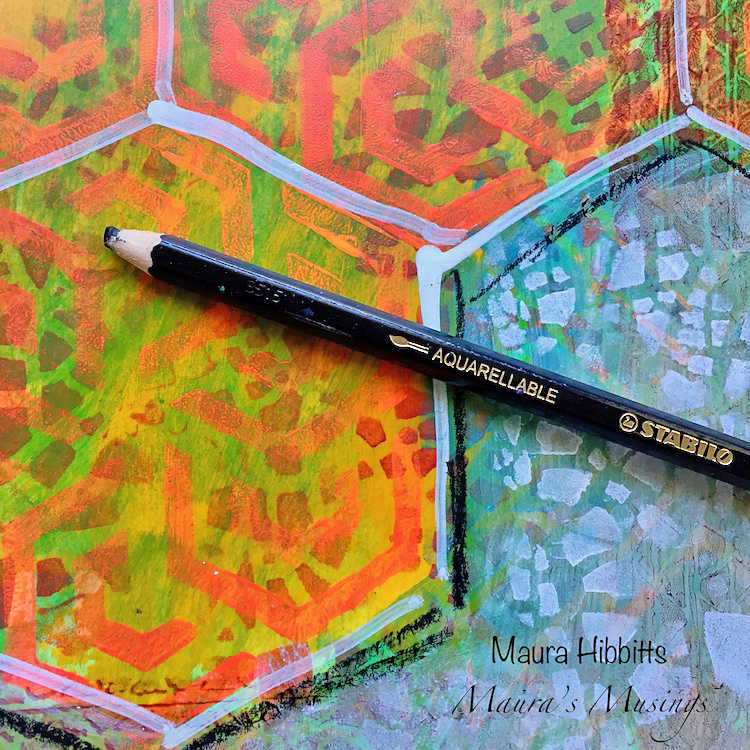 You can see some of the details of the layers here.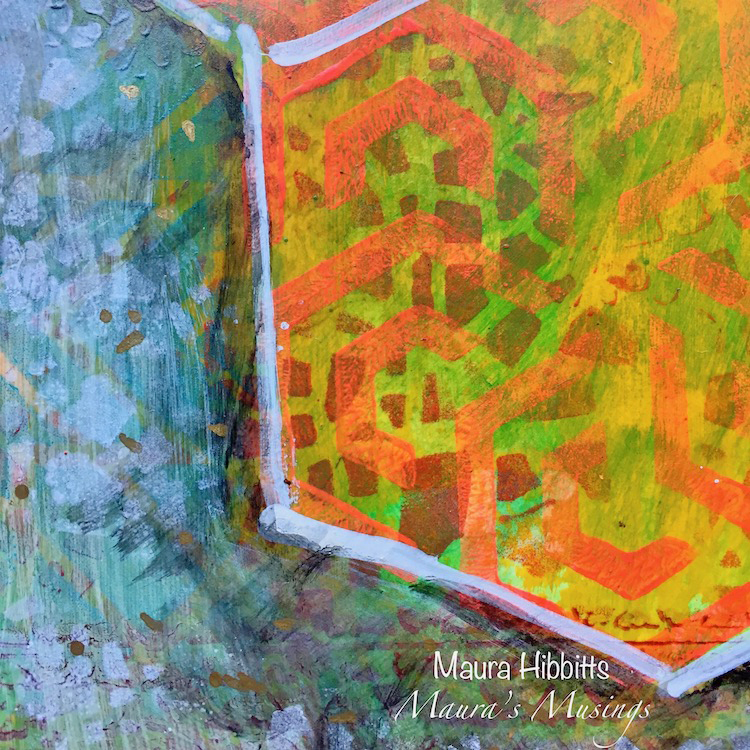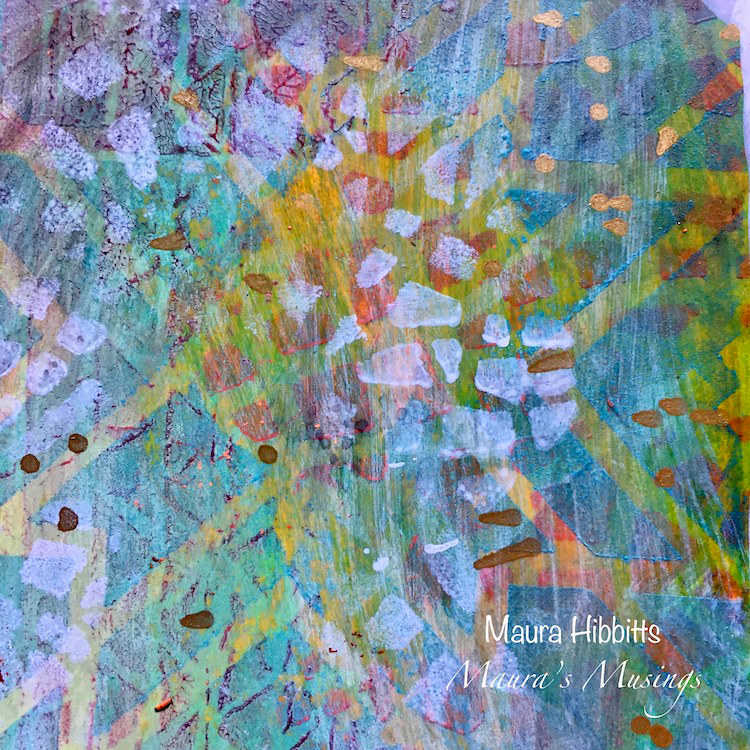 Time to head out on the road and take the road less traveled. Happy Summer!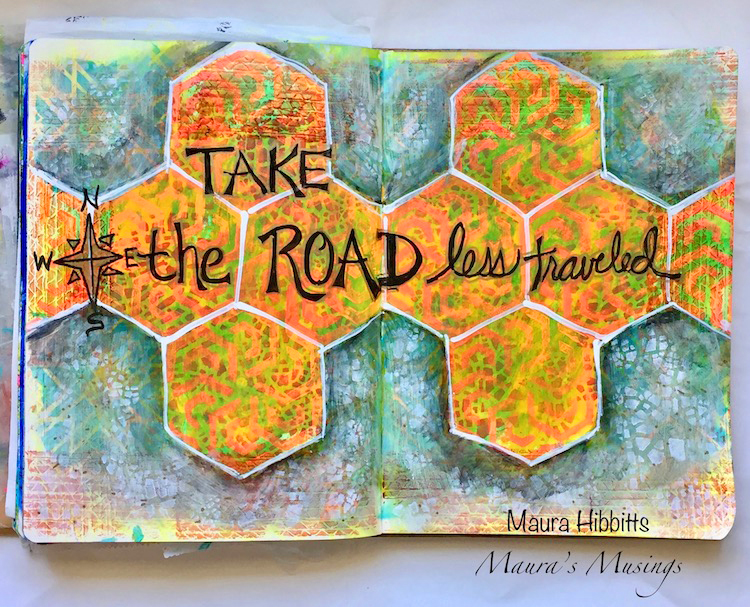 ---
Thank you Maura – we love exploring all those little back streets too because it's a great place to get all sorts of inspiration :) Here are some of the supplies that Maura used:
Do you feel inspired? I'd love to see what you're working on with my stamps and stencils. I post projects almost every month in my Inspiration From Around the Globe posts!
SaveSave