Hello from my Creative Squad! Today we have a post from Maura Hibbitts with a gorgeously layered art journal page using my New Orleans, Crackle, Art Deco, and Batik stencils and my Neato foam stamp. This month's theme is Feel the Rhythm – We're thinking about patterns this month and using stamps to create a rhythm of marks. Show us your sense of rhythm!
---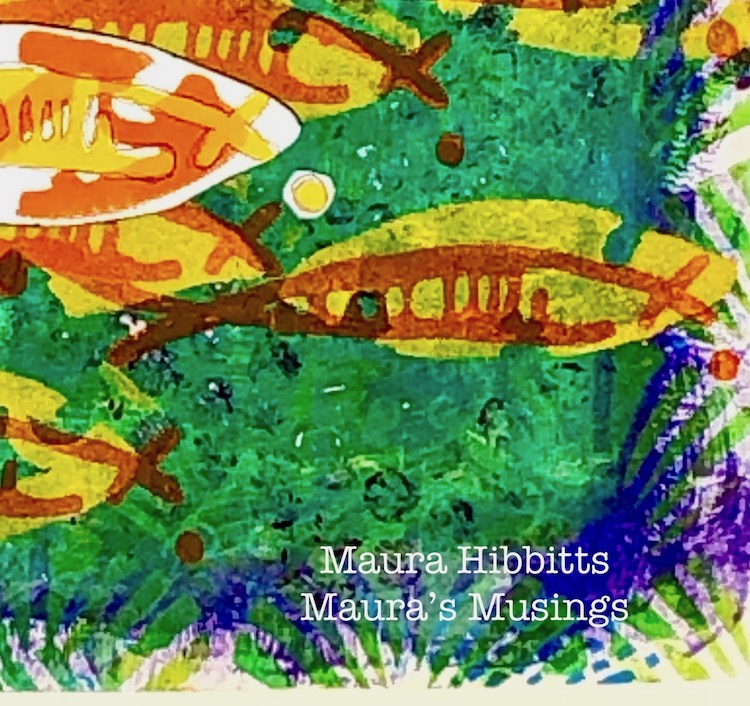 When you stop and look around in the natural world, there's a lot of rhythm and flow going on, from the rhythm of the seasons, to the flow of the water and air. When I first saw Nathalie's Neato Art Foamie stamp, I saw a fish, and knew I wanted to create a water scene. A school of fish is just perfect for a repeating pattern, I think.
I pulled out one of my big journals with a landscape format, so my fish school could swim across the page. First step was to scrape on some chalky gesso with a key card and let it dry.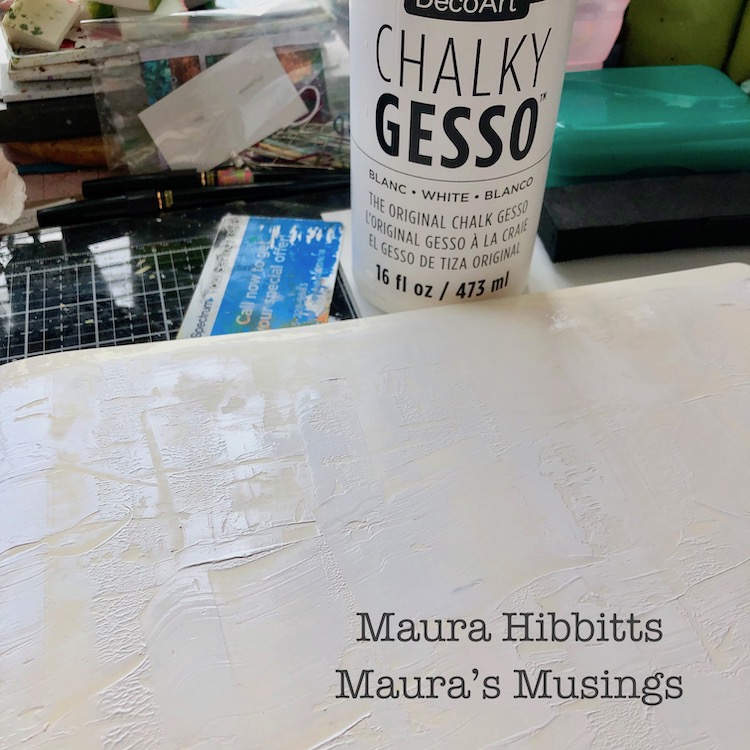 To create a dark underwater background, I painted on a mixture of Dioxazine Purple and Ultramarine Blue. Before the paint dried, I "scratched' into it with my brush strokes.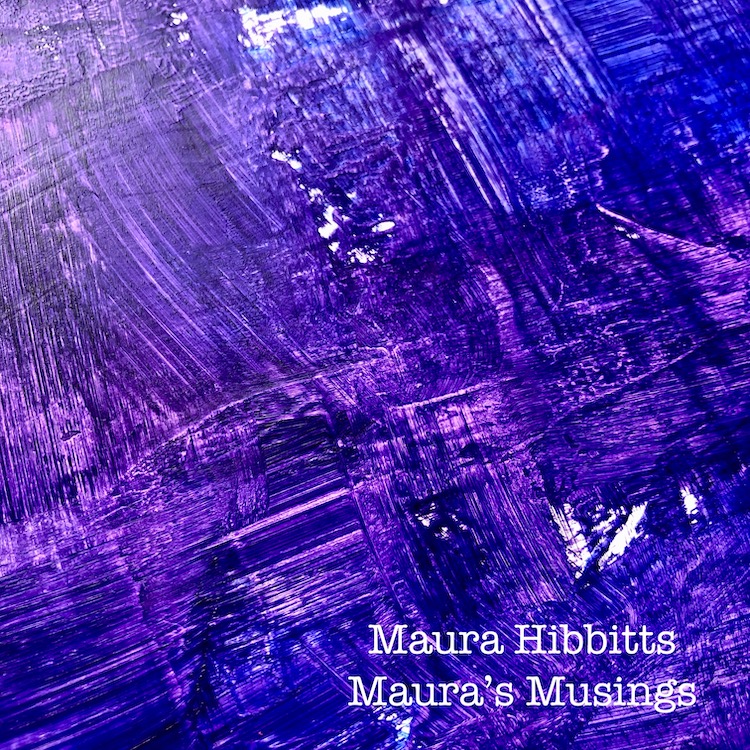 Time to begin the stenciling. First up is the Crackle stencil, sponged in with Cerulean Blue. This layer is very understated.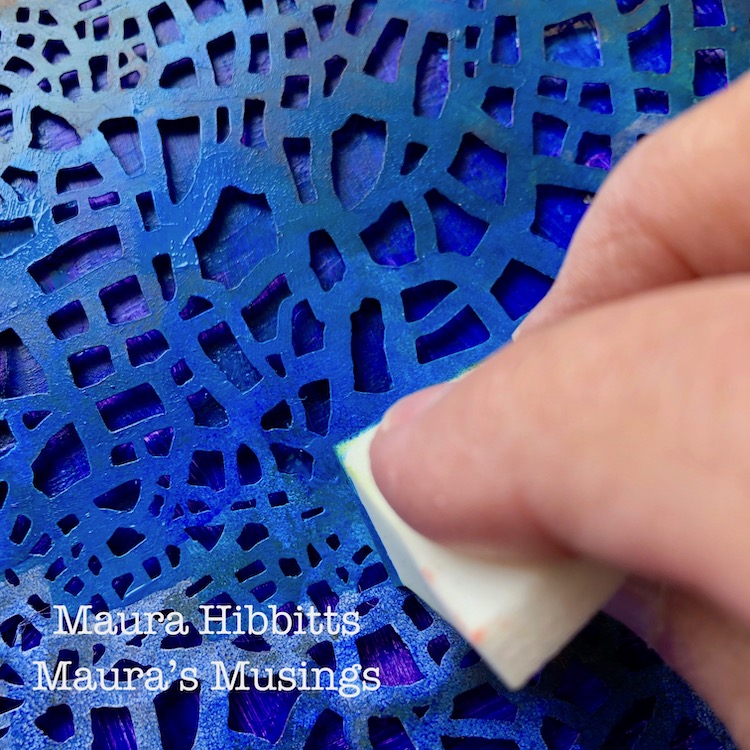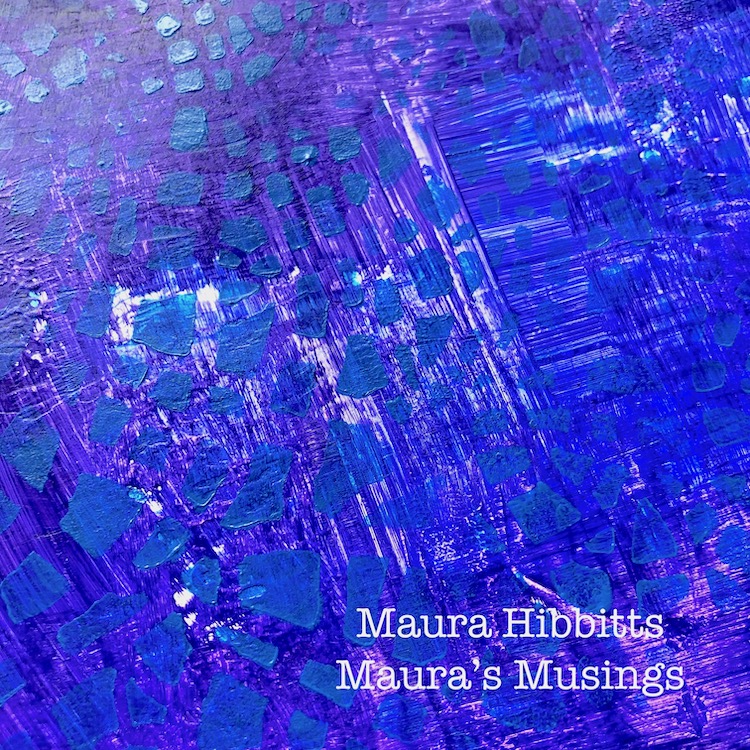 I used the New Orleans stencil with Cobalt Teal Hue and worked across the page, sponging in the design.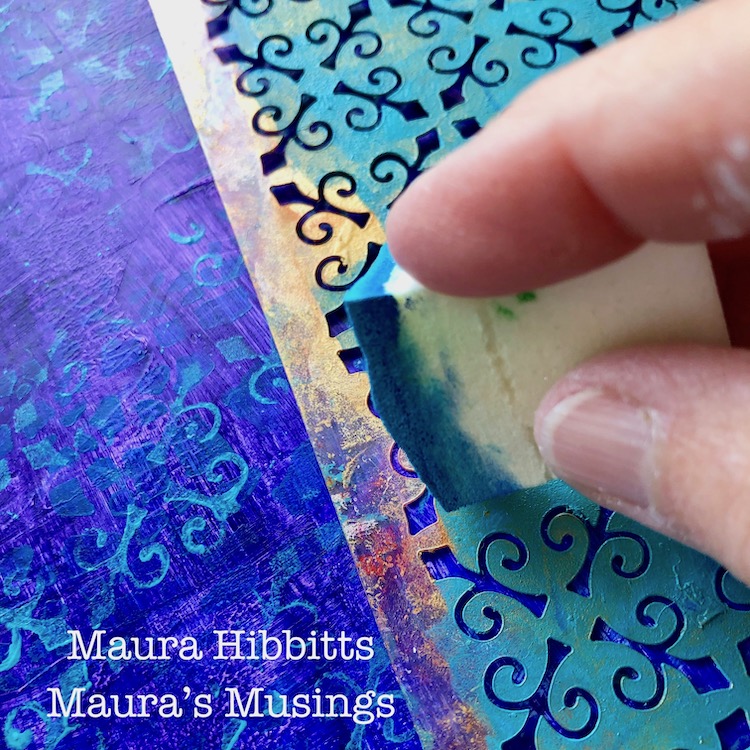 The Art Deco Wallpaper stencil with the Green Gold and Yellow Green Light paints is used in the next layer to give a hint of plants in the water.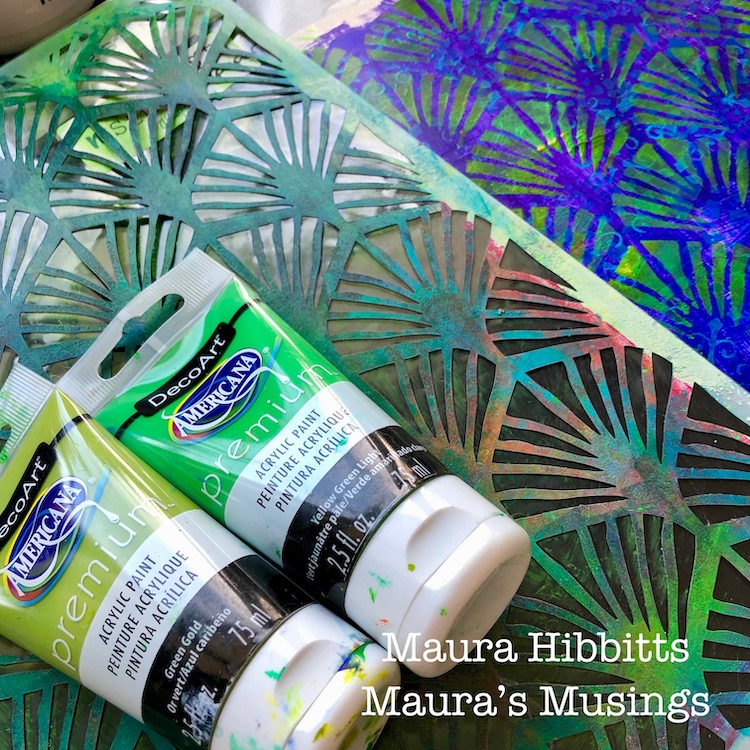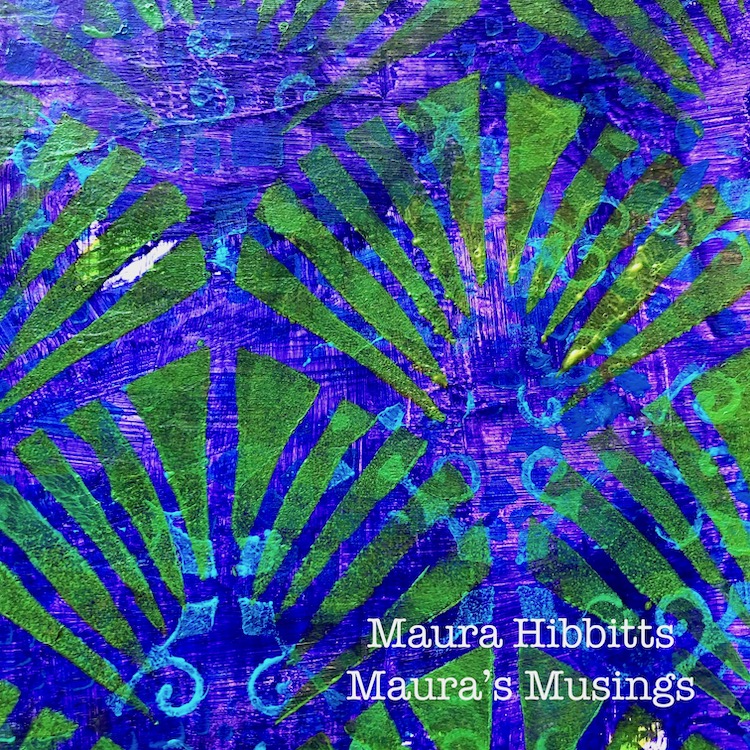 Now that my page is covered in a variety of blue, purple and green paints and designs, I decided to fade out the central area. I started by brushing on the Translucent White, then wiping that back with a baby wipe. I repeated this step with the Green Gold, and ended with the Cobalt Teal Hue.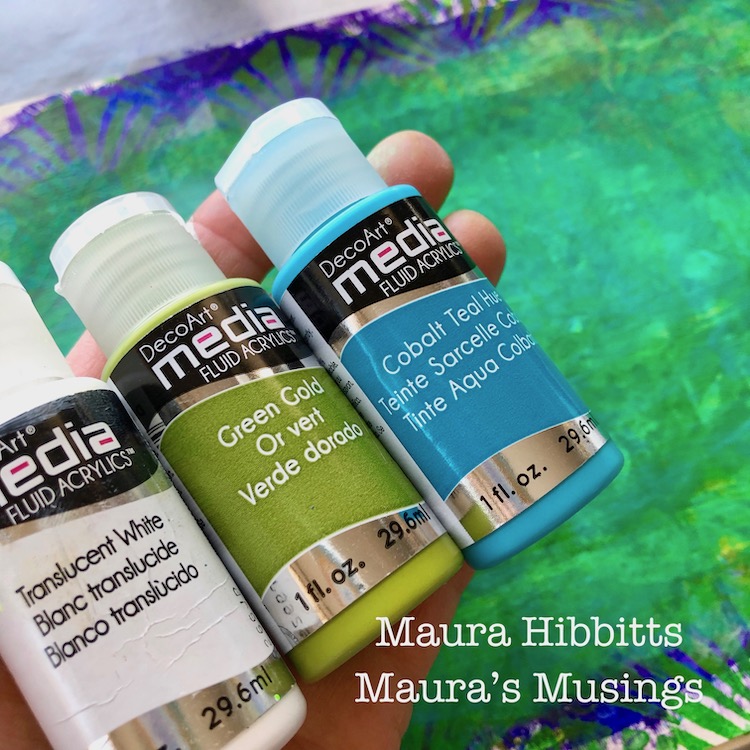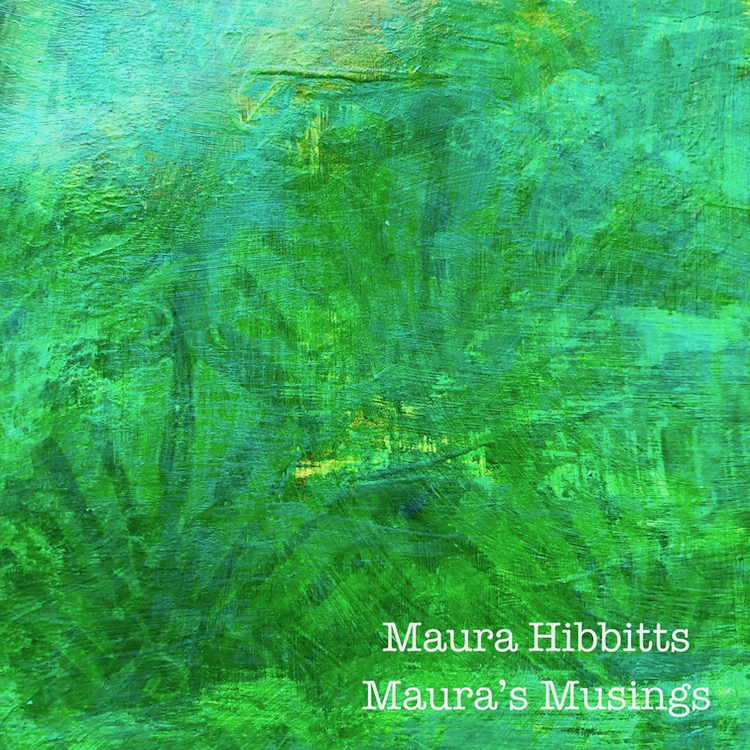 I couldn't resist adding some bubbles into this area with some bubble wrap and Quinacridone Violet. Some of the old paint came off too which just added some fun spots.
Now comes the fun part – creating the school of fish! Certain shapes in the Batik stencil just seemed to work really well as fish bodies, so I stenciled a school of them across the page with the Cadmium Yellow Hue.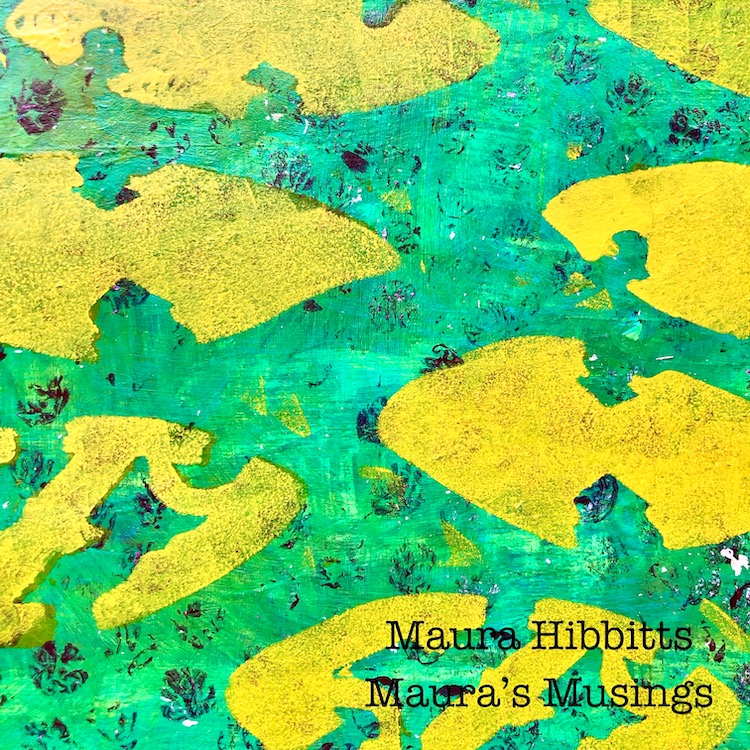 I finished up my fish by stamping the Neato Art Foamie design in Cadmium Orange over the yellow bodies. I just used my cosmetic sponge to apply the paint to the stamp.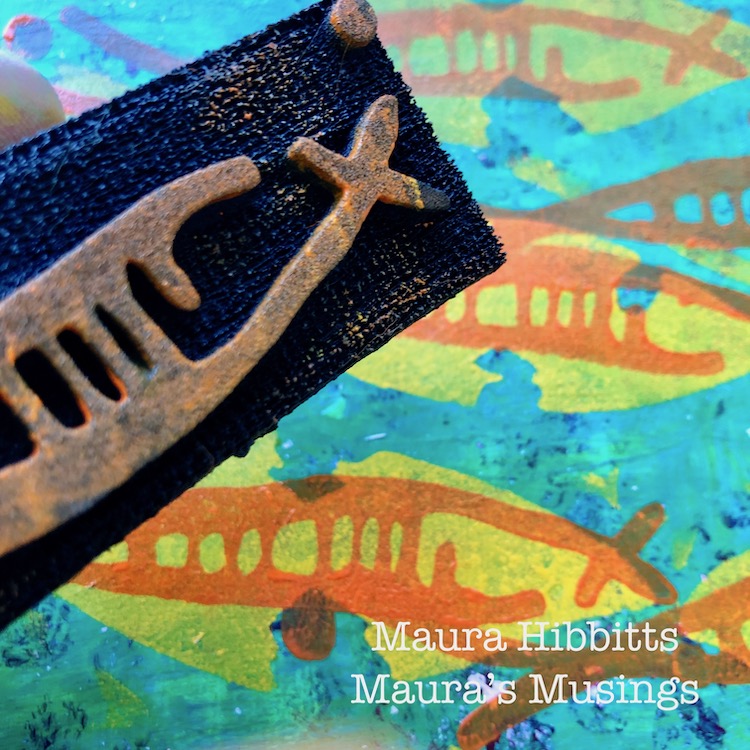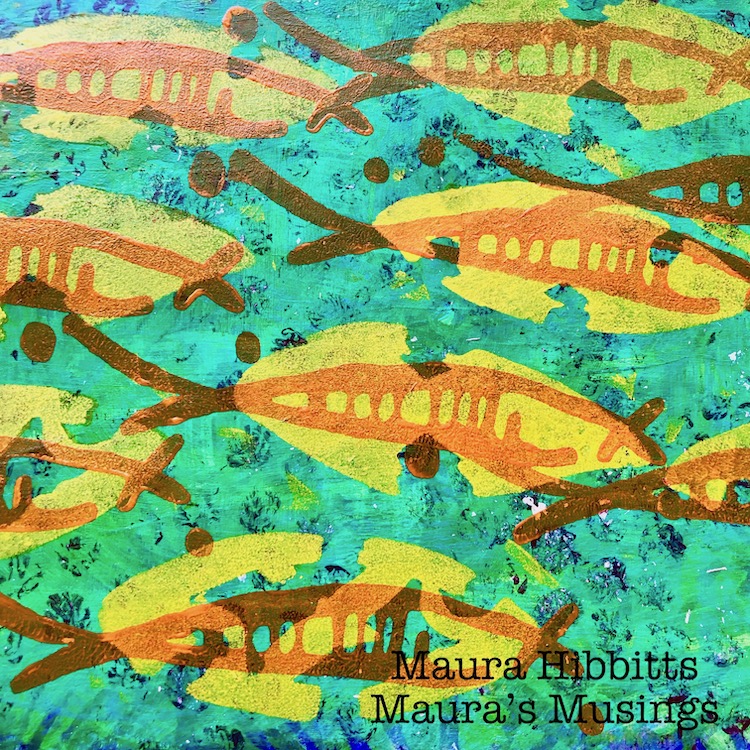 Then, because I wanted one fish to be unique and stand out, I stenciled the body in orange and stamped the Neato design in yellow onto watercolor paper. Once it was dry, I cut it out and edged it with a black sharpie, then glued it onto my page. My final step was to doodle around the Neato design with my carbon ink pen, and hand letter my thoughts across the top of the page with the Sharpie – " Follow your own unique path in life".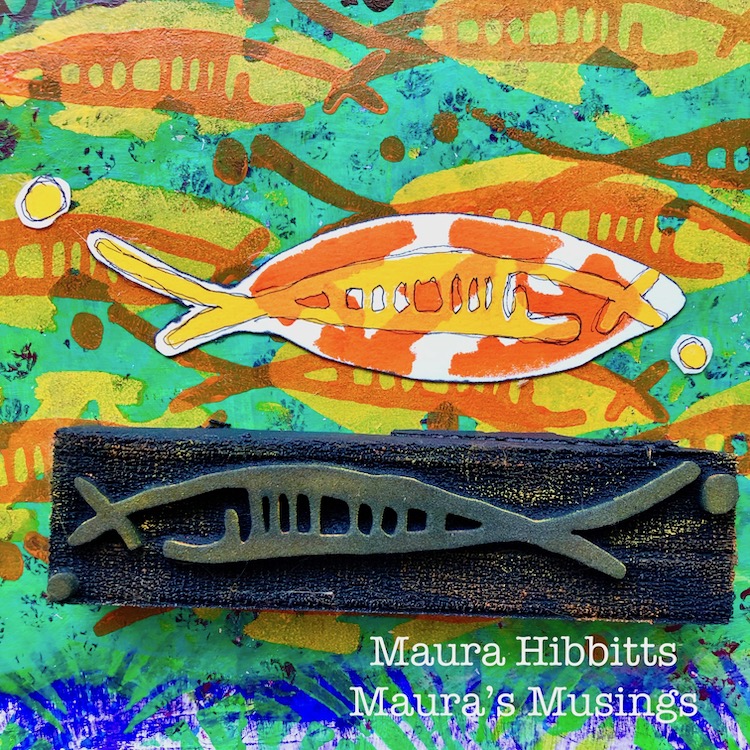 So many fun layers of color and design on my art journal page.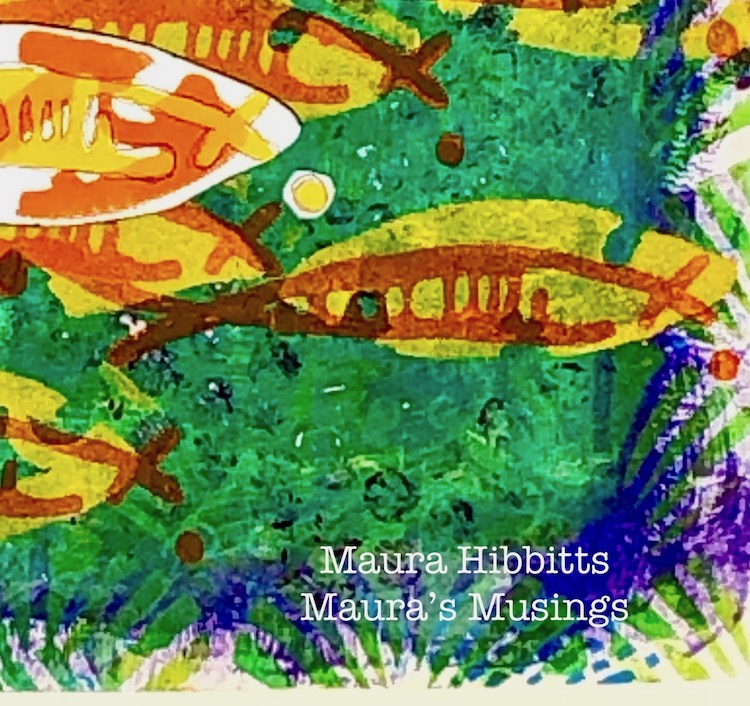 Feel the rhythm as the school of fish moves and flows through the water. It truly is fascinating to watch as a school of individual fish move and act as one body. I guess it could be a bit dangerous to be that fish that stands out in the crowd, but in my own life, I have always liked being unique. So, follow your own unique path in life!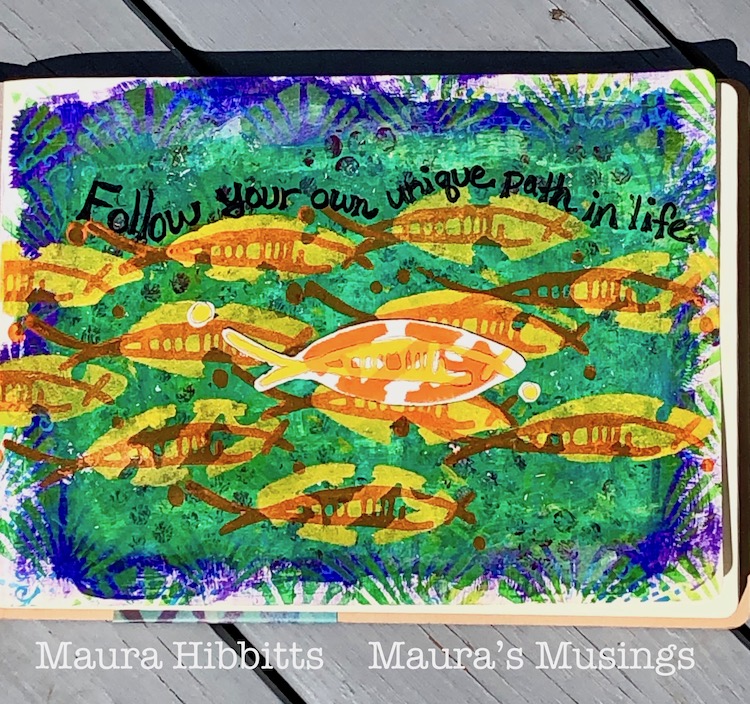 ---
Thank you Maura! I love the feeling of underwater that you created with all those layers! You can find my Stencils and my Foam Stamps in my Online Shop. Here are some of the supplies that Maura used:

Feel inspired? Working on something yourself that you'd like to share? I love to see how you interpret our monthly themes. Email me how you used my stencils and stamps with the theme and email me an image – I would love to share your projects in my next "n*Spiration From Around the Globe".