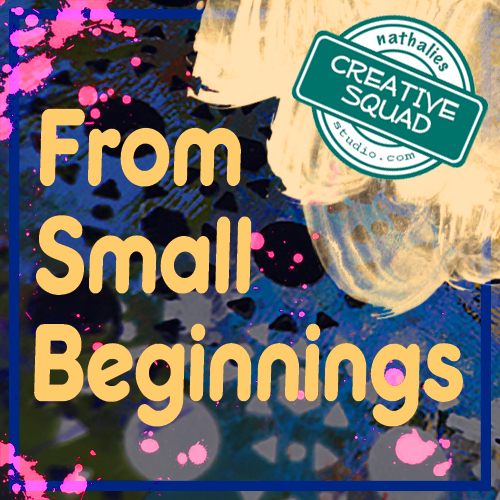 Happy Tuesday!  It's time for my Creative Squad to share a project with you with this month's theme: "From Small Beginnings". Throughout the month of September, the team will be using my n*Studio Stamps to interpret the theme. The change in seasons and the childhood ritual of Back to School in September has me thinking about starting new things – new projects, learning new things, and meeting new people, and all the excitement and challenges that come with all of these "new"s. For this theme, From Small Beginnings, my Squad will think about the process of starting something new and the very first steps they took. I'll ask them, how did you experience a Beginning?
So this week we have a gorgeous scrapbook page from Marsha Valk, where she reminisces about her start in mixed media with stamping, embossing powders, and scrapbooking.
—————————————————————————————————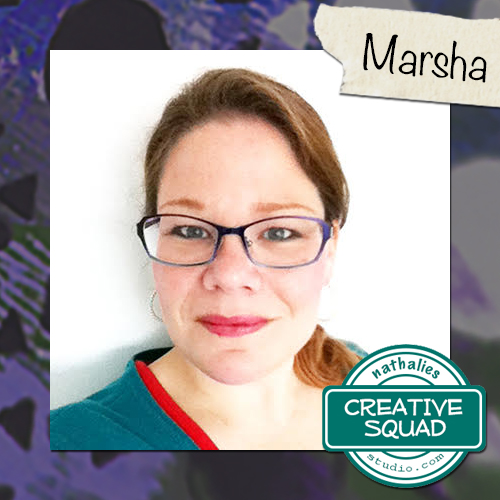 This theme made me think about how I started stamping. I can't remember which stamps I bought first. I'm guessing it was a small wood mounted alphabet set.
I do know that some of the first inks I had were little Colorbox Cat's Eyes and the first time I used embossing powder was in an Ali Edwards class. It was sooo scary and soooo amazing at the same time!!! And then, of course I had to buy the stuff for myself.
Anyway, I started to look for the mini I made in that class and I ended up looking through some of the other minis I've made over the years. One of the minis featured a photo of my scrapcorner in the attic in 2006 and that sparked my plan for this theme:
I wanted to scrapbook, I wanted to heat emboss and I wanted to use materials I would (or could) have had 10 or more years ago.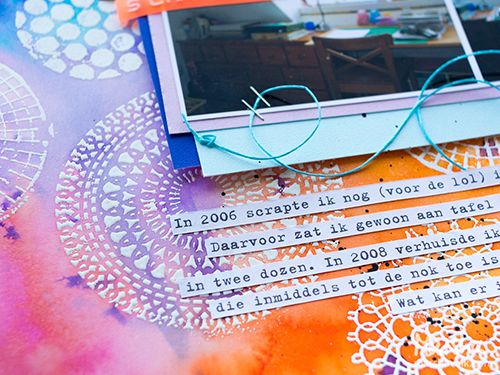 I started stamping on a smooth watercolour paper with embossing ink. I heat-embossed with white embossing powder.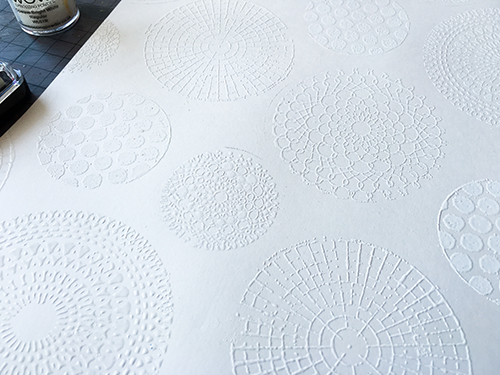 Then I played around with Ecoline and… forgot to take further photos… Oops.
Once the Ecoline was dry I added the cardstock cluster and my photo. My title was made with two of my Dymo Label Makers. One of them is actually visible on the desk in the photos!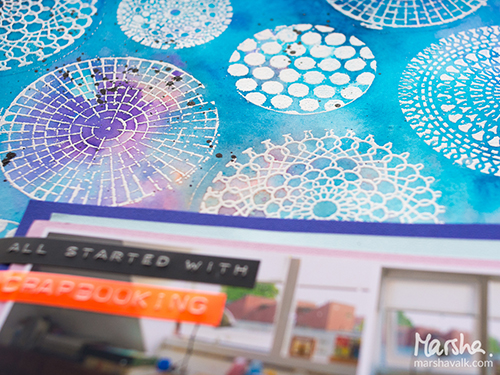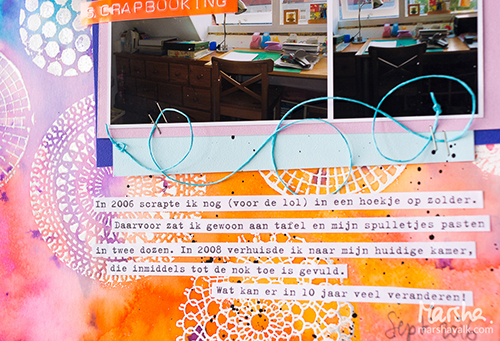 I also added some Scrappers Floss to the cluster with a stapler and because I used to print most of my journaling, I adhered my text in strips to the page. I finished the page with some paint marker splatters and the date.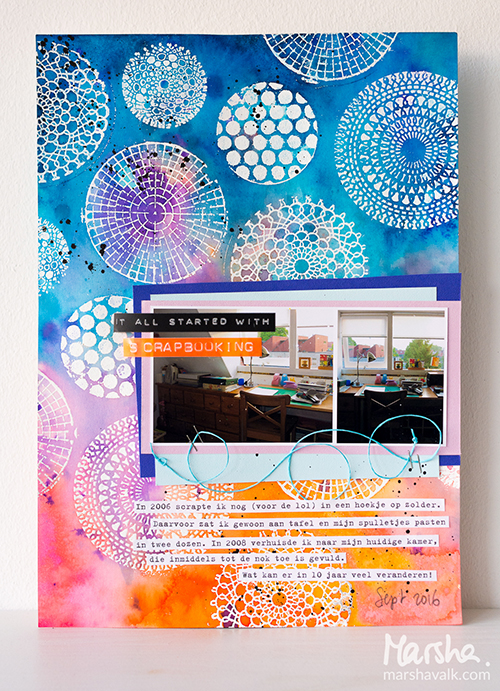 —————————————————————————————————
I love how Marsha took us both back in time AND behind-the-scenes with her super fun page.  And those Kaffee Klatsch and Mish Mesh stamps look amazing embossed in white against those gorgeous colors!
In addition to paper floss, a stapler, and personal photographs , Marsha used the supplies listed below (some are affiliate links):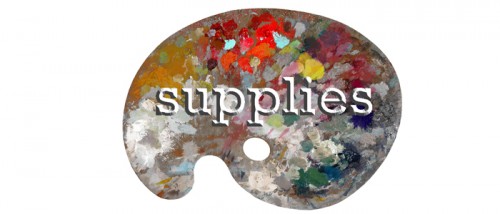 Maybe you will even play along with us -I would love to see how you interpret our monthly themes. Email me how you used my stencils and stamps with the theme and email me an image – I would love to share your projects in my next "n*Spiration From Around the Globe".
See you next Tuesday for another project from the Creative Squad!