You probably know our Creative Squad but how about the amazing person organizing stuff behind the scenes? That's Kim and she's our Creative Squad Coordinator and very enthusiastic about running the group and supporting the efforts of our artists. After we interviewed all of those talented folks, one of them had the great idea to interview Kim too and we totally agreed. Read on to learn a bit more about her :)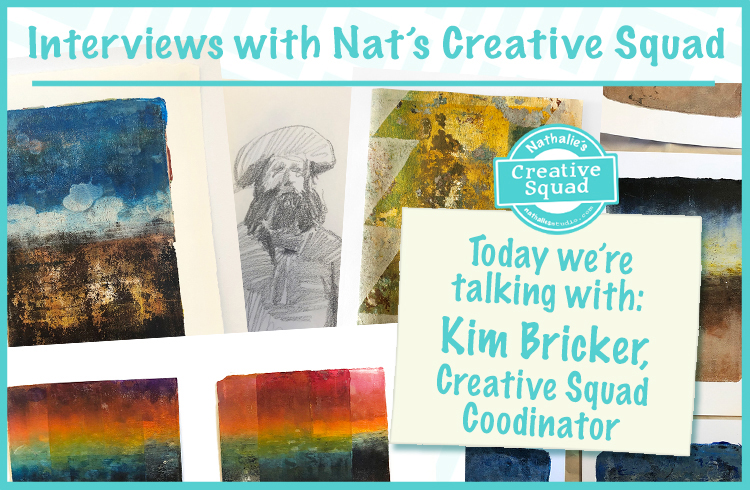 Kim has been with n*Studio since 2016 and in addition to providing graphic design for the website and some administrative services, she manages the Creative Squad – our design team. Each month she creates a new theme for the Squad as a starting point and coordinates the release of these projects on the blog and social media. But beyond these roles, Kim is a practicing artist and has been drawn to the arts her entire life.
---
1. Kim, you always have such wonderful ideas for our Creative Squad but also for our monthly Play Dates, and it probably comes as no surprise for some of our readers that you also create art and love to craft. How old were you when you first started making art? And what is an early art making memory?
Before there were kits and Pinterest, my mother was a whiz at coming up with art and craft projects for my sister and I. In the summers she would set us up outside on a tiny picnic table in the backyard with something creative that she had dreamed up. It could occupy us for hours and at the end, because in the summer we lived in bathing suits, she would use the garden hose to clean us up. Very early I learned to associate the act of making with joy, comfort, and entertainment. I'm not sure when I started, but it was before I even went to nursery school, so about 3 I guess.
2. When you are not creating for the n*Studio, what are some of the things you love to create and would you share something you made recently with us?
Gosh this is a simple question and yet also a really big one. What exactly AM I doing? I'm working in a lot of different directions at the moment, but overall my art is about the American West. Landscapes, particularly those sweeping dramatic ones in the western US, are my jam these days.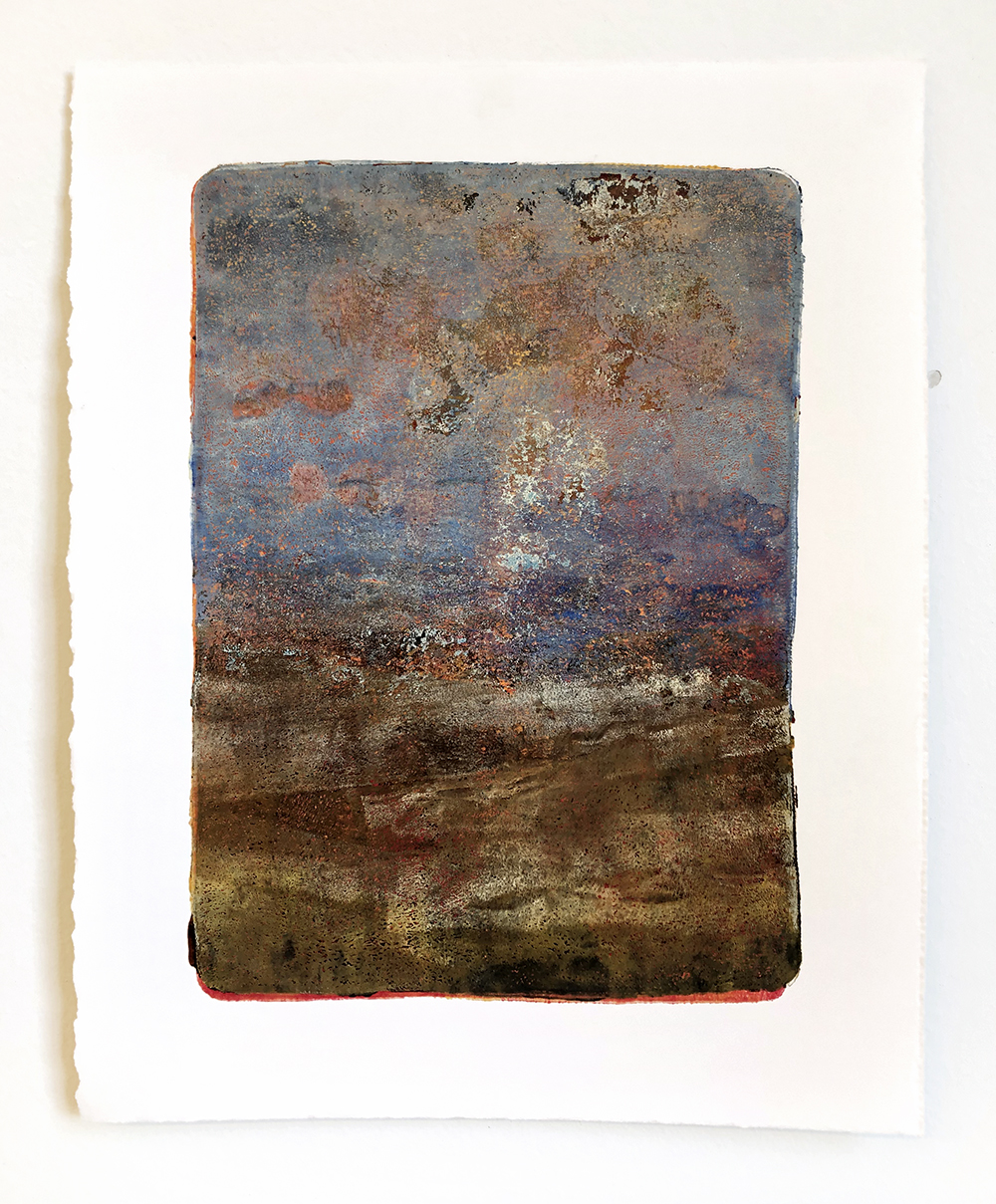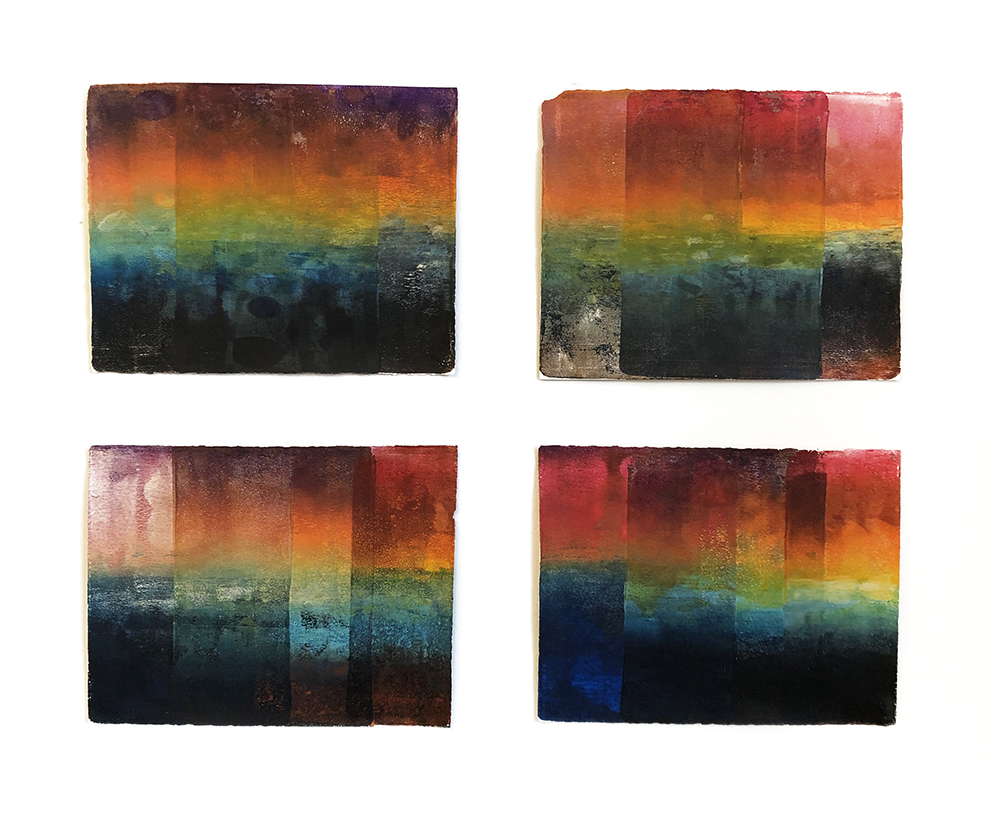 I also love the mystique of the cowboy. It's a subject that I've been captivated by for a long time and I recently spent a few months sketching paintings by Frederick Remington and Charles Russell to scratch that itch and practice sketching. That part of my work is not so serious, but I can't deny the appeal of those characters and I don't think there's anything wrong with choosing a subject that you just find attractive :)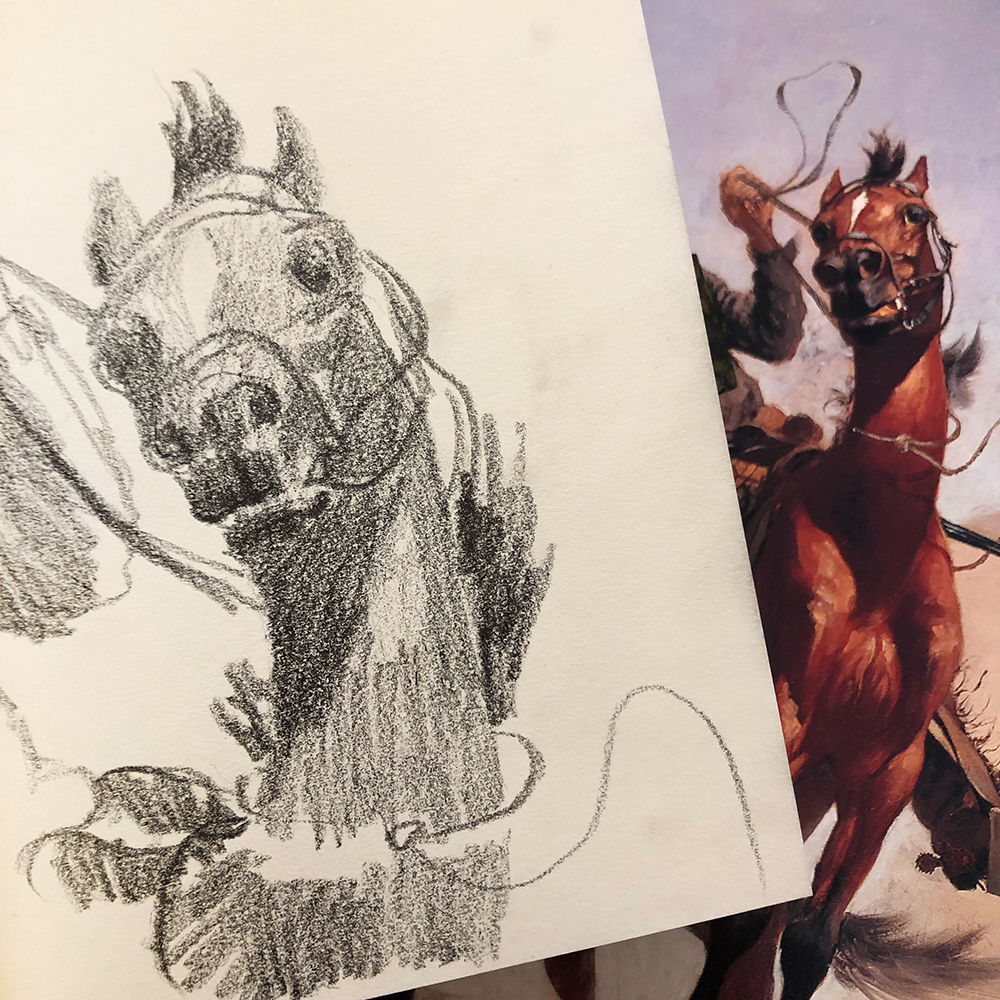 3. What is a technique you have discovered for yourself since you have been with the n*Studio and play with frequently now? Do you have a project photo to share as an example?
Although I studied printmaking in college, I had never heard of a Gelli Plate until I started working for Nat. During the pandemic I finally ordered one for myself to play with and that was it – I was hooked! I am absolutely gaga for Gelli plates and am in love with what you can create with one. The ability to layer, the history of paint that it collects, the uncertainty of how exactly it will print are all so important to how I like to create and what I am trying to say with my art. And even when I am just playing around, it is a blast to work on and it's my go-to for card making. I'm big on sending snail mail.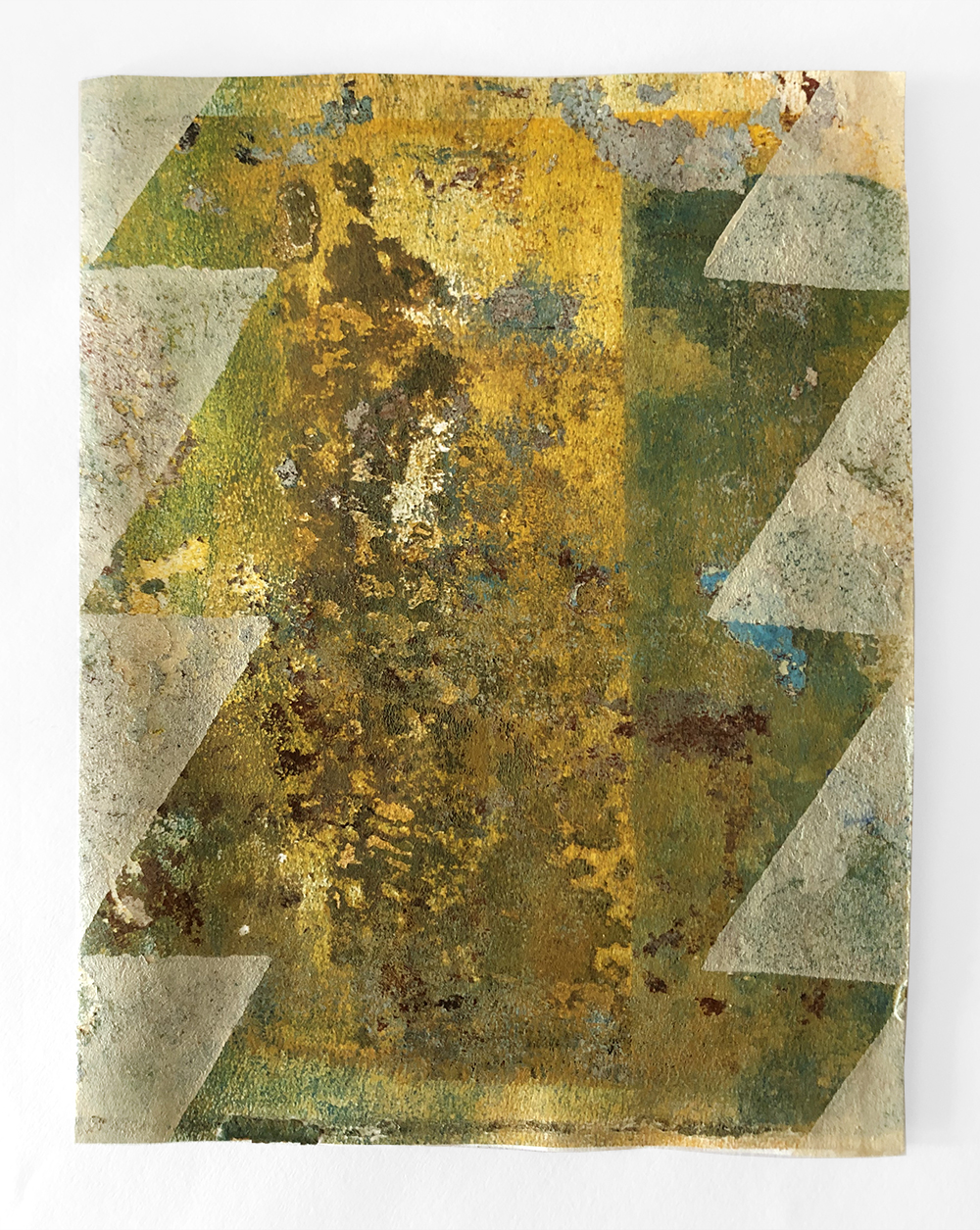 4. Describe your artistic style in 3 words.
Quiet, thoughtful, enigmatic. That's what I'm going for anyway lol.
5. What are some of the biggest influences on your art?
Nothing has influenced my artwork more than travel and nature. When I go to new places and take in the scenery, I tire myself out by LOOKING. I love the shape of the land and notice the unexpected colors and combinations of colors that Mother Nature uses and it's so inspiring.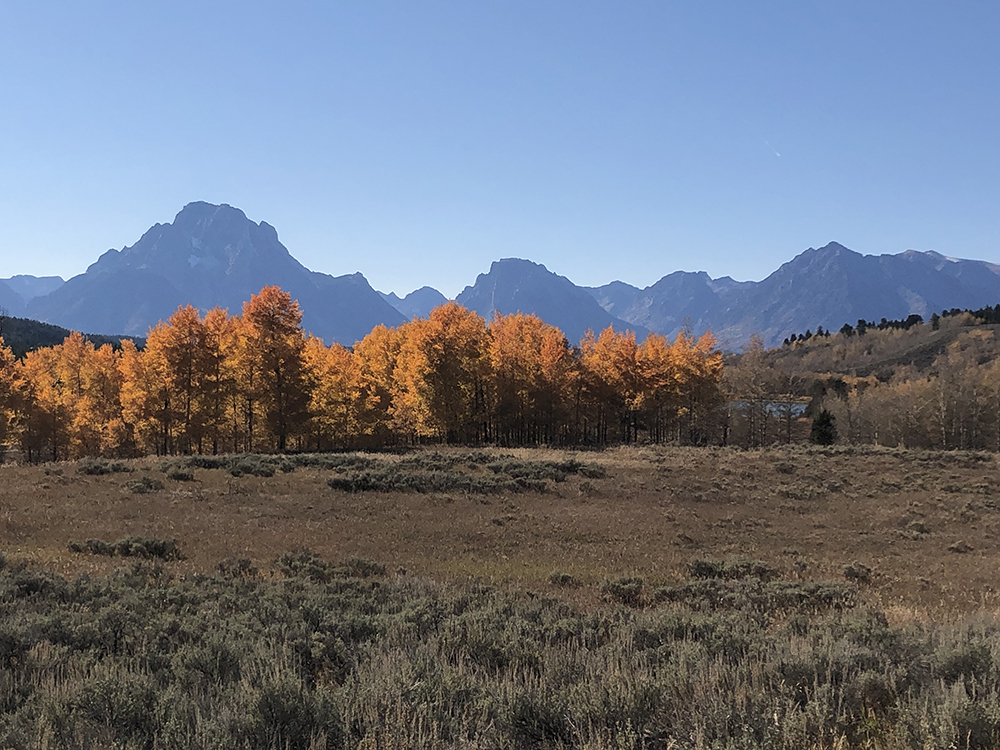 6. Show us where you create.
I share a studio space in an old warehouse in Downtown Jersey City with my husband, who is a sculptor. In our space we both have a work table by big windows. I keep a lot of my tools and supplies in an old metal hardware cabinet. We aren't always in the space at the same time but when we are, it is nice to have another mind to weigh in on what I'm doing.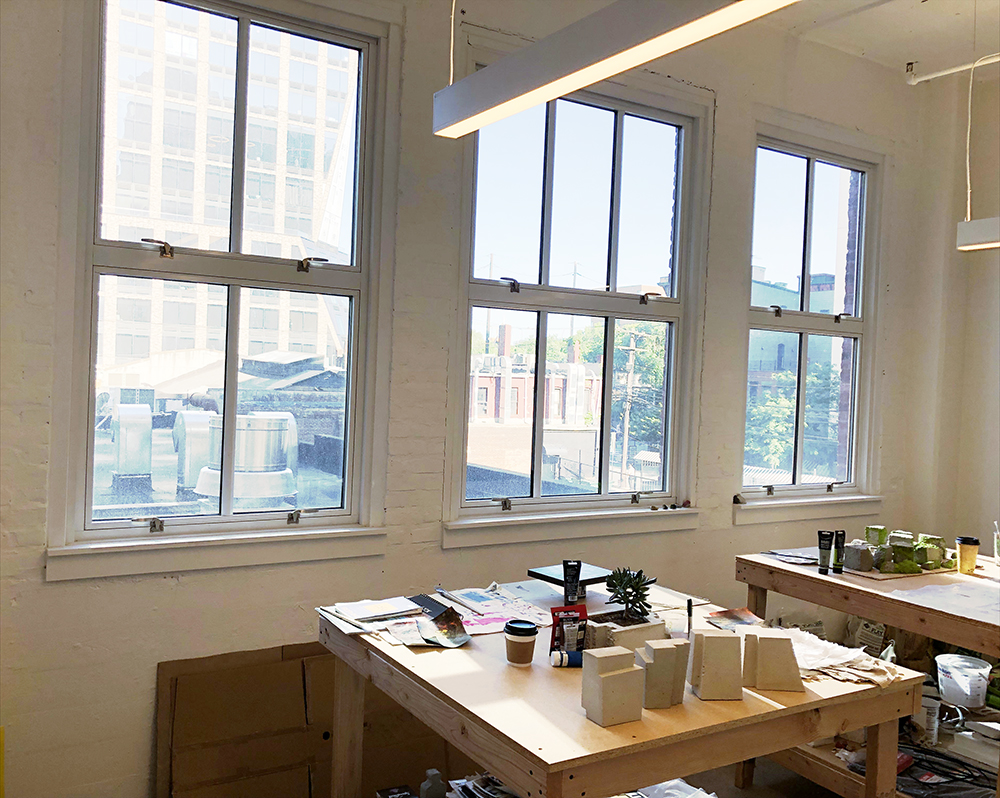 7. What are 3 of your favorite Creative Squad projects/Playdates/themes – and no worries we know you love them all ;)
Play dates with Nat are super fun and one of many highlights of working for Nat. One of my favorite play dates was our Faux Cactus Rock Gardens. I have been painting rocks since I was a kid and this project brought back a lot of fond memories. The results were also just so darn cute.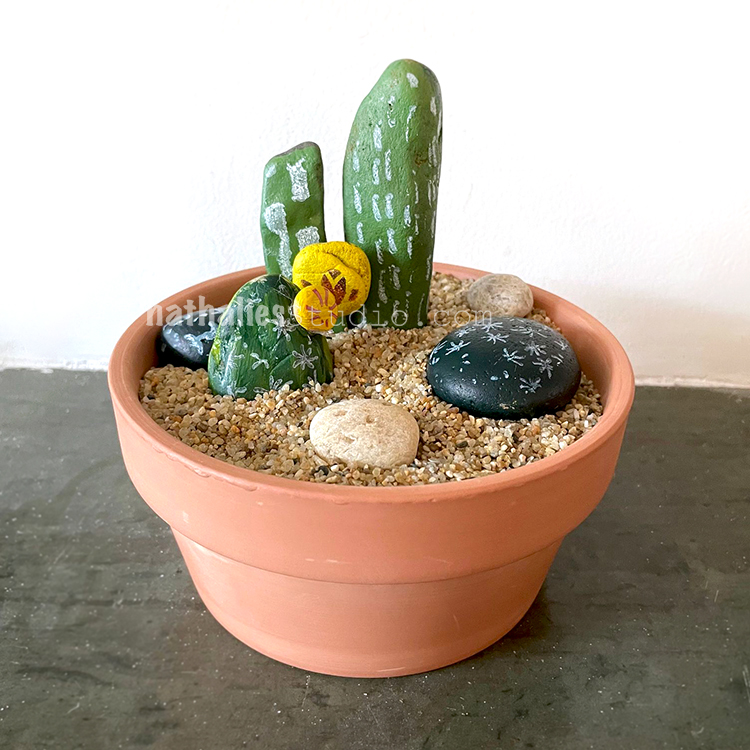 Each week the Creative Squad surprises and delights me with their projects. Our team changes over the years but one thing remains the same: they approach the topics in unexpected ways and teach me something about how ideas and supplies can be used differently. I love all the projects but there are a couple that come to mind:
Maura created cards that said "we are all stitched together" for our Primary Colors theme and not only did that message really resonate with me, but I loved how she layered the primary colors, kept the patterns bold, and cut apart and reassembled her pieces with stitching. Here was the post.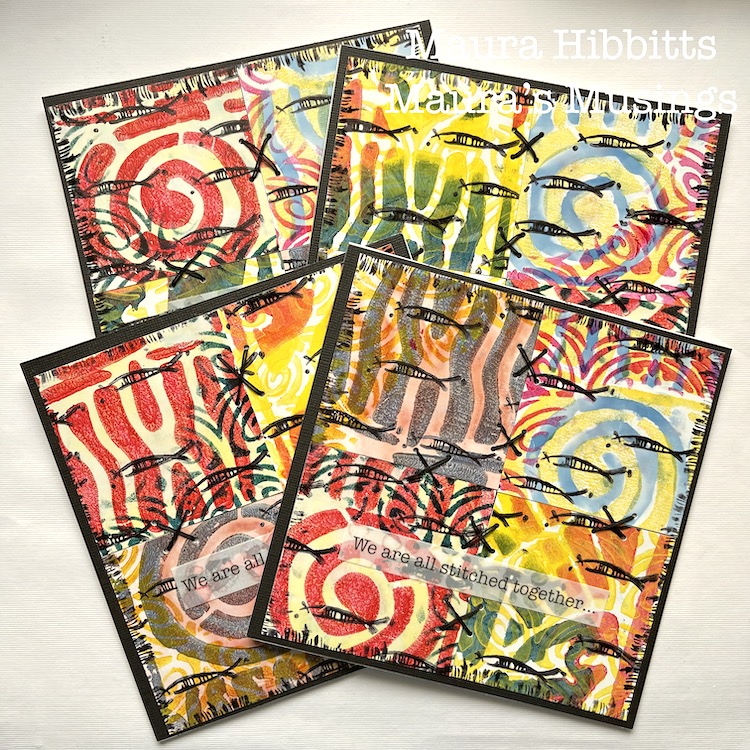 In that same theme (Primary Colors) Robin made earrings that I still to this day just want for myself. They are super cool, modern, and artsy and I would totally want to wear them to an art opening or art fair where I know they'd get the same adoration that I feel for them. Here was her post.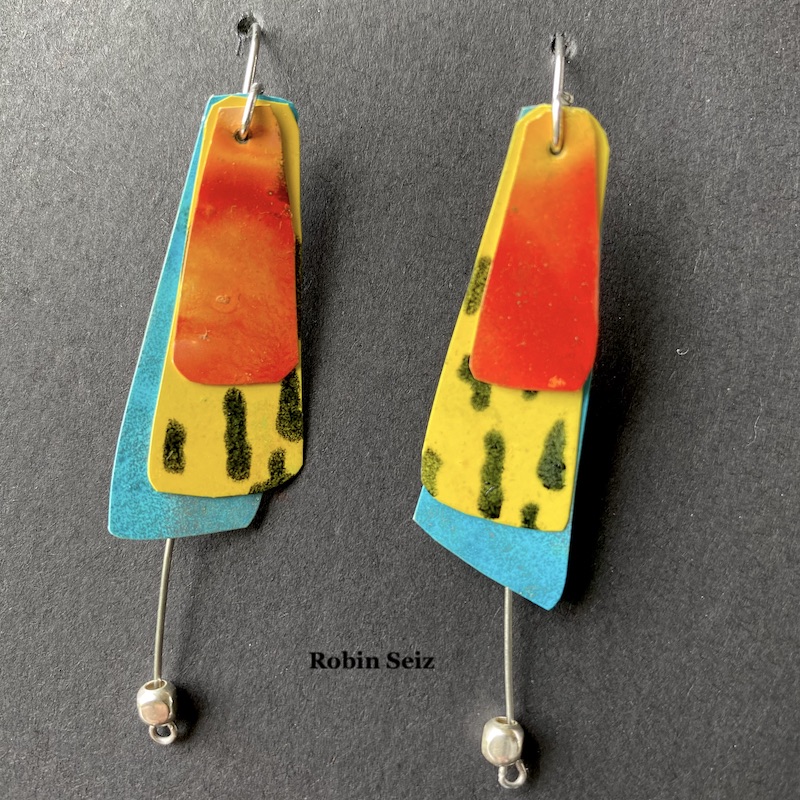 8. Describe the perfect non working day but art related day for you.
My Perfect Artsy Day would begin with a delicious coffee and croissant in a quiet sidewalk cafe, then a museum visit to an exhibition of modern art and definitely a sculpture garden too. After a delicious alfresco lunch I'd be instantly transported to a remote spot in Wyoming or Montana with an endless stack of watercolor paper and my fav Kremer paints to spend the afternoon doing plein air painting. Since this is definitely a bit fantastical, I'll keep going. The evening would include an art opening with a great crowd and a live rock n roll band. And I'd still somehow manage to be in bed by 11 because I'm not really a night owl.
---
Thank you Kim – so nice to learn some more about you and see what you are working on!
Learn more about our Creative Squad here on our website and them on the Creative Squad Instagram page.