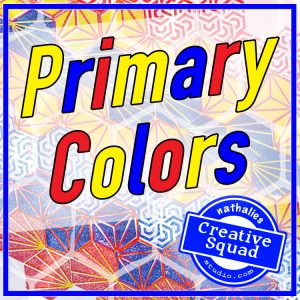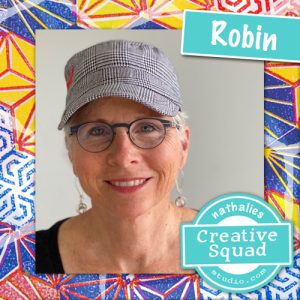 Hello from my Creative Squad! Today we have some seriously awesome earrings from Robin Seiz using my Central Ave 4×4 and Signals stencils and my Wabi Sabi rubber stamps. This month's theme is: Primary Colors: Red, Blue, and Yellow it's your time to shine. Let's get back to the basics of color and light and play with primary colors. It's elementary my friend! This month we are also pleased to be partnering with Grafix who supplied the squad with some cool products to try out. Read on:
---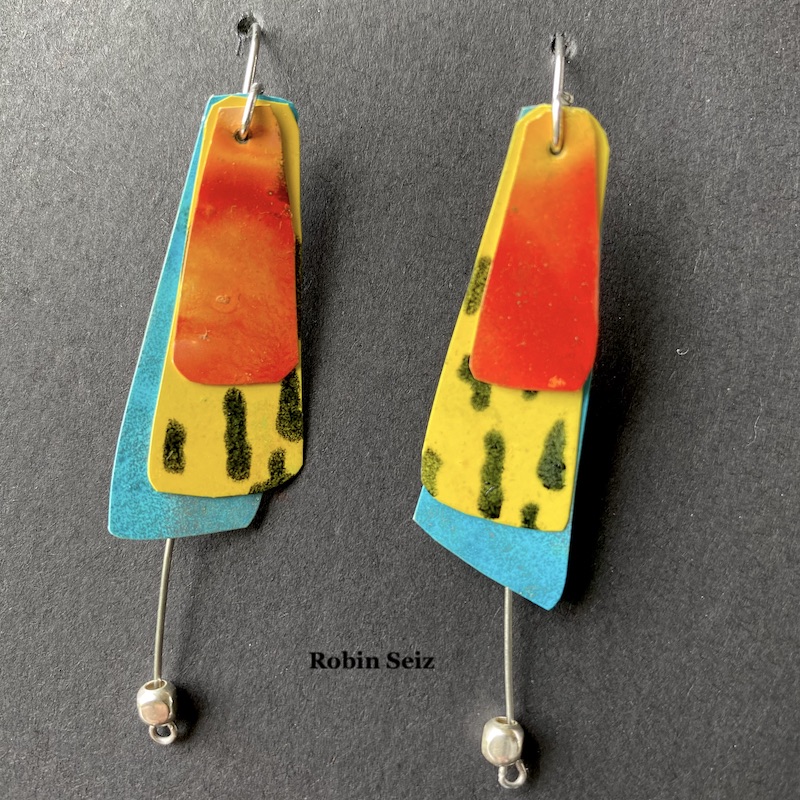 Hi Friends,
This month was about using primary colors, Grafix Products and of course, incorporating Nathalie's wonderful products. Primary colors are so happy; they remind me of summer, but I must admit that I don't use them often. It was good for me to reflect on why they aren't my "go to" colors. The reason I suspected was amplified in this project. I'm a messy multi-media artist. What I mean by that is, I'm always mixing colors. Primary colors by their nature make a host of other colors, so once I put them down on paper, I always end up with something else; they rarely end up in their pure form. For example, the "red" in the earrings I created is really orange, because once the yellow and red mixed…. well, it's no longer red and yellow. :)
I hadn't been introduced to Grafix products prior to this month, but I loved working with the opaque craft plastic. I'm excited to work with some of the other products as well. This opaque craft plastic works really well with alcohol inks. It seems to hold the ink in place a little better than Yupo, for example. This produces even more vibrancy than you normally get with alcohol inks.
My mixed media journey started with scrapbooking and then went to jewelry and then exploded to all kinds of other mediums and substrates. As result of my early days, I still have a lot of jewelry making supplies. Sometimes, I get the urge to combine my mixed media work with making jewelry. For this month, that meant earrings.
I started the project by drawing the shapes for the earrings on card stock. I chose shapes I like. If you try this project, you could use any shape you like. Next, I cut out the shapes and put them aside.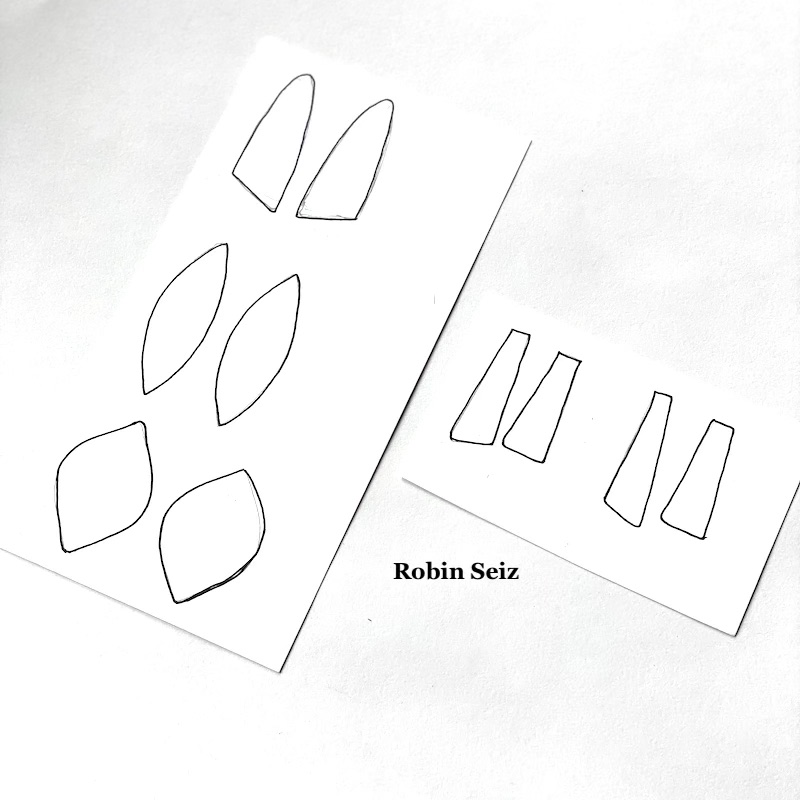 Step 2 was the most fun! I tested various alcohol ink colors on the opaque craft plastic. I could have done this all day; just watching alcohol ink flow is so relaxing and organic. The results are always a surprise. This is the part where the colors often run into each other and make a different color than is intended, but I just go with it.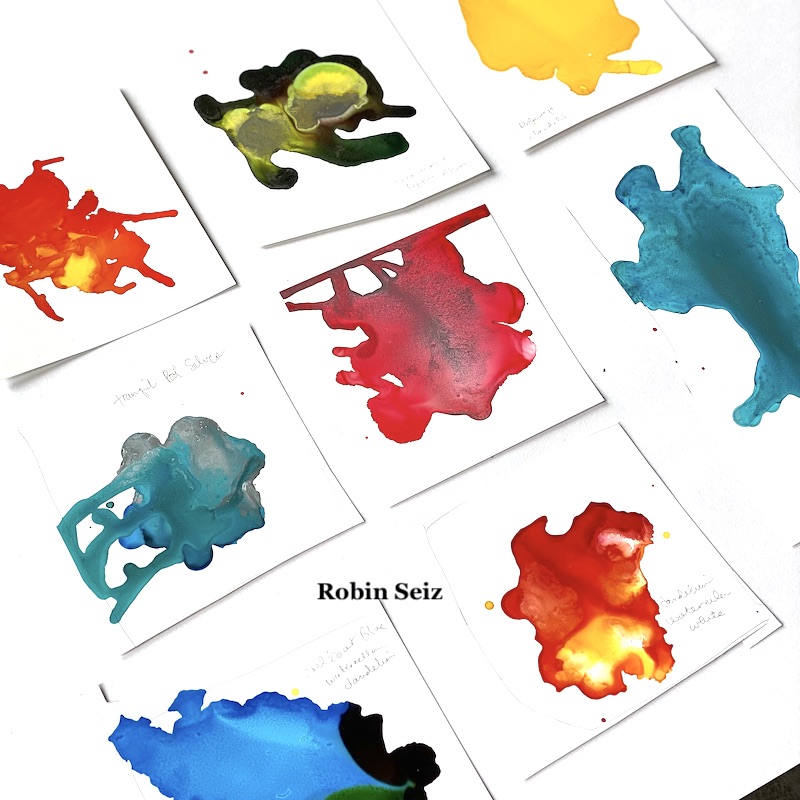 I chose color patches I liked the most, and the ones which were in the primary color family (at least kind of). I laid out the blank cut out shapes on the opaque craft plastic. This can be a tricky process if you are someone who wants both earrings to look exactly the same. I don't really care about that; I like to know they were made by hand rather than manufactured to be identical, but if it bothers you to have them slightly different, then you can take that into account when you lay them out. Additionally, you may want to use solids rather than several colors on a sheet to get more a more consistent look.
Once they were laid out, I carefully cut them out with a small pair of scissors. The craft plastic is easy to cut. If you are comfortable with a craft knife, you could also use that.
Once cut out, I applied Nathalie's Wabi Sabi rubber stamps and Central Ave and Signals stencils to the earrings with a permanent black ink. This added so much dimension and interest to each piece.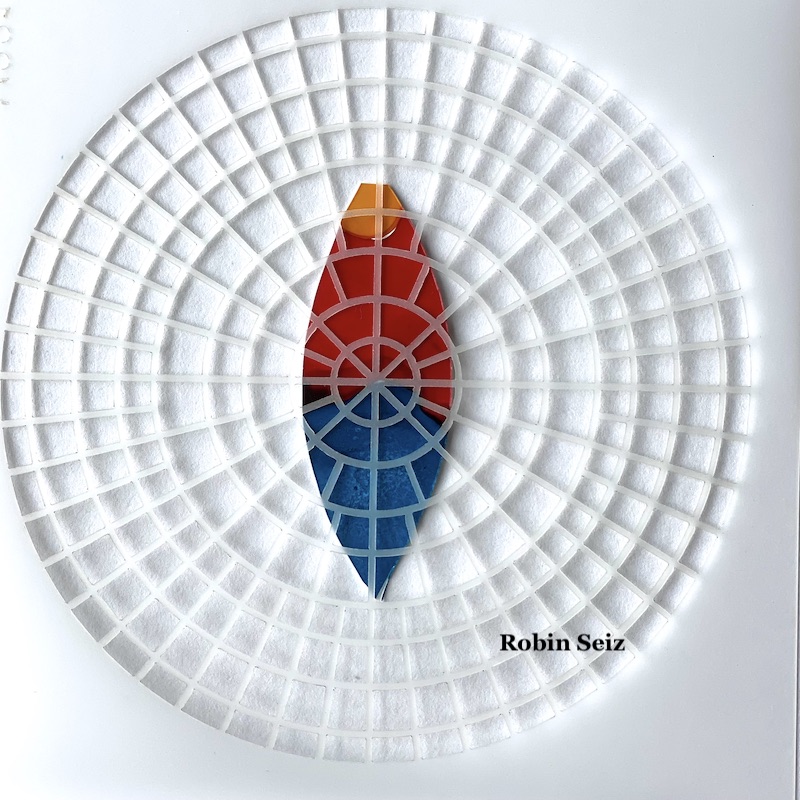 I took some of my jewelry components, small beads and wire, nothing really fancy, and added it to the earrings. Again, it added more dimension and interest.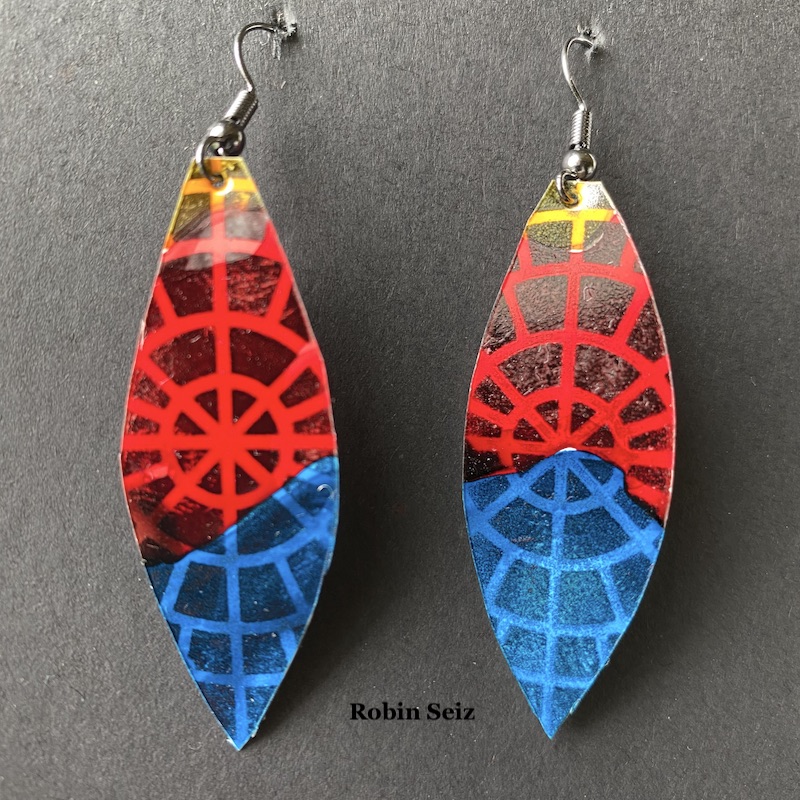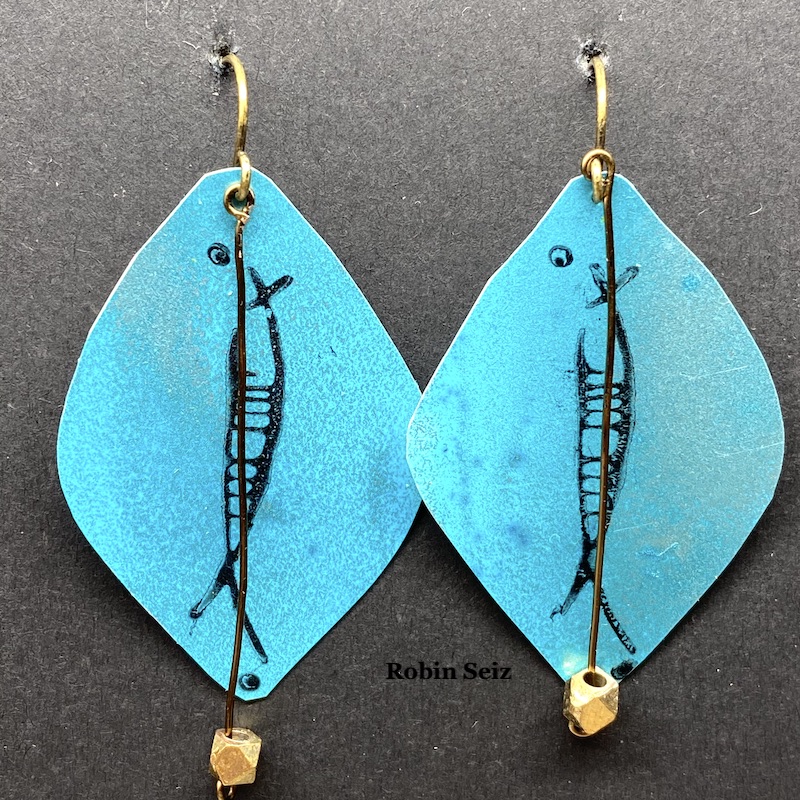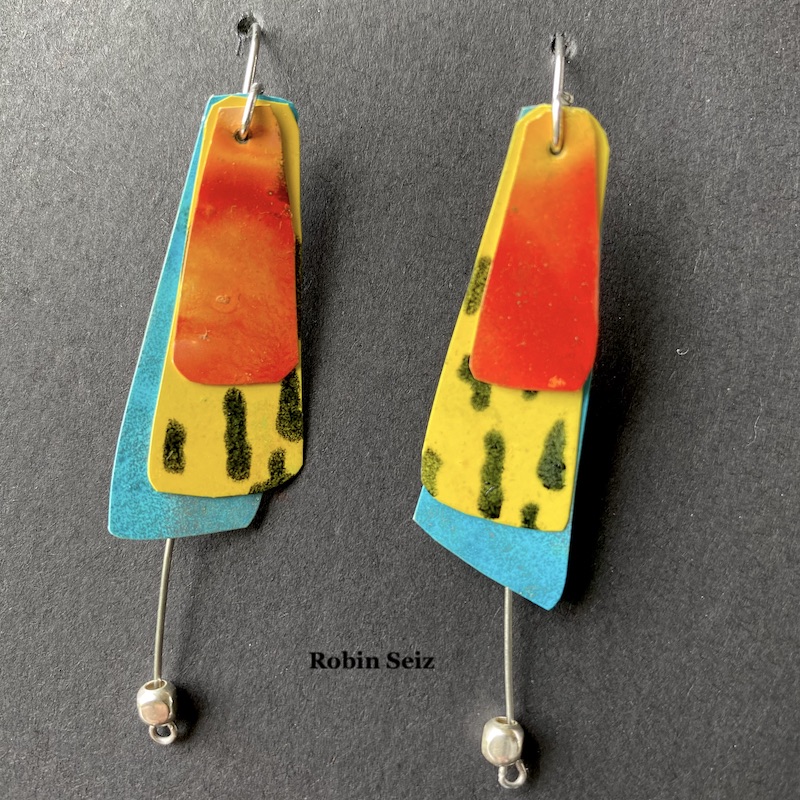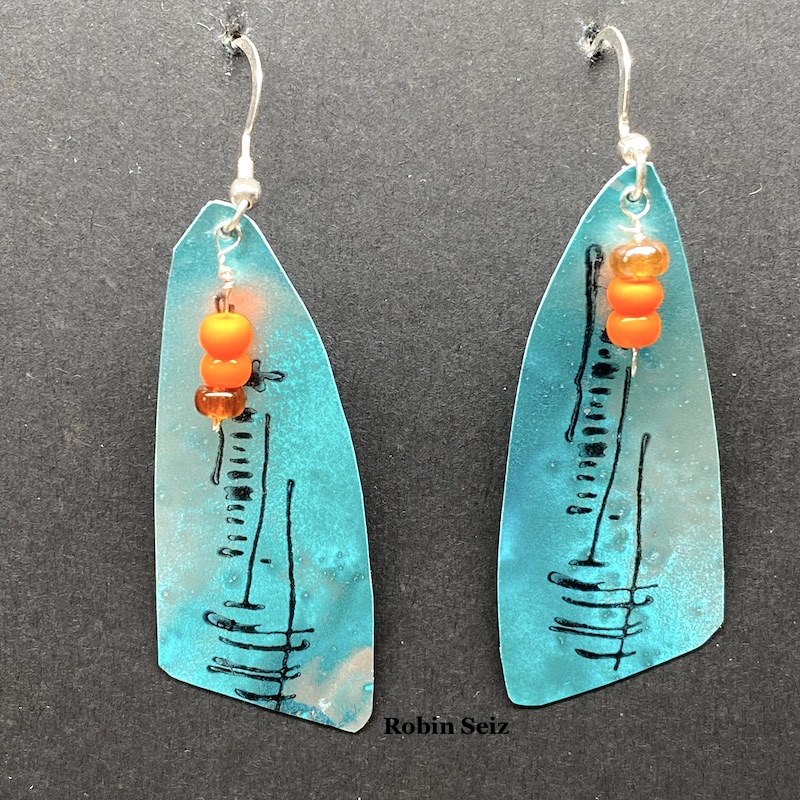 The final process, which is important especially if you are going to sell your earrings or want them to last for a long time, is to spray Krylon Varnish and UV protection to them. Alcohol inks dull quickly and this will protect both the color and the inks from smearing. Make sure to do this in a well ventilated area and hold the can pretty far away from the earrings, otherwise, they will smear.
Summer is here, it's always fun to have a new pair of earrings! I hope you try out this project.
---
Thank you Robin! I absolutely love these and could totally imagine donning them to liven up an outfit with some artsy style!
Give it a try: you can find all my Rubber Stamps and my Stencils in my Online Shop and here are some of the supplies Robin used: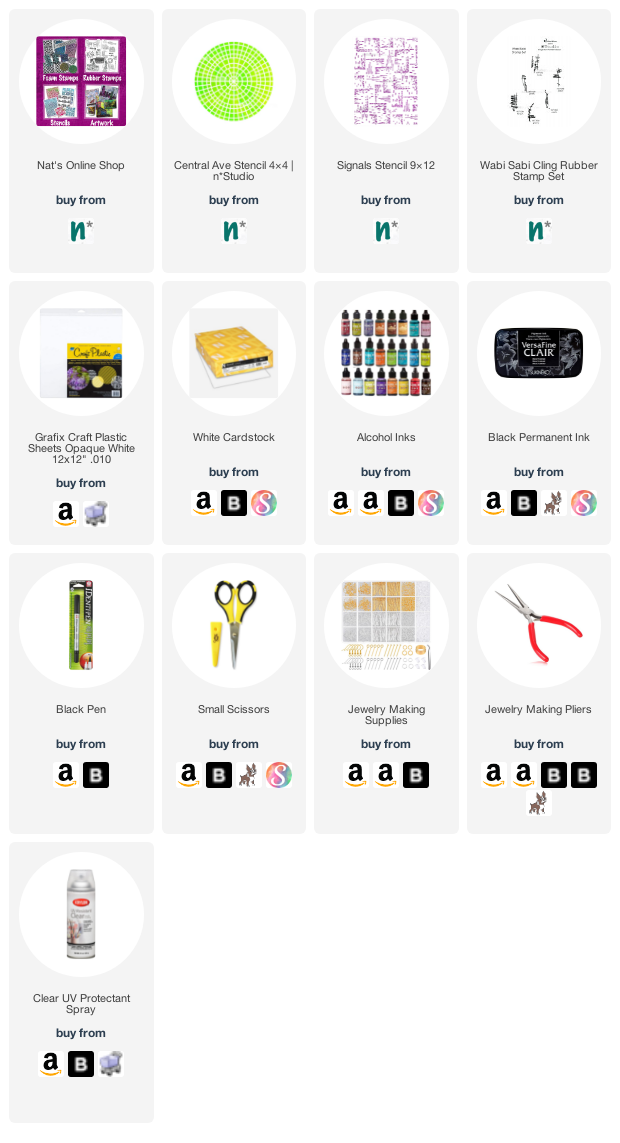 Like what you see? Follow the Creative Squad on Instagram for weekly posts, artwork, and inspiration.